Welcome to this comprehensive guide to flyer templates. We'll look at what flyers are, why to use them, and how to create them. And we'll also look at plenty of flyer design inspiration.
Let's get started!
What Is a Flyer?
At its most basic level, a flyer is a small sheet of paper containing printed text that advertises an event, product, or service. 
However, although a flyer is a relatively simple format, you still have plenty of scope for creativity. The goal, after all, is to catch viewers' attention, and you'll often only have a second or two to do that. So it's important to make creative use of typography, imagery, illustrations, color, and other design elements to really make your flyer stand out.
We'll look at flyer design in much more detail throughout this guide, but for now, you can watch this video to learn more about flyers:
Why Use a Flyer?
A flyer is a great way to advertise your event or other offerings. Why? Because compared to longer-form print products like brochures, they tend to be easier to design and cheaper to produce.
On top of that, you have so much flexibility in how to distribute them. You can hand them out to passers-by, post them on walls or noticeboards, leave stacks of them in prominent places for people to pick up, send them through the mail, place them inside newspapers and magazines, etc.
And it's also easy to match your online and offline marketing because print flyer designs often work well as digital flyers too. So you can post your flyer on social media at the same time as you're handing it out in the street.
Here are some amazing sample flyer templates you can download and use right now:
Flyer Template Design Inspiration
OK, now it's time for some design inspiration! In this section, we'll look at some highly effective designs for flyer templates in the following categories:
Business flyer templates

Party flyer templates

Event flyer templates

Club flyer templates
Business Flyer Templates
Businesses of all kinds use flyers all the time, and you can find templates to match. Whether you're looking for general business flyers or specific types of company flyers to match particular industries, e.g. real estate flyers, you can find plenty of great examples.
Here are a few beautiful templates to check out:
Party Flyer Templates
When you're holding a party, a good flyer is a great way to get the word out and make sure you have a strong turnout. Party flyers tend to be loud and bold to evoke the fun and atmosphere of the party, and of course don't forget to include all the relevant details!
Check out this selection of one page flyer templates, featuring Halloween flyers, holiday flyers, and plenty of other types of party flyers:
Event Flyer Templates
What if you're having another kind of event? Anything from a religious celebration to a food festival can benefit from some well-designed event flyers to help spread the word. Check out this tutorial for a great example of a flyer for a religious event:
To whet your appetite, here's a selection of birthday flyers, prom flyers, and other event flyers:
Club Flyer Templates
Night clubs are heavy users of flyers—look around any major city, and you'll probably come across some club flyers posted up somewhere. You can use them either to advertise a particular event or DJ, or just generally to spread the word about your club and the great music it offers. Check out these stylish club flyers:
How to Make a Flyer
How do you use the creative flyer design templates featured here to make a successful flyer?
It's simple! The templates provide everything you need to make great advertising flyers, information flyers, and more. Just follow these steps:
1. Download Your Flyer Template
Browse the huge selection of flyer templates at Envato Elements and choose the right one for your design. Make sure you choose one that's compatible with the software you're using, e.g. Photoshop or InDesign. We'll talk more about software later.
2. Add Your Text
The main point of a flyer is to convey important information about your business or event. Simply add your text in the placeholders provided.
3. Customize and Print
Flyer templates often come with some great images or illustrations, but ideally you'll use something unique to your event or product. Again, you can easily add them in the placeholders provided. Then your flyer is ready to print!
Want to make more detailed customizations? Don't worry—we've got five great flyer design tips coming your way in the next section. And you can also watch this free video course to get step-by-step instructions on creating a flyer from scratch in Photoshop.
You can also find tons of flyer design tutorials on Envato Tuts+, like these ones:
Top Tips for Creating Flyers
Now let's look at five tips for creating awesome flyers. Whether you're starting from scratch or using a one page flyer template, these tips will get you started on the right foot.
Get more flyer ideas, tips, and resources in these articles:
Best Software for Flyer Design
You can use a range of different software for creating a flyer, from Adobe Photoshop to Microsoft Word. And you don't even need to use software at all—below we'll show you how to create a flyer right in your web browser!
How to Make a Flyer in Adobe Photoshop
Photoshop is a great choice for creating designs for flyers. It offers all the tools you need to manipulate both graphics and text, and if you've done any kind of design work, you're probably familiar with the interface. Plus there are thousands of templates to help you get started:
Download Photoshop Flyer Templates
We've also got some great tutorials here on Envato Tuts+ to show you how to bring your flyer ideas to life in Photoshop:
How to Make a Flyer in Adobe Illustrator
Adobe Illustrator is another great choice, also with thousands of templates to choose from. Illustrator is perfect if you're creating a flyer design with lots of illustrations and vector shapes, but really it comes down to which software you feel most comfortable working in.
Download Illustrator Flyer Templates
Learn how to use Illustrator to create stylish event flyers in these tutorials.
How to Make a Flyer Design in Adobe InDesign
InDesign really comes into its own for longer print documents like brochures and reports, but it's also a powerful tool for customizing a one-page flyer template.
Download InDesign Flyer Templates
Check out these tutorials for some great designs for flyer templates in InDesign.
How to Make a Flyer in Affinity Publisher
Affinity Publisher shares similar features to Adobe InDesign, so it makes sense that it would also be a great choice for making flyers. You'll find many of the same print design features as InDesign in Affinity Publisher, plus a few useful extras.
Learn how to use Affinity Publisher to make a flyer by reading these tutorials:
There are not so many dedicated Affinity Publisher flyer templates out there, but the good news is that it's easy to import InDesign templates into Affinity Publisher. So you can take advantage of the thousands of InDesign flyer templates. Read this tutorial to see how it's done:
How to Make a Flyer in Microsoft Word
To be honest, Word is not the best option for creating professional flyers. It's more of a word processor than a design app, so it lacks the sophisticated design features of some of the other software we've covered, and there are not so many templates available. But if you're an avid Word user, you may prefer it, so check out our tutorial on making a flyer in Word and browse the templates on offer:
How to Make a Flyer Online
If you're not comfortable using design software, a better option is to use the online flyer maker at Placeit. You get to choose from a range of professional templates, and then you can customize them right in your browser by using the simple, intuitive interface. Just type, drag and drop, and you're done. It's easy!
Here's a quick video guide on how to make a flyer online using the Placeit flyer maker: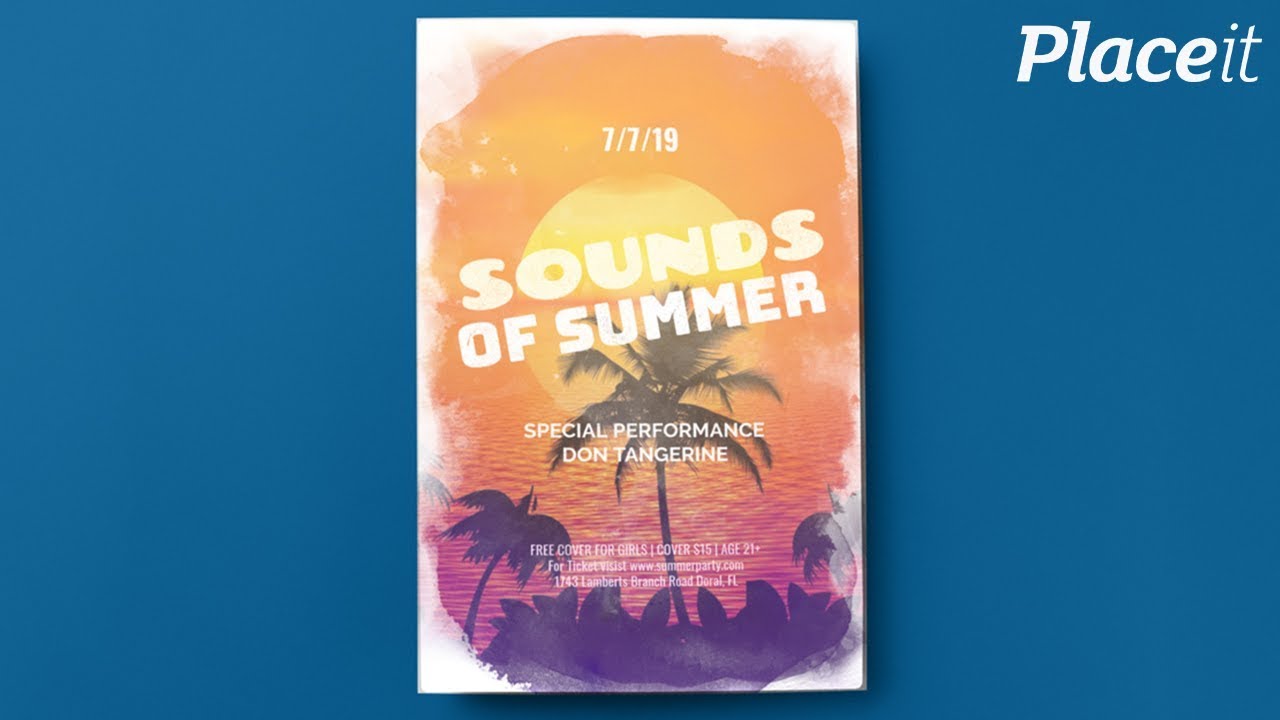 Flyer Resources
Whichever software you use, you'll need some great design resources to make your flyer shine. Let's take a brief look at some of the resources that will help you make professional designs for flyers.
Fonts
As mentioned earlier, you'll need one or two stylish fonts to make your typography stand out. Fonts that are strong and eye-catching but also highly legible are good choices. Here are some ideas:
You can find plenty more fonts for flyers in this article:
Stock Photos
Depending on the type of flyer, you might want to use your own images. But in many cases, professional stock photos will do a better job. Here are a few examples of photos that could work in different types of flyers.
Graphics & Illustrations
Photos aren't the only way to create visual interest. A well-designed graphic or illustration can help to convey concepts or ideas quickly and effectively. Check out these examples:
Flyer Mockups
What if you've created a beautiful flyer outline, and you want to show it to your client, or perhaps even post an image on your website? The best way to do that is with a flyer mockup.
By using a flyer mockup, you can take your flat, two-dimensional design and convert it into a living 3D flyer. Even better, you can show it in real-life situations, such as being posted on a noticeboard or being read by someone.
Making a flyer mockup is easy—again, thanks to templates. There are thousands of templates for flyer mockups to choose from. So all you have to do is download a PSD template, upload your design in Photoshop using the smart objects provided, and you're good to go.
And if you're not confident using Photoshop, you can use Placeit's online flyer mockup generator to create beautiful mockups in your web browser!
Find more templates for flyer mockups here:
Best Creative Flyer Design Templates on Envato Elements
If you're still looking for more sample flyer templates and flyer outlines to try out, check out the thousands of flyer templates on Envato Elements. Here are six best-selling designs for flyer templates: