Working on a bifold or tri-fold brochure project? Working with a professionally designed template could be the jump start you need to get your project started, going, or even completed!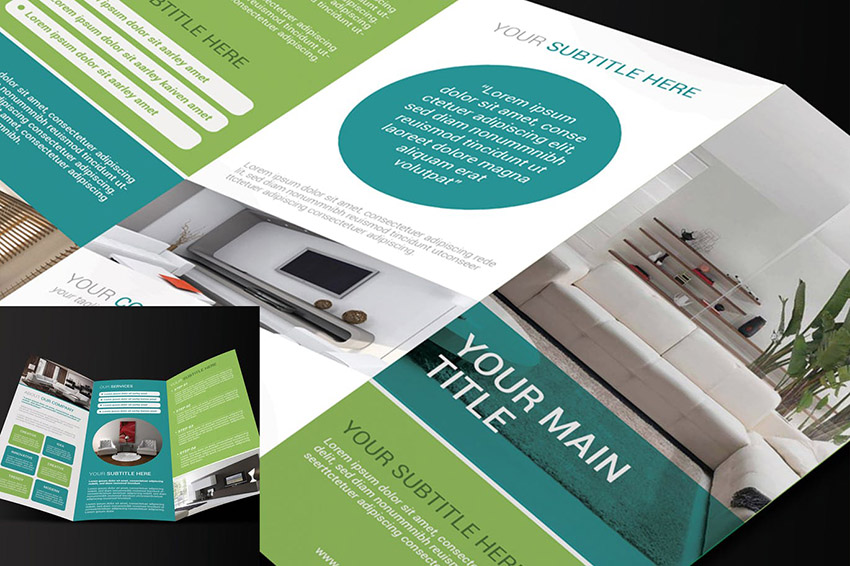 I like to keep and collect a bank of tools, assets, and resources for professional and commercial use—like free templates and other valuable free finds on the Internet. In this article, we'll look at some of the best free tri-fold and bifold brochure designs out there.
Before we dig into some awesome free finds, let's take a quick look at some premium bifold and tri-fold brochure template options—they can be a great source of inspiration for your next tri-fold or bifold brochure! Then, we'll dig right into a list of free templates to add to your design arsenal.
Why Use a Premium Brochure Template? 
I get it—we're all trying to get things done. We're all working with a budget. Finding the right bifold or tri-fold brochure template, and finding it for free, is awesome. However, it can be a time-consuming process with limited results (that's why lists are so handy, right?). 
Don't worry, we're going to look at plenty of free content. But it's good to think about the pros and cons when conducting your search.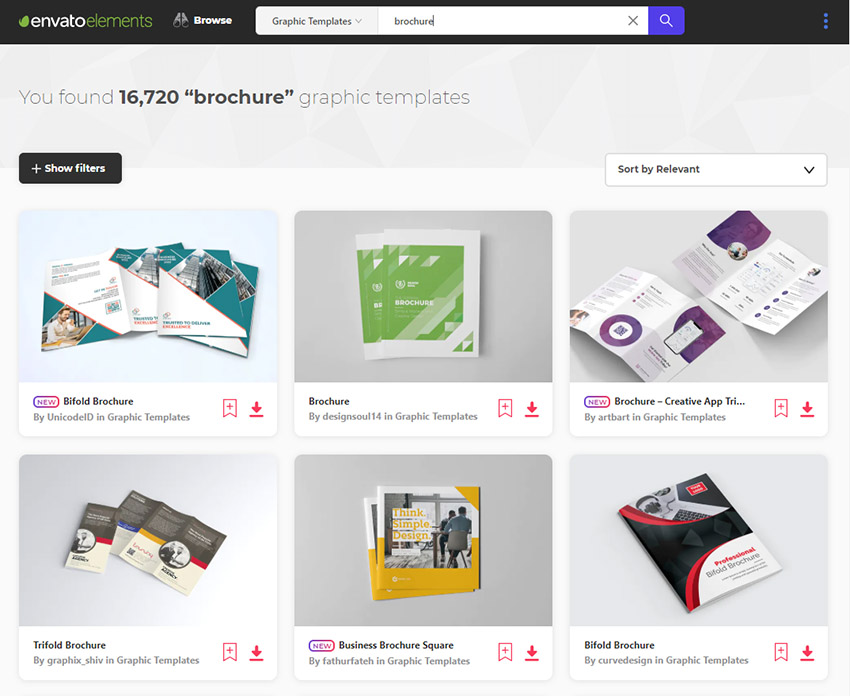 A premium template comes with more options, more content. Often, there's even documentation to help you get the job done. It can be way easier to find what you're looking for, in way less time, with less hoops to jump through, too. There also tends to be more quality control when you're working with a premium product.
Check out Envato Elements. There are plenty of brochure design templates here to check out. 
The best part is, you're looking at one fee for unlimited downloads. Download as many templates as you'd like to try out. Mix and match them, test them out—it's all included.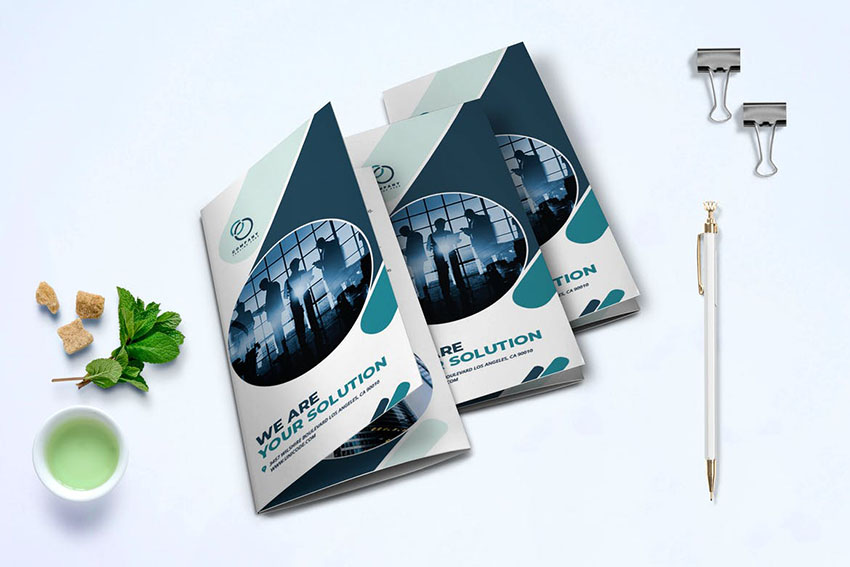 The process is as simple as downloading the template and opening it up in the applicable software. Customize the content and the design to meet your project's goals. This can also be a great fit if you'd like to try out more than one template! Download and experiment to your heart's content.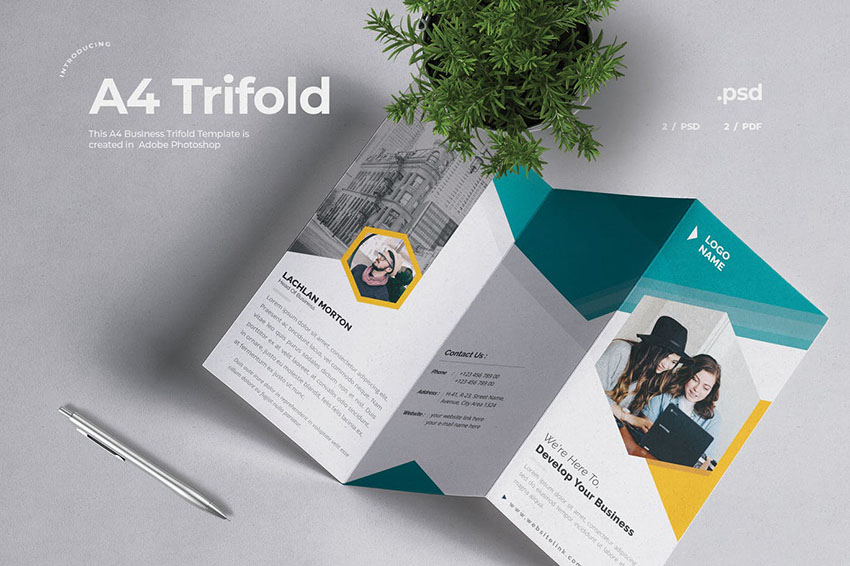 5+ Best Premium Bifold & Tri-Fold Brochure Templates From Envato Elements

Before we continue, let's look at some of the awesome offerings on Envato Elements. Pick one up, or sit back and enjoy some visual inspiration for your next design project!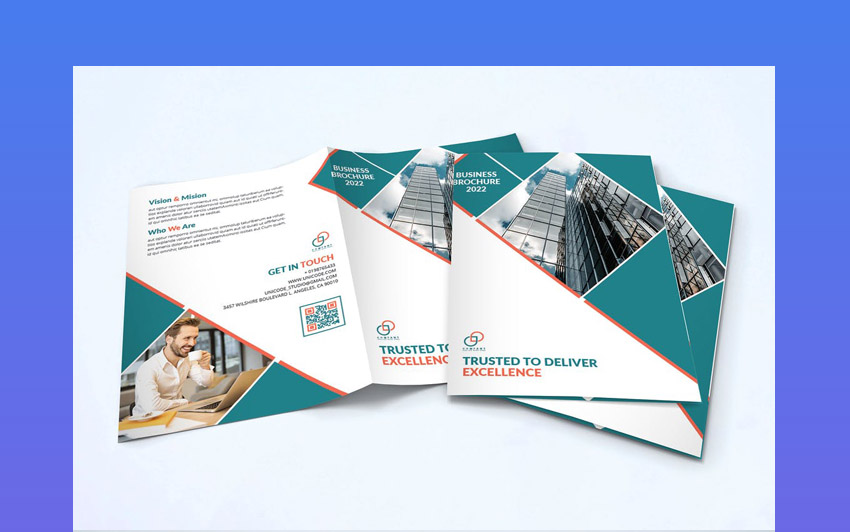 Prefer a bifold brochure style layout? Check out this brochure template design. Many templates, like this one, are for Adobe InDesign. It's got stylish considerations for both the front and back cover.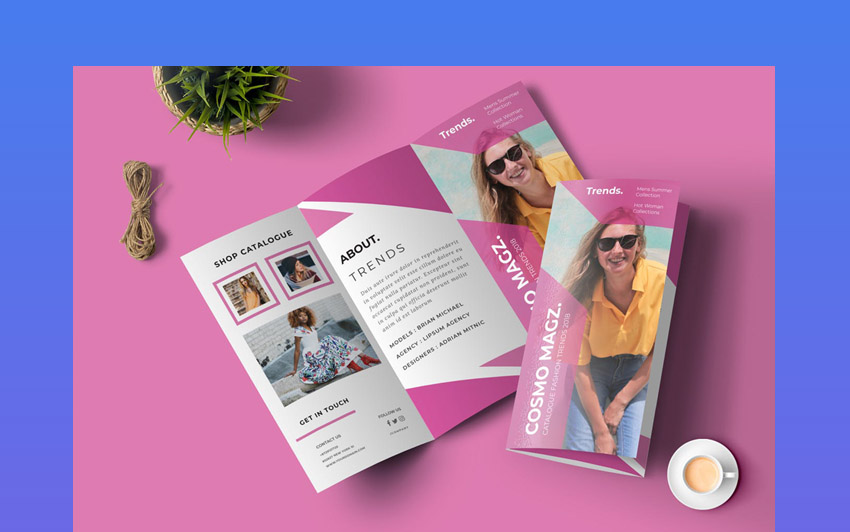 Cute design, right? This brochure design has fashion in mind but could work for a variety of situations. This one's for Adobe Illustrator—what software will you opt to use?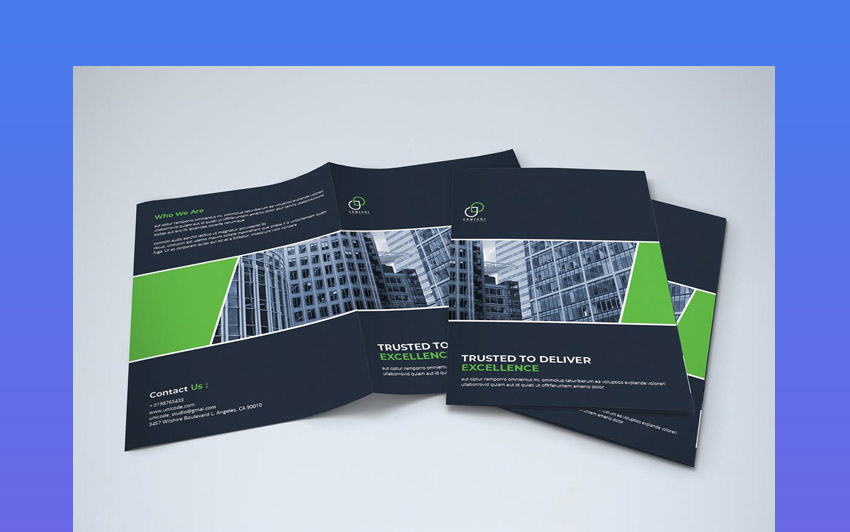 Darker colors and higher contrast make this bifold brochure design stand out! It also comes in two different sizes: US Letter and A4. This perk makes it pretty versatile—you could use it for more than one project!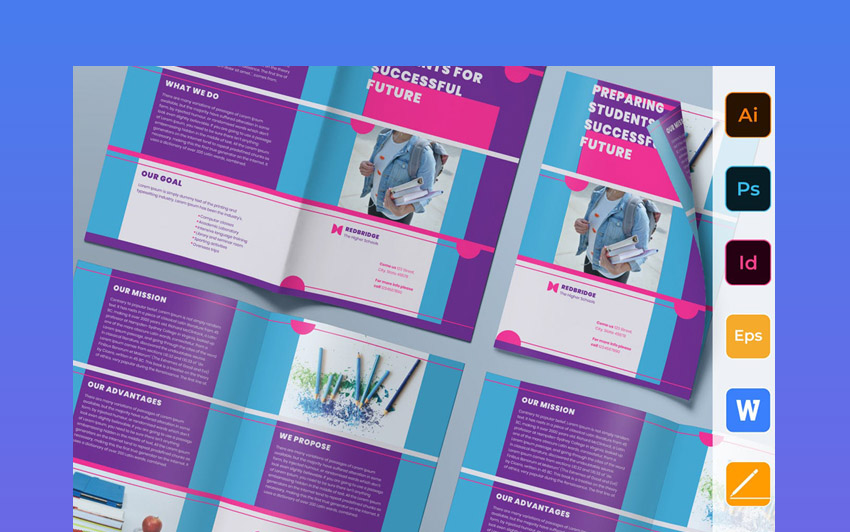 Check out this colorful brochure template. Not only is it stylish and whimsical, but it's available in such a wide variety of formats! From Photoshop to Microsoft Word, this one's easy to customize.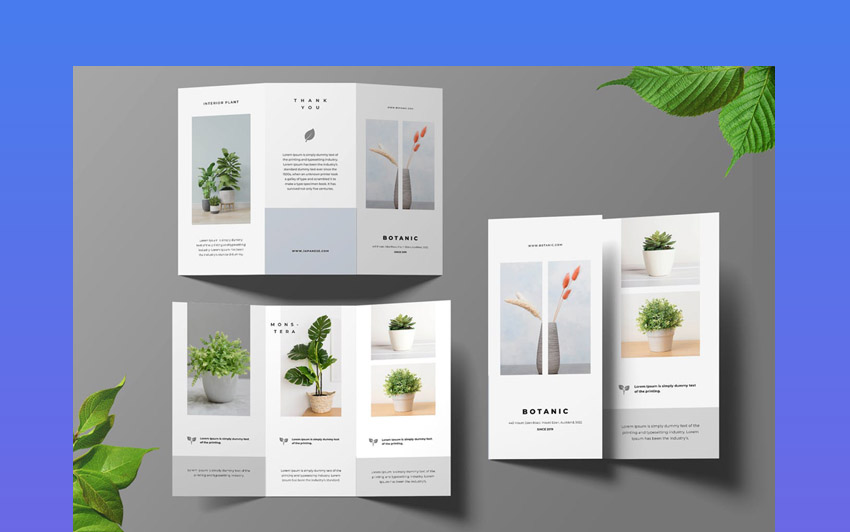 How about a clean, organic look? This template has such a relaxing vibe. What kind of aesthetic do you think would work best for your brochure project? This one would be great for showcasing photos!
If you need a brochure for your restaurant or food business, this trifold food brochure template is a great option for you. It's really easy to use because is fully layered and well organized. Some of its cool features are:
A4 paper size (CMYK 300DPI)
Fully print ready
Well organized files and layers
Free fonts used
Bleed included
5 Best Bifold & Tri-Fold Brochure Templates From GraphicRiver
Not a fan of unlimited downloads? Prefer to only download and pay for the bifold or tri-fold brochures you need, rather than working from a large collection? Check out GraphicRiver—pay as you go, download only what you need, per brochure template.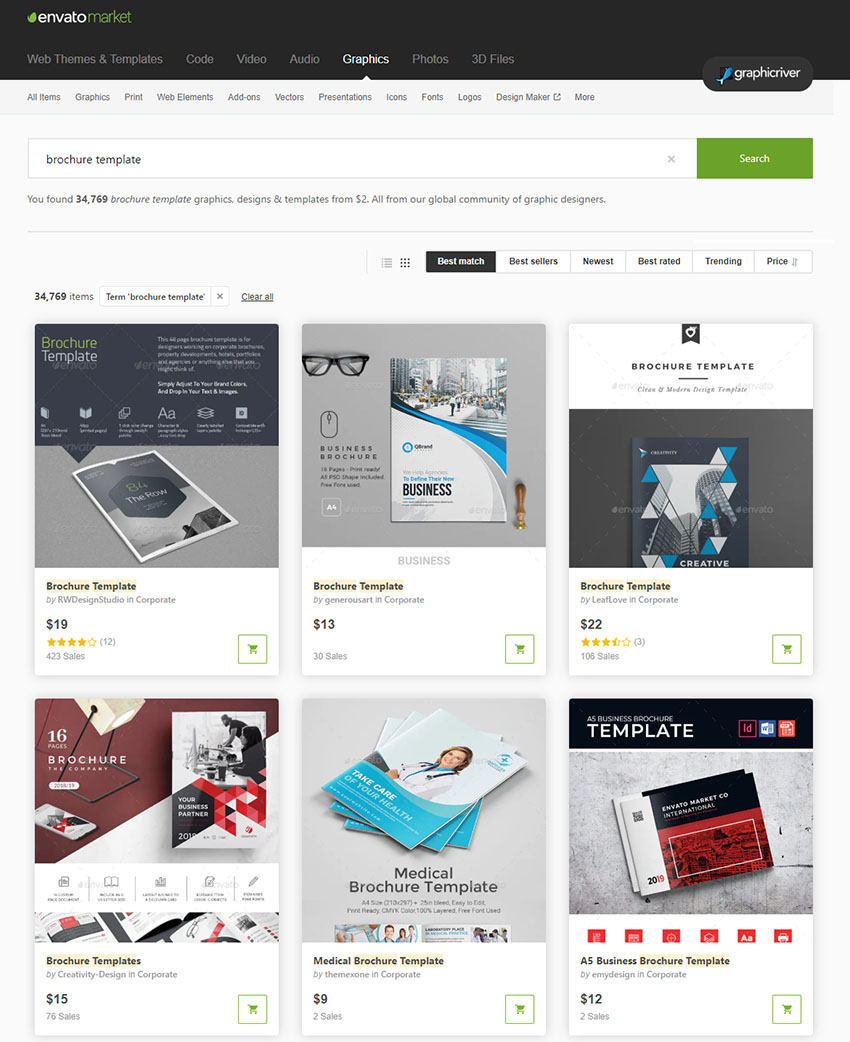 The benefit here is that you're looking at a one-time fee for exactly what you're looking for, and that's that—a simple, one-time transaction, no subscription fees and no fuss. 
Let's look at some of the awesome content available over on GraphicRiver before we dig into our collection of free finds.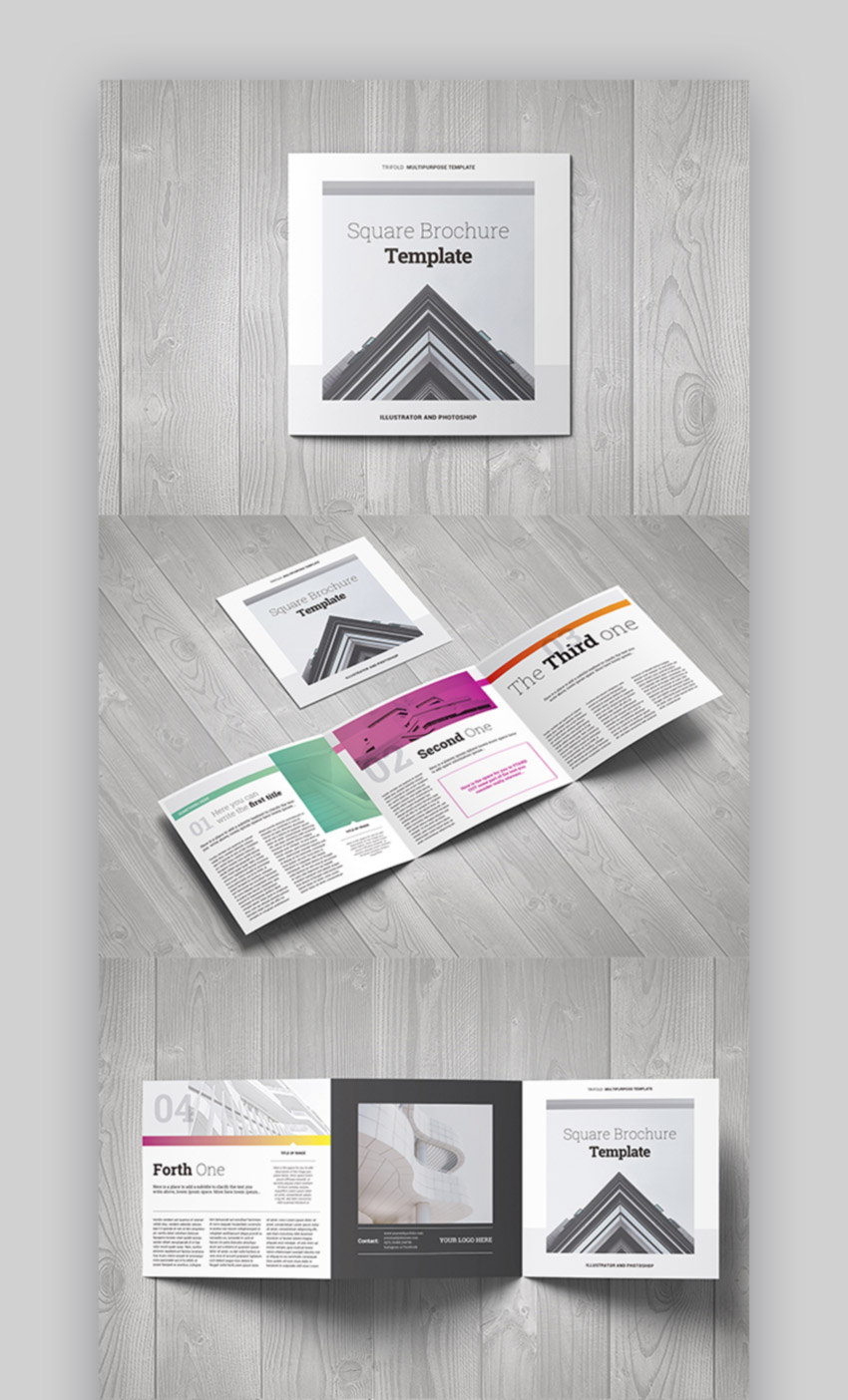 How about a design that's a little out of the ordinary? This trichure design folds outward and features square dimensions. This approach could be a perfect fit for art, design, and architecture projects—or any situation where you want to subvert expectations!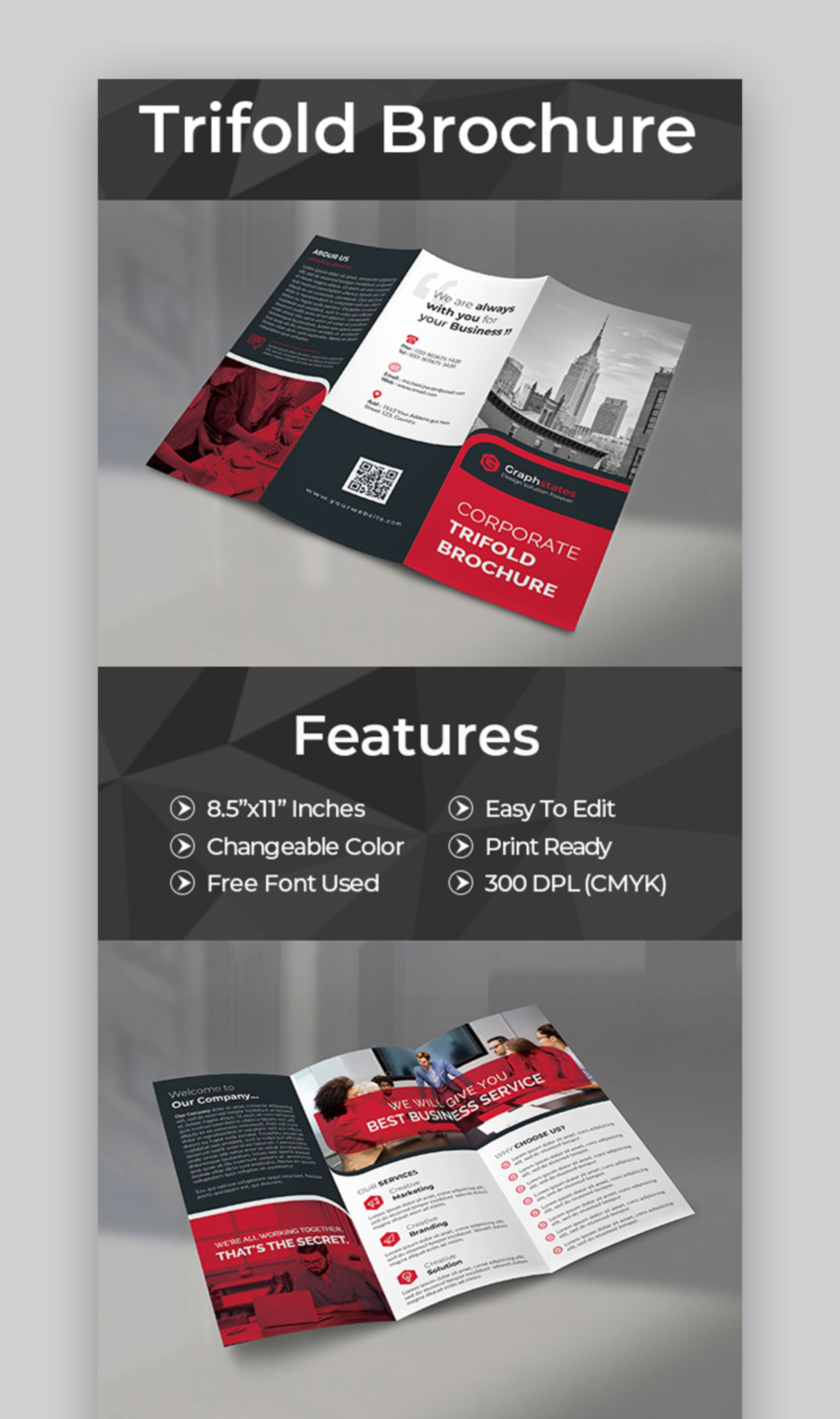 A pop of color can be eye-catching, right? In this tri-fold brochure template design, the red really stands out. 
One of the great things about working with templates, like this one, is how easy it is to customize them. Red's not your key color? Easily make it blue!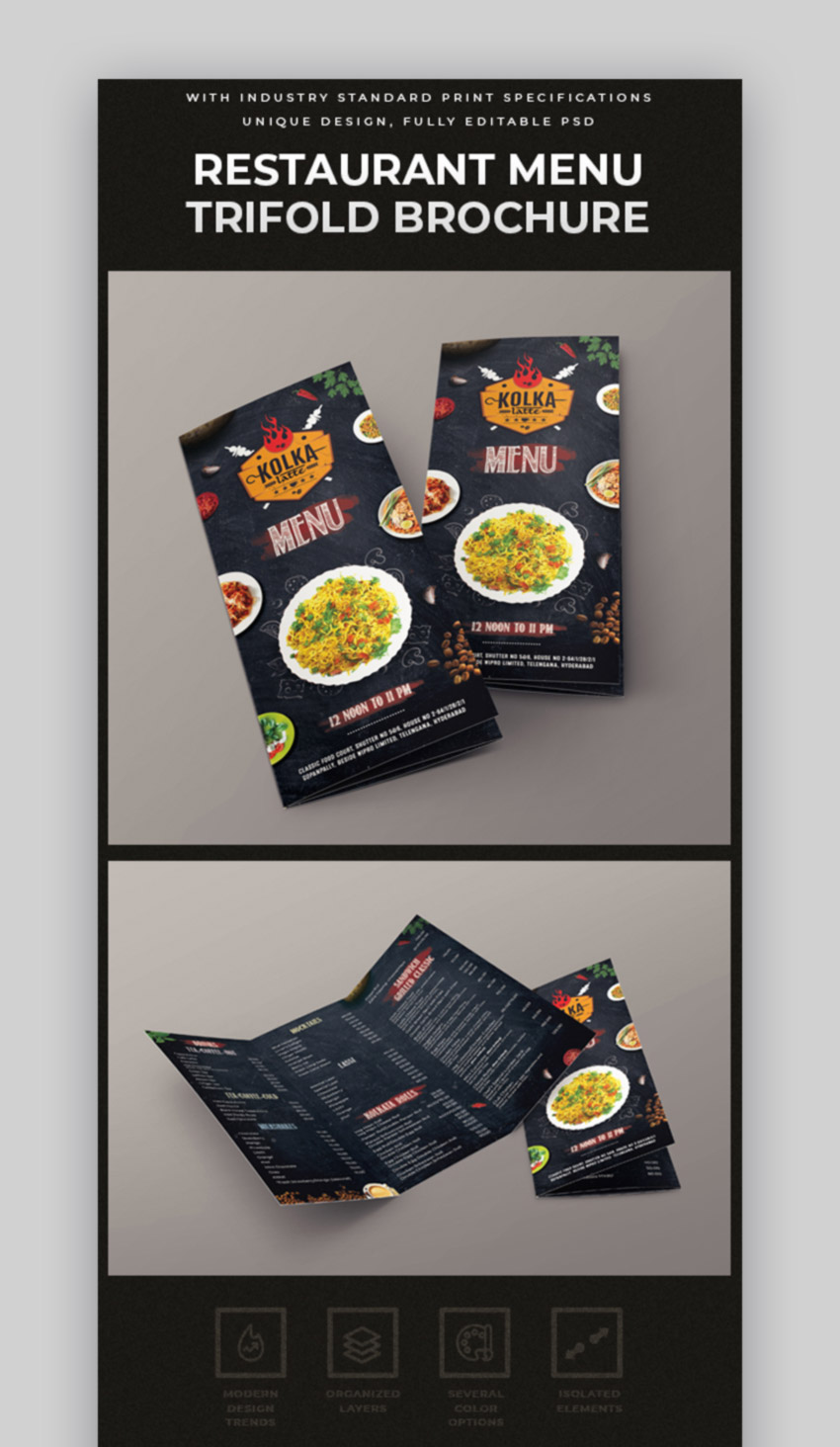 A three-fold brochure can be a great fit for menu designs. It can also work well for a whole host of different service-related data. Imagine having all your business offerings available in one easy-to-hand-out brochure!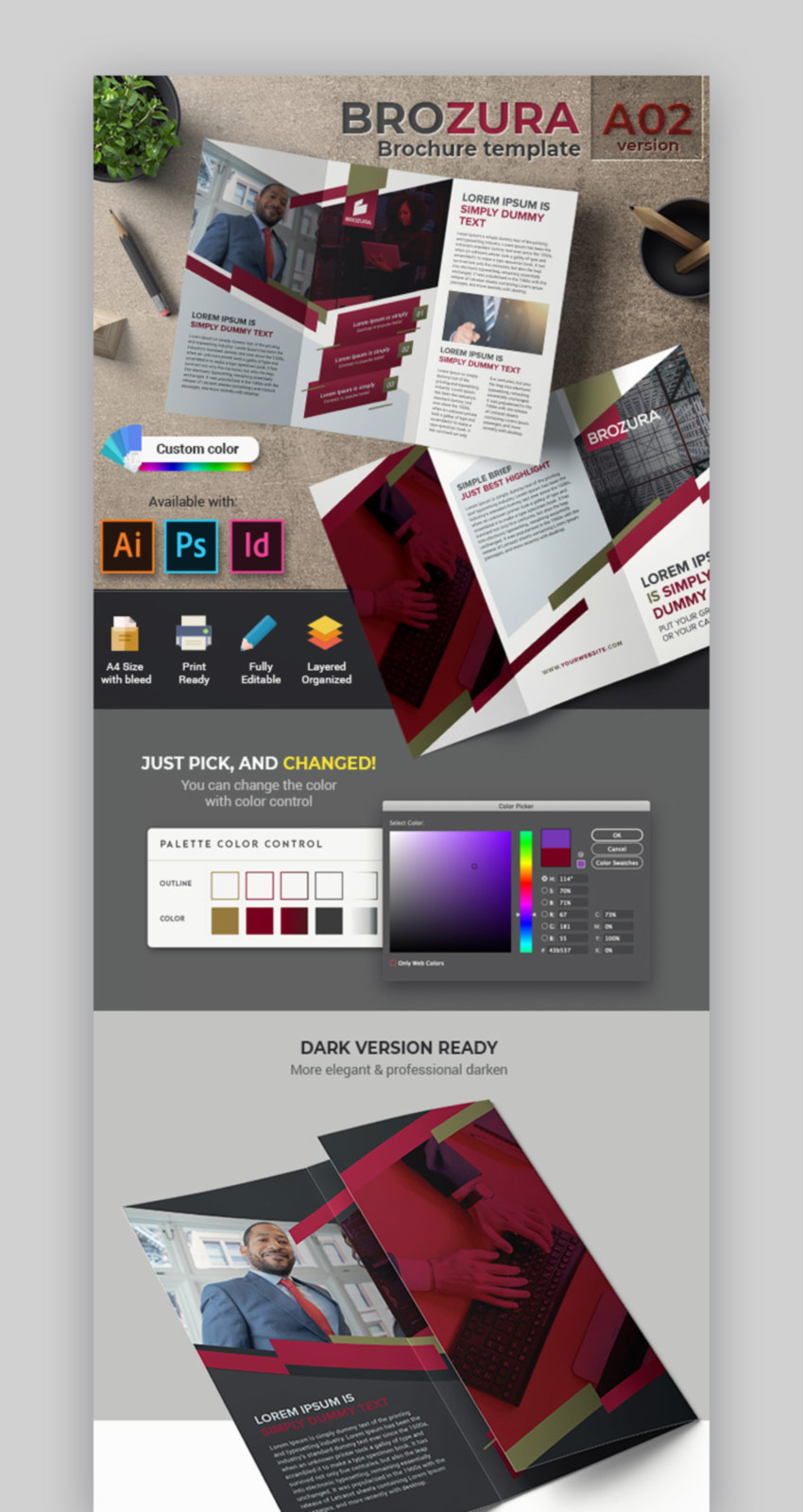 A brochure template can save you a lot of time, but working with one can also be a lot of fun. It can help jump-start your process and give you a head start. Jump into a design, like this one, and start making your customizations.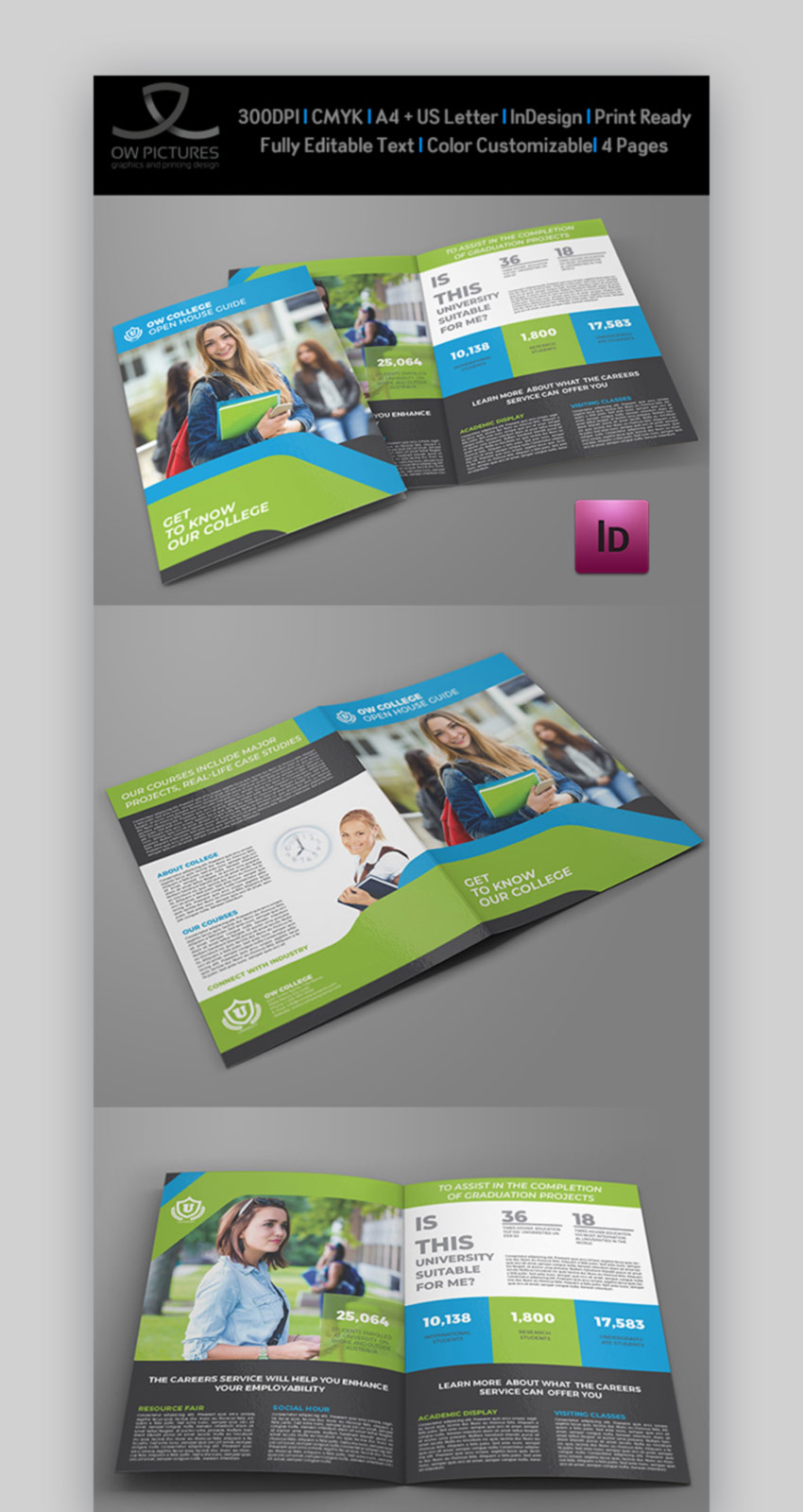 A bifold brochure template like this one could be a great fit for a project with a lot of content to share with viewers. It's important to present your content in a clear, organized way. This template does just that—with four different pages to mix and match, too!
20 Best Bifold & Tri-Fold Brochure Templates for Free

Now, let's check out a selection of awesome bifold and tri-fold brochure templates for free from different sources on the Internet. Consider adding these links and websites to your list of resources, especially if you spot a design that catches your eye!
Let's dig in and check out some great brochure designs for 2021 and beyond: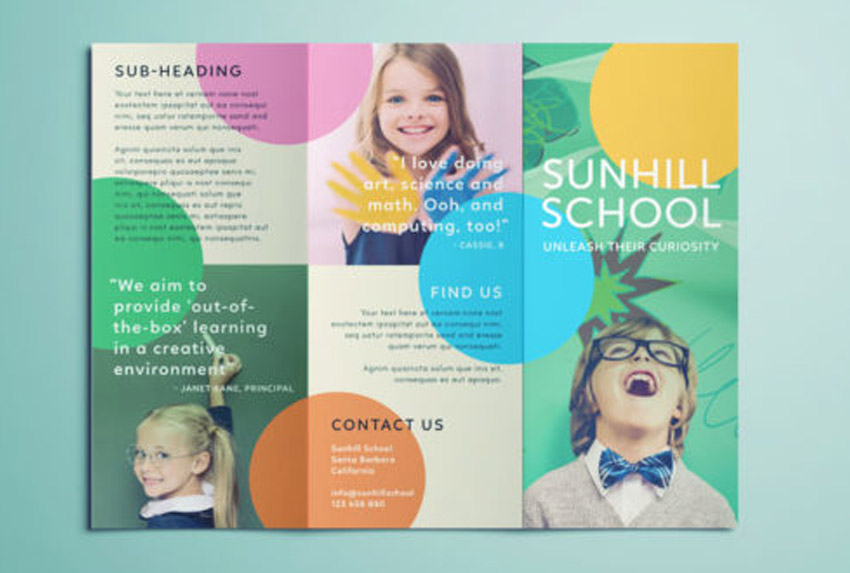 How fun is this colorful brochure template from InDesign Skills? It could be a perfect fit for your school-related function, or any project that could benefit from a little playfulness and whimsy.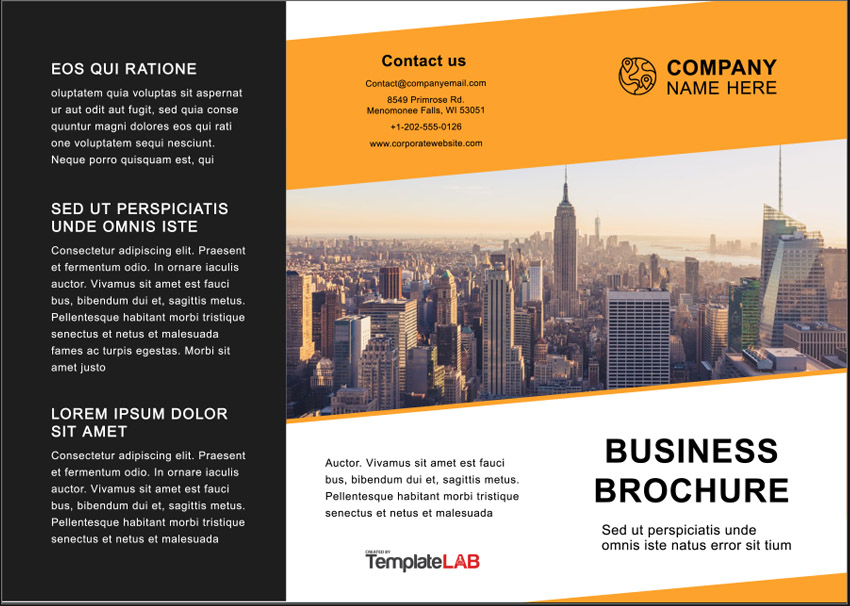 Check out this 3-fold brochure template for free from TemplateLab—the darker part has such high contrast! This could be a great space for important information.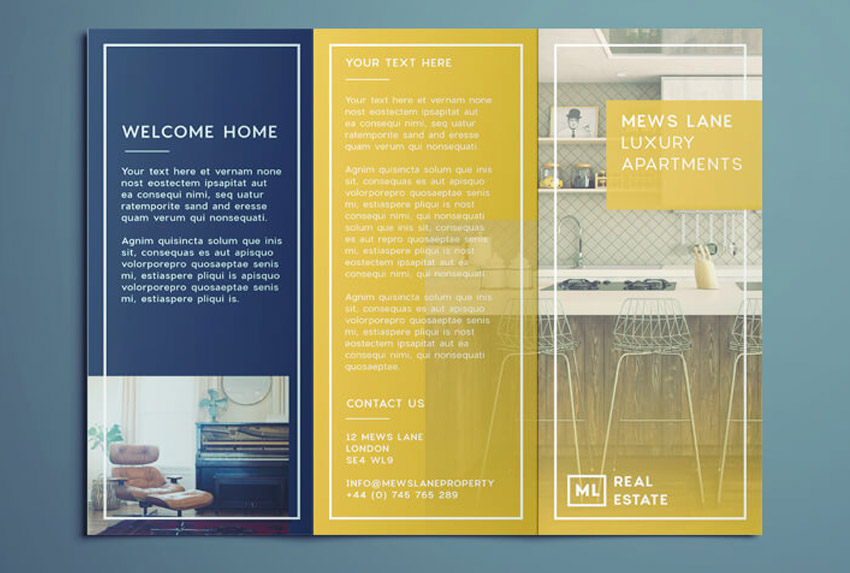 This free tri-fold brochure template was designed with luxury apartments in mind, but it's got so much space to showcase your photos! It's got the potential to work for a multitude of projects.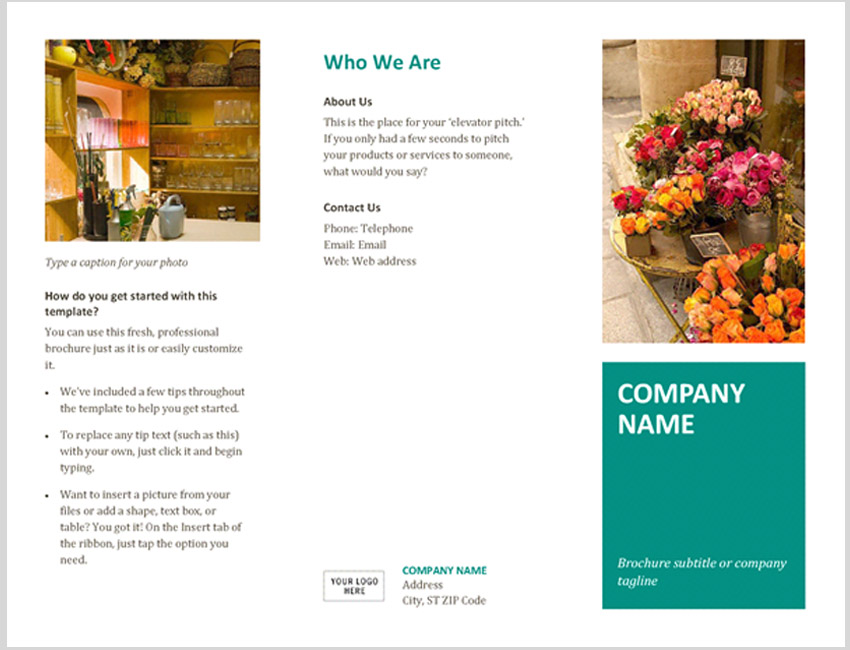 Looking for something simple and clean? This Microsoft Word tri-fold pamphlet is easy to edit and well organized. Jump in, add your content, and you're ready to go.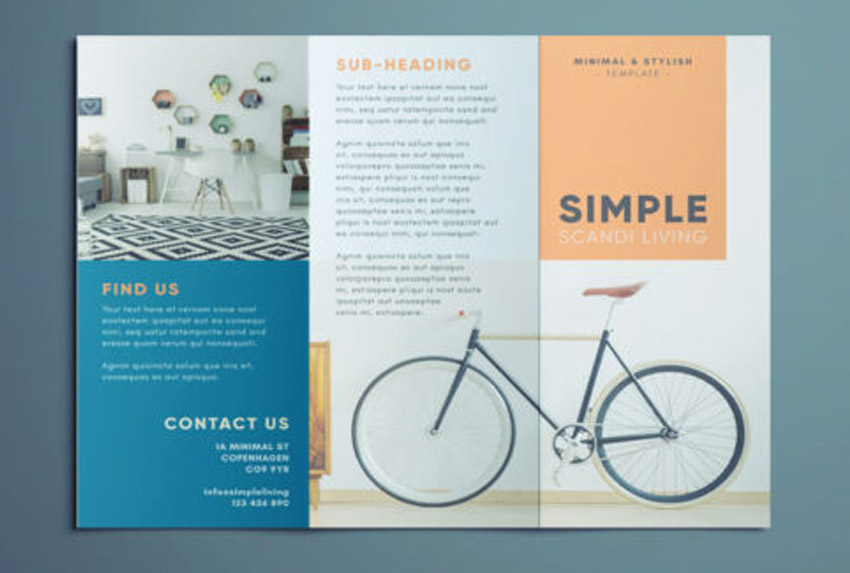 This InDesign template has such a lovely color scheme! There's plenty of space to showcase your content in a really artistic and fun way.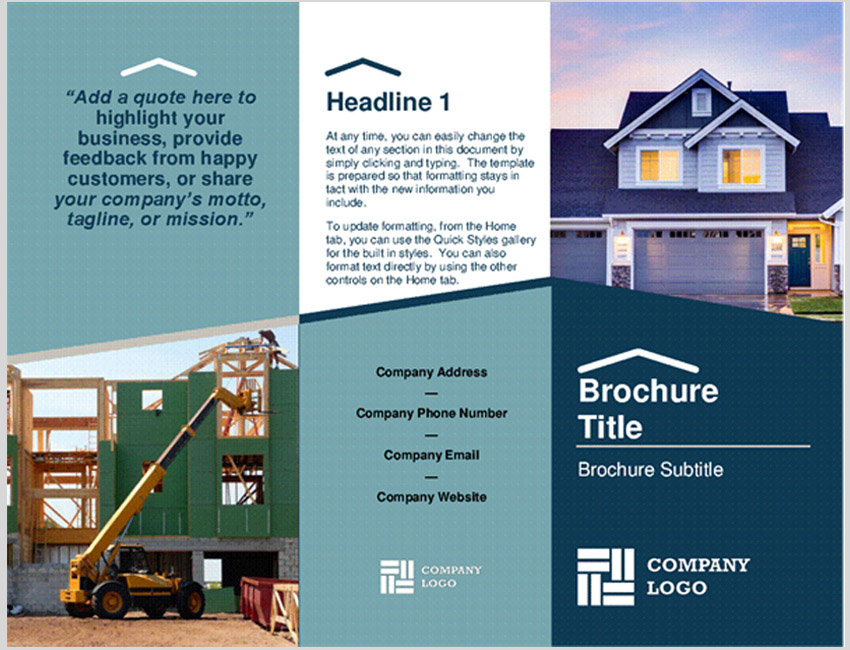 Building or real estate your area of expertise? Check out this 3-fold brochure template. There's plenty of space for your info and your pictures. Easily edit it in Microsoft Word—for free!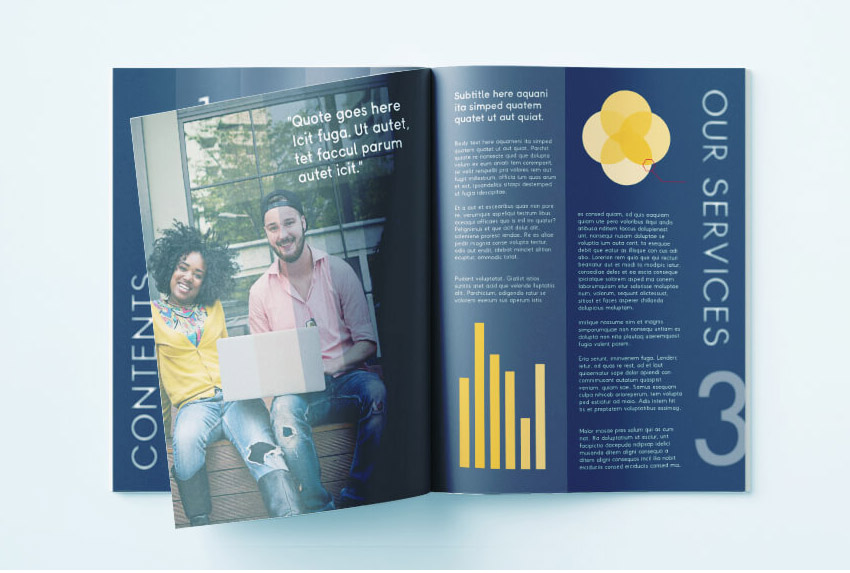 Isn't this a stylish template? Easily edit this bifold brochure in InDesign. It's free to download and start designing, right now!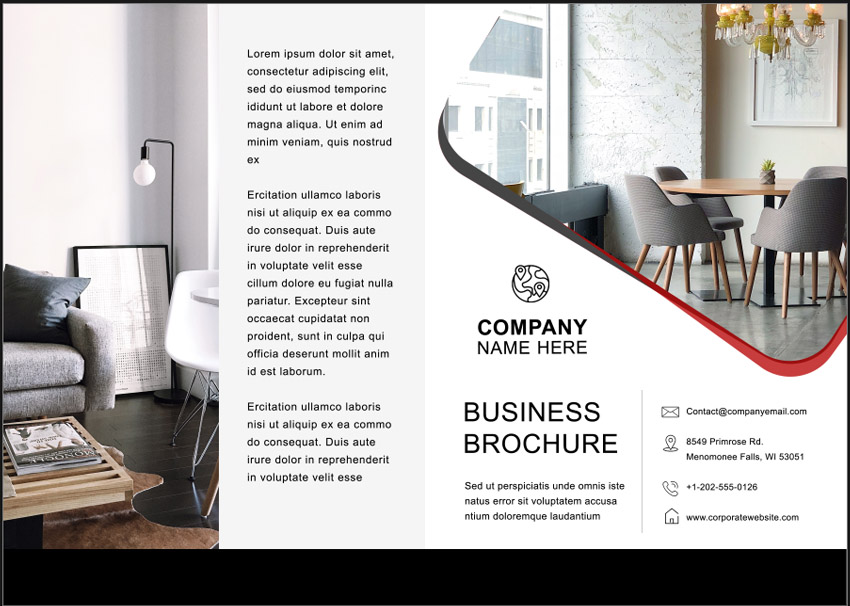 Simple and clean, with plenty of space to showcase your content—that's this template!  Want to push it further? It's easy to dig in and make this your own in Adobe InDesign.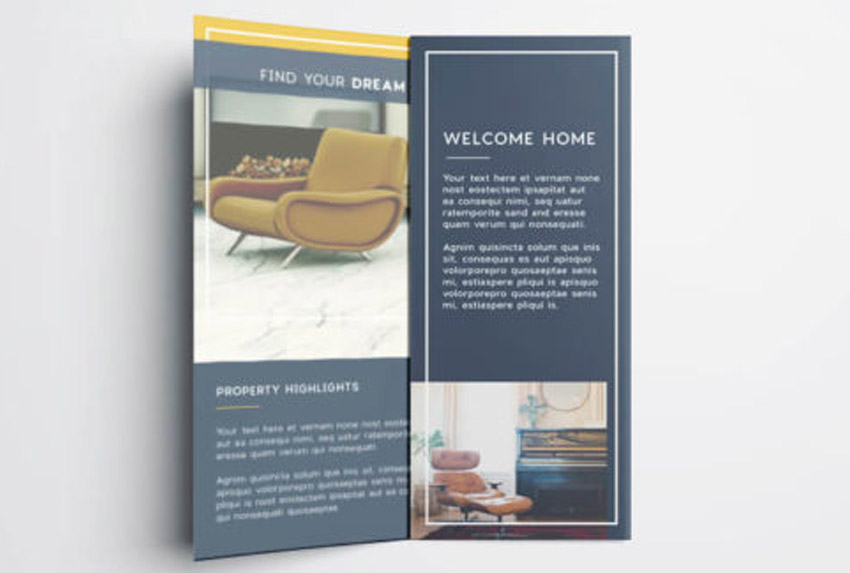 Here's another lovely InDesign template. This one's a tri-fold—how many folds do you think is most appropriate for your project? The white text against the muted blue looks awesome, but it's also easy to customize this color scheme.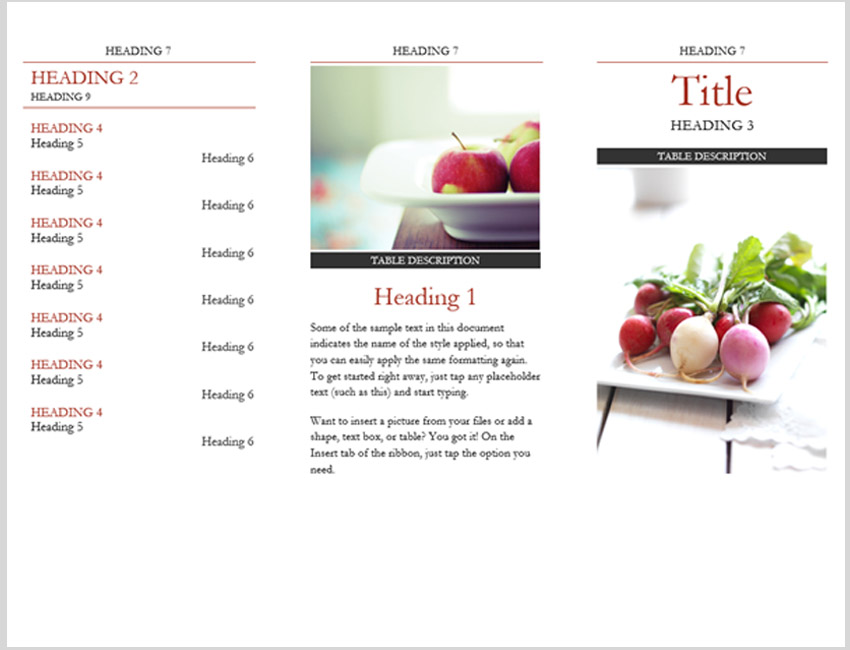 If you're looking for something simple, this Microsoft Word template might fit the bill. It's clean, to the point, ready for your edits, and free to use!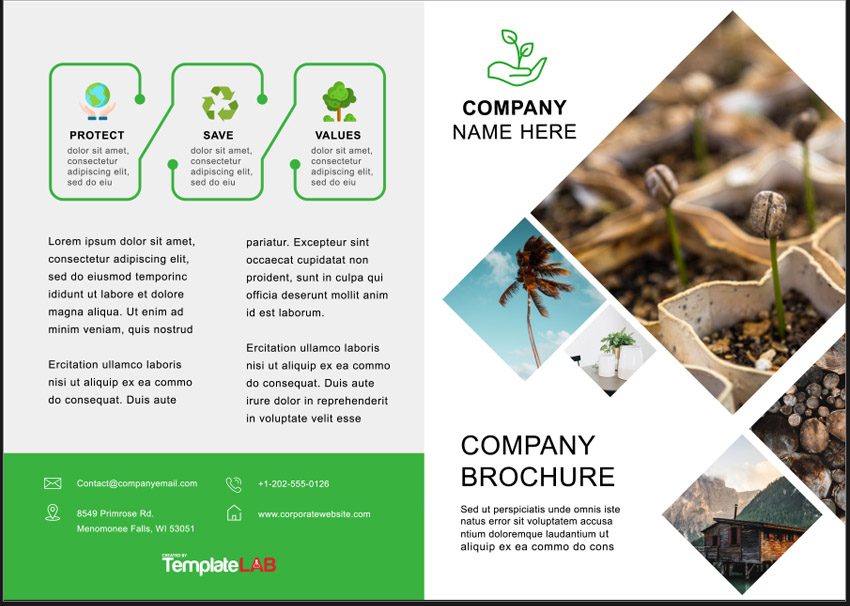 This bifold brochure template could be a great fit if you've got infographics to include. Or it would be great if you've got some photos that'll work well in a collage setting!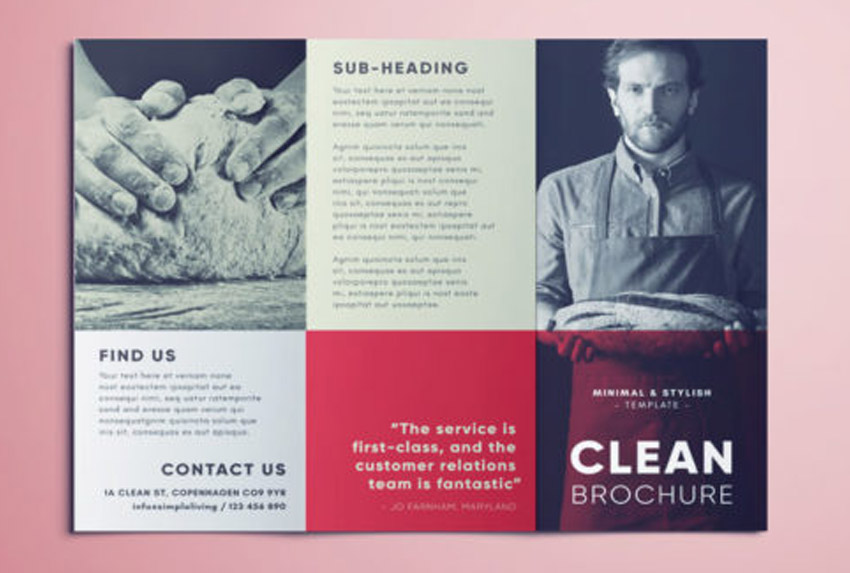 Check out this stylish, color block look! Jump in and customize the imagery, the text, and the color scheme in this free tri-fold pamphlet template for Adobe InDesign.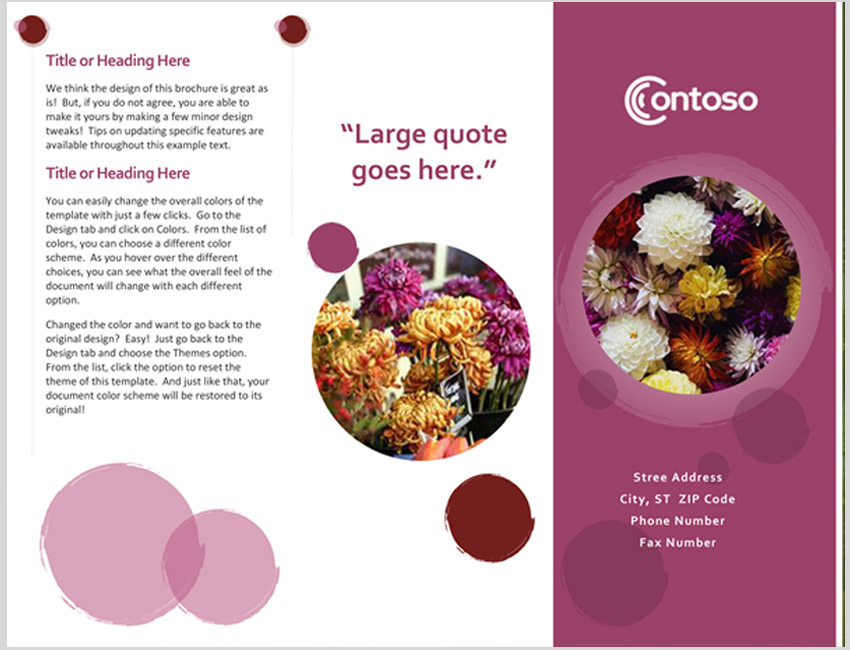 Fun and colorful flowers are the theme of this free Microsoft Word tri-fold layout. Download it now and start customizing this design with your content!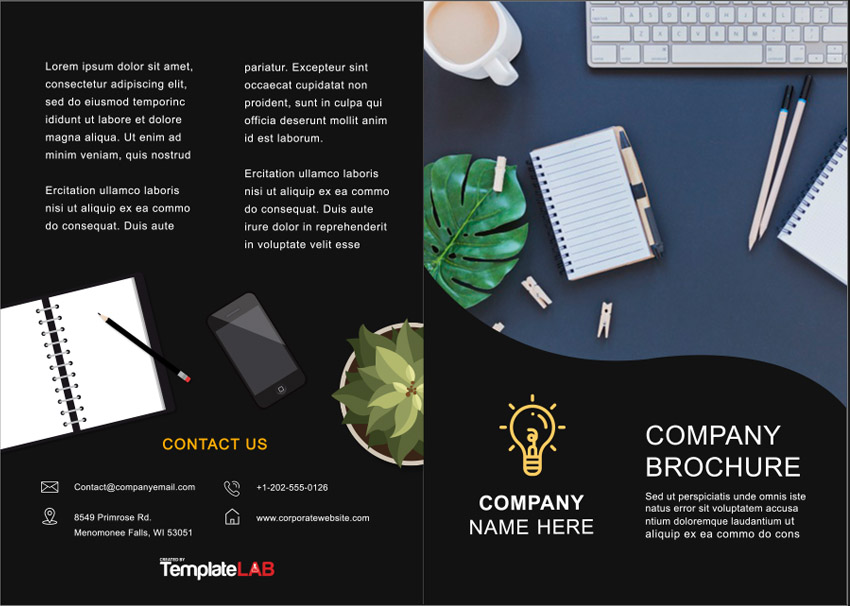 Prefer a bi-fold brochure design? This InDesign template could work for a variety of projects. Not only is it adaptable—it's also free!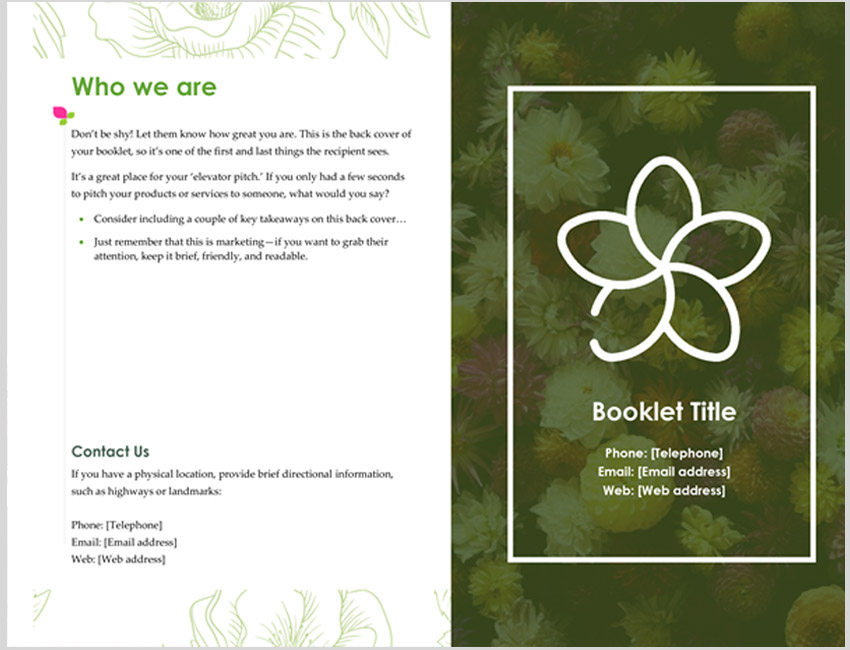 Floral elements and organic colors can make for such a soothing, welcoming, visual experience, just like we see in this free template. You could swap this out, change the colors, and it could work for so many projects!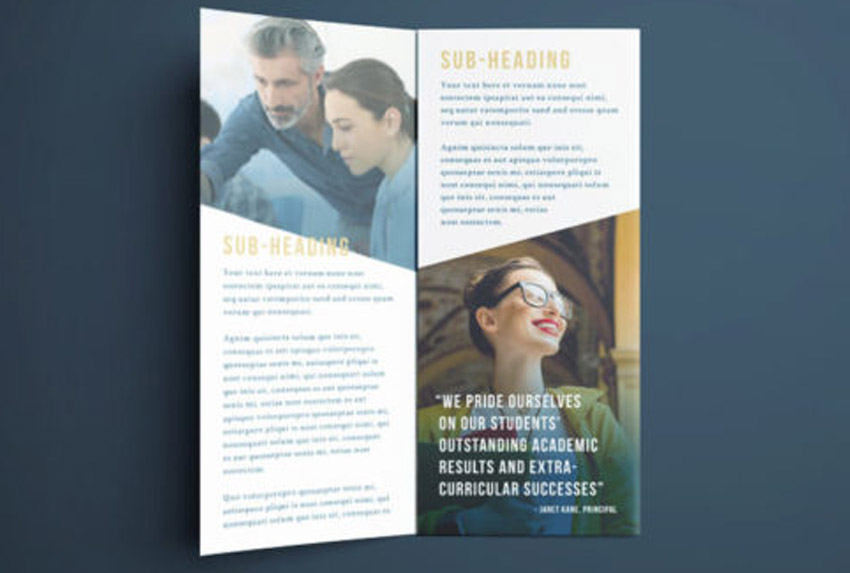 Working in academia? Trying to get the word out to your community? This template could be a great fit, especially if you've got a lot of content to share.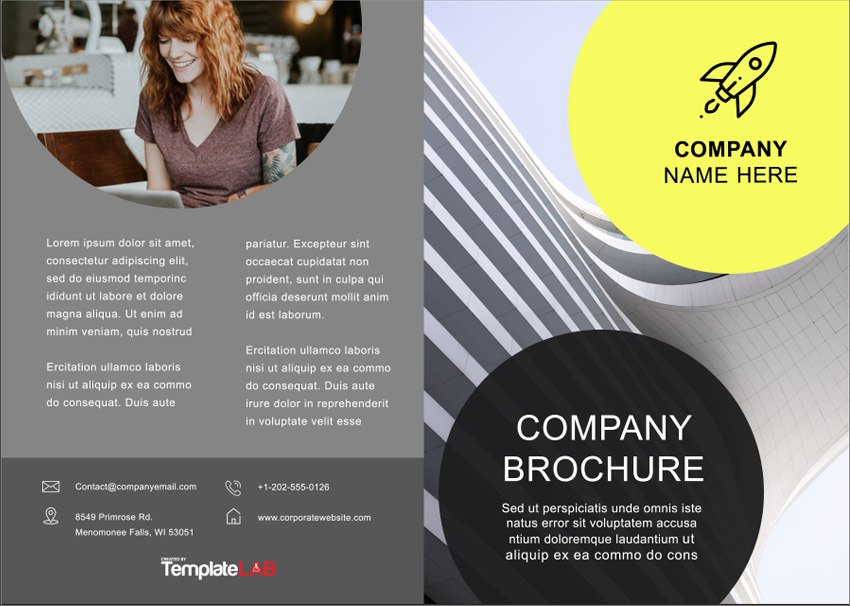 This Adobe InDesign template mixes up the composition with rounded shapes to command the viewer's attention. Variation in shape, like this, can be a great way to mix things up.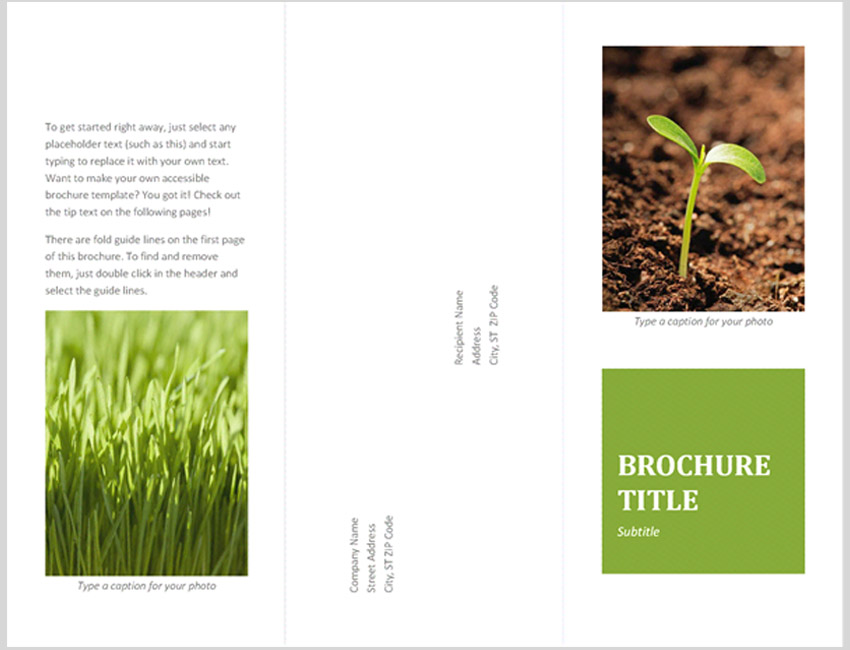 Sometimes, less is more, like in this Microsoft Word Brochure template. Don't underestimate clean, open space in a design—it can work really well! This tri-fold brochure template is ready for mailing address content, too!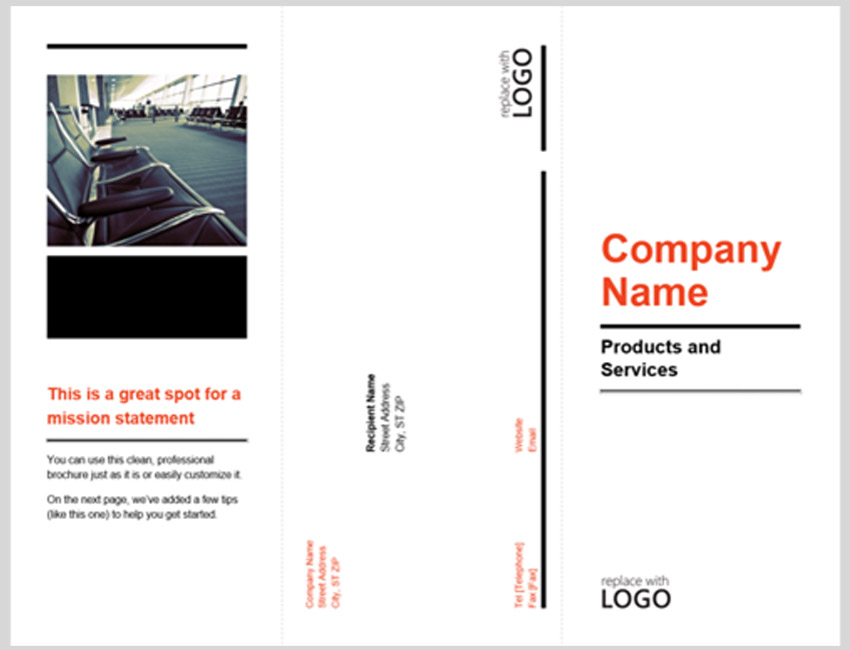 This is another great example of a minimalist design! There are interesting pops of color here, too—notice how the red really stands out! What color would you use in this design?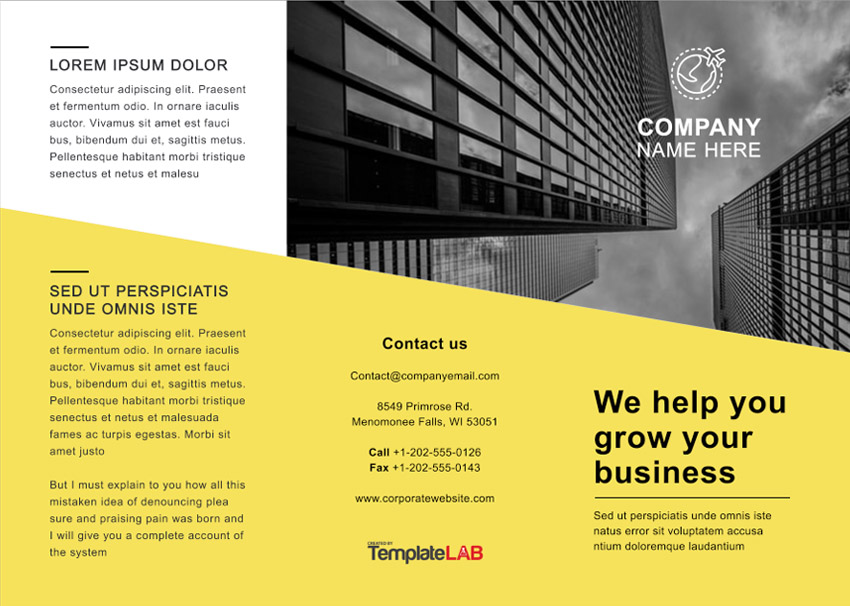 We can also use color and value to divide our composition and organize our content, as we see in this free three-fold brochure template! Download this one and give it a try!
5 Quick Tips to Make Great Bifold & Tri-Fold Brochure Designs for 2021

So you found the perfect template. How do you make the right changes? Or you found a design you love, but you don't understand why you love it. What makes a brochure design good versus great? 
Here are some design tips that can help you with your brochure design choices:
1. Think About Both Form & Function
It's important to consider more than just how your brochure looks. 
We want our brochure design to look snazzy, but if it doesn't function well—if the reader can't navigate the content easily—then we potentially lose our audience. 
Make sure to consider what content should go where—and why. For example, what sides of your brochure will the viewer likely see first? What might they see last? Using this information, what information should you prioritize and what might be more appropriate as supplemental content?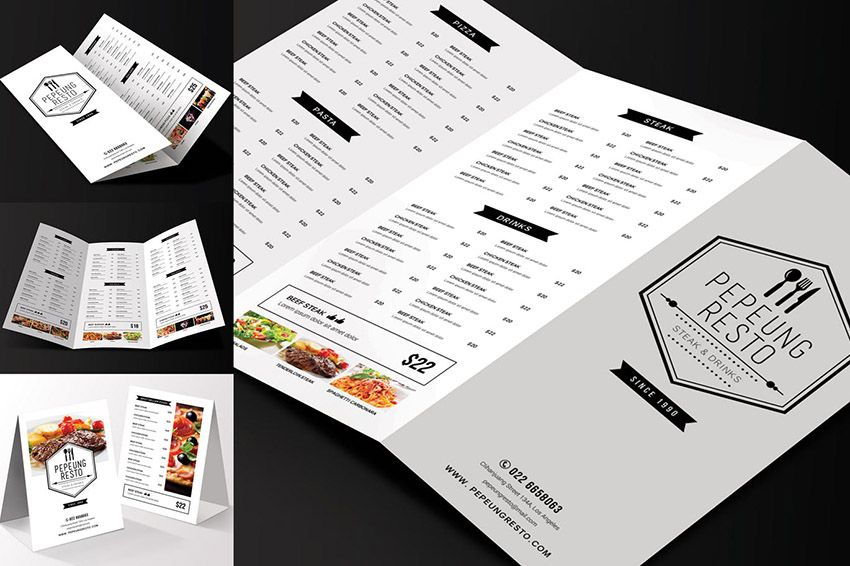 2. Think About Color Too
Color can be very communicative. These communicative qualities really depend on our target audience. When working with color, as you design or customize your brochure design, here are some tips to keep in mind:
Think about your branding. Make sure your design decisions reflect your professional brand. So, for example, if your logo is purple, it might be a good idea to incorporate that same purple in your layout design.
Think about contrast and saturation. Choose colors that aren't too hard on the eyes, especially when working with typography.
Color can "say" a lot! Think about what your color choices might say to your audience. Are you trying to communicate a calming vibe? Excitement?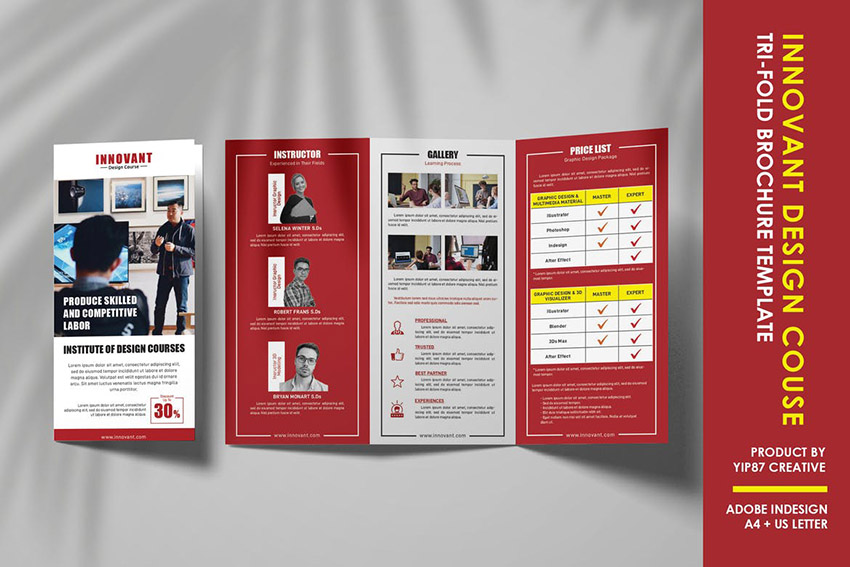 3. Build a Cohesive Experience With Visual Consistency
Reading a brochure should potentially be a cohesive experience—a continuous document with a unifying theme. Think about it like this: if you were writing the content for your brochure, the content would all be related, with one specific goal or purpose. 
The same perspective works well for visual elements in a design. Establishing visual relationships and using repeating elements can help create a sense of cohesion and continuation from panel to panel.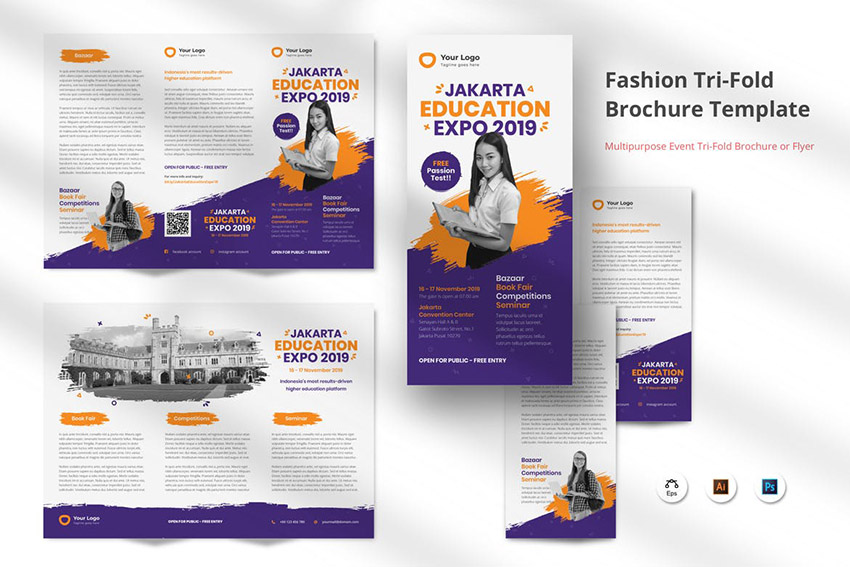 4. Strategic Variety Can Keep Things Interesting
Let's say you've got a longer brochure to create, with a lot of content to deliver to your audience. It might get a little tedious to look at if every page is exactly the same. It's fun to mix things up, and it makes for a more visually engaging presentation.
But, as we discussed a little earlier, consistency is a great way to build a cohesive experience. Too much similarity, and we risk boredom. How do we find a happy medium?
Use things like colors, repeating footers, logos, and other repeating elements to help establish that consistency—but still mix it up with layout variations.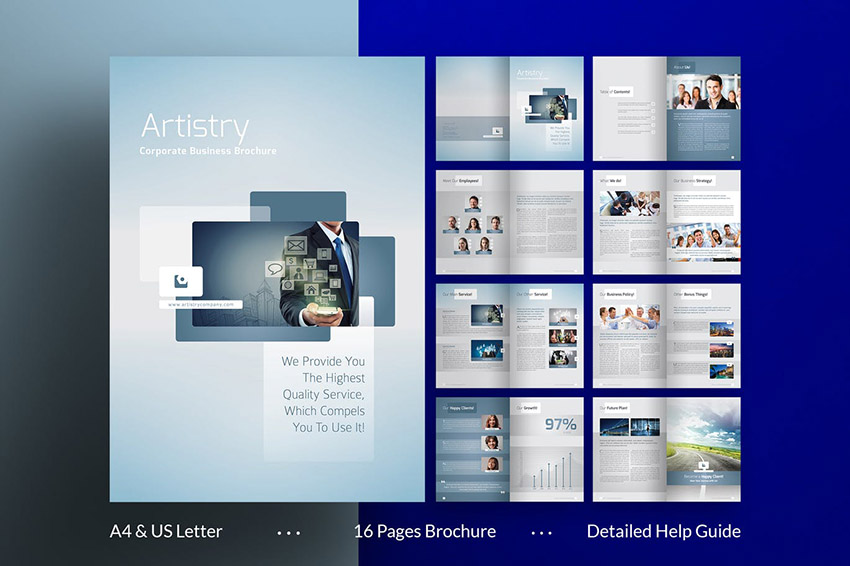 5. Keep Your Information Easy to Read
Design is a lot of fun, but we can end up with a lot of choices. Don't forget that great design is often both form and function. It can't just look good. It's got to work too. 
Of course, that's easier said than done. But it's often a good rule of thumb to make sure your content isn't cluttered. Here are some tips that can help keep your content easy to read:
Remember to give body copy ample margin space. If the type is really cramped, it could hurt readability.
Line Spacing is important too! This is the space between each line in a paragraph. If the lines are too close together, it might look cramped. Likewise, if there's too much space here, the lines might look disjointed, rather than like fluid sentences.
Don't be afraid of "empty space." Sometimes, less is more. We don't have to "cram" as much content as we can into a layout design for it to look great.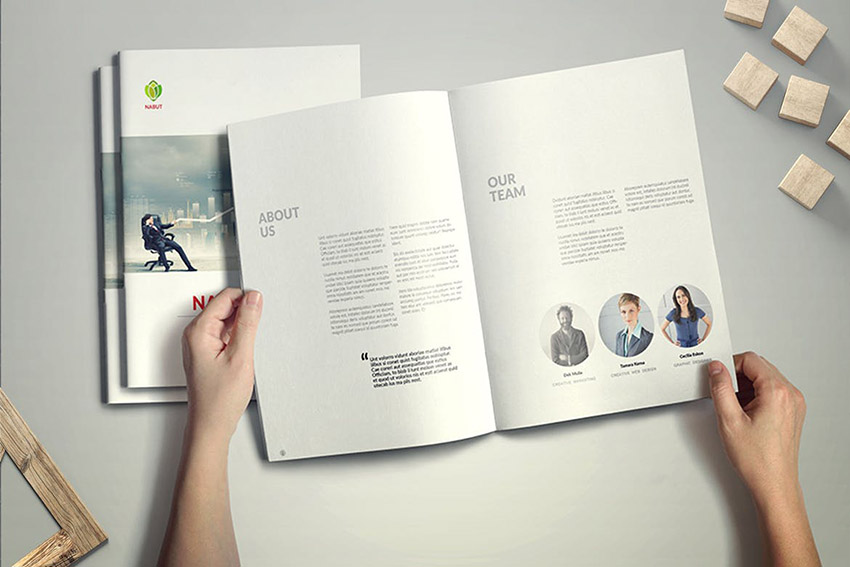 Find More Brochure Template Inspiration
Are you still looking for that perfect tri-fold or bifold brochure design? We've got plenty of brochure templates for you to choose from. Here are some more options:
Learn More About Brochure Design
When it comes to great design, there's a lot to explore and cover. To learn more about brochure design and best practices, or to pump up your design skills, check out some of the tutorials on Envato Tuts+. From brochure design to typography to creating T-shirt designs, there's so much to see and learn.
Check out these tutorials for more inspiration and brochure design walk-throughs, if you'd like to try making one from scratch.
BONUS: don't forget to check our complete guide, where you'll find a compilation of our best brochure design tutorials and inspiration: Brochure Design & Templates
Reach Your Audience With a Professional Brochure Design in 2021!
I hope this article brought some awesome new resources into your tool kit, from design inspiration to free templates that you can add to your arsenal. 
Ready to jump in and start creating? Remember, you can find plenty of professional bifold and tri-fold designs on Envato Elements, if you're looking for more inspiration or a premium option! Only need a single 3-fold or bifold brochure template? Check out GraphicRiver.
Here's to your design project. Hopefully, your brochure meets all your goals and dazzles your audience! Why not get started today by downloading your next bifold or tri-fold brochure template?