With the battle to contain the spread of Covid-19, face masks have now become a necessary and unavoidable part of our daily lives, and designers across the globe are making sure that we protect ourselves in style. 
If you're looking for a face mask mockup to showcase your latest designs, we've got a terrific collection of the very best mockups from Envato Elements, Placeit, and GraphicRiver. Have a look.
You can also learn more over on our Envato Tuts+ YouTube channel:
Premium Face Mask Mockups (PSD) at Envato Elements

Envato Elements is a terrific resource for premium face mask mockups in PSD format. Not only does Elements offer a great selection of photo-realistic mockups, created by talented designers around the world, but you can also download as many as you want, as often as you want, for one flat monthly fee. 
What's more, that monthly fee also allows you to access thousands of other top-quality digital assets like logos, graphic templates, photos, business card templates, and much more. Here are just five of the awesome face mask mockups in PSD format found at Elements.
This template will allow you to show off the many angles of your fabulous designs. Use the smart objects to customise every aspect of the mouth mask mockup. There is a useful help file included to help guide you if you get stuck.
Medical staff and general public alike will love this medical face mask mockup, which makes it super easy to add your latest designs. The high-res PSD files are well-organised in layers, and all aspects of the design can be customised using smart objects. 
Why should surgeons have all the fun? Use these fabulous, photo-realistic surgical mask mockups to display your own mask design professionally. The template contains five face mask mockups in PSD file format, with smart-object features to help you replace the current designs with your own within seconds.
This collection offers three face mask mockups in PSD file format. They allow your potential customers to view your mask from every important angle so that your design is well displayed. These high-quality mouth mask mockups are easy to edit using smart objects. 
This template offers seven different face mask mockups in PSD file format. The templates are well organised in layers and are easy to customise using smart objects. The fabric mask mockup includes a PDF help file in case you get stuck. 
Placeit Face Mask Mockup Generator
For those of you who don't feel confident about your Photoshop skills or want an easier approach to customising a mockup, there's Placeit. Placeit is an affordable online design generator that makes professional branding, promotion, and marketing tools accessible to everyone.
It does this by providing design novices as well as those with more experience with high-quality designs, logos, videos, and mockups that they can customise online and download in a matter of seconds.
This means that you can design all your branding and marketing materials directly from your browser, without needing complicated software. Let me show you how to create an awesome face mask mockup online in minutes.
How to Create a Face Mask Mockup in Minutes
1. Choose a Face Mask Mockup

Go to Placeit.net and type "face mask mockup" into the search bar. Scroll through the mockups and click on the one you like.
2. Add Your Design to the Mockup

This will open up the Face Mask Mockup Maker. To customise your template, start from the menu on the left and upload your design from your computer. 
3. Choose Your Colour Scheme

Next, move to the menu on the right and use the dropdown colour pickers to choose your mask lace colour and a colour for your background. 
4. Change the Text
Now let's move back to the menu on the left and add some text to our mockup. Once you have written your text, you can change the font and the colour of the text and background. Resize your text and move it to your preferred location on your template.
5. Download Your New Face Mask Mockup

You can add a logo or graphic to your template if you want to, by using the Add Graphic button in the menu on the right. 
When you're happy with your mockup, you can download it for a small fee. And your mockup is ready to use!
Now let's take a look at some of the cool face and medical face mask mockups available at Placeit.
If you're sewing your own masks and looking for a template which reflects that, this fabric mask mockup is for you. The gorgeous flatlay allows you to add up to three of your designs so your customers can get a real feel for your design aesthetic. 
This head-on photo of a medical face mask mockup allows your design to sit front and centre. Use the mockup generator to add your design, change the colour scheme, add text or your logo if you want, and download your logo for a small fee. 
Perhaps you like the front and centre layout of the previous template, but you prefer a more angled approach. In that case, this medical face mask mockup is an excellent alternative. It allows a full view of your design while offering a more dynamic angle.   
Use this half-turn surgical mask mockup to display your designs. Use the transparent background to blend your mockup into an existing background on your website or print document, or you can add any background colour of your choice. 
Display up to three original designs when you use this fabric mask mockup. You can also opt to use the same design in different colours or with subtle variations. 
This side view of a mouth mask mockup can be combined with other mockups here to show your designs from every angle. After you've added your design, select a colour for your background or leave it transparent in order to blend the mockup into an existing background. 
This fabric mask mockup gives you another option for displaying your design from a side view. The template is fully customisable and can be ready for download in a matter of minutes.
Give your customer a bit of a peek into the background workings and materials that go into creating your masks when you use this terrific fabric mask mockup. Use the mockup generator to upload up to three versions of your design or three completely different designs.
Of course, masks come in all sizes and styles. This mockup offers a slightly broader surface, which means more space for your design, while the full frontal shot means all eyes will be focused on it.
This half-turn shot of a mask mockup benefits from being shot from above because it gives people a clear view of your design while adding some visual interest to the template. Upload your design, choose your colour scheme, and your mockup is ready for download. It's as simple as that. 
More Premium Face Mask Mockups (PSD) From GraphicRiver
GraphicRiver is yet another service that offers loads of premium face mask mockups in PSD file format. But it works differently from Elements and Placeit. 
While Placeit is the best for those who are looking for an easy approach to mockups and Elements is the best source when you have Photoshop skills and want to buy many mockups and other resources, GraphicRiver is the best option for those with Photoshop skills who are on a budget and need only one face mask mockup. Here are some of the best options.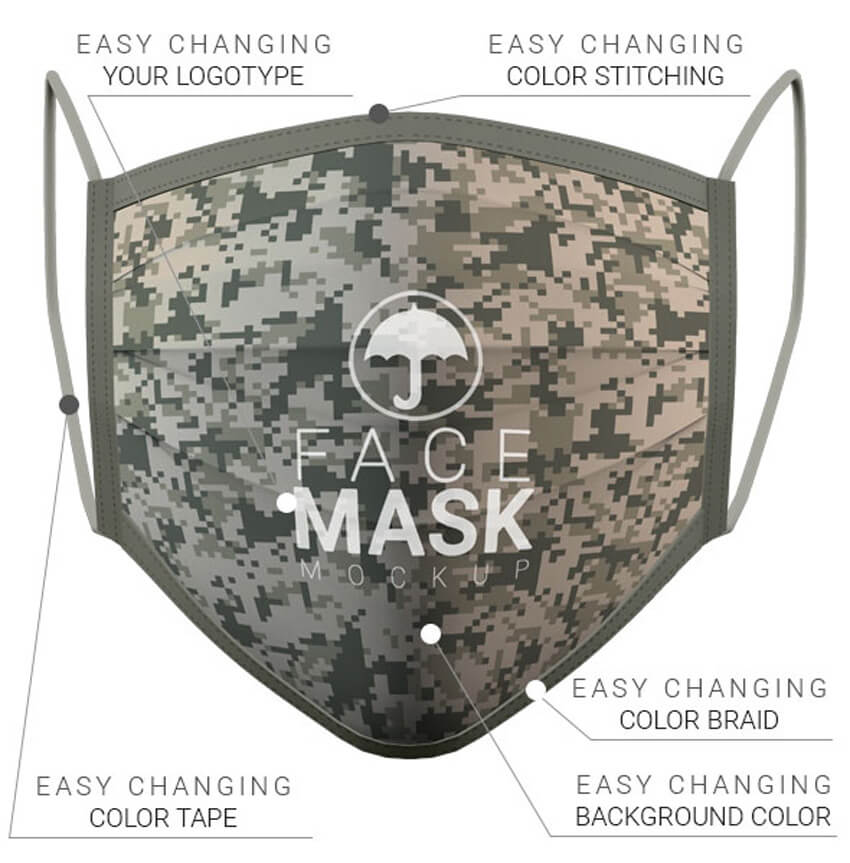 When you need to wear a face mask day in and out, you want a design that shows your individuality or even your concerns. Use this high-quality face mask mockup in PSD file format to add your own twist to your masks. The template offers three views—front, half-turn, and side—and what's more, it allows for a high degree of customisation using smart objects.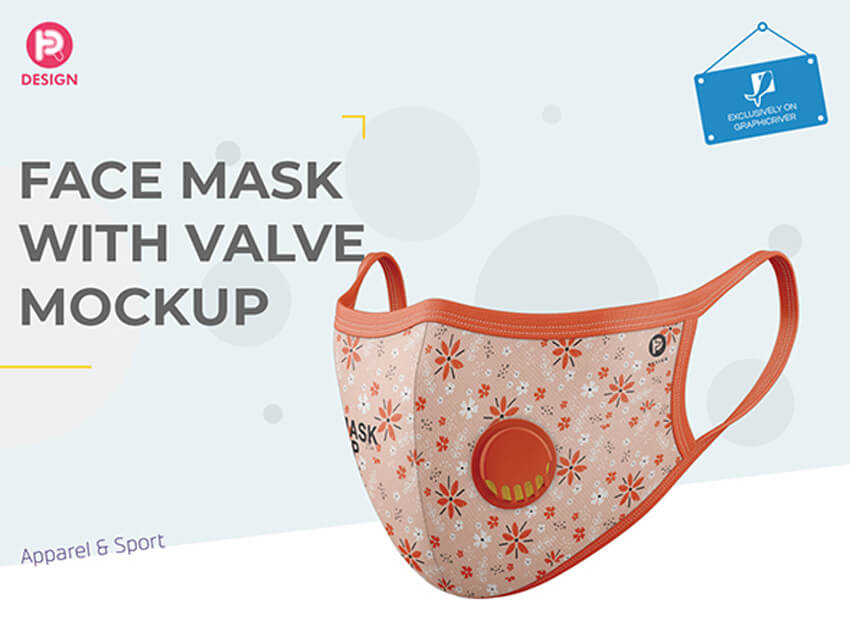 Looking for a surgical mask mockup with value included? This is the template for you. Easy to use and fully customisable, the template includes three PSD files offering a front, half-turn, and side view.  Use the smart object for fast and easy editing.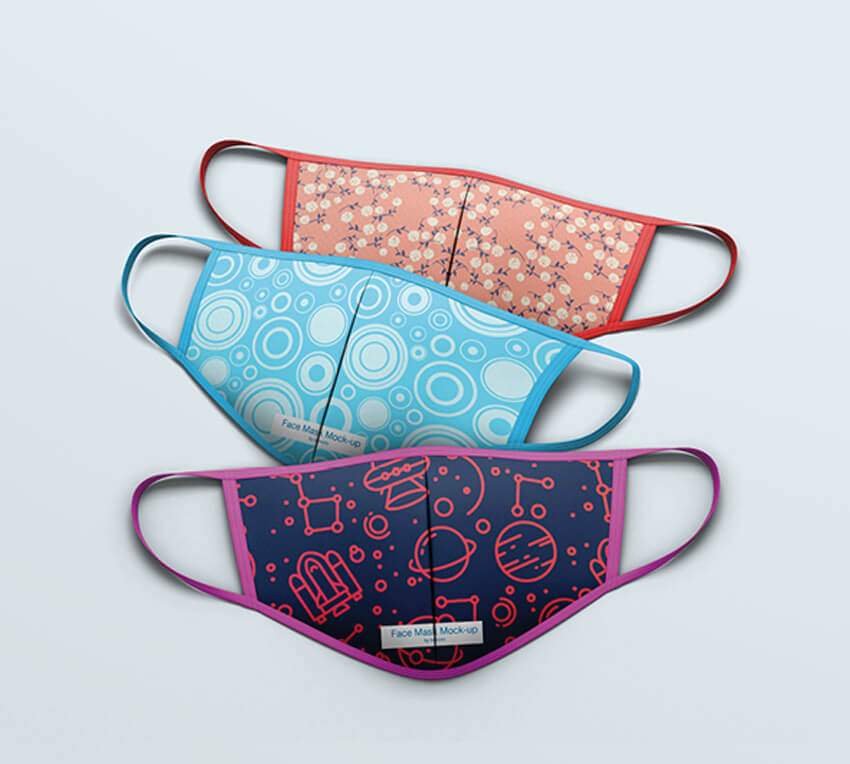 Display your stunning designs and messages with this mouth mask mockup from GraphicRiver. The template contains seven PSD files that you can customise extensively using smart objects. A PDF help file is included.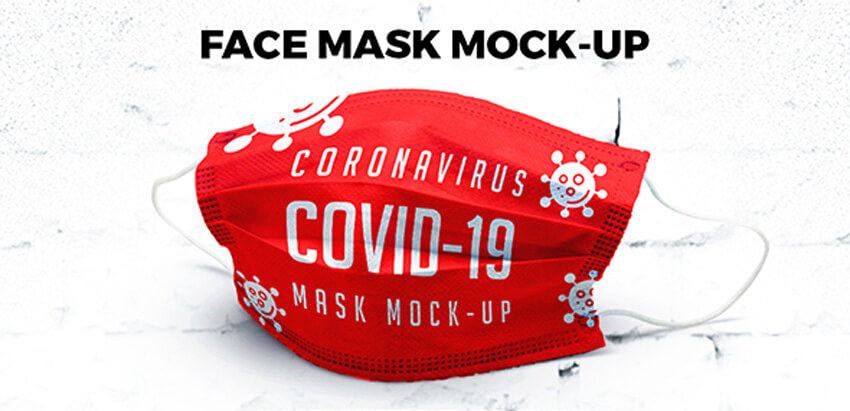 Add your special design to this fabric mask mockup and create a mask that stands out. This PSD file is organised in layers for easy editing. You can change the text, edit the colours, move items, turn off/on layers, etc., to create different looks.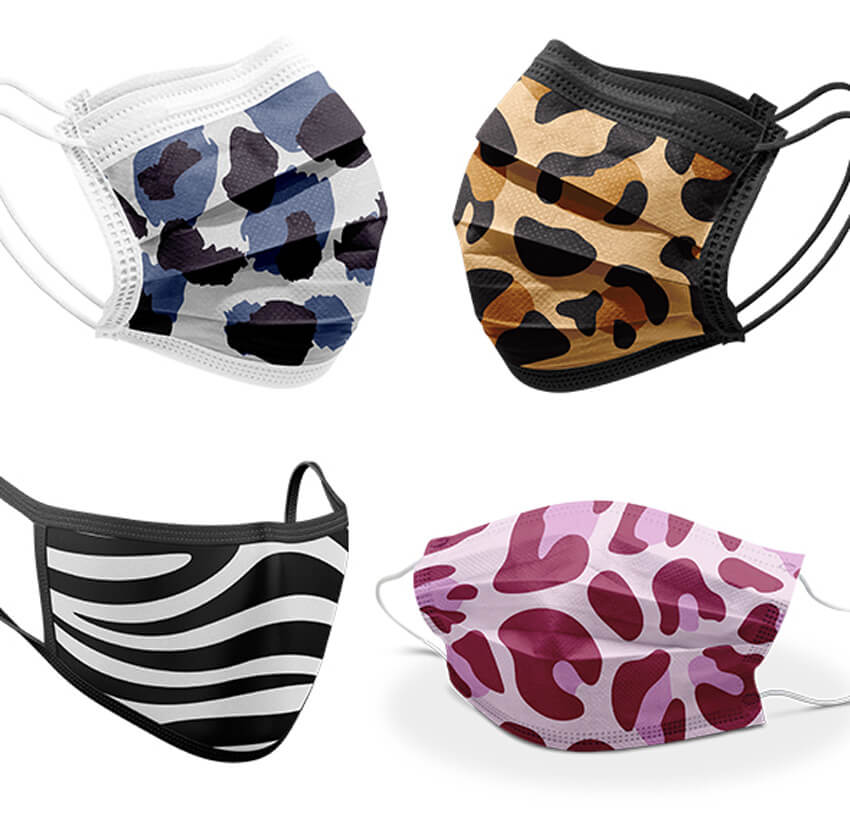 This surgical mask mockup template offers four different styles of masks and 11 layered and well-organised PSD files. The high-quality files make it very easy for users to change the design using smart layers.
Choose Your Favourite Face Mask Mockup Today 
Envato Elements is an excellent resource for gorgeous face mask mockups in PSD file format. If you also regularly need fonts, icons, and other design resources, Elements offers unlimited downloads for one low monthly fee. 
Alternatively, if you just want to buy a single face mask mockup in PSD, GraphicRiver is an excellent source for high-quality mockups. 
If you don't use Photoshop or are looking for an easier option for customising face mask mockups, then Placeit is the perfect choice for you. Its online face mask mockup generator is easy to use and will allow you to customise your own mockup in a matter of minutes. 
Finally, if you want more information on other terrific mockups, check out these really helpful resources below: