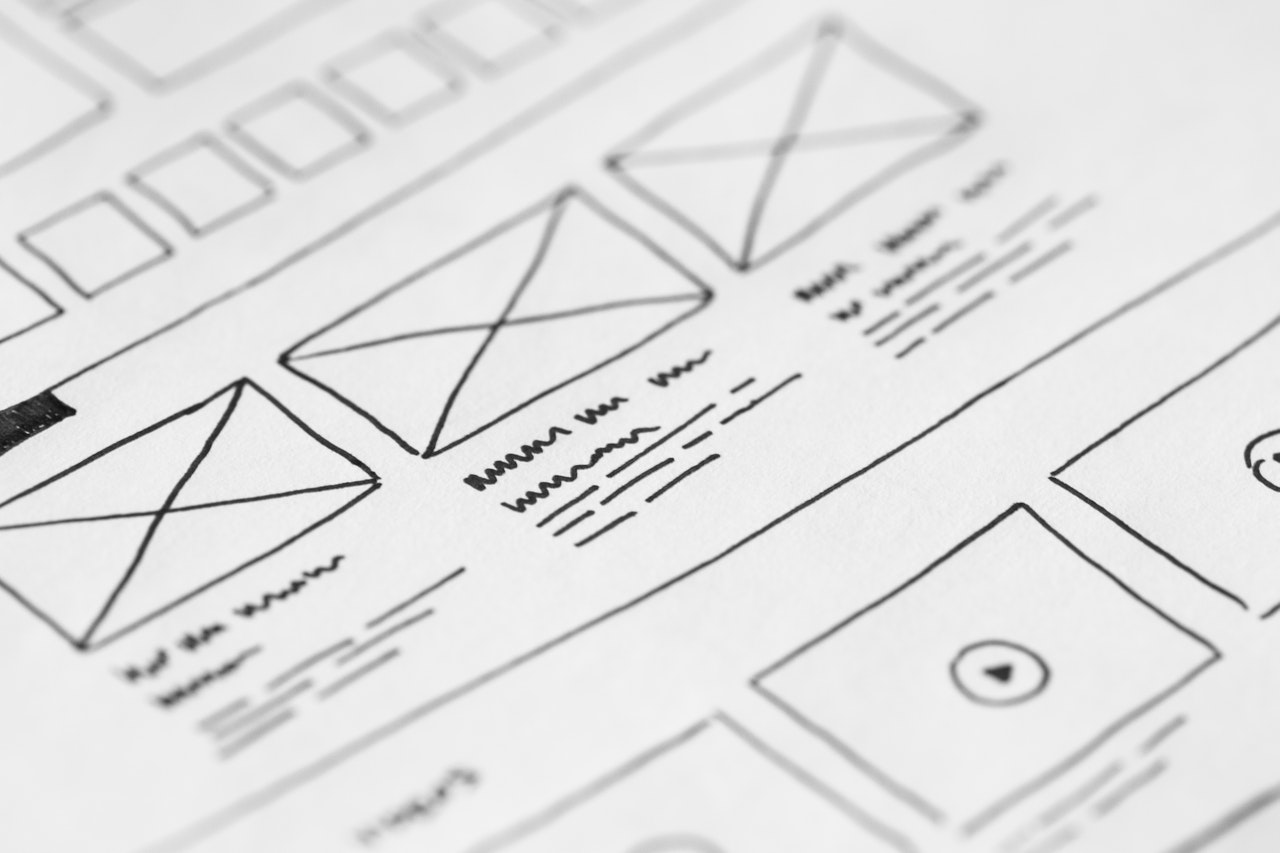 A wireframe pertains to the basic layout structure and navigational scheme of a page and the major website components. It's also called the blueprint, skeleton, or outline. 
Designers use website wireframes to build new landing pages or websites. It doesn't contain the website's finished design elements, but it does show where the elements will appear. Here are four wireframe templates that you can use for your upcoming projects. 
Landing Page Wireframe Templates
Use this template to build a landing page that attracts and engages new customers. You can also use this template to increase your conversion rates and the success of your project. Since it's a generic wireframe template, you can reuse it as many times as you want. You only need to customize the page so that it matches your goals and needs. 
There are 2 layout options to choose from. You can either add a video that explains your service and product or use an authentic hero image to grab the attention of your target audience. One of the best things about this template is that you can collaborate with others and get feedback immediately. You can also launch your new landing page in just a few minutes. 
Ecommerce Website Wireframe Templates
You can choose from a wide range of e-commerce wireframe templates, so you will definitely find the right one for your website. These templates can be used to create product pages, payment methods, shipping details, homepage, and shopping cart. You can also customize these templates to meet your exact needs. You only need to create an account with Moqups to create the first draft of your e-commerce store. 
Pricing Page Wireframe Templates
These wireframe templates show a comprehensive summary of product features. B2B companies can use these templates when building pricing pages. Your pricing page should have user-friendly content. It should be easy to read and understand, transparent, and detailed. Pricing page wireframe templates have 3 major sections that will help you achieve your conversion goals. 
Not all customers know exactly what they need. That is why you should be prepared to provide the type of information they need. Pricing page wireframe templates can help you provide transparent and accurate information to customers. These templates allow you to organize information into different sections and give customers a chance to reach out. This can help build trust and long-lasting relationships.  
Blog Page Wireframe Templates
Blog page wireframe templates are perfect for those who want to start a blog. Every page should be built carefully, but the homepage will consume most of your resources and time. By using a blog page wireframe template, you can set up a blog easily and quickly. The template can be customized to fit your exact requirements and purpose. You don't need to design your homepage from scratch. Just choose a template, and you will have a solid structure that will focus on your topics of interest. These templates will help you get and retain users every day. 
These are only some of the wireframe templates that you can choose from. Wireframes allow you to test and improve navigation, assess the page layout's overall effectiveness, and see how content appears on the page. It allows you to study and improve the user interface design of interactive elements and web forms. Wireframes can also help you identify the programming and web development requirements of your page.  You can find free wireframes that you can easily customize for your upcoming projects.
Benefits of Wireframes
Wireframes can make content development easier and more effective. Your content should be interesting, valuable, and readable. Large blocks of indistinguishable text are difficult to read for search engines and human eyes. Wireframes provide an overview of your content, allowing you to organize numbered lists, heads, fonts and bullets aesthetically and neatly. 
You can identify the best content quantity, font size, and head position by trying various options as well as find the optimal formatting scheme that maximizes persuasiveness and readability. Wireframes also offer the following benefits:
Save effort, money, and time

– When you review a wireframe, you can make changes to the design in just a few minutes. Wireframes make it inexpensive and quick to overhaul or tweak designs anytime. It's also easier to create content. Everyone in the team understands what they should build. This can improve communication and prevent misunderstandings because all the parties involved are on the same page. 
Improve navigation

– Wireframes allow the parties involved to see how difficult or easy it is to navigate the website. They can determine whether the navigational scheme is incomprehensible or intuitive. They can also check whether the dropdown menus are confusing or clear to the users.
Prioritize usability

– Wireframes show the basic layout structure of a page. The page doesn't have any color or images, so everyone is forced to look impartially at the featured placement, conversion paths, ease of use, and navigation placement of the website. 
Improve the design process

– Wireframing helps you work on the functionality and creative aspects of page one at a time. This allows you to provide and get feedback earlier in the design process. Full design mock-ups have to be revised, increasing the cost of making design changes. Wireframing can help you avoid this situation because you can get feedback earlier and make the necessary changes right away. 
Clients may not be familiar with the jargon, such as breadcrumb, dynamic slideshow, and product filtering. Wireframes help you communicate how the features of the website will function, how useful it will be, and how it will appear on the site.
Conclusion
Wireframing allows you to visualize the structure of a page clearly. It gives you a clear idea of what must be done and clarifies the goals and direction of the website build. Wireframes also help you decide which processes, technologies, and techniques must be used when building a page or website to get the best results. Content issues can be addressed during the wireframing stage. Making changes to the content will be easy and quick. Wireframes help you create a website that offers the best design and content. 
Author:
Spyre Studios