Email design has come a long way from plain text messages to the world of interactive elements in a time span of 4 decades. Interactivity is no longer limited to GIFs in emails. It is about creating a flawless user experience by emulating "mailable microsites".
Interactive design elements amp up your email marketing campaign and give your emails a unique visual appeal, thereby increasing your click-through rates. They can make your emails all the more informative and engaging at the same time.
Are you looking to revamp your email campaigns with interactive design? Here're the top 8 design elements that can add spark to the otherwise mundane 'text' emails.
Explore the World of Interactive Design in Emails
MENUS
Menus allow your subscribers to surf across different products or service categories from the inbox itself. The tabbed format enables stacking up information in 'easy-to-grasp' chunks.
Have a look at how REI uses menus in emails: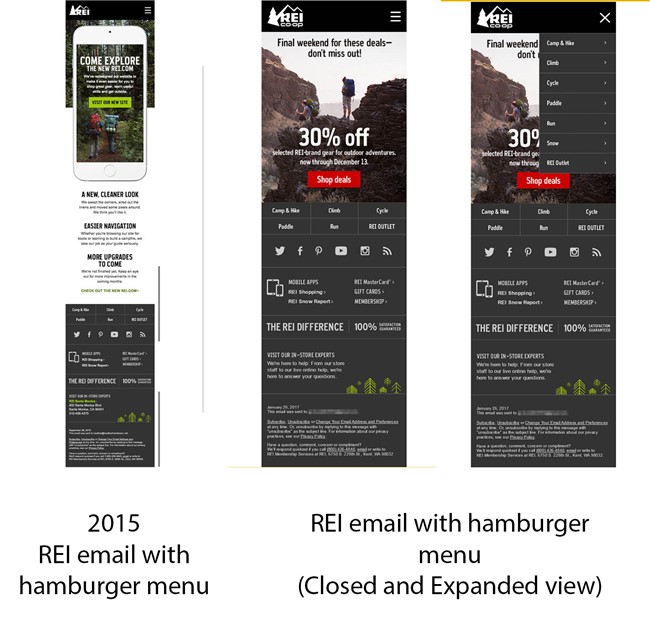 Applications of Menus
– News websites and media companies can share a huge piece of information through menus.
– Menus can display various options offered by travel and hospitality services.
– E-commerce websites can show their new products and recommendations.
– Manufacturing companies can send out processes to their stakeholders.
– Technology websites can use them in their newsletters or marketing emails.
Compatibility
– Supported by Mobile Native App
– Fallback content in Desktop email clients
– Not supported in Windows Mobile
ACCORDIONS
Just like Menus, accordions help you to stack up the content in tabs and send out smart emails, thereby eliminating the effort to scroll. The email can be longer in Desktop view but it turns into a smart accordion on mobile devices. The content can be progressively revealed for better engagement.
It is possible to record the clicks on the tabs and determine what interests the subscribers the most.
Applications of Accordions
– Questionnaires work well with accordions.
– Show different products with relevant information clubbed in sections.
– Media and technology companies can display navigation options with accordions beneath the menus.
Compatibility
– Same as menus.
COUNTERS
To create a sense of urgency and exclusivity in an email, counters are a brilliant option. Whether you wish to promote a sale or get more visitors at your event, incorporating counters in your email campaign works wonders.
Applications of Counters
– E-commerce sites can highlight a limited period offer in emails.
– Meeting reminders for events can include countdowns.
– Banks can promote limited loan offers.
– Cart abandonment emails can work really well with counters.
– Travel industry can use it to attract the procrastinators.
See how Travelocity does it: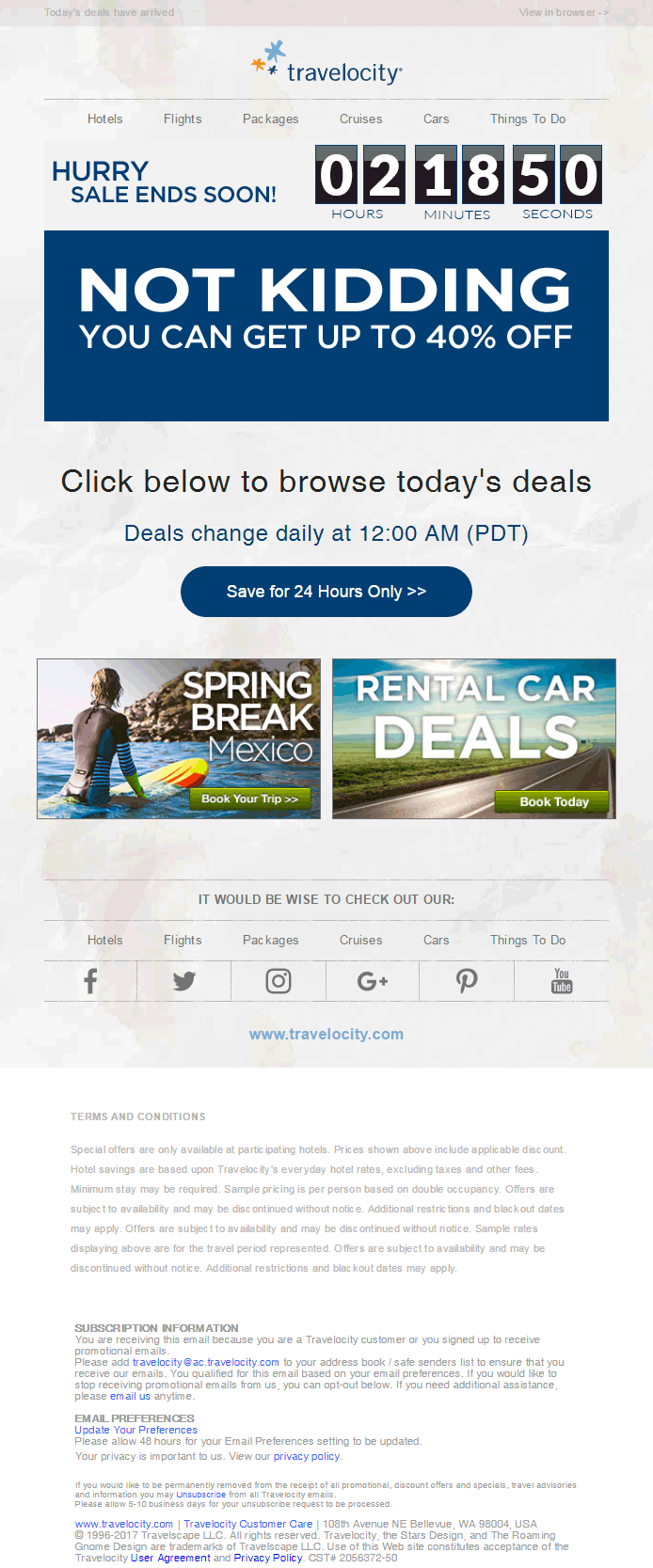 Compatibility
– Counters are compatible across most email clients and devices.
– You have to provide proper fallback support for Outlook and Lotus.
SLIDERS (Carousel)
Sliders can be used to display multiple products all at once and arouse curiosity among subscribers.
Check out the example by Burberry
Applications of Sliders
– Sliders can work well to show new products in retail and e-commerce sector.
– Banks can highlight their popular offers and plans.
– Travel agencies can promote their packages or discounts.
– Automobile companies can show the features and parts of their automobiles.
Compatibility
– Apple Mail and Thunderbird support sliders in emails.
– Other email clients provide a smooth and proper fallback.
ROTATING BANNERS
– Rotating banners can showcase multiple images and make the email stand out.
– Applications of Rotating Banners
– Banks can showcase their credit card options and account plans.
– Educational institutes can display their award winning students and curriculum snapshots.
– Automobile companies can send out the images of various cars.
– Event management companies can promote their venues.
– E-commerce websites can show their different products and offers.
Compatibility
– Apple Mail, Thunderbird, and Mobile Native Email Apps support rotating banners.
– Fallback is needed for other email clients.
COLLAPSIBLE CAROUSELS
Amalgamation of carousel and accordion makes up a collapsible carousel. The recipients can click on the deals or services that interest them the most. It shortens the email length and drives more conversions.
Here's an example by EmailMonks:
Applications of Collapsible Carousels
– E-commerce websites can showcase more categories and products along with specifications.
– Various investment plans offered by banks can be displayed through collapsible carousels.
– Automobile companies can use carousels to promote their car models.
– Newly launched travel packages from tour and travel companies fit the best in collapsible carousels.
Compatibility
– Supported by Apple Mail, AOL, iPad, Outlook Configuration with Mac iOS and all native Apps.
– Provide fallback with alt text and alt tags for other email clients that do not support it.
INTEGRATED FORMS
If you are trying to figure out a way to collect data from your subscribers, use integrated forms in emails. It enhances the form filling efficiency of your subscribers. Text box, Paragraph, Checkboxes and Radio Buttons are supported currently.
Applications of Integrated Forms
– Restaurant owners can get feedback from their visitors.
– E-commerce websites can include forms in their transactional emails asking for product review.
– Travel and hospitality services can promote their tour options through integrated forms and redirect the subscriber to the respective landing page according to their selected answers.
Compatibility
– Supported by Apple Mail, Gmail for Desktop, Yahoo! Mail for Desktop, AOL and Outlook on Mac.
– Limited support for text area in Apple, so the users might not be able to enter in the text box. Users sometimes cannot input 'space' between two words. As a workaround, you can press 'alt+space' to add space.
– Thunderbird shows the form but it does not work.
– Fallback support is needed in email clients like Lotus Notes, Outlook 2007, 2010, 2013, Outlook.com and Mobile third-party Apps.
SEARCH
How about being able to search in the inbox directly rather than switching to Google in the browser? CSS3 and PHP script make it possible to 'Search' in emails.
See how Shutterstock uses the search in email feature: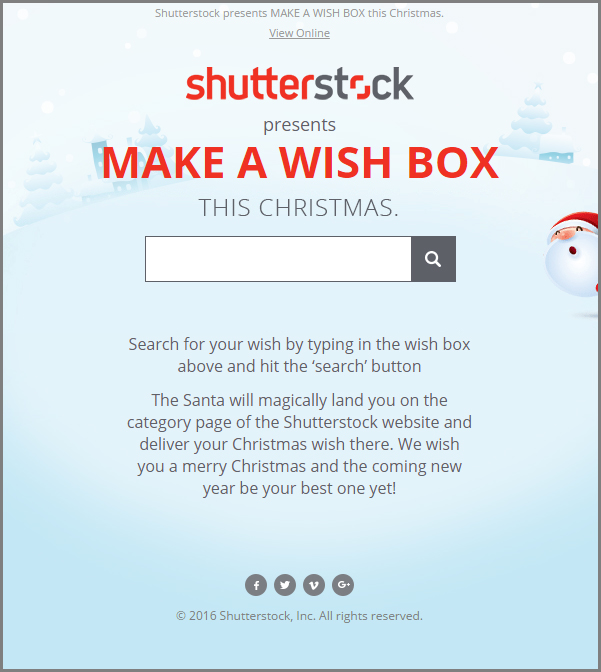 Applications of Search
– Retailers, e-commerce industry, and travel companies can leverage it to make it convenient for subscribers to look for relevant terms.
Compatibility
– Same as Integrated Forms.
Final Thoughts
Interactive elements help to convey more in limited space, something that is essential in times of decreasing attention span. Delight your subscribers by transforming the same old repetitive emails into something they can look forward to, and make your email campaigns all the more rewarding.