Imagine this: you're casually browsing the internet when suddenly, BAM! You stumble upon a doctored image, designed to deceive or spread misinformation. With the AI boom, manipulating photos has become incredibly easy, enabling people to achieve photo-realistic results in seconds.
That's where Adobe's Content Authenticity Initiative comes in. It addresses the challenges of content attribution and building trust in digital media. Let's explore its impact on content creators, artists, and all of us who consume digital media. Trust me, it's exciting!
What Is the Content Authenticity Initiative?
What is the Content Authenticity Initiative? While it was spearheaded by Adobe in 2019, it is now a group of hundreds of different media companies and industry leaders including Canon, Getty Images, NVidia, BBC, The Washington Post, and many more.
The Content Authenticity Initiative's mission is to enable digital content to be traced, ensuring that creators are credited for their work and consumers can trust the content they view.
In an era in which fake news and misinformation can spread like wildfire, the Adobe Content Authenticity Initiative aims to establish digital trust and transparency by creating and implementing a Content Credentials system. 
The Adobe Content Authenticity Initiative hopes to empower creators to claim their work and protect consumers from being deceived by doctored images.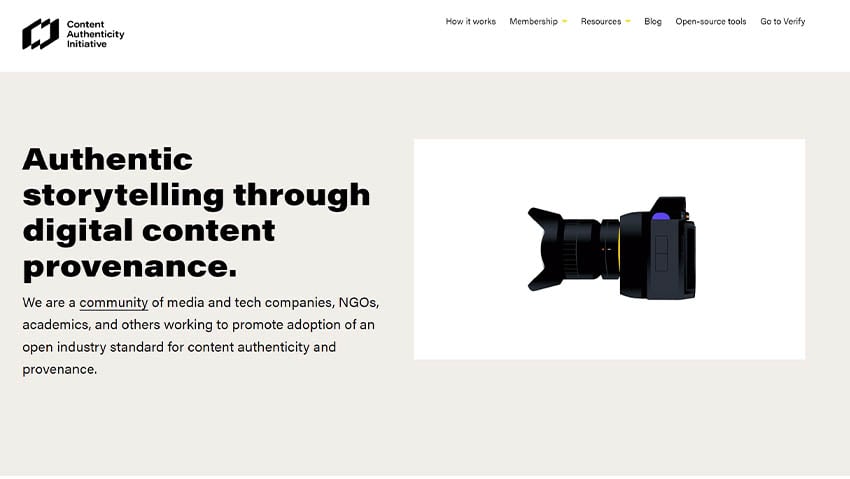 What Is the Content Credentials System?
The Adobe Content Authenticity Initiative has created the Content Credentials system. It works by embedding a comprehensive set of metadata directly into a digital image, which can then be checked and verified by anyone on the internet. This metadata is known as Content Credentials.
Content Credentials can include everything from the creator's identity to editing history and distribution details. It's essentially a comprehensive digital history of an image's lifespan, from creation to consumption.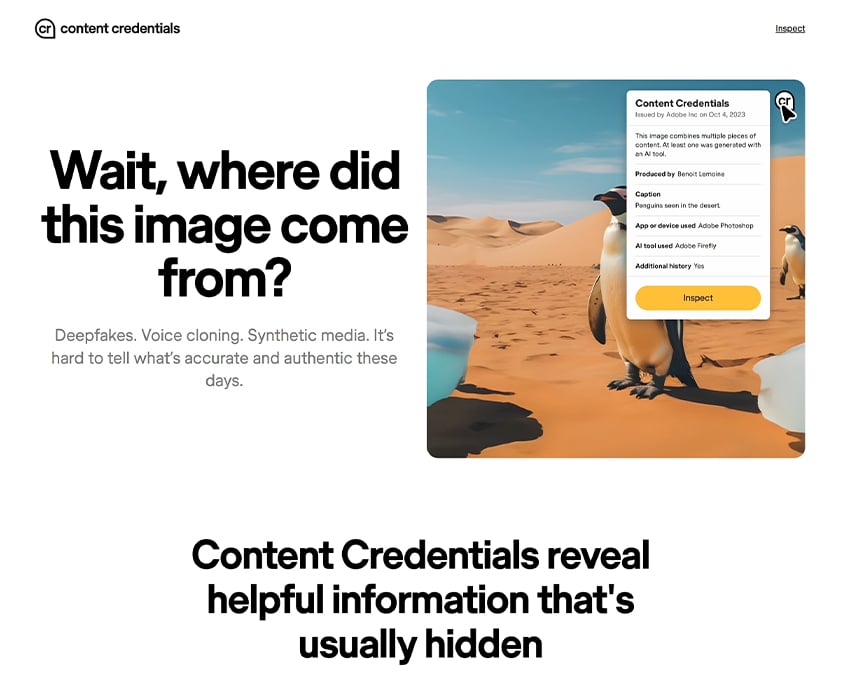 Free & Open Information 
It's important to emphasize that this credentials system is free, optional, and open. Its purpose is to provide detailed information about an image and its history. It is not intended to remove, censor, or control images.
Think of it as a public library—a transparent system that contains the information we select and makes it easy to access.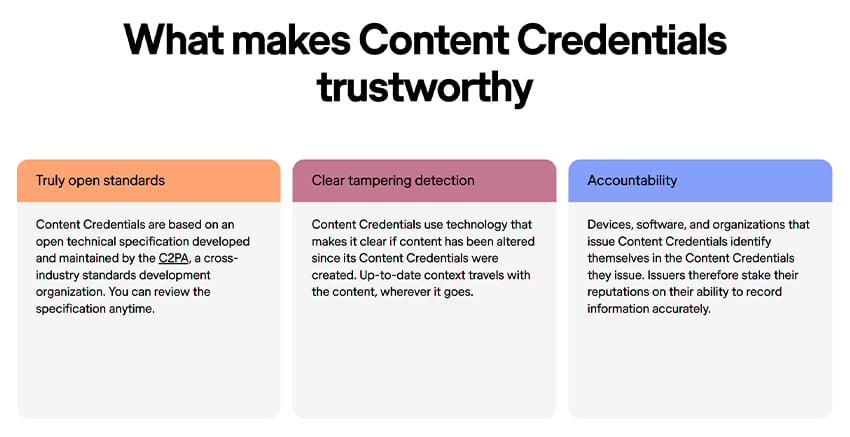 How Does the Content Credentials System Work?
The process is straightforward. When a creator exports an image in a program like Photoshop, they can choose to include as many or as few details about the content as they wish. 
Let's walk through how to attach Content Credentials to your image using Adobe Photoshop. 
Step 1
First, let's go to Window > Content Credentials to open the Content Credentials panel. 
Hit Preview to get a preview of what the image's credentials will include. In the example below we have a photo made up of several images and adjustments.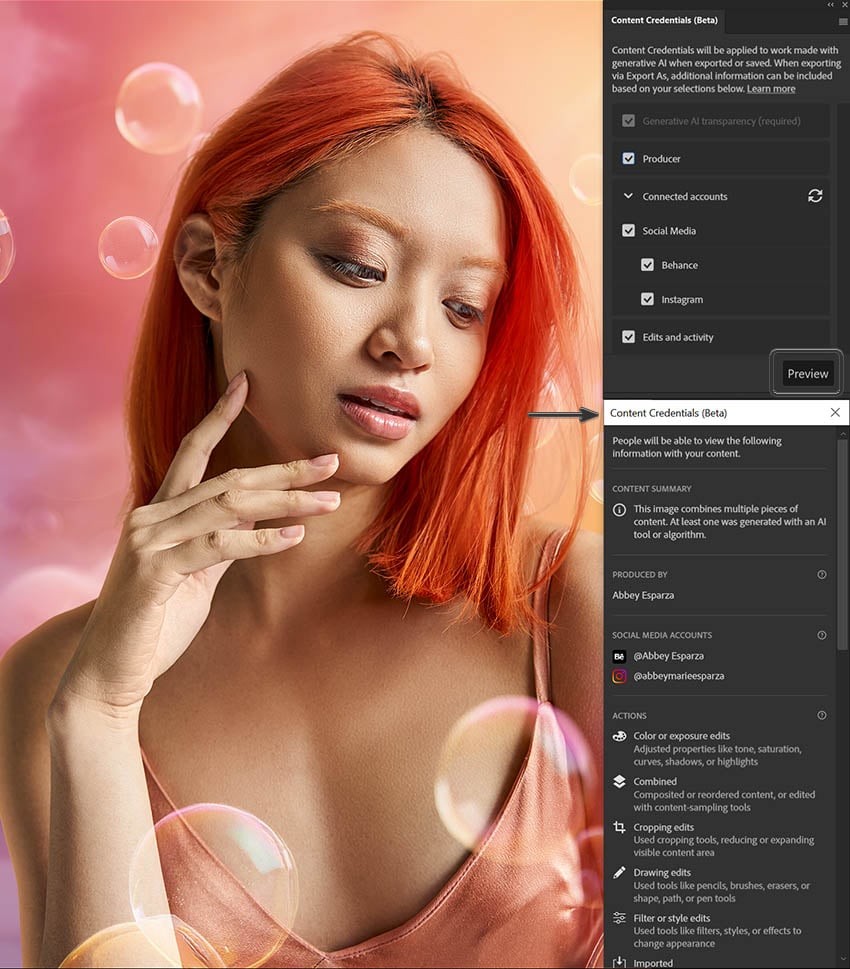 Step 2
As this is just a preview, we can still edit and choose which information is included using the Content Credentials panel. In this panel, we can also connect our social media accounts so they are linked to us directly. 
We can also choose to Disable Content Credentials using the right-hand corner hamburger menu if we no longer want them attached.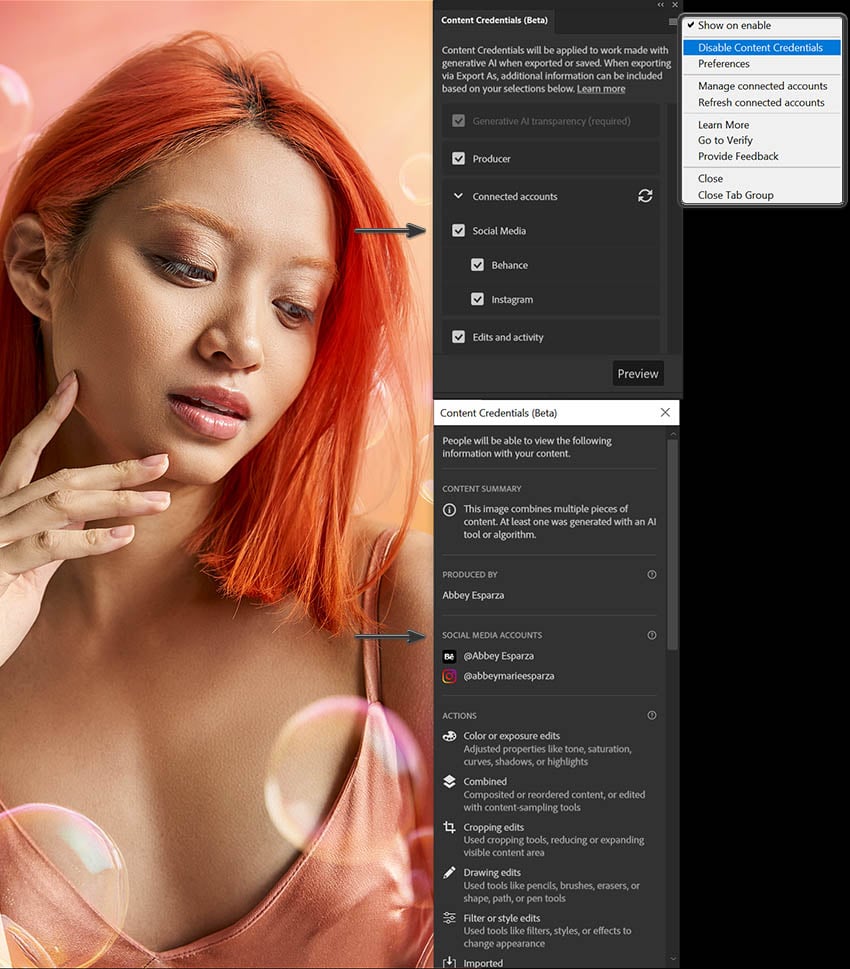 Step 3
In my example, I used AI-generated images from Firefly, and I also used the Generative Fill tool. 
Images generated using Adobe's AI Firefly automatically have their own Content Credentials attached. This is then reflected in the Ingredients sections, showing three images with a white "Info" icon. 
As I used the Generative Fill tool, the credentials also state that AI was used and list the AI model that was used to create the image. 
Now, anyone who views these credentials will know that part of this image contains AI-generated assets and was also edited using AI-powered tools.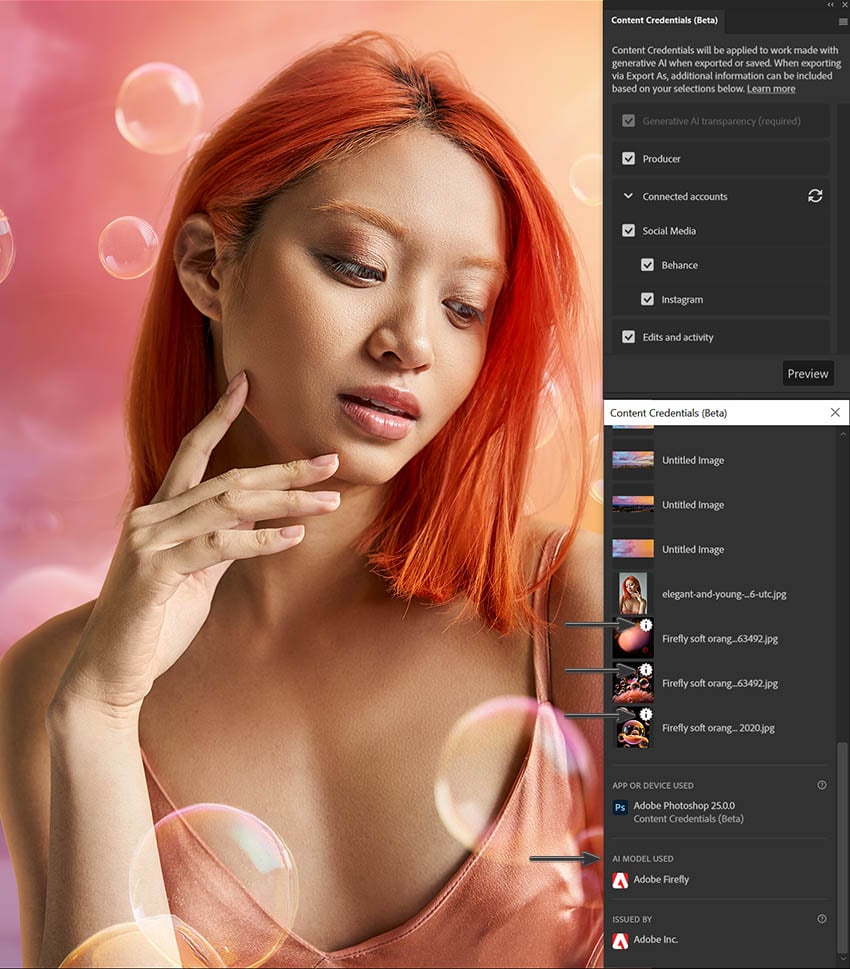 Step 4
Time to go File > Export > Export As.
First, you'll be prompted to attach the Content Credentials to the image using the cloud by default. The cloud is recommended as it makes the file size smaller and the credentials harder to remove. 
However, you can also choose to attach them to the image itself, or choose not to attach them at all.
Once you choose to Publish to Content Credentials Cloud, you can hit Export.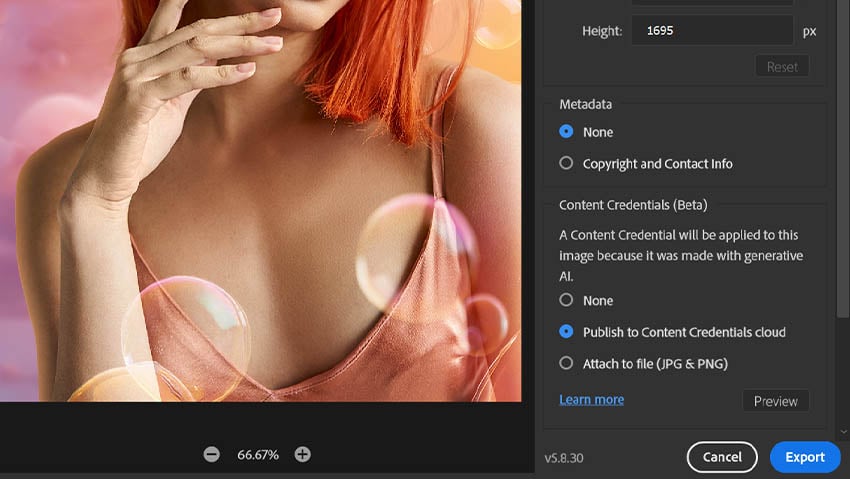 How to Verify Content Credentials 
Once an image is published with its Content Credentials connected to the cloud, we and other users can find the metadata with just a few clicks using the Content Credentials Verify function.
We can do this by dragging the file onto the site, where it will search its database for a match.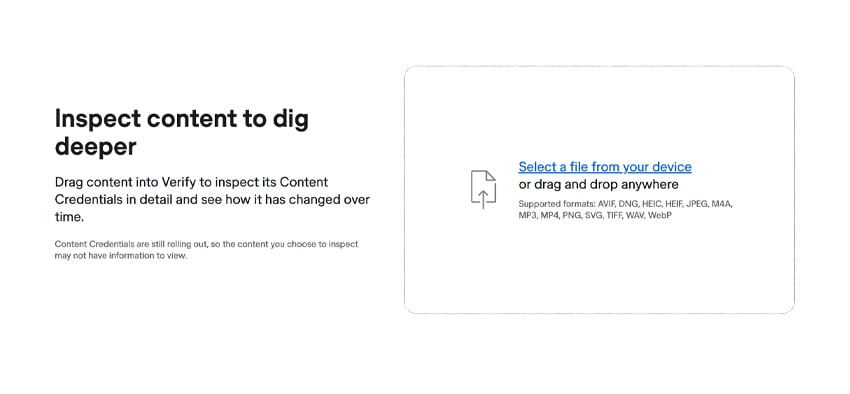 Once it finds a match, we will be able to see the image's Content Credentials, as well as the credentials of any image used in the creation of our image.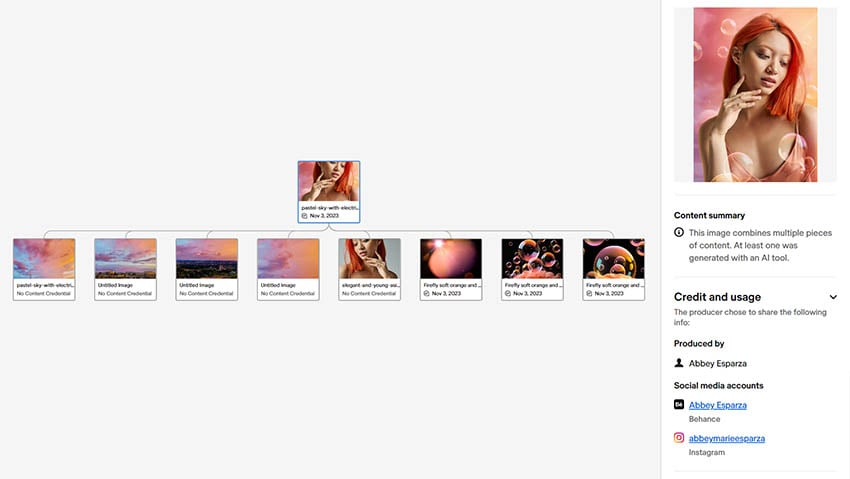 Full Edit History
In our example, all three of our Firefly-generated assets have their own Content Credentials. 
If we use our image to create a new composite, it will keep its original Content Credentials, the generated Firefly assets will keep their credentials, and the new image will get a new set of credentials. 
This whole process creates the equivalent of a paper trail, documenting the image's history, changes, and the history and changes of any assets used.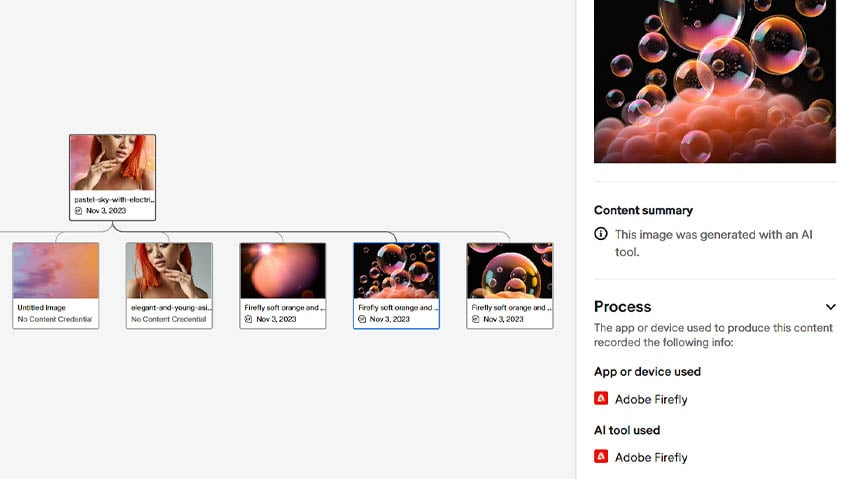 What If the Content Credentials Are Removed or Lost? 
If an image has its credentials removed by screenshotting the image, or lost due to the image being saved from a site that does not support Content Credentials, the image can still be run through the Content Credentials site, where the Content Credentials of the original image will be found and paired with the new copy. 
What Does This Mean for Digital Artists?
The Adobe Content Authenticity Initiative has the potential to revolutionize the digital art community. Its main focus is to prevent the spread of misinformation, while also ensuring proper attribution and linking of art to its creators.
In today's world, it is crucial for digital art creators to receive proper credit for their work. With metadata that directly links back to the artist, this new system greatly improves upon our current system.
Additionally, it helps us identify deceptive image edits and fake images that aim to deceive or spread false narratives. By allowing us to verify credentials, trace back to the original image, and identify any changes made, this system enhances both transparency and authenticity.

Is It Practical? 
As the Content Authenticity Initiative keeps evolving, I can absolutely see it creating a new standard that people will embrace. While not every image may have these credentials, that's okay. The images that don't will simply make us more inclined to question them. And thanks to the verification system, finding the social media profile of the artist who created a piece of art we like will be easier than ever.
It could be the much-needed new era of authenticity and recognition we've been longing for in the digital world.