Do you want to provide real time, instant solution to your customers most pressing problems? 
Live chat lets you have real-time conversations with customers and resolve their problems instantly. It allows you to provide faster service to your customers. Live chats also allow users in an online community to chat with each other in real time. 
Best-Selling PHP Live Chat Scripts on CodeCanyon
If you want to add live chat to your website, you can use a PHP chat script.  There are currently almost 100 live chat PHP scripts available on CodeCanyon. For a one-time fee you can take your customer support to the next level by purchasing an online support script that suits your needs.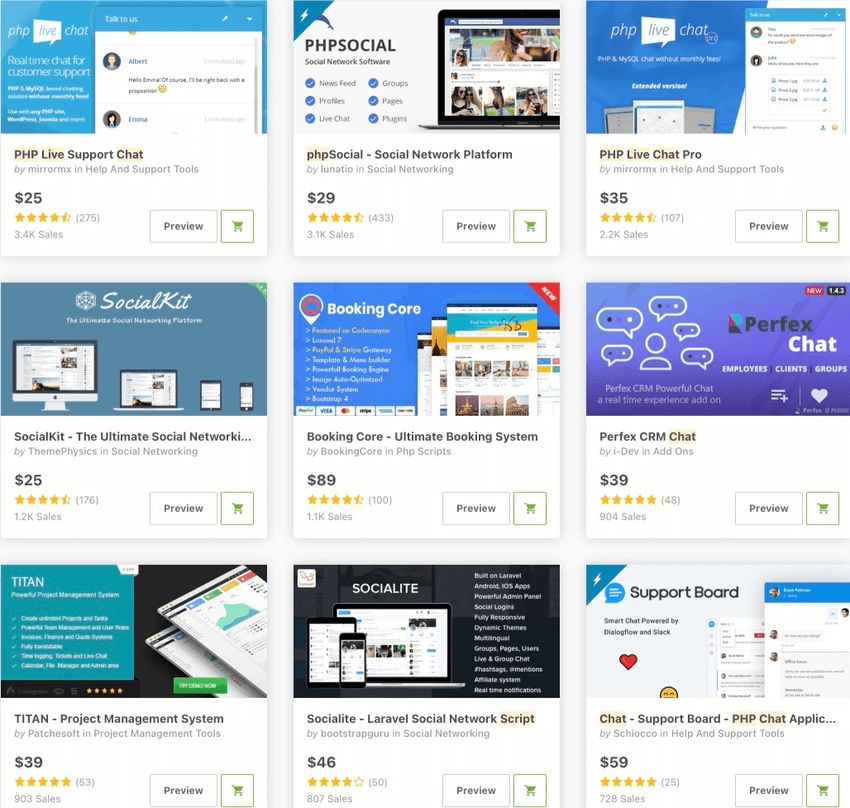 Benefits of a Using Live Chat PHP Script
Some of the many benefits to using live chat in your business include:
provide fast solutions to customer problems
good support means return business
understand what customers are looking for and sell them the right products
instant customer feedback lets you to see where you need to make improvements fast
analytics give you data that is relevant to your decision making
live chat is a great source of leads
Best Live Chat PHP Scripts on CodeCanyon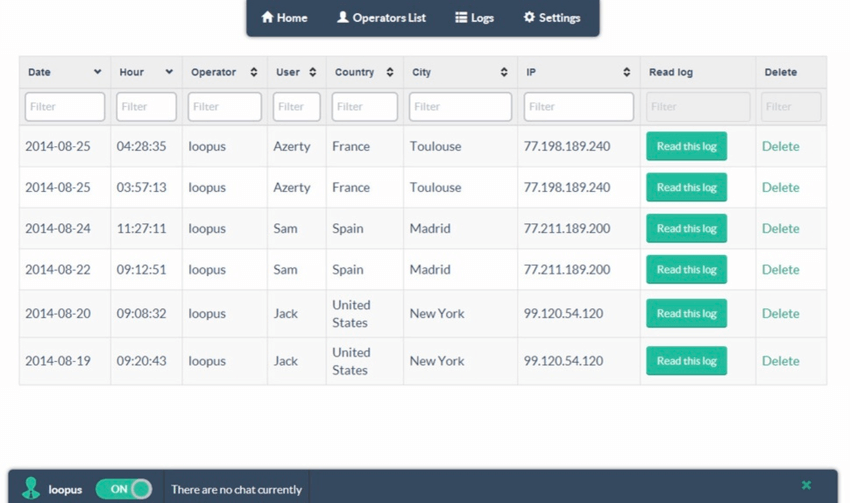 PHP Flat Visual Live Chat is a live chat with a twist. It not only allows you to communicate with your clients and customers directly, but also enables you to guide them through the pages of the site to show them various visual elements and to clarify any questions they may have. 
In addition to a beautiful responsive design, it also comes with chat log management. Also, an operator can transfer discussion to another operator online, a contact form that appears if there's no one available for chat, and sound notifications are played on receiving new messages.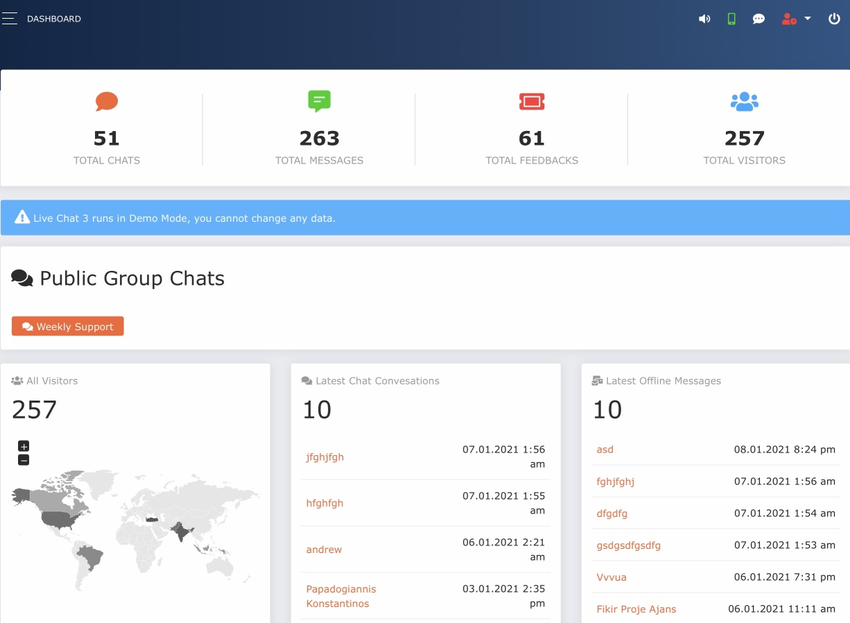 Live Chat 3 is a simple and beautiful PHP live support chat script that will help you to efficiently communicate in real-time with your customers and resolve their problems fast. It comes with all features you need like chat, file sharing, redirect or transfer client, speech to text and more.
It includes a complete group chat solution so you can invite up to 50 of your website visitors or clients into a group chat. That way you can listen to what your customers want, share and receive live feedback, or even teach them about different products.
It has native mobile apps for iOS and Android so can download Live Chat 3 on your mobile device to use it when you're not at your desk. You get push notification when you receive a new message or have a new client. It is integrated with WhatsApp.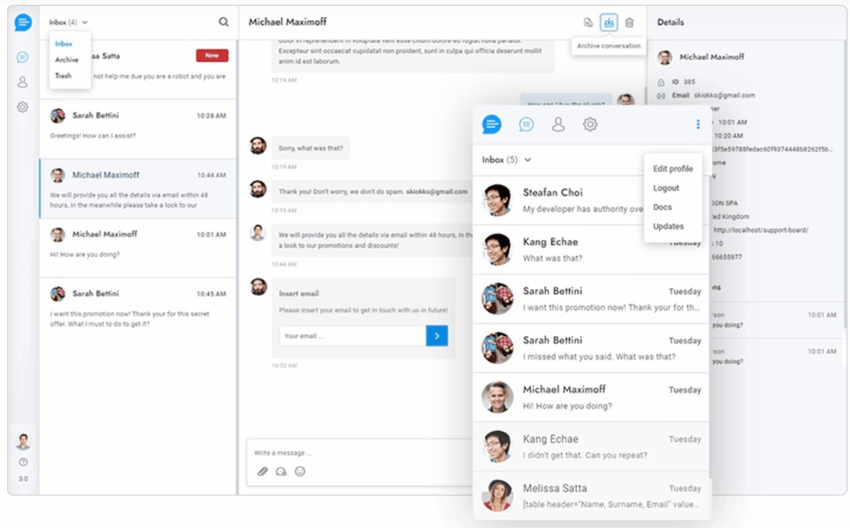 Support Board is a PHP live support chat script that helps you automate your customers' communication with artificial-intelligence-driven bots and a chat system integrated with the most-used platforms. This way you can save time and communicate directly with your customers using software you already know and love for example Slack. And by connecting Dialogflow use can use one of the worlds most advanced forms of artificial intelligence to answer customer questions automatically. Support Board has modern admin area where you can organize and find users, manage conversations, or access saved replies.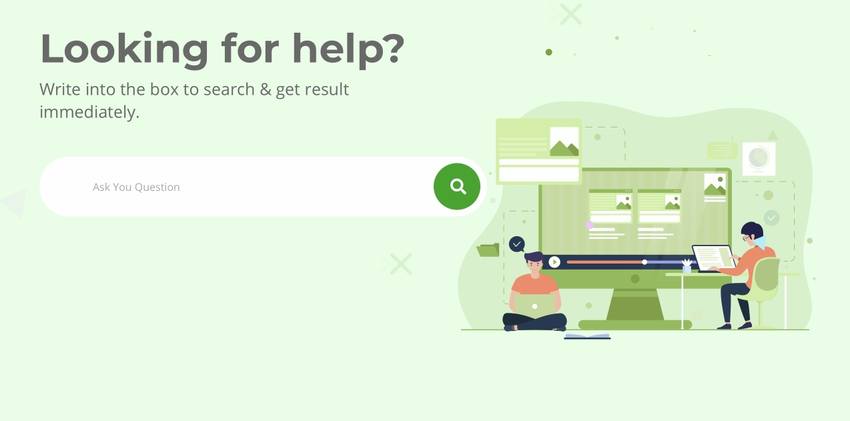 Best Support System is self-hosted support ticket application with live web chat. It handles support tickets, manages emails, and collects any payment by PayPal. It also has a dynamic search system that makes it easy for customers to search the knowledge base for answers.
The system is easy to install, no programming skills are required. You can customize this system as you like and even include Facebook chat. You can collect users feedback through an email sent out when the ticket is closed. 
Finally, it comes with multilingual support.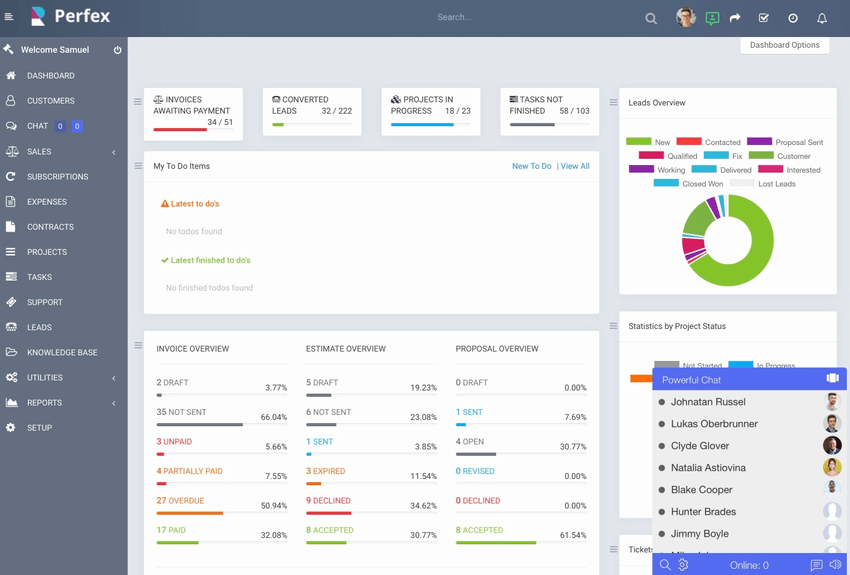 If you use Perfex CRM then integrating Perfex CRM Chat is the next logical step to bringing real-time, live customer service to your customers and enabling communication between your staff as well.
This addon uses the Pusher API for communication and collaboration between staff, colleagues, and clients. The module also uses WebSockets—not HTTP requests that slow down the server.
It offers options to create chat groups, connect with clients, export conversations, delete conversations and even create tickets from clients conversations.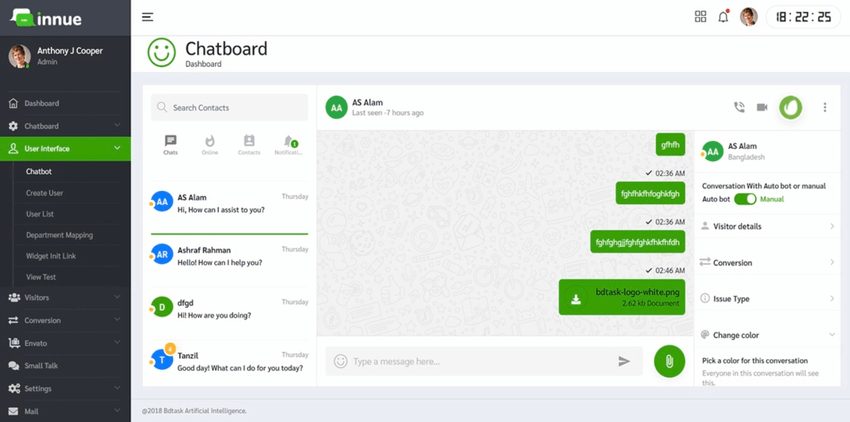 Innue is the perfect chatbot for customer service or information acquisition. This intelligent interactive agent chatbot helps automate communication with the customer and create personalized customer experiences at scale.
It can understand what a user wants and is prepared to meet users' requests. The fact that is responsive means it can display all conversations, information, and menus on all devices, including desktops, tablets, and smartphones.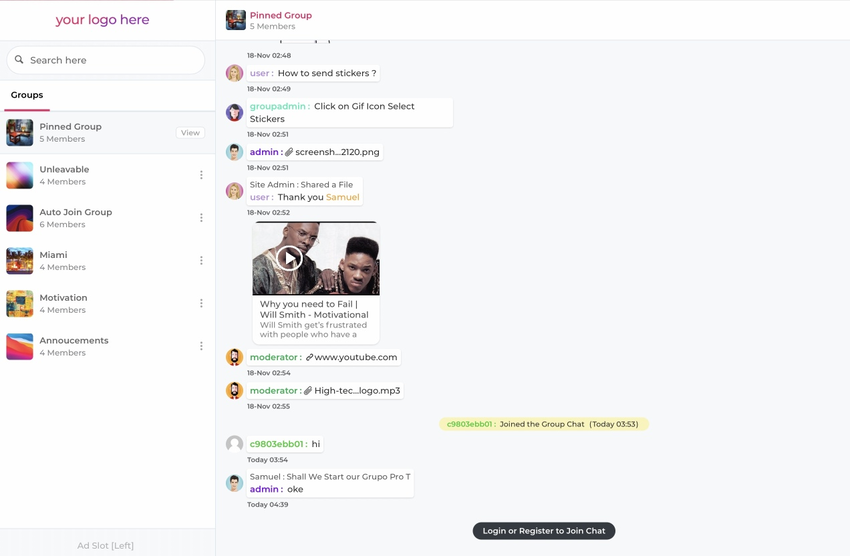 Grupo Chat Pro  offers complete, beautiful and easy to use chat script for your website that can be integrated into any online publishing platforms. This multi-user chat room script comes with multi-level chat room management for administrators and moderators. Other features include unlimited chat rooms, private chat, avatars, language manager, user profiles, a radio player, ad slots and much more.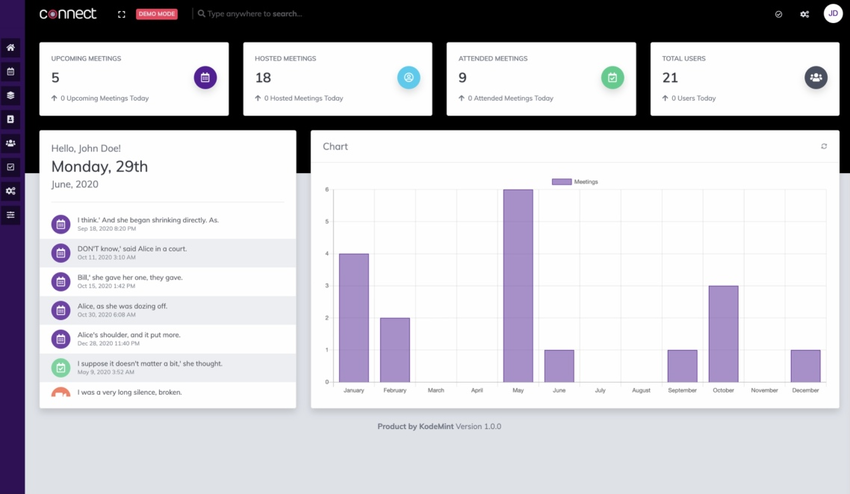 Connect is a web application offering real-time communication between users via video and audio conferencing. It also allows file sharing, screen sharing, live person to person and group chat messaging.
It's built using secure and scalable WebRTC, which is an open source framework to enable real-time communication in audio, video and text in web and native apps.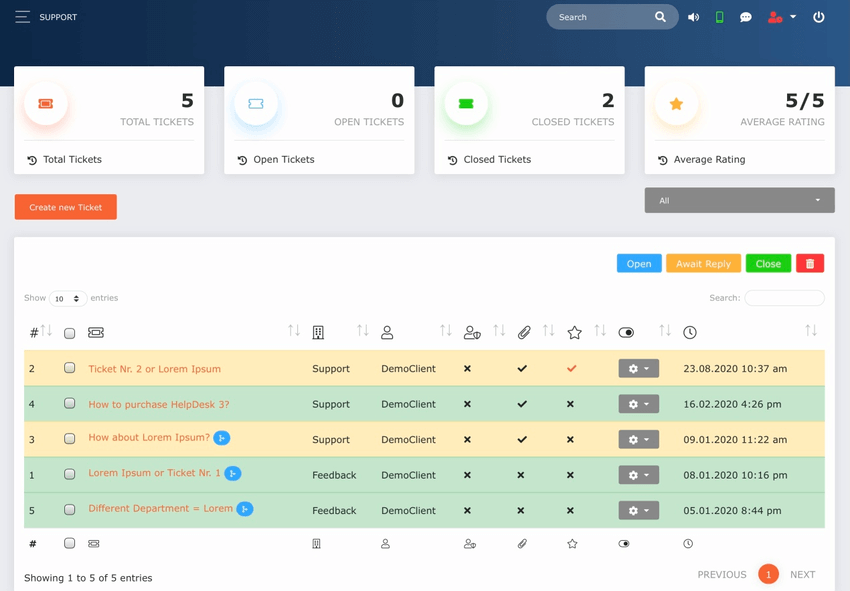 HelpDesk 3 also offers clients support via live chats and tickets, but has taken things a step further by allowing clients to email their queries and include attachments in chats. Not only is it easy to install, but you can set up automated answers for the chat feature, set up standard responses for the chat and tickets, and your client history is saved and can be viewed at any time. HelpDesk 3 also allows you to create an FAQ article database to cut down on unnecessary inquiries.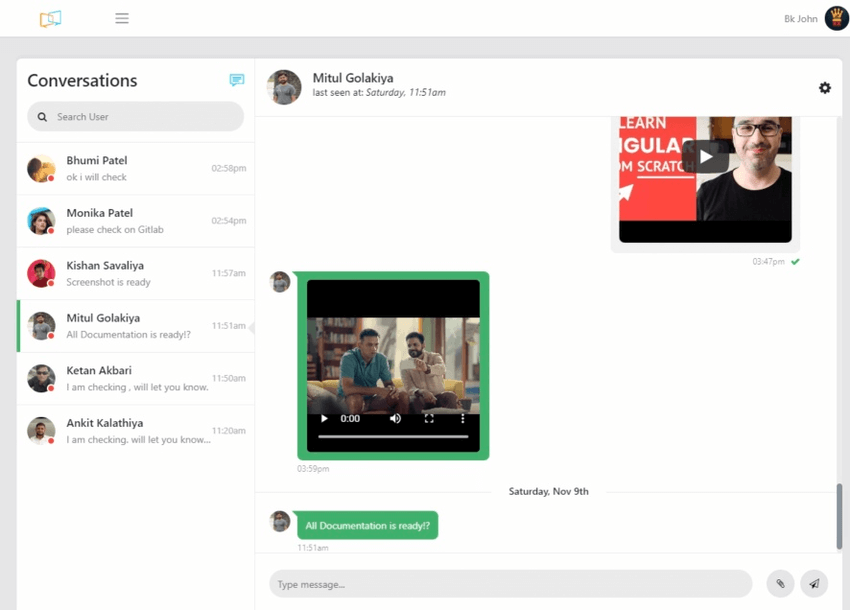 InfyChat can be used for applications like social network, social community, and internal chatting apps. It's a self-hosted app, so you have complete control of your data and privacy. Some features it comes with include a simple messaging UI, read receipts, online-offline status, typing status, and the ability to upload documents, images and videos.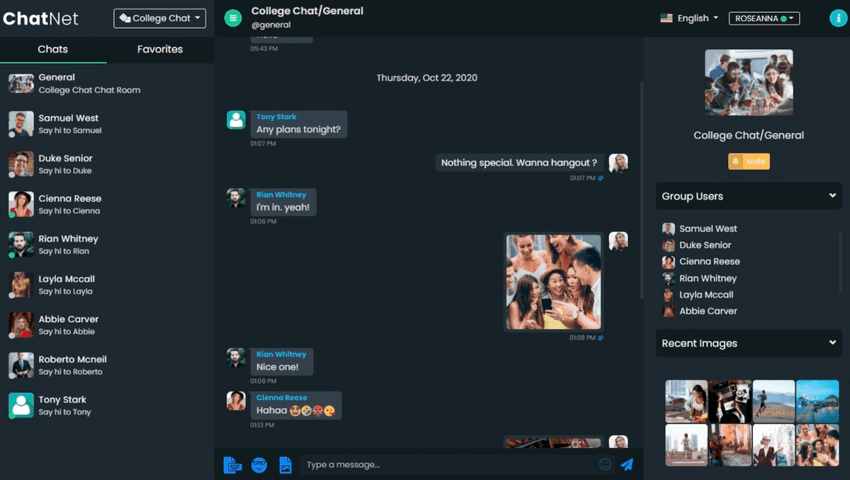 ChatNet is a fully-fledged PHP group chat room and private chat script for your website, mobile app or web application. Its mobile-first, modern and user-friendly design will make your website or app a feature-rich community and social platform. 
The script works on all modern browsers. It is easy to install and you can customize its colors without editing a single line of code. And if you are familiar with PHP and MySQL you can customize the code as well. It is self-explanatory and well commented.
The well-written documentation will guide you through the process.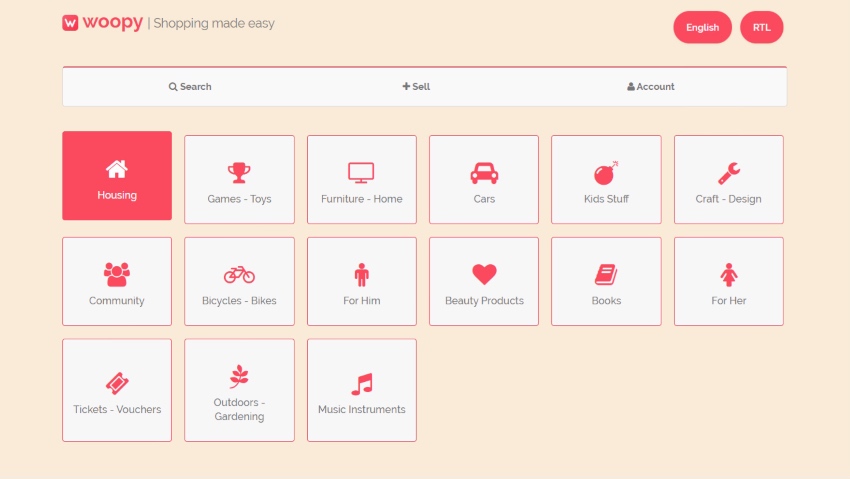 If you run a listing directory website you can make it easy for customers to communicate directly in real time with different business listed in your directory. Woopy PHP Listings and Chat App Web Template allows you to do just that. It is a two-in-one template. One part is directory website builder. The other is a chat application that you incorporate into the directory. It is multilingual and RTL capable.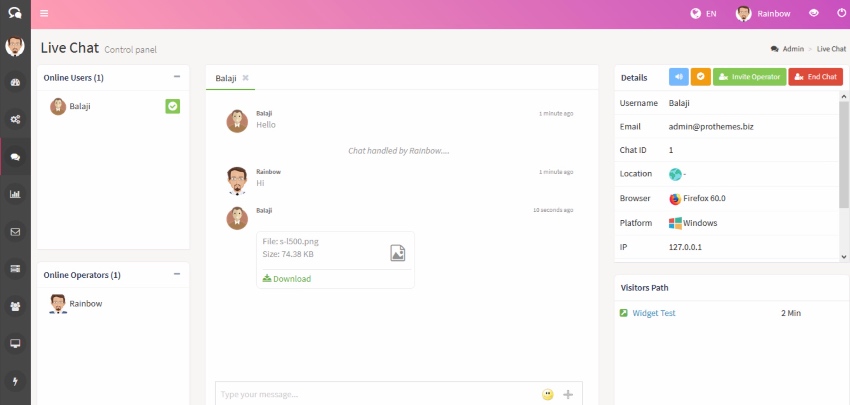 Consider Pinky Chat if you're looking for a smarter way to quickly handle your live support customer service. This live chat application and help desk software for your websites allows you to chat with your customer in real-time over web and mobile too. You can track analytics of your website, visitor's path and geo location details. 
Other features include multiple department support, two-way file sharing, operator-to-operator chat, canned response shortcuts, and a responsive chat window for mobile devices.
It's live chat widget works with any website including static HTML, WordPress, OpenCart, Joomla, Drupal and more. 
Live Chat Best Practices:
Follow these guidelines to communicate effectively with your customers online.
1. Create a Customer Support Playbook
In order to achieve consistently high quality service by live chat to your customers you need to create internal playbook with rules. Having a playbook allows you to anticipate frequently occurring scenarios faced by customers and provide the right words and phrases to resolve their problems.
Not only does having a playbook allow for consistent performance, it also ensures consistency in terms of brand voice. 
2. Be Transparent About Using Translators
If you're using a language translator to chat with a customer be upfront and let them know. This way they will be more understanding if you use words that are inappropriate or may be misinterpreted in their cultural context. 
3. Use a Supportive Tone
Positive reinforcing phrases build the customers confidence in your customer service and leave them happy and buoyed by their experience. Negative phrases like "no", create negative reactions that leaves them unhappy and dissatisfied by their experience. 
Always show customers that you're listening, just like in real life conversation, use familiar words like "I see" or "I understand".
4. Personalize the Chat
Use pre-chat forms to collect relevant customer information like name, email in order to provide personalized service. Also, use real pictures of agents to allow customers to know they are interacting with a real person and not a chatbot.
5. Keep it Short and Concise
Live chats are tools for of having instant conversation with customers. They are informal, chatty, relaxed and fast moving. This make them the perfect tool for delivering instantaneous replies to customer's questions.  
So avoid answering with long messages. Shorter sentences are more conversation like and they allow customers to digest your answers and to tell you if they understand your answer or need clarification. 
6. Multitask by Serving Multiple Customers at Once
Live chat experience is different from phone or email. You can multitask by chatting with more than one customer at once but learn the ropes first so you're not keeping people waiting.
Use canned messages so you don't leave the customers hanging. Let them know customer service agents are attending to other customers and they'll be attended to
7. Ask for Feedback
Get instant feedback through survey forms with ratings. Make it immediate after the live chat while customers have a fresh memory of the interaction. 
How to Position Live Chat on Your Website
Customers want an instant response. Make it simple for them to reach out to you with their inquiries. For this reason, it is important to make live chat visible and easily accessible for your customer.
Placing live chat in the right places on pages of your website delivers better live chat experiences for customers. The standard position for a live chat support is the bottom-right of the window screen. This is where customers expect it to be. 
Place it on specific pages where customers are likely to reach out with their inquiries. Think the home page, contact page, pricing, sales page, and shopping cart. 
Understand that placing live chats everywhere can be come off as intrusive and aggressive so exercise judgement when it comes to placement. 
Get A PHP Live Chat Script Now!
On CodeCanyon you will find many more PHP live chat scripts and of course many other kinds of PHP scripts to choose from. With these scripts, you can easily set up a live chat support for your website without coding knowledge.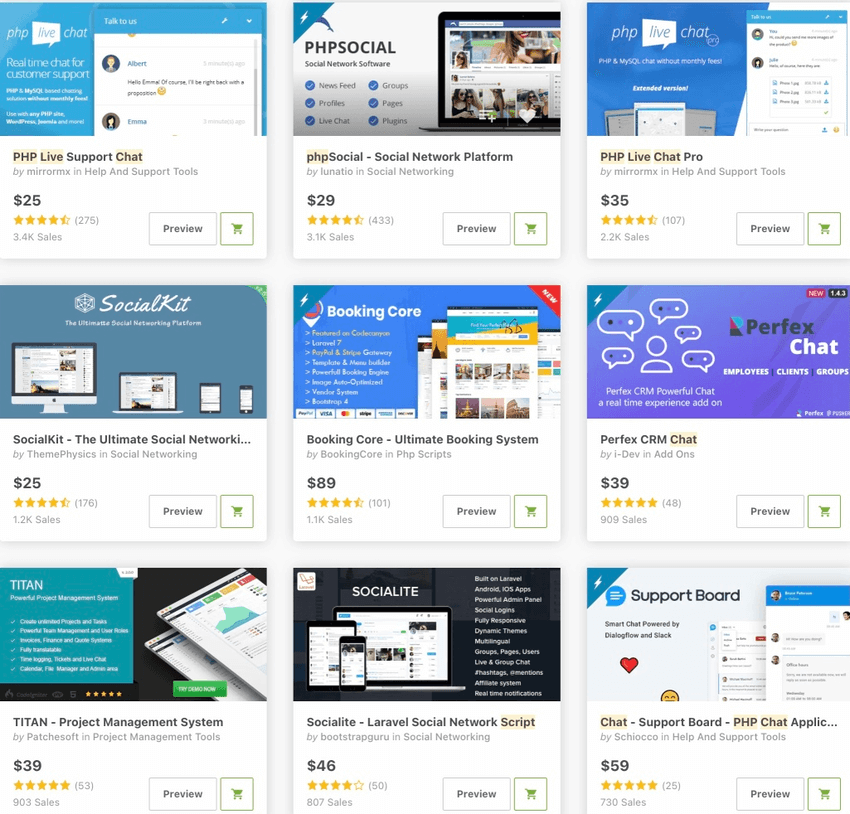 Here are some articles to help you understand more about live chat applications and how you can incorporate them in your business