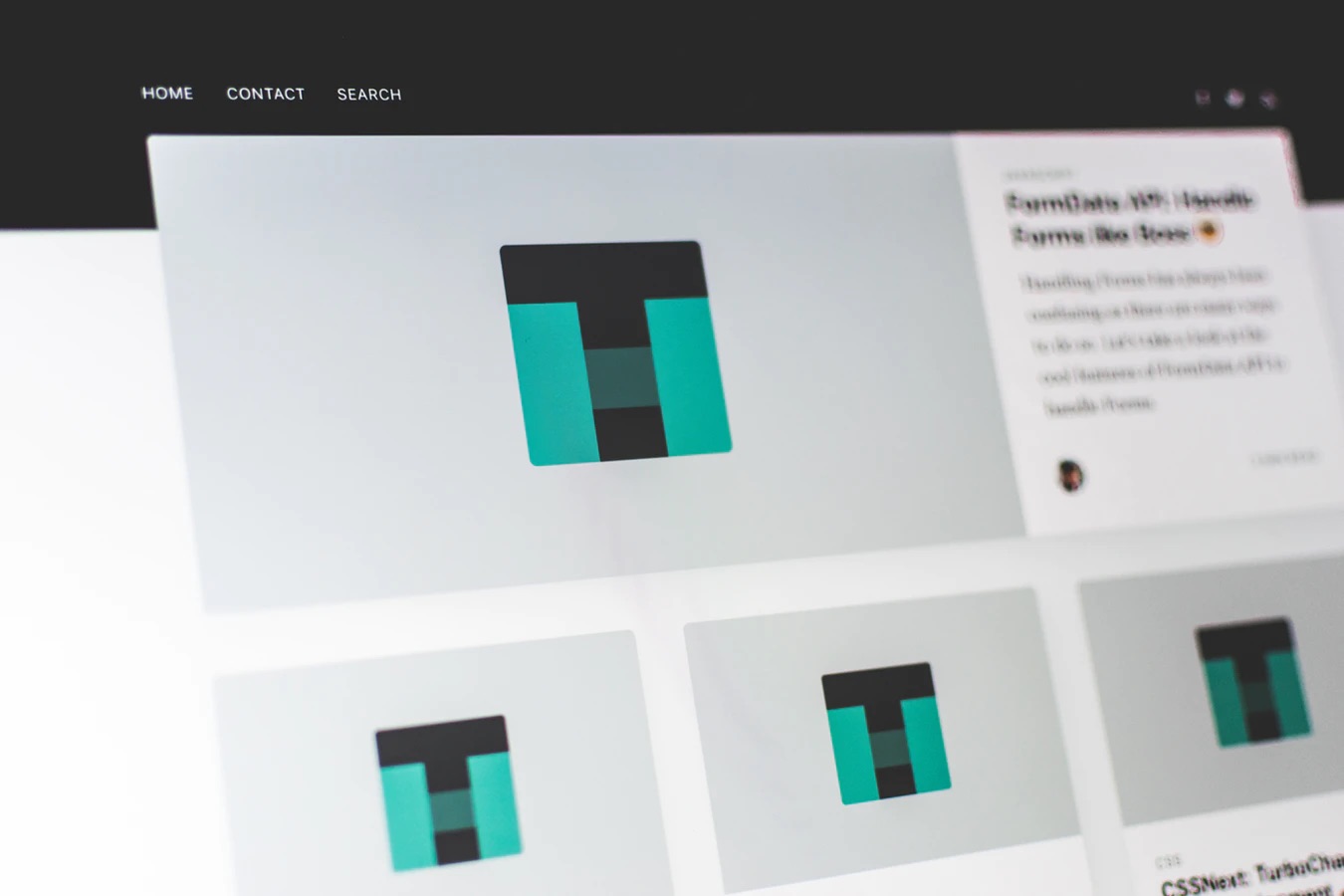 Web design and development makes the world go round. 
Without it…well, you already know and dread a world with no internet. 
But web design and development isn't an easy sell these days. In fact, it's far from it. As a web creator, the pain points can seem endless: 
Getting people to pay on time is rare.
Getting them to respond in a timely manner is even rarer. 
Or the most dreaded of all: "We're just going to use a website builder." 
This doesn't have to be the case anymore. With the right sales tools, you can nip these pain points in the bud fast.
Here are the best web design sales tools you aren't using that are sabotaging your revenue. 
1. PandaDoc Contract Management Software
According to Hubstaff's 2017 freelancing study, one of the biggest pain points for service businesses is a bad client. 
More specifically, clients that ask for unreasonable revisions, discounts, or asking to get on too many meetings: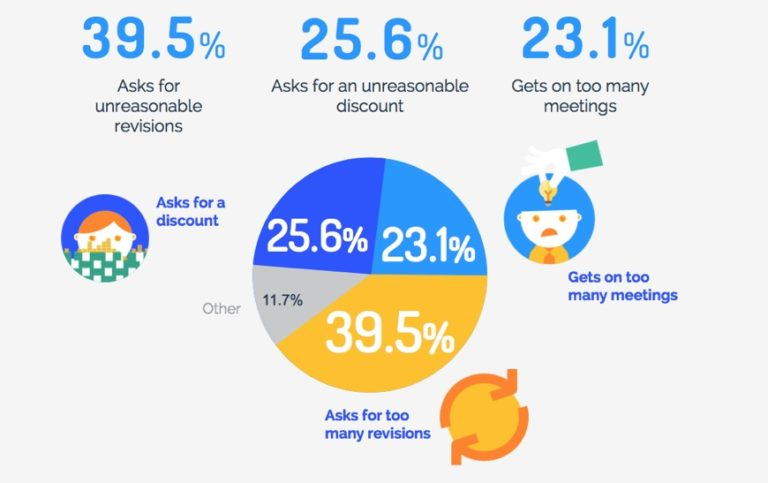 Being a web creator, reviews and testimonials are your livelihoods. You need them as social proof to land future clients and keep your reputation on high.
Saying no to unreasonable revisions or discounts can be tough. 
You want to please client needs and deliver good customer service, but you also can't waste your time and shrink your return on investment. After all, time is money. 
So, what can you do? Enter PandaDoc contract management software: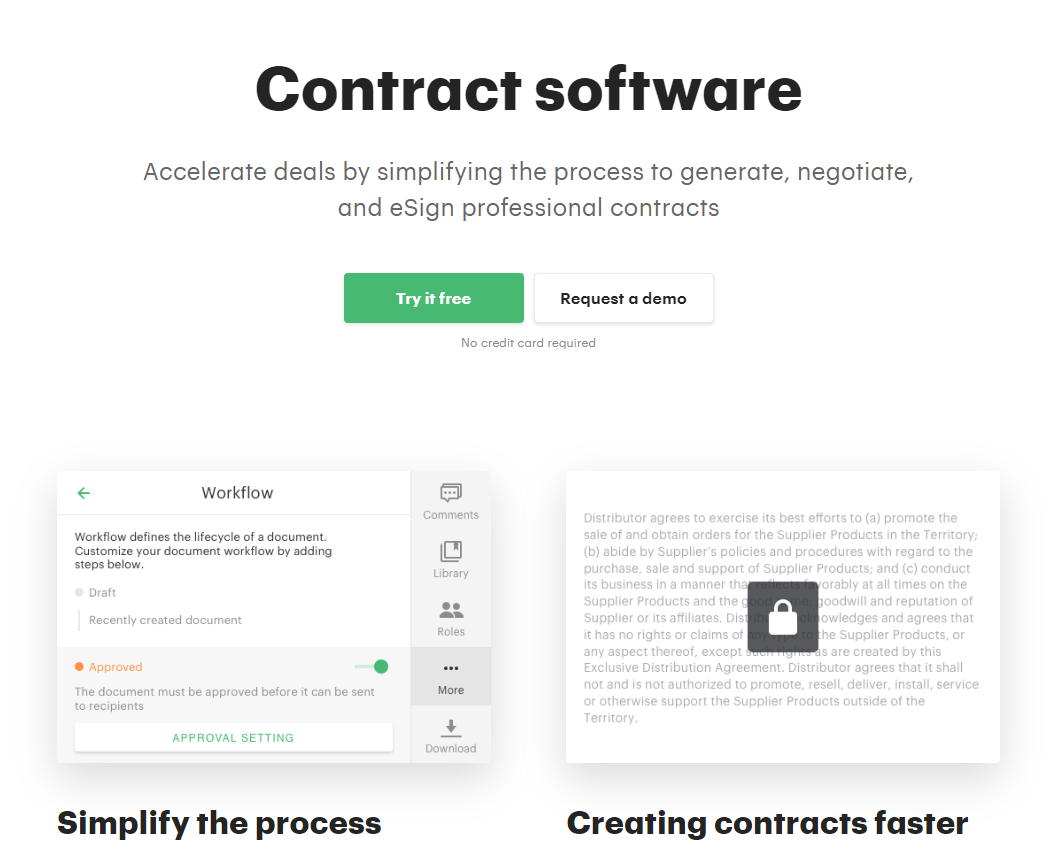 With PandaDoc contract management software, you can automate the contract process from creation to negotiation to management: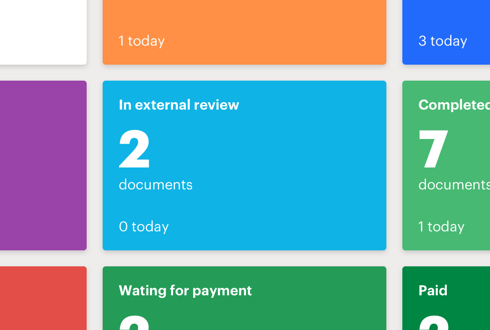 With electronic signature capabilities and direct CRM integrations, you'll never be dealing with unreasonable revisions and discounts: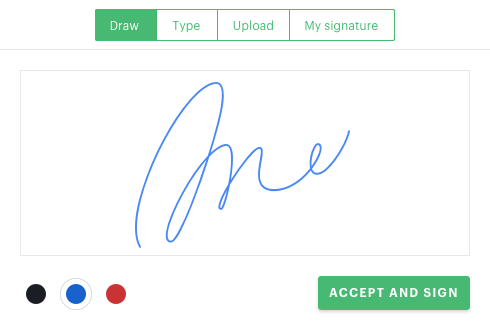 Lay out your terms clearly in the contract, automate it with PandaDoc, simplify your workflow, and avoid those bad client conversations once and for all.
Without it, you're at the mercy of your clients.   
2. Constant Contact Email Marketing
Email marketing is critical for any thriving business. 
If you want to land more projects, you need to be on top of your email. 
That means pitching potential sales deals via email, responding ASAP, and scheduling outreach campaigns. 
Doing all this just via Gmail is a surefire way to procrastinate. 
One minute you are writing an email and then next you're fixing a dumpster fire of a project. 
In the process, the email gets thrown on the backburner, potentially losing client sales and trust. 
Instead, implement an email marketing software that can handle automation needs. 
The current #1 ranked email marketing tool is Constant Contact: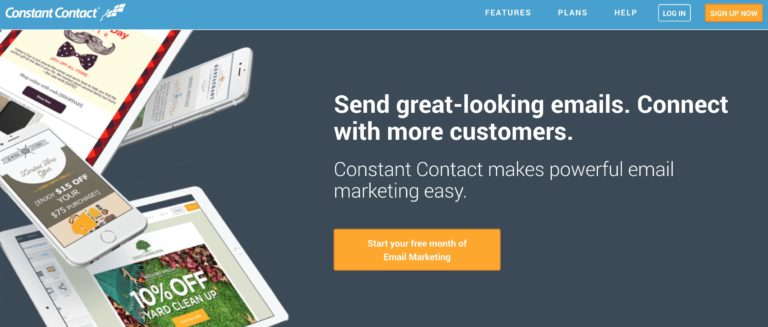 Constant Contact is an email marketing powerhouse that is built for more than just sending emails.
As HostingFacts says "Constant Contact is a great choice for small business owners who need a tool that does more than just email marketing."
In addition to email marketing, it features countless integrations, a social media tool, event management, and even calendar scheduling.
3. Woven's Scheduling Tool
As a web designer, scheduling meetings is often part of the job, especially if you are a startup or a one-person show. 
Whether it's with existing clients to review steps in the process or with prospects to discuss goals, meetings can help you close deals, reassure clients, and even upsell for increased revenue.
Getting on a scheduled meeting is sales playbook 101.
But, typical calendar scheduling sucks. You've probably experienced a dozen emails saying: 
Does 4pm on Friday work? 
No, does 3pm Monday work?
The endless cycle of calendar scheduling is brutal and less professional. 
That's where Woven comes in: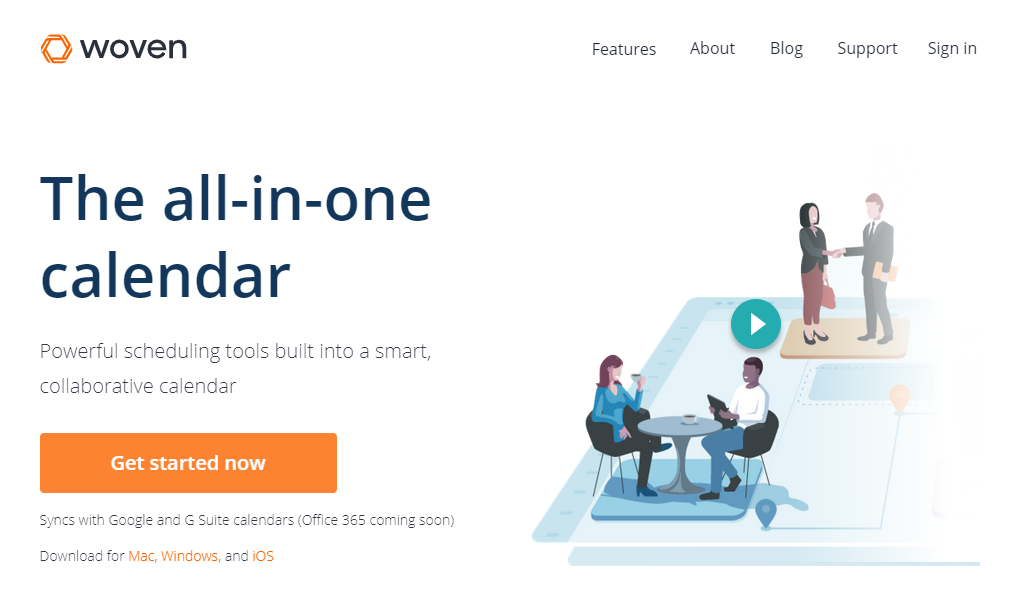 With Woven, you simply plug in dates and times that you are available, generate a link, and have your contacts select a time that fits their schedule: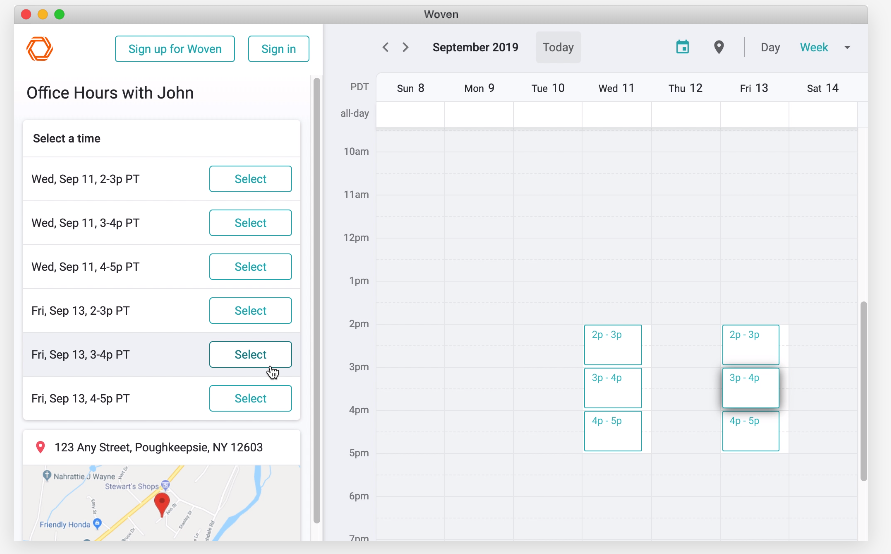 Not only is this easier, but it's far more professional. Combine it with a good conferencing tool and you'll be offering a more premium service to your customers that automates scheduling. 
Ditch the clunky, annoying, and unprofessional back and forth for a tool like Woven.
4. Hootsuite Social Media Management Tool
There are 2.62 billion unique social media users worldwide. 
Being on social media isn't an option anymore. It's a requirement. 
Social media is a diverse tool that can be used to build brand awareness via content promotion, perform social listening, and can even lead to direct sales. 
It's also a fantastic place to showcase portfolio work.
But, managing multiple social channels, scheduling posts, and monitoring engagement aren't easy. All those tasks take time and often multiple tools. 
When you are on a time crunch to finish projects, you won't have any time to write social content. 
Meanwhile, your followers and brand will take a nose-dive. 
Until you implement with Hootsuite.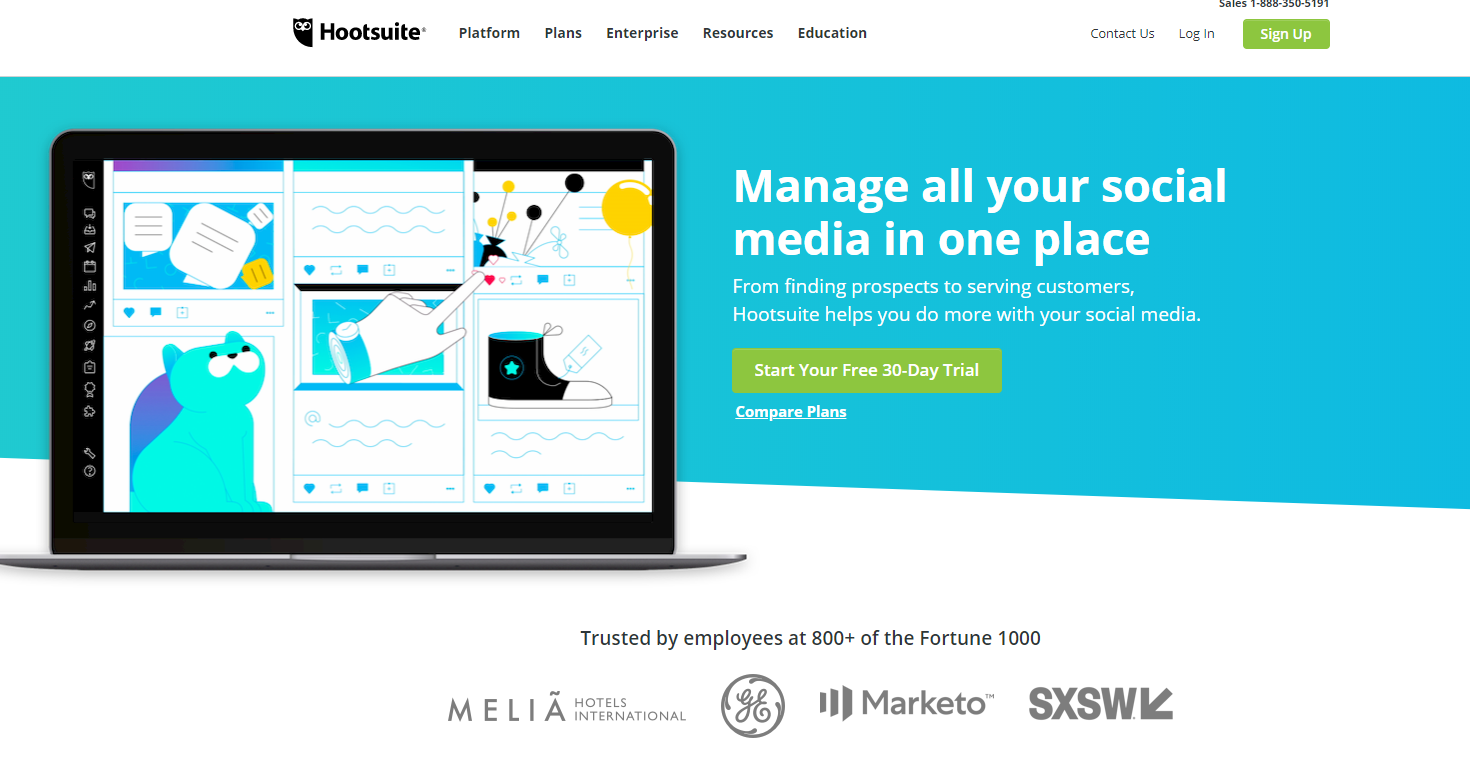 Hootsuite is a social management tool that allows you to connect all of your social profiles and do everything from monitor brand mentions to schedule content and everything in between. 
As a small business, you should be repurposing and scheduling all of your content via social to build awareness. 
Infographics / custom images
Podcast interviews or episodes
Your latest blog post
Direct portfolio work
Scheduling these content types in advanced batches will help you save precious time.
Beyond that, monitoring brand mentions is automated, giving you notifications even when you aren't directly tagged. 
This means you won't miss potential sales, reviews, or leads. 
Conclusion
Web design is much harder than it appears from the outside.
While creating amazing web experiences is fun and exciting, it comes with added stresses and needy clients.
These sales tools can dramatically improve your contracts, lead generation, scheduling, and project efficiency. 
If you aren't using them, you could be costing yourself valuable revenue. 
What are your favorite tools to help improve the sales process and land new web design and development clients? 
Author:
Spyre Studios