[unable to retrieve full-text content]
2021: The year to recalibrate Personas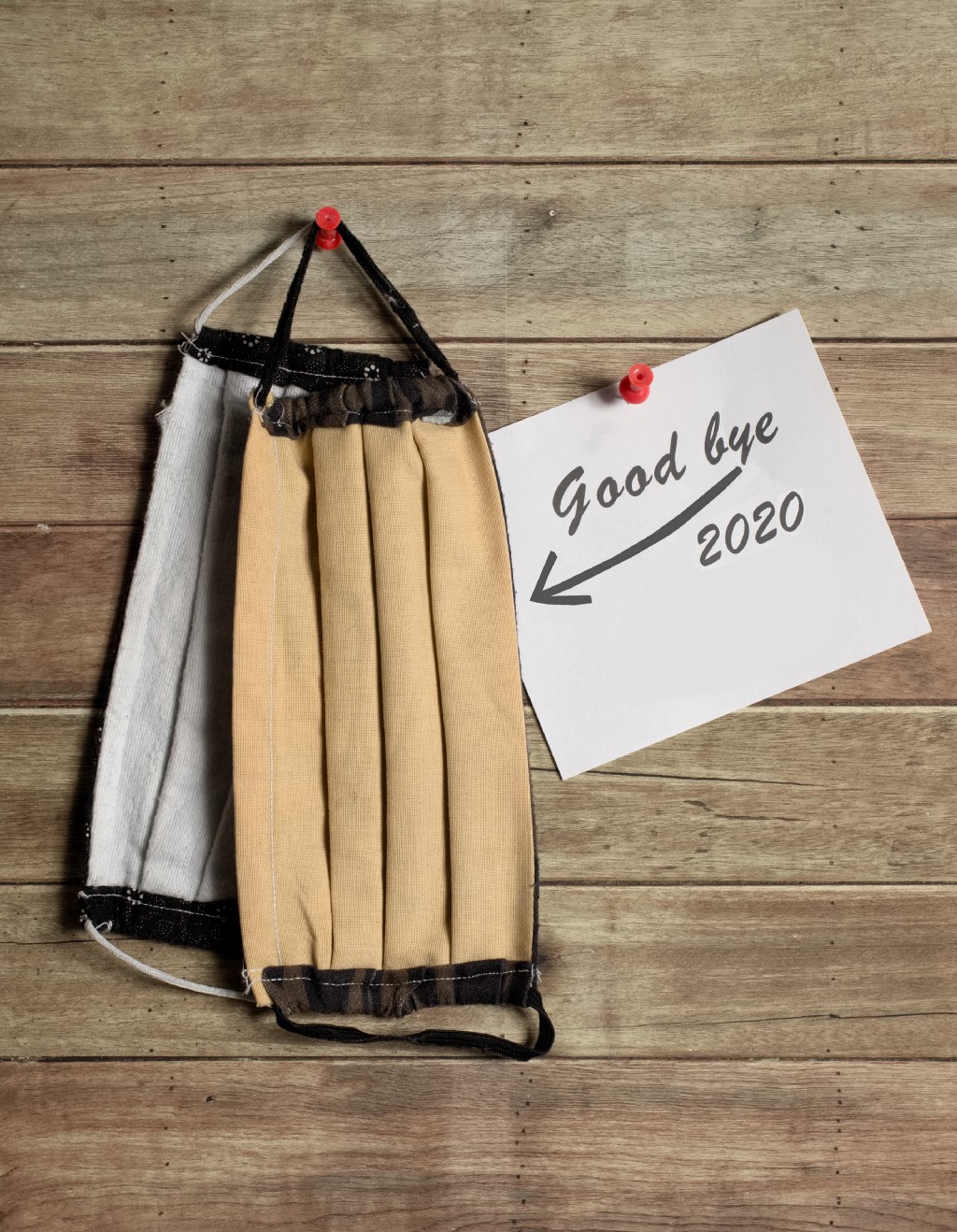 2020 has been, without question, a year of disruption, uncertainty, and unknown territories; with a pandemic that shifted routines and daily lives came a flux in consumption habits, expenditure, and how we spend time. Countries began drafting laws to give people the legal right to work from home [1]; the dining room has become an office, the kitchen counter a meeting place, the living room a quick workout area, all setting new realities and habits for many. In contrast, others are even forced into the digital landscape more than before.
Certainly, we will not be on lockdown forever, but we are all finding new ways to entertain, shop, date, exercise, meet friends, or even visit a doctor. The final impact of this pandemic remains to be seen. However, these new forms raise questions about people's expectations and whether these changes in behaviours, consumer landscape and social structures are here to stick, what will come back and how it will be back.
We must get the customer and user experience right and understand our audience's needs and their relationship with the various factors influencing their environment.
Is your empathy muscle in tune with the new realities your customers and users are facing? How is your product or service adapting to these changes?
If you have not done it yet, 2021 could not be the best year to turn into one of the best empathy tools a team can use to do that: Personas.
A pandemic-driven change
While the pandemic has slowed many things down, it has also accelerated others, such as an expansion of e-commerce [2]
What will be the permanent consequences of the pandemic on your users? What new behaviours are emerging? These are questions any product team must answer to stay ahead of the game.
According to Forrester, 2021 will be about experimenting and unifying channels, supported by investments in personalization, digital asset management, and even augmented and virtual reality, which will accelerate as sellers look to stand out on the digital shelf and boost search rankings. [3]
This likely means that companies are or will be reinventing themselves to adapt and deliver products, services and experiences that make more sense for today's and tomorrow's users. Now is time to up your game; as your users spread their time across a growing breadth of online media, demonstrating an understanding of who they are through experiences is the least we can do.
Think human first, not channel first.
It may be easy to start thinking about having a presence in all channels, but we must explore beyond a CTA, "Subscribe" or a "Buy" button in every channel. We might find new audiences, the places, how we meet their needs, and how your product fits in their lives. Are you closing digital divides or are you leaving them behind?
What questions can help us focus and recalibrate?
What behaviours are changing for the people you serve?
How is technology changing to meet the needs of the people?
What does that mean for your product?
How will you shape your UX moving forward?
What are the gaps and divides?
Adapting to shifting behaviours may seem daunting, but the future of your product depends on it. With the questions above in mind, and assuming you have already exercised your personas, here are some suggestions to start working on your post-pandemic persona's journey, envision and curate better experiences and strategies that speak directly to your audience.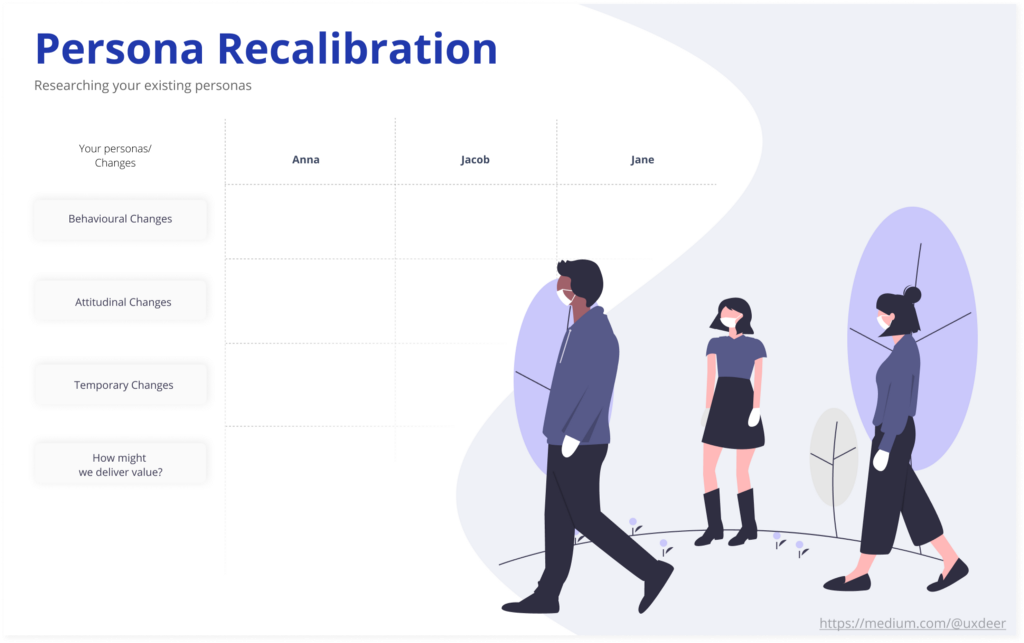 Mirror researched Personas to your existing Personas.
Many firms already began developing consumer groups that are emerging in response to the changing environment. You can use these personas as a guide to mirror and interrogate your personas and understand the gaps and divides, whose needs are being met, who aren't and how you can support each of these personas.
A revisit to your Personas with a post-pandemic lens.
If you have exercised a user journey, it may be a good time to check-in with your own audience and validate existing personas and their journey.
Figuring out where to meet user's needs when they need them is crucial. For example, you may find that your users are spending more time on apps they didn't before, and this might give you a hint about some anchoring bias they may have. With more online activity, your competition is just one click away, and questions such as what are you lacking and what can you provide are vital. Behaviours such as an increase in online shopping, a more local approach might tell you that you need to pursue a vibe and focus on an experience that speaks to their new interests.
One of the strategies behind great user personas is gathering behavioural and attitudinal data to understand your needs, wants, and the forces that influence the user's judgment and decision. Below are the areas you need to make sure to revisit:
Online presence
Goals
Challenges
Decision Making
Processes
Tools and Technology
Information Sources
According to Forrester, by the end of 2021, we expect 30% of Global 2000 companies to have a significant digital product portfolio and 20% to stand up digital divisions dedicated to launching disruptive products to accelerate their transformation to full ecosystem participation [3].
Many industries would likely be entirely unrecognizable for consumers by next year, and you might want to focus your research on the medium or interaction you are operating, whether in a virtual environment, a physical environment or both. Regardless, customers and users don't know what a touchpoint is; they want to get things effortless with a seamless user experience, whether that means omnichannel to your organization.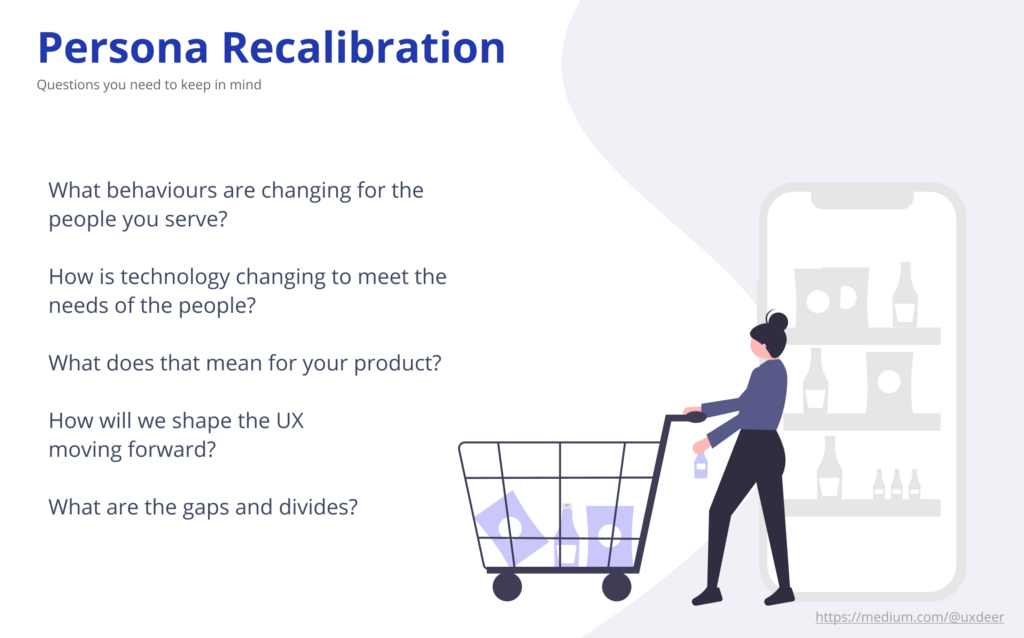 How are you supporting the people that interact with your product?
How might your product fit in the lives of your customers once the post-pandemic dust settles? Here are some questions to get started:
Are you still delivering helpfulness through your app?
How people plan to approach [task/process/goal] after the pandemic?
What products are they using?
What products or services they stopped using and why?
What are your users more concerned about?
Where would they like your brand to put more focus now?
What are they considering when researching a new product?
Has anything about the way you do X changed over time? How? Why?
What's the most challenging part about [task/process]?
What's the most challenging part about using [product]?
These questions will help you uncover where they might be anchoring their biases and with whom they may be comparing your experience.
With those questions in mind, the following image contains a template you can use to recalibrate your personas.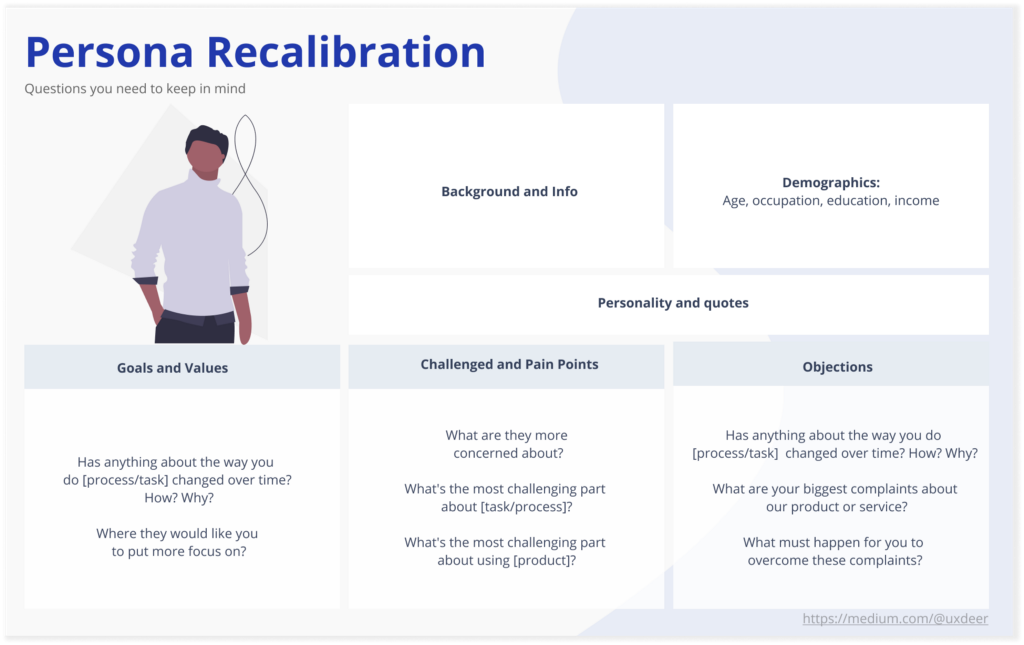 Regardless of what your strategy is to recalibrate the Personas, remember to give stakeholders a personal stake in the game. This is key to drive engagement, share the same focus and vision of your product and for whom you are building.
References
[1] Germany drafting law to give people the legal right to work from home- Source
[2] E-commerce in the time of COVID-19- Source
[3]Predictions 2021: "COVID Wrote The Business Case — Our Future Is Digital"– Source


---
2021: The year to recalibrate personas was originally published in UX Collective on Medium, where people are continuing the conversation by highlighting and responding to this story.