In case you haven't heard, HubSpot themes are now available on ThemeForest! Whether you're new to HubSpot or are still honing your skills, read on for the ins and outs of the platform, including how it can help your business reach new heights. 
What is HubSpot? 
In a nutshell, HubSpot is inbound marketing and sales software that helps companies attract and engage with customers, convert leads, and ultimately—grow! There are various strings to HubSpot's metaphorical bow, including tools to help you create blogs, manage interactions with customers, and host web and landing pages.
Plus, you can track everything so you can work out the success of specific campaigns or your general marketing activities.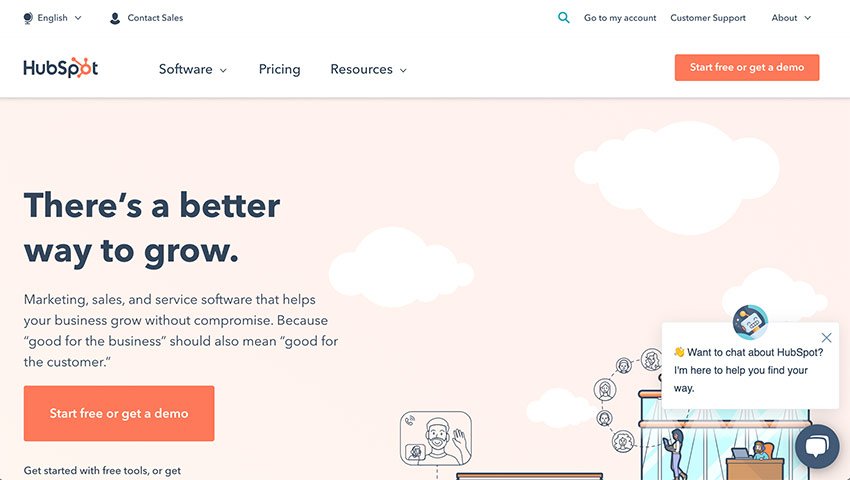 Why Was HubSpot Created? 
Back in the early 2000s, its founders, Dharmesh Shah and Brian Halligan, noticed a shift in the way consumers shopped. Overwhelmed with messages, they were getting good at ignoring aggressive bids for their attention. Shah and Halligan wanted to turn the sales industry on its head by creating a system that would help, rather than harass, people in their purchasing journeys. 
Of course, eCommerce and the world of online marketing in general continues to change at pace, meaning HubSpot has changed a vast amount since it launched way back in 2005. 
Who Can Use HubSpot? 
Any business that wants to grow! Although small and medium-sized businesses tend to be key users of the platform, that's not always the case. Larger businesses like Randstad, Subaru, and  Suzuki join more than 113,00 companies globally that use the platform.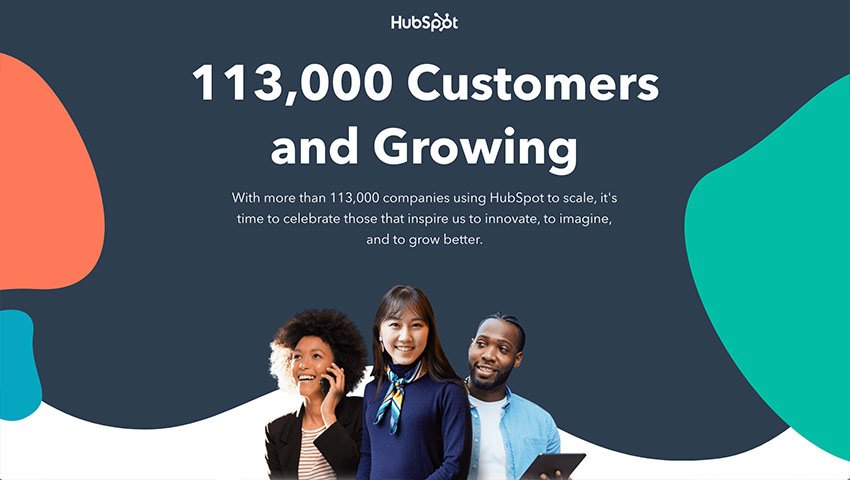 What Are the Benefits of HubSpot?
It's an all-in-one platform: It's got your growth covered, meaning you can keep all your leads and other data in one place. By integrating everything into one platform, your processes become more streamlined and your staff can break silos to work together. 
It evolves: From the very beginning to today, HubSpot has adapted to respond to the changing needs of businesses and consumers. Chances are, if you're facing a new marketing growth challenge, HubSpot can solve it—or its engineers are working on it.  
You can pick and choose: Every business is different, with HubSpot you can pick the features or packages that best suit your needs. 
How to Use HubSpot
There are loads of different ways you can use HubSpot, with your choice driven by your unique business need. It's broken down into different categories. Read on for a flavor of what you can achieve within each category, 
Marketing Hub
Build and customize websites quickly and easily
Publish content that gets read and convert visitors into sales 
Report on and learn from the data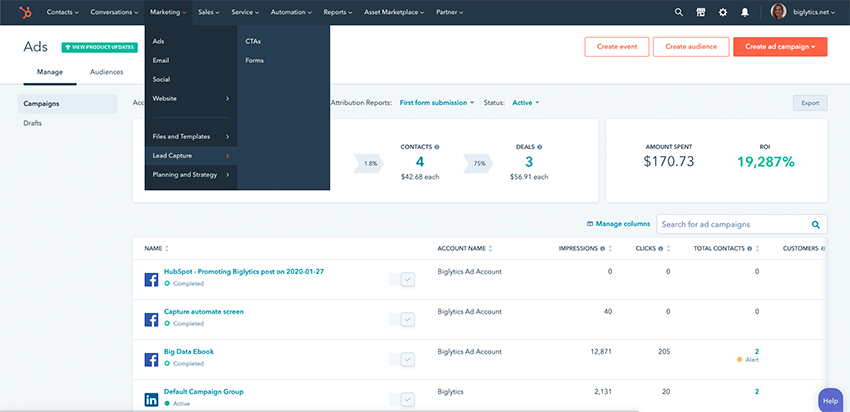 Sales Hub
Track emails and notifications
Group contacts according to similar traits
Schedule meetings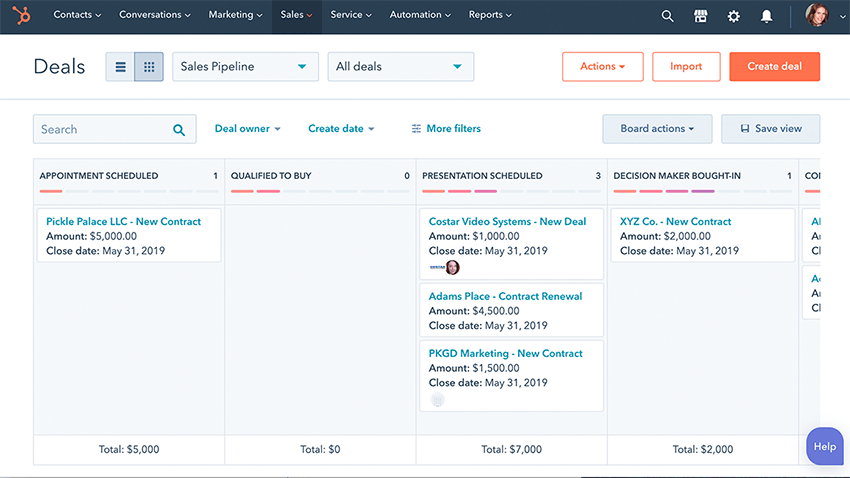 Service Hub
Offer customer support 
Deepen customer relationships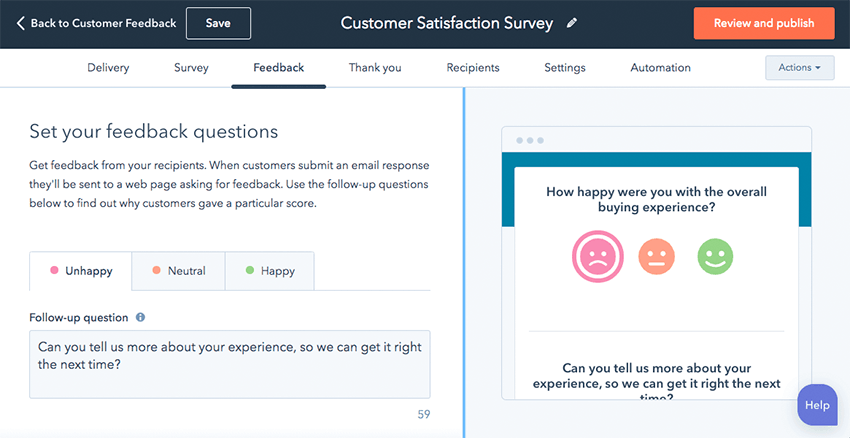 How to Set Up HubSpot
Answering this question can depend on the plan and features you've opted for and how many stakeholders are involved. For example, setting up HubSpot CRM can take around 12 weeks and can involve people including the marketing and sales teams, IT admin, and CRM admin. If you have an existing blog or website you might want to migrate the whole thing to HubSpot too (making all of the HubSpot tools available to your pages). The HubSpot team will even take care of this process for you.
However, introducing a new HubSpot website can be as simple as visiting ThemeForest, downloading your favorite theme, and adding your content.
What is The Difference Between HubSpot and HubSpot CRM?
HubSpot is the all singing, all dancing umbrella term for all the available tools—the thread that links these products is the focus on generating and converting leads to help businesses to boost sales. 
Standing for customer relationship management, HubSpot CRM is the tool that helps businesses keep track—and continue to engage with—their customers. In the early days of a company, the CEO remembering names, the sales rep writing post-it notes, or the intern keeping an Excel spreadsheet may be just about adequate for engaging with leads, but if you're dedicated to growth, it's not going to cut it!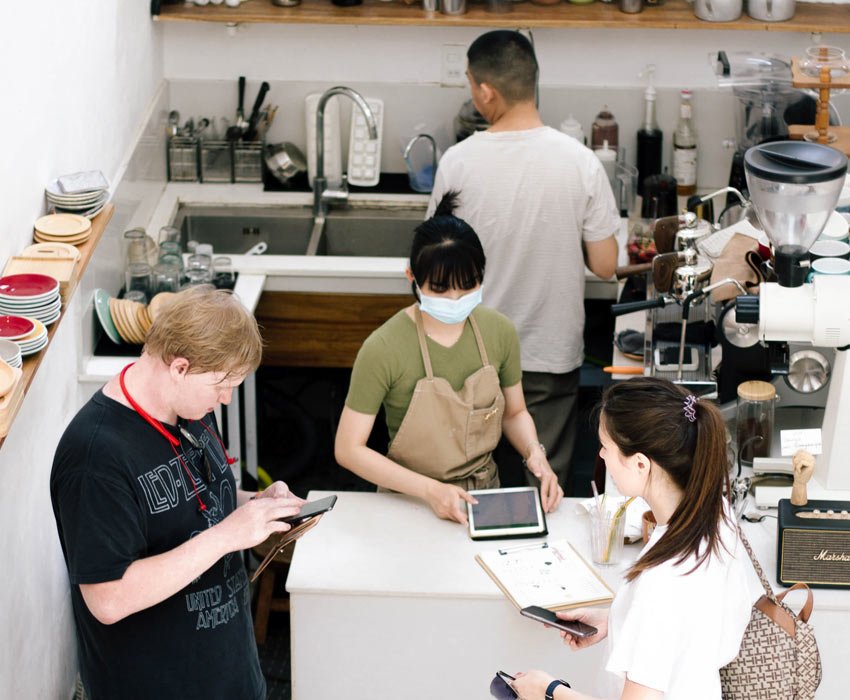 HubSpot CRM helps companies engage with customers in various ways. For example, every time you email a customer, you can see previous social activity, past conversations, and even set yourself reminders to speak about specific topics discussed on past calls. It helps companies to maintain the personal touch once they've grown. 
What is A HubSpot Theme?
It's a pre-designed and developed website or mailing template that can be edited based on your business' needs. Rather than creating a website or newsletter from scratch, you can simply find a template on ThemeForest that best suits you and away you go!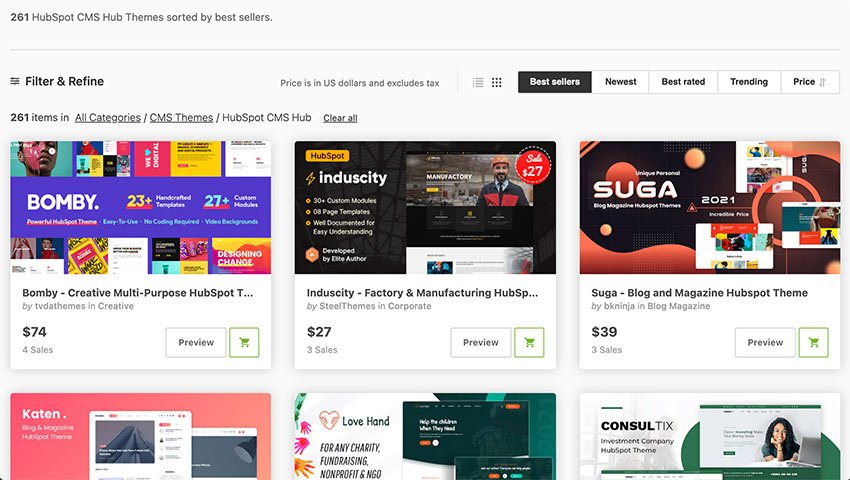 What are the Benefits of HubSpot Themes?
They save you time: Rather than starting your website from scratch, the hard work has been done for you. Talented HubSpot designers and developers create themes that can be easily downloaded so you can see those sales come rolling in. 
They're easy to customize: Downloading a template doesn't mean you have to sacrifice personality! Many of the best HubSpot templates allow you to change the colors, branding, layouts, and you can add your own words and pictures too. 
They're high-quality: You can rest safe in the knowledge that HubSpot themes have been designed to the highest standards. Plus, seeing as generating sales is always a priority, you'll notice important lead-driving features like email sign-ups, contact us pages, and call to action buttons.  
How to Create Blogs, Landing Pages, and CMS Websites on HubSpot 
Now HubSpot themes are available on ThemeForest, it couldn't be easier to bring your growth plan into action! For creating blogs, landing pages, and CMS websites, all you need to do is:
Look in ThemeForest for the available templates
Choose your favorite. Remember you can edit images, text, and layouts, and most CMS website templates come with pre-designed features like blogs and landing pages. 
Download the template straight to your PC
Customize your template (this is designed to be simple so all you need to do is drag and drop)
Share your new marketing collateral with the world and see those leads come flooding in!
How HubSpot Can Help You Generate Leads
I'll hazard a guess that every reader has fallen victim to some kind of blanket marketing. This is when the same message is sent to everyone. Ever been sent junk mail that's not relevant to you? Chances are you'll put it straight in the trash without even thinking about it. 
HubSpot works more intelligently, instead nurturing leads by engaging the target audience with considered, personalized, relevant information. 
Which Leads Can HubSpot Help You To Engage?
Hot leads: People highly interested in your product, they could be a few clicks away from purchase or are waiting for a direct sales contact to help them convert. With HubSpot, you can identify these customers and get in touch by email, social, or phone.
Warm leads: People who have shown interest in your product or service. This could be by signing up to your newsletter, following your company on social media, or asking a question via email. HubSpot can also help you filter warm leads from other customers. You could send personalized newsletters answering common customer queries or get in touch directly. 
Cold leads: People who reject calls, emails, or other marketing activities. To avoid spamming, HubSpot tools can't be used to email cold contacts. Rather than directly targeting these customers, HubSpot can be used in more generic ways to offer value to customers, such as improving your website user experience or releasing useful thought leadership blogs. 
Free vs Paid HubSpot
Just as there are various HubSpot tools to choose from, there are also plenty of different payment options. There are free versions of the marketing, sales, and services packages, with features including team email, email marketing, shared inboxes, and email scheduling.
The free tools let you add a generous 1,000,000 contacts, unlimited free users, and the free access has no time limits. However, the paid versions offer many more features.
Over To You!
Now you know the ins and outs of HubSpot, the next step is to work out how it can benefit your business. If you're in the market for HubSpot themes, check out ThemeForest and our pick of the top 18 themes. Any questions? Drop them in the comments below!