What is a display font? And what is the best place to use a display typeface? Discover the answers to those questions and more in this article.
As a budding designer, it's important to get familiar with the term and when it's used. In this article, I'll go through a display font definition, the typeface history of display fonts, and outline some essential tips and great examples from our Envato Elements library.
Creating an atmosphere and a feeling on a page is not as easy as it sounds. As designers, we pay close attention to details and devote our time to choosing legible fonts that will make our readers comfortable. Clean designs can often neglect the creation of a feeling on a page. 
Follow along with us over on our Envato Tuts+ YouTube channel:
What Is a Display Font?
If you've been looking for a display font definition, here it is: display fonts are designed to be used at large scale to convey a specific feeling. We see them in custom logos and beautifully laid-out editorial stories. 
Drop caps are another way to use them and enhance your design. The best display fonts can create an atmosphere in an instant and are great elements to include in your design.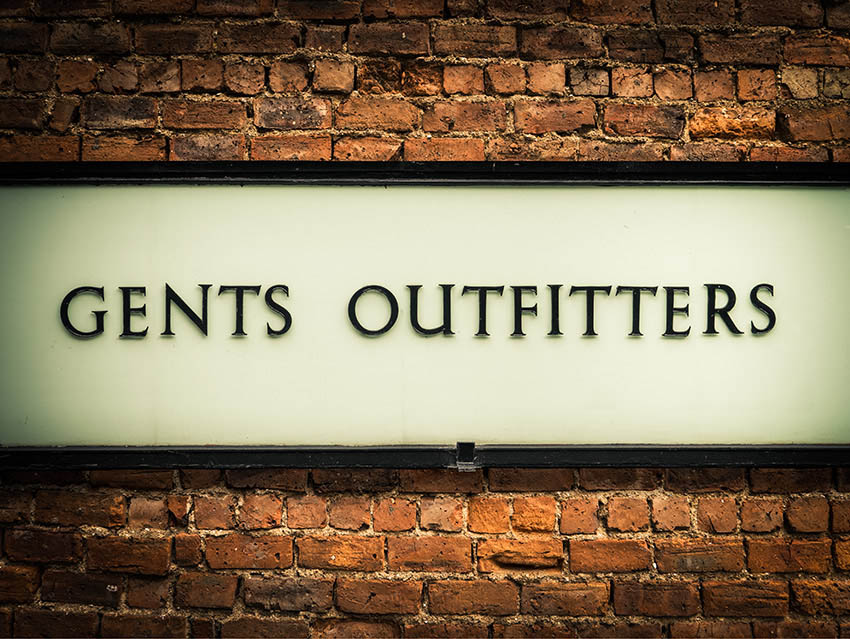 In this article, we'll take a look at display fonts and their part in typeface history, and how they came to be popular. The digital era has made it easier for designers to create their own display fonts, so I'll show you a few great examples from our own Envato Elements library. Let's get started! 
Text vs. Display

Text fonts are specifically designed to be read at smaller point sizes and in long blocks of text. Serif fonts used to be and sometimes still are the font of choice for long blocks of text. In the last few years, we've seen a rise in the popularity of sans serif fonts as a choice for text too. Designers have focused on making them legible at small point sizes.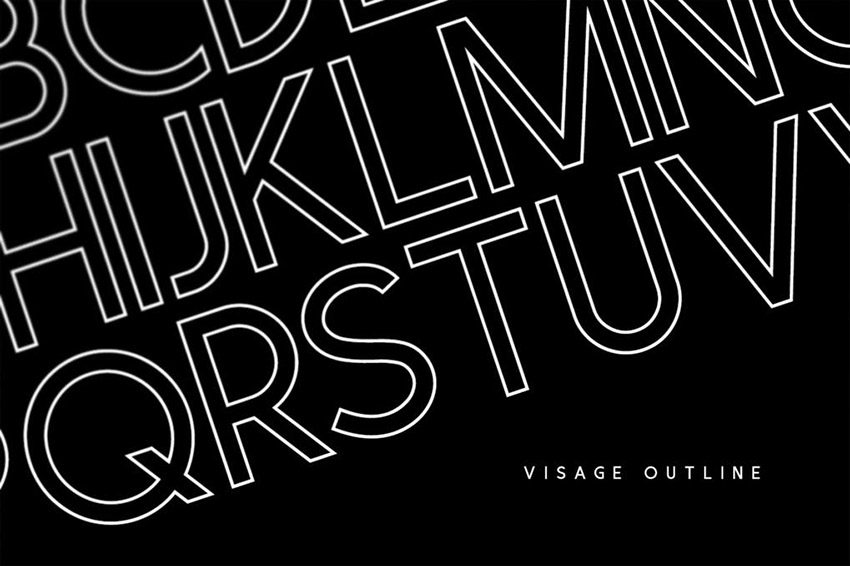 To attract readers to the copy, designers use display fonts. By following a specific theme and choosing a display font accordingly, we can create an atmosphere on the page. Display fonts are used to stand out and perform at larger sizes compared to text copy.
Currently, some serif typefaces are developed with a display version in mind, which is great news for serif lovers. The difference between serif text and serif display lies primarily in the x-height of the lowercase characters. Text serifs have taller x-height, and the serifs are more noticeable, so characters can be identified more easily.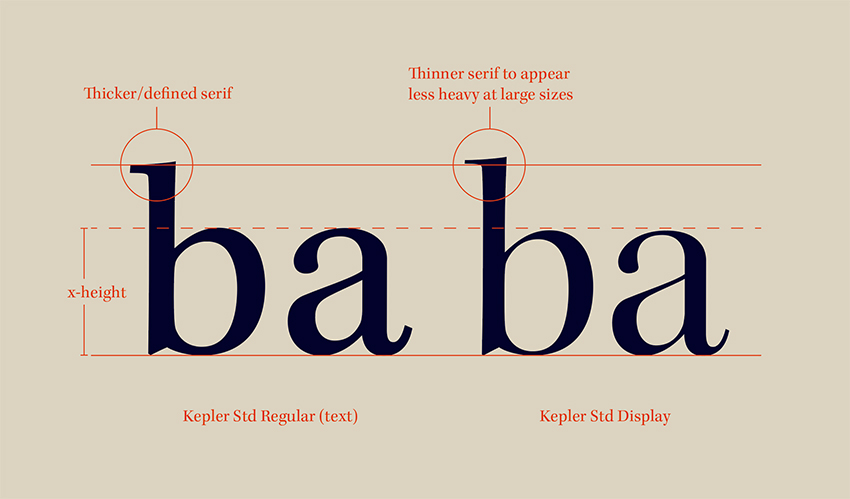 Traditional display fonts are sometimes called decorative, and these fonts can help you carry a theme throughout a project. These fonts scream, "Look at me!" and are designed for specific purposes or with a theme in mind. 
Traditional display fonts don't include a text size version because they are meant to be used sparingly at a large point size in headlines and advertising. Decorative fonts may incorporate graphic elements and details that make them illegible when scaled down.
Often, you'll see logos using customized display fonts that are unique and stylized. These aim to convey a specific personality that fits a brand. There's a wide range of display fonts to choose from, and with new technology, it is easier to create them.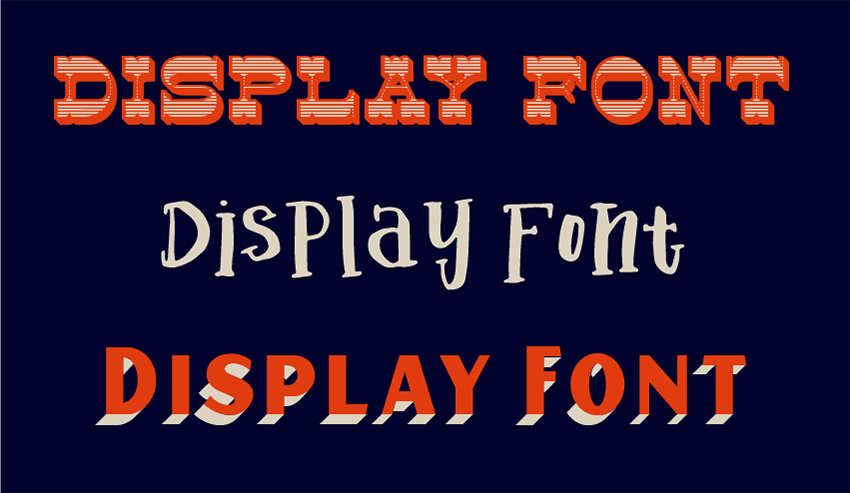 Typeface History and Display Fonts

In the 15th century, Johannes Gutenberg developed the printing press, which led to the mass production of printed publications in Europe. However, the Industrial Revolution accelerated the way type was produced through the invention of new processes and machinery. 
The Industrial Revolution had two major effects in typography: functional type design and the production of mass advertising. The Linotype Machine was invented during this time by Ottmar Mergenthaler. This new machine worked the same way as a typewriter and shortened the time that was needed to set type. While typesetting got easier, punch-cutting became faster. Linn Boyd Benton invented a pantographic device that could scale a drawing to any size. This is where many of the typefaces got stretched and compressed.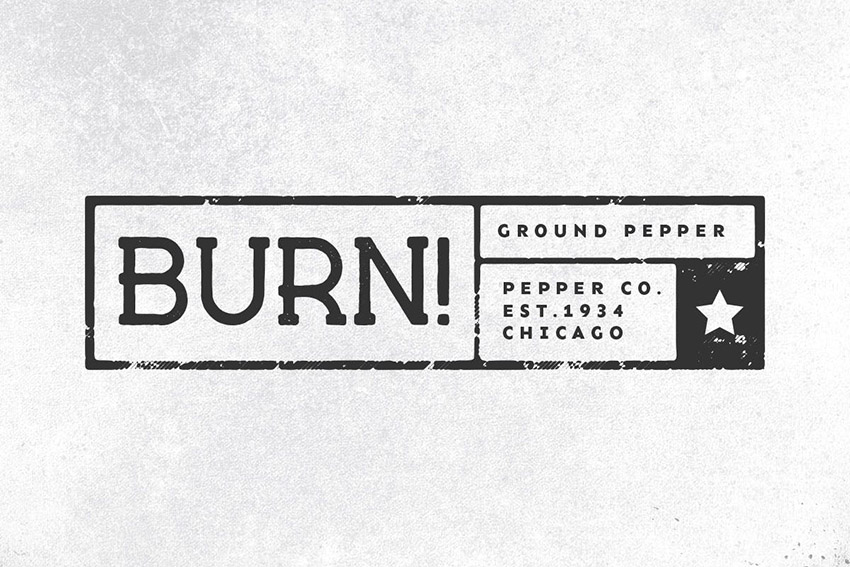 The invention of lithography in the 1800s made it possible to print large prints. By the end of the century, the ability to print large-scale posters with multiple colors helped start advertising. 
The Industrial Revolution also made room for signs, posters, and newspapers for the masses. The rise of these mediums called for large-scale characters that could attract attention in public spaces. Heavier, bolder, and stretched typefaces were the result of the need for awareness.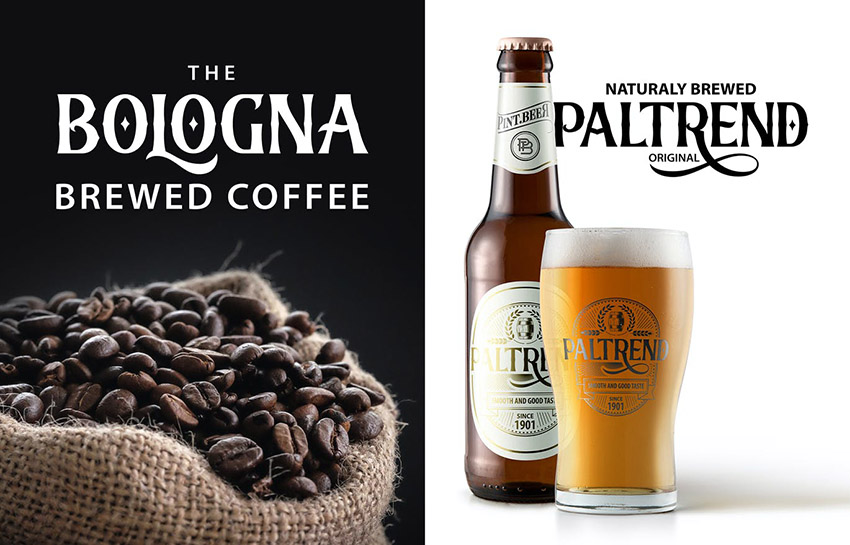 There are multiple categories within decorative/display fonts. Up to this day, we are still creating them, and we've seen a resurgence of many of them every 10–15 years. Here, we've gathered the most important categories to know:
Slab serifs were introduced as display fonts at first. The block-like rectangular serifs commanded attention, and their sturdy serifs held up well during printing. Later on, they were added alongside Roman fonts as an alternative to italics to highlight text. 
Fat faces first appeared between 1810 and 1820 and were intended for display purposes. The anatomy was exaggerated, with thick vertical lines and the vertical serifs turned into a wedge shape. 
Wood Type was carved out of wood and cut perpendicular to the grain. The anatomy of wood type lacked fine lines and was unusually compressed and extended. Wood type has an "Old West" feeling as it was associated with America in the 1870–1900 period.
Scripts and brush typefaces are based on handwriting—usually writing with a steel nib pen, brush, or regular pen. Some typefaces have a more traditional look, while others are now based on current handwriting.
Art Nouveau brought ornamental typefaces that featured organic and intricate lines during the late 19th century. A revival occurred in the 1960s that brought the style back to popularity.
Art Deco was the opposite of Art Nouveau. First appearing in the 1920s and 1930s, Art Deco found beauty in clean and geometric lines. Art Deco fonts can also be classified as sans serif fonts because of the lack of serifs, but they can be extremely difficult to read in long-form text. Art Deco fonts also made a comeback in the 1970s and 1980s.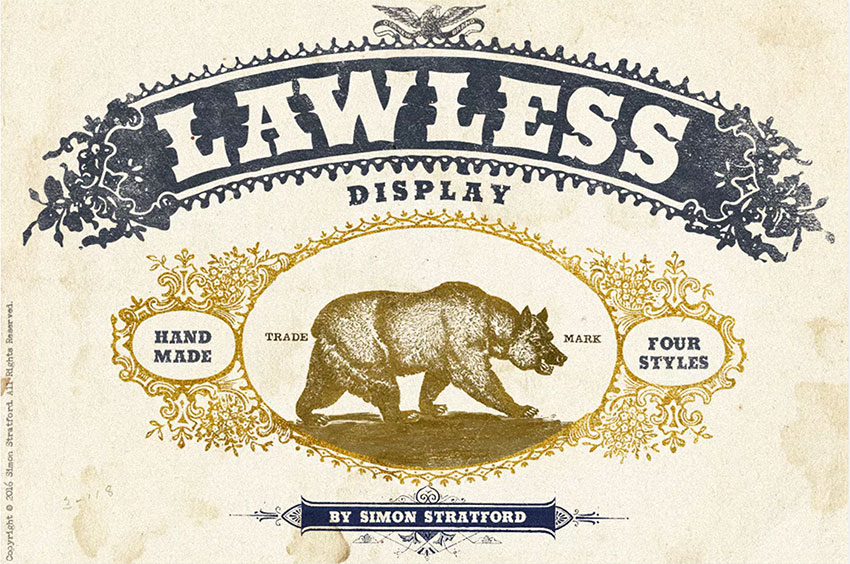 Lawless is a great example of the style of fonts developed during the Industrial Revolution. Drawn in pencil and further developed in Illustrator, Lawless is inspired by Wood Type in the 1800s. Perfect if you are looking for an "Old West" style display font.
With the popularity of digital fonts, the display font category is becoming larger and larger. Nowadays there are thousands of display fonts that can suit any theme for layout design, branding, and advertising. Envato Elements has a great library of display and decorative fonts that are useful for evoking a particular subject, mood, or historical period. Let's take a look at a few: 
There's no question about what is the best place to use a display typeface called Circus Freak. It's a display font inspired by the old American wood type from the late 1800s. The font is chromatic, meaning that you can stack two or more styles from the same family on top of one another in different colors. There are four styles that can be layered for a vintage letterpress effect. Bonus points for the four high-resolution textures this download includes!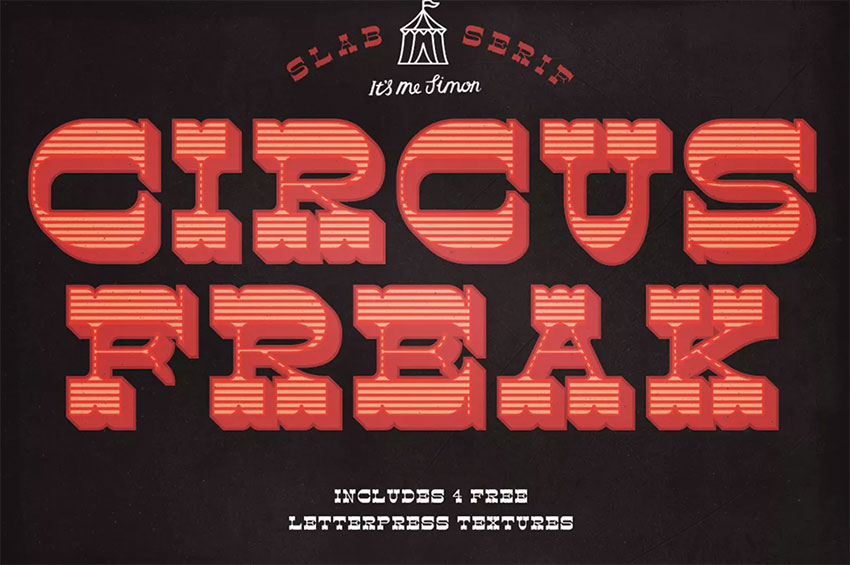 Inspired by the Victorian era, Morning Glory is a highly ornamented font that's perfect for any vintage-themed layout. Included in this package is the ornamented border that can come in handy for posters and advertising. It's one of the best display fonts you'll find with this typography style.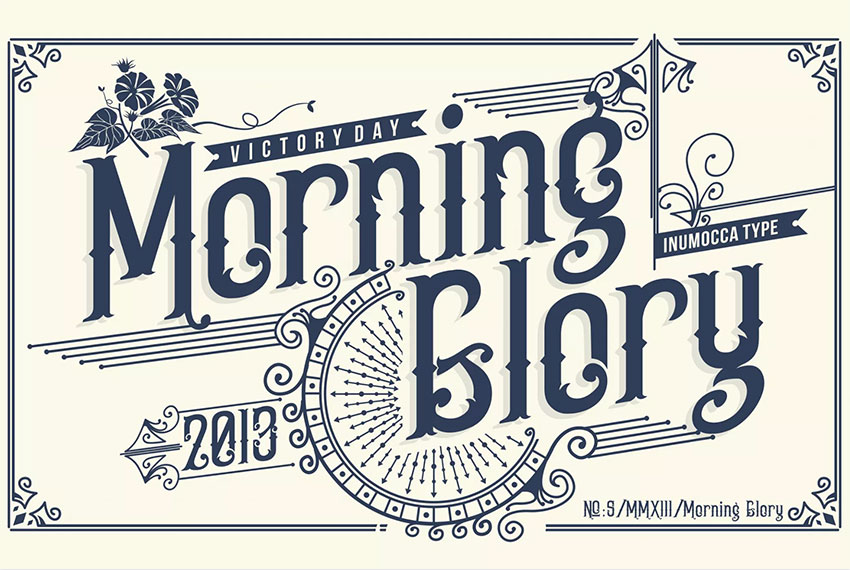 Hand Stones is a retro font that has a rough style and contains multiple styles. Use the sans serif and match it up with the script version for a super cool look. This font is also chromatic, so you can layer it any way you want! This font supports multiple languages and comes with ligatures that will help you support your design and make it more authentic.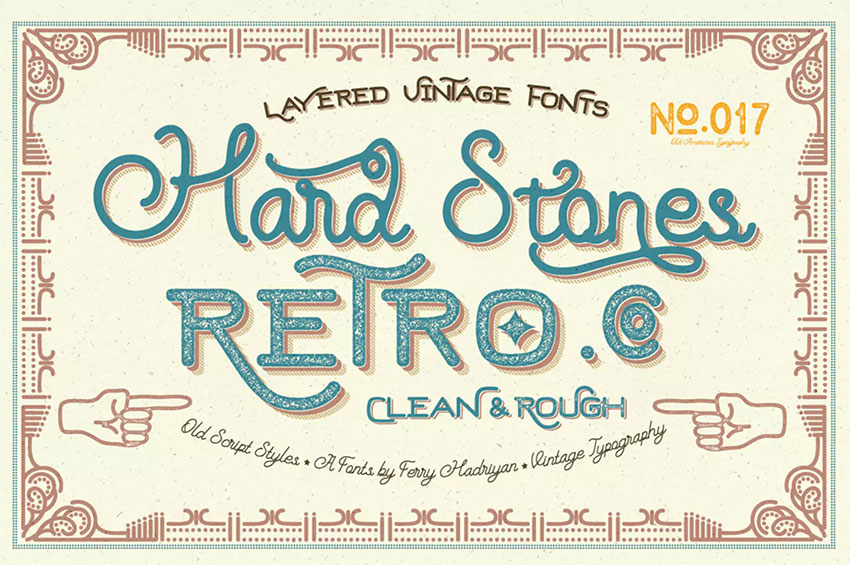 This wonderful textured typeface is inspired by the early 20th century. The package contains stylistic alternates, so you can mix and match pairs to fit your design. If you want a vintage-inspired logo, The Brewski is one of the best display fonts to help you stand out from the crowd.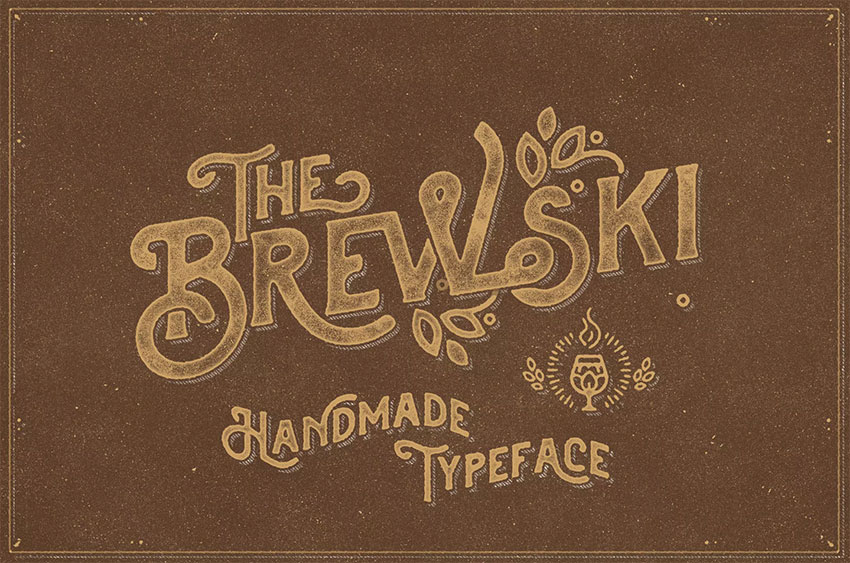 Ropstone is a display font developed by hand and inspired by classic vintage posters. Ropstone is a great package as it includes vintage ornament elements and borders that will help you complete your design. The font includes multiple alternates that can help you find the right character to fit your design.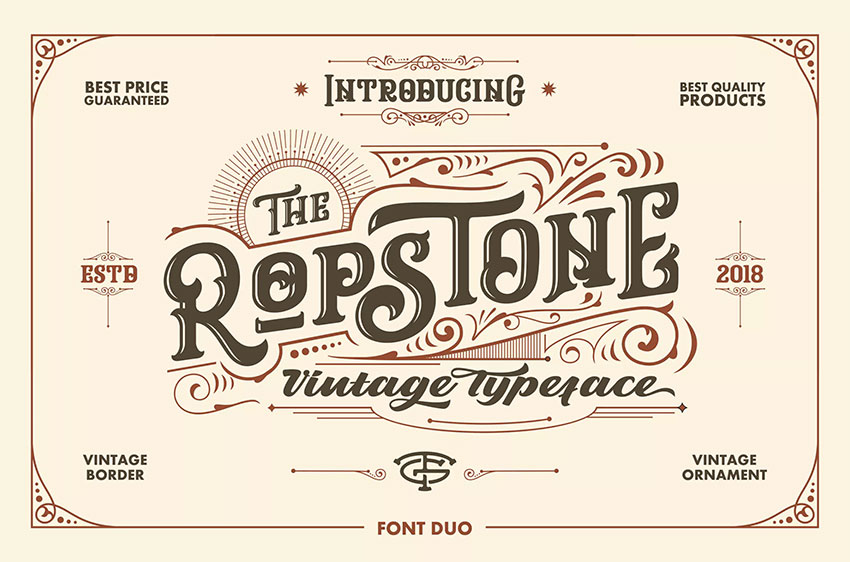 Carter is a chromatic typeface that you can layer as you wish. It has endless combinations that are inspired by retro signage. One of the combinations even makes the characters look as if they are popping out of the screen. Use this display board font in your next layout design to enhance the retro look.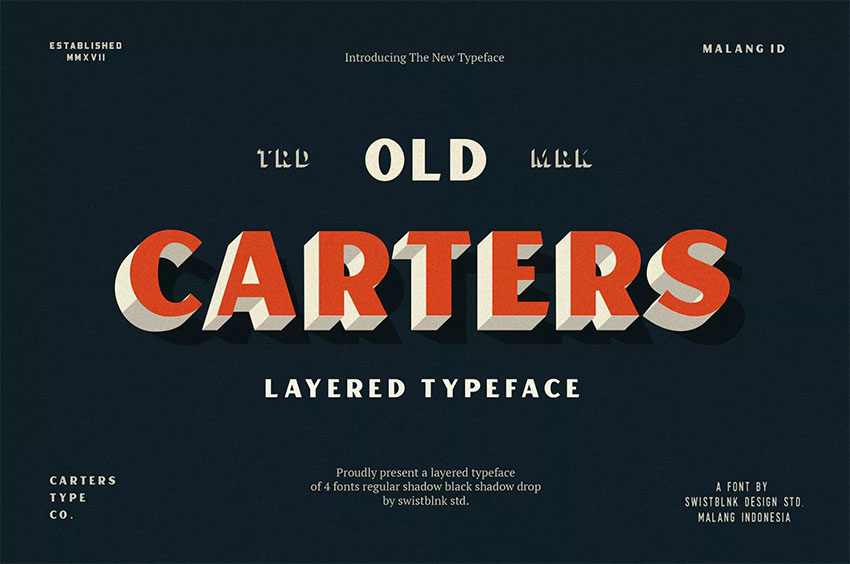 Organic is a retro-inspired font for display that includes four styles in the package. The slab serif has sharp edges that add oomph to your design. Support the slab family with the thin and regular versions for smaller and finer details. Or pair the stencil family with a spray texture for a grungy look!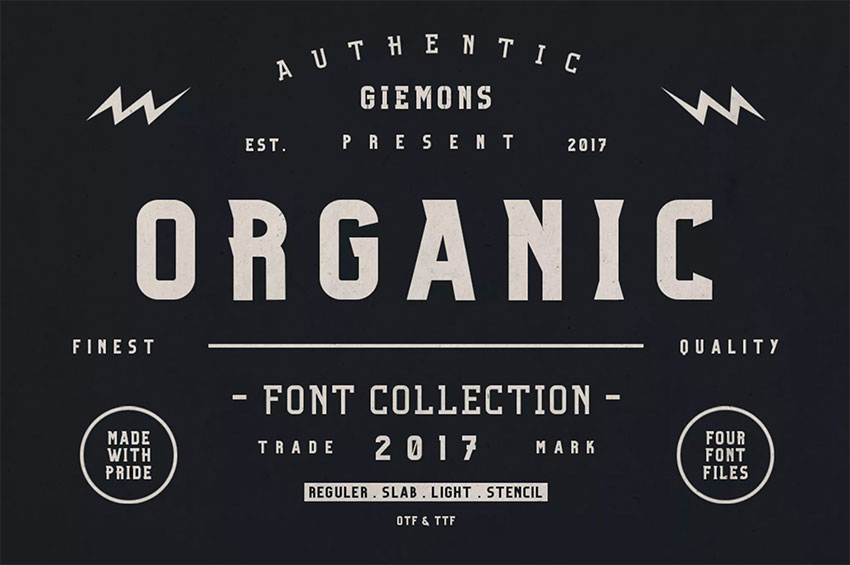 Oatmeal Jack is a dynamic typeface developed by hand using brushes and markers. For an authentic look, scale each character separately, and it will look truly handmade. The font includes a serif and script version, so you can use both together or separately. Also included are multiple glyphs that will keep your design looking flawless. Bonus points for including the badges on the preview of the font. These will come in handy when you are looking for some inspiration!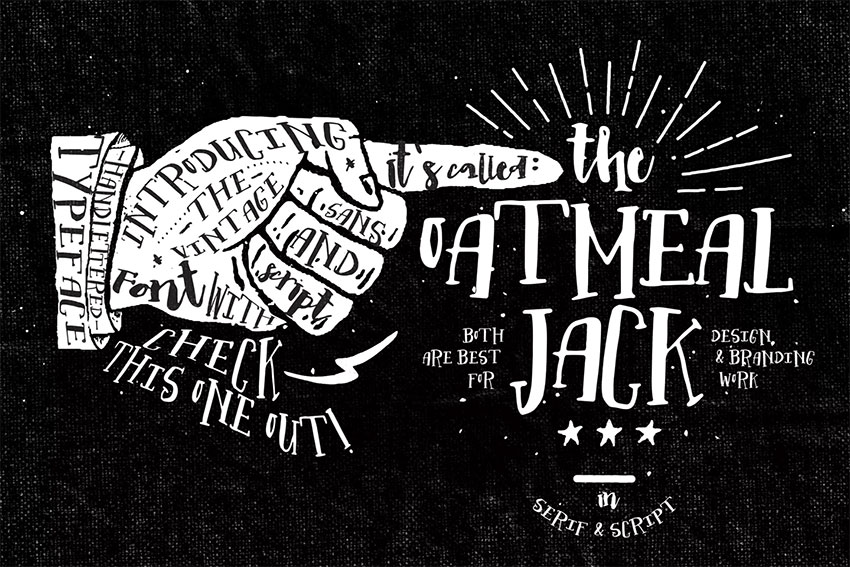 Stooges Races is a retro font inspired by motorcycle posters from the mid-century. The hand-drawn style has an oily look, and the extra splashes make it wonderful for editorial design. In the package, you'll receive an extra pack of vector silhouettes that can complement your design.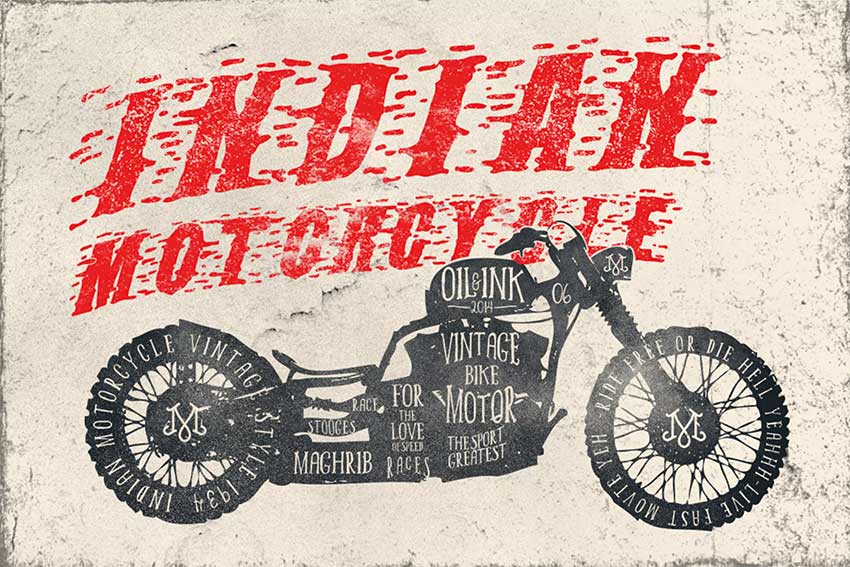 Parlour Sans is a versatile font with a vintage feel. This grungy font has a texture already applied to lowercase characters, while the uppercase letters have no degradation. There are extra glyphs in the package that will help you complete your project.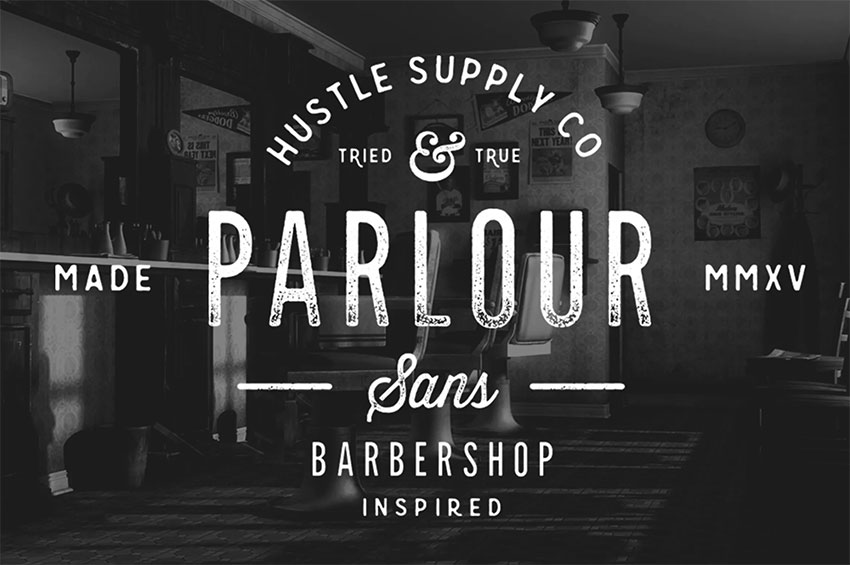 This display font mimics a marker style. The uneven edges make the characters look even more real and hand-drawn. This display font is perfect for a sci-fi themed poster or editorial story. The font includes lower and uppercase characters that you can mix and match for an edgier look.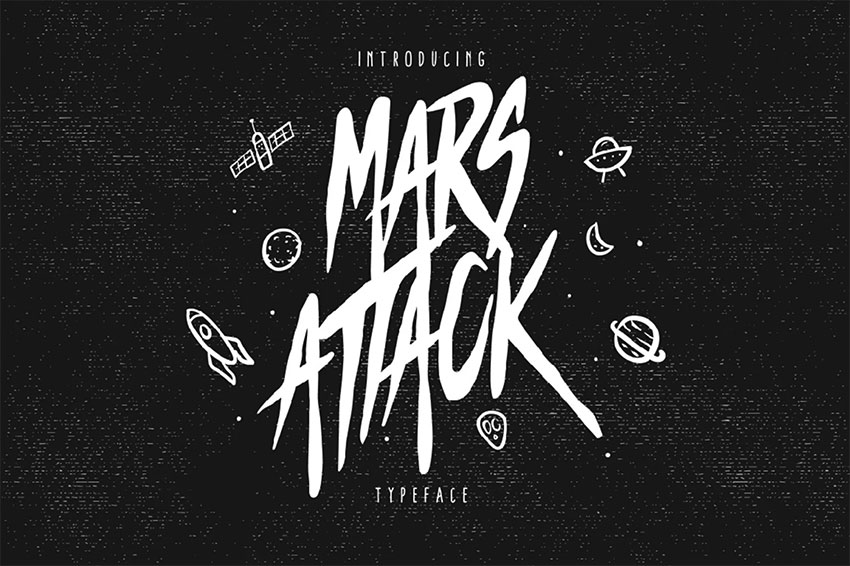 Flohart lends your design a hand-crafted feel. This informal typeface has a dry brush feel that makes it look real. You'll notice that the second strokes on a few of the characters are lighter than the main strokes—that is great attention to detail from the designer. The font includes alternate characters that will help you stylize your text for an authentic look.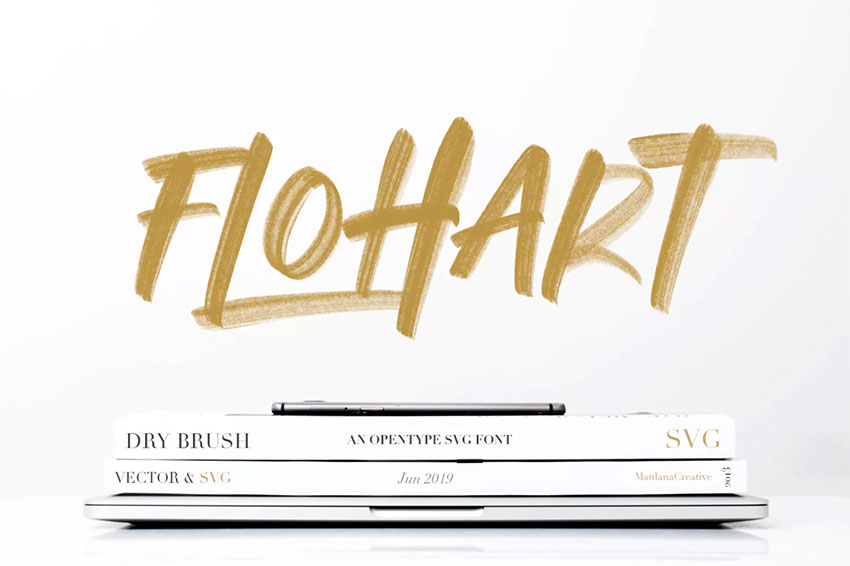 The Painter is inspired by traditional signs and brush lettering. The typeface includes two styles: a clean version and a rusted version. You can layer both to add shadow and depth to your design. The font includes a great set of swashes and stylistic alternates that will give you endless combinations for your design.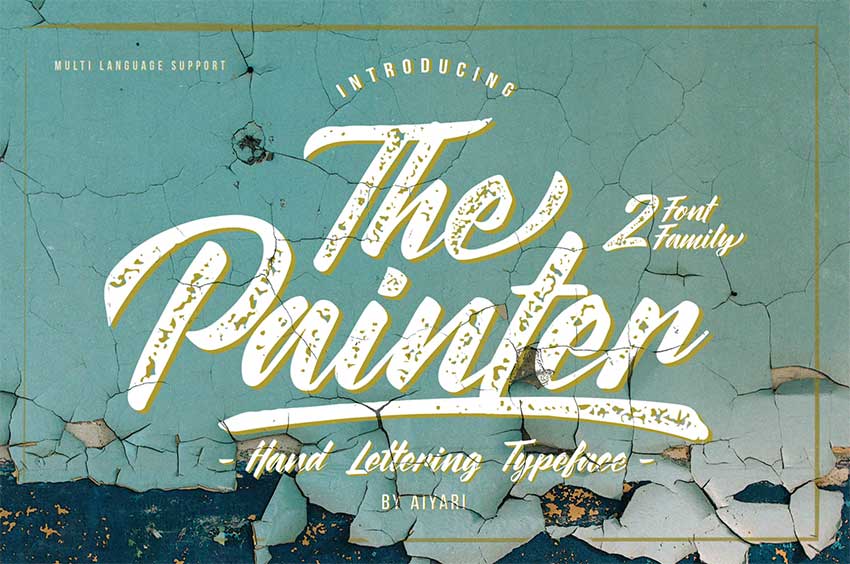 This modern script font is perfect to use in your next design project. The clean lines make it highly legible. The package includes multiple stylistic sets and alternates, giving you plenty of options to choose from for your design. Complete with swashes and ligatures, you'll be able to create an extensive brand system with the Balistik display typeface.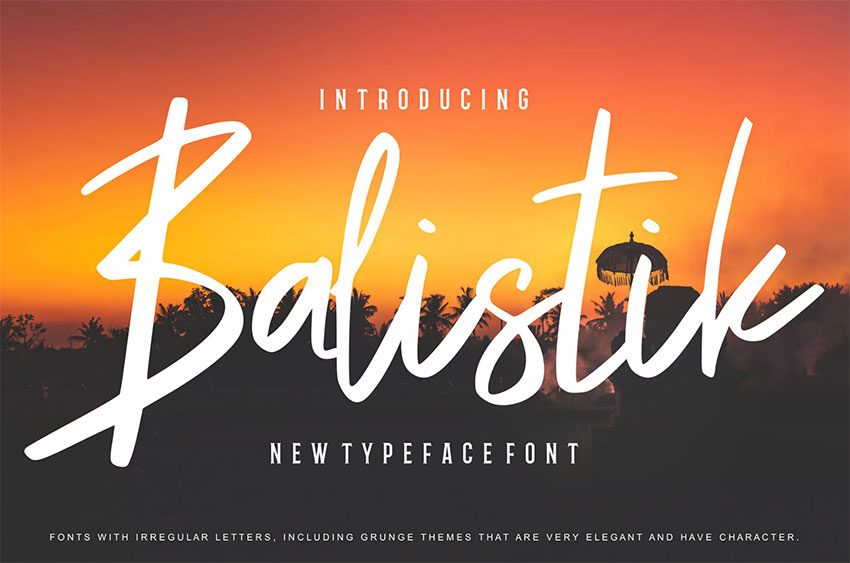 This thin-lined script font is beautifully designed and highly legible. The package includes uppercase, lowercase, numerals, and punctuation. White Rocket has a distinctly modern look that makes it one of the best display fonts you can use. The thin line is perfect if you are looking for a display board font that is light and easy on the eyes.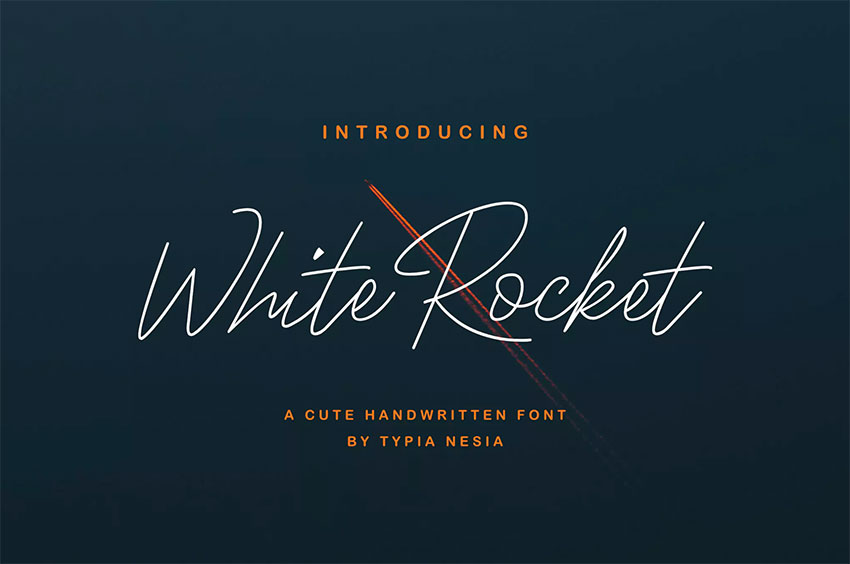 Tips for Using Display Fonts
In this article, we've looked at a display font definition, the differences between text and display fonts, the typeface history of display fonts, and a few examples from the great library of Envato Elements. Whether you are using examples that we showed you here or any display font, it's important to keep in mind the following points:
Use a large point size: the more decorative in style the font is, the larger you should be using it. Smaller details will be hard to appreciate at 14 pt, so make sure you are choosing the right display font and using it at the right size.
Use sparingly: display fonts can sometimes be anatomically elaborate and difficult to read. So when you are trying it on a headline, get a second set of eyes to look at it and make sure the font is legible. Use display fonts only as accents in your design and not for full blocks of text. If you are using a display font in a layout, try using it as an initial cap at the beginning of a text. It'll add a nice touch and will look elegant. 
Let it breathe: display fonts tend to be highly decorative and can appear visually heavy. Try to give them enough breathing room by making sure there is some distance from other elements on the page. 
Smooth flow: try setting display fonts in all caps and sentence case to compare how both versions read. Sentence case titles tend to read better as they have better flow than all caps. Capital letters have the same block appearance and may make some characters more difficult to identify.
Mind the gap: kerning is an important step in display fonts due to their intricate nature. Make sure that the headline reads as a whole rather than single characters.
I hope you enjoyed learning all about display fonts. If you are looking for inspiration for your next project, be sure to check out Envato Elements and GraphicRiver. We've got many serif, sans serif, script, and decorative fonts for you to explore!