Looking for just the right font for your next tattoo?
Well, check out this list of over 30 free tattoo fonts as well as a selection of premium tattoo fonts from Envato Elements.
Unlimited Tattoo Font Downloads at Envato Elements
Cash-strapped designers will appreciate the list of free tattoo fonts we've created for this article, but bear in mind that free fonts do have their limitations. For example, they can often be limited to personal rather than commercial use and can impose onerous attribution commitments. 
With this in mind, we're including an alternative source for tattoo fonts for the budget-conscious designer, Envato Elements. 
At Envato Elements, you can download as many tattoo lettering fonts as you want, as frequently as you want to, for one flat monthly fee. That monthly fee also gives you unlimited access to thousands of quality digital assets like photos, templates, icons, and various graphic templates.
Let's take a look at some of the best tattoo fonts you can find at Elements.
12+ Best Tattoo Fonts From Envato Elements
How awesome is the Avestrava tattoo font? With its Gothic influence, this vintage blackletter is an excellent way to add an interesting twist to your tattoo design. The font offers uppercase, lowercase, alternate characters, ligatures, and multilingual support.  
And speaking of blackletter influence, check out this wonderful cursive tattoo font. The font includes upper and lowercase characters, ligatures, swashes, and multilingual support. It also offers types from outline to rough that you can layer to create your own unique look. 
Looking for a modern tattoo script font? How about Risthi Script, a handwritten stylish calligraphy font with a dancing baseline and elegant touch. The font includes standard glyphs, ligatures, stylistic alternates, and multiple language support.
Another cool blackletter font that's great for creating distinct tattoo text, Lordish provides you with a complete selection of upper- and lower-case characters and punctuation, as well as several foreign language characters and accents. Have fun creating your own Gothic influenced tattoo text.
Create a one-of-a-kind tattoo when you use the Dayles font. This beautiful script not only offers the usual collection of uppercase and lowercase letters, numerals, and punctuation, but includes ligatures, beautiful swashes, and alternative fonts and more, so you can mix and match to design your own unique script.  
If you're on the lookout for tattoo fonts with a difference, this one is for you. Ornacle uses a clever, futuristic design that makes it a totally original stand-out font. If you're also looking for a great tattoo number font, this is one to check out.
Chicano is a swirly whirly tattoo font for those who like loads of flourish and movement in their tattoo text. The font includes uppercase and lowercase letters, numerals, and a large range of punctuation and ligatures, as well as beautiful swashes and alternative font styles.
Typewriter font tattoos are definitely on trend at the moment. Don't be left out or left behind. Grab this fun and classic font which comes in three styles—original, ink-made stamp marks and a funky, irregular baseline—and design a text you'll love.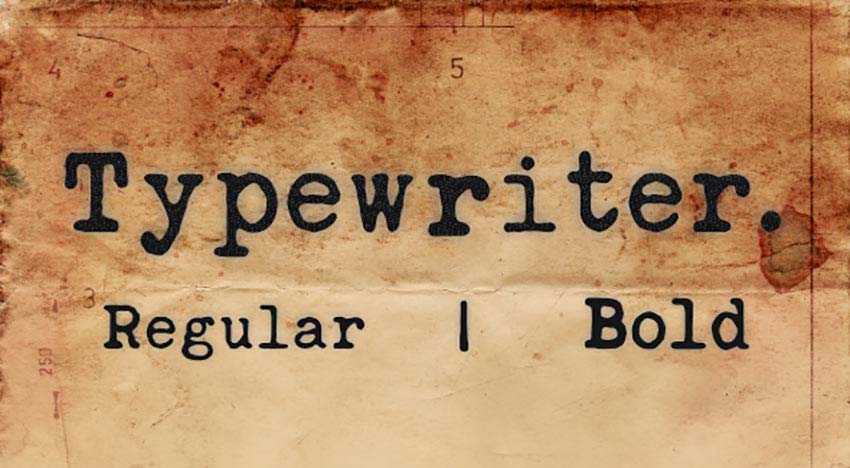 Keeping with the awesome typewriter font tattoo, we've got another one for you. Also inspired by the cool, mechanical look of classic typewriter lettering, this font features upper and lowercase characters, numbers, punctuation, and over 180 unique glyphs. Everything you need to have some fun.
This cool tattoo ink font is a design inspired by elegant vintage handwriting. With a complete collection of upper and lowercase characters, numbers, punctuation, multilingual characters, swashes, ligatures, and flourishes, this is an excellent font for creating your own unique look that's completely modern, but with a nod to the past. 
Blondia is an awesome modern monoline script font that references hand-drawn letterforms. This is not a usual choice for tattoos, and that's exactly what makes it so perfect for creating your simple but stunning tattoo designs.  
Your tattoos should be as memorable as you, and that's why we recommend Tribal, a superb tattoo font that's bound to turn heads. This stylish font includes upper and lowercase characters, numbers, punctuation, and plenty of swashes and alternates to create a unique and incredible design.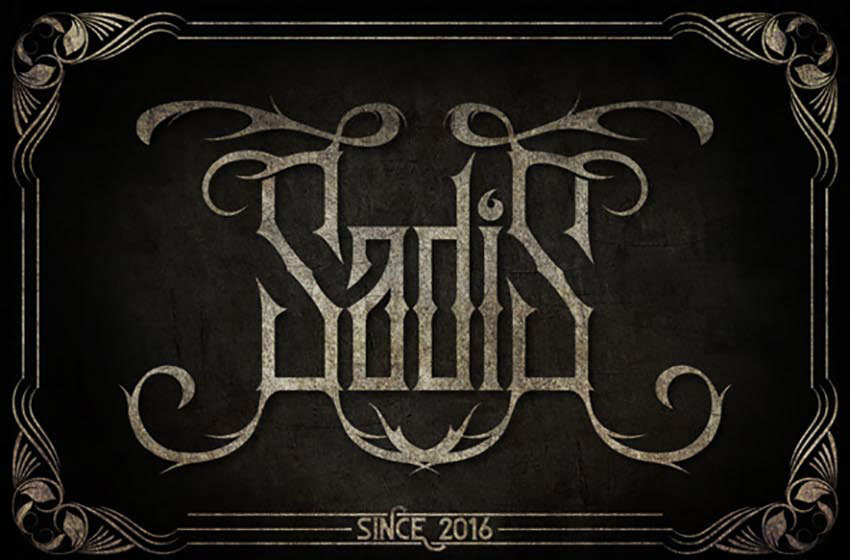 Sadis is a wild and exciting tattoo lettering font that the bold and daring will appreciate. This Gothic font features a complete set of upper and lowercase characters, numbers, punctuation, and loads of flourishes, swashes, and ligatures that you can have fun with.
30+ Best Free Tattoo Fonts to Download
Okay, so now that you know where you can find the best tattoo fonts when you have a bit of a budget, let's take a look at some of the options you have for the best tattoo fonts when you have no budget at all. 
We start our list with the stylish Gorni font. Elegant, and with tons of glyphs to personalise your text, this is one of the coolest free tattoo fonts on our list.
Looking for a free tattoo font with a feminine touch? Check out Shella, which comes in three different font styles for you to mix and match and have fun with.
What if you need a free tattoo font with cursive elegance? How about Milkshake. Each character comes with up to eight alternates, so you can personalise your text to suit your needs. 
This beautiful cursive tattoo font is a wonderful choice for adding a distinctive flair to your tattoo text. Download it for free, and have fun creating your own text.
This bold vintage script font is an excellent choice for those looking for a free tattoo font that combines simplicity with elegance. It's free for both personal and commercial use.
How about this wonderful free tattoo font? It combines modern and Gothic elements beautifully to create a bold, eye-catching font. 
Here's another terrific vintage font with a different approach. Remachine Script uses soft, curvy lines and bold sweeps to draw attention to your text. 
Now for a free tattoo font with a bit of a difference. Potra is a futuristic display font that contains uppercase characters, numerals, and symbols. Perfect for those looking for a font with a difference.
If you need an Arabic tattoo font, here's a beautiful script that might be just what you need—and the best part is, it's free to download and use. 
This beautiful hand lettering calligraphy font is another great tattoo ink font. The script offers a nice contrast with its thick curved strokes and thin ones. 
How about Spring Vibes April for your next tattoo font? The font is a stretched, versatile display font that looks great on both larger and smaller text. 
Picture your next tattoo text using this cool tattoo lettering font. The beautiful hand-drawn brush script attempts to capture the wild abandon of a great outdoor adventure. 
Looking for a super fancy tattoo ink font? Then check out Olivia, with its lovely swashes and ligatures that you can use to create your own unique tattoo text. 
Bigilla is a gorgeous display font that's perfect when you're putting together a library of different fonts for tattoos. The font features two font weights—regular and bold—and includes a wide selection of ligatures and alternates.
Here's a cursive tattoo font alphabet that'll leave its mark. Barcelony is an elegant signature script that's great for names or for when you need to tattoo a quote in handwriting style.
Signature scripts are a great way to personalise your tattoo text, so if you're looking for a great tattoo lettering font alternative to Barcelony above, Brittany Signature is it.
Looking to bring a touch of vintage to your tattoo text? Then check out Fadli Script, with its wonderful curves, flowing lines, and small flourishes in every letter.
If you're all about glamour, then Glamora is the free tattoo font for you. Use it when you want to tattoo a special name or an important word. 
Southampton is yet another signature style font that offers a perfect cursive tattoo font alphabet for your tattooing needs.
When you need a tattoo ink font which captures the natural imperfections of everyday writing, check out Kingsland. It's a gorgeous hand-drawn font that beautifully embodies the quirks and inconsistency of handwriting. 
Different fonts for tattoos offer different advantages, and Beautify is one of those fonts that should be used sparingly to give its unique style the space to show off.
Looking for a free tattoo font that will work well for small text? How about Maria, a tattoo script font that has just enough flair to make your tattoo special without compromising legibility. 
Need a free tattoo font that makes a statement? Look no further. This is a lovely font that's perfect when you want to create a tattoo with a personal signature. 
And speaking of personal signatures, this is one of our coolest and best tattoo fonts. It may not be everyone's cup of tea, but with its strong geometric shape, this free tattoo font is perfect for those who dare to be different.
Here's some more hand-lettered script bliss for tattoo aficionados. Mightype Script is a wonderfully warm and stylish cursive tattoo font that you can use to create the text that matters to you. 
This quirky handwriting font script offers over 100 ligatures and a full set of lowercase alternates for you to have fun creating your own unique tattooed text.
Hasella is a hand-lettered font that includes both upper and lowercase characters as well as ligatures to bring a truly handwritten look and feel to your next tattoo.
Capture the spirit of the days of yore with this cool blackletter influenced free tattoo font.
Sweet, bouncy, and inviting, Endestry is a wonderful cursive tattoo font that will make your text shine.
This hand-lettered font offers a full set of upper and lowercase alternates, which means that you can create tattoo text that is highly personalised and striking. 
Last up is this beautiful calligraphy font that is free to use when you create your one-of-a-kind tattoo. 
Choose Your Favourite Tattoo Font Today

There are many terrific free tattoo fonts to choose from when you're cash strapped, but of course if you're looking for the very best tattoo fonts for an important project, we highly recommend Envato Elements. 
Elements is an excellent resource for premium fonts, and if you often need mockups, icons, and other design resources, Elements offers unlimited downloads for one low monthly fee. 
Check out these really helpful articles below for more excellent font resources: