Find the best brush fonts handcrafted by pro designers. Check out this list for great inspiration.
33 Best Brush Fonts (Script, Paint, and More!)
You can achieve wonders with a spectacular brush font. They make the perfect addition to any wedding invitation or a compelling header for your website.
Handcrafted with expertise, these top brush fonts are stunning and original. So grab the tools you need from Envato Market and Envato Elements.
Use these incredible brush fonts on posters, websites, and more. Get exceptional handcrafted typefaces that are ready to go for your projects.
Want to try these fonts? Sub one out in this fun hand-lettered card tutorial by Elizaveta Akimova.
19 Top Brush Fonts From Envato Elements in 2021
If you've been hunting for the best brush fonts for your creative projects, head over to Envato Elements. There are thousands of options worth checking out, with unique styles. I've grabbed 19 of the most popular casual brush script fonts from the service for you to look at here:
Here's a trendy brush font that's both new and getting lots of love from Envato Elements subscribers. It has an authentic, handwritten look with nice strokes. This brush script bold font also features multilingual characters, making it a great option for creatives around the world.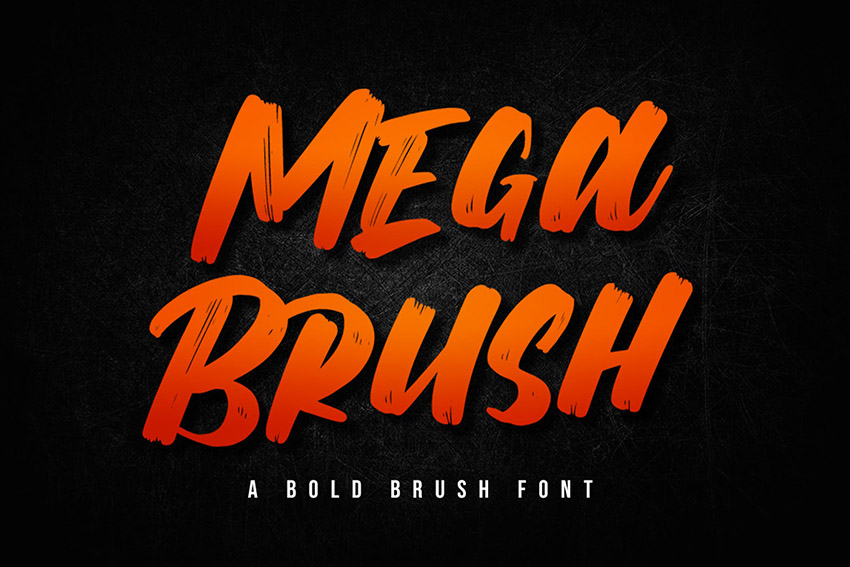 Here's a paintbrush font that has a lot of character. The rough textures of each stroke add to the originality of Crackers Brusher. This brush style font download includes a unique slant font variation and more than 25 ligatures.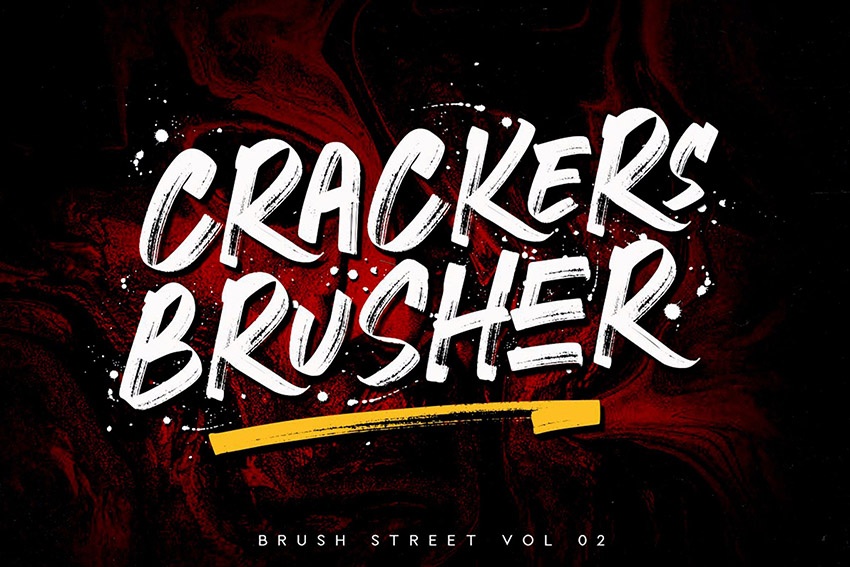 I present to you paint stroke font royalty. Brush King is highly detailed and has stylish glyphs. This brush font download is multilingual and also includes a web version of the font. Give Brush King a go if you're looking for a typeface for a poster, T-shirt design, or logo.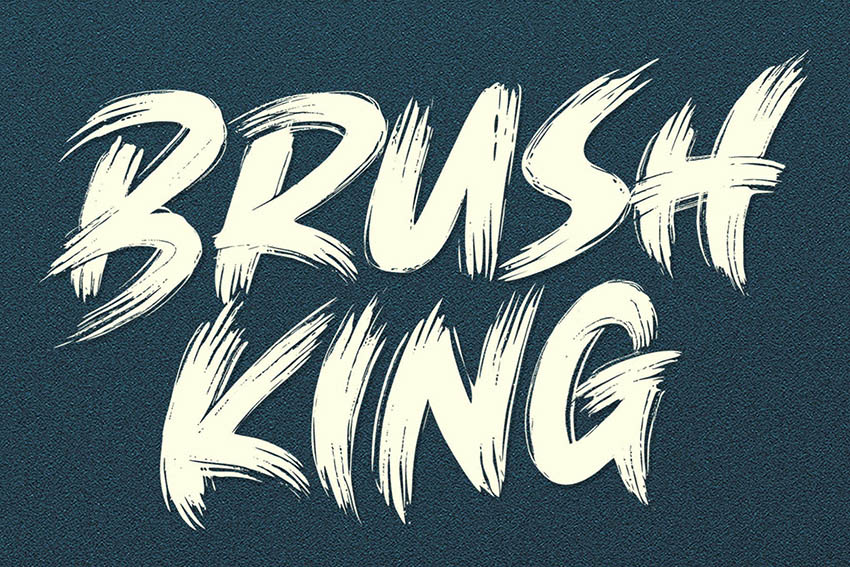 Make bombshell graphics with this illustrious brush font. Get three incredible versions, including a cleaner example with the textures removed. Handwritten and carefree, this font lets you mix and match the styles for a wonderful result. There's no doubt Boomshell is one of the top brush fonts out there.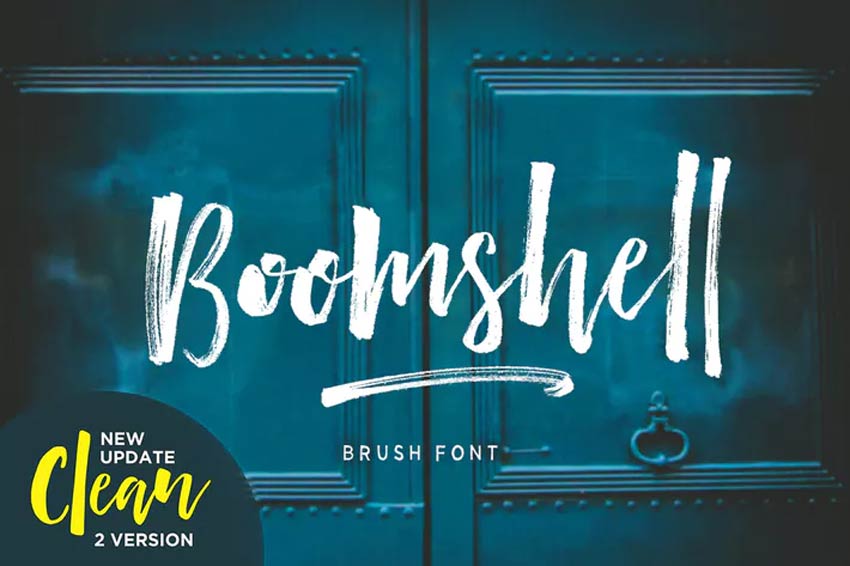 Or get messy with the super-realistic Never paint brush type font. A strong, dry brush font with realistic textures, this type includes thick, all-caps characters. The playful lettering can go with creative urban themes, apparel design, or rebellious projects. Add it to your collection.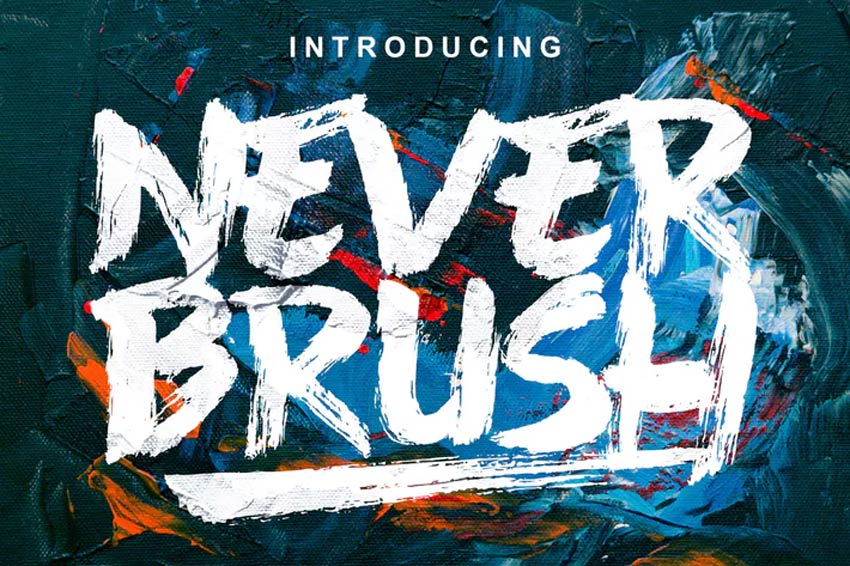 Brush calligraphy fonts like the Rallifornia typeface are simply essentials. Created by designer MissinkLabStudio, this signature cursive brush font makes any important title shine. Use it for your official blog logo or for brand new marketing material. Check it out!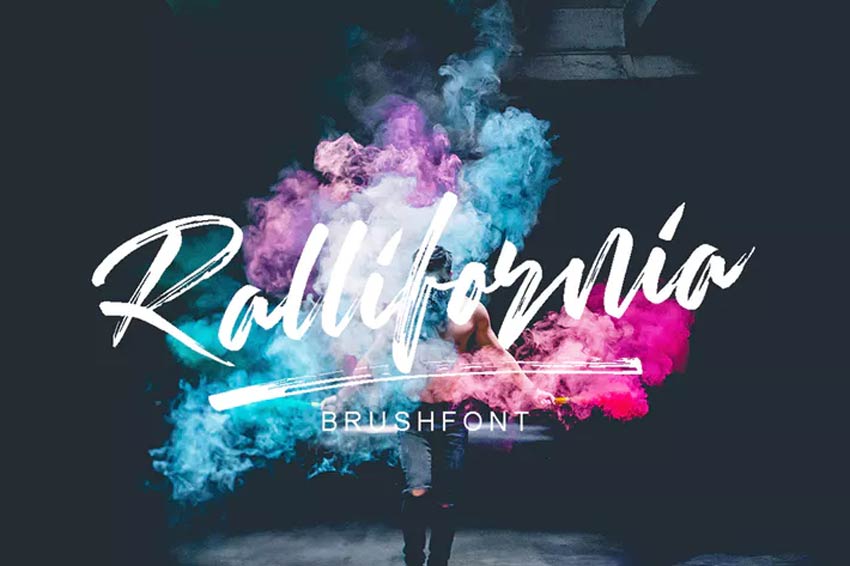 Not many brush style fonts include realistic drips, so you should definitely make sure you grab up this Starshy street brush. Great for advertisements, social media posts, and more, this font pack includes tons of glyphs, ligatures, and web fonts.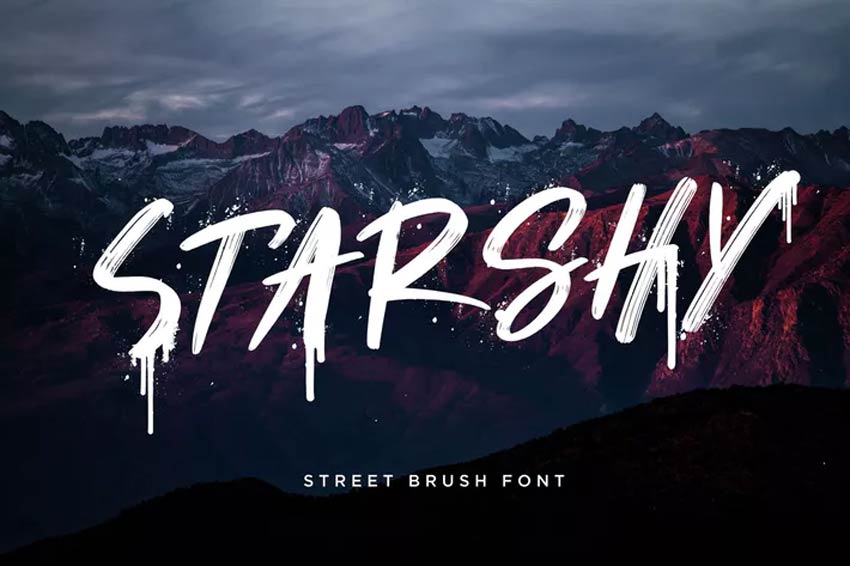 Easily install the Mustang handwritten cursive brush font with OpenType features. Two regular styles are included, as well as an alternative web font for easier implementation. Create masterful calligraphic text with this unique brush script font alphabet.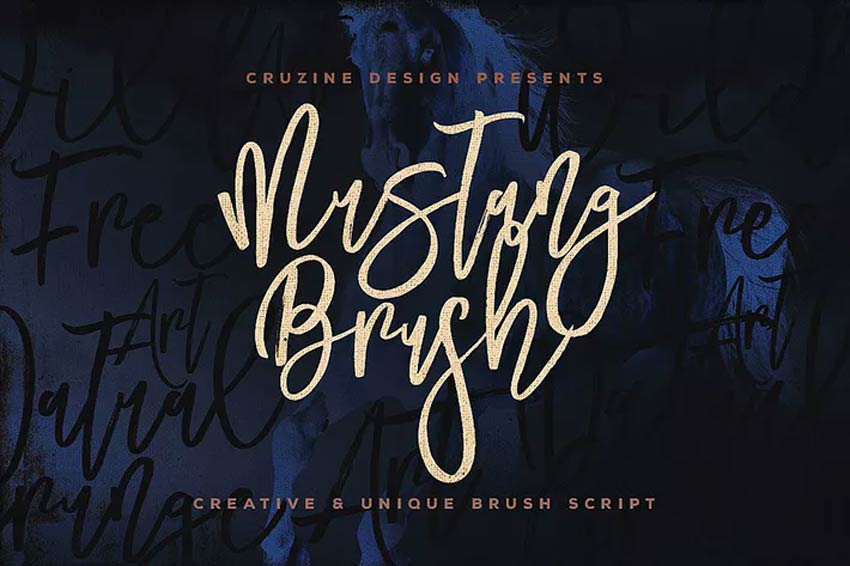 This playful hand-lettering script resembles the natural dry brush textures you'd get from markers or ink pens. Use it for nearly any design project that could use a commanding font. Enjoy this all-caps paint brush type font with full alphabet, numbers, and punctuation.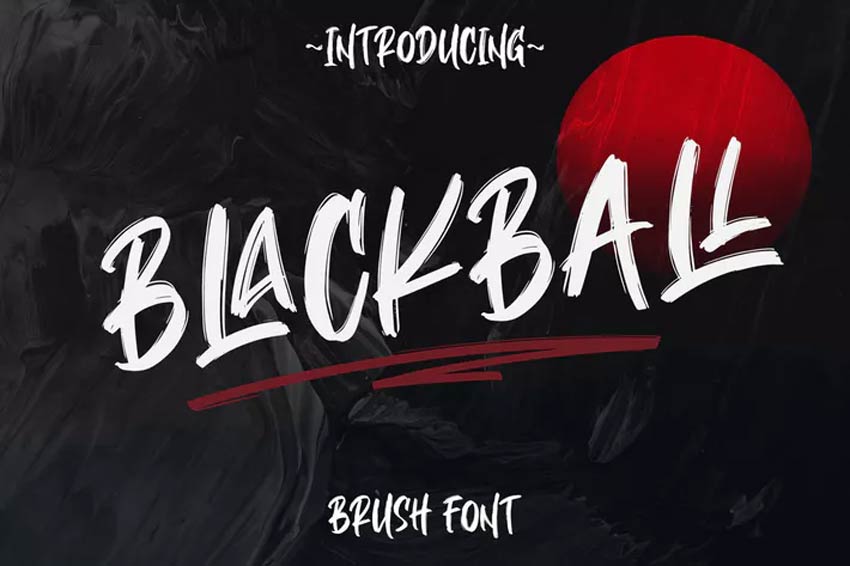 Transform any brand with a new font. The Mombay dry brush font might just be the perfect fit. Created by designer maulanacreative, this cursive brush font download includes two font files along with an additional web font. Use it on cards, invites, and more.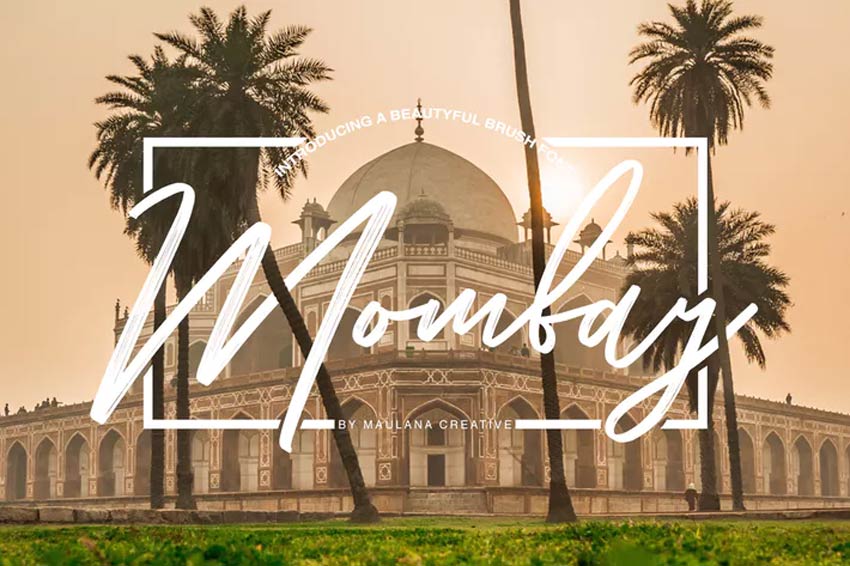 Get a fresh new take on typography. The Tucker Dry Brush paint stroke font is a calligraphy typeface made by designer Khurasan. It offers multilingual support as well as a set of letters, numbers, and symbols. How will you use this casual brush script font for your projects?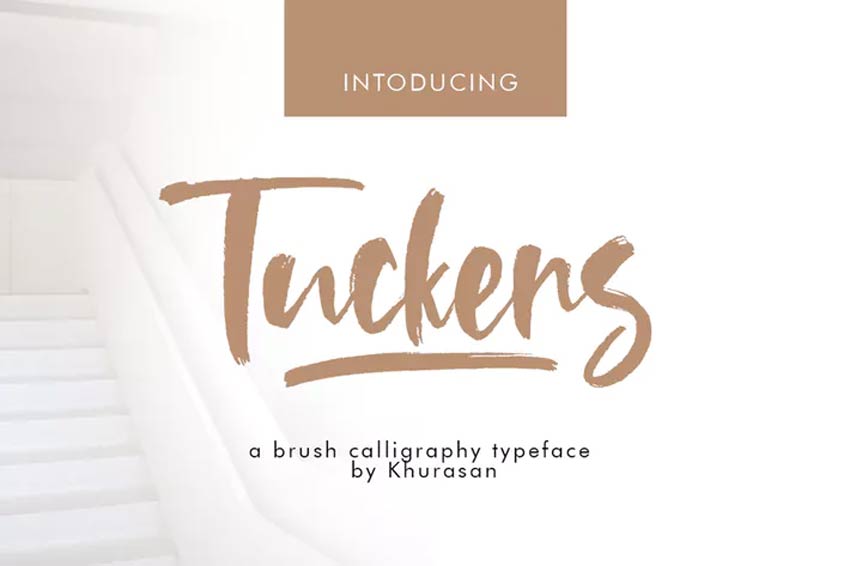 This next funny typeface almost resembles a funky mustache. A beautiful cursive brush script, this font pack includes three font types for smooth and rounded text qualities. Use this paintbrush font on merchandise, social media, or more imaginative projects.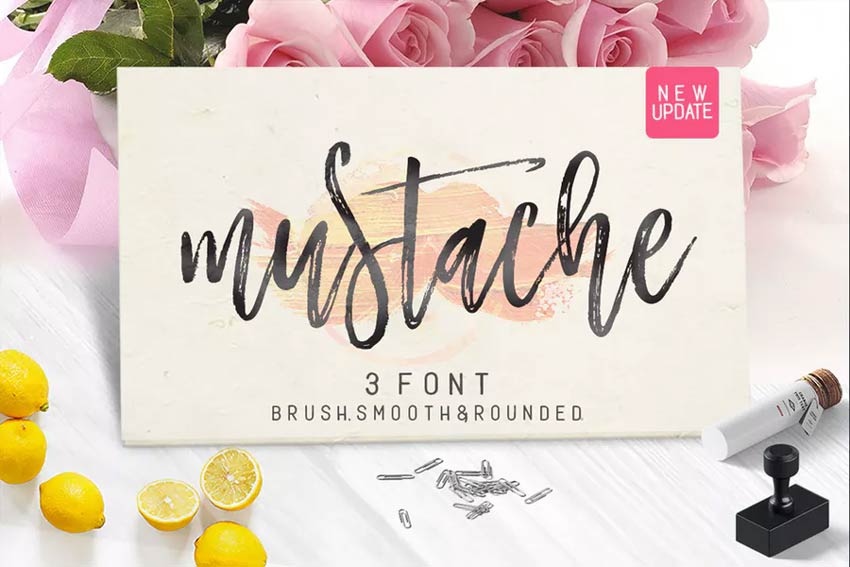 The Bubarz brush script bold font packs a punch. It includes both light and bold line options, as well as a unique handwritten style that looks like the real thing. Easily adapt this paint brush type font to your work using Photoshop, Illustrator, and more. Add it to your design arsenal today!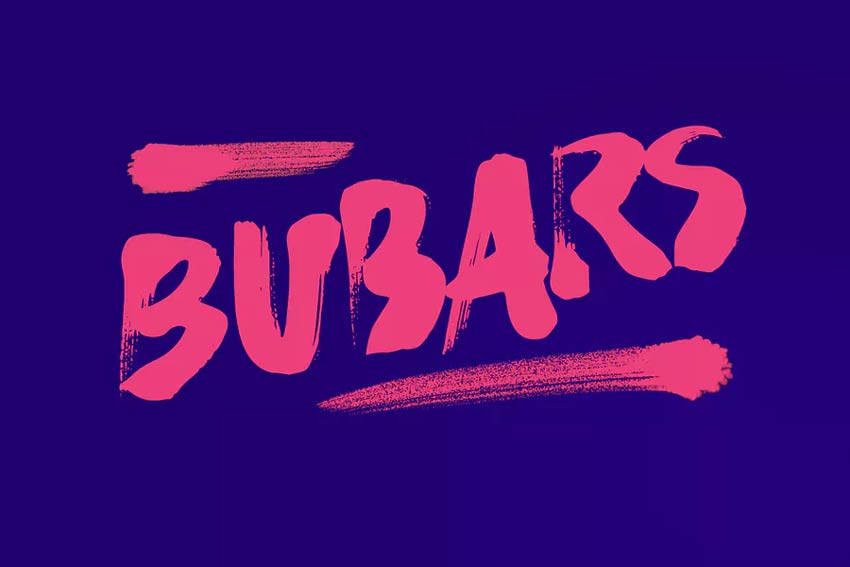 Need a great dry brush font for your album cover? Try the awesome Cyber Brush font download. It's the perfect match for powerful projects that could use a little edginess in their style. No special software is required, so just right-click the paintbrush font files to install. Check it out!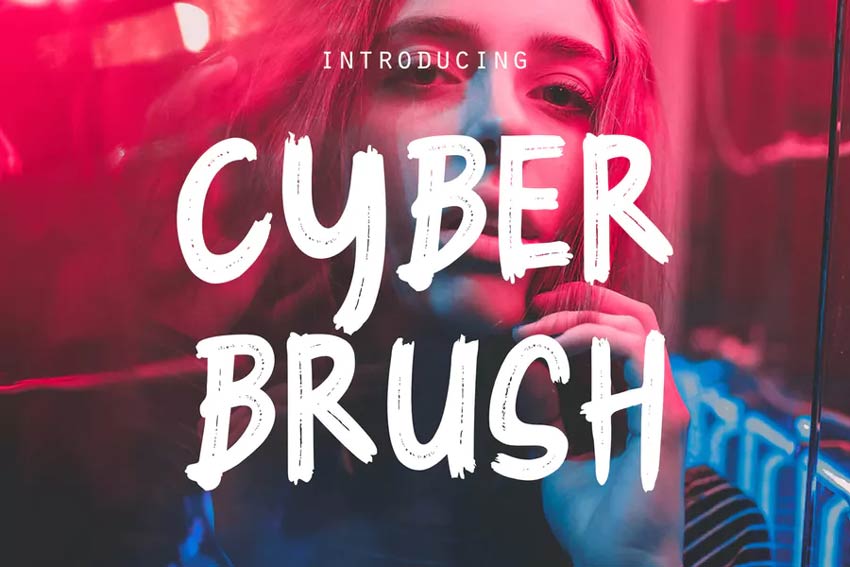 Want a dynamic paintbrush font? This modern calligraphy typeface has spectacular textures and flow. It includes standard OpenType features along with letters, numbers, and additional ligatures. Grab this brush style font today!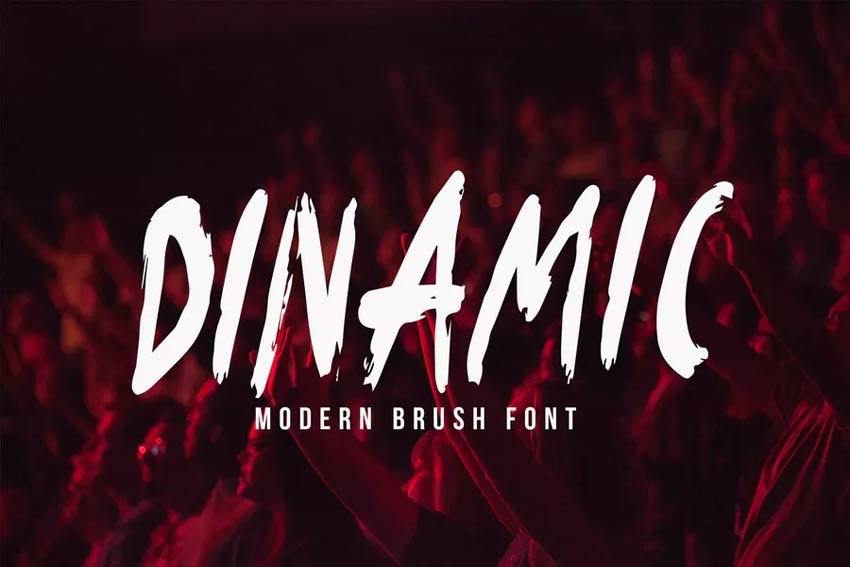 Make an impact with the Brush Attack paint stroke font. Especially made for compelling headlines and bold brands, this handwritten paint stroke font looks wonderful on clothing, signs, and print design. Customize this casual brush script font with any color or gradient for a beautiful result.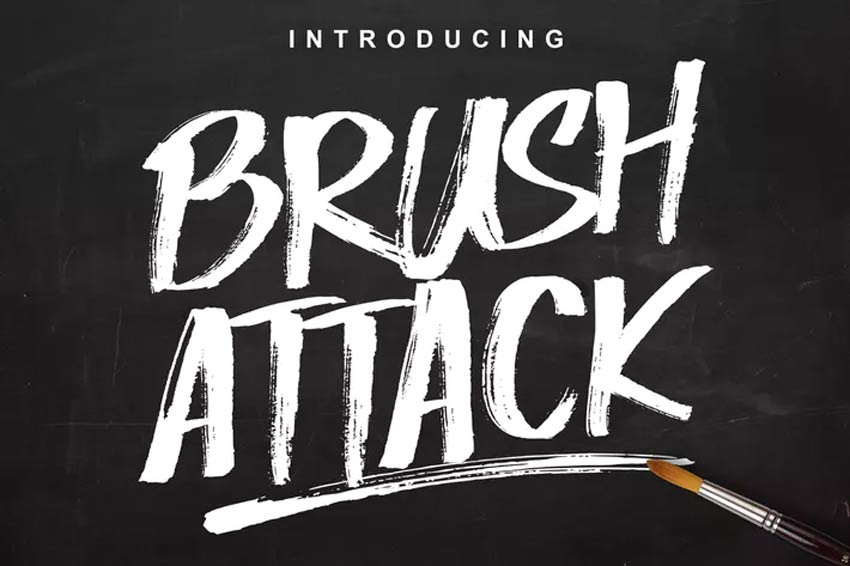 This next awesome font duo is bold and firm. The Holden Brush has authentic dry brush textures and a very bouncy baseline. Level up your packaging design or stationery with its energetic vibe and imperfect textures. Try out this brush calligraphy font today!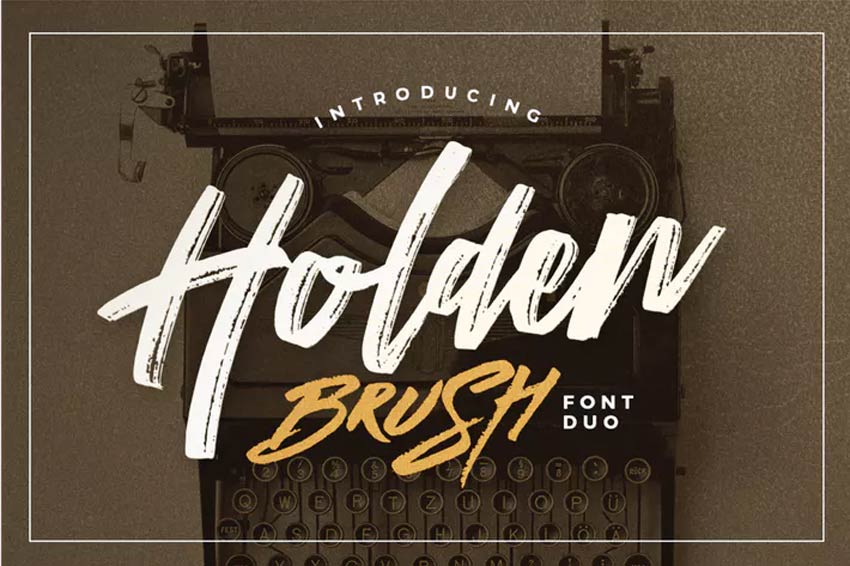 18. Font Brush (OTF, TTF, WOFF, EOT)
This cursive brush font download is equal parts refined and chic while being casual and rough around the edges. It has a full set of characters, including numbers and punctuation. alternate letters are also included, allowing you to get creative with the final product.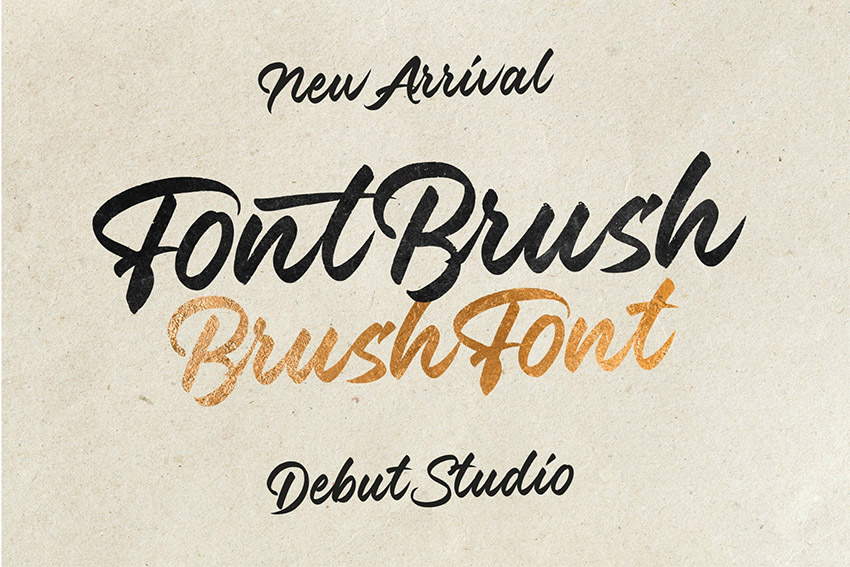 Let's round out our list of the best brush fonts on Envato Elements with Native Brush. This typeface includes alternate and multilingual characters along with uppercase and lowercase letters. It has a rugged feel with nice textures that can suit nature and outdoor projects.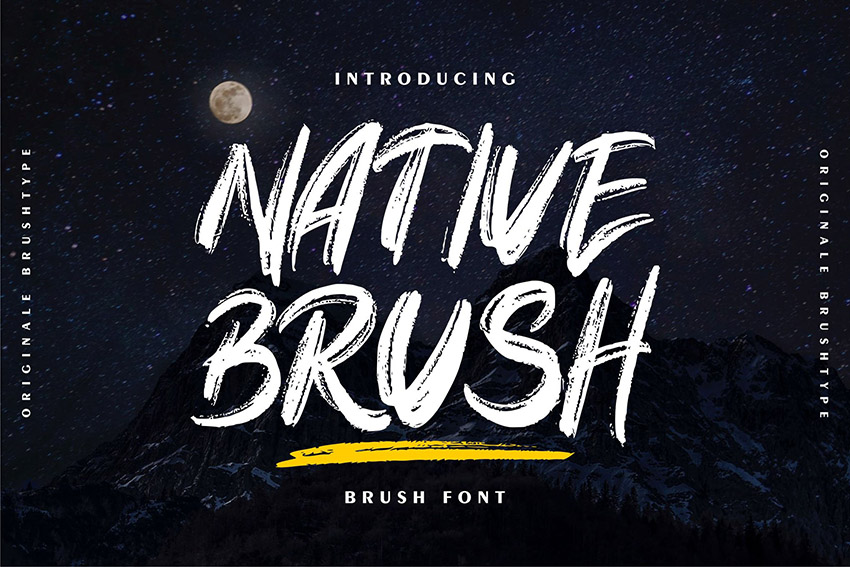 Design Without Limits With Envato Elements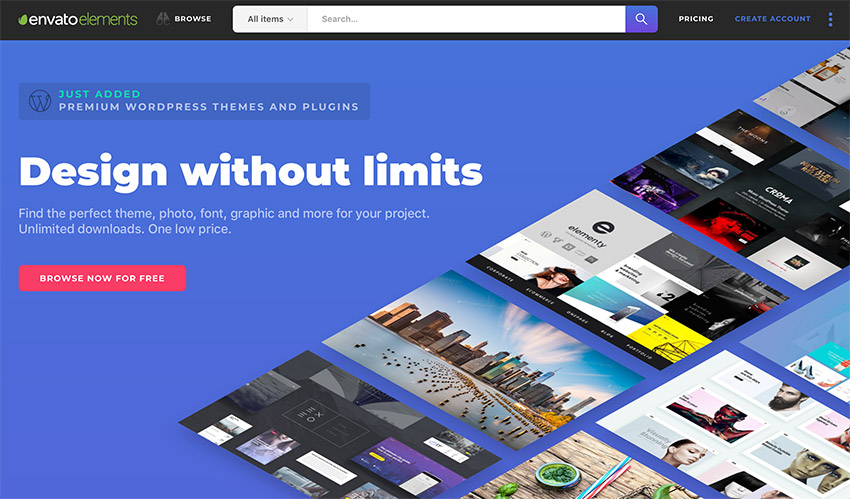 Envato Elements is home to more than just the top brush fonts online. It's a massive digital library of premium creative assets that comes with an amazing offer:
For a low monthly fee, you can download as much as you want from the full catalog of professional items. No caps, no limits. Just full access to everything you need to fulfill your creative needs.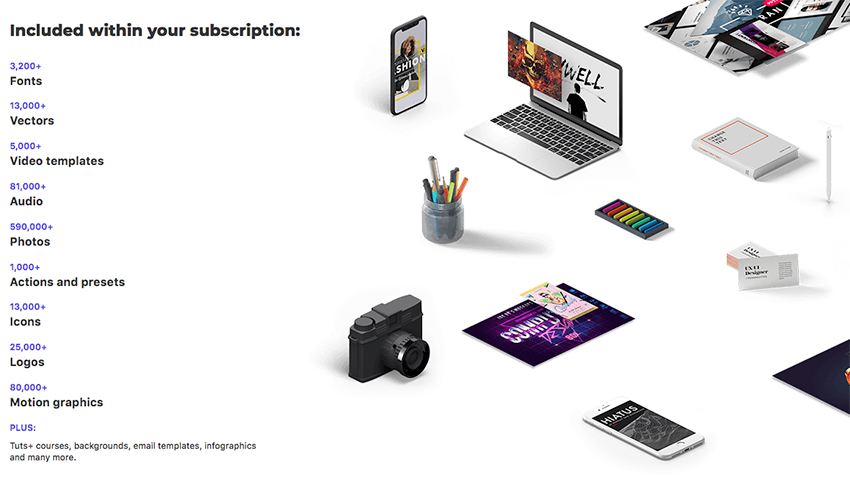 Find and download everything from brush style fonts to Photoshop presets and actions, stock photos, and more. It's a great offer for students, creative professionals, and entrepreneurs. You can sign up for Envato Elements today.
Would you prefer an option to make a single purchase of the casual brush script font you need? Then head to GraphicRiver, another premium service from Envato.
Best Brush Fonts for Creative Projects From GraphicRiver for 2021
You've seen some of the best brush fonts Envato Elements has to offer this year. But if you're looking for a single brush font alphabet to finish your project, check out some of these options from GraphicRiver.
Let's start with this awesome brush script font, Taksim. Pair it with a stunning golden sheen like the image below. This cool handwritten font is professional and memorable. It includes two font alternatives and an authentic dry brush style. Visit the preview link to test out this trendy brush font!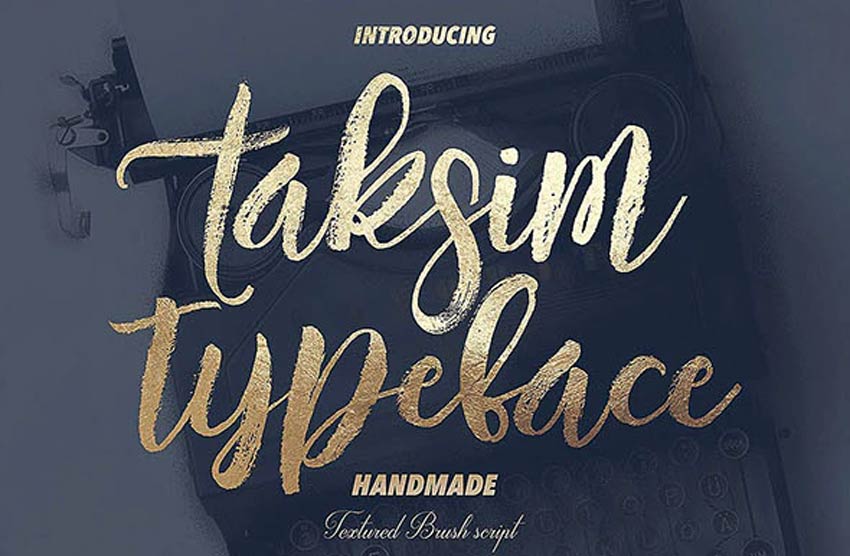 This next brush style font will put you in a creative spirit. Created by designer Cruzine, this super pretty font pack includes regular and color fonts, along with PSD and vector files. Add the Supreme Spirit paint stroke font to your collection for under $10.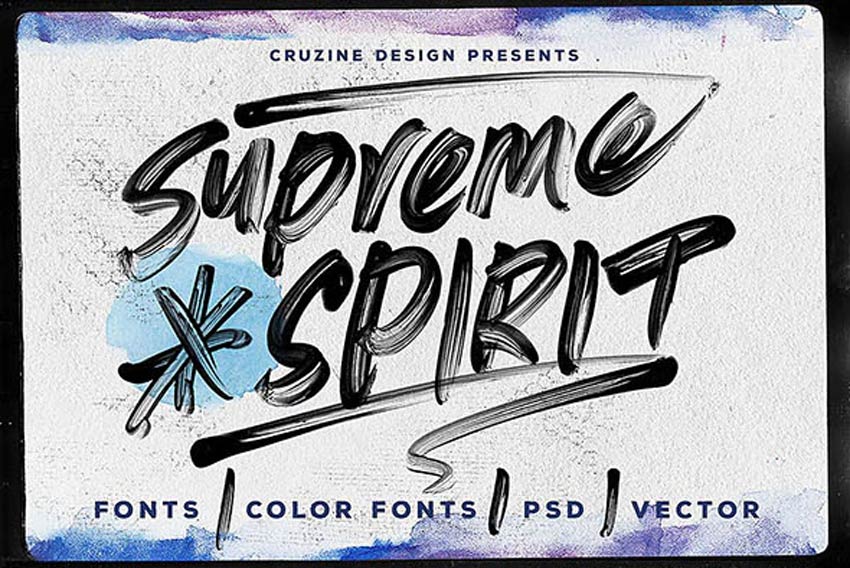 Feeling nervous about your marketing? Make an impact with an enigmatic typeface. The Nervous cursive brush font can fit many creative brands. A handwritten typeface, this brush calligraphy font works perfectly on both Mac and PC. Get four font files along with plenty of swash extras.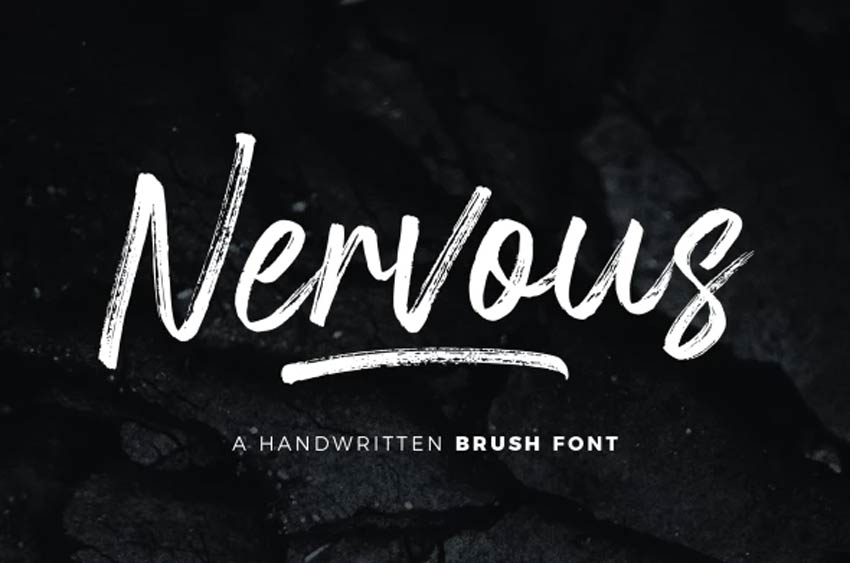 Enjoy authentic calligraphy styles with the Chrei brush font. Especially made for logos, quotes, and typography projects, this brush calligraphy font can certainly help your graphics stand out. Use it for magazine covers, website headers, and so much more.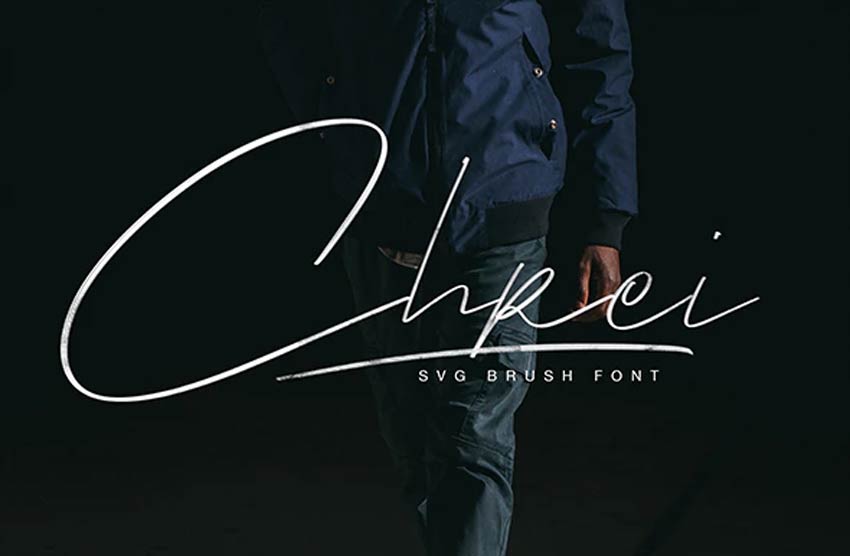 Test drive this next brush lettering font to see how it fits your style. The Flohart brush font alphabet looks as if it was just handwritten with a large marker or pen. Customize the look with any color or additional effects like shadows and more.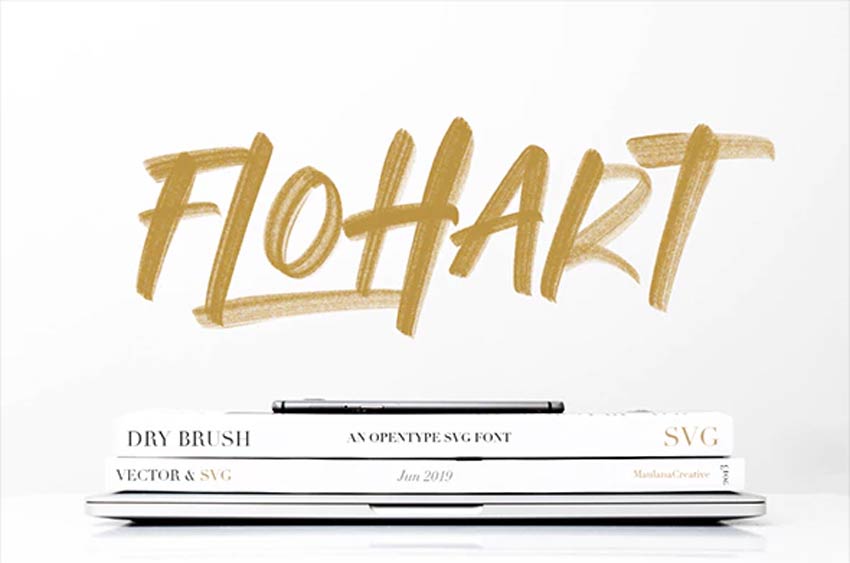 Need a cursive brush font like Hysteria? Featuring basic Latin characters, numbers, and symbols, this handwritten brush pack includes a web font and international language support. Create beautiful cursive quotes and titles in less time.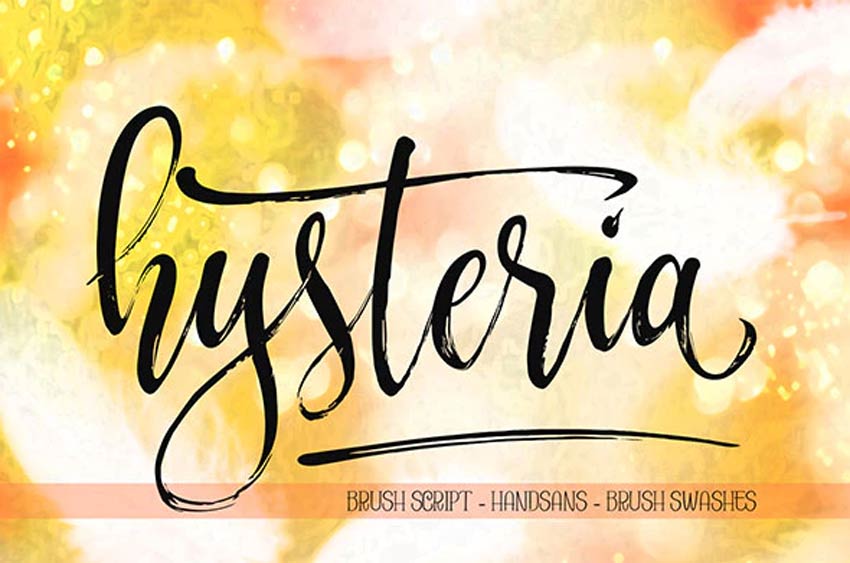 Belvana is a paintbrush font with OpenType features. It includes uppercase and lowercase letters with lots of personality and unique characters. Use this trendy brush font on posters, websites, or print designs for a bold new look. Check it out!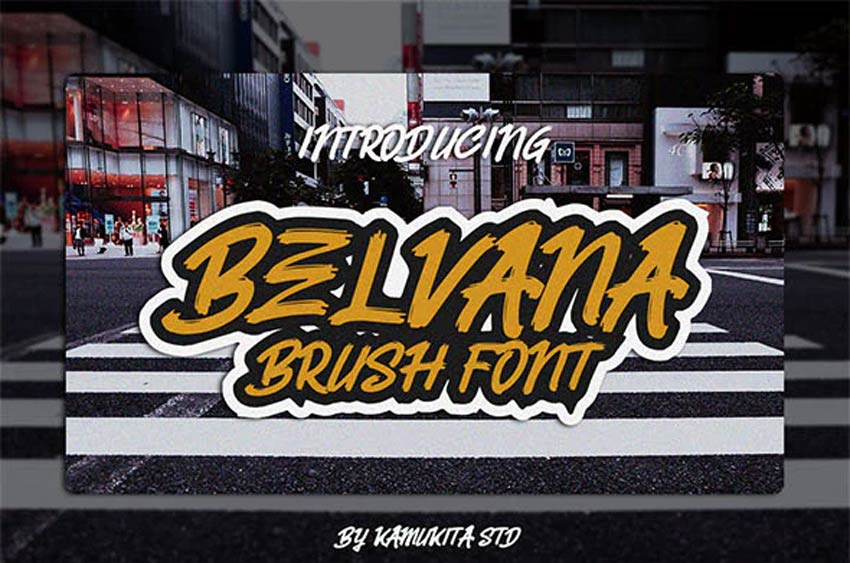 Somehow designers can capture realistic brush textures like the ones in this stunning Rapstar font. This SVG color font works well on grunge and artistic projects. Instantly add a little grit and edge to any video title or brand name. Test out this brush calligraphy font with different words to see if it fits.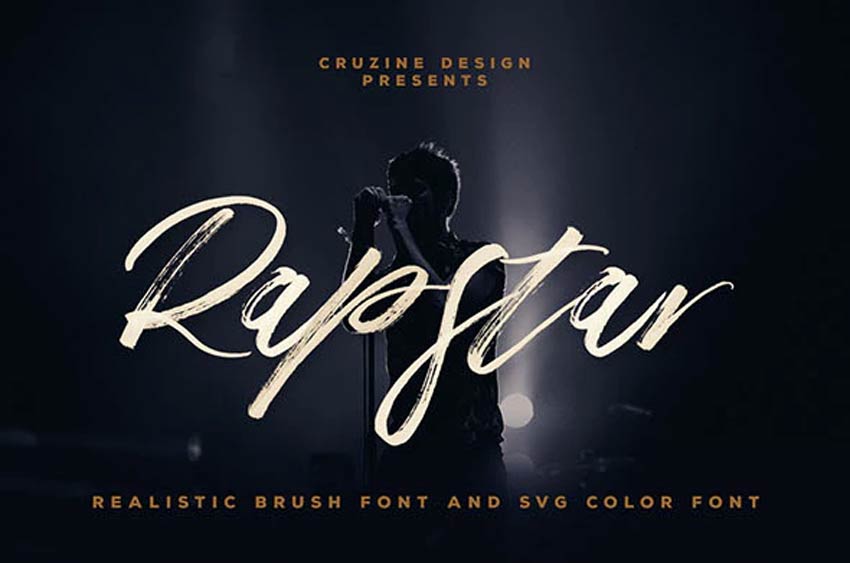 Japanese brush fonts have inspired designers for ages, and the Okami font is no different. Let it help you create magical designs using its rough, bold letter style. Enjoy international language support and additional alternate styles in this brush script bold font download.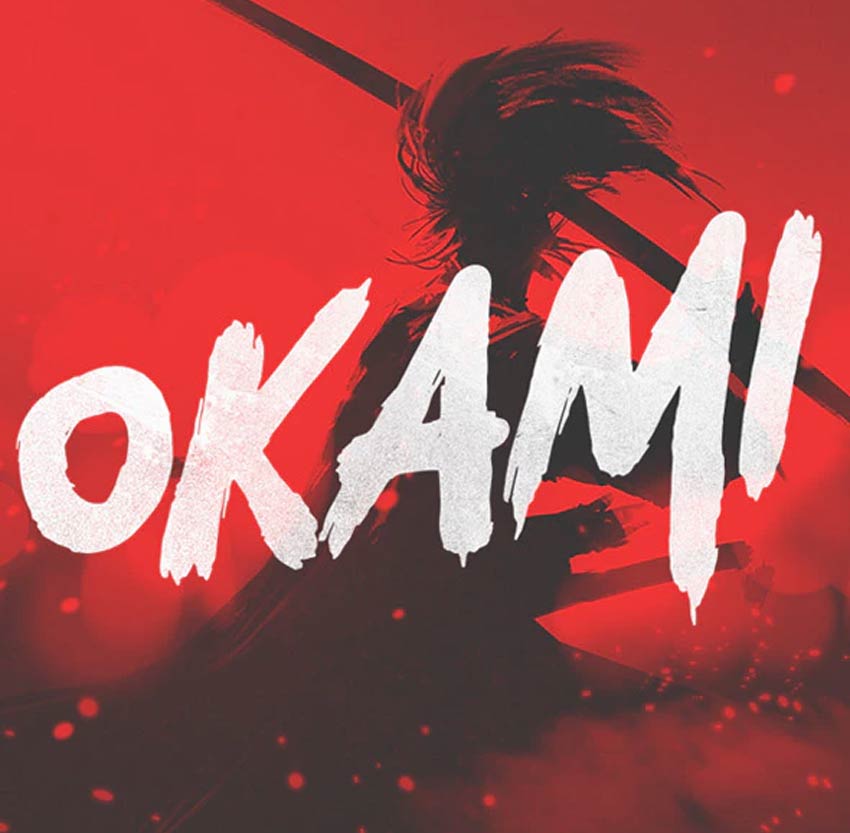 Make a powerful headline with the Rodagila brush style font. Easy to install, this rough typeface was made completely by hand. It's been made with a slightly contemporary feel, so you'll be able to apply it to many modern projects. Get it for just $15.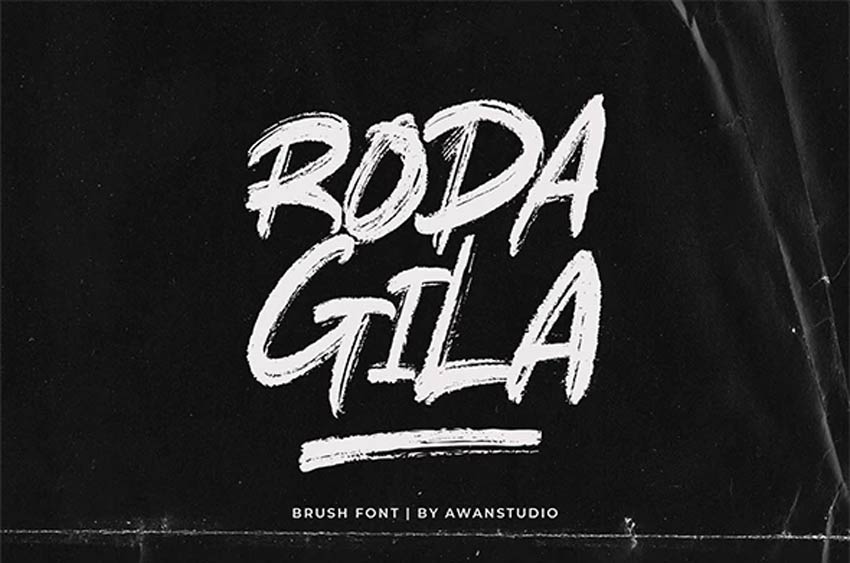 Fonts work together in harmony. The Harmony King cursive brush font is key for new designers. It creates elegant, loopy characters with a bouncy baseline we're sure you'll love. Add a calligraphy touch to your work with this exceptional font.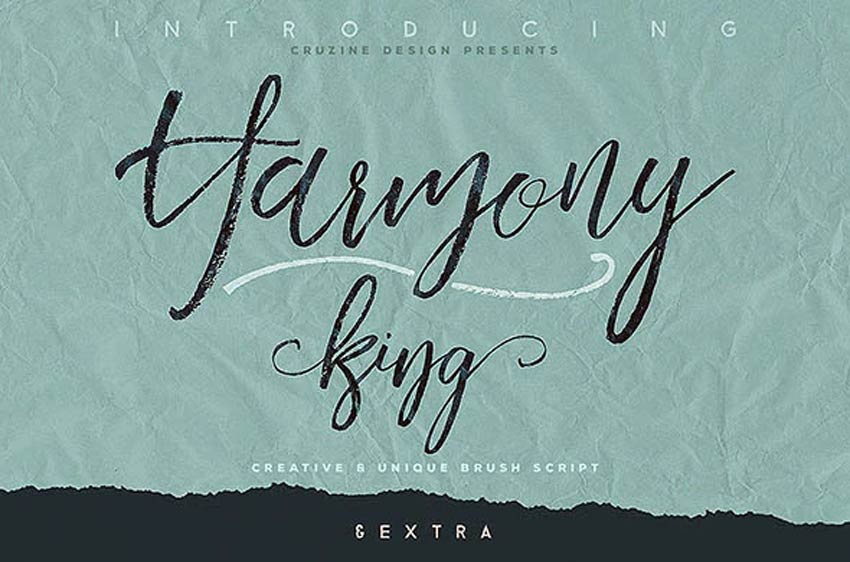 This next textured font is reliable and professional. You can easily add it to your magazine designs or update your portfolios with a new logo. Get basic A-Z Latin characters as well as standard numbers and punctuation.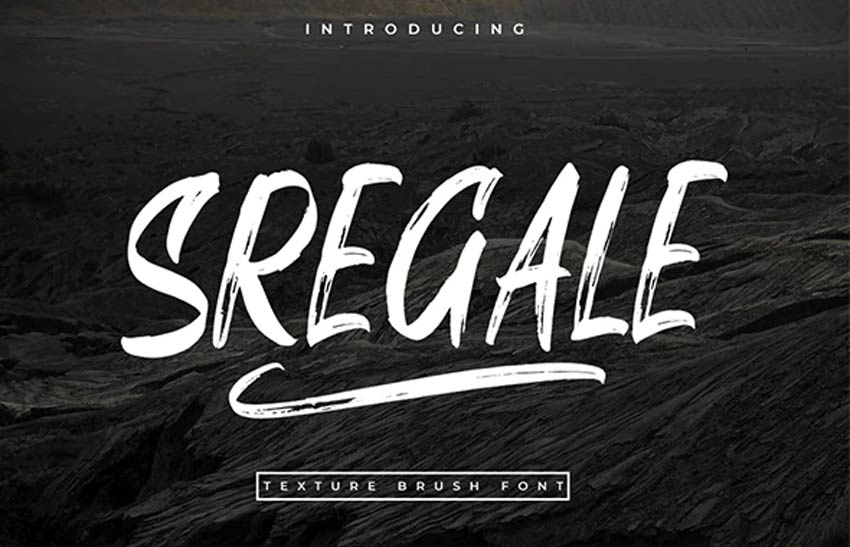 Get two awesome brush fonts that support multiple languages! Ragtime is an epic brush calligraphy font duo that's perfect for art and creative projects. It includes script and sans serif versions along with an additional web font. And it's only $12!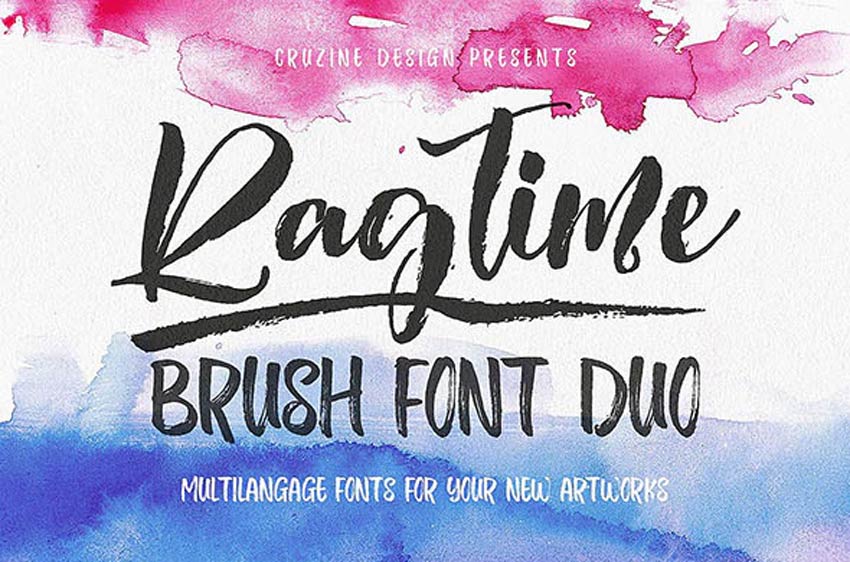 The final trendy paint brush font on this list is the wonderful Artsy brush typeface. Made by designer fopifopi, this authentic handwritten brush is stylish and impressive. Make amazing titles, websites, and stationery with very little software knowledge.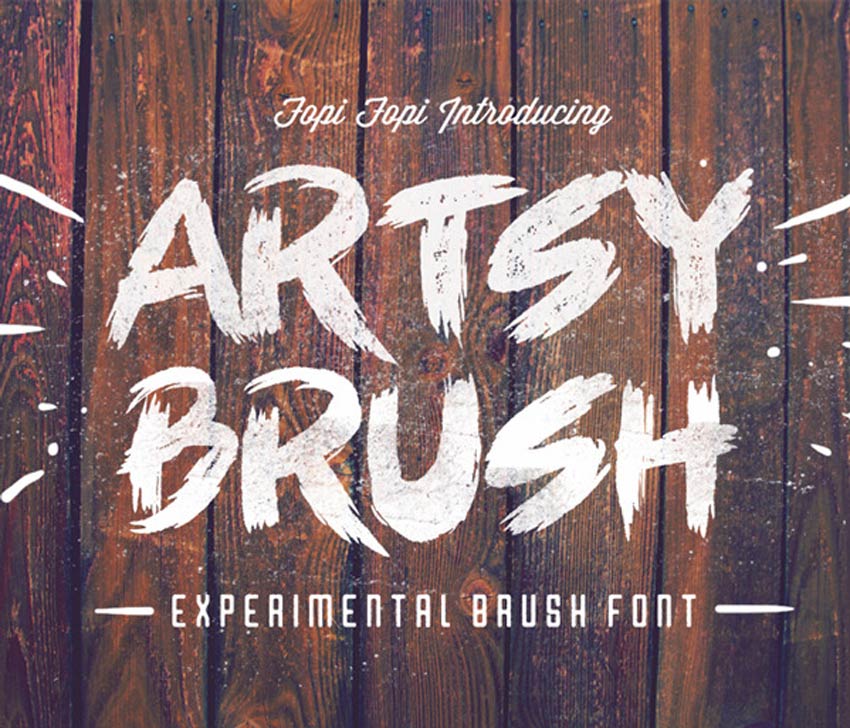 Get the Graphic Assets You Need From GraphicRiver
GraphicRiver is one of the best places online to find the creative assets you need for your projects. It's part of Envato Market, a suite of digital marketplaces catering to all types of creative needs. Unlike Envato Elements, all GraphicRiver assets are available for a single purchase.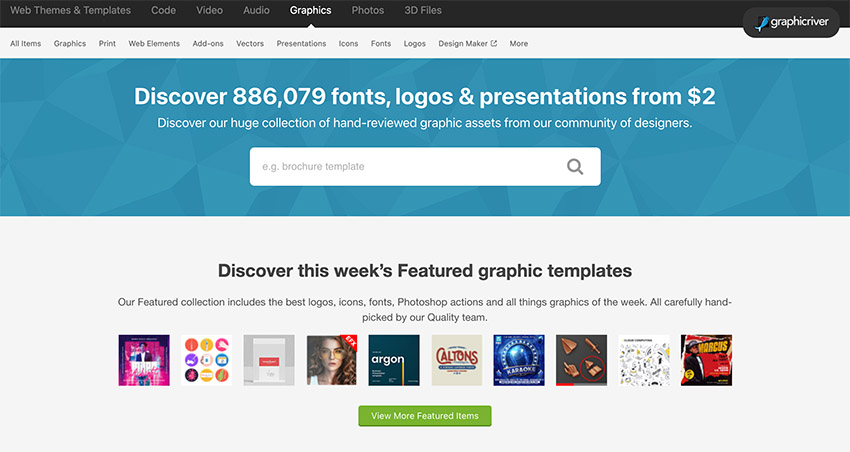 It's helpful for when you don't have a steady need for items to complete your project. Just choose what you need to get the job done and make a purchase. You can find trendy brush fonts, stylish pitch decks, and a whole lot more from GraphicRiver and Envato Market.
More Font Inspiration Templates
Handwritten paint brush type fonts will always dazzle us with their authentic handmade aesthetics. Bookmark this list and remember to check out our text effect tutorials to create more amazing graphics with brushes like these.
Looking for more inspiration? Check out these articles:
Tried any of these assets? Let us know! Tell us your favorites in the comments.