Are you looking for an easy to use contact form PHP script?  Contact forms are a must-have for every website. They encourage your site visitors to engage with you, while potentially lowering the amount of spam you get. 
For businesses, this engagement with visitors increases the chances of turning them into clients or customers and thus increasing revenue. 
If you're looking for an easy and cost-effective contact form PHP script, read on!
Why You Need a Form on Your Website
Web forms contribute more than 60% of lead generation on a site, which means contact forms lead to higher conversions. Online forms also allow you as a business to collect data, which is crucial for any marketing success. 
The good news is that forms are also easy to add to any website and can be customized to match your brand. Plus, they act as a security measure against spammers and bots.
The Best Contact Form PHP Scripts on CodeCanyon in 2020

CodeCanyon features over 200 Form PHP Scripts that you can purchase today. Below are some of the popular and best-selling PHP form scripts in the CodeCanyon library.
Some of the features you are guaranteed to get from these PHP contact form scripts include:
multiple file upload
ability to design any form
beautiful pre-designed templates
notifications
Ajax-enabled submission and validation
CAPTCHA options such as Google reCAPTCHA, Honeypot, etc.
auto-emailing
responsive design
form validation
14 Best Contact Form PHP Scripts at CodeCanyon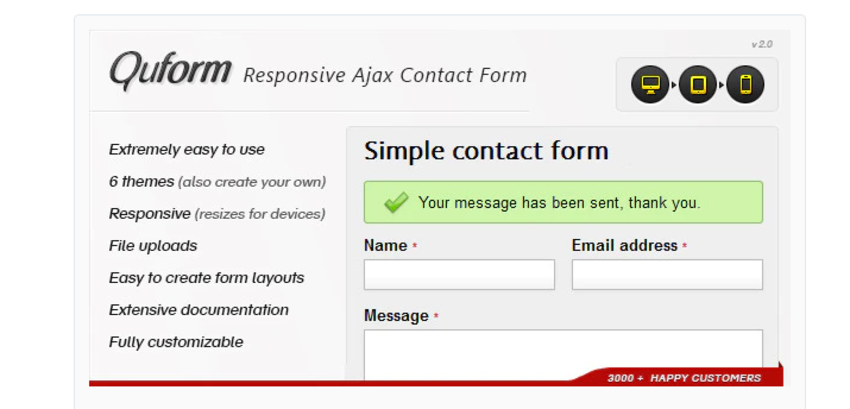 Quform is a versatile AJAX contact form that can be adapted to be a registration form, quote form, or any other form needed. It even has the option to save data to a database.
Best features:
three ready-to-use themes with six variations
ability to integrate into your theme design
ability to create complex form layouts
file uploads supported
and more
With tons of other customizations available, Quform: Responsive AJAX Contact Form is bound to keep the most discerning user happy.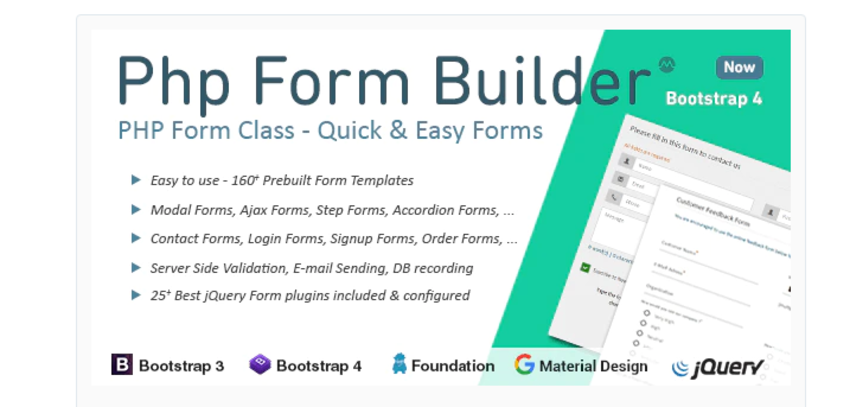 Another CodeCanyon top seller, PHP Form Builder includes the jQuery live validation plugin. It enables you to build any form and connect a database to insert, update, or delete records. It also allows you to send your emails using customizable HTML/CSS templates.
Best features:
over 50 pre-built templates included
highly customizable layout
accepts any HTML5 form elements
default options ready for Bootstrap 4
email sending with advanced options
Material Design and Foundation forms
and more
With loads of options for creating a variety of elegant contact forms and extensive documentation to help you on your way, PHP Form Builder is a top choice for PHP site owners.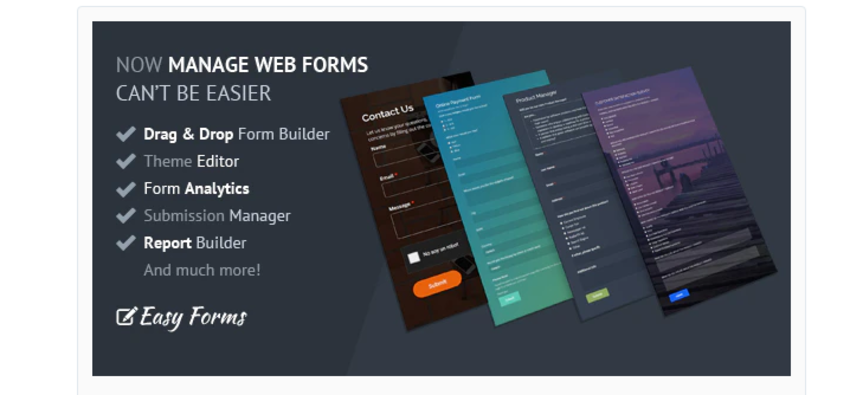 Easy Forms features an advanced drag-and-drop PHP form builder that lets you design and develop forms quickly without any coding or programming skills. It also features amazing themes and templates and the ability to send instant notifications. Easy Forms also includes a form analytics dashboard where you get to see an overview of form statistics, including conversions.
Other features include:
multi-language support
double opt-in for users
password protected forms
ability to export data
submission reports
advanced field validation
auto-responder and email notifications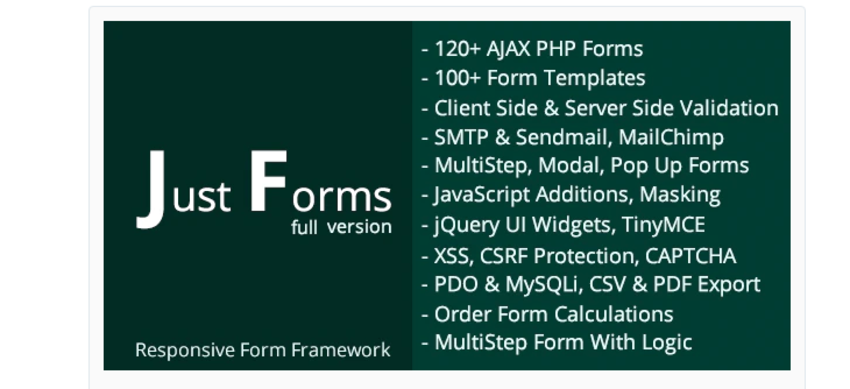 Just Forms is a PHP framework that helps you create any form quickly and painlessly, without any programming knowledge. It features 120+ fully-functional forms, which you can build on to create your form. It has advanced features like the ability to save form data to a PDF and even create order forms with calculations.
Other features include:
fully responsive
social icons and buttons
120+ AJAX PHP forms with client-side and server-side validation
100+ ready-to-use templates
ability to export data to a CSV file and PDF document
ability to save data to a database 
PHP CAPTCHA
protection against XSS, CSRF, and SQL injection attacks
jQuery enhancements such as date picker, date and time picker, color picker, numeric stepper, sliders, and many more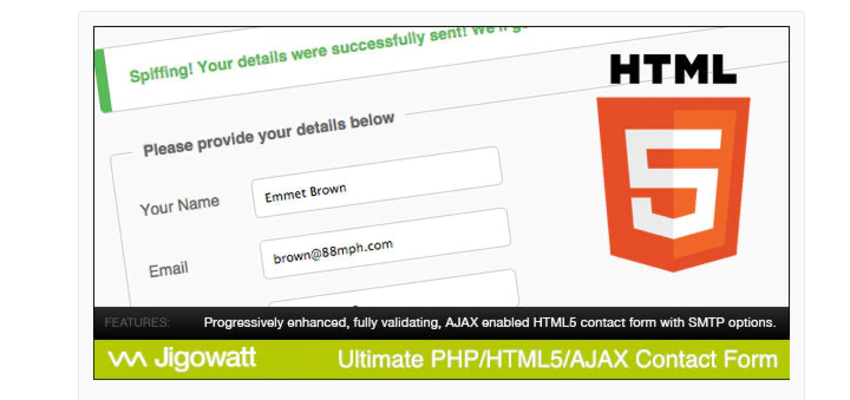 The Ultimate PHP form script lets you create an AJAX-based contact form with built-in Google reCAPTCHA to protect against spam robots. It also lets you create both custom and mandatory fields, as well as adding multiple validations on custom fields. This system also supports file uploads for formats such as PNG, MS Word, and others.
Some of its best features include:
easy to install and mobile-friendly
SMTP authentication for user verification
custom thank you messages
AJAX-enabled (no page reloads for validation)
CSS animations 
cross-site scripting (XSS) attack prevention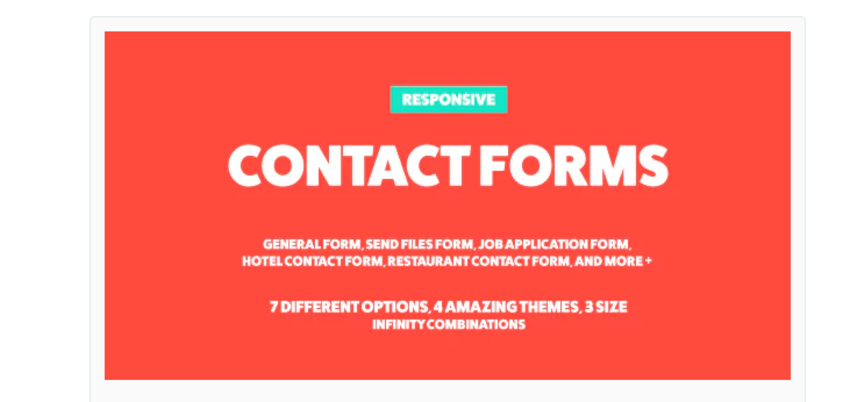 ContactMe is another bestseller that is extremely customizable and allows site owners to create different versions of contact forms to fit their needs. Besides, it is fully responsive and mobile-friendly. If you're looking for some inspiration, it features 28 combinations of ready-to-use forms and seven concrete examples to spark your creativity. 
This is a script to consider for your next project.
Best features:
beautiful themes
easy to install
no database required
file attachment supported
secure
ability to set different language messages for each form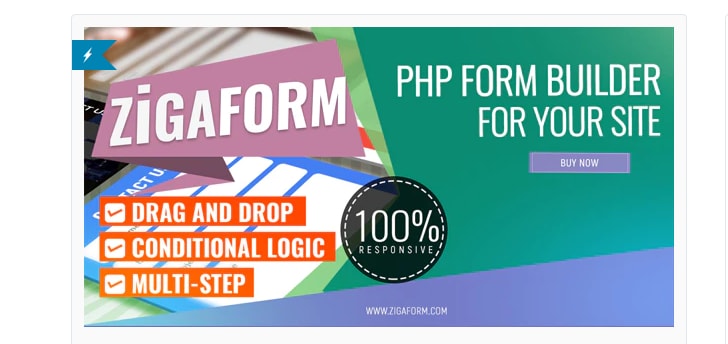 If you're looking for a universal PHP form builder, Zigaform is the right script for the job. It can be integrated with Joomla, Magento, PrestaShop, and any other PHP website. It lets you organize your form elements with a grid system and even enables you to assign conditional logic to your forms. When it comes to customizations, you are spoilt for choice as Zigaform comes with 42+ elements, over 650 fonts, and 769+ font icons, ensuring your forms are as attractive as you need them to be.
Other features include:
ability to filter and search submitted data
graphic charts of submitted data
notification email for users 
file upload support
export form data to CSV and PDF 
AJAX powered
spam protection
Zigaform is the perfect script to create a contact form for any website.
Universal Form Builder is easy to use and can be integrated into any website, including Joomla, Magento, OpenCart, and so on. It is the perfect script to build your forms in seconds with the aid of a drag-and-drop system. It also lets you change the appearance of any element, thus ensuring your forms are consistent with your website theme.
Main features include:
multi-language support 
fully responsive design
full skin customizer
background images
live preview during customizing
support for all browsers, including older versions of Internet Explorer
form and visit statistics
Just like the name suggests, Multi-Purpose Form Generator is an advanced web application that provides an easy drag-and-drop interface to build simple or complex forms in seconds. It also includes the ability to integrate your forms with Google reCAPTCHA to prevent spam submissions and bots.
Other features include:
ability to export form data
customizations according to your needs
Ajax-enabled forms
5+ different types of validation support
file upload support
preview forms before publishing
fully responsive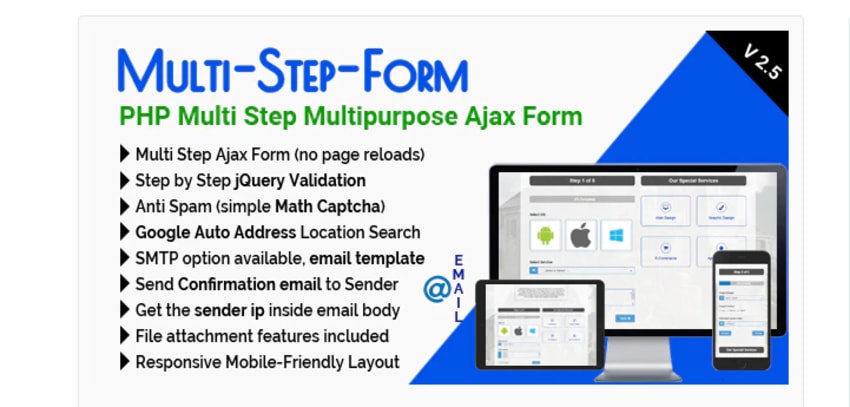 The Multi-Step Form responsive PHP form script is suited for any business or organization. It is the perfect form to ensure that your visitors or clients will submit their quotes and also get valuable information regarding your business. Multi-Step Form uses PHP, jQuery, and Ajax, so no page reload will occur between steps. It also has the option of capturing the IP of the user and includes an anti-spam check.
Main features:
no database required
attractive design
popup alert for validation errors
file attachment support
calendar date picker
security guaranteed
multi-language support
These simple AJAX contact forms are created using the mobile first design philosophy. As a result, they look great on mobile devices. The forms have a minimalist approach to design and come with 8 different templates. The form is submitted in the background via AJAX and the script relies on PHP Mailer to handle the sending of all the form data to the desired email address.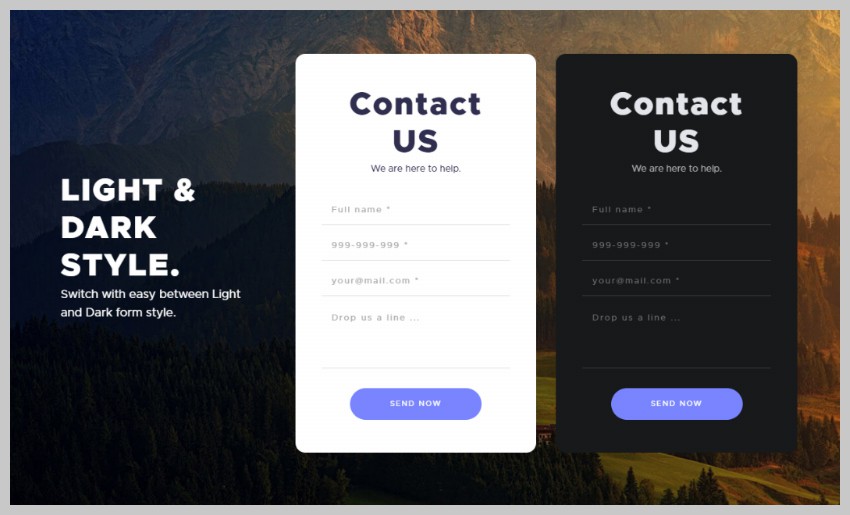 Here is a brief list of its important features:
highly customizable with 8 different UI styles and a date picker
support for multiple file attachments
input validation
spam protection
smart error handling
redirect after submit
and many more
The script offers a lot more features and you can read about it on the plugin description page. Don't forget to check out the live demos of these forms.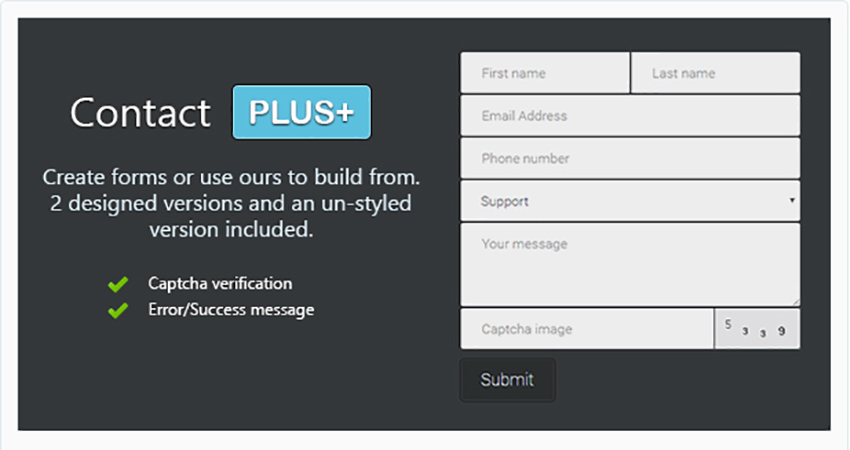 ContactPlus+ is another clean and simple contact form. It comes in three styles: a blank slate, unstyled version that you can build on to suit your taste, a normal form with just the essential information needed on a contact form, and a longer form to accommodate an address.
Best features:
CAPTCHA verification
successful submission message
two styled and one unstyled version
and more
If you're looking for a clean and simple contact form that will integrate easily on your PHP website, ContactPLUS+ PHP Contact Form is the one for you.
Conformy is yet another user-friendly AJAX based contact form with a modern and stylish design.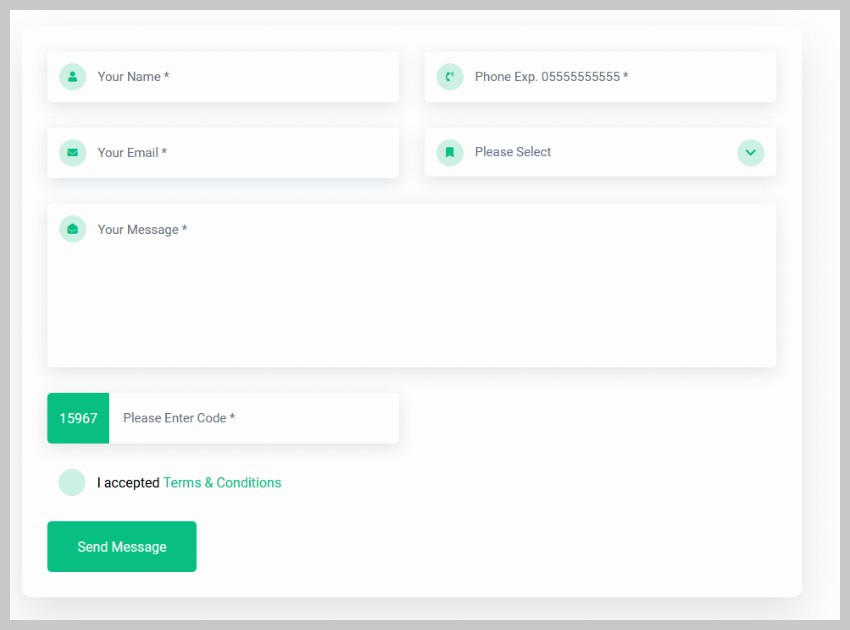 The form is based on Bootstrap 4. So, Conformy will blend seamlessly with the overall design of the website if it is already using the Bootstrap framework. The styling of the form uses SCSS so changing things like the color of the form would be pretty easy. Overall, the theme uses a minimal design approach which makes it easier for you to make any modifications.
Main features:
live validation
custom CAPTCHA
fully responsive
cross-browser support
custom select options
Green Forms is a standalone form builder script that you can use to create multi-purpose forms that look great across different screen sizes.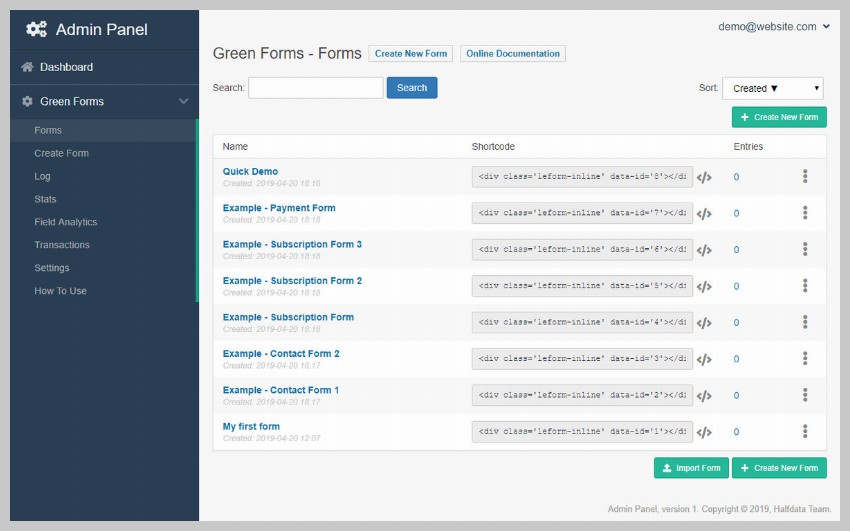 The form builder is designed in a way that makes it incredibly easy for you to customize almost everything. This includes things like fonts and text color. Every form that you create using Green Forms can be added to any webpage you like with just a simple copy-paste of the provided HTML and JavaScript code.
Some useful features of the plugin:
drag and drop form builder
built-in anti spam protection 
form styling
multi-step forms
conditional logic
over 20 form elements
and more
Free PHP Contact Form Scripts
Some people might want to try out some free PHP contact form scripts before they look at the premium options. This makes sense if you are on a tight budget. However, keep in mind that free scripts are usually not updated on a regular basis. You might also not get quick support form developers of these free scripts.
That being said, sometimes free is the right choice! Here are 4 free PHP contact form scripts that you might find useful.
1. Bootstrap Bay Contact Form
This contact form script is ideal for people who are already using Bootstrap for their websites. It comes with a simple contact form and very basic Maths based Captcha.
2. Simple PHP Contact Form
This is a simple contact form created using PHP with support for HTML5 form validation. It also offers JavaScript fallback for validation if the browser does not support HTML5 form validation.
3. Contactable jQuery Plugin
This is a jQuery plugin that allows anyone who is using a PHP based website to quickly integrate a feature rich contact form.  It comes with all the necessary frontend and backend files that you might need to integrate the form into your website.
4. Spam Free PHP Contact Form
This PHP contact form script adds a hidden field to the form to prevent automated contact form spams. It also generates your email after the page has loaded using JavaScript. This prevents some simple scrapers from getting access to your email address. There are two versions of this script called Simple and Advanced. You can use either of them on your website.
Tips for Using a Contact Form
Contact forms provide a great way for your readers or clients to contact you when they want to share something or need help. Here are a few tips that might help you use contact forms more effectively and choose the ideal script for your project.
1. Always Validate User Input
Proper validation of user input helps both you as well as you readers. Some readers might fill out wrong type of information by mistake. Other might be more malicious and might want to harm your business. Validating form input will help you solve both these problems.
2. Use Some Anti-Spam Measures
This is also very important. There are a lot of bots and scrapers on the internet which just fill out any form they come across to spread spam. This can be a huge problem for businesses as they will have to waste time and resources to filter out the spam later.
3. Create Simple Forms with Clear Instructions

Basic contact forms are open-ended and can be filled out by everyone. However, let say a client wants your help with some technical issue. They might not know exactly what information they should provide to you to get help.
In such cases, it would greatly improve the overall productivity if they are told in advance in the contact form the minimum information you need from them.
The Best PHP Scripts on CodeCanyon
Explore thousands of the best and most useful PHP scripts ever created on CodeCanyon. With a low-cost one-time payment, you can purchase one of these high-quality PHP scripts and improve your website experience for you and your visitors.
Here are a few of the best-selling and up-and-coming PHP scripts available on CodeCanyon for 2020.