Look, we get it. Money is tight, but you're getting into streaming and need a well-designed Twitch stream overlay for your channel.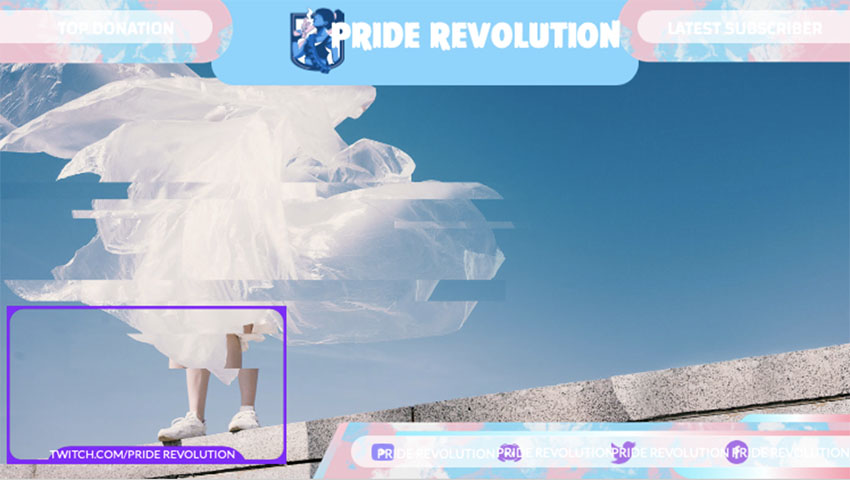 Well, we've got the perfect solution for you. We're going to share how you can find top-quality free Twitch overlay templates at Placeit and show you how to use the free Twitch overlay maker to customise them.
How to Find Free Twitch Overlays on Placeit
1. Go to Placeit.net > Free Mockups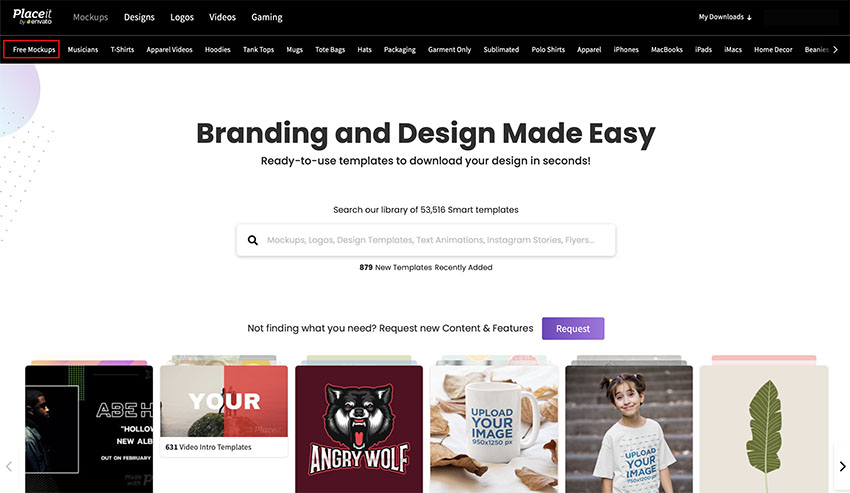 2. Go to Browse All Free Templates > Design Templates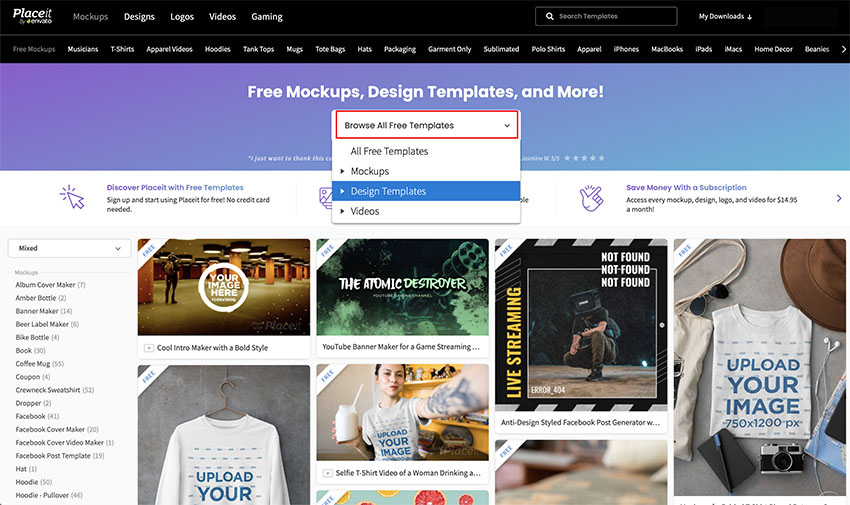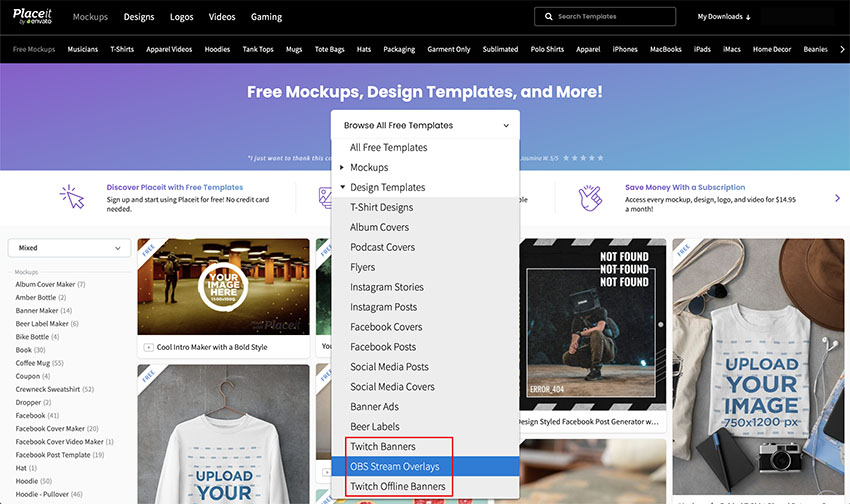 4. Look Out for the FREE Banner in the Upper Left of All Free Items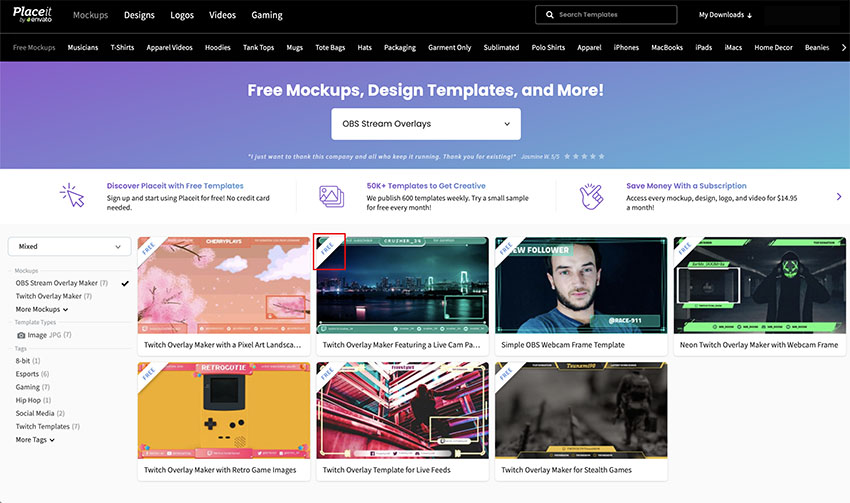 Free Twitch Overlays From Placeit
And that's how you find FREE Twitch overlay templates at Placeit. Bear in
mind that the selection of free Twitch overlays on offer regularly
changes, so it's likely that you'll find different items on offer each time you visit.
Let's take a closer look at the free Twitch overlay templates
currently on offer.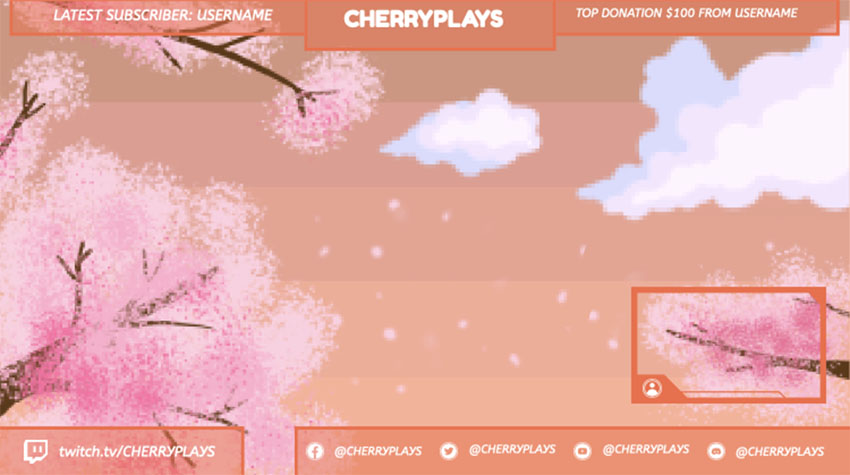 Give your stream a retro pixel art look with this cute template. Not into cherry blossom? No problem: there are plenty more backgrounds to choose from.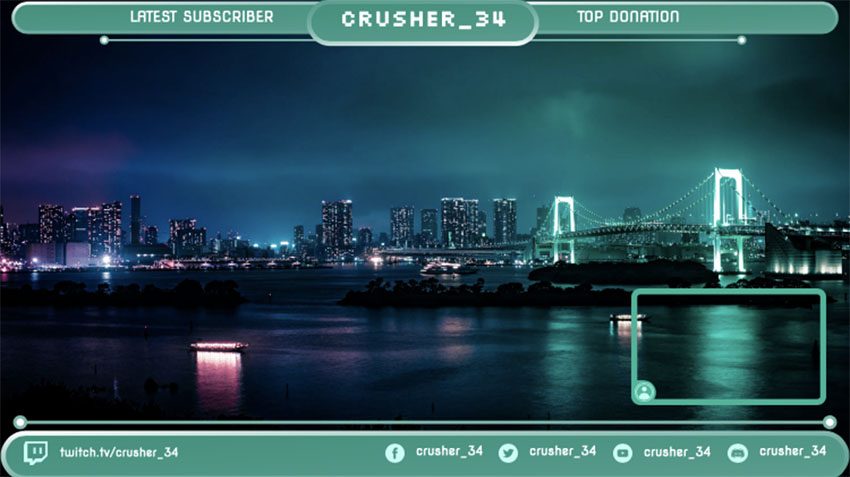 This free Twitch overlay template has a very different feel, with its cool colour scheme and night-time cityscape background. But that font still screams "retro gaming", doesn't it?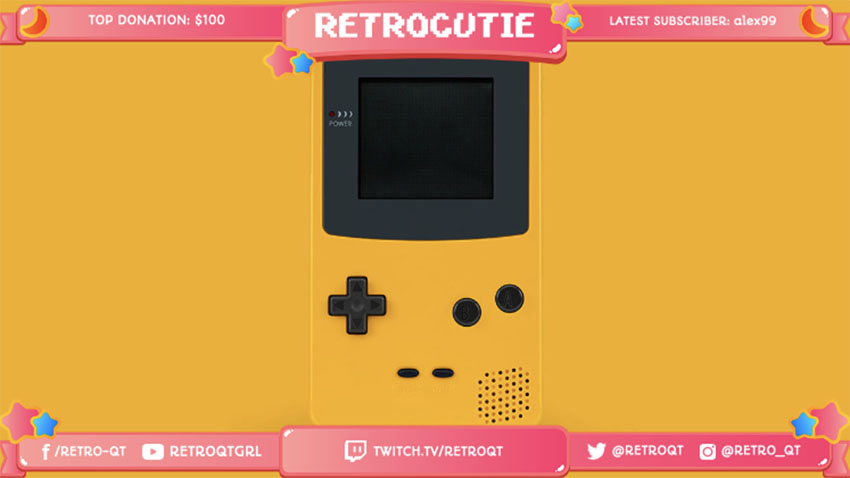 Nintendo fans will love this free Twitch overlay maker, which lets you design your overlay around a classic image of a Game Boy.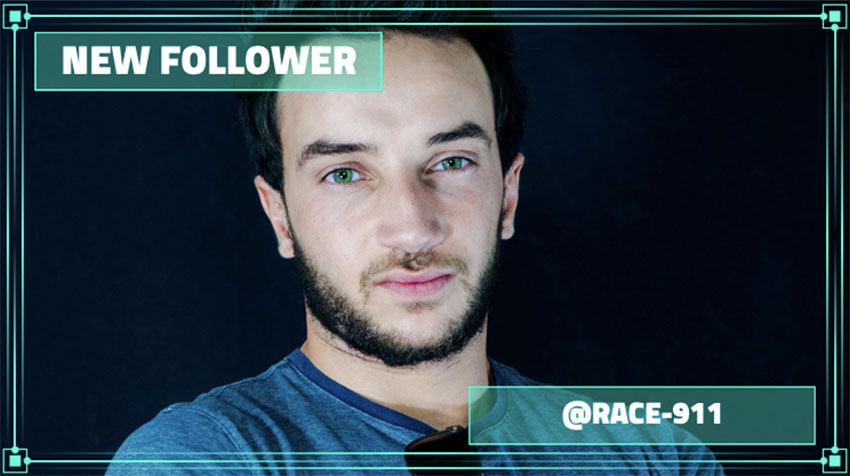 Many of these free Twitch overlays include a lot of details, but this one keeps things simple and minimalist. Just an elegant border and a couple of boxes for the key information, allowing all the attention to be focused on what's happening on screen.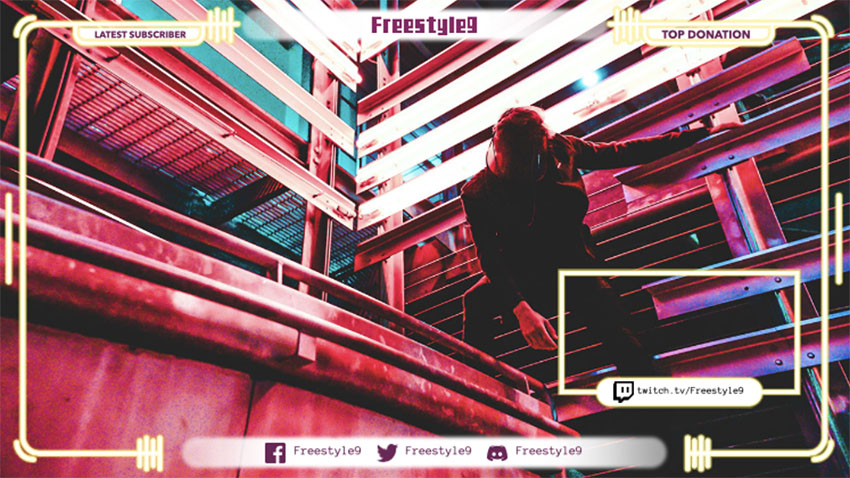 Start off your live feed in style with this cool Twitch overlay creator. Like the other Placeit templates, this one is easy to customise to meet your individual needs.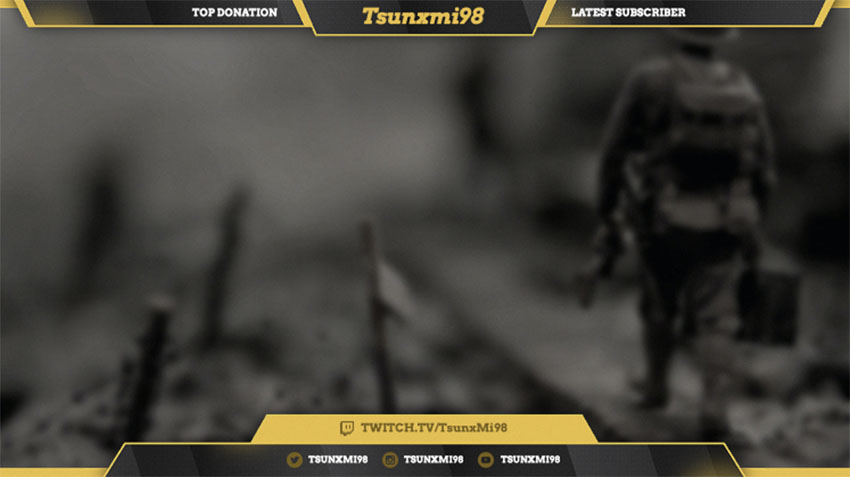 If you're into war games, this custom Twitch overlay is for you. But you could also easily change the colour scheme and background image to make it suit the gaming genre of your choice!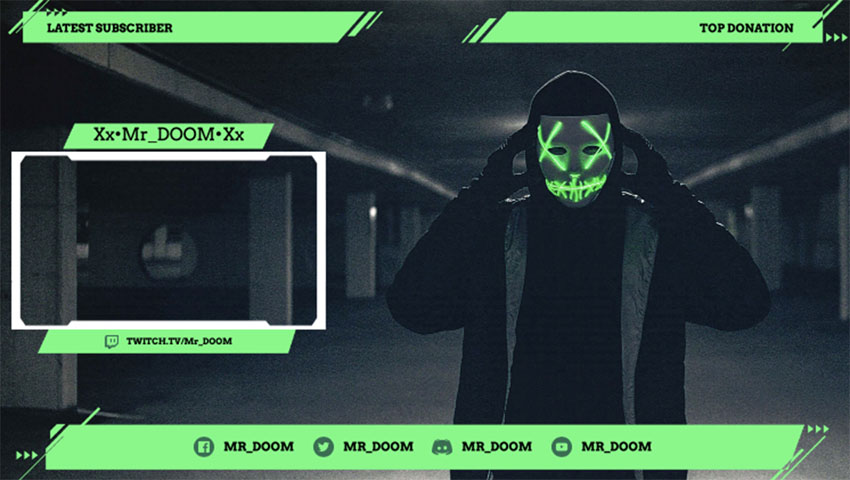 If you want a free Twitch overlay maker with a radioactive twist, try this neon-infused offering. It's clearly inspired by the classic Doom first-person shooter game from the 1990s, but it also has a very contemporary feel.
How to Make a Twitch Overlay With the Free Twitch Overlay Maker
The free Twitch overlay maker—also known as the OBS overlay maker—is easy to use. Just follow these five simple steps to find out how to make a Twitch overlay. 
1. Click Your Chosen Free Twitch Overlay to Open the Free Twitch Overlay Maker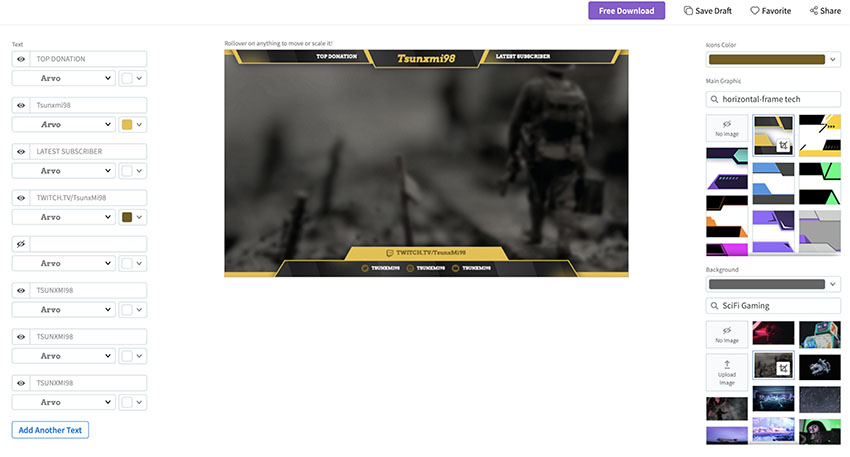 2. Using the Controls on the Right, Select Your Background Image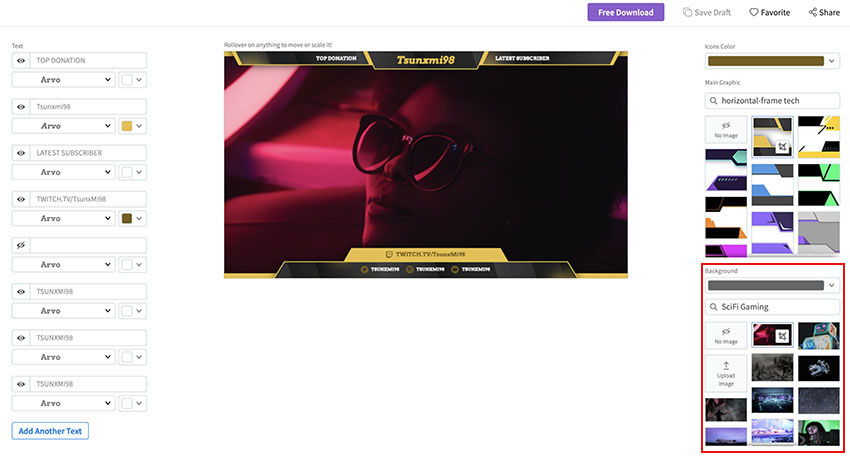 3. Select Your Frame Graphic and Icon Colour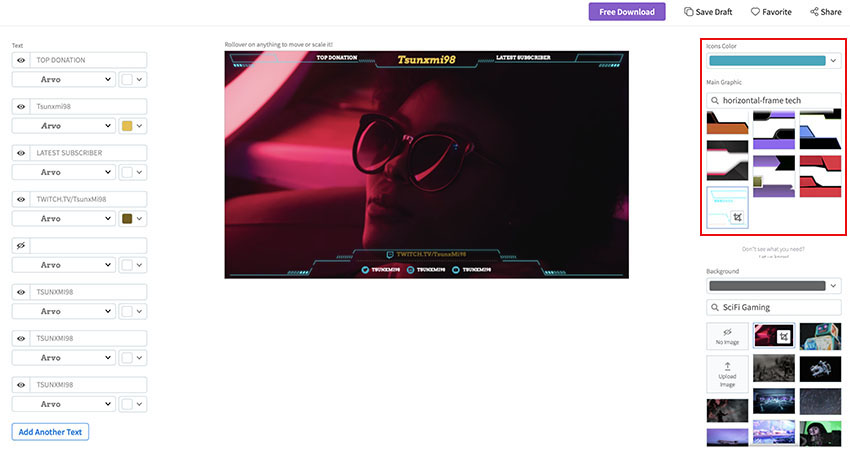 4. Using the Controls on the Left, Enter Your Text and Change the Font and Font Colour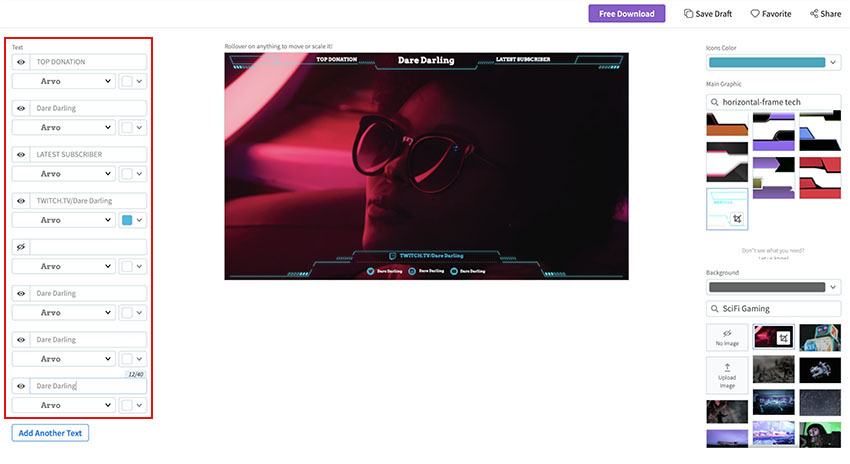 5. When You're Done, Hit the Free Download Button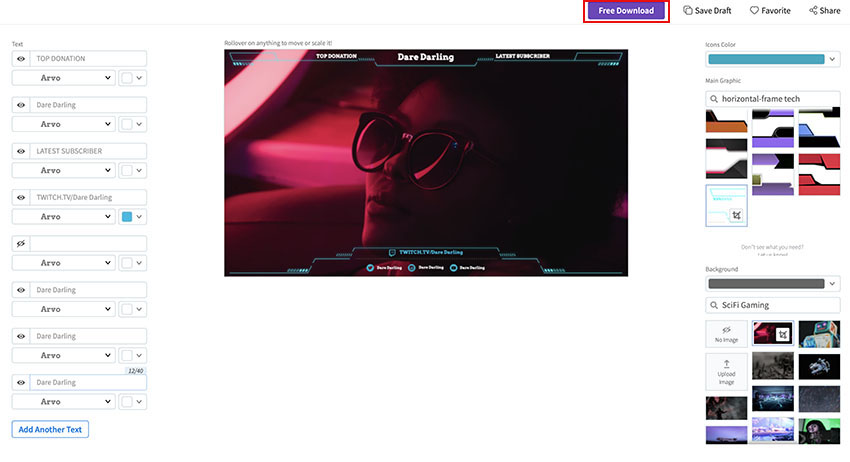 That's
how to make a Twitch overlay in five simple steps. Now
let's take a look at some more Twitch overlays from Placeit.
20 More Awesome Twitch Overlays From Placeit
Free Twitch overlays are great if you're broke, but bear in mind that if you want more overlay designs and customising options, premium Twitch stream overlays are the way to go to take your Twitch streaming to the next level. Some of the free stream overlays that you find on other sites may be limited in what they offer and may be more generic if many people opt for the same designs.
So what if you love the idea of not messing about with expensive software like Photoshop or Illustrator and you've found a terrific template on Placeit that isn't free?
Well, here's the thing, though Placeit is a subscription service, there's also an option to buy a Twitch overlay as a one-time download for a small fee. So you can still access your favourite overlay at an affordable price. If you regularly need overlays, mockups, logos, and other resources, however, the monthly or yearly subscription is definitely the best option as they offer unlimited downloads for all items found at Placeit. 
So let's jump into these awesome Twitch overlays.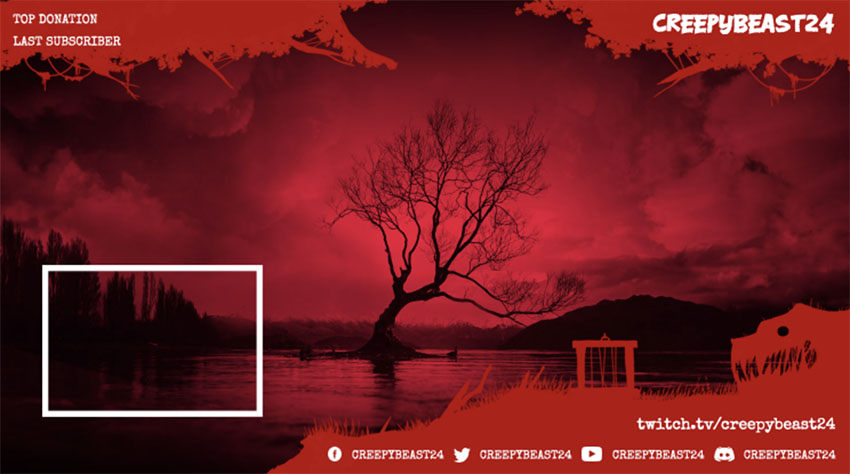 Is it Halloween yet? Send a chill down your viewers' spines with this wonderfully creepy Twitch overlay creator.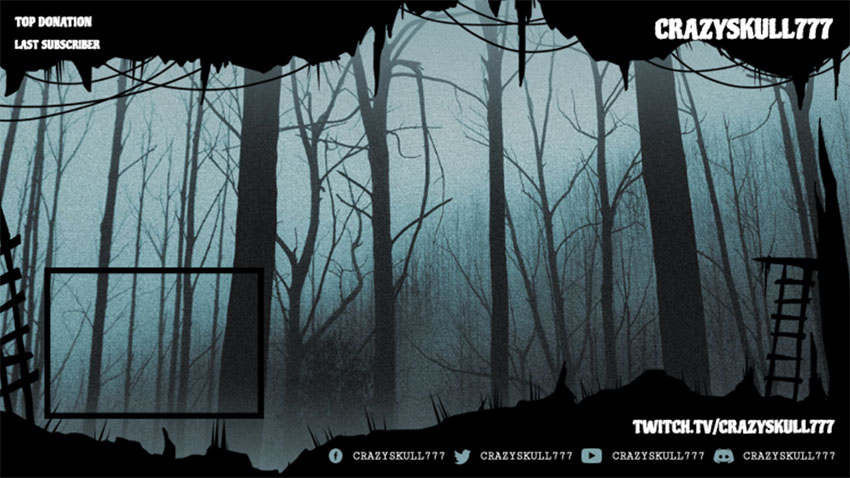 And here's another one from the horror genre. If you want to create an edgy mood, try this creepy frame and chilling background.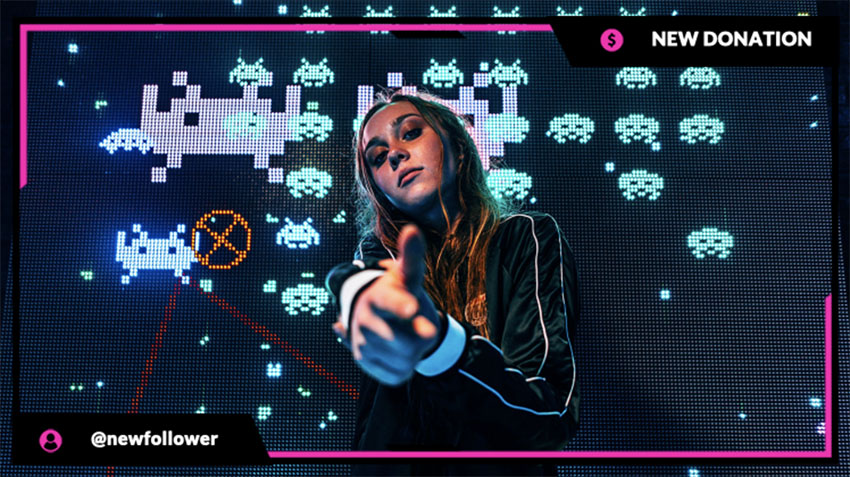 Here's a simpler custom Twitch overlay, with just some lines framing the screen and boxes for new donations and followers. The background image, of course, can easily be changed when you load up the Twitch overlay creator at Placeit.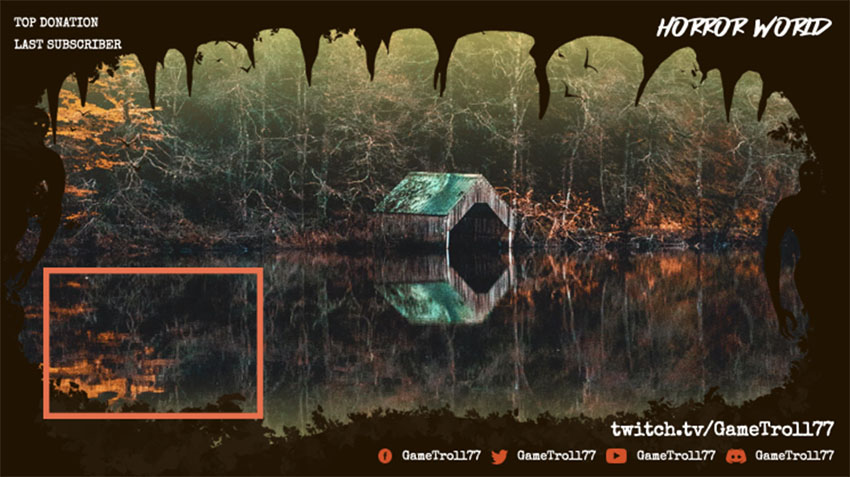 Here's another template that draws on the world of horror for its inspiration. If you want your viewers to feel as if they're peering nervously out of a cave, give this one a try!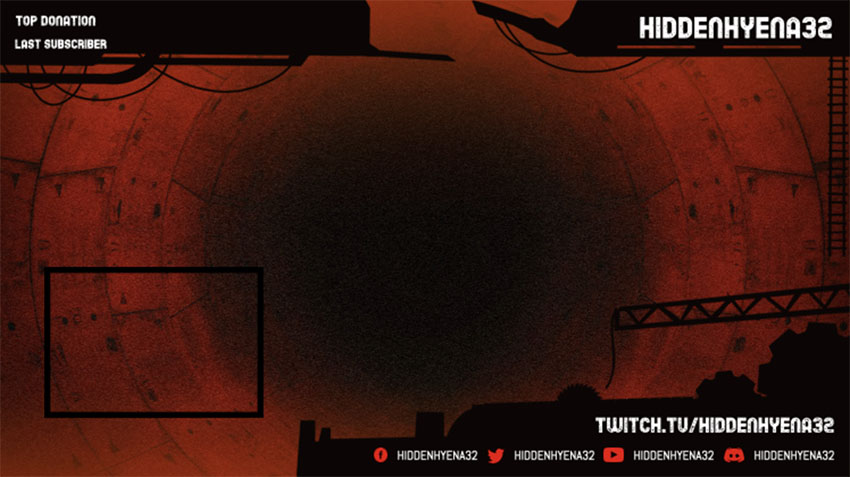 If post-apocalyptic is your jam, then try out this custom Twitch overlay, with its eery red glow and industrial imagery.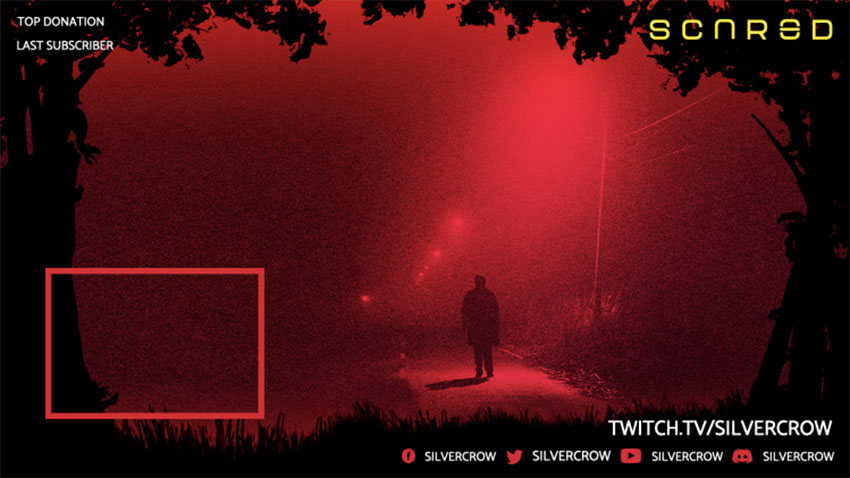 Here's a scene that looks like a crime waiting to happen. Maybe it's the lonely night-time scene, or maybe it's the red filter over the whole thing, but I wouldn't want to be that midnight walker.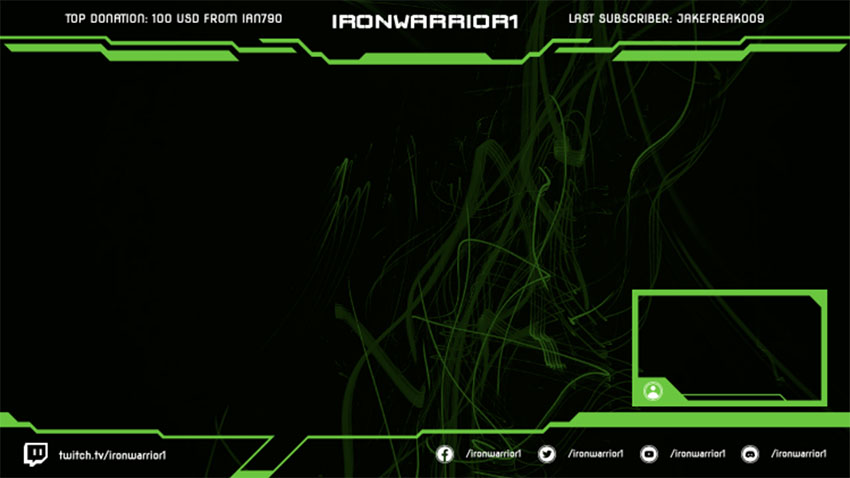 Here's a more traditional overlay, with its sharp lines and retro gaming text. Use this one if you want to evoke nostalgia for the classic games of the past.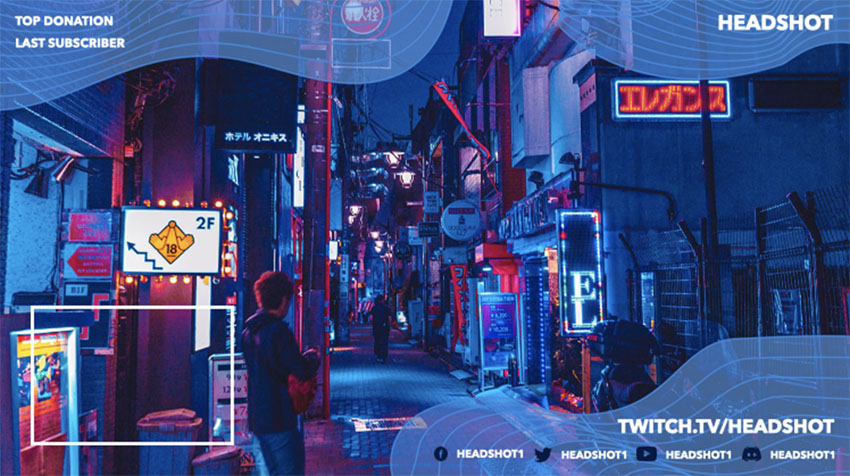 Unlike many Twitch overlays, this one is quite unobtrusive. The swirly frame around the edge is semi-transparent, so you can still see plenty of the image underneath. Try it if you want to give your Twitch stream a sleek, elegant look.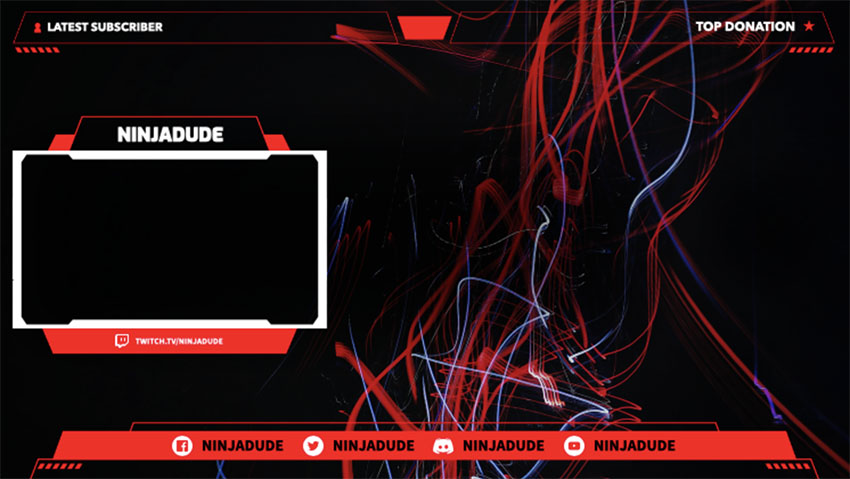 Black and red is a classic combination, but remember that if you don't like it, you can easily change the colours using Placeit's intuitive Twitch overlay creator.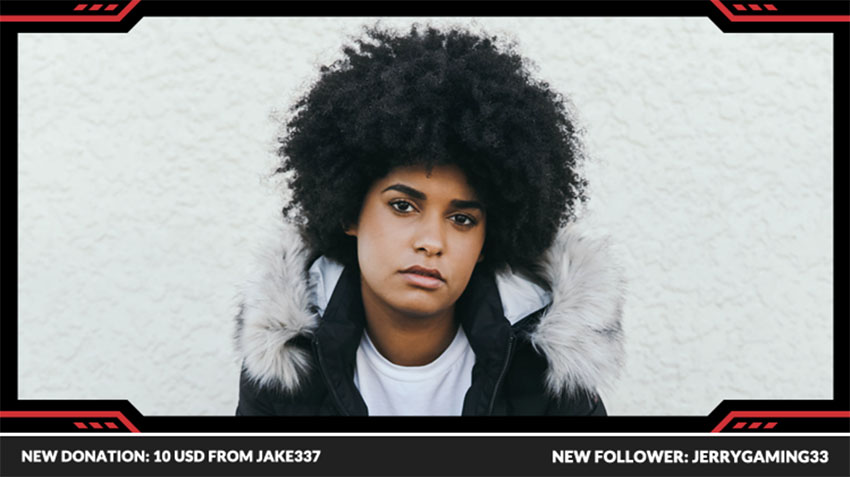 Here's a custom Twitch overlay that stays out of the way and let's what's on the screen do all the talking. Just a subtle frame and space for a few text updates—it could be all you need.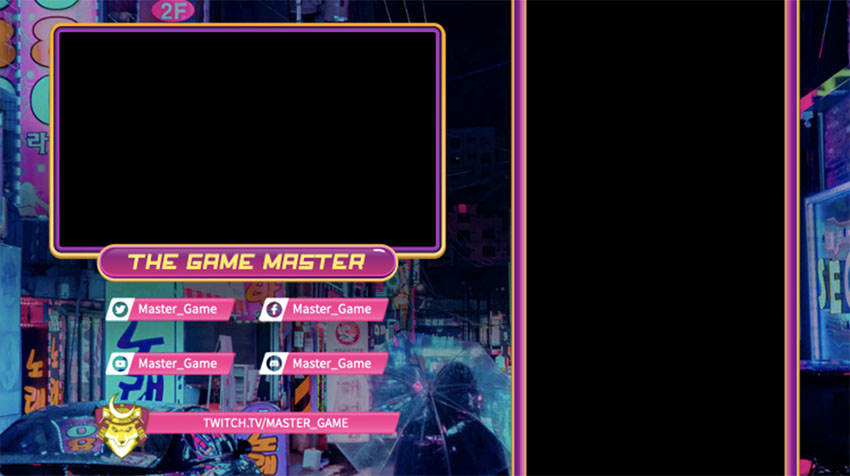 Japan has produced some great games and gaming consoles over the years, so why not pay homage with this Japanese-influenced Twitch stream overlay? The unusual layout will help your stream stand out from the crowd.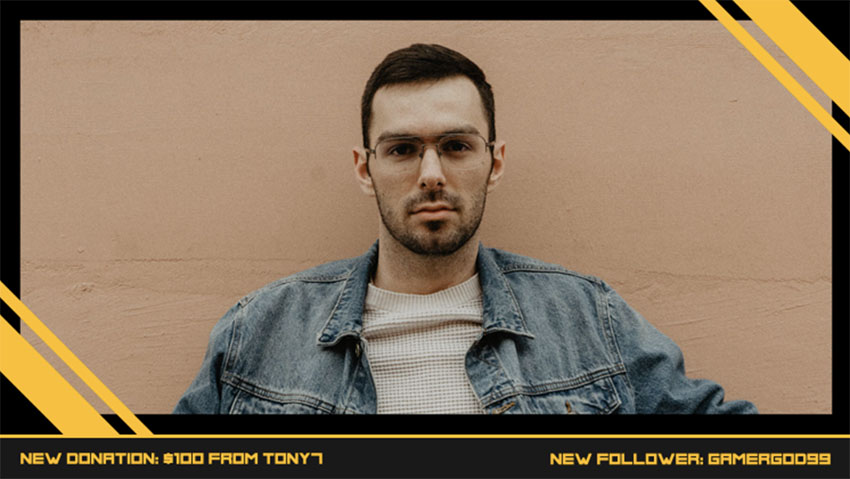 You don't stream for the money, right? But hey, donations are also welcome, so why not highlight them with this template, which gives plenty of prominence to donations and new followers.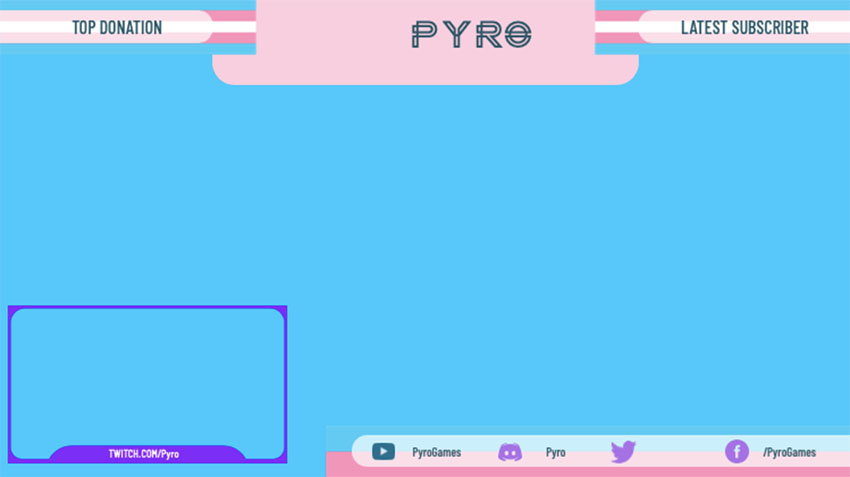 We've seen a lot of templates for war games and horror, so I think it's time for something a bit more cute. Try out this simple template, with its cheerful colours and rounded corners, to give your stream a friendly, welcoming look.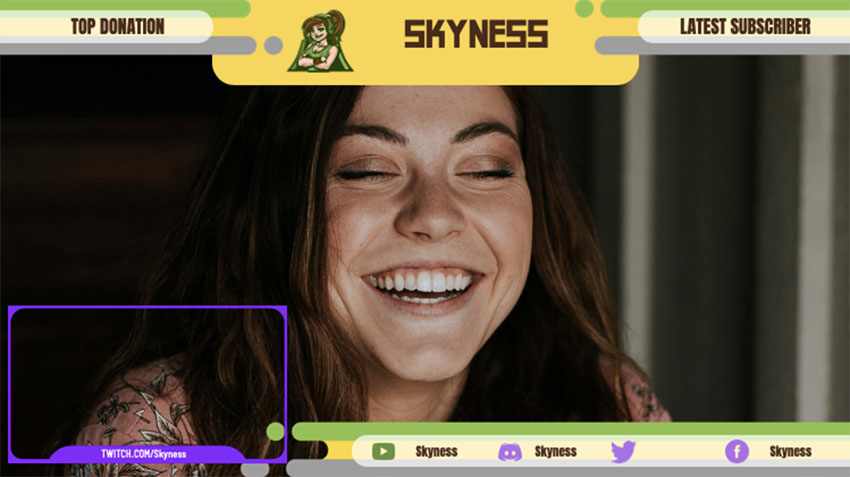 And here's another welcoming option—not just because of the background image of a smiling woman, but because of the bright colours and cute design.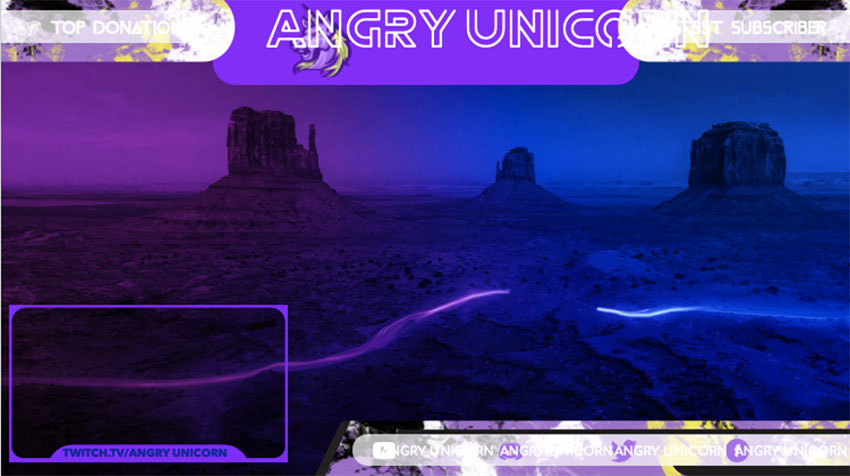 Embrace chaos with this electric Twitch overlay template. If it bothers you that the text is hard to read, you can easily change that by going into the Twitch overlay creator and switching the colours, text size, font, etc.
Again, the white text over pastel colours is tough to read, but you can easily change that. This template has a lot of possibilities with its rounded frames and cute pastel designs.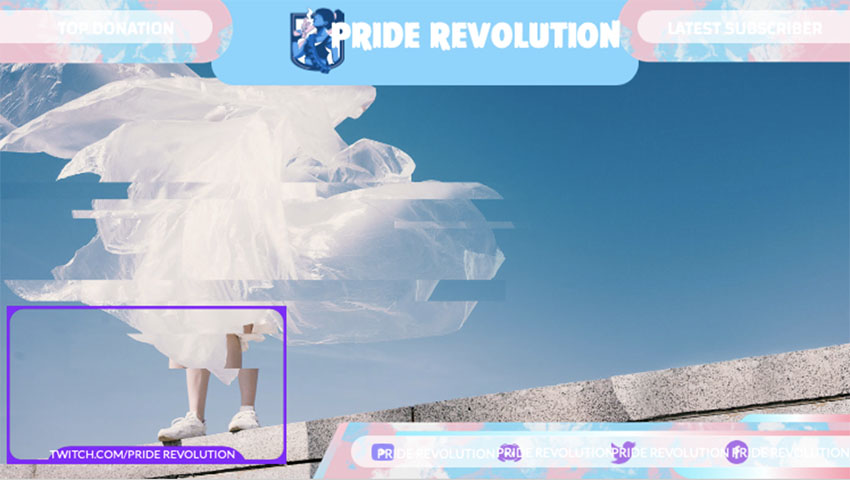 Or try this variation on the one above, with similar pastel frames but a very different image and overall feel. See how just a few changes can make a big difference to the mood of your Twitch stream?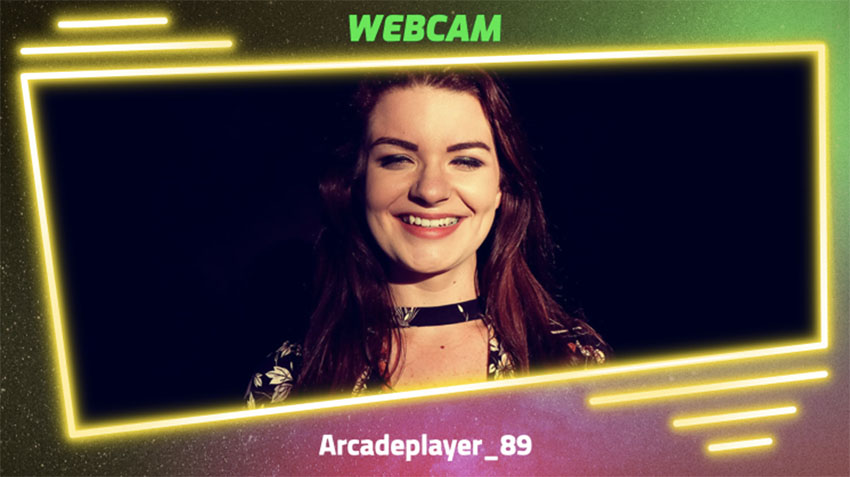 There's nothing like neon lights to create a touch of glamour. Give your Twitch stream a dash of Times Square or Piccadilly Circus with this cool neon-framed template.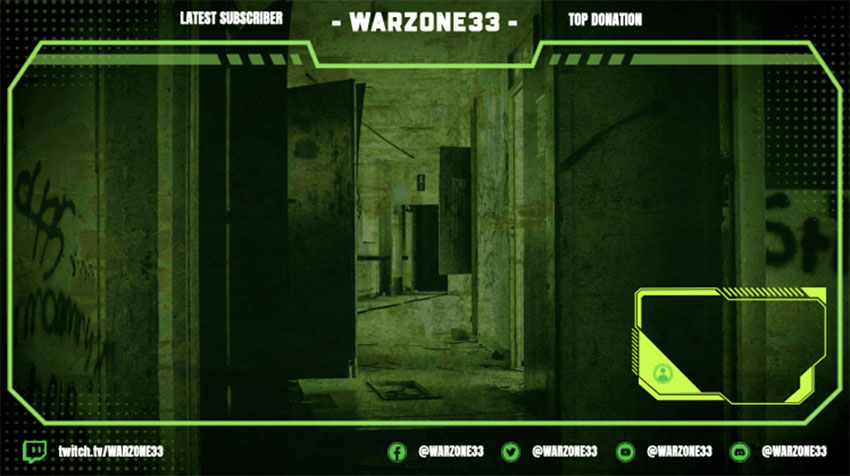 Now here's a custom Twitch overlay for the warriors out there. Use this template to take your followers into battle with you and have them eagerly following every mission.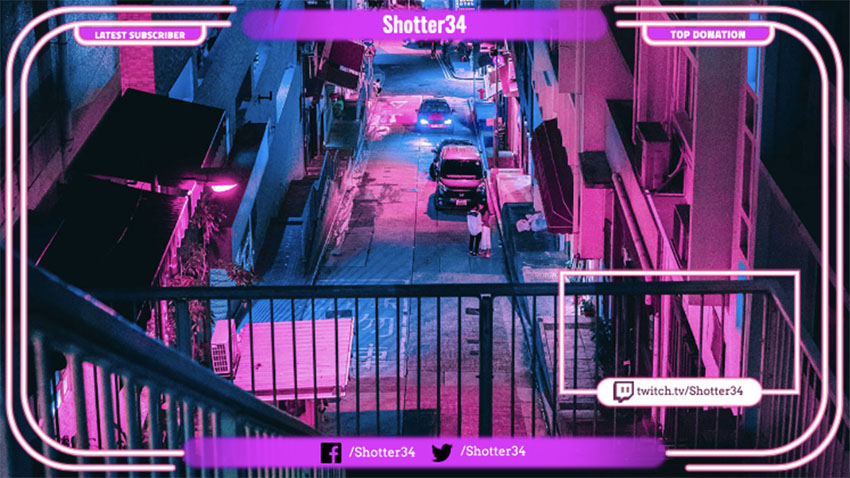 And now let's shift the mood completely, with this pink neon offering that would work for a wide variety of gaming genres. Love how the pink filters into the background image too.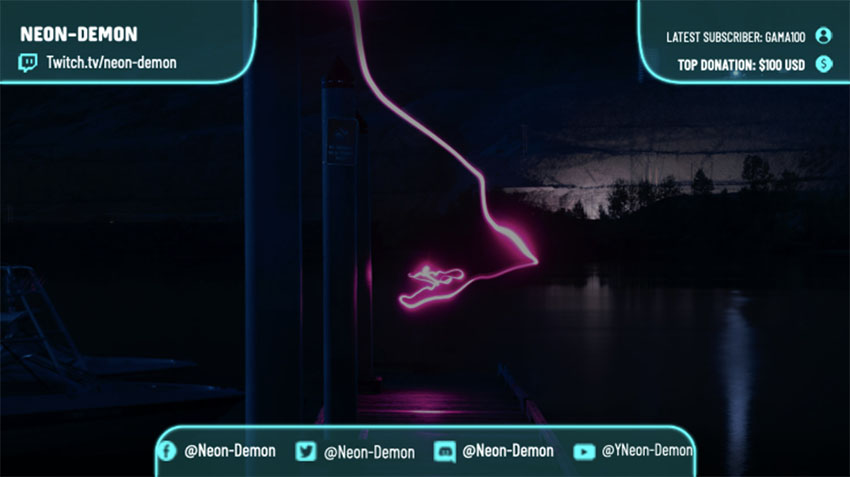 If you want to give plenty of information but also leave space for the main event, try this custom Twitch overlay. It keeps the text within sharply defined boundaries, giving over lots of screen real estate to the stream itself.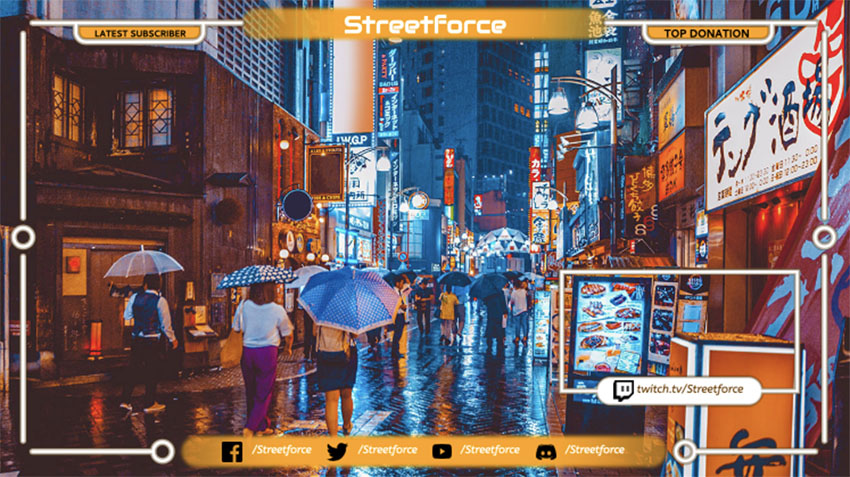 Although this is called a template for eSports, really it could work for a wide variety of Twitch streams. The beauty of Placeit's Twitch overlay creator is that you can use the same template to create totally different end results.
More Free Twitch Overlays
Now let's look at some free Twitch overlay templates from other sites around the web. Be aware that you may need some knowledge of software programs like Photoshop or Illustrator to customise these ones.
Here's a free Twitch overlay template that's firmly in the minimalist camp. If you want to keep the information to a minimum and the entertainment to the maximum, this one's for you.
This one, on the other hand, is at the other end of the spectrum. There's loads of room here for your logo, links, and other information.
Here's a free Twitch overlay template that sets a mood for your stream with its austere black and red colour scheme. But try changing up the colours, and see how that instantly changes the mood.
Free Twitch overlays don't come much better than this. You get loads of space for highlighting recent followers and donations, linking to your other social media accounts, etc., and yet the overall look is still clean and uncluttered.
This custom Twitch overlay, on the other hand, does look a bit cluttered. But if you want to cram in as much information as you can and give your viewers plenty to look at, it could work well.
There's plenty going on in this free Twitch overlay template too. In the fast-moving world of online gaming, maybe "busy" is the look you're going for. If so, try this one out!
Show me the money! This custom Twitch overlay gives a pleasing prominence to the "Donate" button, as well as linking to other social media pages to help build your profile.
You don't need to know how to make a Twitch overlay when there are so many great free templates out there. Try this one to give your stream a professional, elegant look.
Choose Your Favourite Twitch Stream Overlay Today
You can create Twitch stream overlay quickly and easily for free or at minimal cost when you use the stream overlay maker at Placeit.
Use your favourite template to make your own overlay and share it with us here. We'd love to see what you come up with.
Discover More Twitch Templates and Resources
If you're interested in learning more about creating Twitch resources or want to find some more premium Twitch channel templates, check out these articles: