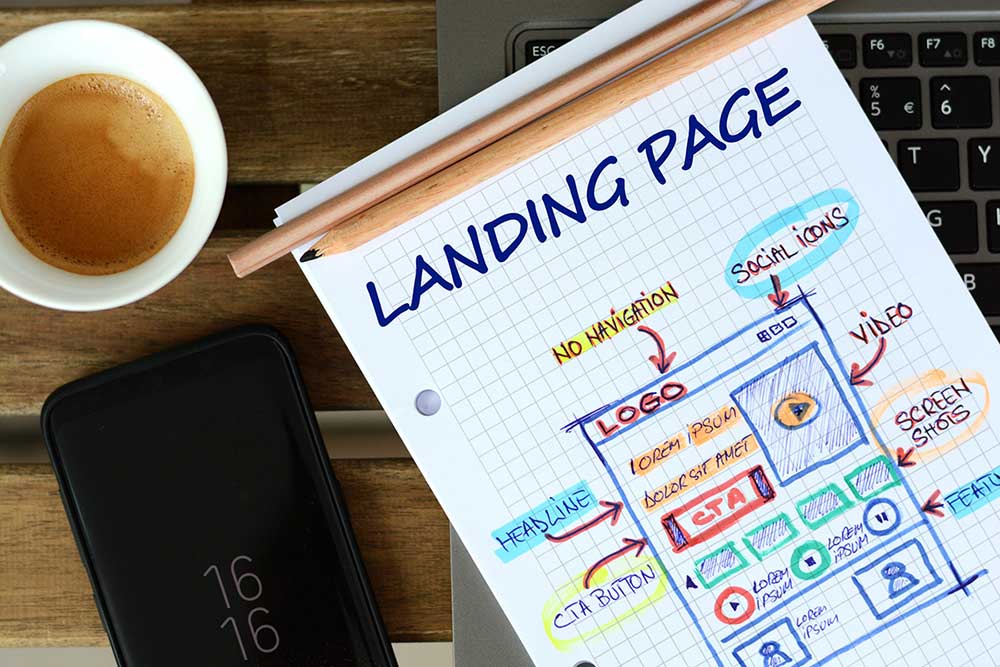 Web designers often have to wear many hats. It's not uncommon for designers who are self-employed or work for a family business to also be involved in online marketing campaigns. With this in mind, many designers will appreciate that getting traffic to a website is hard work and often expensive. Whether you are using Google Ads, Facebook Ads, or SEO, time, effort, and more often than not – lots of money are invested into your digital marketing campaigns.
While you or your colleagues are dedicating so much effort to reaching your target audience and driving them to your website, it can often be tempting for some designers and marketing experts alike, to overlook the importance of landing page design.
As most web designers will know – a "landing page" refers to a dedicated page on your website that users get sent to when they click on a specific advert.
One rookie mistake that when it comes to advertising campaigns is not having a specific landing page. For example, it would be a costly mistake for a general builder to run a campaign promoting a roofing service to a homepage that outlines bricklaying, roofing, attic-conversions, and conservatory services. The ads in that campaign should send users to a specific page about roofing.
General Website Best Practices
Before outlining the criteria for a landing page, it is crucial to ensure that the entire website has a good foundation. For example, ensure that the entire website is mobile responsive and fast to load.
Ensure that all campaigns have appropriate URL-tracking in place and that software is installed that allows for split testing. It is important that web designers have an insight into all elements of landing page performance so that they are able to make any adjustments and test certain elements of design, in order to provide the best user experience possible.
Use a single Form
Leads are typically generated via form submissions. Forms should be straightforward and easy to fill in. The number of fields in the form should be kept to the bare minimum, and the forms should generally be placed on the right-hand side. As people read from left to right and scan webpages rather than read them in detail, placing the form on the right-hand side allows people to gather necessary information before submitting the form.
In most cases, the form should be "above the fold," – meaning that people should not have to scroll down to see your form. Placing the form at the top of the webpage is generally, but not always, the best practice with higher-end, more expensive services or products. The placement of the form is something that should be tested.
Emphasize Urgency
People love to procrastinate. Adding some text related to "limited service" or even a countdown-timer for an offer can get people to act without over-thinking. Choose a font that stands out, without dominating the page.

Give the Option to Call
If you have an option to call and speak to someone, it's usually the case that most people will still just submit a form. However, the option to call does show add to the authenticity of your website. Having a landline phone number displayed gives the impression that a real company is behind the landing page. Those people who do call are a lot more likely to convert into customers than someone who submits a form. Adding "click to call" buttons, particularly on the mobile version of a website, can help to generate a significant number of calls.
If you can't always answer the phone yourself, considering using a phone answering service such as Moneypenny or Termatronics.
Social Proof (reviews & Testimonials)
Social proof – reviews and testimonials – are a crucial element of landing page design. Whenever possible, ensure that you place any aggregated review scores in a prominent position on the landing page. Users will likely search for reviews for your company anyway if you don't do this. This is not a good thing, as you don't want anyone navigating away from your landing page.
Use a widget from a well-known third party such as TrustPilot and/or Google whenever possible. This gives an additional element of trust. If users haven't heard of the review platform you are using, they will be less likely to give it any credence.
If possible, use testimonials from industry figures or influencers. Use video testimonials, too, to show users that this is a real person recommending your service or product.
Trust Signals
In addition to social proof, add any additional "trust signals" such as website security protocols, affiliations, and awards.
For example, if your business has a Best Companies employer award, this may not be relevant to the service and the user, but it does make your company look trustworthy and above board. You can also add somewhere on the page that you have featured in particular well-known magazines and have worked with famous brands.
Appropriate Imagery
The use of imagery is essential. Avoid stock photos whenever possible and make images as relevant as possible. If you offer a tree surgery business, then use images of tree surgery. Also, make sure that your images appeal to your target audience whenever possible. So for dental implants, for example, if your typical customer is aged 75 years, don't include pictures of 25-year-olds.
Live Chat 
Using a live chat service and widget can help with customer queries. Live chat can also provide valuable information that can inform your website design. If, for example, people are unable to find individual specifications about your service or product, you can use that information to update the landing page.
As a designer, it can be important to understand how live chat interacts with the rest of the page. It's important to understand if the live chat appears proactively – and if so, how many seconds or what level of interaction initiates the live chat window? How does this impact landing page performance and engagement with the landing page?
Privacy Policy
Having a clear privacy policy can help reassure users that you will not sell their data. Having your contact details visible somewhere on the page, in the footer, for example, can also help create a great sense of trust. The importance of trust can not be over-emphasized in regards to landing page design. People will not submit a form if they don't trust the look of your website!
Thank you pages
It is essential not to overlook the design of a "thank you" page once a form has been submitted. Let users know when you are likely to be in touch and whether you'll be in contact via phone or email.
Conclusion
Landing page design is a crucial element of web design and it is important to understand the fundamental psychology and user experience decisions that underpin your own designs.
Always test your landing pages, changing one element at a time. This can be done using a tool such as Google Optimize. Always have a clear "Call to Action" and minimize distractions on the page – for example, exclude any social feeds and limit navigation options.
Author:
Spyre Studios