Choosing a WordPress theme is not necessarily an easy task if you are looking for the very best.
It often comes down to one or two truly outstanding features that differentiate a theme from all of the others.
Here are a few things well worth looking for that can get you past having to choose among "adequate" themes, and enable you to drill down to "the best".
Look for a theme with an integrated builder. Plugins are not always compatible, and even when they are, there's a greater tendency to encounter bugs or experience less than optimal performance. When you come across a theme, like this one, that features a premium integrated front-end builder, you've hit the jackpot.
Web design should never be a chore, or a cause for boredom. It should be enjoyable and satisfying. Look for a theme offering cool UX feature, such as intuitive dashboards, smart shortcuts, and a gratifying overall experience, and one that guarantees that no coding experience is required.
Look for a theme that gives you the freedom to customize to your heart's content – without limitations. The ability to customize to the tiniest level of detail is cool; limitations are not.
Check out the theme's user base.  A user base of 15,000 to 20,000 or more suggests that you may have struck gold.­­
Introducing Kallyas, and the First Front-end Builder You'll Actually Enjoy Working With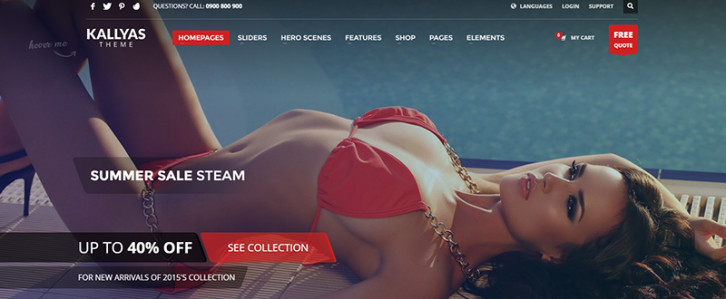 Kallyas does in fact give you the freedom to customize to your heart's content. If you are used to starting off with a pre-established template, that's OK too. You don't need dozens, or hundreds of pre-established templates, when you have the freedom to customize without limitations, a front-end page builder, and a few first-class demos to fall back on.
Kallyas has a very important and powerful feature – an integrated front-end page builder. This is far superior to using a plugin and much more than the others theme have. Since it's a visual builder, it not only makes page building much faster, easier, and more accurate – but more enjoyable as well.
When you take your web design work very seriously, using this front-end builder will make your work sessions much more relaxing and creative which tends to translate into higher quality end products.
Take a look on how enjoyable Kallyas' front end builder is:
The products you deliver will have fast load times as well. With Kallyas, you only deliver the elements that are needed on a page, and not all the extraneous stuff that causes slow load times. This means happier users, and even better conversion rates for your clients.
Templates – Only a Starting Point
The Kallyas demos are only a starting point. Even though you may be an experienced web designer, you don't have to be. And you don't have to be tech savvy either; which is fine, since most designers would rather not have to worry about the need to learn code.
Kallyas simply makes everything easy, and as we've mentioned – enjoyable.
These three demos show you why:
The Main Demo includes an outstanding array of home pages, sliders, and other features. Kallyas makes excellent use of the hero image and other special effects on the upper portion of the home page. From a design perspective, and from the users', the layout is visually balanced and beautiful.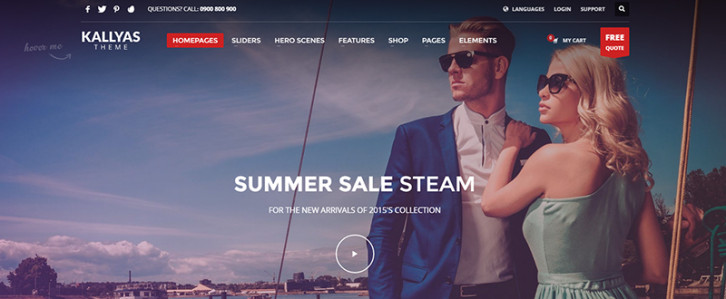 You'll like the ATHOS demo's home page selections and the way long scrolling is put to use. This beautiful, stable layout is a great example of how you can utilize specific nuances and micro experiences to acquire a desired look and feel.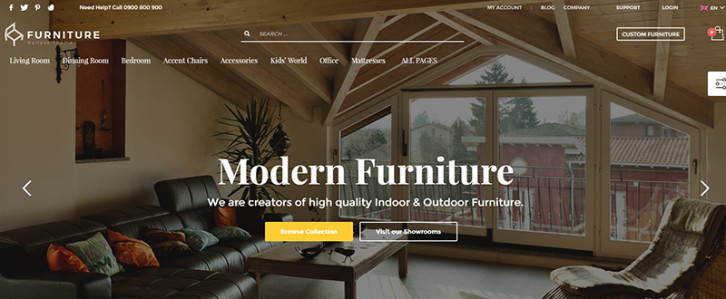 If building an online store is in your plans, the ARES demo is visually stunning, and jam-packed with ideas for delivering a super UX. Note the great use of cards as an approach to engage users.
About Kallyas
Kallyas is indeed an all in one multipurpose theme. It's a gigantic WordPress toolbox that gives you everything you need to build websites. More importantly, it features a powerful visual front-end builder that will make your web building efforts an absolute joy.
An enormous amount of effort was put into the visual builder, and it has paid dividends. Make a change, and you can see it happen before your eyes – no more edit, save, and retrieve.
Another thing you'll love about Kallyas is the page optimization feature. This ultra-smart feature loads only the elements needed, as opposed to loading everything, that is all too often the case. This translates into quick responses, so users don't become frustrated or go elsewhere, while waiting for pages to load.
Kallyas comes with 150+ video tutorials, 100+ well-written documents, and a fast, friendly, and reliable support team that will make your website building efforts even more enjoyable. And it's already used by over 18 000 web professionals.
0 Comments