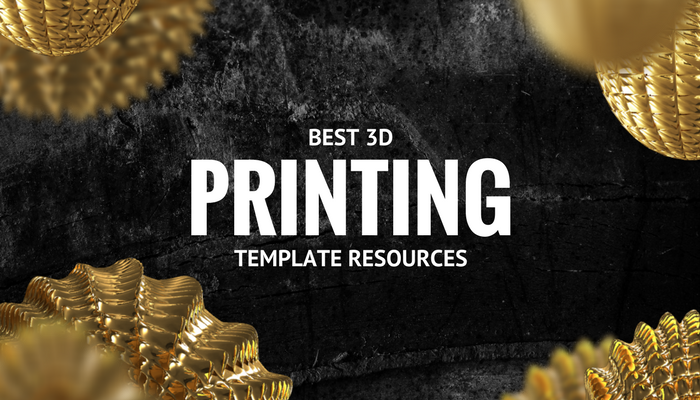 3D printing is a relatively new field where three-dimensional design projects are being translated to the real world with the help of special printers. This 21st century design field is getting more and more popular with year passing year. 3D printers are becoming more available for the mass consumers which has lead to the opening of many community-driven resource websites for 3D printing templates.
This collection contains some of the best 3D printing template resource websites you can use to meet other fellow designers, download free models, and share your creative projects online.
Pinshape is a community driven online marketplace for 3D printing templates. The website serves as a great resource for free STL files but it's also used as a marketplace for buying and selling 3D printing files. The Pinshape community is comprised of more than 70,000+ designers and makers who are adding up new STL files to the marketplace each day. The website features different designers and helps sellers develop their shops through a series of guides.
Thingiverse is known as the largest content repository for 3D printing templates. The website is built by MakerBot, the company behind the popular Replicator 3D printers. The site has a great community of 3D designers and specialists in the field who are contributing new STL files on a daily basis. 3D printing templates range from basic shapes to complex multi-part objects.
My Miny Factory is another great site on the lists which serves as a resource base for quality 3D printing templates. The STL files are separated into 15 categories ranging from fashion, fan art, cosplay and home accessories to gadgets, electronics, spare parts, and BBC micro:bit objects. My Miny Factory offers quality-tested 3D printing files designed by professionals. The site contains lots of templates, yet if you can't find what you need, you can always request a specific object by the designers.
NIG 3D Print Exchange is a STEM-driven community platform. ( STEM is short for "science, technology, engineering, and mathematics" ). In this website, people share and distribute a special type of 3D printing templates which are scientifically accurate and medically applicable. The STL files library includes prostheses, neuroscience, molecule models, and more.
The 3D Warehouse is a 3D print files repository website which is focused on architecture, scale models, and product design and anything created with the SketchUp software. The website has a great community and features different designers. It is also targeted at manufacturers who wish to share, pitch, and promote their 3D models.
SketchFab has an amazing library of excellent 3D printing templates. The site contains mostly character designs, sculptures and different models in both STL and OBJ format. OBJ is a file format that provides coloring information as an addition to the 3D model and is used in advanced printing. Another thing that makes this website unique is the universal 3D model viewer which allows a full 360-degree view of the object directly from the website prior to downloading.
Instructables is a community-driven platform for DIY enthusiasts which originally started as a website for all things do-it-yourself. It's mostly focused on home and garden DIY projects, yet it also has a great collection of 3D models and various 3D projects. As part of promoting its newly established 3D printing community, Instructables also has a free online class for 3D printing that's a great start for beginners in the field. The class has everything you need, from templates and guides to materials list, full instructions, and fully accessible classes 24/7.
Grabcad is a community-driven resource base for 3D printing templates which aims at helping mechanical engineers build great products faster. The site works as a collaboration tool between designers and helps them build 3D models together. The community has over one million engineers who are updating the open library daily with free 3D printing files in STL and other formats.
Created by Ultimaker, an open source 3D printer company, Youmagine is a great community resource website for 3D printing enthusiasts and specialist designers who are in search of some quality 3D template files.  Youmagine's main purpose is to help creatives collaborate and build print-ready 3D models.
Related articles: