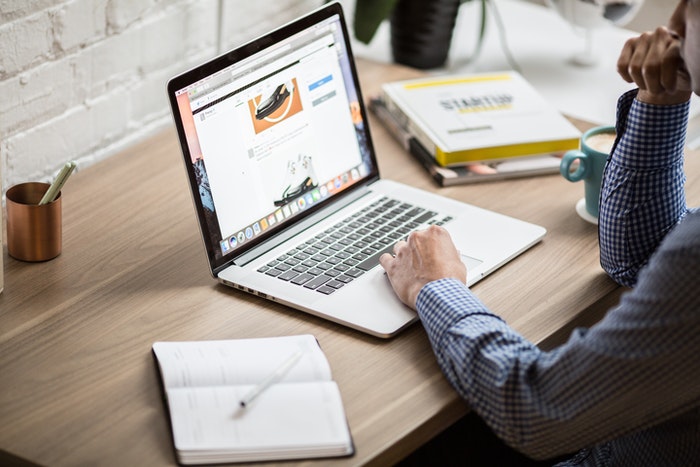 Picture this scenario. The top end of your marketing funnel is starting to run like a well-oiled machine. Each month, more and more visitors are streaming to your site via your increasingly effective email campaigns, Facebook ads, and content marketing strategy.
Much to your consternation, though, this increase in traffic doesn't translate to a proportionate boost in your sales. For months, your conversion rate remains largely unchanged. You're pulling your hair out because so much of the money you're pouring into lead generation is wasted, and you have no idea why.
If this describes your business, don't worry. This is a very common scenario – companies worldwide struggle with conversion rate optimization (CRO). There's always room for improvement, making it a journey that never really ends.
However, if you're just getting started with CRO, there are solutions you can implement quickly and without the need to involve CRO specialists. In this post, we'll take a look at four of my favorite "quick-win" CRO strategies.
1. Remove the Fear
This strategy is especially important if you're selling a subscription-based service. For many customers, buying something intangible creates a bit of apprehension – after all, they can't hold it in their hands and inspect it like they would a material product. This concern is often multiplied if they're making recurring payments for access to the service.
In these cases, offering a money-back guarantee will help you remove that fear. It's a relatively risk-free strategy since you won't have to worry about recovering the product from your dissatisfied customer.
To implement this strategy effectively, you'll want to ensure that your guarantee is very visible to your visitors. Take a look at how Ultimate Meal Plans shines a very bright spotlight on their guarantee. Firstly, there is a graphic in the landing page's hero header section, where it's virtually impossible to miss. At the same time, it doesn't distract the visitors' eyes from the primary purpose of the header: communicating the product's main selling points.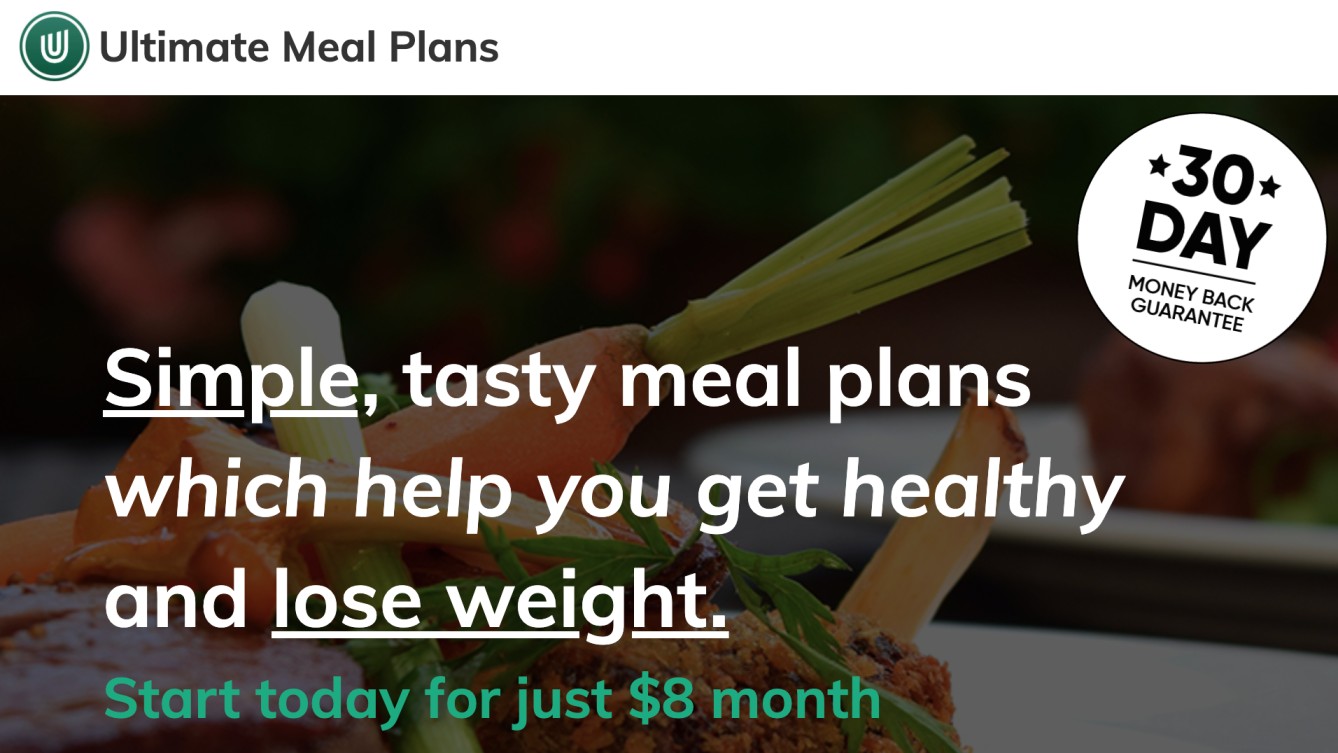 Source: ultimatemealplans.com
Secondly, there's a UI element dedicated entirely to giving some more details on the guarantee. In as little as 30 words, the site removes any fear that a customer will be locked into a contract with a product that doesn't meet their needs.
2. Address Your Audience's Problems
Visitors that arrive on your site via marketing channels have already shown an interest in your product. Whatever call-to-action brought them to your landing page is what has already created awareness and interest. Your job now is to hook these prospects with a copy that shows you understand their problems and that your product will solve them.
This copy sits alongside your Add to cart CTA as the essential element on your landing pages. If a visitor cannot tell within a matter of seconds how you're going to make their lives better, their mouse pointer is heading towards the browser's back button.
Here are some tips on implementing this strategy effectively:
Understand Your Prospect' Pain Points
You're not going to write compelling sales copy if you don't know exactly what problems your visitors need solving. Of course, most of this information will already be sitting somewhere in your organization since it's part of understanding your product-market-fit.
Address Pain Points Head-on
Don't mess around with your sales copy. Don't get cute or too nuanced. Be absolutely upfront about this information. Don't expect your prospects to draw parallels between their needs and your product's selling points.
Minimize Distractions
This goes for visual and informational elements. While it may be tempting to populate your landing page with info about your product's history or your team's credentials, put yourself in your prospect's shoes. Ask yourself what they want to see to remain engaged, and make sure your landing page delivers.
Marketo's homepage is a terrific example of nailing these three goals. The headline copy instantly mentions the customers' pain points. It explains how the product will solve them – and it does so with literally no visual distractions interfering with the visitors' focus.

Source: Marketo.com
3. Use Video to Break Down Complex Ideas
I already touched on the notion of website visitors' dwindling attention spans. For some products, this is going to be a bigger problem than others. If you're selling something that prospects need to wrap their heads around before they understand how it can help them, you're facing challenges that many other websites aren't.
You can hire the most talented writers and combine their skills with those of a master graphic designer, but you'll still depend on a prospect's appetite for reading if you want to optimize conversion rates. Sadly, research shows that people are more likely to scan a website's content than engage deeply with it. This is terrible news if conversion hinges on your leads understanding difficult concepts. But the problem is not unsolvable.
The solution? Explainer videos.
When people can sit back and have complex ideas projected into their eyes and ears, they're more likely to remain on the page and retain the knowledge you're explaining to them. Furthermore, the web is packed with examples of how businesses leveraged video to increase their conversion rates.
One of my favorite examples is CaseComplete, whose excellent explainer resulted in a 23% boost in conversion rates. Selling a tool for gathering software requirements and generating requirements documentation was never going to be easy. As you can imagine, their product has a ton of moving parts. Their video did a fantastic job of positioning these in a digestible, meaningful way.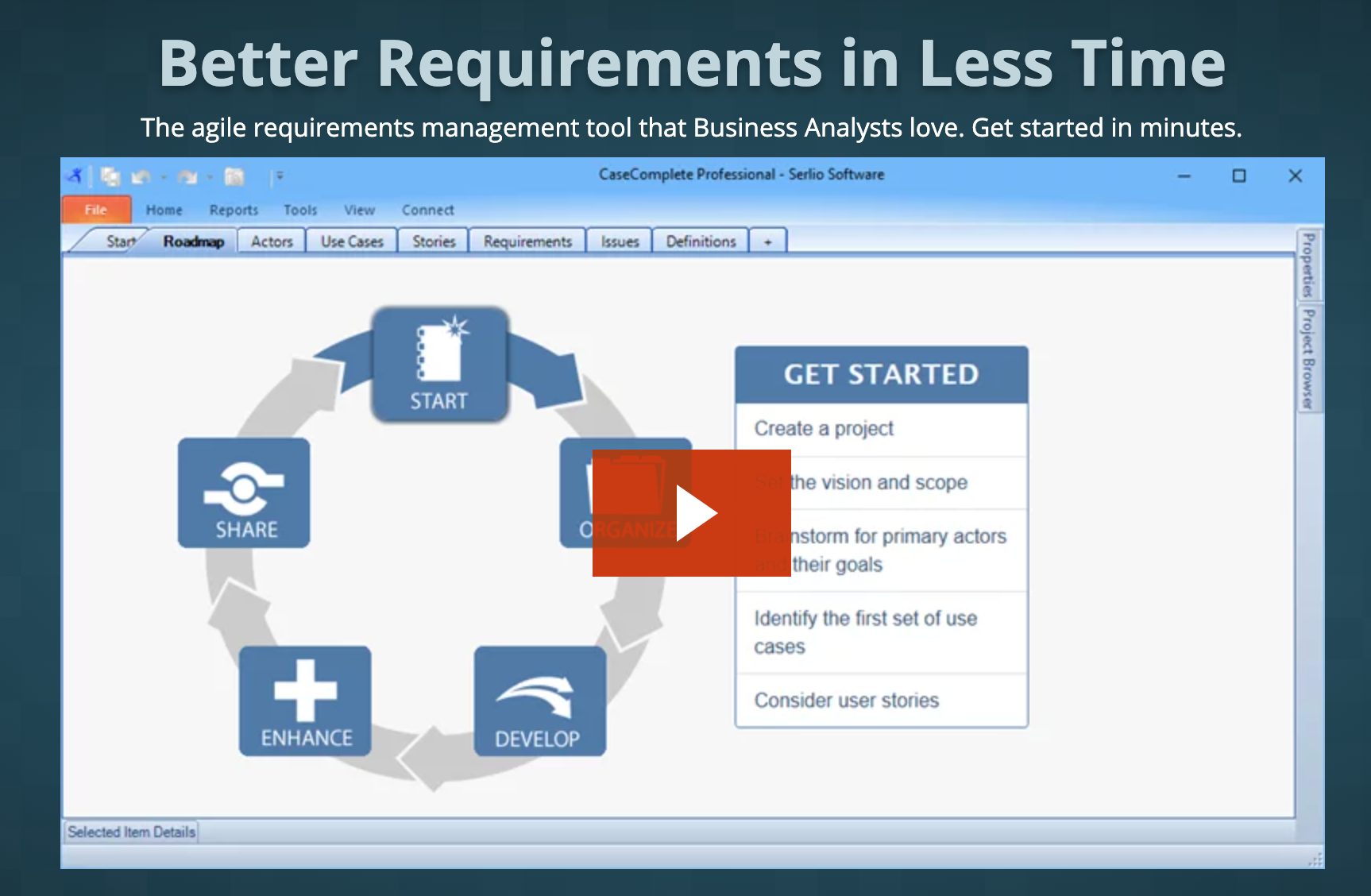 Source: Casecomplete.com
4. Offer Real-Time Interaction
This is just a fancy way of saying that you should use a chat feature either operated by a dedicated salesperson or an intelligent bot. The former would be ideal, as a human can pick up more nuances in the chat and know how to direct the conversation appropriately.
When prospects can interact with a person and instantly get an answer to a query they may have, they feel like their needs are being met, and so the site wins their trust. Furthermore, they're not forced to leave the landing page in search of an answer that may or may not be offered elsewhere on the site.
In a recent post, Campaign Monitor reported that sites using live chat typically experience up to a 20% increase in conversions.
Unbounce does this beautifully on their home page. Their chat feature even doubles as a mechanism to convey their primary selling point. "Hello! Welcome to Unbounce. Need a little help turning your traffic into conversions?" it asks right above the CTA that launches the chat feature.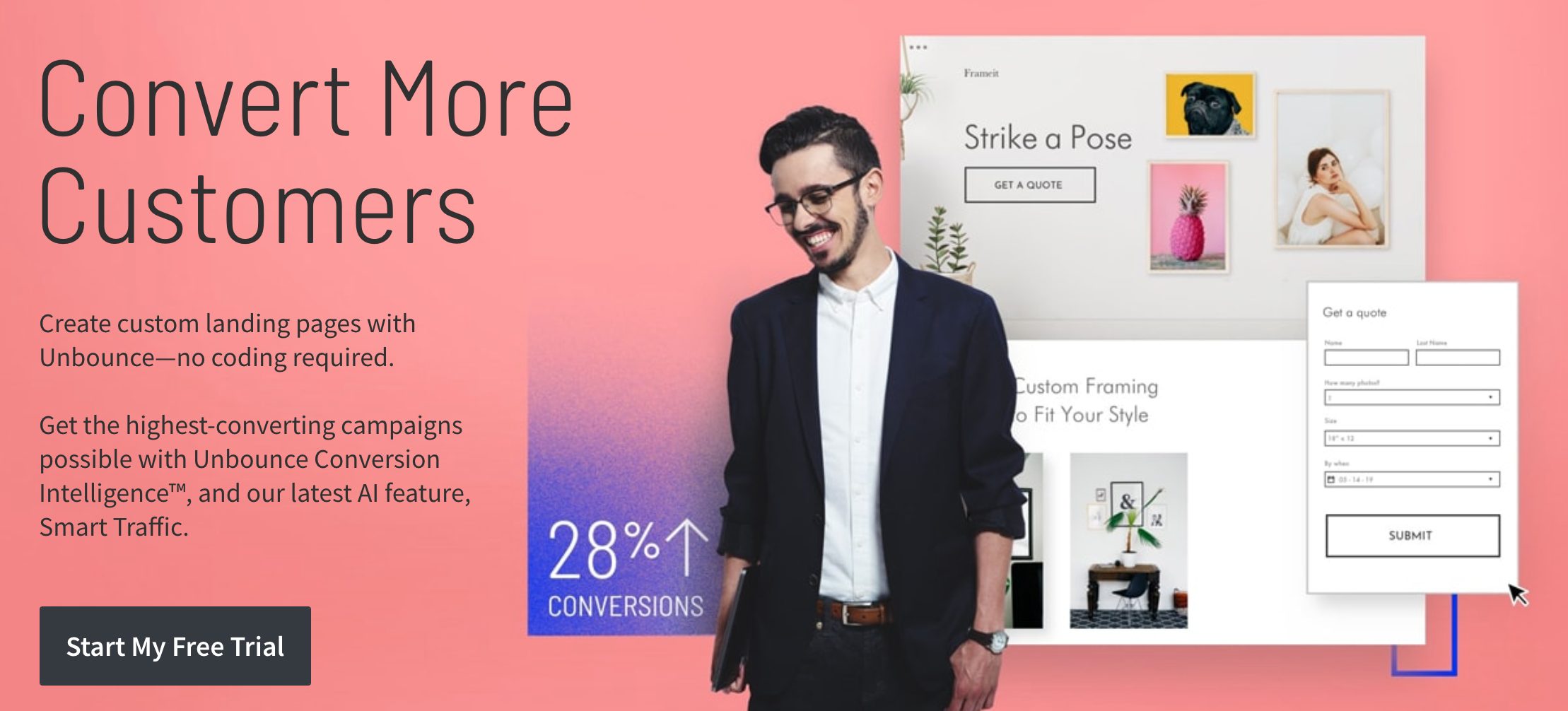 Source: unbounce.com
In Closing
Before signing off, I'd like to reiterate something I mentioned at the beginning of this post. While there's probably going to come a time when your site achieves an enviable conversion rate, you should never be satisfied. There will always be new strategies, tools, and trends that you can use to boost your conversions.
Commit to constant improvement. Test new ideas frequently. Keep reliable conversion rate data so you can see what works and what doesn't. CRO is a journey, and the strategies in this article are a great place to start.
Author:
Spyre Studios