The startup route is for designers who are also entrepreneurial souls. If you are the type to grind your way through to success, and love a high risk but high reward environment, then this might be the first job for you. There could also be a general lack of structures, systems, and processes. It is up to you and your team to figure out, but this is part of the set of challenges you are about to face taking this route. Just take note that almost 90% of startups fail. Be a stoic. Otherwise, choose to be part of the 10%. ????
B. The good 'ole corporate route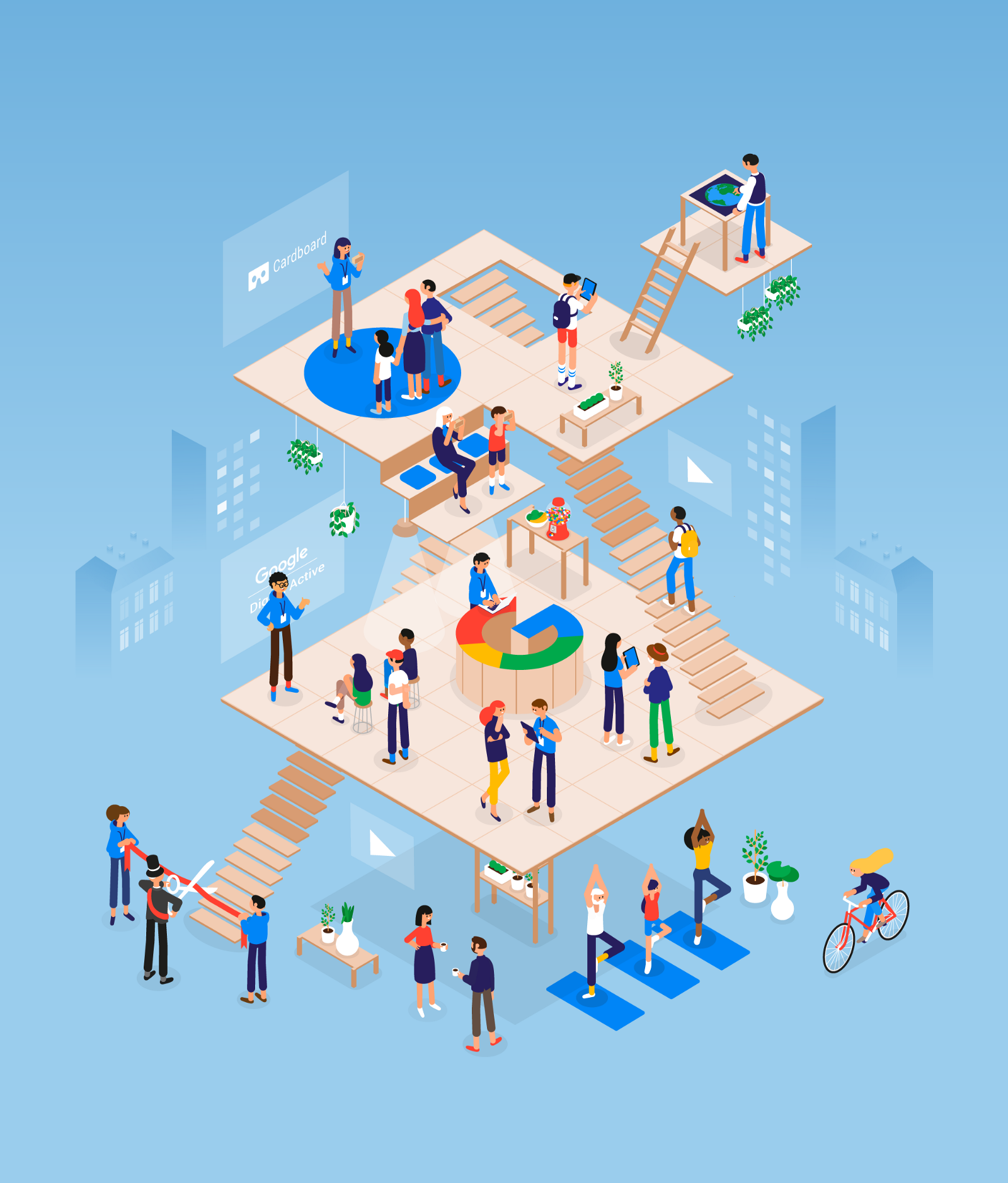 Artwork by Markus Magnusson
There are several things to consider when choosing a company to work for. It ranges from joining small web design shops to medium-sized design agencies, to full-blown big tech companies that have multiple product teams that have hundreds of designers. The most important thing you need to consider when choosing aside from the regular paycheck and secure benefits? Mentorship.
The reason why going to a company after graduation is such an obvious choice is because that are so many people who can help shape your career—people who are wiser, more intelligent, more experienced than you are. You can always get feedback from your manager, learn the ropes, and make your way through the design corporate ladder. But of course, there are still some parameters to consider.
If you're going the agency route, you have the chance to work with different clients, but the design work you'll be having could be high level in nature. You do some UX work for some time, meet the deadline, hand over the project, and that's it. The advantages lie in being able to jump from project to project, to get the trust of your clients and continuously win pitches for the agency, and to try to incorporate design to as many projects as you can. There's a possibility that you might still be the lone designer here, so there are a lot of overlaps with a startup setup.
If you're going the product route, you'll be immersed in a whole different world. You can't get away with badly designed experiences because you have KPIs (a type of performance measurement) to meet. You're going to have to wear your problem-solving hat and continuously innovate and go through your design process to work on certain features for long periods of time. You might be in the position to be working with cross-functional teams who specialize in prototyping, research, visual design, or UX. You answer to the product owner or product manager too. You're a product designer now. You have to be intentional about the things you design because everything is measured. You can't bullshit your way to success, but failing to learn is, of course, encouraged.
There might be differences in bureaucracy and how fast things are moving. Sometimes, there are a lot of approval levels to consider, which might be a hindrance to your growth as a designer. Choosing a company that values design, where it actually has a seat on the table is exceedingly important. However, in the end, it's all about the people who you are going to be with so make sure you do your research.