Today, we announce the long-desired release of Flat UI Pro 1.2. The main feature of this release is its support of Bootstrap 3.0, officially issued a few weeks ago.
This was a long time coming because of issues and the addition of new elements/code. Thank you for your patience!
Here are the most important changes:
Bootstrap 3.0 support;
New 50 colorful icons;
New icon format: SVG;
Text-based form controls are now 100% wide;
Search forms have been removed (".search-form");
A more flexible Bootstrap grid is used for assigning sizes of form elements using classes;
Append/prepend elements have been updated, the code has been moved to a separate file;
Appearance of tables on mobile devices has been modified, we have decided to stop using stacktable plug-in;
Lato font is now placed locally, which will resolve the issue with content uploads via various http/https protocols, and will make it possible to work locally with Flat UI;
.badge no longer has contextual (-success,-primary,etc..) classes;
Modal markup has changed significantly;
Alignment for tabs (.tabs-left .tabs-right) has been removed;
Main file with styles (flat-ui.css) has thinned from 147 kb to 114 kb;
box-sizing: border-box by default for all elements;
Documentation has been updated.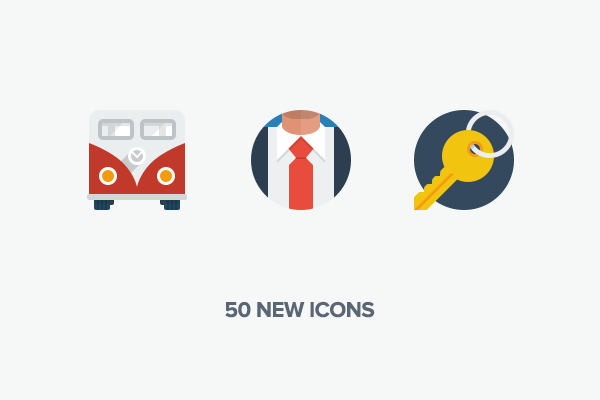 All those who have bought Flat UI Pro get updates for free. To download an update, log in to your account and download the archive containing the new release.
As Bootstrap 3.0 has been significantly modified, we've decided to support the old Bootstrap 2.3.2 version as well. So, our clients will be able to download both Flat UI Pro versions supporting versions 2.3.2 (Flat UI Pro 1.1.3) and 3.0 (Flat UI Pro 1.2).
If you aren't a buyer of Flat UI Pro, you have an opportunity to purchase the new version!
Thanks to all those who help us test and develop Flat UI Pro on GitHub.