Shopify is an eCommerce platform for online stores and POS (point of sale) systems for retailers. It includes a huge selection of tools for anyone looking to start an eCommerce business. Arguably it's not just software; it is a platform, an ecosystem for eCommerce.
It differs from self-hosted eCommerce solutions like WooCommerce, Magento, and OpenCart in that Shopify stores are hosted on Shopify's own servers, removing any third-party hosting setup and costs.
Shopify is available in 20 languages, and over 1M businesses in 175 countries around the world use it. Let's see how Shopify works.
How Does Shopify Work?
Shopify core has everything you need to start. Sign up for an account, add your products, configure the payment method, and your store is ready to sell. Simple, quick, and functional features include an online store, marketing tools, reporting, billing, shipment, and a powerful checkout.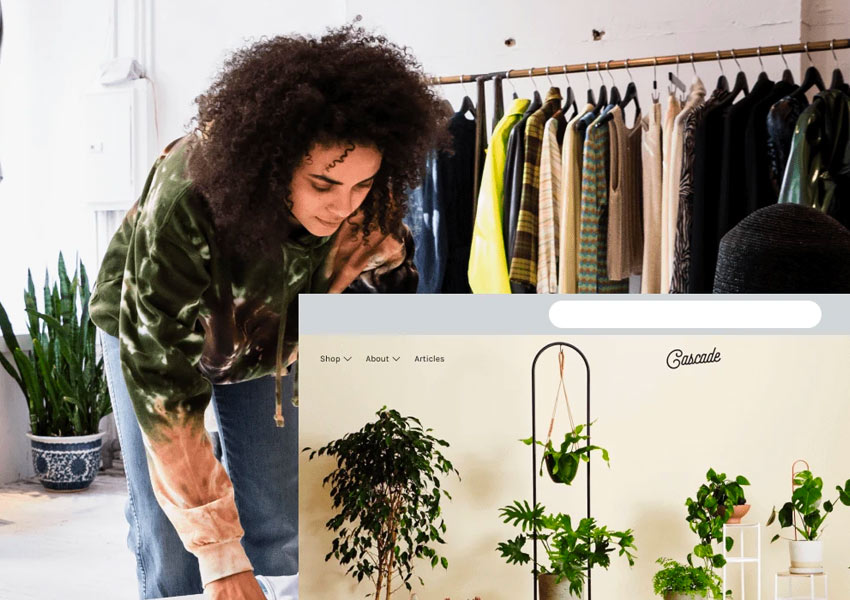 Shopify POS, on the other hand, helps you sell products offline at brick-and-mortar stores. It allows you to sync your product inventory at multiple store locations with your online store. You can also connect the Shopify POS app to other hardware like a card reader, barcode scanner, or cash register, to create a genuine shop counter for your store.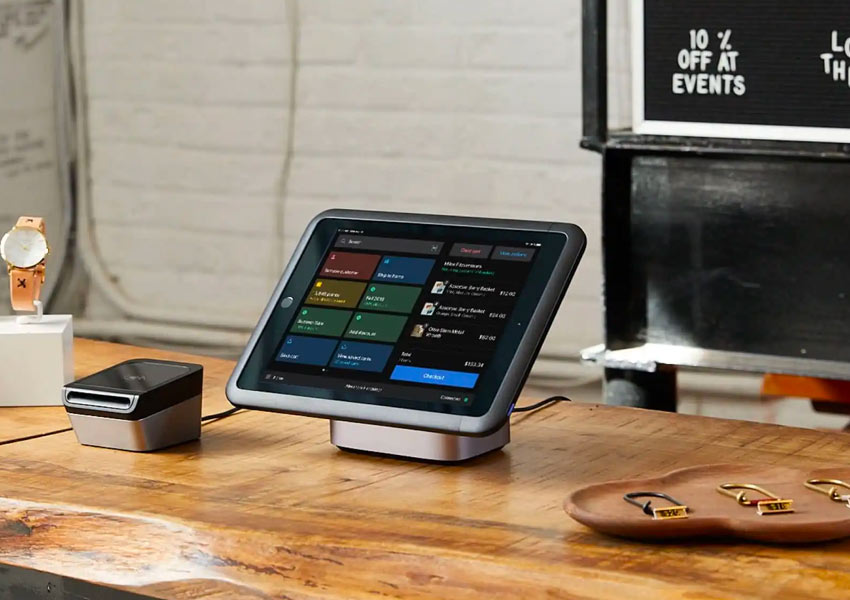 With Shopify you can use one of 100 payment gateways, or use Shopify Payments to optimize transaction fees.
After handling payment, you'll (probably) need to think about shipping. Shopify allows configuring shipping options according to your needs. With sales under your belt, review your business performance with analytics and reports. And use the mobile app to manage your store from anywhere. Finally, Shopify offers round-the-clock support if you run into any difficulties.
Scale Your Business
The Shopify ecosystem offers additional products and services to scale your business.
For example, Shop Pay speeds up the checkout process and will increase the average checkout-to-order rate. Explore Sales Channels to promote your products via social networks. Shopify's Fulfilment Network enables store owners to forget about the pick, pack, and ship routine (USA only). Even business financing is available through Shopify Capital if you need additional funds (USA, UK, and Canada). Email and conversational marketing tools help store owners connect with their customers. And there's much more.
And if you need that personal touch to help you get started, Shopify Partners and Shopify Experts offer thousands of apps and services. Join the program yourself, or use their expertise to add a features needed especially for your business, your clients, or your location.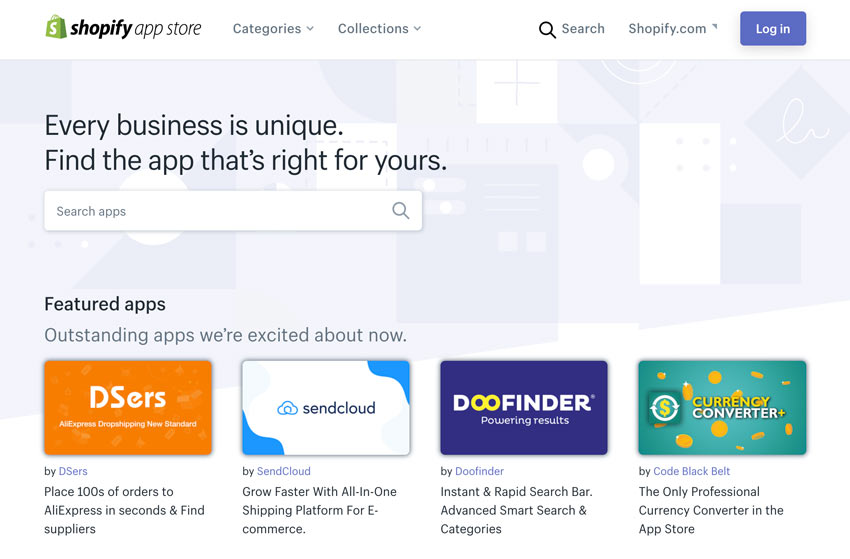 The online store's theme engine allows you to showcase your products in the best way. You may use simple themes from the Shopify theme store, or choose something from the Shopify category on Themeforest. Themeforest is the largest theme marketplace with a huge community, offering over 1,200 Shopify themes with advanced options and features.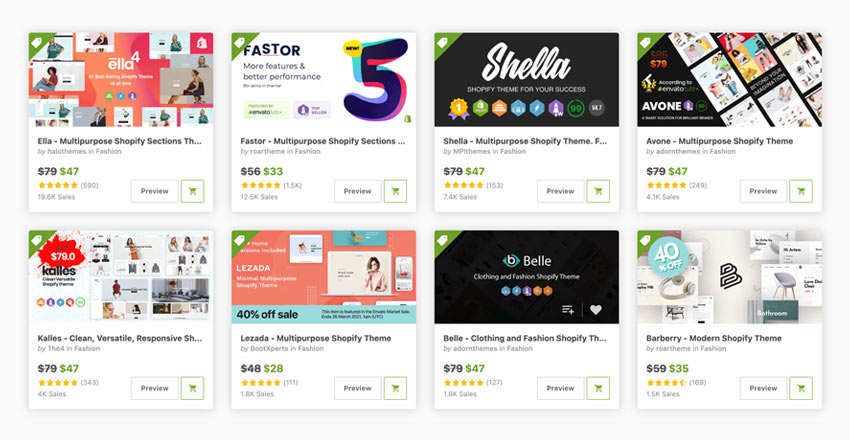 Need more? For very sophisticated businesses Shopify offers an application program interface (API) that allows you to build a unique solution.
How Much is Shopify?
Shopify offers five plans that suit businesses of every size, from single-person companies to large enterprises.
Shopify Lite: $9/month. Add a "Buy now" button to any website, whether it's on WordPress, Squarespace, Wix or anywhere else. The point of sale app allows you to accept payment anywhere. This plan doesn't include the Shopify online store.
Basic Shopify: $29/month. Arguably the best plan to start your eCommerce journey. It includes the online store, two staff accounts, at up to four locations. However it brings the highest fee per transaction, and comes with reporting and international limitations.
Shopify: $79/month. Perhaps best for businesses with one retail store. It offers five staff accounts, up to 5 locations, professional reports, a lower fee per transaction, and international features.
Advanced Shopify: $299/month. This is best for big businesses with two or more retails stores. It offers 15 staff accounts, up to eight locations, advanced reporting, third-party shipping rates, and a low fee per transaction.
Shopify Plus: $2000/month. Quite an investment, and therefore best for enterprise-size businesses. It includes ten online stores and the lowest possible fee per transaction, sales automation tools, dedicated SSL / IP address, and advanced security features.
You may save 10% and 20% on annual and biennial plans if you pay upfront.
Note: Shopify prices include hosting, content delivery network (CDN), software updates, DDoS protection, and robust performance. Shopify also offers a 14 day trial period. Shopify prices don't include premium themes, apps, and the customization service.
Tip: apply for a Shopify Partner account and create a development store without the trial time limit. Theme authors at Themeforest are usually Shopify Partners, so consider asking them to create a development store for you when you purchase your Shopify theme.
Does Shopify Take a Cut?
Yes. In addition to the monthly plan fee Shopify take a cut for each transaction made at your store. Transaction fees get lower as you go up the Shopify pricing ladder (see pricing plans listed above).
Note: by combining Shopify Plus and Shopify Payments the fee is waived.
| | | | | |
| --- | --- | --- | --- | --- |
|   | Basic | Shopify | Advanced | Plus |
| Shopify Payments |   |   |   |   |
| Online credit card rates | 2.9% + 30¢ USD | 2.6% + 30¢ USD | 2.4% + 30¢ USD | On request* |
| In-person credit card rates | 2.7% + 0¢ USD | 2.5% + 0¢ USD | 2.4% + 0¢ USD | On request* |
| Other payment providers |   |   |   |   |
| Additional fees | 2.0% | 1.0% | 0.5% | 0.15% |
* Credit card rates vary by country. Contact a Shopify Plus representative for the most up-to-date rates for your location.
Which plan you choose is up to you, and you can upgrade or downgrade at any time. If your store makes $4k per month, for example, the Shopify plan is a good idea. The Advanced plan is more appropriate for companies that make more than $20k per month.
How to Earn with Shopify
As briefly mentioned. the Shopify Partners program is an additional bonus for both merchants and web artisans, giving even more earning opportunities. Merchants get the best services and solutions, whilst partners get to work with a tried and tested eCommerce ecosystem and earn at the same time.
There are more ways to earn too:
If you are a blogger, apply to join the Shopify affiliate program and earn with each referral you send. On average, Shopify Affiliates earn $58 for each merchant who signs up using their referral link.
If you are a designer, create your own awesome theme and offer it to 1,000,000 businesses.
If you are a developer, create an app that offers a non-core feature.
The most proficient Shopify partners can ultimately become an expert and generate income via the Shopify Experts marketplace.
Try Shopify for Your Online Store
By choosing Shopify you will get more than the best eCommerce software. You will get years of experience, best practices, case studies, and ready-made solutions for any type of business. Shopify is driven by the Shopify core team and hundreds of partners and experts that are professionals in a very specific niche.
Lastly, if you're looking to build your own store with Shopify check out our free Shopify for Beginners course on the Tuts+ Youtube channel.
Shopify Theme Collections
Whatever your niche, we have collections of Shopify themes to get you started: