As a freelance writer, it seems like I'm always sending my resume out. Sometimes this causes some issues, usually with file compatability. I try to send a PDF, but this doesn't always eradicate the problems and my resume isn't always viewed the way it's meant to be. Due to these issues, I've been searching for different ways to put my resume online. Simply hosting and displaying the PDF online is an obvious option, but I've also discovered a number of services which allow you to place your resume information online in unique ways.
Vizualize.me is one of these services, an app which allows you to produce an infographic style resume. You start by filling in the sections present in the app (things like education and skills), then choose a theme and save. It's a simple and straightforward service with some fun customization options and pretty cool results. Stick with me after the jump to see the kind of things you can create with Visualize.me.
Creating a Profile
When you start using Vizualize.me, you can sign in with an email address or with your Linkedin profile (the only social network that really makes sense with this site). After logging in, you're taken to your dashboard. Here you can view your in-progress "Viz" and get to the profile, theme, styles and portfolio page. You can also access sharing and other features from this main page.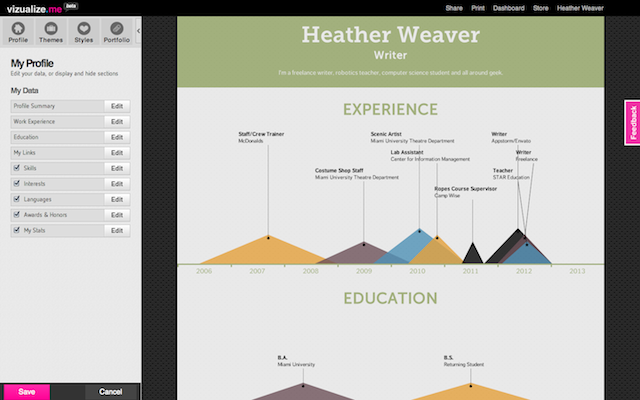 After checking out the profile, you'll need to fill in your profile with the appropriate information. Vizualize.me has all of the basic parts of a resume, including sections like work, education, skills and languages. To edit the content, simply click the edit button, edit and save.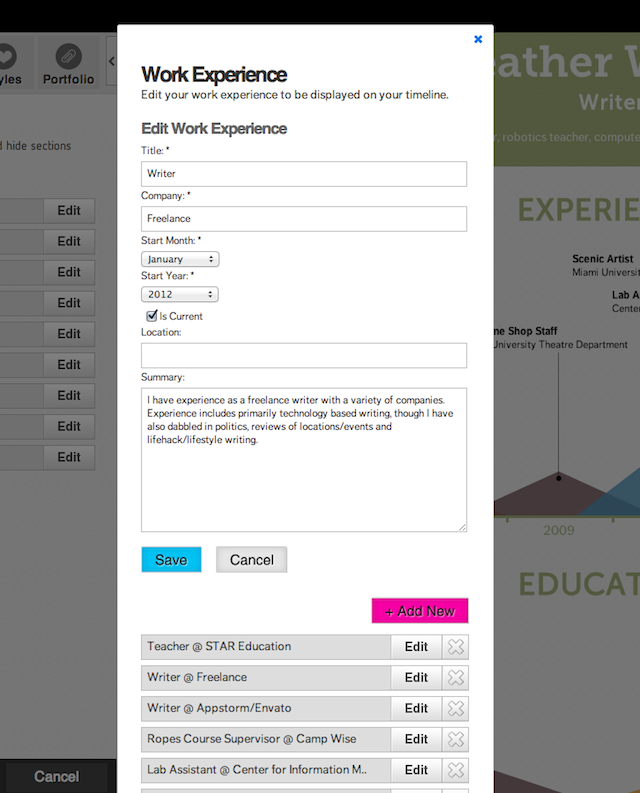 While editing the content of your profile, you might come across some sections which you don't need on the resume. Perhaps you don't speak a foreign language, so you need to hide the language section. To hide a section, just uncheck the box. The most important sections (work, education, profile summary and links) cannot be hidden.
One of the coolest parts of creating a Viz on Vizualize.me is exploring the different ways your information is represented. When you edit sections like work or education in the profile, you don't have much control over the look (that comes in the theme section). Some sections, however, have interesting graphics which you control in the editing section. When adding a skill, for example, you add a skill name, proficiency level and years of experience. This info is used to make an interesting, graphic representation of your skills.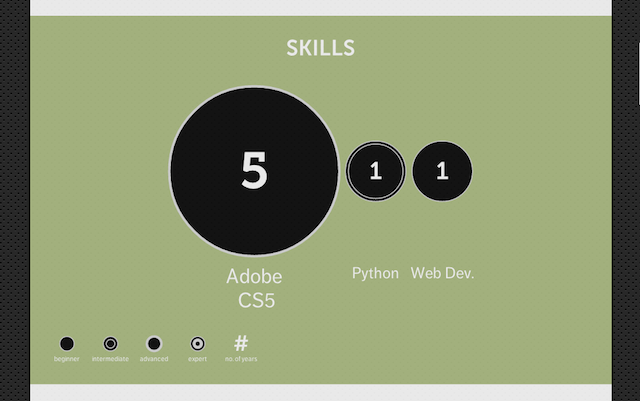 Vizualize Your Resume
After you add all your relevent content, you must choose the overall look of your resume. The theme section is your first stop. Here you choose a pre-made theme which gives your resume a distinct look and feel. Keep in mind that you can't edit the shape and layout of a theme, but you can change colors, fonts and even images in the style section.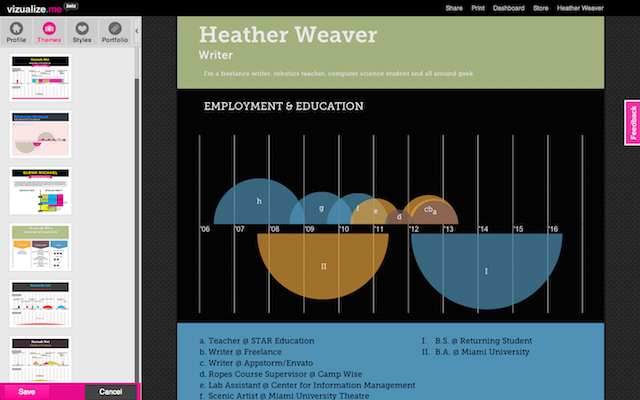 In the style section you have a limited amount of control over your resume. Start by editing your colors, choosing from one of the pre-made color schemes. Once you choose the one closest to your vision of your Viz, you can edit the colors further for different elements. You can also change the fonts for various elements and sections, by choosing from a very limited menu.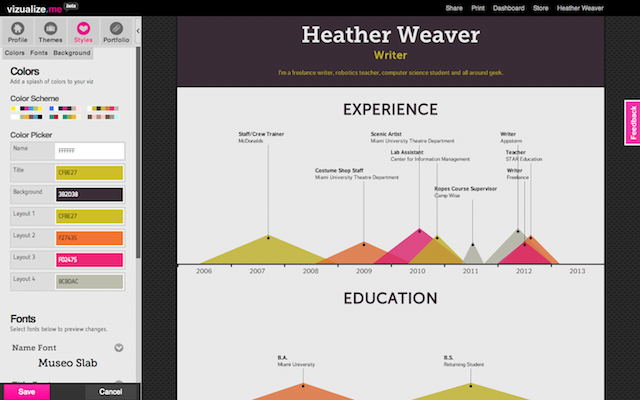 Sharing and Other Features
Once your resume is complete, it's time to share. If you want, you can use the resume you created on Vizualize.me like an old-school paper resume. Just use the print option to export your Viz as a PDF. This is also the way to download a shareable file if you wish to send off a digital copy.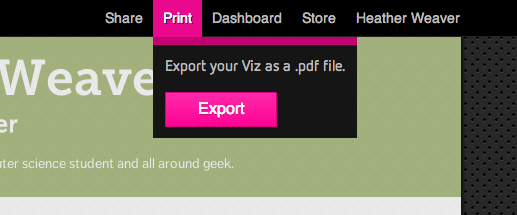 If you want to share your Viz, there is a unique URL available in the share menu.
There are some other features that Vizualize.me offers at times. One is a store, where you can print your Viz on a t-shirt. This feature isn't currently available from the associated t-shirt manufacturer, but Vizualize.me seems to be planning to offer the feature again as the store option is still available.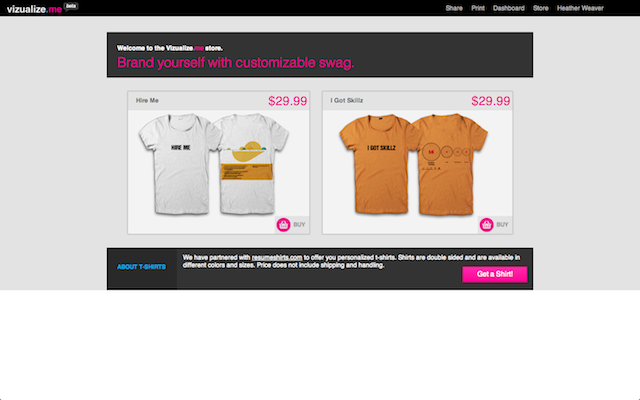 Another future feature Vizualize.me plans to offer is a portfolio section. I'm excited to see how this new feature works with the rest of your Viz. I'm curious to see if the features work well together or if Vizualize.me is better off sticking to the Viz which they produce so nicely.
Final Thoughts
After taking time to experiment with Vizualize.me, I'm quite happy with the Viz that I created. I think that the final product looks really nice, and I was able to get all of my information onto the resume. A problem I've found with similar services is that not all of the relevant resume sections are present, but that's not an issue with Vizualize.me
Overall, the site seems to be well-designed and it works quite well. The process of creating a Viz is easy to understand and I was certainly happy with the final results of my creation.
I do have a few little bones to pick with Vizualize.me, of course. My biggest is that the style section could stand to allow for a bit more freedom. I wish I had greater choice over the colors and especially over the fonts. Increasing the font selection would also be much appreciated.
All in all, I certainly recommend Vizualize.me. I've gotten great feedback from the clients I have sent the resume to and I think it's gotten me some good attention.
It's free, so why not give it a try? And when you've tried it, share your thoughts. Thumbs up or thumbs down? What works and what do you wish they would fix?