For this article in the international artist series, we turn to South Africa, featuring five illustrators and designers who create fantastic work, from lettering to illustration and more! I asked each artist how their country and culture inspired their work, and they delivered fantastic answers. Enjoy!
Pearly Yon
Pearly Yon is illustrator Simone Hodgskiss, who runs her design brand from Cape Town, South Africa. Her work is elegant and colorful, often focused on illustrative lettering. You can check more of it in her portfolio or see a small sampling below!
Bonnie & Clyde

"It's very hard to separate culture and country in South Africa. We are so abundant in culture and we have so many different cultures all living in one place, it really defines the country.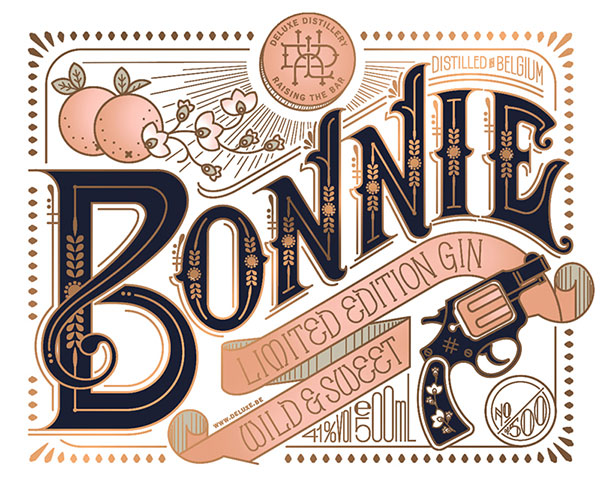 High Life

"That said I can say the country has influenced my work in terms of its agriculture. I've been involved in a few wine label designs because we are a wine country and wine label design is a big industry here.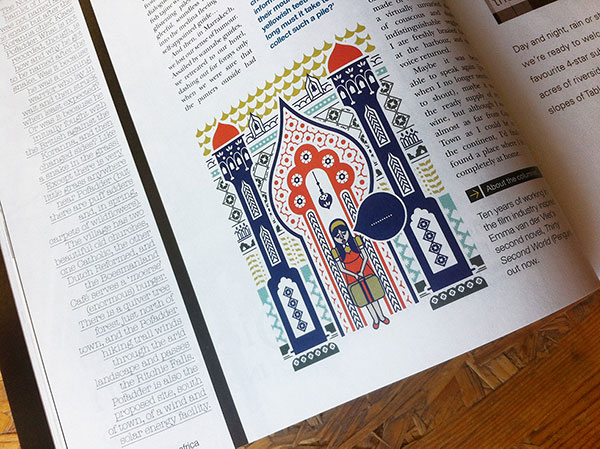 Essie Letterpress 2015 Almanac

"The South African culture has influenced me in the use of lots of pattern in my work. African cultures are vibrant with textile design and often patterns are worn with other patterns and in the chaos they somehow work together."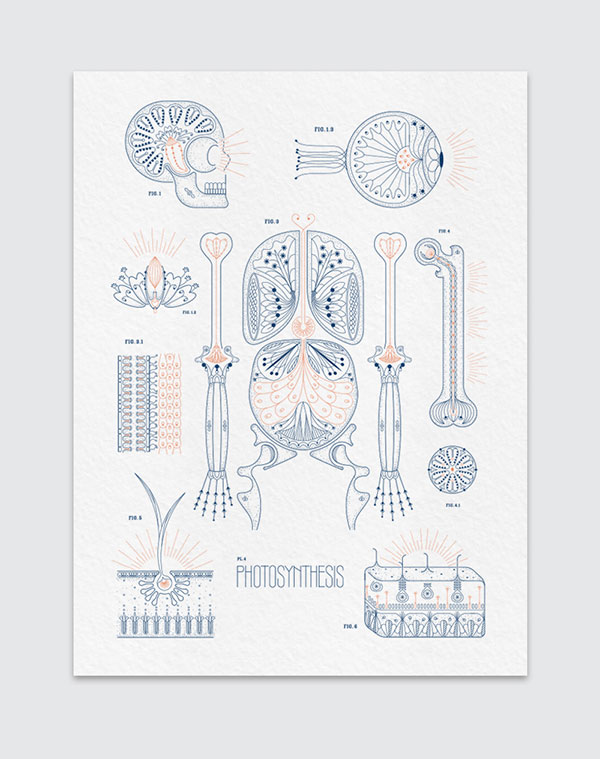 Concerto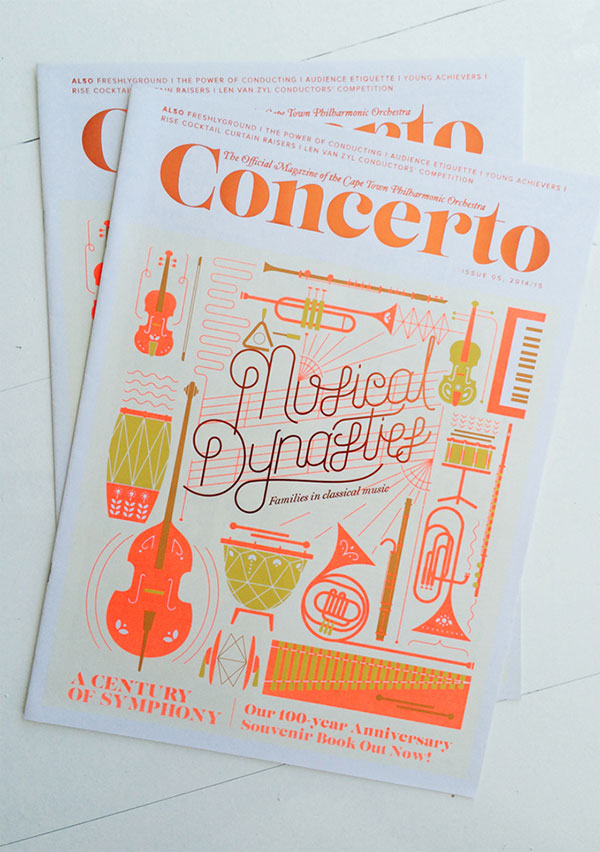 Makers Company
Gert, Stephan, Carike, and Naydine form Makers Company, a design studio based in Cape Town, South Africa. Their work focuses on vibrant and motion-filled illustrations and design work, often used in product design or editorial work. You can check out more at their portfolio or in the small selection of work below.
Experian – Cost of Sport

"South Africa, with its diverse range of cultures, rich natural heritage and interesting cities form the perfect backdrop for any creative.  What our country lacks in proper internet infrastructure, art orientated scholarships and creative associations protecting artists rights (all crucial ingredients to a flourishing creative industry) it makes up in its bold personality.
"We don't have Europe's rich artistic heritage that 2000 years of Western civilization has ensued, but rather an eclectic mix of both Western and African cultural influences, resulting in a unique artistic landscape.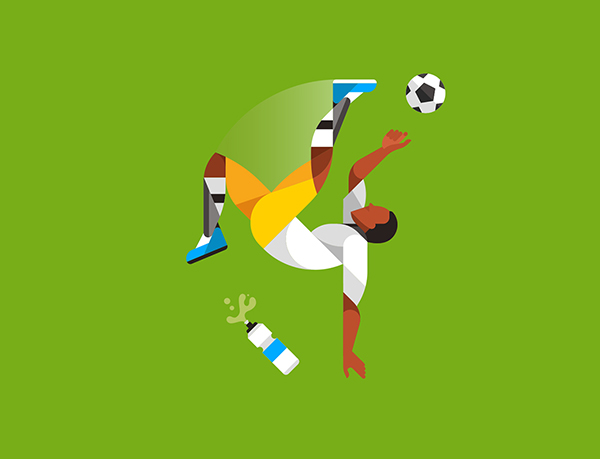 Superette – Iconography Collection

"Our history is one of controversies but with an overarching theme of hope and opportunity. With plenty of historical uphill battles, the development of art and design has only matured after we reaped the rewards of a globalized culture.  With the advent of the internet, influences come so much from within its borders as from across it.
"But because of its third world challenges, South Africans have always inherited a mindset of problem solving and a hopeful entrepreneurial spirit.  The South African dream is one of survival and reinvention.  It's adapt or die.  Its creative industry reflects this.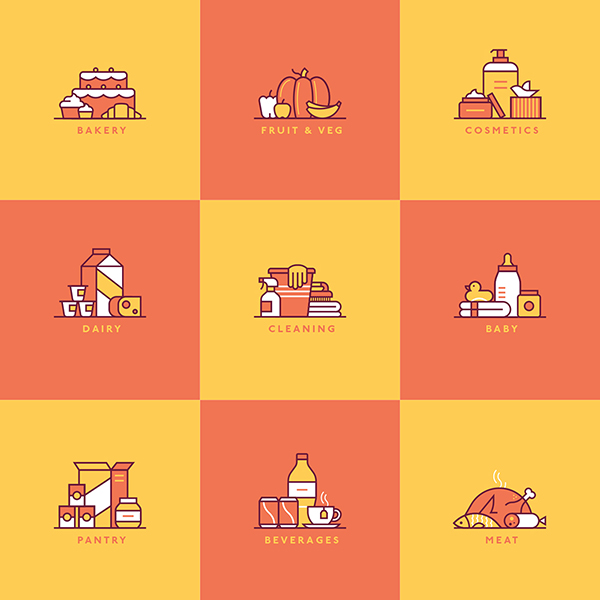 US Open Map

"Our country's political heritage and attitudes towards freedom of speech also creates a breeding ground for free creative expression.  We have the ability to treat daunting social challenges with a lighthearted and tongue in cheek sense of humor. 
"We have a thriving art scene, especially in cities like Johannesburg and Cape Town.  It's now design's turn to shine, and with opportunities like Cape Town's 2014 Design Capital program still fresh in our memories, the world has a renewed focus on our emerging design industry to offer fresh perspectives towards creative problem solving.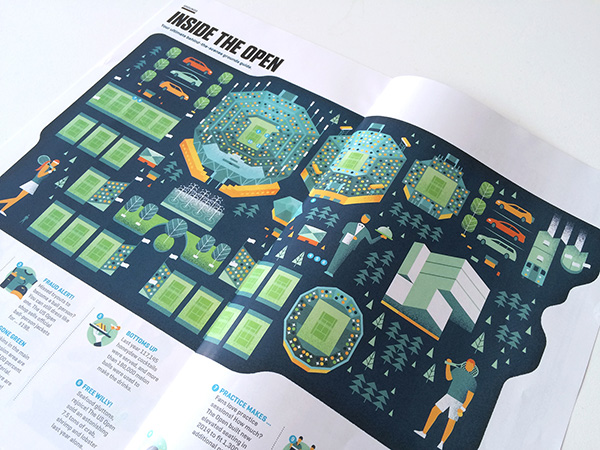 Greetings from South Africa – Postcards Series

"In regards to our work, I think it draws inspiration from a wide range of places: from the abstract simplicity of rock art to the geometric patterns of indigenous folk art.  Our country's diversity is also evident in our eclectic style and multi-faceted portfolio."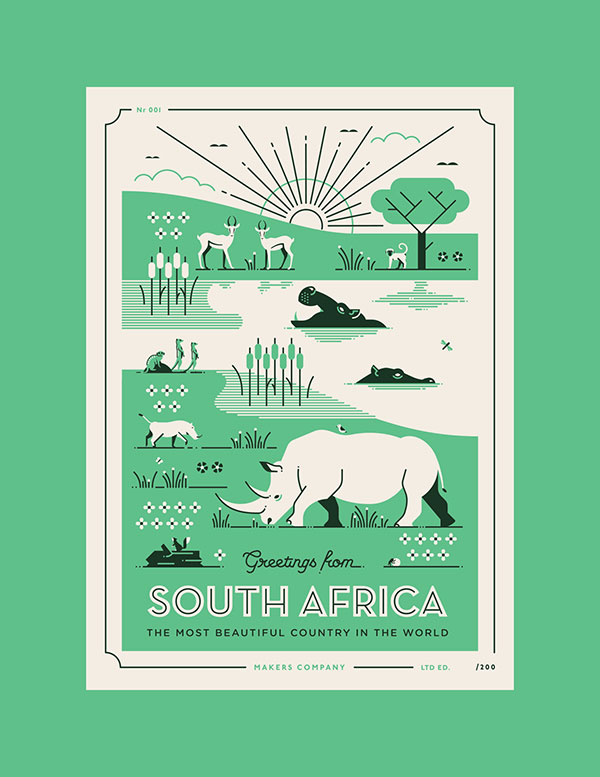 Jones & Co
Dylan Howe Jones and family make up Jones & Co, a Cape Town, South Africa-based illustration studio. Their work is expressive and wonderfully designed with a focus on geometric shapes and warm color palettes. You can check out more of Jones & Co's work at their portfolio or in the small selection of works collected below.
Euro Travel Illustration

"South Africa is a crazy, wild, and beautiful place and it's hard not to be influenced by it. My early illustration work revolved a lot around our political history and the injustice associated with that, but I think now I'm more influenced by the beauty, outdoor living, and any positive things I can find.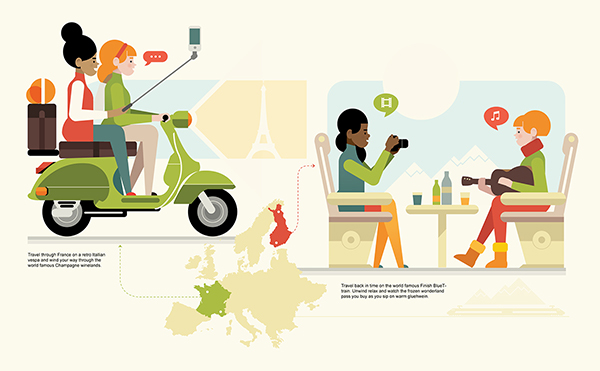 Health 24 Spot Illustrations

"There is a lot to be positive about and I try to reflect that in my work with things like surfing, carnivals, and a recent piece I did for a city call Port Elizabeth.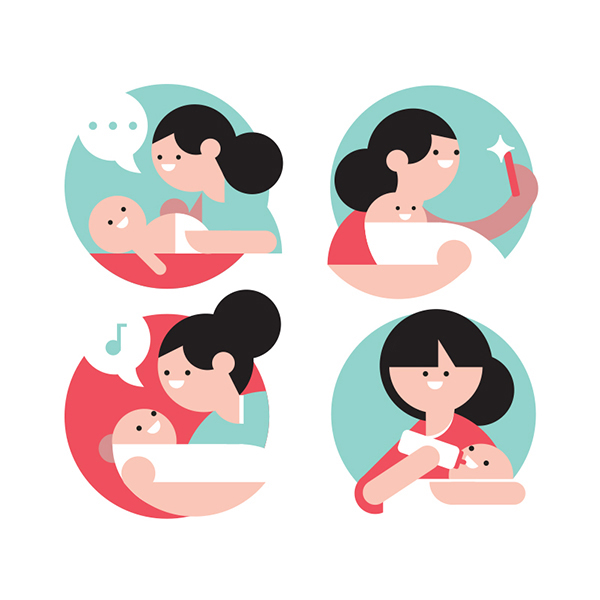 Happy Holidays

"Culture is a funny one. We have so many diverse and rich cultures in SA, but as a white English male it's hard to really have your own unique culture. A lot of white people are 2nd or 3rd generation English immigrants so we have roots in England, but we are not English at all.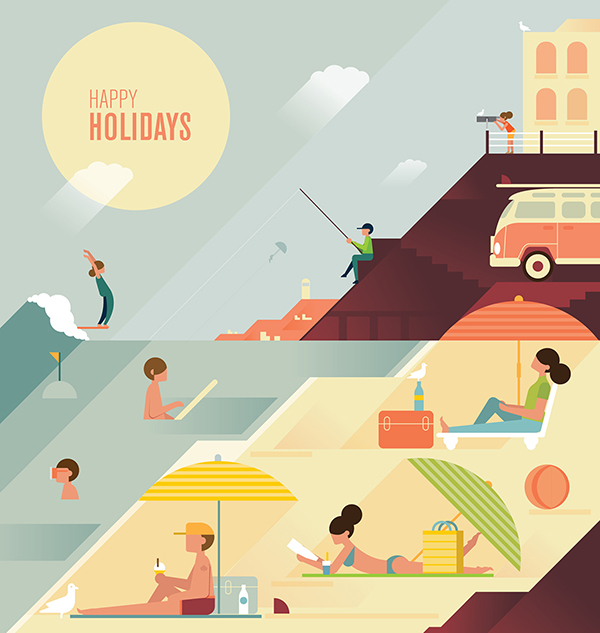 Strategic Marketing Magazine Cover

"For most of my youth I identified with overseas sub cultures like punk, straight edge, skating and graffiti. Now that I have kids I can see little bits of my unique African culture coming through in them and in my work (it's fun to watch).
"I love my country and I like illustrating the cultures I see around me. I try to reflect them for other to appreciate them as much as I do (ie. The Kaapse Klopse)."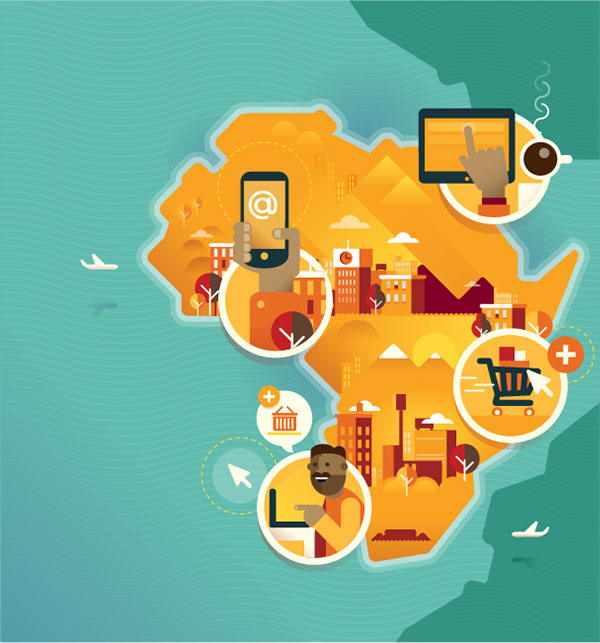 Graham Paterson
Graham is a social interaction designer based in Cape Town, South Africa. His work focuses on art direction, illustration, and graphic design. You can check out more of his dynamic work in his portfolio or in the collection of pieces seen below.
Lia Travel App – May 2013

"I think one of the biggest influences South Africa has had on my work is incorporating an element of warmth in my design and illustration work. Even when doing work that is more clean and "Swiss" I feel there's a slight element of imperfection. This imperfection gives a sense of humanity and empathy with the work.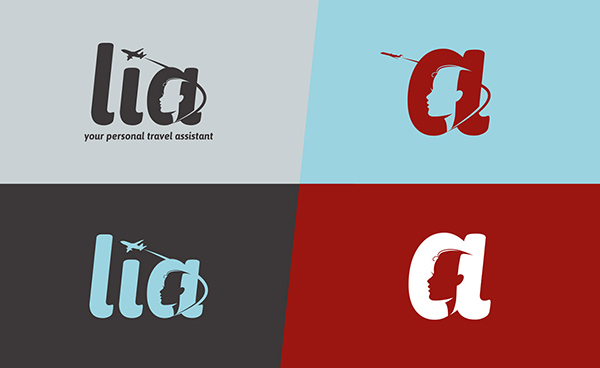 Black Coffee Milestone Illustrations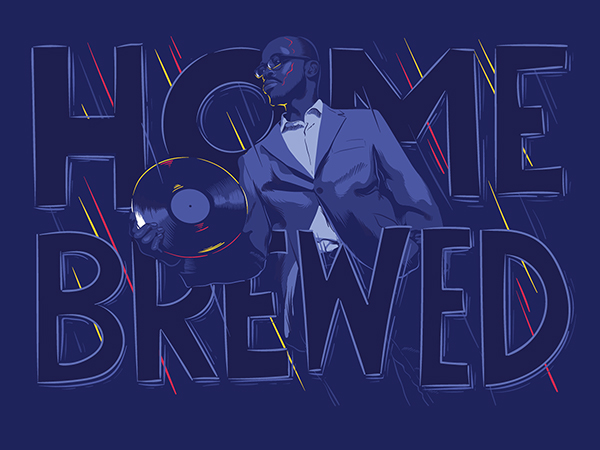 Cartel Bar Identity

"I'm probably less influenced by South African culture then most artists/designers, if anything I actively try to avoid the using cliches or SA culture. That said I do feel a strong affinity for patterns."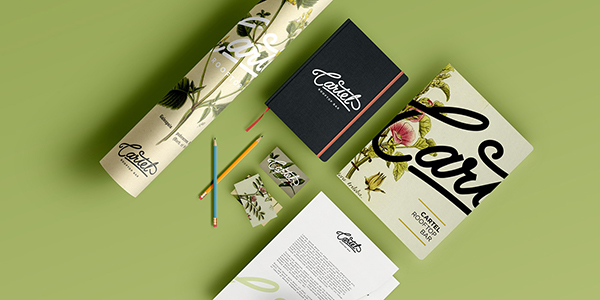 Just My Type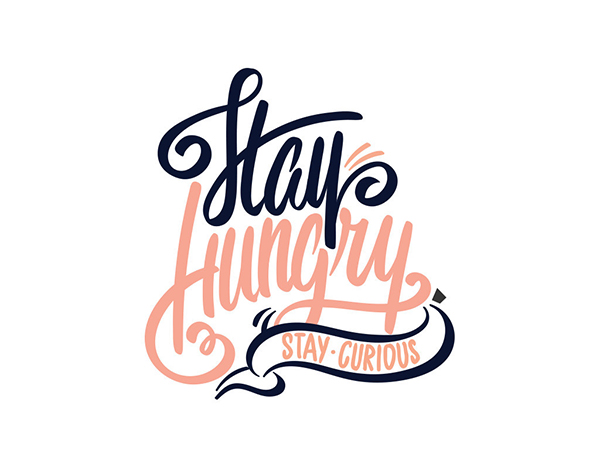 Oliver Hambsch
Oliver is an art director based in Cape Town, South Africa. His work focuses primarily on illustration and typography and much of it is comprised of fun character-driven designs and energetic elements. You can check out more of it at his portfolio or in the small collection below!
Death and the Maiden

"South Africa is a very multi-cultured country, each culture bringing with them their unique own aesthetic. The part of Cape Town I stay in particularly is very vibrant with different people.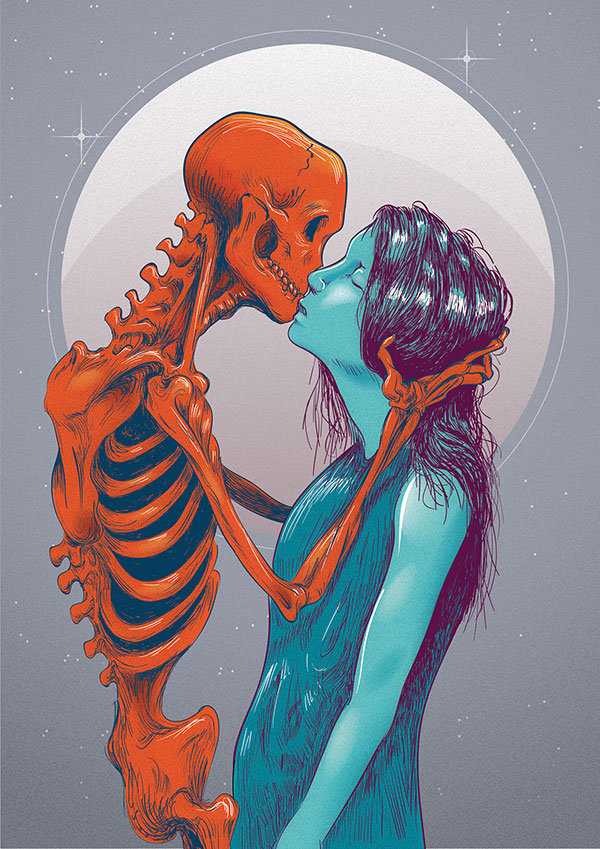 Dog Eat Dog

"We have a great amount of amazing street art, with many internationally renowned artist's pieces up. Around our neighbourhood there's a mural on almost every corner.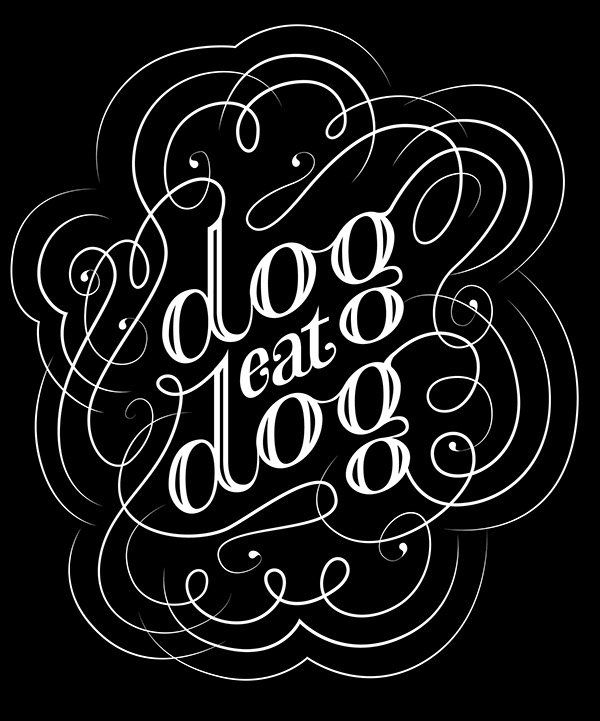 Africa

"I'm inspired every time I drive home from work. There's a strong art and design culture in South Africa that is particularly unique, exciting and inspiring."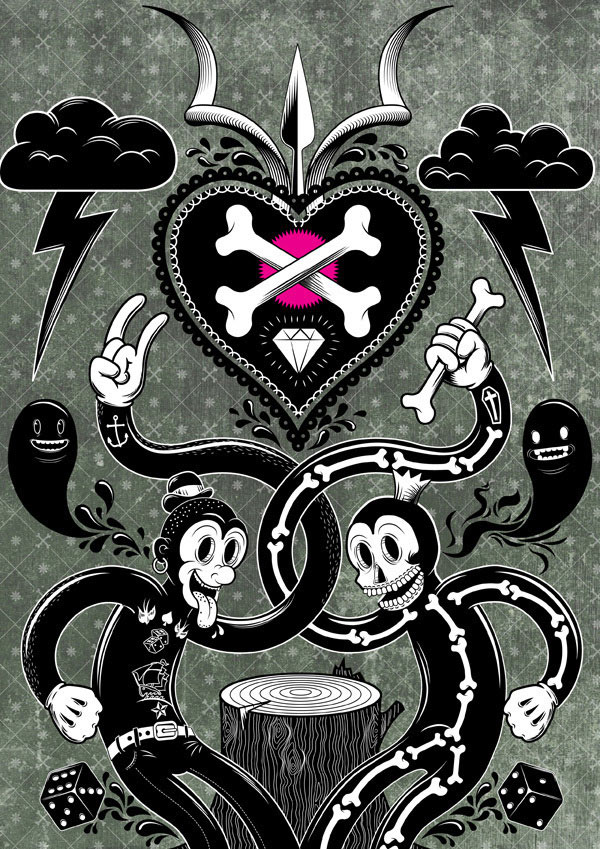 Assembly Poster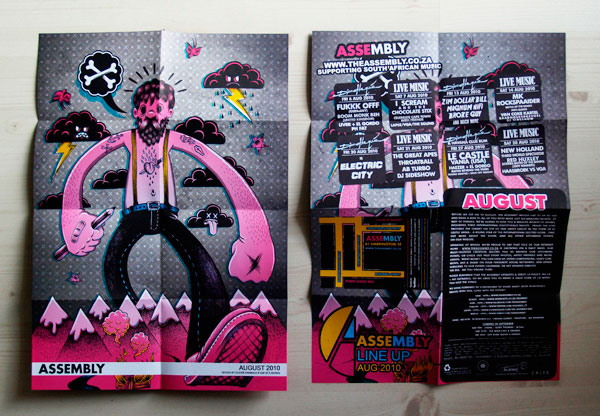 Many thanks to the artists and designers above who took time to discuss their country and culture's influence on their work. You can follow their portfolios at the following links: