If you own a small business, creating gift certificates that your customers can share with family and friends is a great way to increase interest in your business and boost sales. And the good news is that making your own gift certificates doesn't have to be expensive or difficult—all you need is a computer, a great template, and access to a printer. 
We can't help you with the first or the third, but for the second we've got you covered. Let me introduce you to Placeit, an affordable online design generator that makes professional branding, promotion and marketing tools accessible to everyone.
In this article, I'll showcase a number of terrific printable gift certificate templates, introduce you to the Placeit online gift certificate maker, and show you how to create a gift certificate online quickly and easily.
How to Make a Gift Certificate Using an Online Gift Certificate Maker
Step 1
Navigate to Placeit, enter 'Gift Certificate' in the search field, and hit return.
Browse the gift certificate ideas shown until you find one that suits your taste, and click on it to open it up in the gift certificate maker.
Step 2
To start customising your blank gift template, move to the controls on the right of the template and, starting from the top, choose a background colour for your gift certificate. 
Next, choose a frame colour and style. You also have the option here to choose no frame at all. 
Now you need to choose a graphic for your gift certificate. If you have a business logo or a special graphic for your business, you can use the Upload Image button to upload it from your computer. 
If you don't have a logo or graphic, don't worry. Select an image from those provided or if no relevant images are offered, enter a search term associated with your business in the search bar to find more appropriate images.  
Step 3
Now move to the left side of the customisable gift certificate template. 
Here you will enter all the text for your gift certificate. This can include any information you want, but at the very least should include your business name, the monetary value of the gift certificate, the terms under which it can be used, and an expiration date.
You can remove fields you do not need by toggling the eye to the left of each field off.
And you can add additional fields with the Add Another Text button at the bottom of the custom gift certificate template.
Once you've entered your text, you can keep the default fonts or select different fonts from the dropdown menu. 
You can also change the colour of the font using the colour picker. 
Step 4
One of the great things about this gift certificate maker is that you can move all the elements in the template and scale them up or down to create the exact look you want. 
If you don't like what you've done, then you can simply hit the Reset Layout button in the top right of the gift certificate maker, and everything will be reset to its original layout.
Step 5
Once you're satisfied with your design, hit the Download button at the top of the screen.
This will take you to the download page, where you have two options for purchasing your custom gift certificate. 
You can either pay a small fee for your single design or sign up for a monthly or yearly subscription that offers you unlimited downloads of all of Placeit's designs, mockups, logos, videos, and gaming templates.
Now that you know how to create a gift certificate, let's look at some of the best customisable gift certificate template available at Placeit.
Best Gift Certificate Templates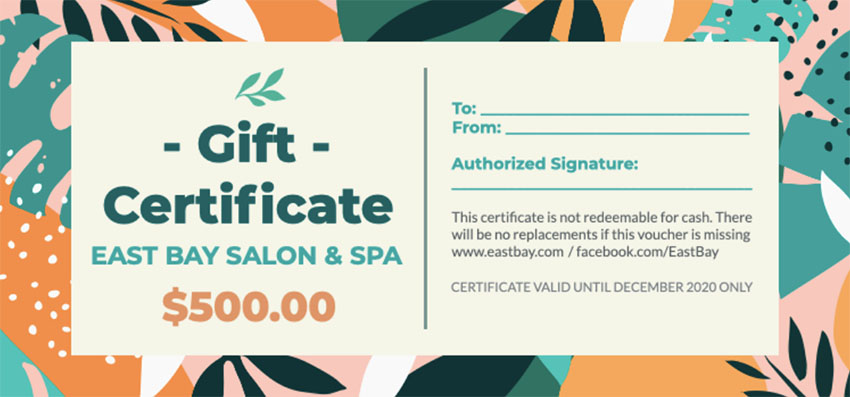 This business gift certificate template is flexible enough to use for any business, from beauty salons to fashion merchandising to art and design businesses.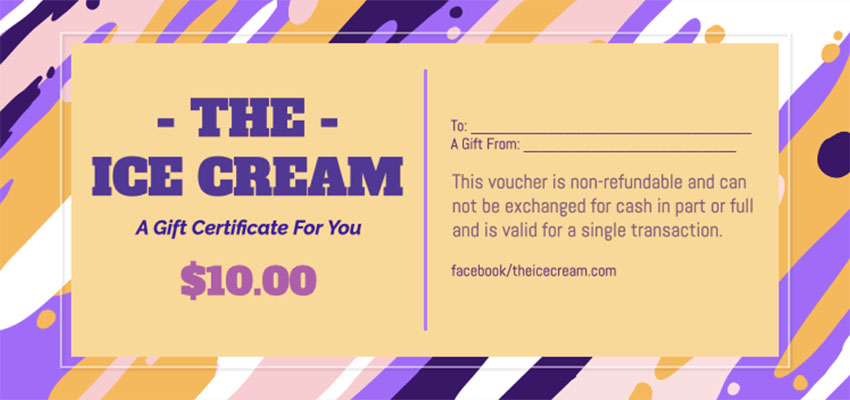 Here's another example of how you can customise the beautiful blank gift certificate template above to create a gift certificate for your specific business.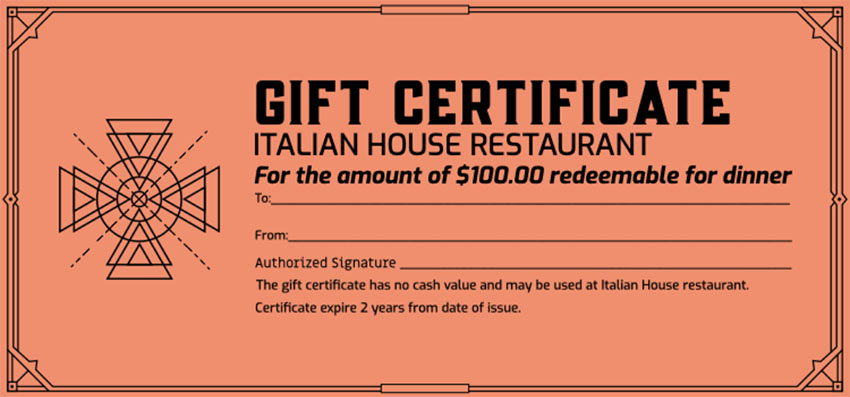 Learning how to make gift certificates can be time-consuming, and for the busy business owner, time is money. The good news is that with Placeit's customisable gift certificate templates, you can create a printable gift certificate in no time and get back to focusing on the more important aspects of your business.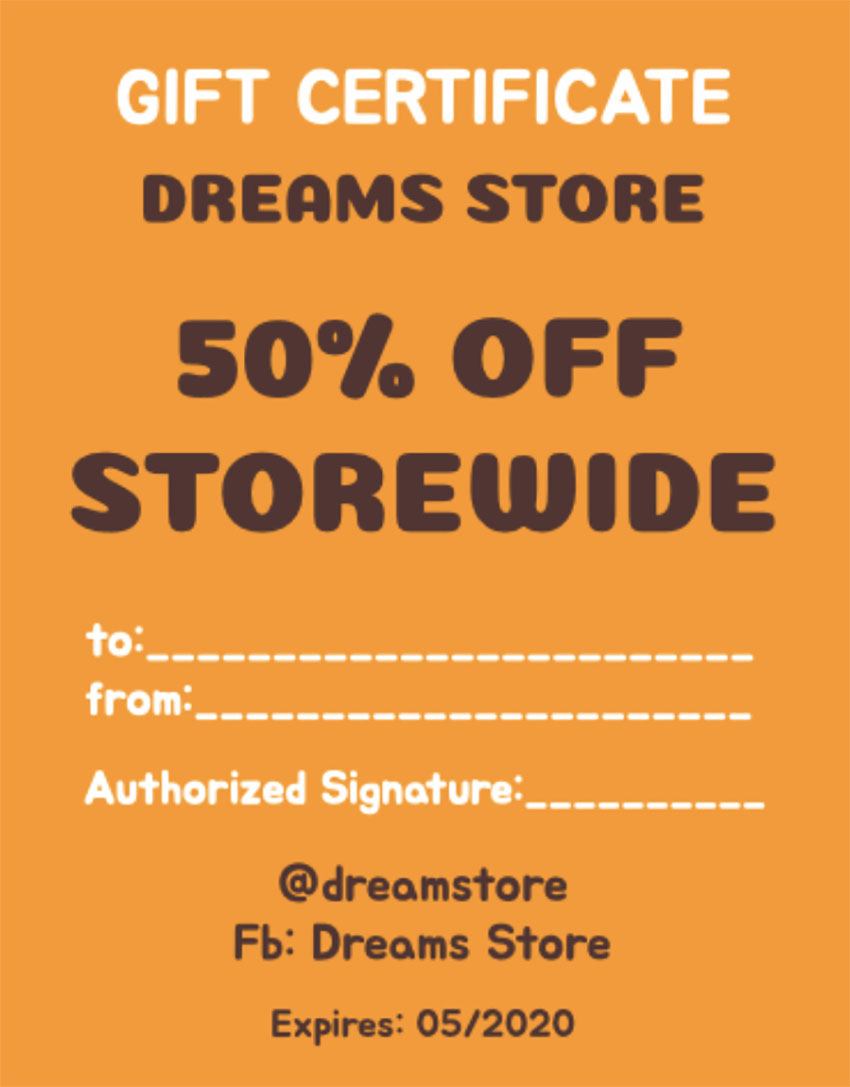 If you favour a vertical orientation for your business gift certificate templates, Placeit's got you covered with vertical templates like this one. If you like the template but would prefer an image-based background, adding one is easy with the gift certificate creator.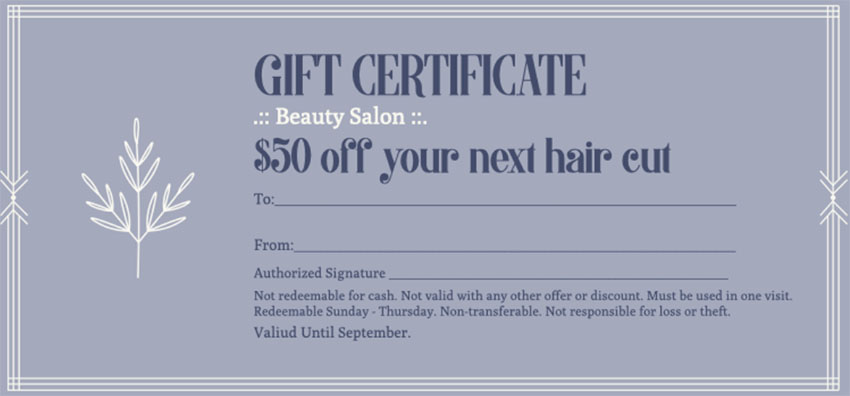 Here's a simple gift certificate template that you can do a whole lot with. Use the gift certificate maker to change the colour, images, text, and borders to create a look that works with your brand.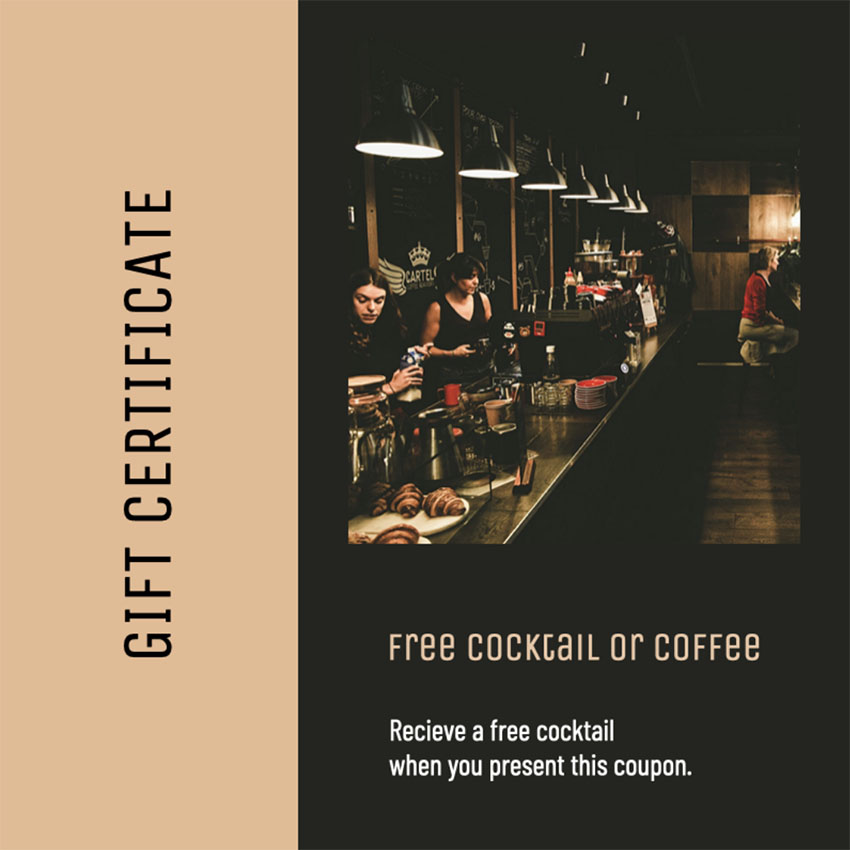 There's no reason that upmarket bars should be left out of the action when it comes to gift certificates. Stylish and sophisticated templates like this are perfect for businesses with a more exclusive clientele.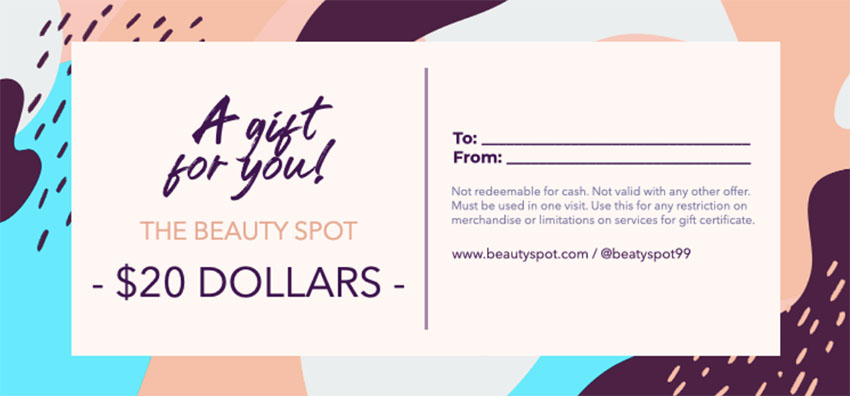 Here's a terrific blank gift certificate template for beauty and fashion brands. Use the gift certificate maker to add your details, and in no time at all your custom gift certificate is ready for the printer—or you can make a gift certificate template PDF if you prefer.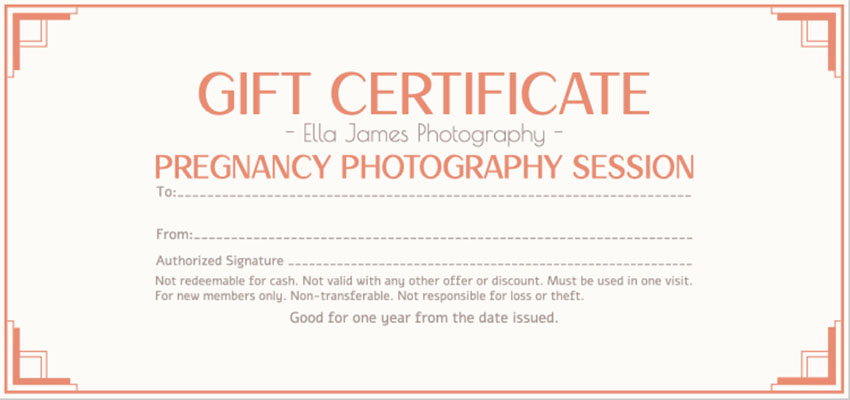 This flexible business gift certificate template is perfect for any kind of business. Though this example is for a photography studio, you can easily change the text and use it to promote a wide variety of different businesses.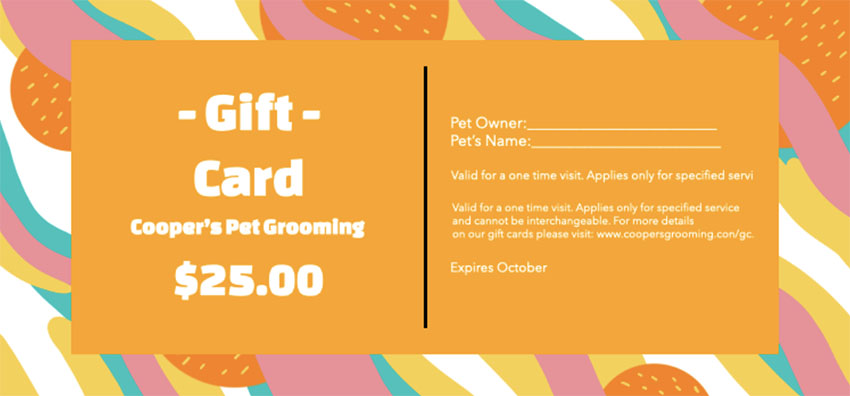 Pet owners will love this colourful and enticing blank gift certificate, which allows them to create gift certificates for their customers and clients. The gift certificate maker will help you transfer your template into a custom gift certificate in minutes.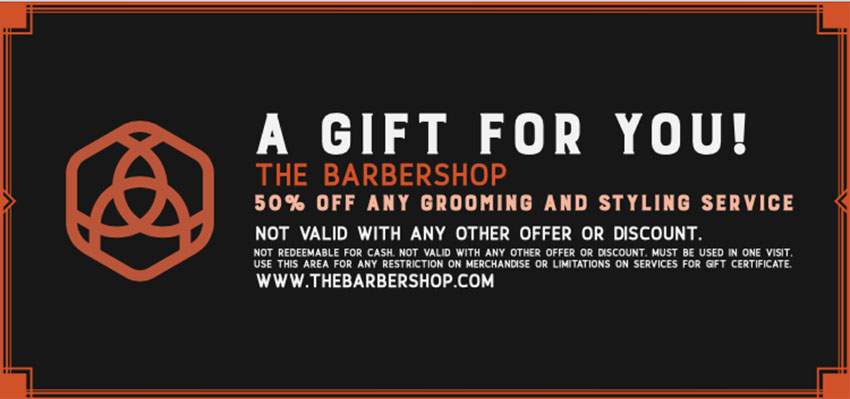 When you need gift certificate ideas, Placeit is a great place to look. There's no shortage of ideas of templates for different kinds of businesses, and you can use the gift certificate maker to customise them to suit your needs. 
Want to generate more referrals for your business? A gift certificate is a great tactic to use. With this gorgeous tattoo gift certificate template, you can drum up business for your tattoo parlour or other type of business.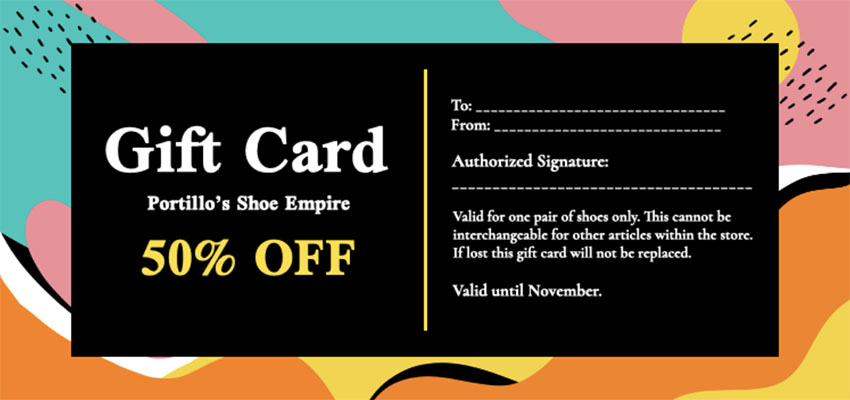 Colour, colour, colour! Guaranteed to catch the eye and please the senses. Use this customisable gift certificate template, and your customers won't be able to resist buying them for their family and friends.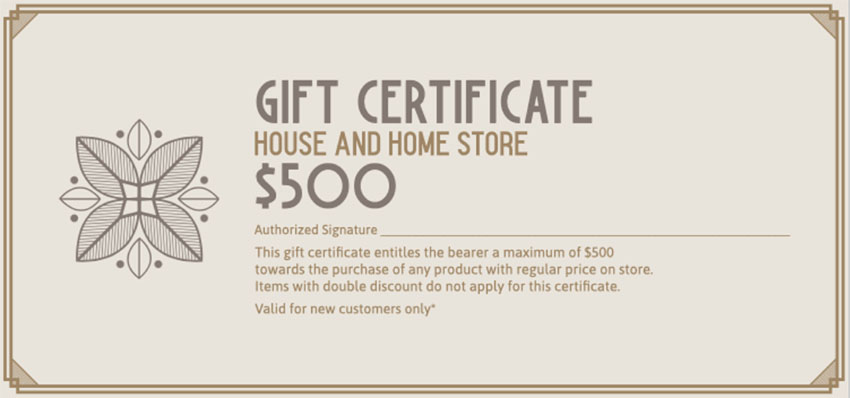 Don't know how to make a gift certificate? No worries! Just use this simple template, swap in your own colours, text, and images, and you're done.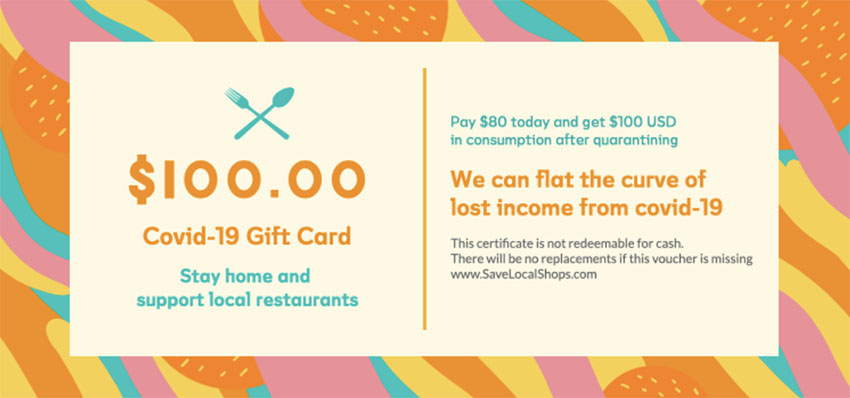 This printable gift certificate template can help you spread the word about your new business venture. The elegant design and abstract graphics make it easy to use it for a range of different businesses, with minimal changes required.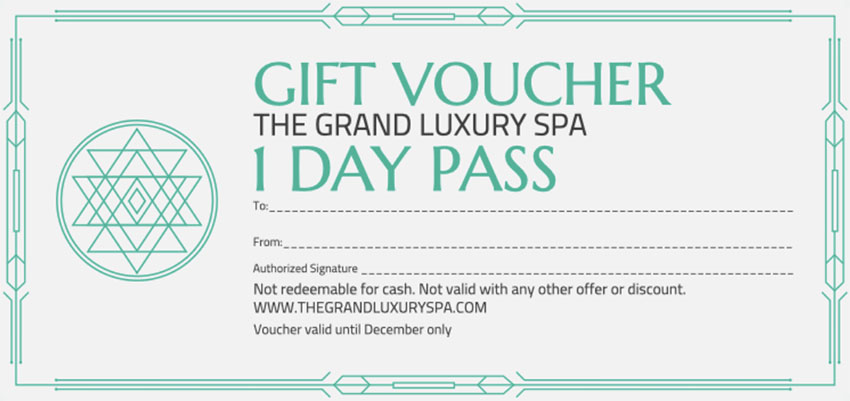 Keep things simple with this blank gift certificate voucher that's a great option for a range of businesses. Just add your text, logo, and colour scheme, and you have a simple but elegant certificate ready for use.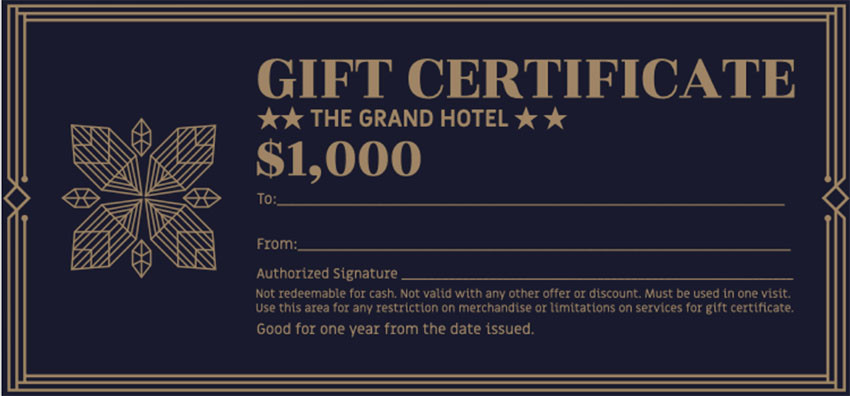 Gift certificates can be either physical or digital these days, and the online gift certificate maker is perfect for creating a web-based gift certificate. If the background graphic is not for you, don't worry—there are plenty more to choose from.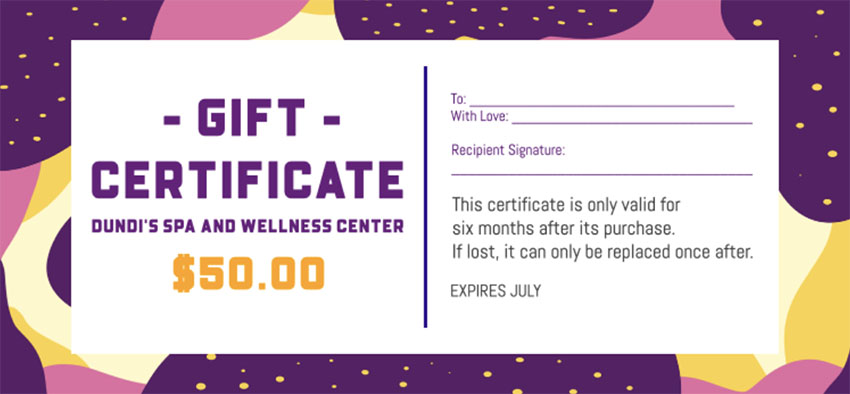 Let your customers give a gift that also spreads the word about your business! With this blank gift certificate template, you can make a stylish gift certificate that people will want to give away.
Make Your Printable Gift Certificate Template Today 

Placeit is a terrific go-to source for premium customisable gift certificate templates. You can create your own with the online gift certificate maker in minutes and download it for a small fee. 
Alternatively, if you regularly need mockups, logos, banners, and other design resources, Placeit offers unlimited downloads for one low monthly fee. 
Check out the following articles to see the other terrific resources available from Placeit.