What Is a Dark Mode Color Palette?
A dark mode, sometimes called night mode (and for the purposes of today "the dark side") color palette refers to a set of colors that feature in web design. Think moody shades of black, dark grey, navy blue, and other dark colors for the background, with lighter colors used for icons, text, and other design elements.
There's no denying dark mode creates an eye-catching visual style. However, this web design trend does more than just look good. There are many practical reasons for adopting this style too (more on this after I've listed my favourite WordPress Themes with dark mode).
Dark Mode Trend Examples
Once you're on the lookout for dark mode, you won't be able to miss it. Either websites will exclusively use dark mode, or many will have a dark mode option for users that prefer darker hues!
Take a look at some of these website examples for an idea of how the dark mode color scheme can look: 
Reddit: When logged in, users can choose to view their Reddit content via dark mode. White text and icons are easy to read against the dark black user interface. Accents of orange are also eye-catching for important calls to action. 

Slack: If you prefer a darker aesthetic, then Slack has an option for you too! Again, a pitch-black background appears behind bright white text and icons. Blue is used to highlight specific content and hashtags, web addresses, and usernames. 

The Verge: The tech website opts for dark mode as its main design aesthetic, using a black user interface against white text with eye-catching accents of green. Dark blue content blocks to hero content like 'most popular' is also difficult to miss.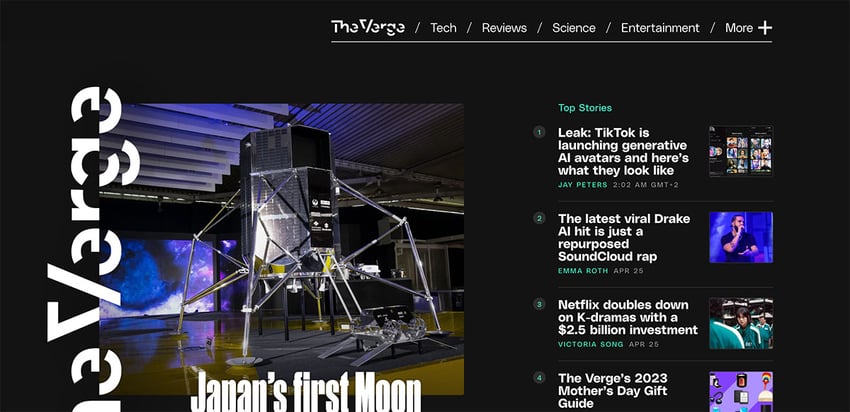 Top 15+ Dark Mode Color Palette WordPress Web Design Templates
Like the idea of dark mode so far? Then take a look at 15+ stand-out free and premium WordPress web design templates using the dark mode color palette! Do you have any other favorites not included in the list? Let us know in the comments below. 
With the Uppercase web design template, you don't need to make a longterm decision re light and dark mode as you can easily switch between the two. The design comes with plenty of well-designed demos, simply click the 'light' or 'dark' in the top right-hand side and you can flick between the two styles. You can incorporate videos into the homepage too.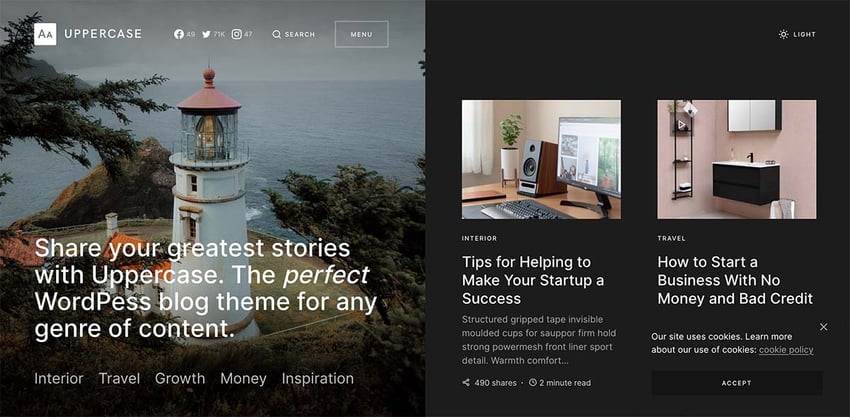 If you're searching for a dark mode WordPress template for your news and magazine business, then Newsblock is a great option for you. Check out the Newsblock demo, for example, where the dark full-width header complements the bright highlighted text in the header. In this demo, you can also see that light and dark aesthetics interact really well together, with some sections opting for a white UI and others choosing black.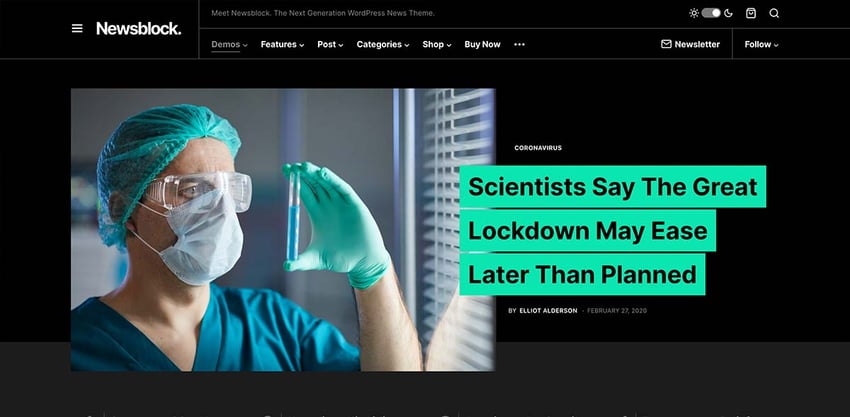 Looking for a new WordPress template for your tech business? Check out Networker! It comes with six demos, all different in style. The user simple ticks the light vs dark toggle at the top right-hand corner to pick their experience. If you look at the Gearbox demo, for example, see how you can incorporate content items like videos, gallery images, and features in the full-width header.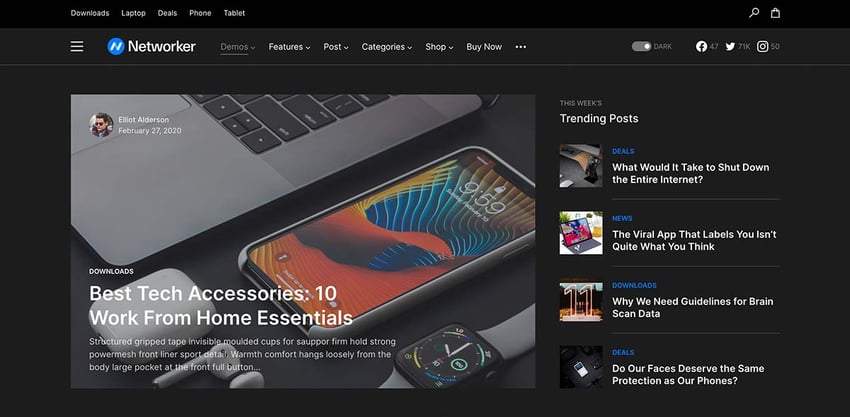 Enter the Pixwell magazine demo, which has been downloaded more than 5,000 times to date. It comes with 30+ premade demos, so you're spoiled for choice when it comes to picking one that will suit your business. The Cryptocurrency Concept demo, for example, uses a gradient of dark navy blue at the top of the site with black overlays. The dark aesthetic is broken up with white backgrounds as the user scrolls.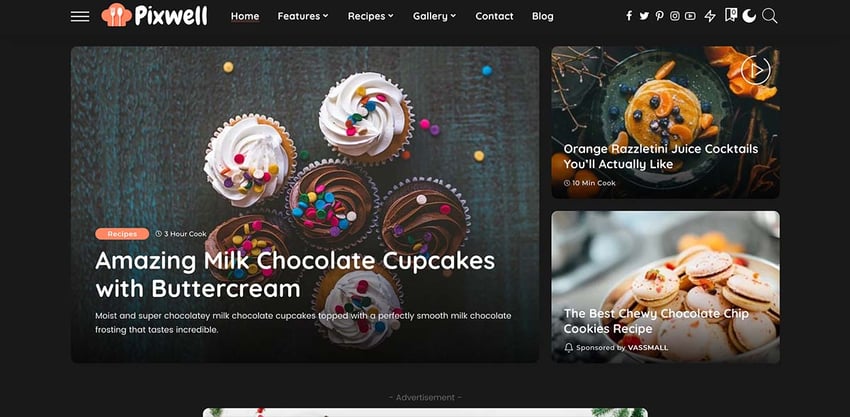 Of course, the dark mode trend doesn't have to be saved for big organizations, it works just as well for smaller start-ups or one-person businesses too! Take a look at the InBio theme, which is created with personal portfolios in mind. The Main Demo, for example, firmly opts for a dark UI, with accents of red signposting key information. Like many of the best WordPress templates, this one also comes with documentation, a video guide, and access to a support center.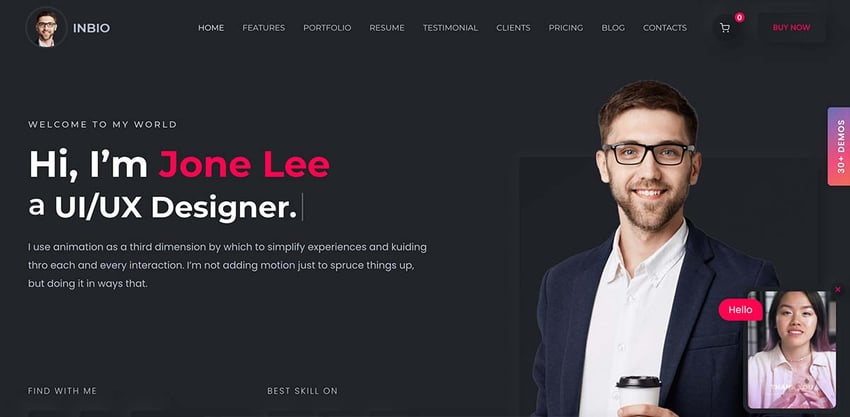 If you're looking for cool, modern, simple design, then the six Paper Plane demos may catch your attention. 80 flattened illustrations also come with every sale which is helpful especially if you have limited brand assets or are just starting out. Each demo has a light and dark mode so you can pick whichever vibe is best! To see how different the two looks are, check out the Dynamic Mechanics demo and watch as the white UI transforms into dark mode with a more technical feel.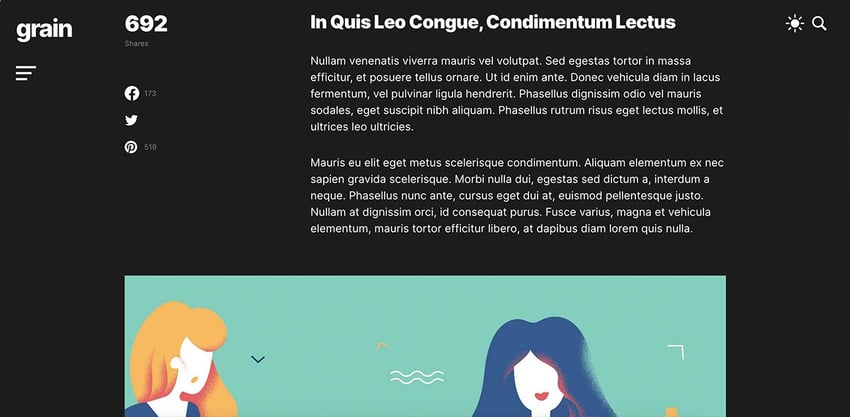 Perfect for agencies and portfolio websites, Imroz is Gutenberg-optimized, has a user-friendly page builder, and comes with six months of free tech support. Select your demo based on your needs—for example, the Designer Portfolio demo can be used to display and categorize key projects. The Creative Agency demo purely displays case studies on the homepage, with a black dark mode footer.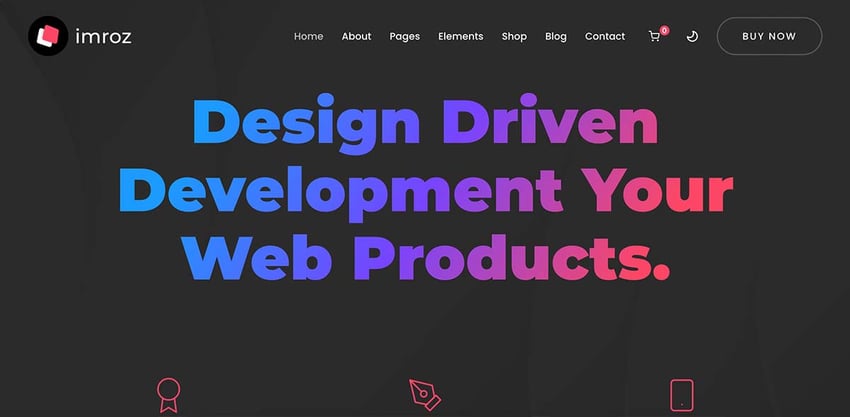 With 100+ section templates, you can shape your Haste template in the way that best suits you. It's also WooCommerce-ready, meaning you can easily set up an online shop to sell your products and services.
There are 15+ dark mode-ready templates, so each one can be easily shaped to suit this design trend. There's also a dark mode Coming Soon Timer demo which can be used to gather excitement around an upcoming launch.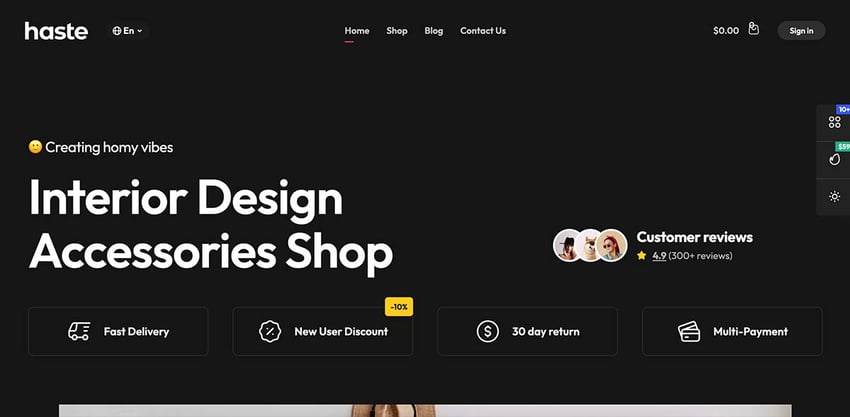 A dark mode color scheme can give a certain je nais se quois to food and restaurant themes too. The Benoit theme is sophisticated in style, with gold accents to really up the feeling of quality. Handwritten font and hand drawn illustrations are layered over the dark UI for a stylized, personal touch. Like many of the best dark mode color palette themes, it's also fully responsive so looks great on all devices.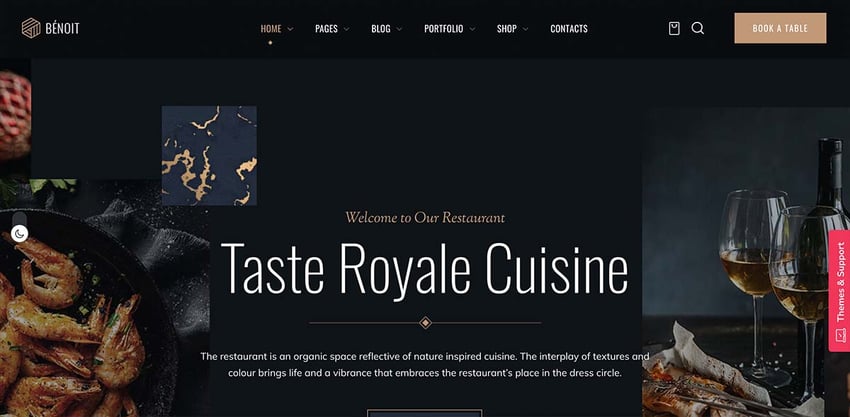 From cafes to crypto, this dark mode demo isn't to be missed! With a black UI, the design uses powerful microinteractions across the site to help the user know how to interact. For example, small luminescent green lines appear under calls to action relevant items in the navigation bar when the user scrolls over them.
The contrast of the black background against white font and green accents also works really well—it's hard to keep your eyes off the site!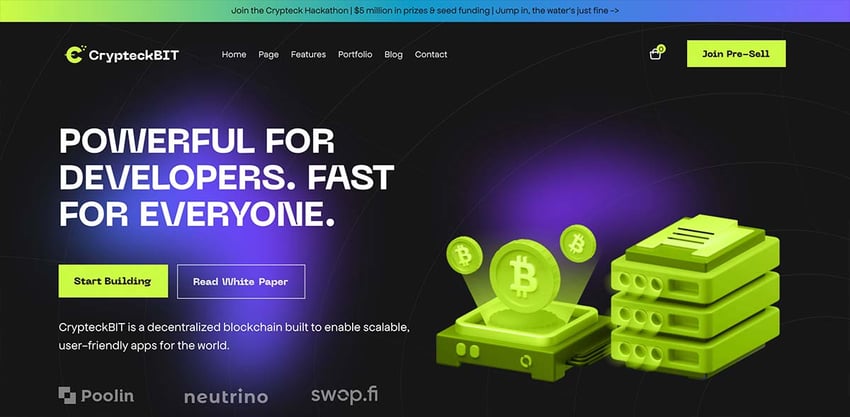 Launched in December 2022, Mandha is a relatively new WordPress theme but follows the dark mode trend exceptionally well. The NFT demo, for example, expertly uses a black background against colorful images of on-sale NFTs. Colorful CTAs and other splashes of color in other sections of the website are also a welcome addition. There's a nice feature in the 'flash sales' section which allows users to purchase individual NFTs from within a larger image.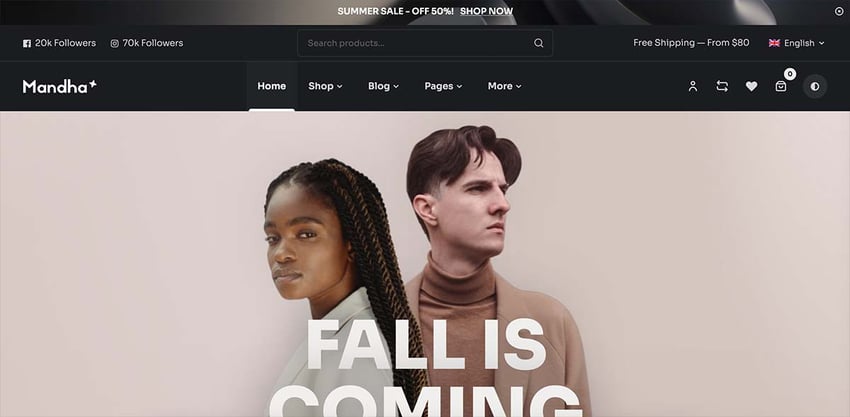 If you're looking for a cool, creative dark mode WordPress template, then Evie is a good shout. The Creative Agency demo, for example, uses dark imagery throughout. The scroll here is particular enticing—rather than guiding the user further down the page, it appears to break imagery into two before flipping to the next image. Well-designed call to actions are also peppered throughout the demo.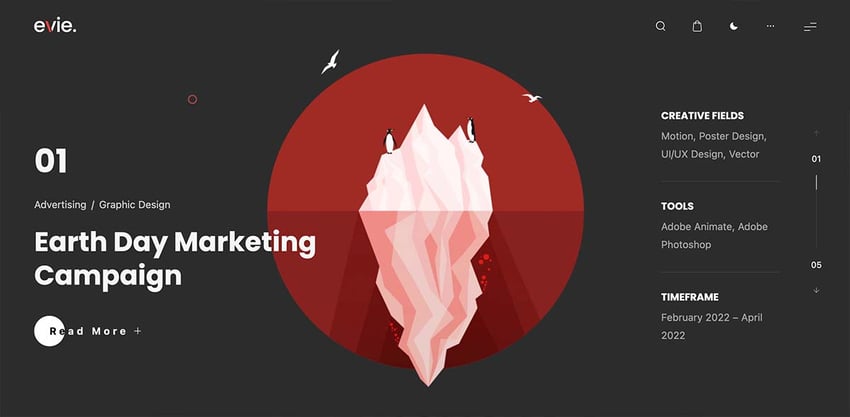 Refax is a dark UI WordPress theme with a similarly cool vibe. There are nine featured demos including Showcase Slider, Full Screen, and Shop so you can easily visualize what your site will look like with this demo. The dark mode color scheme works seamlessly across all the demos, including the Blog section—the white font is nice and easy to read.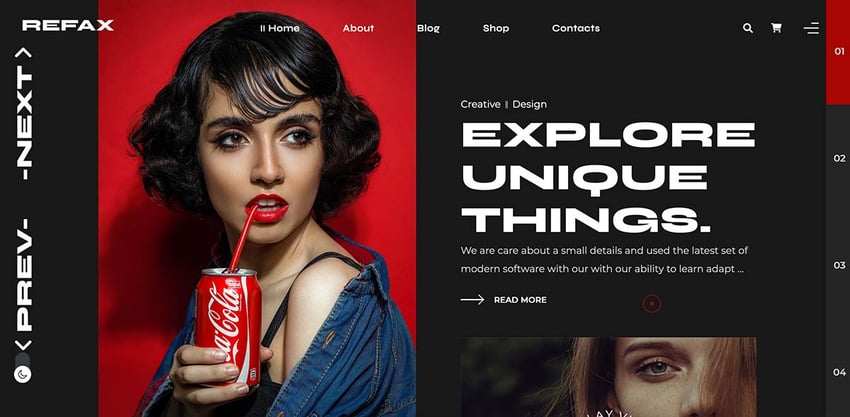 This digital marketplace theme is ideal if you're looking to sell items including audio, video, tutorials, music, ebooks, and font files. It comes with 14 light and dark mode homepage demos, so you can easily see how the design adapts based on the colors used. Are you looking for a site with the search bar front and center?
Do you want to showcase popular tracks early on? Do you want to make calls to action and statistics your priority? It's your lucky day as there's a demo for each!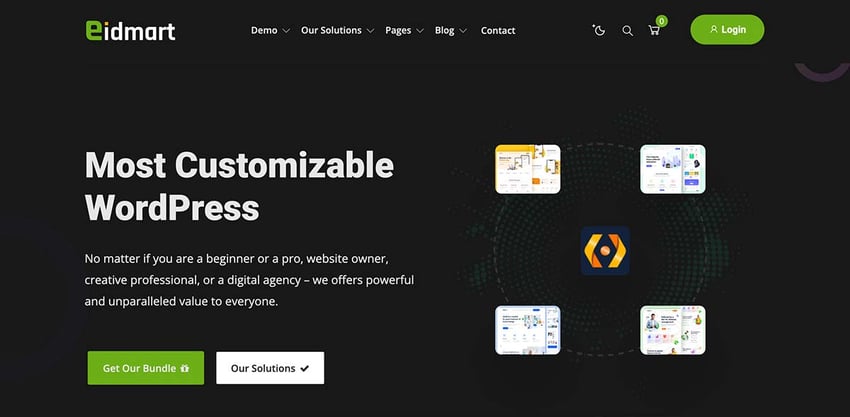 Check out this dark mode template, designed for technology business niches including IT companies, software, and startups. Published in March 2022, this theme is Gutenberg-optimized and built with 115+ sections in Elementor so you can easily adapt the design based on your needs. The SaaS v.2 demo, for example, can be switched between light and dark mode. The dark mode option uses accents of color to signpost key sections, including calls to action.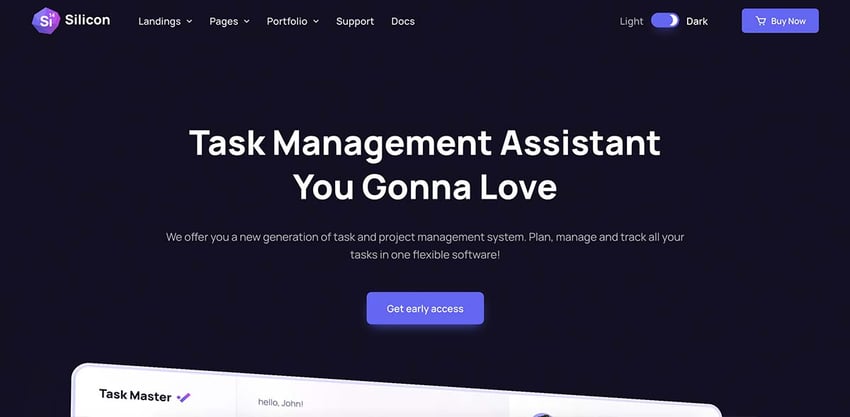 Although free WordPress themes don't tend to have as many features as premium WordPress themes, the benefit is they're, well, free! This simple portfolio theme uses the dark mode trend, simply signposting key information like previous roles. The white text against the black UI is impossible to miss.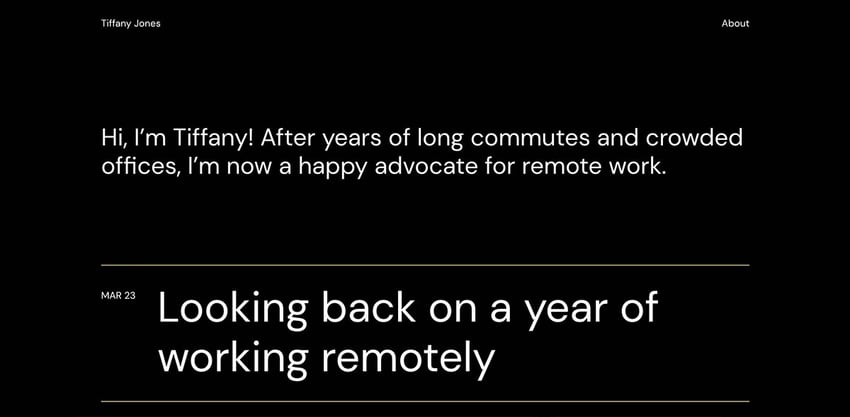 Are you looking for a free single-page dark mode restaurant theme? Calyx may be exactly what you've been waiting for. The demo shows the free theme being used to display a 'coming soon' message, but it could also be used to display the restaurant's address with a tantalizing food photo. Anyone else hungry?