If you are an animal lover and are looking for cute animal illustrations to include in your designs, then you'll love this article.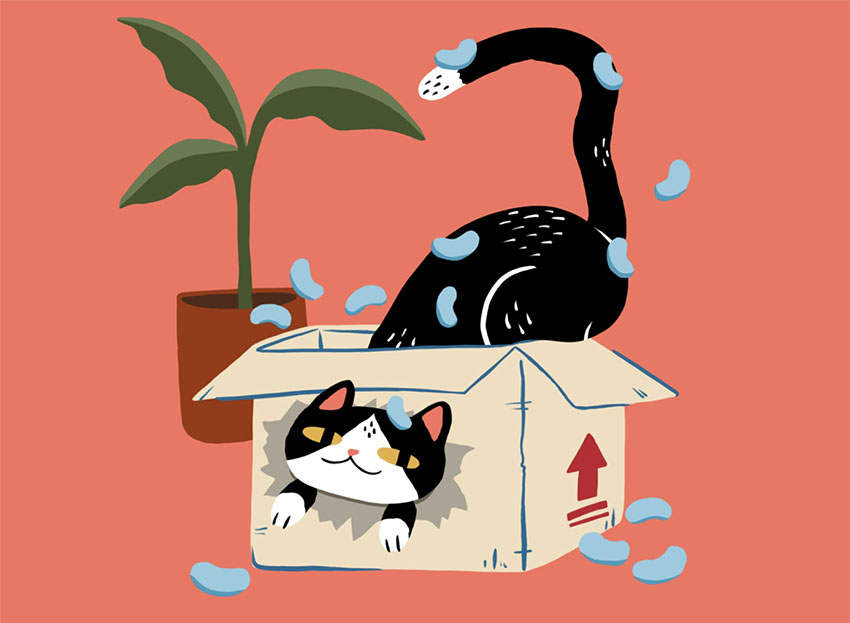 Today we're featuring a number of cute animal illustrations to encourage you to create beautiful animal-inspired projects.
Animal Illustrations From Envato Elements
Envato Elements hosts thousands of animal illustrations and other great resources for artists and designers. Here are some of the best.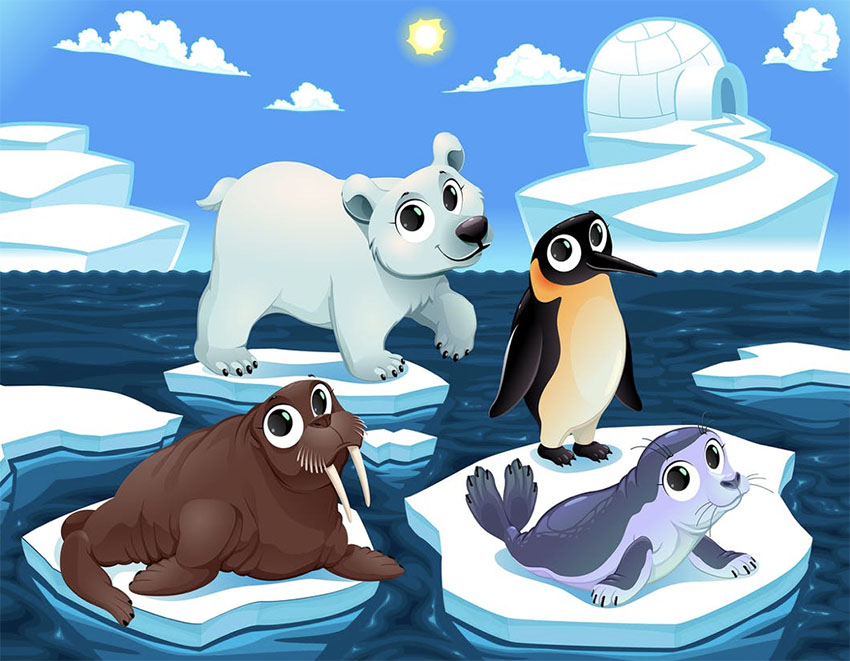 Cute animal illustrations don't come much cuter than this. With their wide eyes and friendly smiles, these are some very endearing cartoon characters, and the igloo in the background is a nice touch. But with the small shards of ice they're balanced on, they could be seen as making a more serious point about climate change too.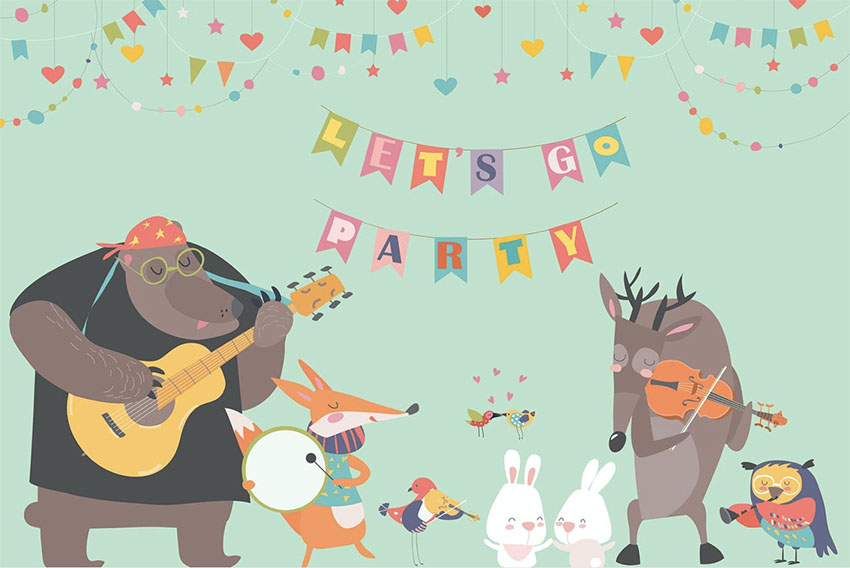 Animals are a popular choice for greeting cards, and this is a good example of why. It's a really festive, feel-good illustration to get people in the party mood.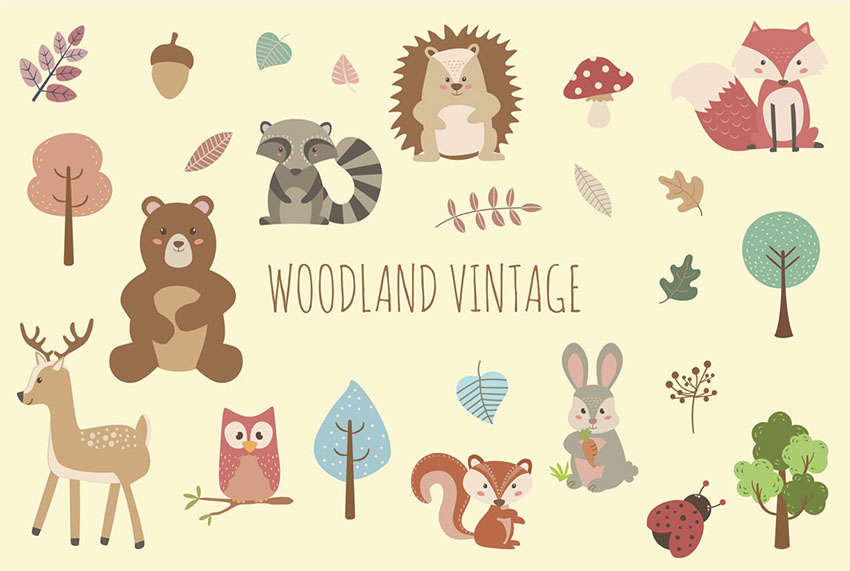 There are some great characters in this set of vintage animal illustrations with a woodland theme. It's easy to imagine them on the pages of a popular children's book. The inclusion of things like trees, leaves, acorns and mushrooms gives some nice context for the animals' lives.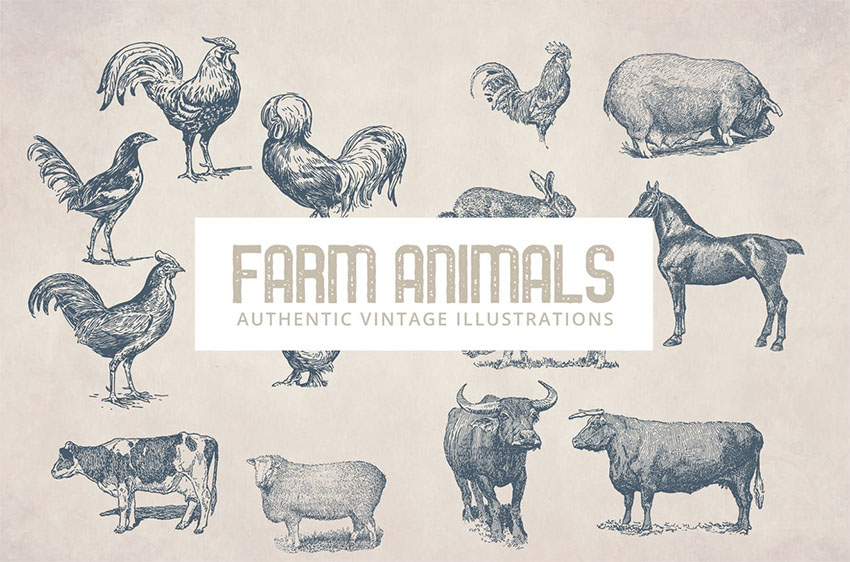 If you think these old animal illustrations have the feeling of vintage engravings, that's because they were sourced from engravings in old books. There's so much detail to them, so much realism, and so much dynamism in the poses.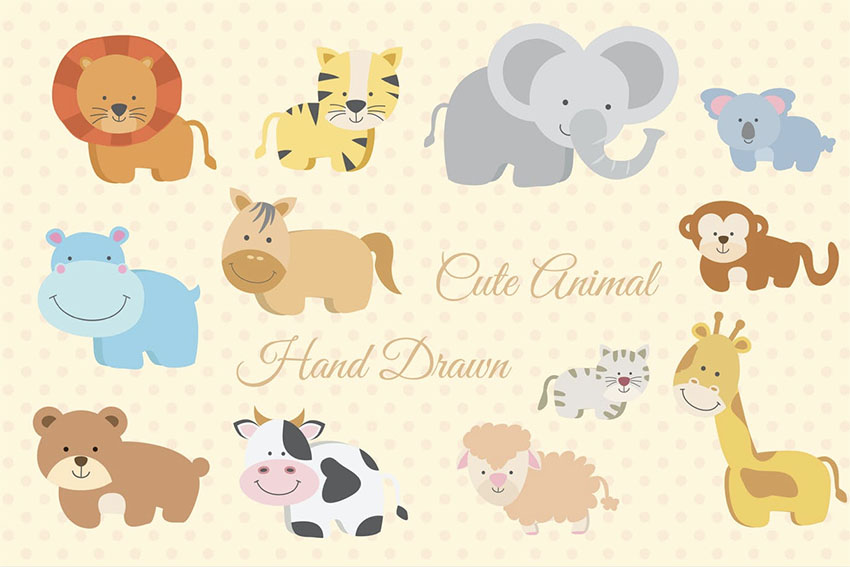 Now we're definitely back in cute territory, with these 12 different animal cartoons. Realism goes out of the window, replaced by cute smiles, oversized heads, and shortened bodies.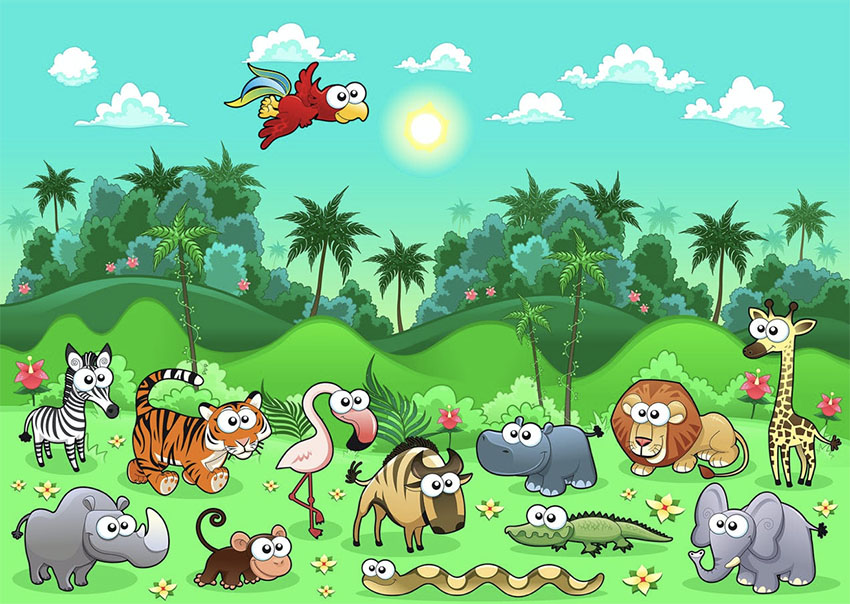 This fun wild animals illustration is created so that the sides join up to create a seamless pattern, meaning it could be used for a continuous animation or for tiled wallpaper, etc. The cute goggle-eyed expressions make even dangerous wild animals look endearing.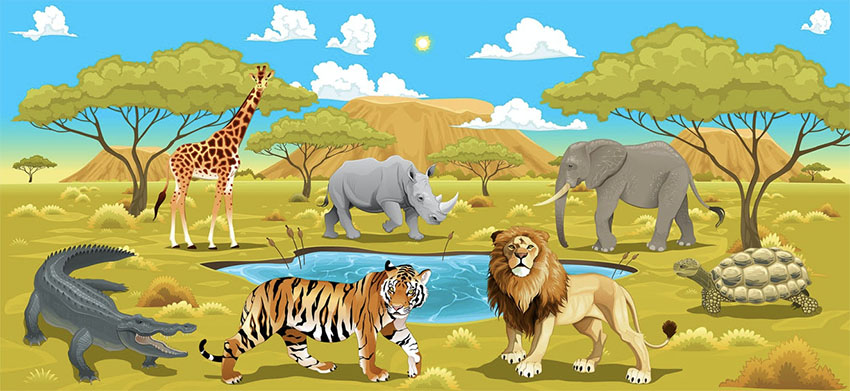 This vector wild animals illustration is much more natural-looking than some of the others featured here. There's a lot more detail in the poses, and the artist has clearly done plenty of anatomical research to make sure the proportions are correct.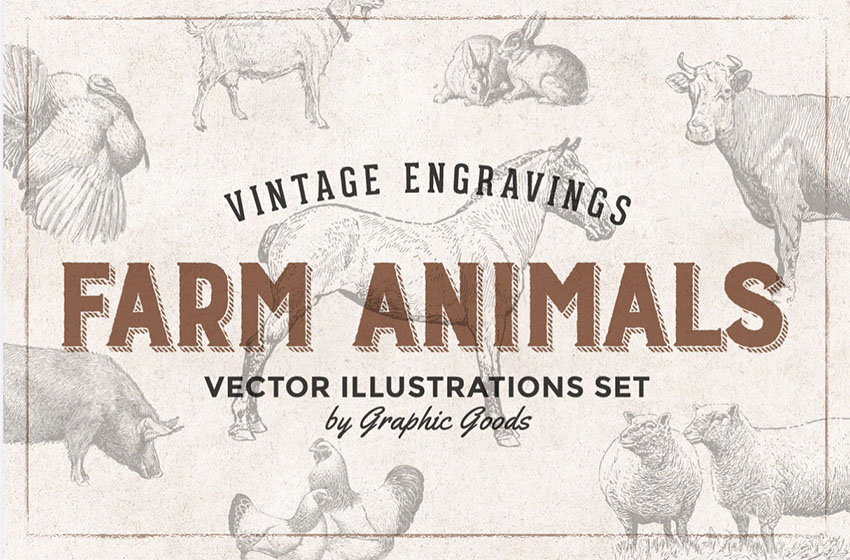 Here are some more vintage animal illustrations based on the engraving style found in old books and manuals. It's great to see contemporary vector illustration techniques being applied to recreate styles from a bygone era.
Animal Illustration Art Examples From Placeit
At Placeit, you can make logos, T-shirts, mockups, and more—all without leaving your browser window. They have plenty of animal illustrations in all those template categories, so here are some great examples.
Who says Halloween illustrations have to be scary? This is a great example of a creepy theme treated in a very non-creepy way. The illustration style transforms it from horror into something very kid-friendly.
Animals are a staple of internet memes, and this banner makes great use of cute animal illustrations paired with a heart-warming message in a creative typeface. You could see this getting a bucketful of likes on social media.
This may be offered as a T-shirt design template, but it clearly draws on old animal illustrations in a traditional watercolour style. It's a good example of how you can create a complex illustration in a single colour.
Who wouldn't want a hug from this stylish little dog? The purple-tinted sunglasses work really well with the purple background and the cute purple sweater he's wearing, and then the yellow border picks up the colour of the bananas. It's a well-thought-out composition.
After all those cute animal illustrations, now it's time for something on the opposite end of the spectrum. This wild cat with fangs bared will strike fear into the heart of any viewer.
Animal Illustrations From Mixkit 
Mixkit is a relatively new site offering a beautiful collection of animal illustrations that are completely free to download and use!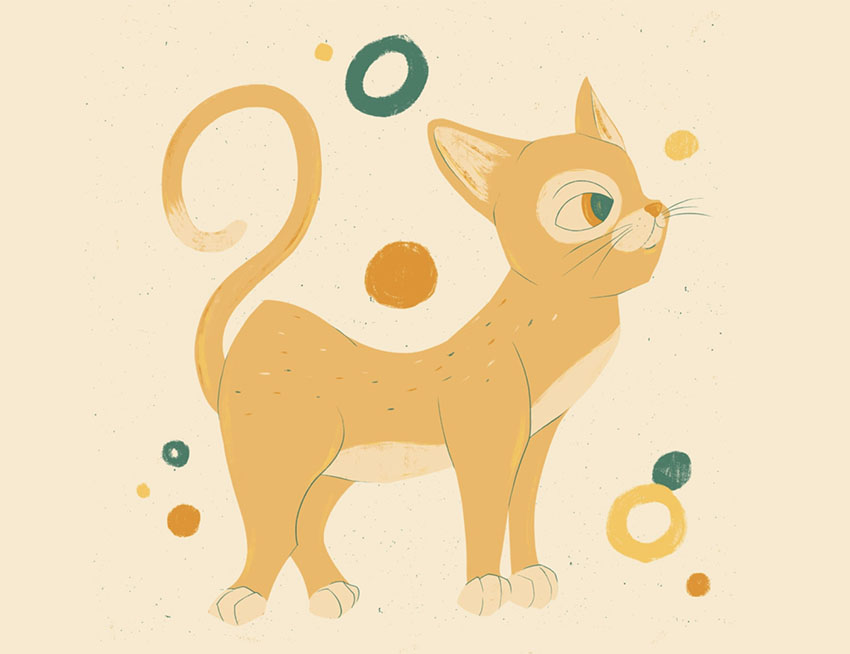 This hand-drawn illustration is a great example of how artists can accentuate a particular pose to capture the character of an animal. With its high, elegantly curved tail and arched back, this cat looks regal.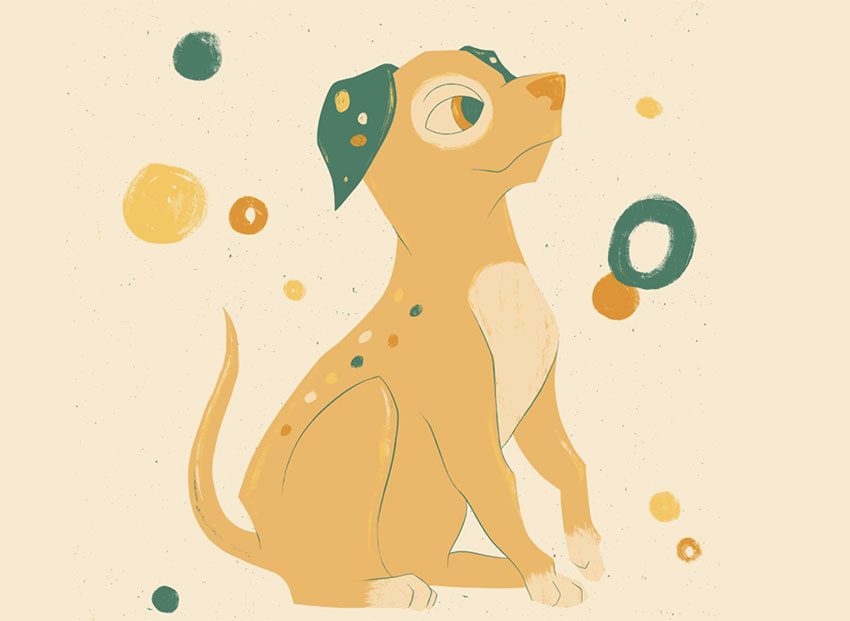 And in this drawing by the same artist, the puppy has a different character, with its flattened ears and raised paw—it looks more friendly and playful. It has some of the characteristics of old vintage animal illustrations too.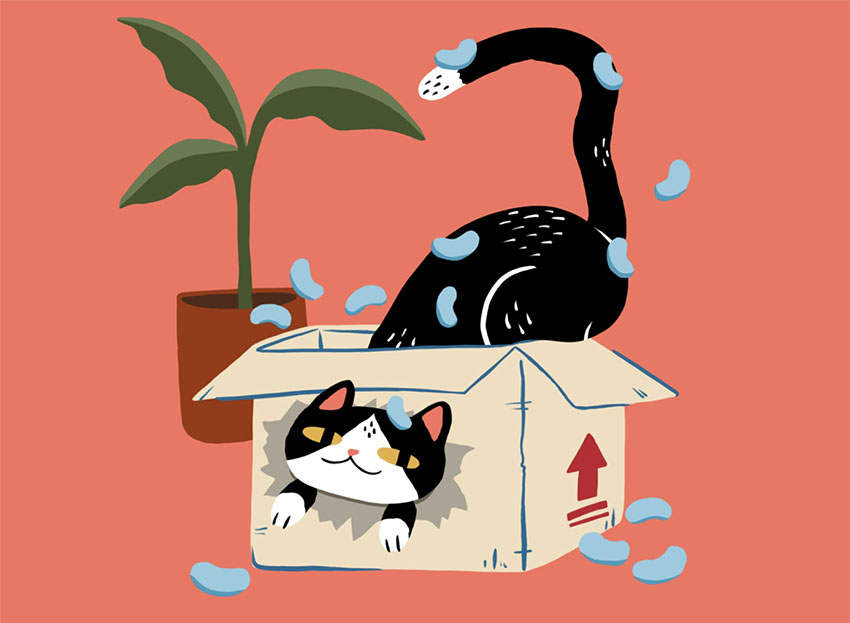 Cats are easy to buy gifts for: whatever you get, they'll enjoy playing with the empty cardboard box it came in. This fun design perfectly captures the energy of a cat diving into a box and sending those annoying little packaging chips scattering everywhere.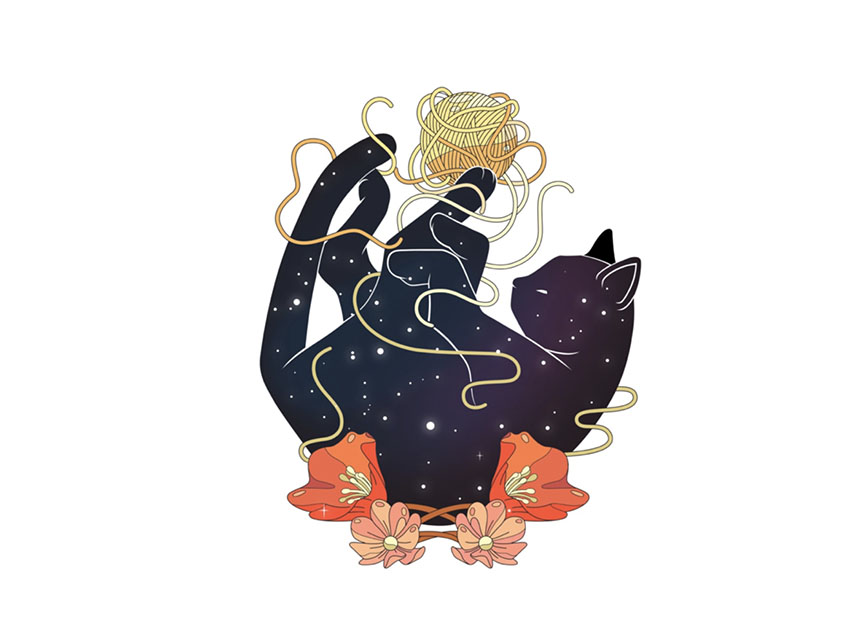 Or here's another favourite feline pastime: playing with a ball of string. The string intertwines beautifully with the cat's limbs, but what makes this illustration work are the more unexpected choices like the bright red flowers and the way the cat's fur looks like a star-strewn night sky.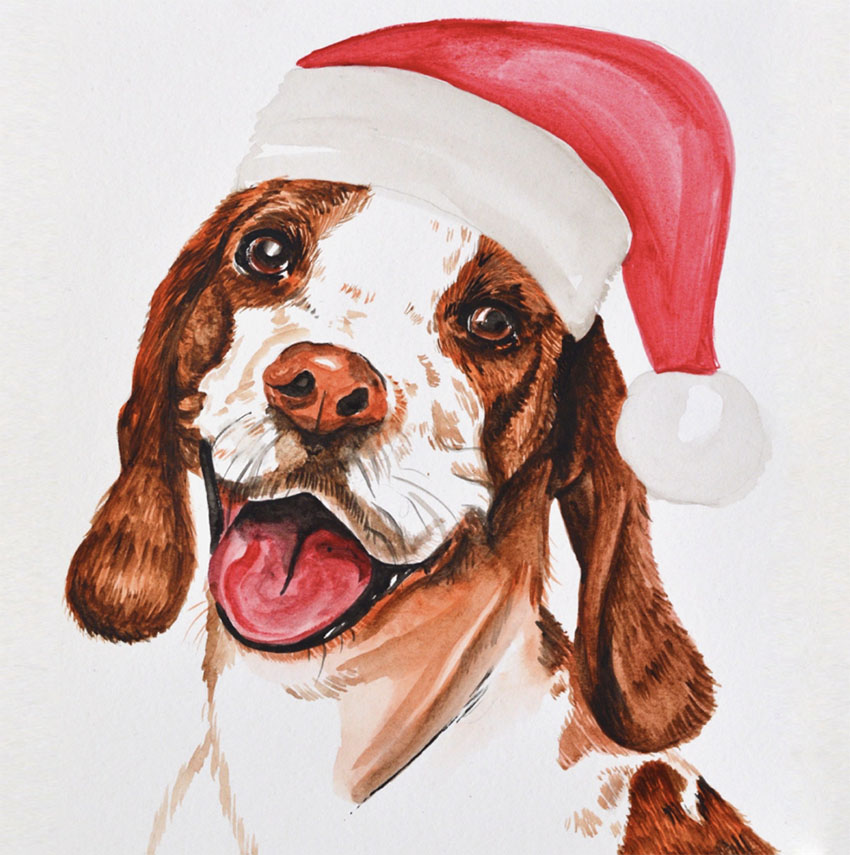 And here's a more traditional, realistic digital painting of a dog in a Santa hat. The dog's tilted head, panting tongue, and loving expression make it irresistible.
Animal Illustrations From GraphicRiver
GraphicRiver is another option for finding creative animal illustrations. Here are some of the best options available.
Australia is home to some truly unique animal species, and this set of illustrations showcases the best of them. There's a kangaroo, koala, platypus, and echidna, among others.
Or here's a nice example of how Australian animal illustrations look in flat style. It's a really creative way to render wildlife in new geometric forms.
In this example, on the other hand, the illustrations are simplified down to basic shapes, but the artist still manages to communicate some of the character and personality of the animals. The kangaroo with a baby in her pouch is particularly lovable.
This final set of Australian animal illustrations demonstrates yet another style, this time highly detailed and realistic. You can feel every spike, feather, and claw in these stunning vector illustrations.
You can get a lot of inspiration just by looking at the complex patterns in these animal print illustrations. See how the lines and shapes intersect in such a fluid way. There are four more in the set, which can be downloaded as a set of pattern swatches and used in Illustrator to fill any shape with an animal print pattern. What artwork could you transform by giving it a tiger-skin fill?
Animal Illustration Tutorials From Envato Tuts+
With hundreds of free illustration tutorials published over more than a decade, of course Envato Tuts+ has covered its share of animal illustrations. Here are some highlights.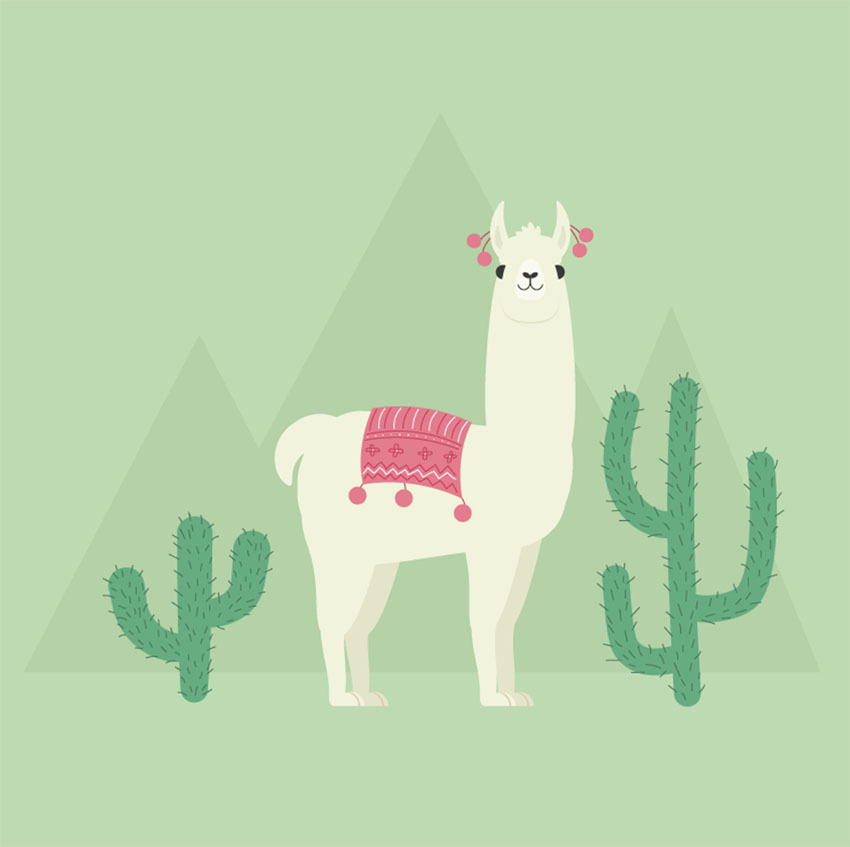 It's amazing to think that this beautiful llama illustration was constructed entirely from basic shapes like ellipses and rectangles, with various warp effects applied in Adobe Illustrator. You'd never guess from looking at the end result.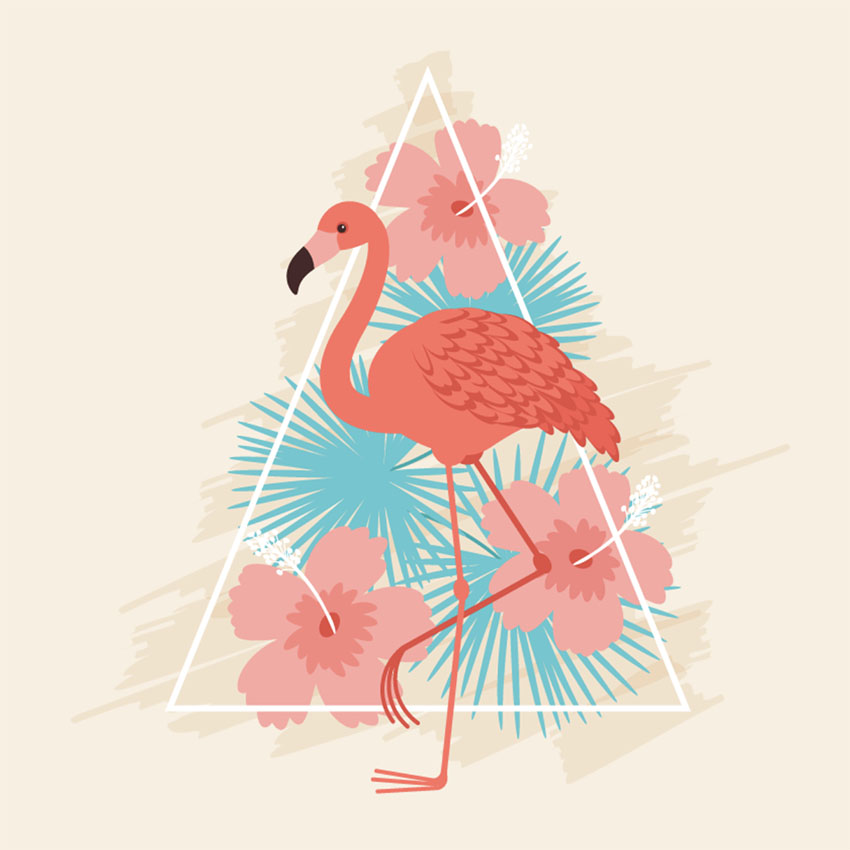 The flamingo lends itself perfectly to animal illustrations, with its unusual shape, vibrant pink colour, and characteristic leg lift. But what helps this illustration take off is the tropical background that really pulls the whole thing together.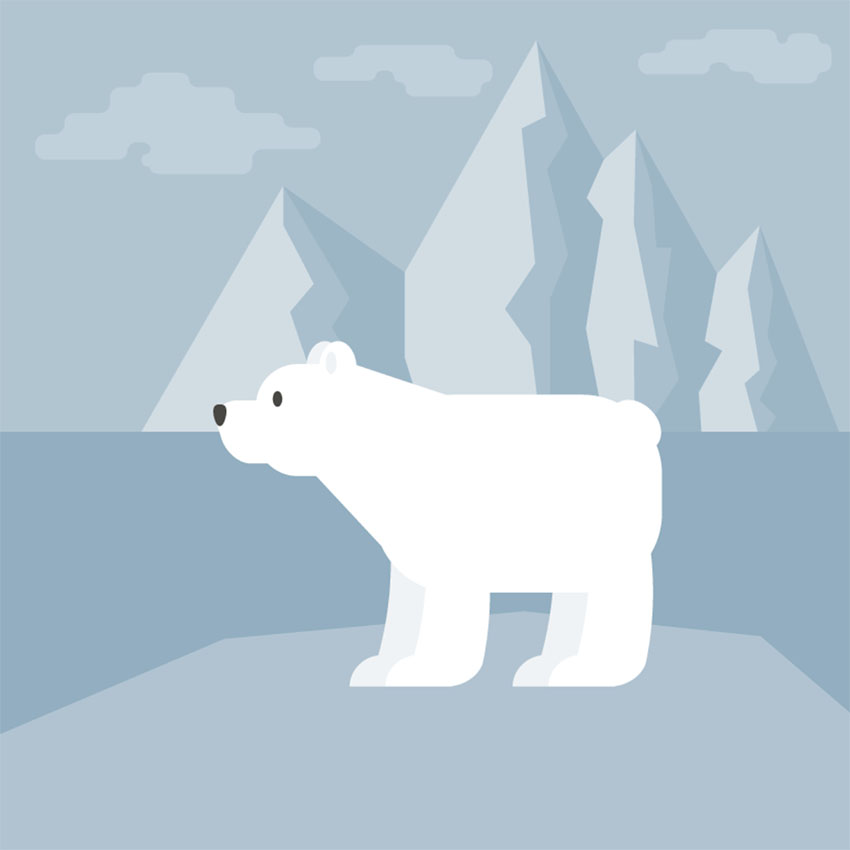 From vibrant colour to almost no colour at all. This illustration captures the bleak beauty of the Arctic wilderness. The polar bear is very simple, with no detail on the body itself, but it works very well as part of the larger composition.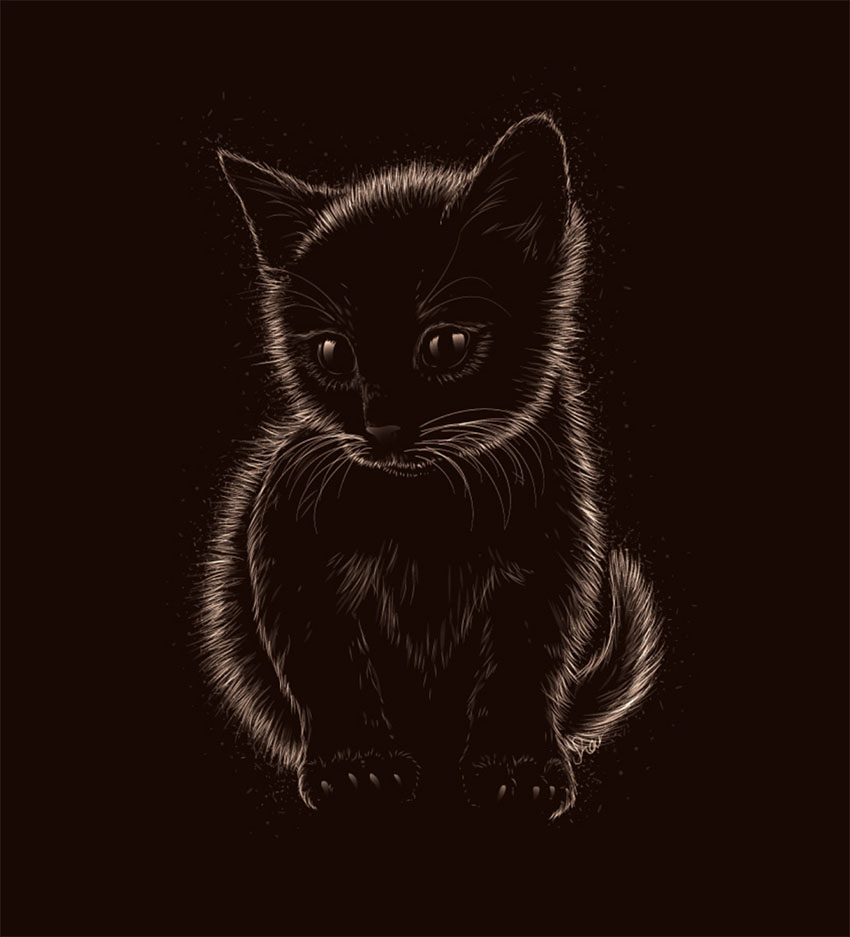 What's great about this illustration is the way that the whole kitten is in darkness, with just a dramatic back light to pick up the outlines of the fur and some essential details. It puts all the attention on the fur, which is incredibly detailed and realistic.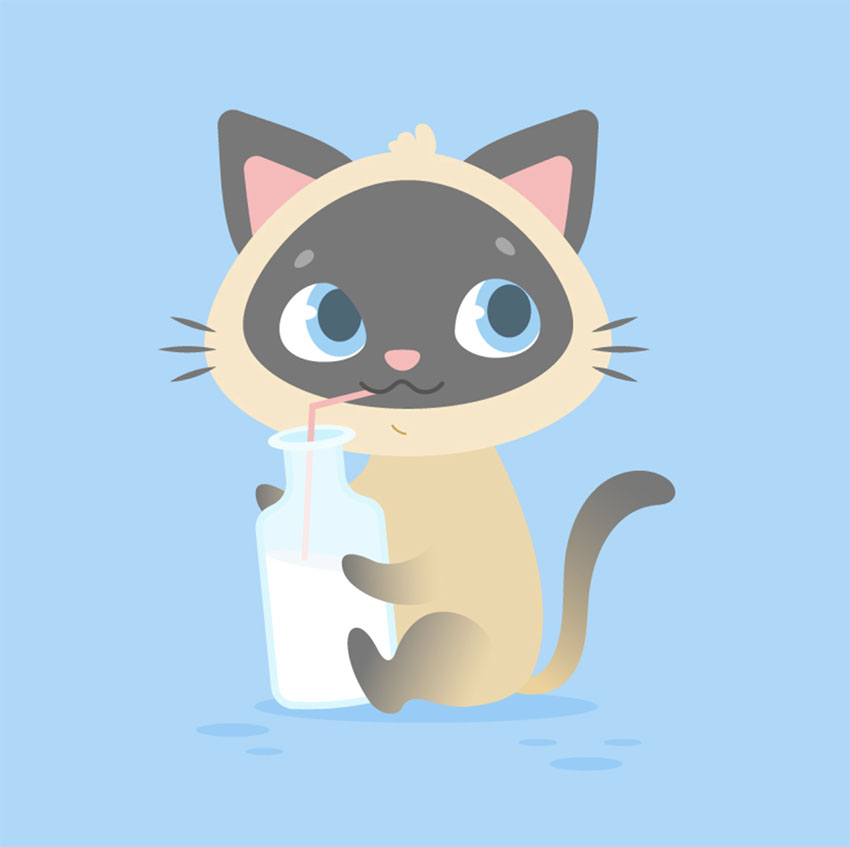 Let's finish off with this adorable cartoon illustration of a cute Siamese kitten drinking milk through a straw. This little cat is full of mischievous personality, from the upturned eyes to the way the paws are gripping the bottle.
Learn More About Animal Illustration!
I hope this article has given you plenty of inspiration for your work as an illustrator, whether you're a beginner or more advanced. If you want to learn more about animal illustration, we have plenty of tutorials to help you. Here are some great places to start: