If you or your business do any kind work with fonts, font management software can help you organize and manage the fonts you work with.
In this article, I'll explain why you should consider using font management software and I'll outline some of the most popular font manager packages for Windows and Mac users.
Fonts Explained
Back in the days of the printing press, a font was a specific size, weight and style of a typeface. The typeface may contain the different fonts of condensed, normal, italic and heavy, for instance. 
In the digital age, the meaning of font has changed to become synonymous with typeface such that a font file contains the variations of condensed, normal, italic and heavy.
Many names describe the weight of a font, that is the thickness of the characters relative to their height. These range, in order of ascendency, as follows:
Thin / Hairline
Ultra-light / Extra-light
Light
Book / Semilight
Normal / regular / plain
Medium
Semi-bold / Demi-bold
Bold
Extra-bold / extra
Heavy / Black
Extra-black
Ultra-black / ultra
Next, let's take a look at font management and a common font manager for Macs.
Font Management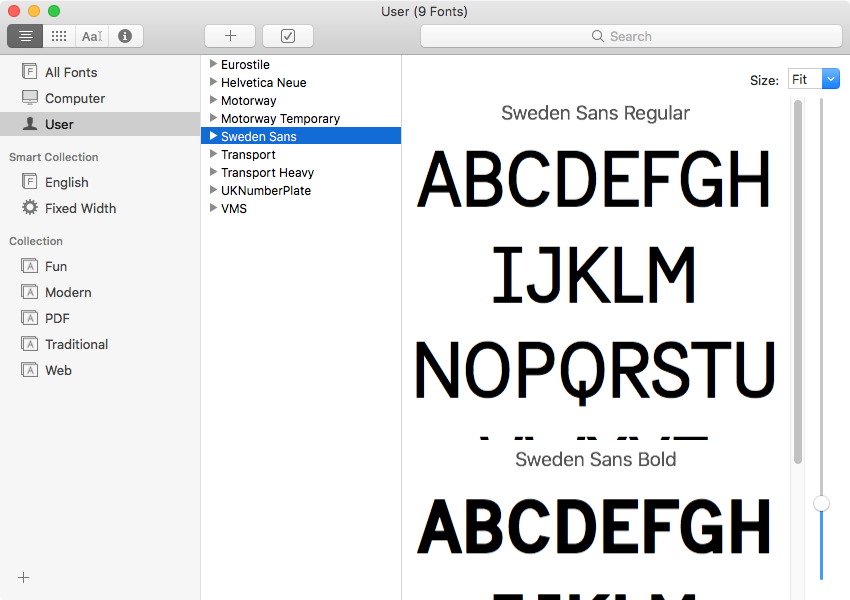 The macOS operating system has its own font management software, Font Book, installed by default. Windows installs fonts to a specific folder and Linux generally doesn't preload fonts on a system-wide basis thereby negating the requirement for a font management tool.
Default font management tools are useable, but fairly basic. For people who use many fonts, graphic designers and web designers for example, there's a need for more sophisticated tools.
Why Font Management is Necessary
Working with hundreds, or even thousands, of fonts presents the computer user with a number of challenges not least being able to find the right font for the right reason at the right time.
Font management software protects system fonts to prevent accidental deletion and manages the activation of the fonts required. Such software sorts, renames, searches, views, fixes or uninstalls corrupted fonts. 
Most importantly, font management software exists in order to preserve system performance and stability. Maintaining thousands of fonts on a system impairs the performance of the computer. Activating fonts, individually or in groups, only when required has clear benefits.
Now that you've learned some of the basics about font management, you may wish to learn more about fonts.
Discover New Fonts
The resources in this section can help you to discover exciting new fonts for your business or personal use.
Read Articles on Fonts
For any computer user or designer wanting to get started on a new project, inspiration is often the first block to progress.
Envato Tuts+ publishes high quality tutorials—on a daily basis—to inform, educate and inspire hobbyists and professionals alike.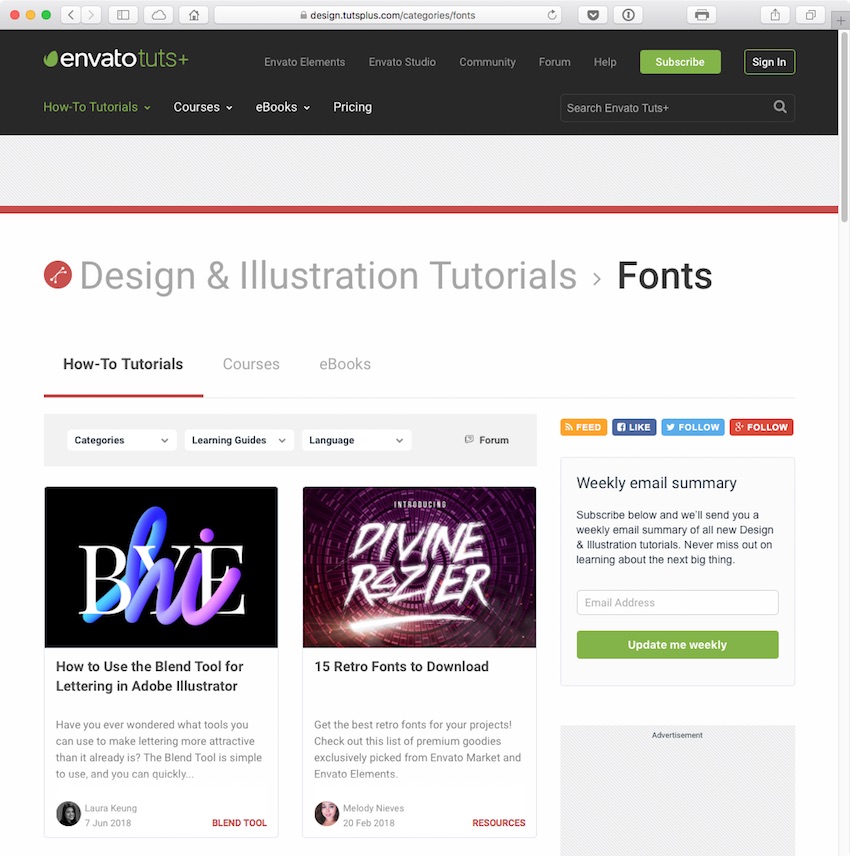 If you're looking for inspiration for a new project, be sure to check out these awesome articles:
If that piques your interest, Envato Tuts+ has many more articles and tutorials about fonts.
Find Fonts on Envato Elements
Envato Elements is a subscription-based service that offers unlimited downloads of hundreds of thousands of digital assets, including fonts. 
Browse the latest fonts on Envato Elements.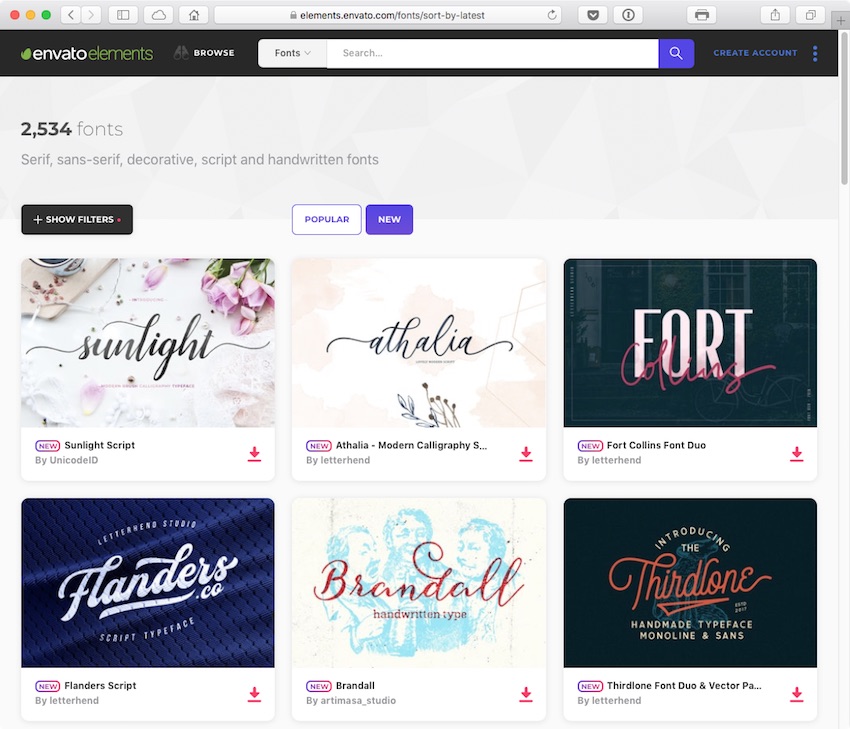 Its design without limits where you can find the perfect theme, video, photo, font or graphic. One low price, and the design possibilities are almost endless. And that includes in excess of 2,500 fonts.
The license is designed to make it easy for you to do the right thing and gives you the rights to use the item in a broad variety of projects, including those of a commercial nature.
The licensing is future proofed, even if you unsubscribe. Any existing uses for which you're registered are still covered. Now that's peace of mind.
9 Font Management Software Tools
Here are nine of the best font organizer tools:
1. FontBase (Mac/Windows/Linux)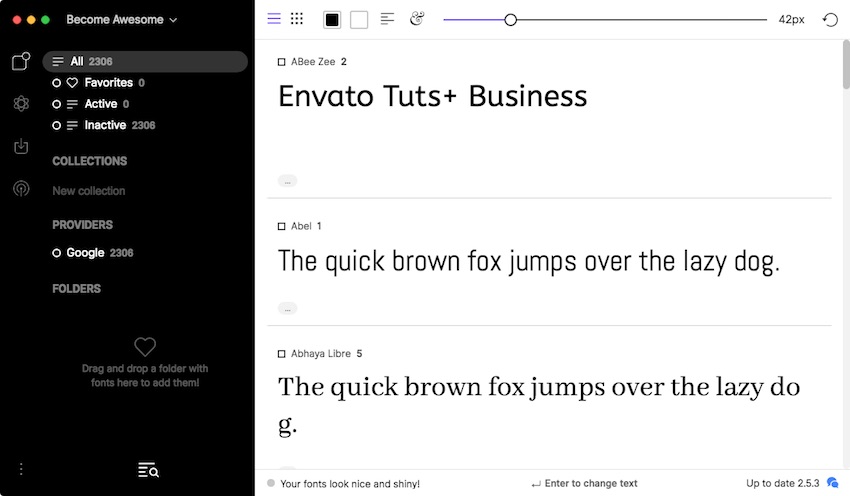 Perhaps the best font manager for Mac, for most people, is also a free font manager. FontBase is also cross-platform for macOS, Windows and Linux machines.
Built for designers by designers, the premise behind FontBase is activation and deactivation of fonts. Activate specific fonts when required for particular projects then deactivate them so that they don't hog system resources. 
Fonts are automatically deactivated when the FontBase app is closed. When the app is open and a font is missing for a particular design document, the font is activated automatically.
Fonts can be arranged into groups, thus making the management of a large collection of fonts even easier.
From Extensis, Suitcase Fusion is a professional font manager and font organiser for macOS and Windows.
Suitcase Fusion is designed with compatibility in mind to support profession workflows from Adobe Creative Cloud, Affinity, and Sketch and includes syncing, via the cloud, with the free app TypeSync. This negates concerns about lost fonts when working from, say, a desktop and a laptop.
FontDoctor is also included for corrupt font checking.
Suitcase Fusion's FontSense technology examines and identifies fonts to ensure the correct font is always used. Again, fonts are activated and deactivated as required and the app allows for the browsing, previewing and organisation of many fonts.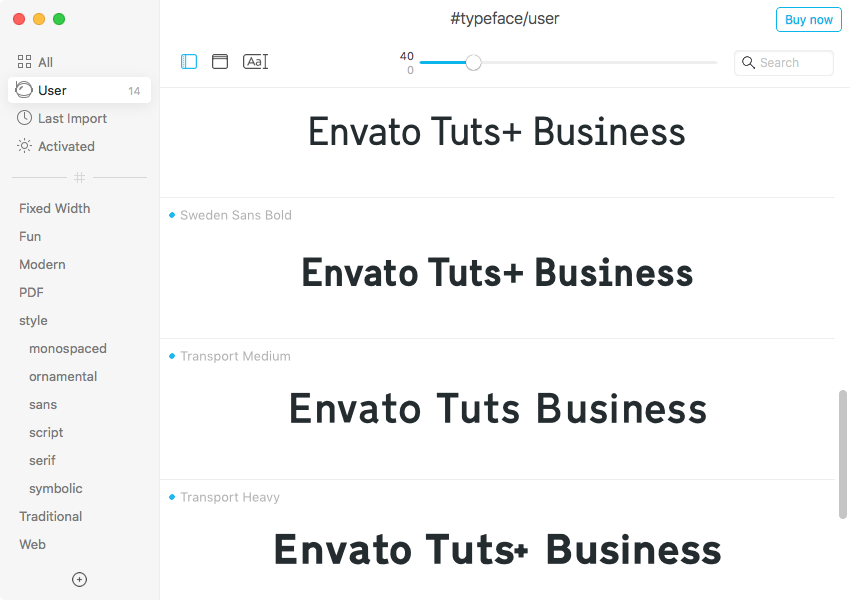 Sporting a minimal interface putting the focus on fonts, Criminalbird's Typeface is a beautifully designed font manager for Mac.
Typeface enables easy browsing, with live customisation of preview and size of each font—both default system installed and imported fonts—free from distraction.
A flexible and easy to use tagging system adds another way of maintaining particularly large font libraries. By pointing Typeface to a directory in macOS, any newly downloaded fonts are added automatically on refresh.
Fonts can be activated and deactivated manually and there's a font auto-activation feature currently under development.
Font compare allows font professionals to distinguish minor differences between similar fonts with overlays to compare both.
Font filters help designers to locate the perfect font for any job by making searching easy. Select bold, serif or other characteristics of the desired font to discover those that match.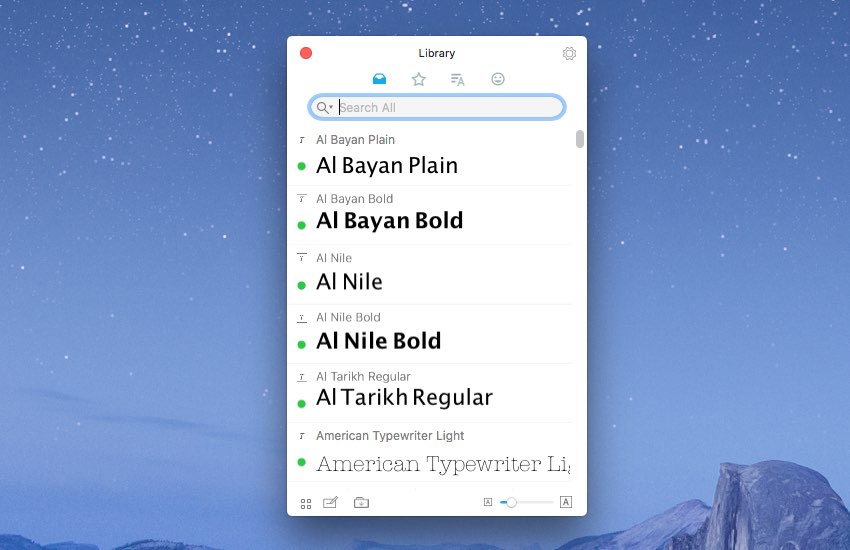 RightFont is another lightweight, fast font manager that claims to the best font app. 
RightFont allows you to preview, synchronise and organise fonts in any location without the need to install them. Fonts are automatically synchronised from Adobe Typekit and Google Fonts.
Activation and deactivation of fonts is possible with a single click, regardless of location in which that font is stored. Fonts can be automatically activated for other applications such as Photoshop, Illustrator, InDesign and Sketch.
As a font manager, RightFont helps to filter fonts by a given classification such as serif, sans serif, script, width, weight and so on. It's possible to search for fonts using keywords and further organisation is possible by listing fonts as favourites or creating custom font lists. What's more, RightFont gives full access to font metadata information.
Importing and exporting new font files is as easy as drag-and-drop to and from RightFont  that also boasts huge performance advantages over Apple's Font Book and competitor applications.
RightFont includes a free iOS app to install and preview any font from email attachments, AirDrop sharing and iCloudDrive. 
RightFont is an app for macOS 10.11 and above for which you must purchase a licence, though it does come with a free trial that it's possible to download without prior registration.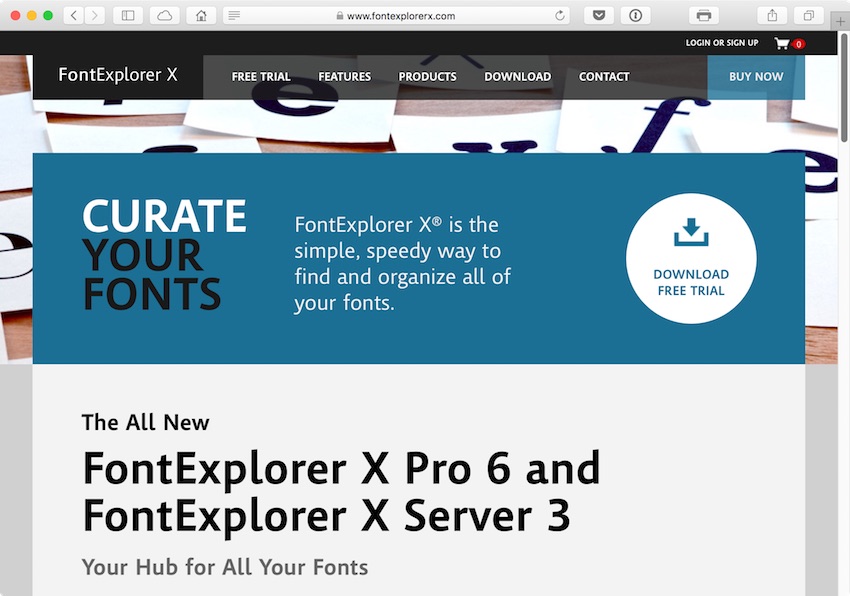 Intended for professionals, FontExplorer Pro X is a Mac font manager that's optimised for Retina Displays and supports Dark Mode.
It's the complete font management tool with font organisation by sets, and the automatic enabling and disabling of fonts in order to preserve system resources. Particularly important when managing many hundreds of typefaces across tens of projects.
As expected with font management software, FontExplorer Pro X reveals detailed font information, character views and customisable previews.
Being a professional solution, FontExplorer Pro X integrates into macOS with support for Spotlight. Further, FontExplorer Pro X includes localised font information for 25 languages.
FontExplorer Pro X is an app for OS X 10.9 and above and macOS operating systems for which a licence is required. It's possible to download a 30-day free trial though it does require prior registration.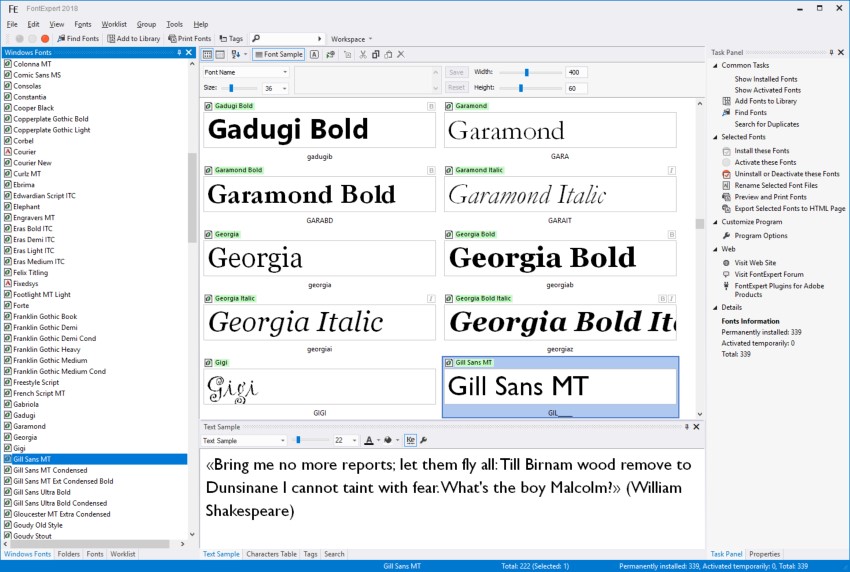 Designed specifically for Windows machines, FontExpert is a Windows font manager suitable for 32 and 64-bit versions of XP, Vista 7, 8, 8.1 and Windows 10.
FontExpert previews and manages installed and uninstalled typefaces and checks the system for font errors. FontExpert automatically detects corrupted and incomplete fonts and manages duplicates.
Fonts can be assigned keywords, can be rated and can be placed into categories to organise in the way that best suits the user. Particularly useful for designers who work with large numbers of fonts in their projects. The database of fonts is, of course, searchable.
FontExpert allows drag-and-drop installation of font sets, aids the organisation, activation and deactivation of fonts and includes Missing Fonts Loader plug-in for Adobe's InDesign  and Illustrator apps.
FontExpert integrates into Windows by adding Open, Print and Install Font menu commands to the Windows Explorer context menu. A custom property page displays detailed TrueType or OpenType attributes.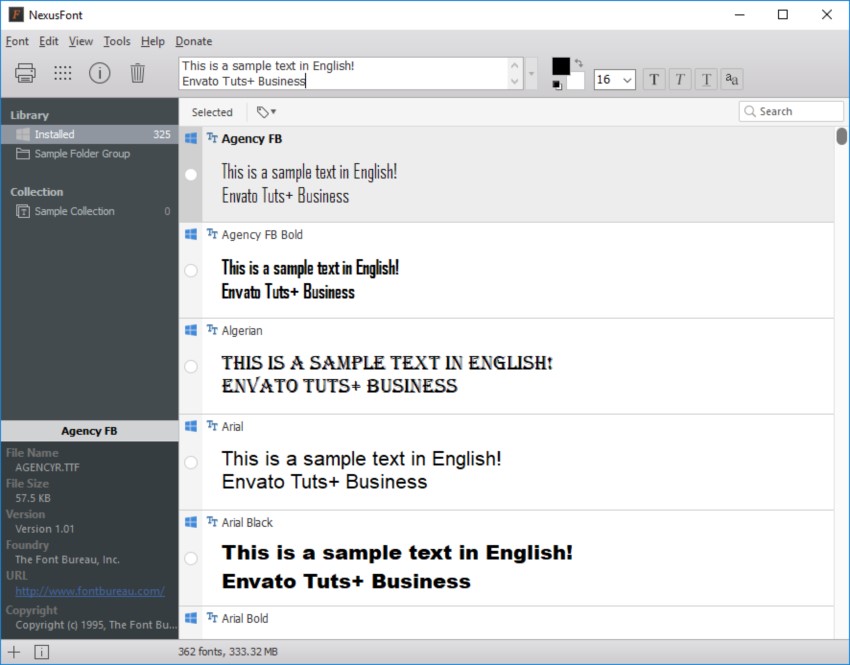 NexusFont claims to be the best free Windows font manager. 
Developed by Junghoon Noh, a software developer from South Korea, the fact that NexusFont is free makes it instantly attractive to any Windows user, especially as Junghoon allows use by both individuals and organisations. 
If you download and use it, you may wish to be a good netizen and add your name to over a thousand people who have also supported this software through a donation.
NexusFont sports a sleek user interface conveying information in an easily understood manner that makes that management, comparison and choice of fonts much easier.

For any Windows user seeking an easier way to manage a portfolio of fonts, NexusFont  should be on your list to try.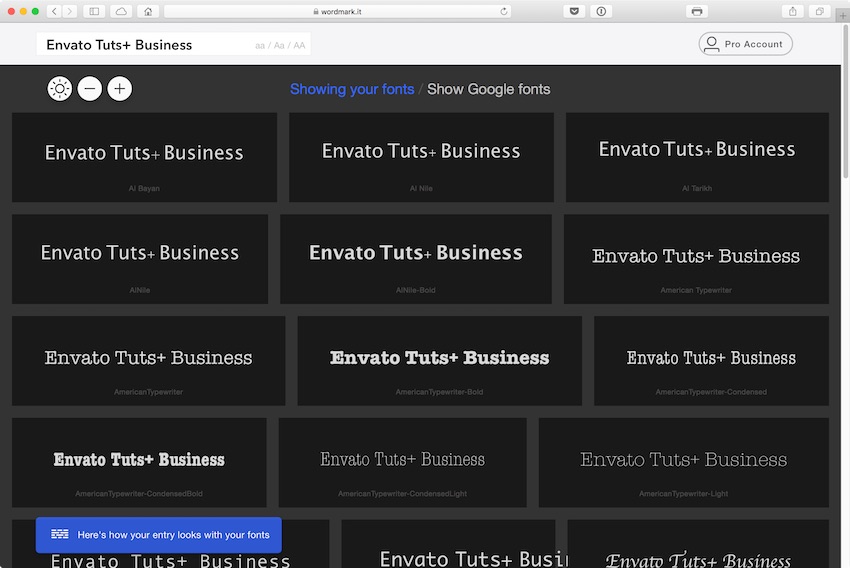 For casual users, a lighter-weight option is to go for a browser-based solution for font discovery, such as Wordmark.it. Typing a word or phrase is rendered, within the browser, in each and every font installed on the computer. Each example is listed together with the name of that font.
By its very nature, it lacks features such as activation and deactivation of fonts. That said, it's a quick and easy way to review and discover system-based fonts.
As far as options go, there's an input field to enter desired example text, there's controls to increase and decrease the size of the font results returned.
Fonts can be selected and filtered. Essentially, this is choosing a small number of fonts to compare side-by-side.
There's also a dark mode. In fact, the dark mode useful; it's quite interesting to see fonts in inverted colours.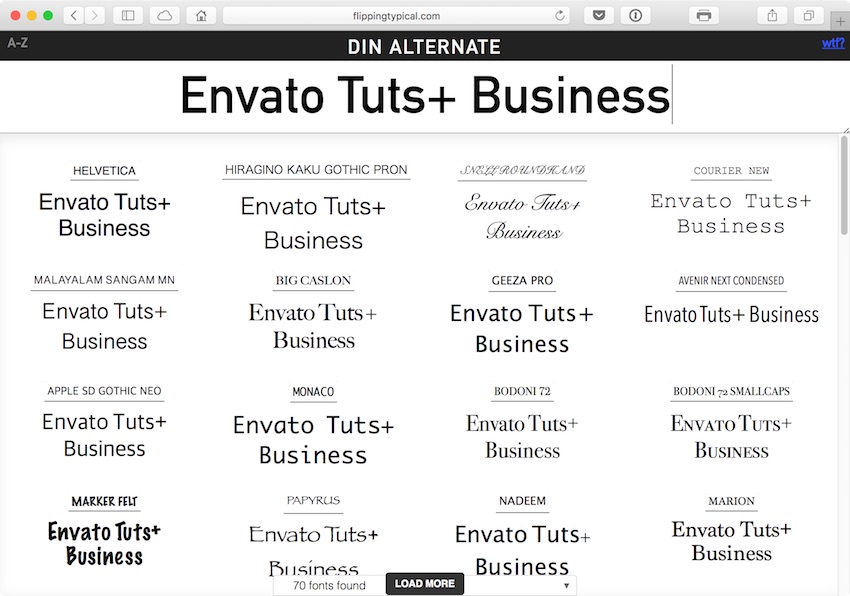 When it comes to browser-based font managers, there's not much to choose between Wordmark.it and Flipping Typical. It's likely to come down to personal preference.
Again, aimed at the hobbyist computer user, rather than an amateur or professional graphic or web designer, Flipping Typical is a quick and easy way to browse the fonts already installed on the computer.
Using Flipping Typical is simplicity itself. Open a web browser and navigate to flippingtypical.com and you'll see the first 70 or so fonts rendered in the browser.
At the top, in the black bar, is the name of the selected font. The large text beneath functions as both a preview and a search box. Click on the box and entered some text to preview that text across different fonts. Click on a chosen font to move it to the preview at the top.
Flipping Typical requires Adobe Flash to be installed in order to view more than the first 70 fonts.
Unlike Wordmark.it, Flipping Typical doesn't have a font filter to choose a group of fonts and nor does it have a dark mode.
That said, for the ability to quickly view the installed font library—on any computer—Flipping Typical is worth noting for the casual computer user.
Conclusion
In this round-up, I've outlined the case for font management software, have pointed you to a resource to expand your own font library and I've given a number of different options for managing fonts
I've covered options suiting the casual computer user wanting to know what's available right through to the power users, the designers that need to manage hundreds or thousands of fonts as efficiently as possible.
If you're looking for inspiration for a new project, be sure to check out these awesome articles: