Want to create a stunning Instagram account? Instagram grid templates are a great way to organise your content to consistently deliver amazing Instagram posts.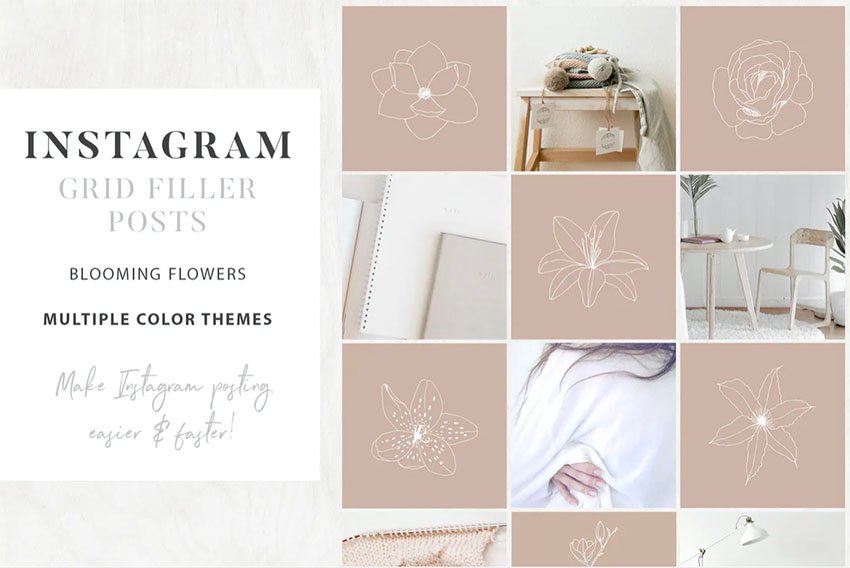 Today we will share 44 of the best Instagram grid templates to be found at Envato Elements and GraphicRiver. And if you want to make a quick and easy website to link to from your Instagram account, check out Milkshake. 
Unlimited Instagram Template Downloads From Envato Elements
Both Envato Elements and GraphicRiver offer outstanding Instagram grid feed templates, but each service is a bit different from the other.
Envato Elements offers hundreds of amazing Instagram grid templates for download, and the great thing is that you can download as many as you want, as often as you want, for one flat monthly fee.
Let's take a look at 34 of the best Instagram grid layout templates available at Envato Elements.
34 Best Instagram Layout Ideas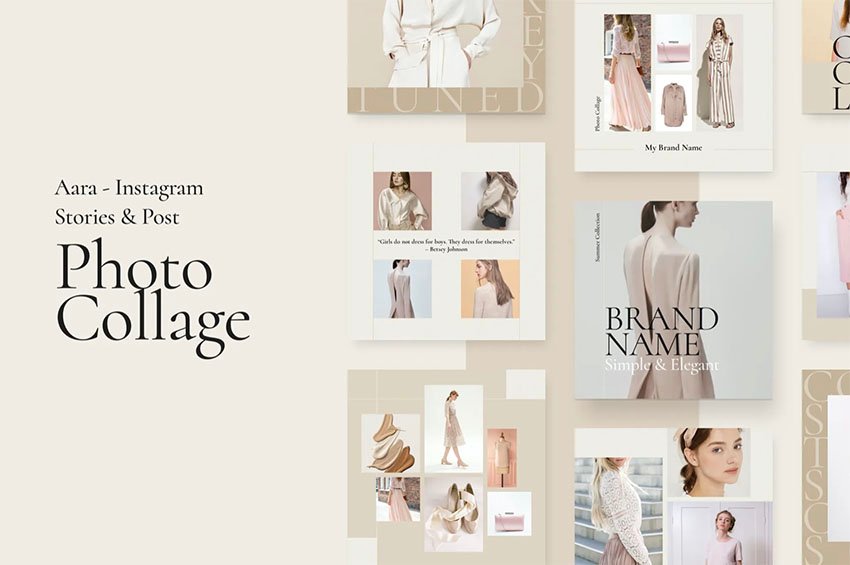 This cool grid layout template offers a minimalist and modern style that will engage your audiences immediately. The package contains nine PSD templates for Instagram posts and another nine for Instagram Stories. The files are well organised in layers so that it's easy to exchange the placeholder image with your own.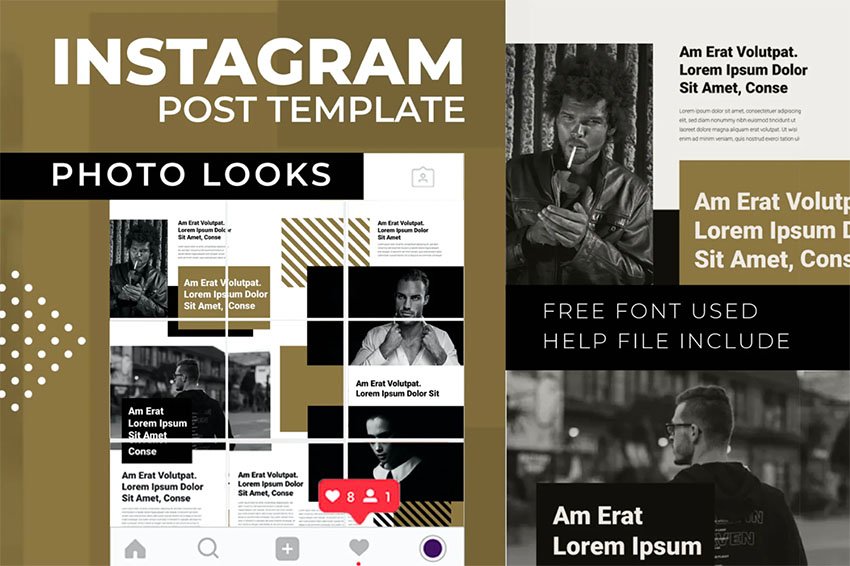 This Instagram photo grid template is ideal for both personal and business posts. It contains one Illustrator and one Photoshop file. Both are fully editable so that you can change the colours and text, and of course add your own photos.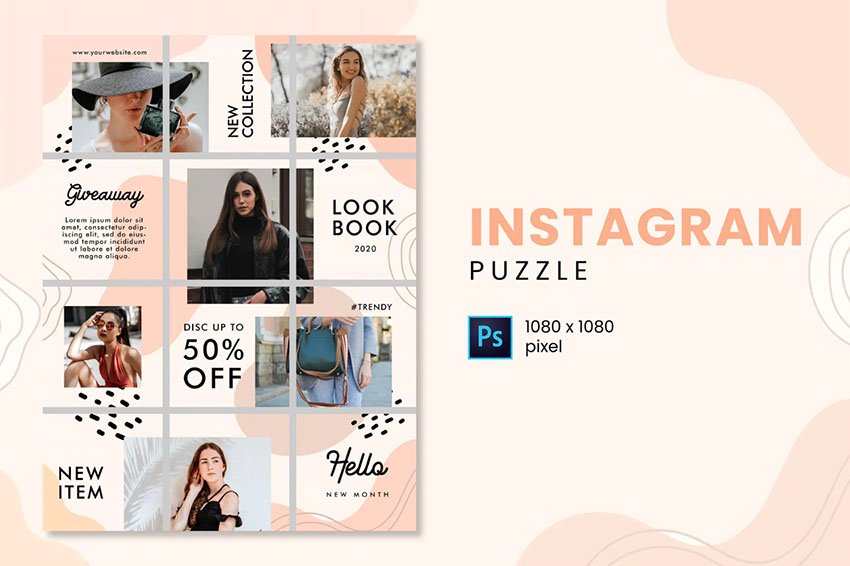 Want to make your Instagram Feed look truly creative and distinct? Then check out this Instagram grid puzzle template. The template contains 12 pieces, as seen in the image above. Well-organised in fully layered Photoshop files, each piece is fully customisable via smart objects and editable text. A great template to have some fun with.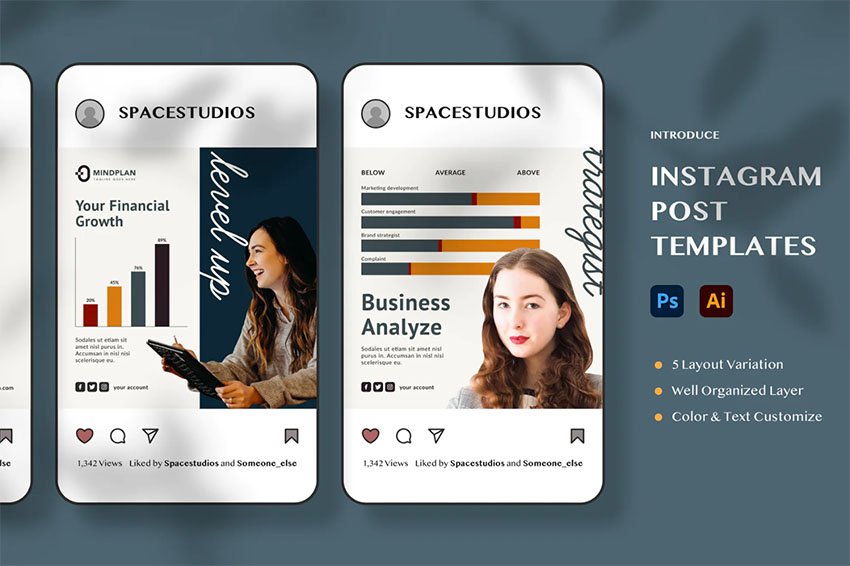 Businesses are always looking for an Instagram-friendly way to communicate information that might be important but is not necessarily visually appealing. This Instagram grid planner is a great way to get this type of information across in a visually engaging way. Give it a try. Your audience and potential audiences will be thrilled.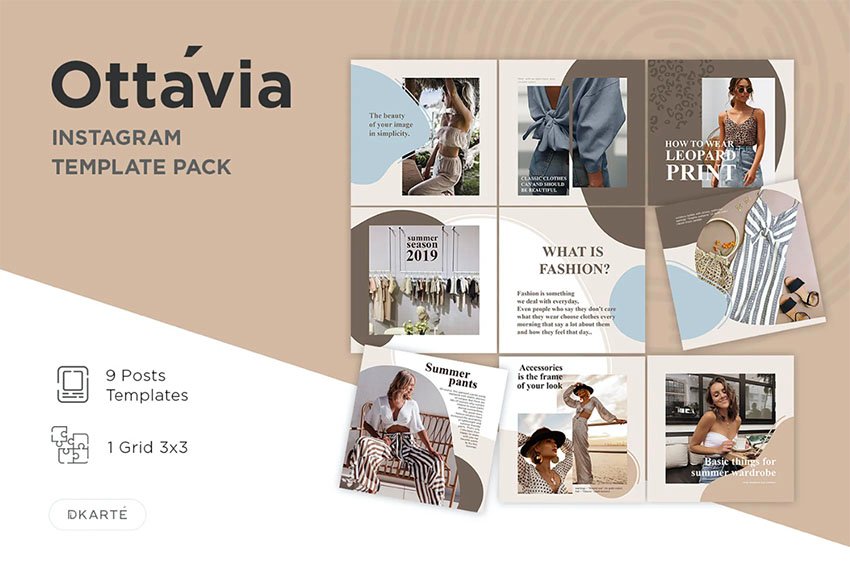 This Instagram grid puzzle template is another awesome template. It offers nine unique posts that can stand on their own as well as together in a specific order. You can replace both images and text, so have fun creating a beautiful and engaging feed.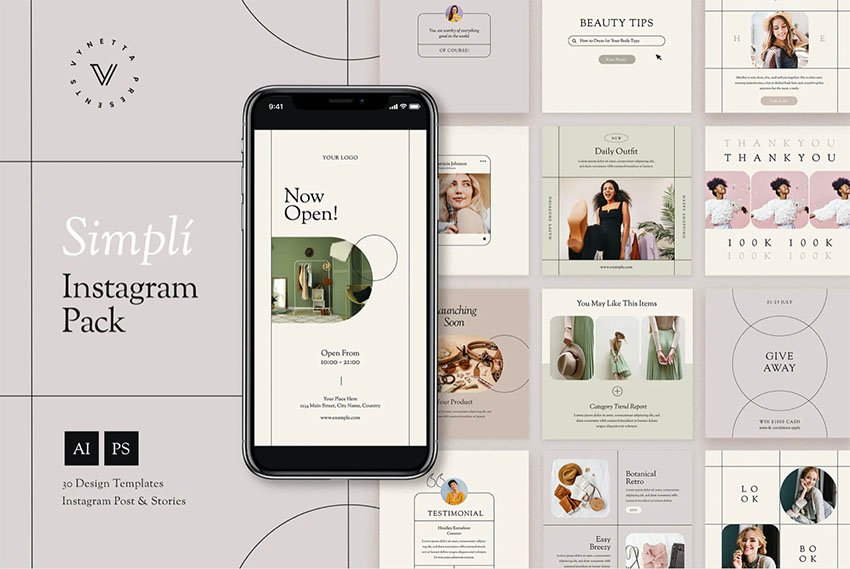 Simplí offers 30 beautiful layouts in both Illustrator and Photoshop for your posts and stories to make your Instagram feed truly stand out. All files are neatly organised and fully editable, so that you can change the fonts and colours easily and replace the placeholder images by double-clicking.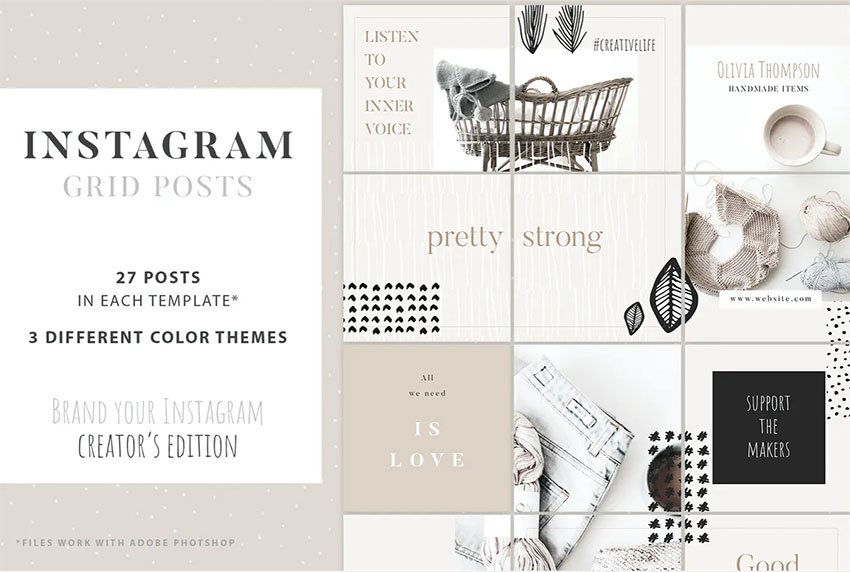 With Creator, you can easily create 27 attractive posts for your Instagram account with just one file. That's because the package contains three pre-sliced Photoshop files, each with 27 posts that form a cohesive, stylish look. Choose the one that suits you best or use each one consecutively.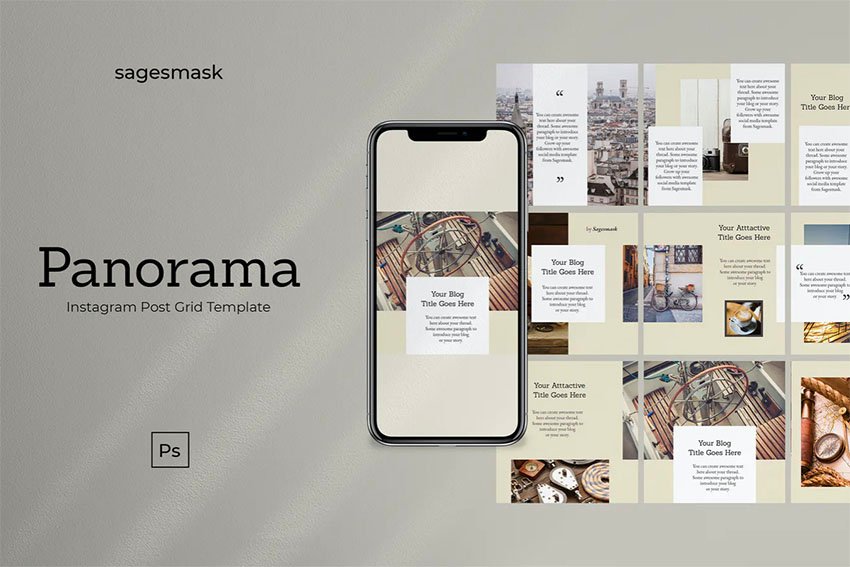 Panorama offers a nine-grid layout that is easy to update with your own content using smart objects. A great template that saves you time while allowing you to keep your feed beautiful.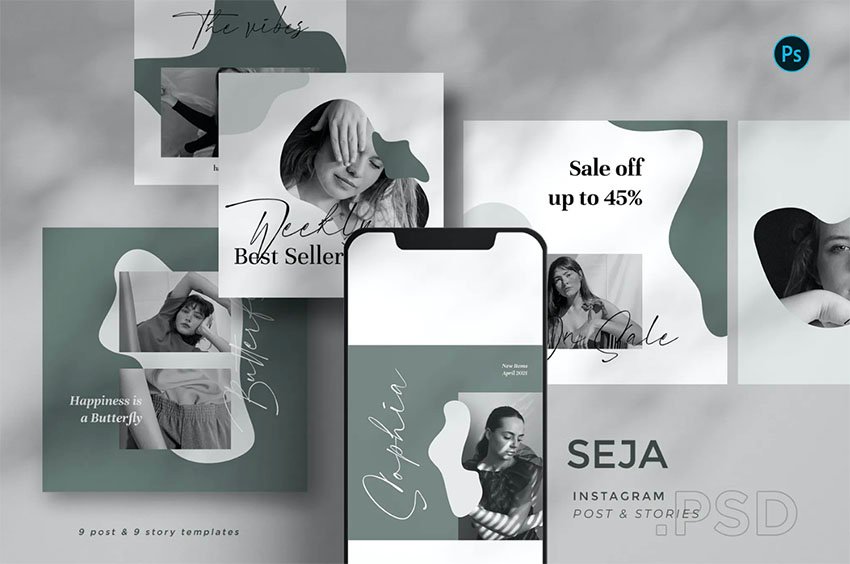 This beautiful collection contains 12 terrific Instagram post and 12 Instagram story templates that can be customised in Photoshop to show off your content to its best advantage.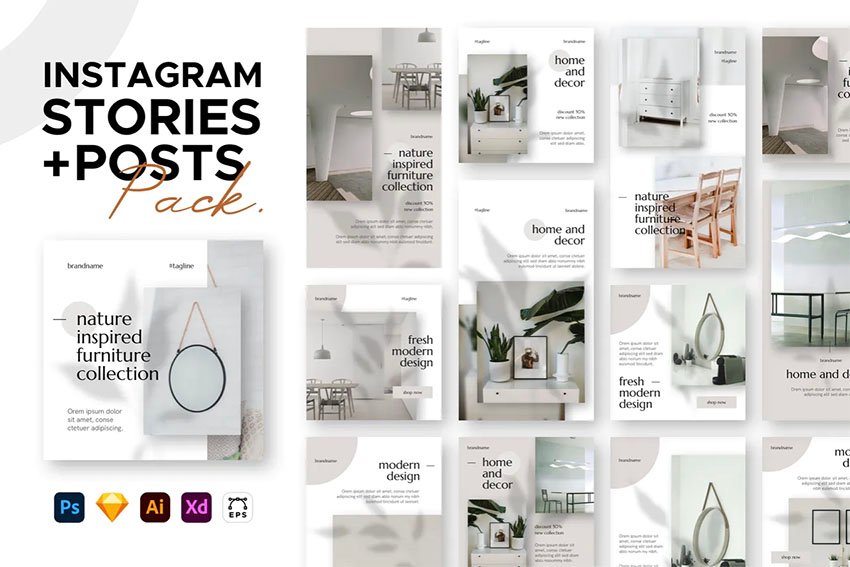 Keep your feed looking cohesive and fresh with this Instagram grid planner template. With 18 beautifully composed designs for posts and stories, this template guarantees that your feed will catch the eye of even the most discerning viewer.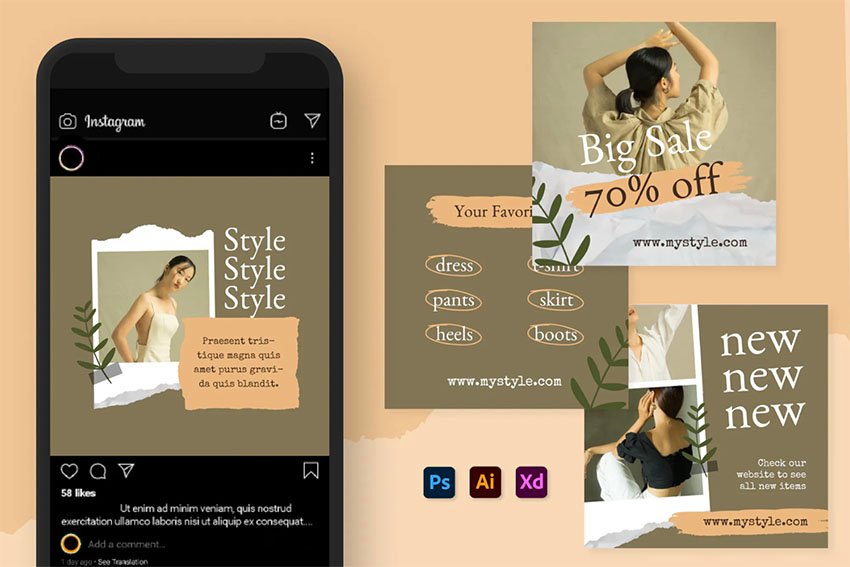 Whether you post on Instagram for business or pleasure, you'll want to show off your content to the best advantage. That's why using Instagram page layouts like this one is a great idea. Offering four beautifully designed posts, this template is fully editable, so you can easily upload your own text and images and add your preferred colour scheme.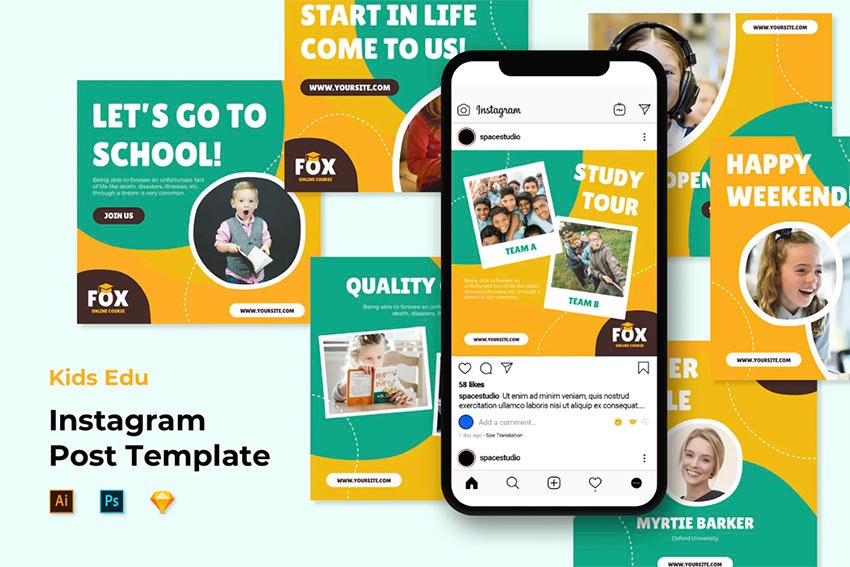 Educators will love this fun Instagram page layout template, which offers nine fully editable and customisable Instagram posts. Well organised in layers, the template is super easy to use with your favourite software.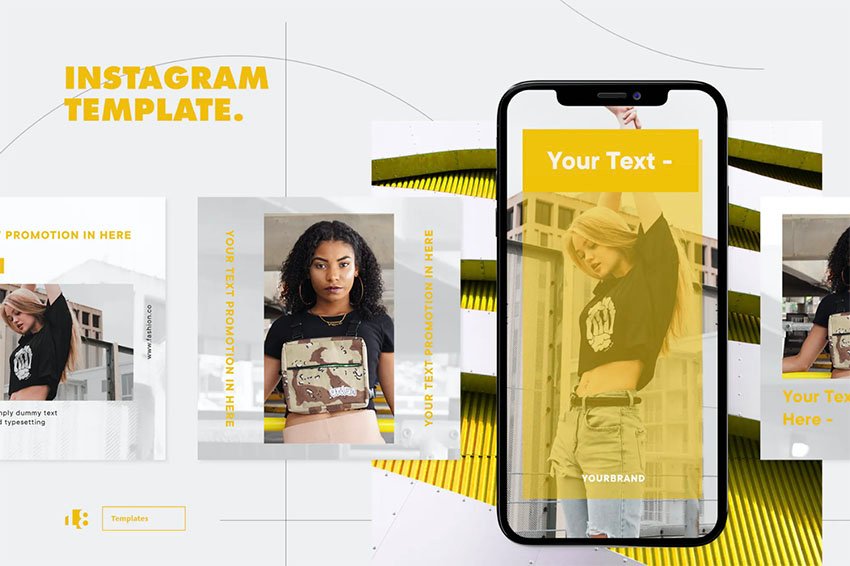 This new Instagram layout template is perfect for both personal and business accounts. It creates great frames that you can use to show off your content to its best advantage.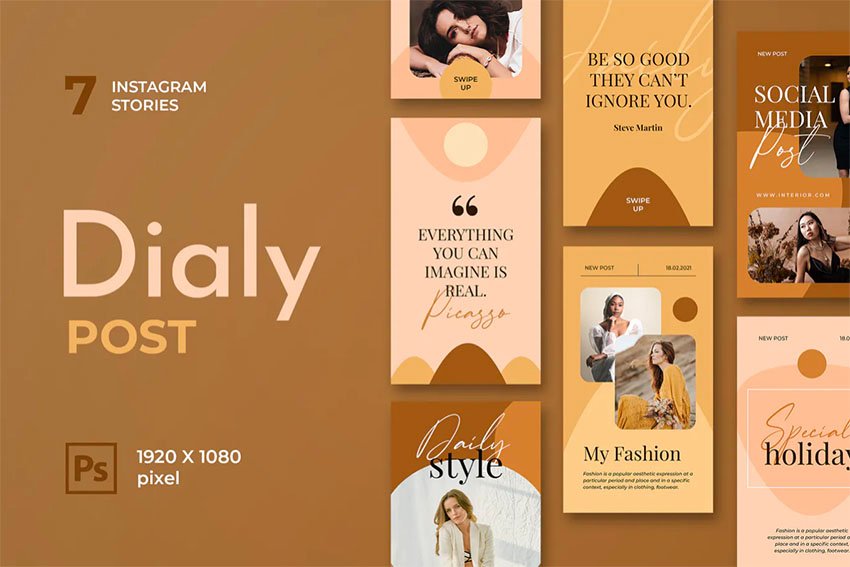 Give your Instagram stories a boost when you use this collection of seven gorgeous templates. Each template stands on its own but complements the other, so that your feed will look professional and cohesive.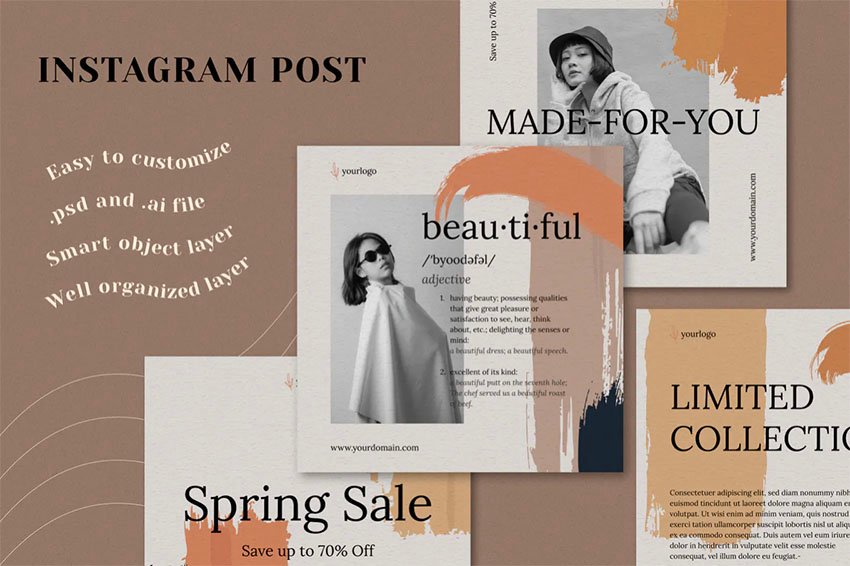 Get your Instagram account the attention it deserves with this awesome collection of four post layout templates. The templates are fully customisable to suit your brand needs. Simply change the colours, replace the text with your content, and post!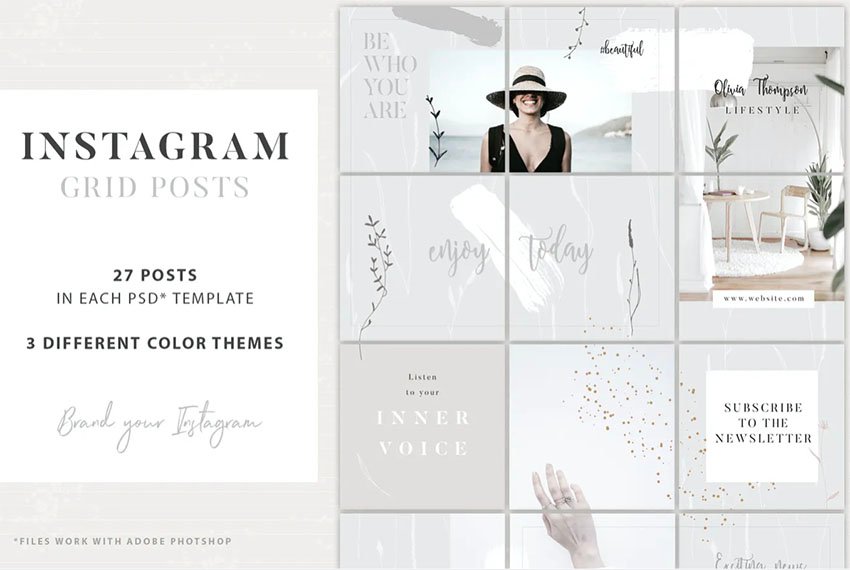 Use this whimsical template to easily create 27 posts for your Instagram account feed with just one saved file. The template contains three Photoshop files under the themes of lifestyle, wedding, and foodie, and each file is sliced into 27 posts that form a cohesive and very stylish collection. The template comes with a help file that takes you step by step from editing the files to saving and uploading them.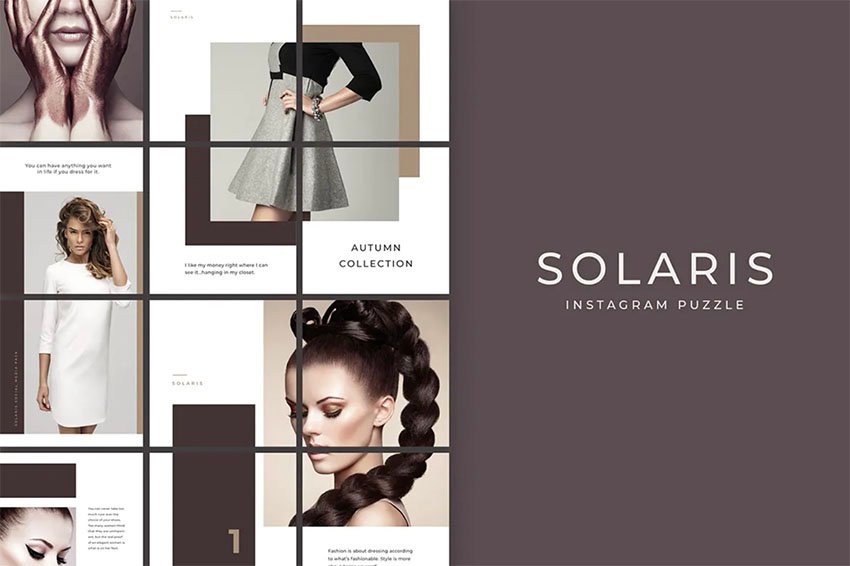 Fashionistas will love this Instagram puzzle layout that's divided into 30 posts that will mesmerise your followers. All the layers of this well-organised file are clearly labelled to make editing easy.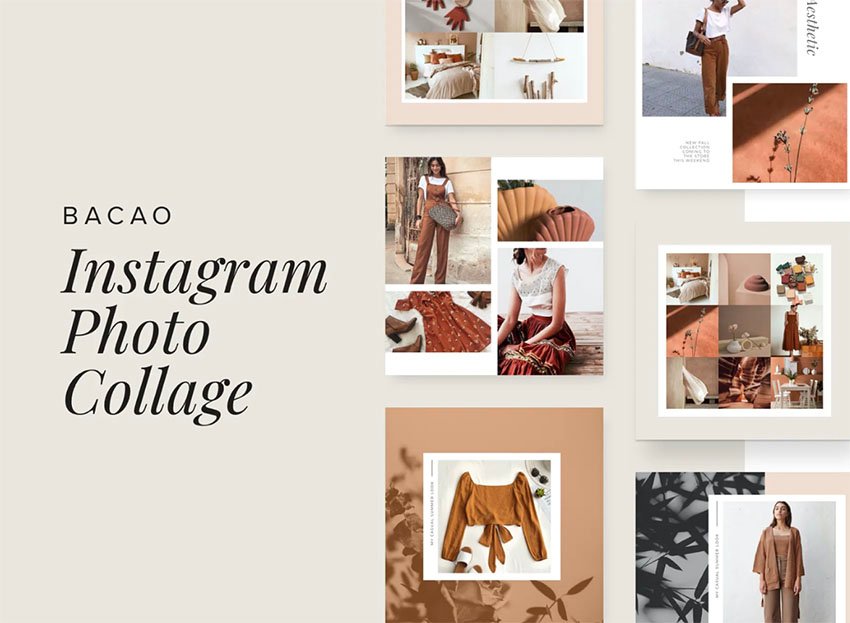 Take your posts and stories to a whole new level with Bacao, an Instagram grid mockup with nine gorgeous post and story files that are fully customisable to help your content shine.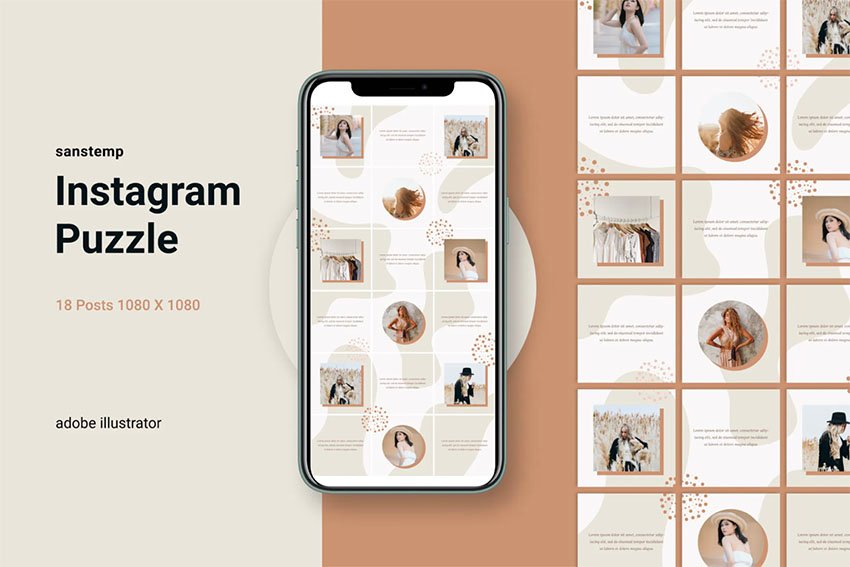 Sanstemp offers the exact experience you want viewers to have on your site. Meaning, whether they're enjoying an individual post or looking at your account overall, you want them to feel aesthetically pleased. The template offers 18 Instagram puzzle layout posts that are fully customisable.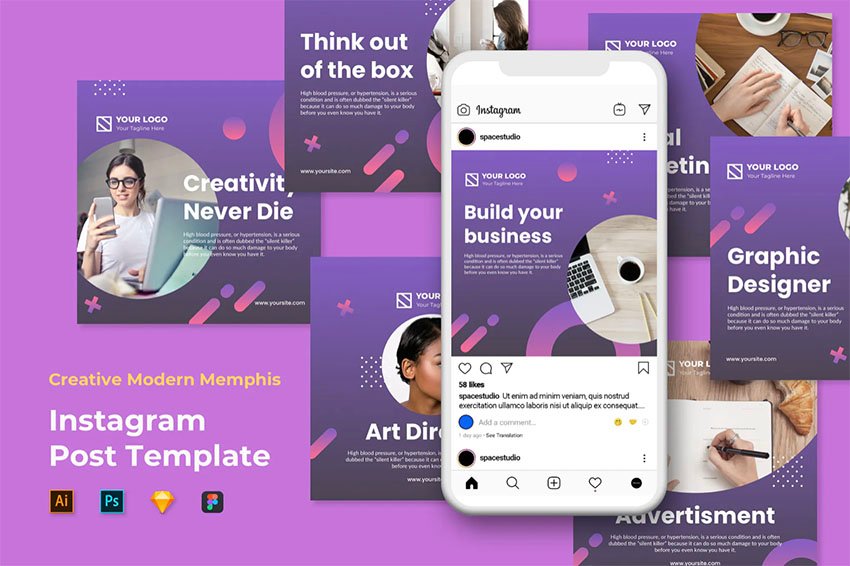 Give your Instagram accounts a design upgrade with this Instagram post layout template. A great way to combine images and text, this template offers nine fully editable and customisable Instagram post layouts. Upload your own images, enter your text, and choose your colour scheme to make them your own.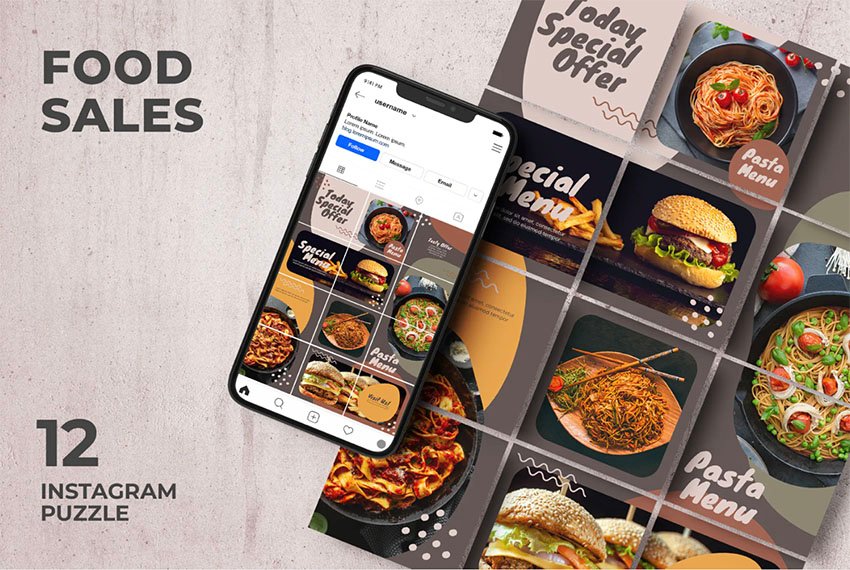 Here's a terrific puzzle template just for food businesses. Food Sales is an Instagram grid layout made up of 12 sections. The Photoshop file is fully layered and well organised, which makes it easy to replace the placeholder images with smart objects.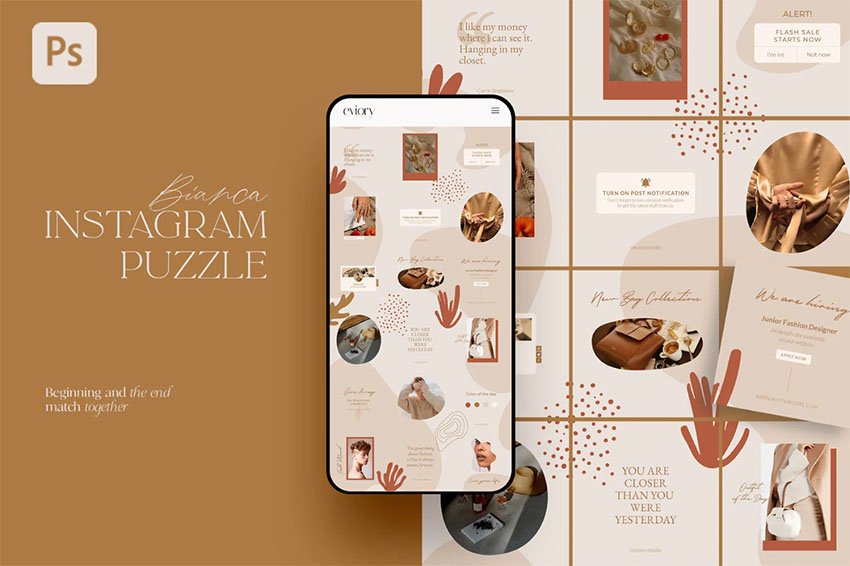 This gorgeous template offers 18 Instagram post puzzle pieces which together create a visually stunning look for your account. The template is composed of well-organised layers which are easy to edit in Photoshop. Best of all, the template is versatile enough to be used again and again.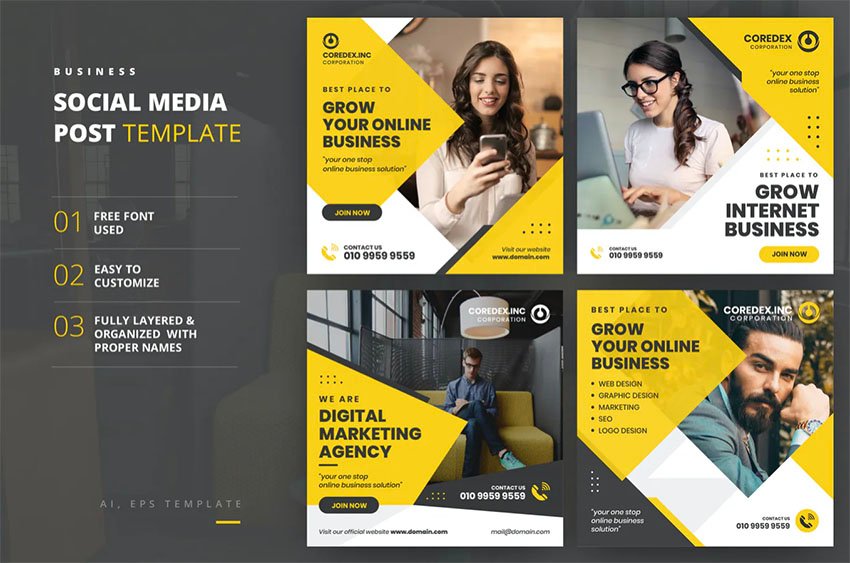 Businesses will love this engaging Instagram layout. It's all you need to create stunning grids for your business. All files are organised in labelled layers to make editing super easy in Illustrator.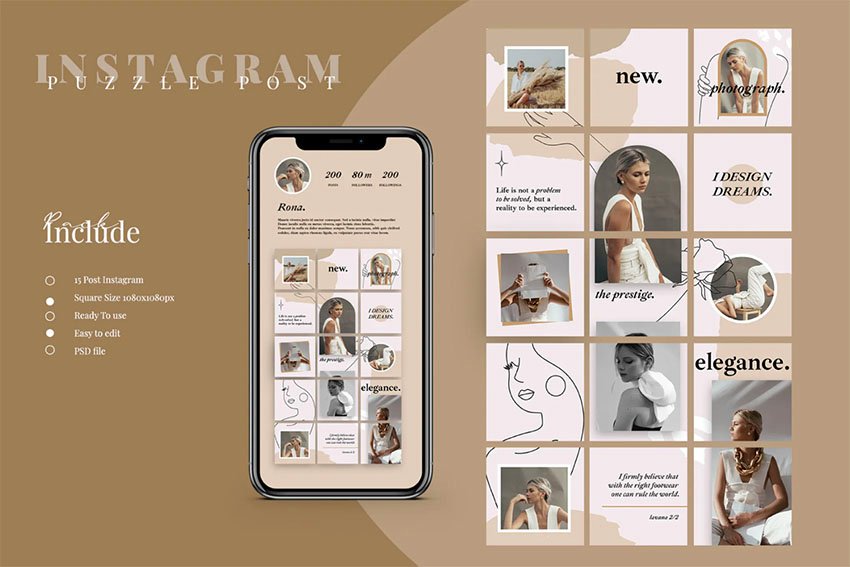 This Instagram Grid Planner template is an excellent tool for promoting your brand to increase followers. The template contains 15 clean and professional designs that work separately and together. Just add your text and then insert your images using smart objects.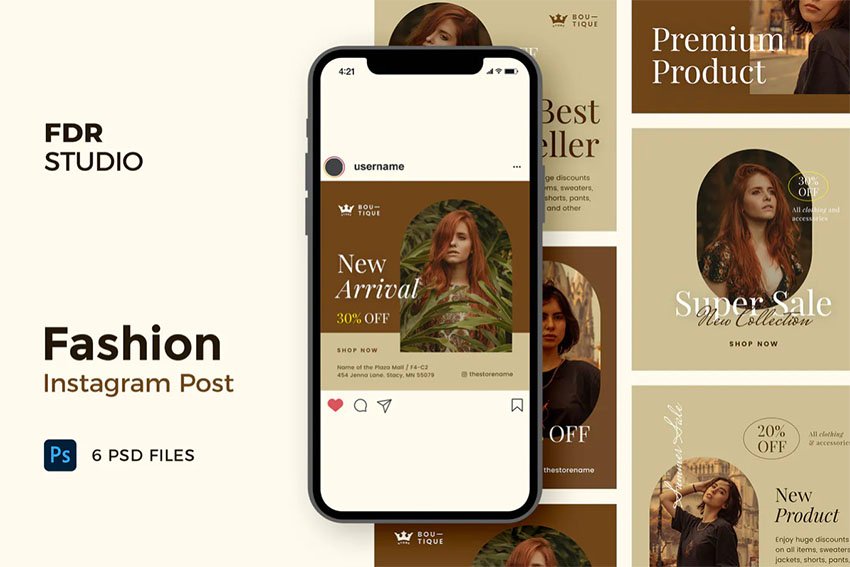 Create an eye-catching Instagram feed with this Instagram Grid Maker specifically for the fashion-minded. You can easily change the text, colours, shapes, and images using Photoshop.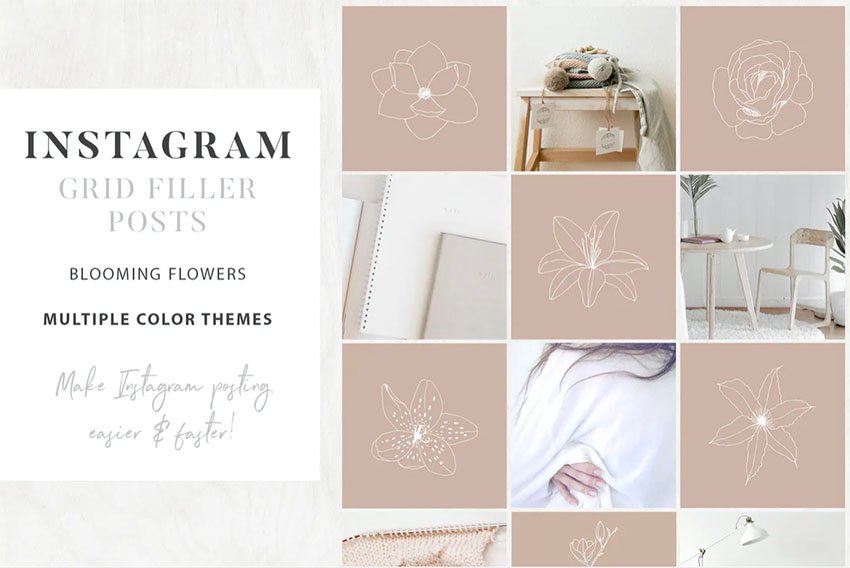 Here's a beautiful Instagram grid mockup that's perfect for those creative souls who want to create a feed that feels effortlessly ephemeral. The template contains 20 layered and well-organised files that are easy to edit using Photoshop.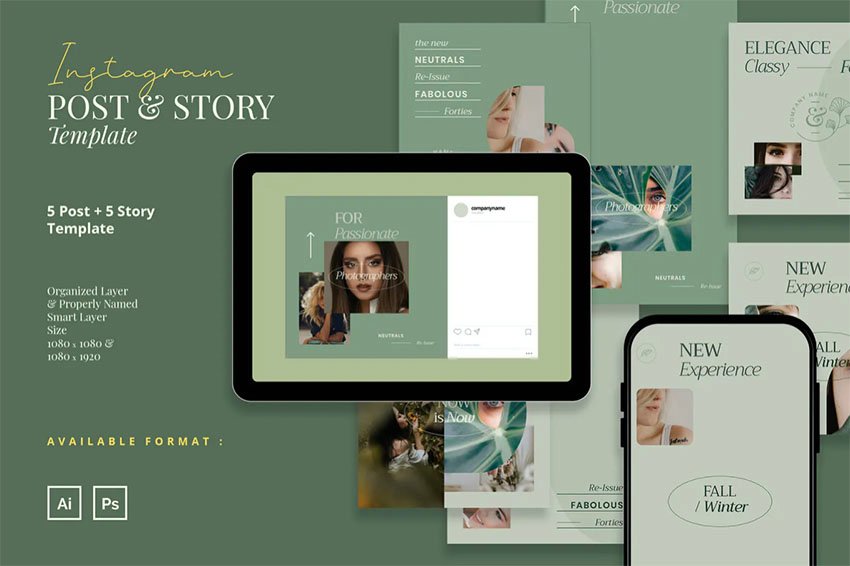 How about this new Instagram layout template, which allows you to present your images and text in a novel and engaging way? This item package consists of five unique designs in AI and PSD format files. You can change the images, text, and colours to reflect your preference and needs. If you get stuck, a help file is included.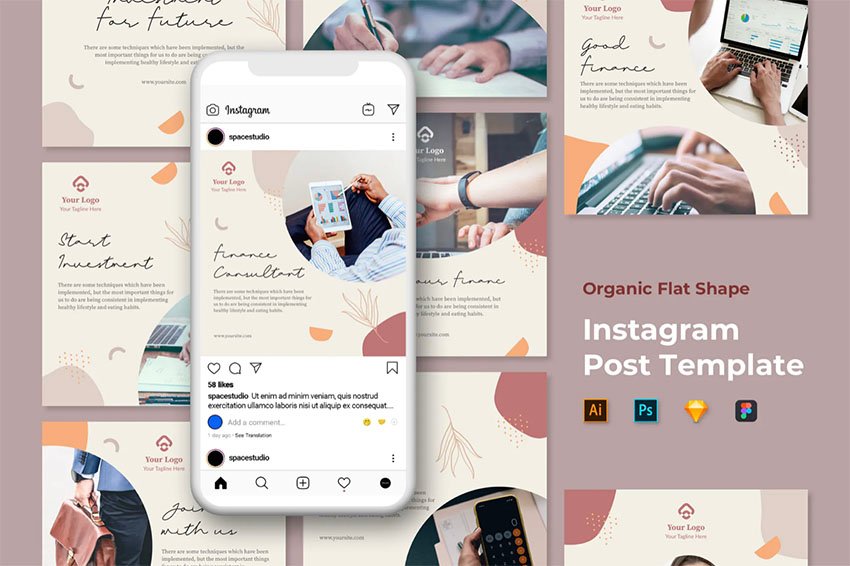 Keep your feed looking cohesive and curated with this wonderful template, which offers nine different layouts. The well-organised and layered files are easy to customise, with fully editable text and colours, and it's easy to replace images using smart objects.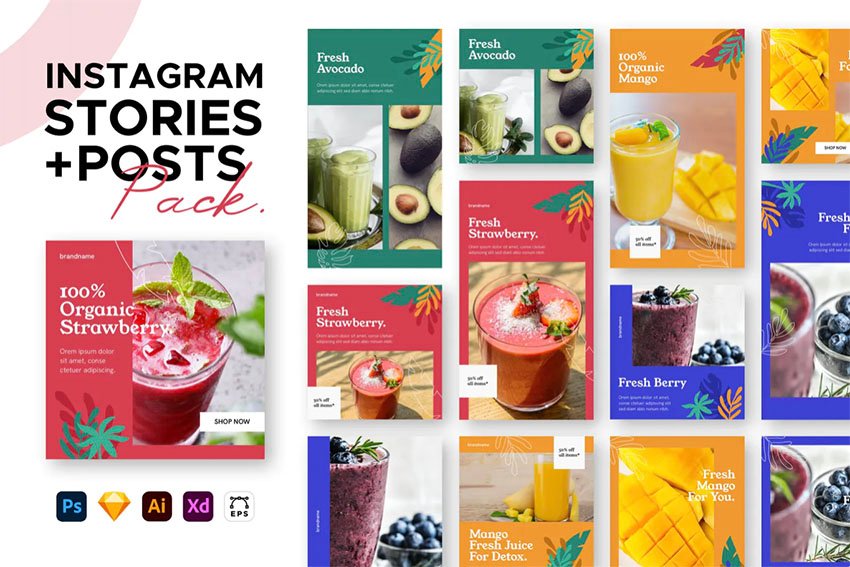 Promote your products using these eye-catching layouts. The template contains nine terrific post and story designs, so there's plenty of variety to keep your fans engaged.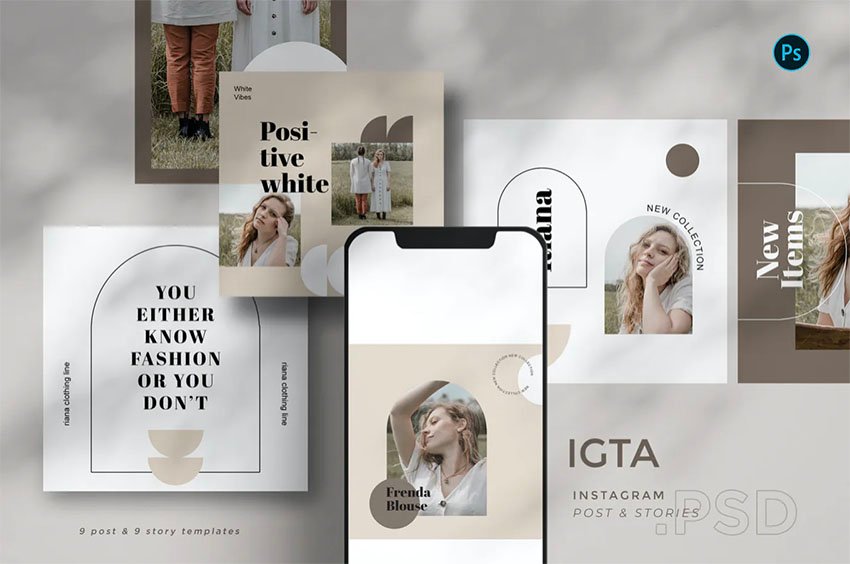 Here are 12 gorgeous Instagram layout ideas that you need to see if you're serious about creating an impressive and engaging Instagram feed. The template is easy to customise in Photoshop. All you need to do is add your text, change the colour scheme to suit your brand, and pop your image into the template using smart objects. Easy peasy!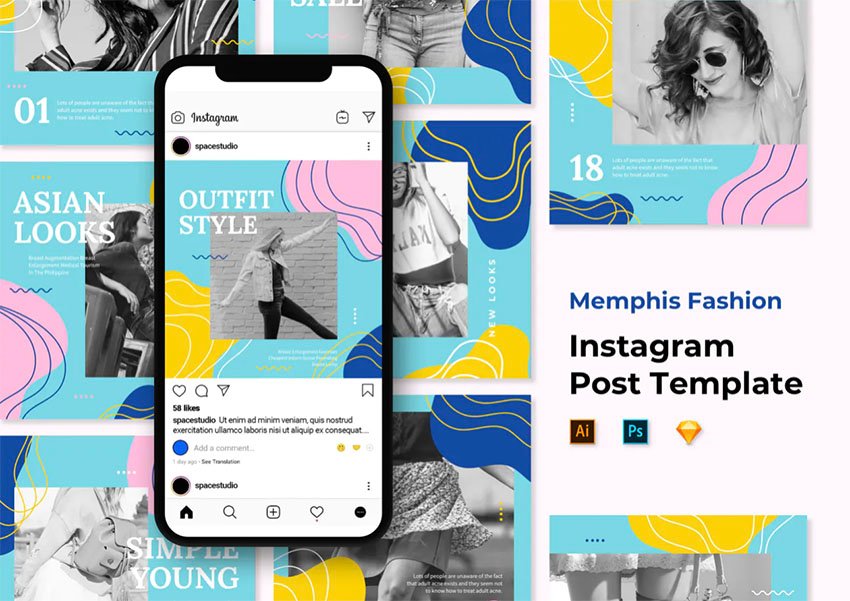 How awesome is this Instagram post layout? It includes nine fully editable and customisable templates. If you want to make sure you stay relevant, this is the template to use in your feed.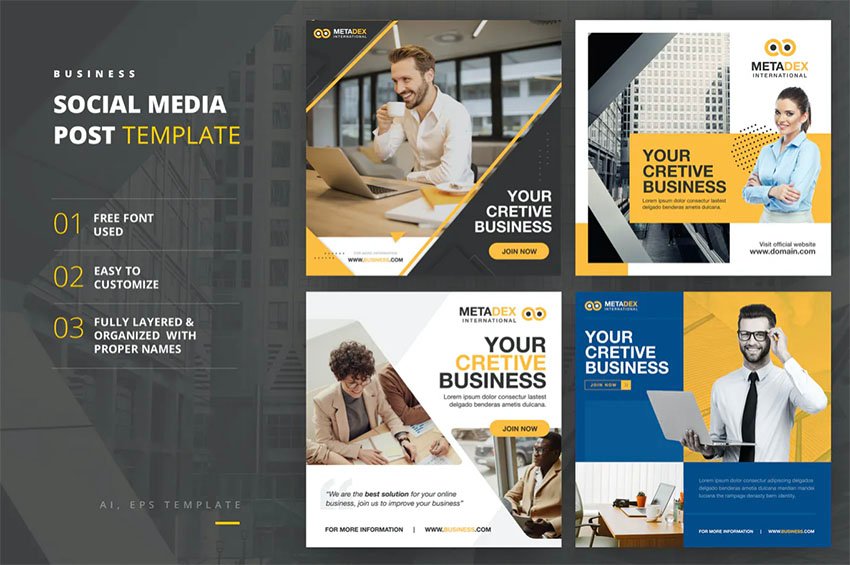 Businesses often need to strike a balance between reliability and relatability. Happily, Envato Elements offers plenty of Instagram feed layout templates that allow them to do just that—like this one, which offers ample areas for images, colours, and text.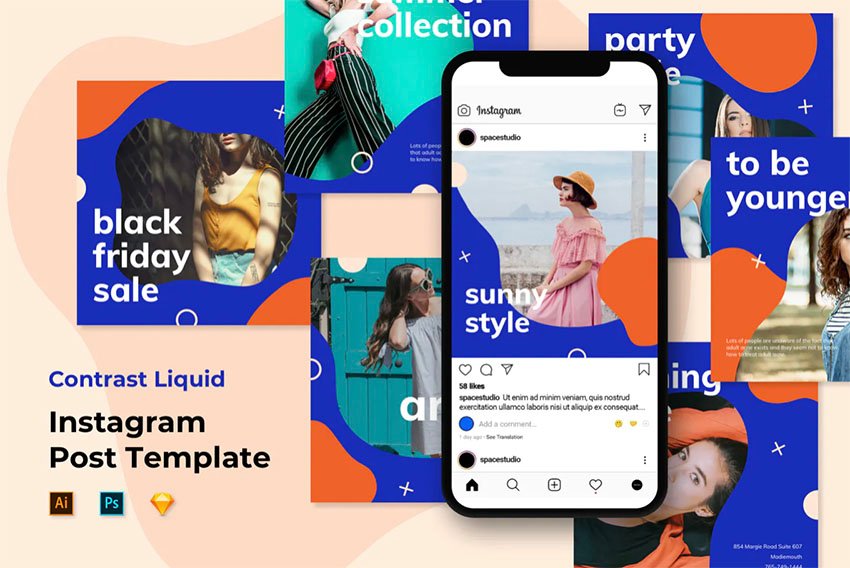 Give your Instagram account a design upgrade with this fabulous template. It contains nine fully editable and customisable Instagram posts that combine stunning graphics and colour, with plenty of room for your images.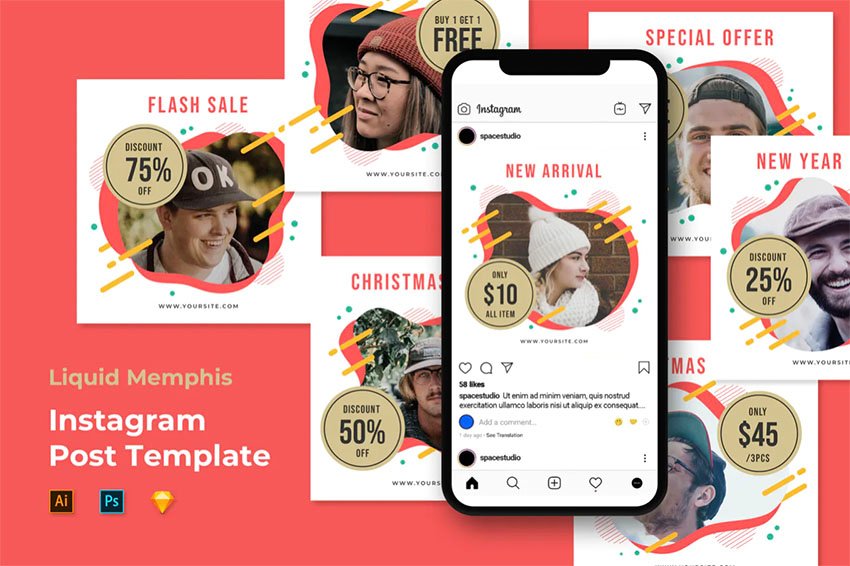 Fully layered and well organised, this Instagram Template is just what you need to promote your eCommerce business. There are nine templates to choose from, so you can keep your audience engaged while getting your message across.
More Premium Instagram Grid Templates From GraphicRiver
GraphicRiver is another service that offers terrific Instagram grid templates, but it works differently from Elements. 
While Envato Elements is the best source when you want to buy many templates and other resources, GraphicRiver is better for those who are on a budget and only want to buy one template at a time.
10 Best Instagram Layout Ideas
This terrific template isn't just an Instagram puzzle layout—it's a puzzle that plays with geometry to create a stunning and engaging feed. The template is presented in one file which is divided into 27 posts. Just open it in Photoshop, add your own text, images, and colour scheme, and you've got a month's worth of posts ready to go.
We've shown you quite a collection of sophisticated Instagram grids. This one, however, is an Instagram grid layout that plays with the simple idea that is the Instagram grid. The template presents you with 24 fabulous posts that alternate content consistently to give your feed a consistent look.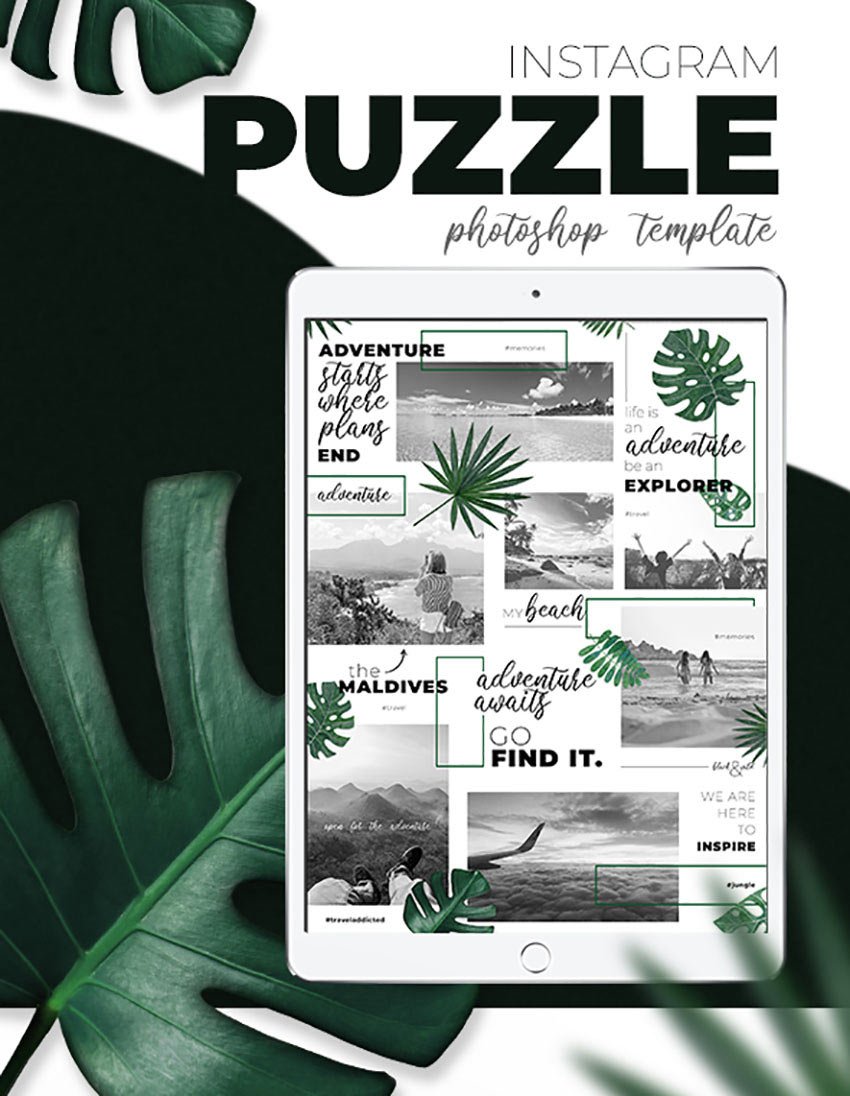 This Instagram puzzle layout is super stylish and engaging. It offers 15 posts with fully editable elements. You can add your own text and images and even decide where to place the leaves in your composition.
Travelboard Photo Grid Template is a multipurpose puzzle that can be used for fashion, lifestyle, travel, photography, and more. The template is composed of well-organised layers that can be edited using smart objects.
Here's another Instagram grid feed template that you'll love. This one helps you turn your photos into one large image in your feed. How cool is that?
Using this template, you can create stunning Instagram posts within minutes. The template offers 12 PSD files that are well organised and layered for easy editing. Simple instructions and free font links are included.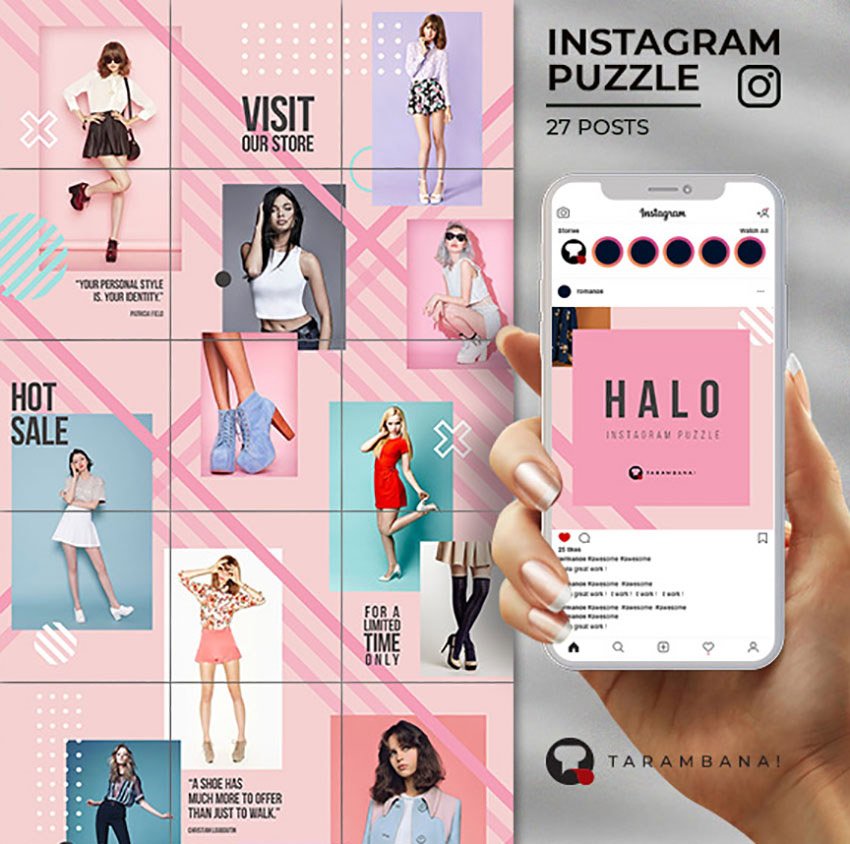 An Instagram photo grid Photoshop template created specifically for bloggers, influencers, and marketing experts, Halo is presented in an easy-to-use Photoshop template that helps you curate your Instagram content weeks in advance with just a few clicks.
This Instagram puzzle template is certainly extravagant, with its wonderful gold swirls. The pack contains two Photoshop files with 27 slices and an easy PDF tutorial with step-by-step instructions on how to edit photos and save separate posts.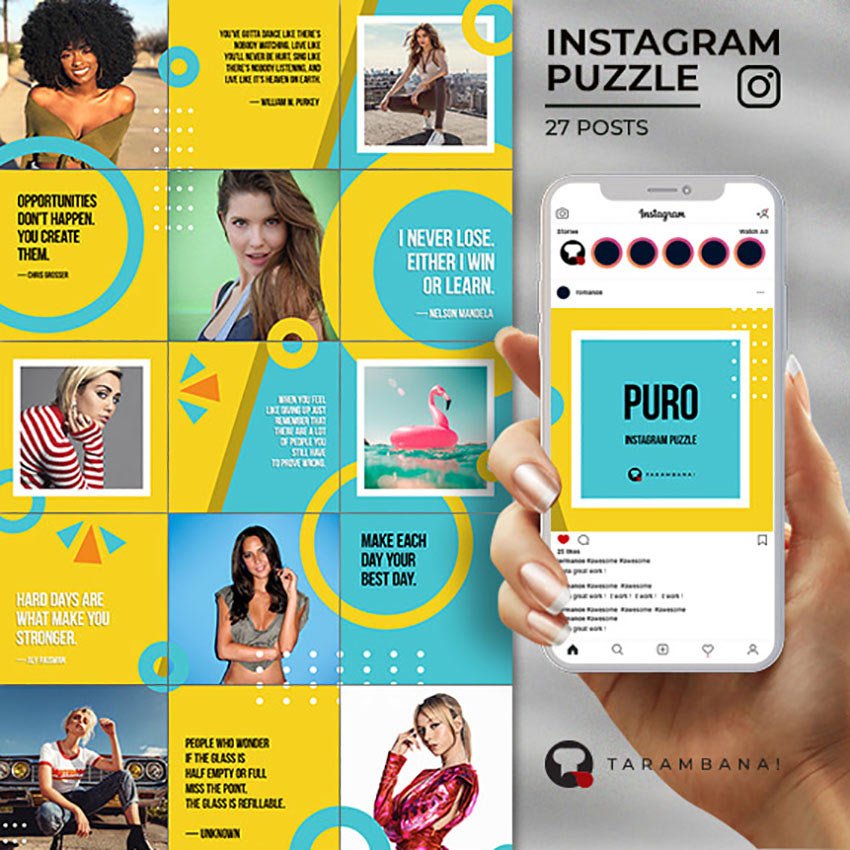 Go big and bold with this multipurpose Instagram puzzle grid that will help you compose your Instagram content in advance with just a few clicks. Simply add your own photos and text, split your grid, and you've got 27 posts for a beautiful, trendy Instagram feed ready to upload.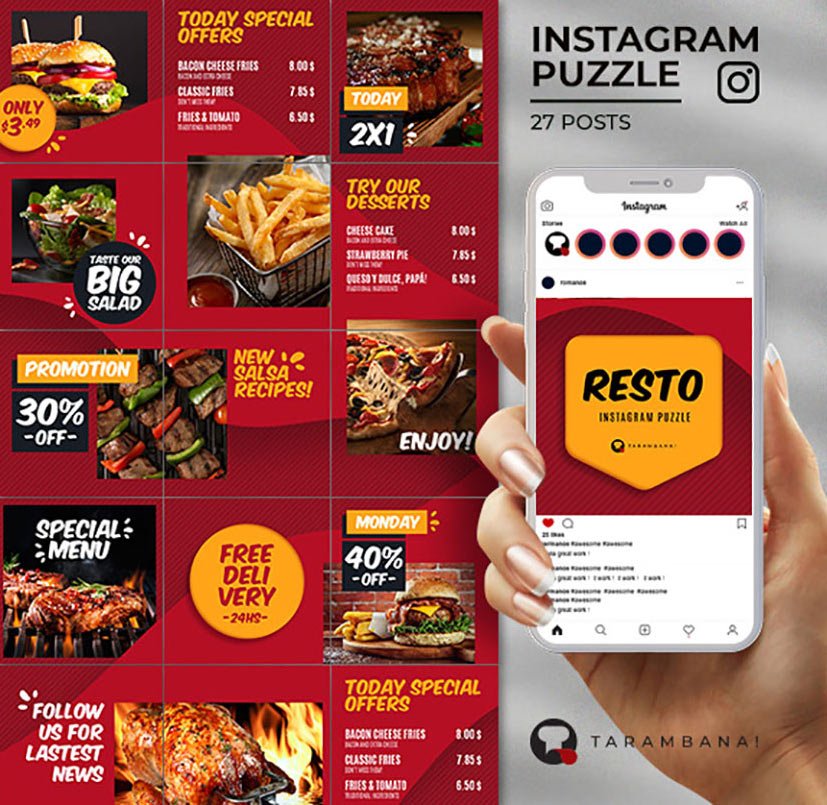 Restaurants, pay attention. This wonderful Instagram grid template download helps you organise your content a month in advance with 27 individual Instagram posts. The template contains a single Photoshop file made up of 27 individual Instagram slices that you can edit to suit your brand by changing the background and text colours, editing the typography, and replacing the photos with your own.
Choose Your Favourite Instagram Grid Template Today 
Both GraphicRiver and Envato Elements are excellent resources for the best Instagram grids.
If you also regularly need mockups, icons, and other design resources, Elements offers unlimited downloads for one low monthly fee. Alternatively, if you just want to buy a single template, GraphicRiver is an excellent source. Head over to either site today to download your favourite template.
And finally, if you want more information on other terrific Instagram resources, check out these really helpful articles below: