Real estate newsletters are a great way for real estate agents to connect with their target audience. And if you're a real estate agent looking to create a weekly or monthly newsletter to keep your clients updated, then you're going to need an eye-catching template.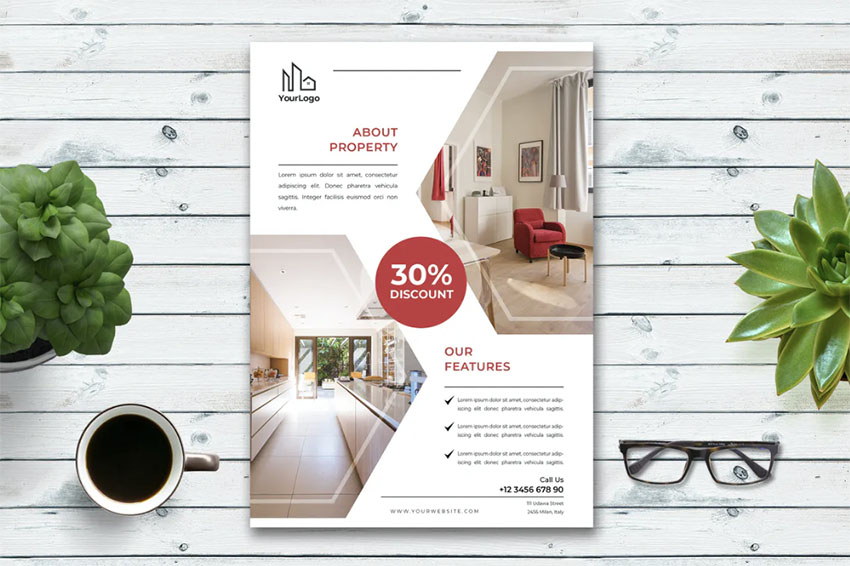 Well, today we're going to share with you 41 of the best real estate newsletter templates you can find at Envato Elements and Graphic River. 
Unlimited Real Estate Newsletter Template Downloads at Envato Elements
Both Envato Elements and GraphicRiver offer high-quality newspaper templates, but each service is a bit different from the other. 
Envato Elements offers hundreds of editable newspaper templates from the best designers in the field, and you can download as many as you want, as often as you want, for one flat monthly fee.
In addition, that monthly fee also allows you to access thousands of premium digital assets like logos, fonts, mockups, photos, business card templates, and much more. Let's take a look at the best blank newspaper template available at Envato Elements. 
30 Best Real Estate Newsletter Ideas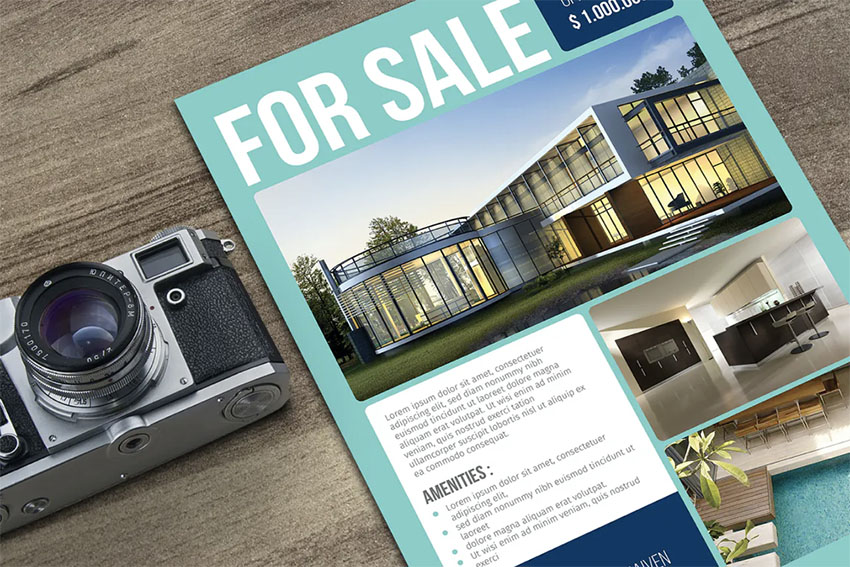 Keep things short and sweet with this real estate newsletter template. The A4 size template gives over most of its space to eye-catching images and leaves a limited space for your message. Ideal for those who know how to distill their ideas in short points.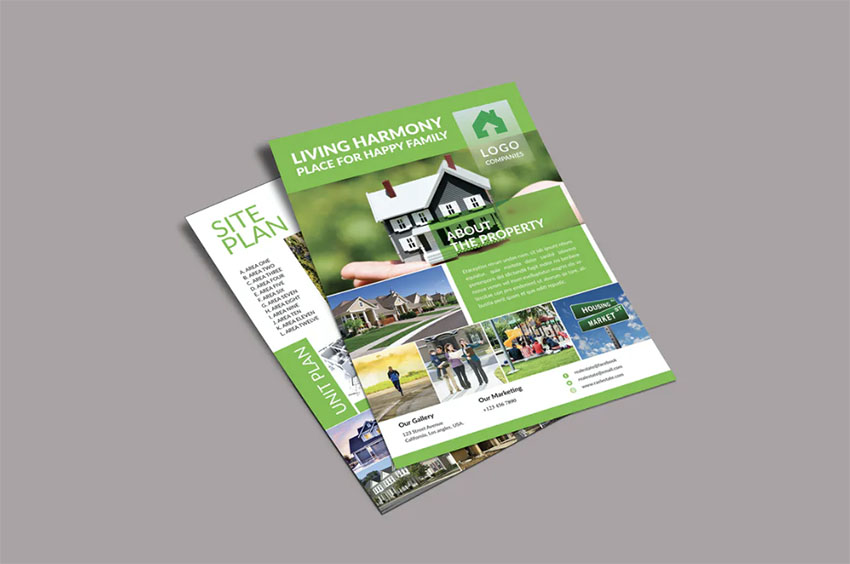 This template uses the same one-page concept as the one above, but with this template there's a different layout for each side of your newsletter. To edit, just drop in your own images, add your text, and select your colours.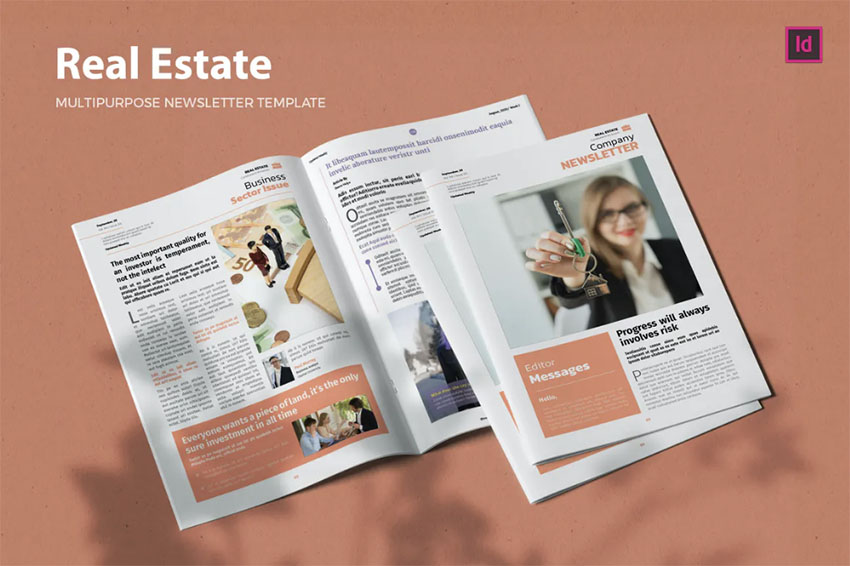 How about this awesome real estate newsletter? The template offers ten A4 sized pages with a clean, modern layout. All sections of the newsletter can be easily edited. Just drop in your own images, replace the placeholder text with your own, and change the fonts and colours as needed.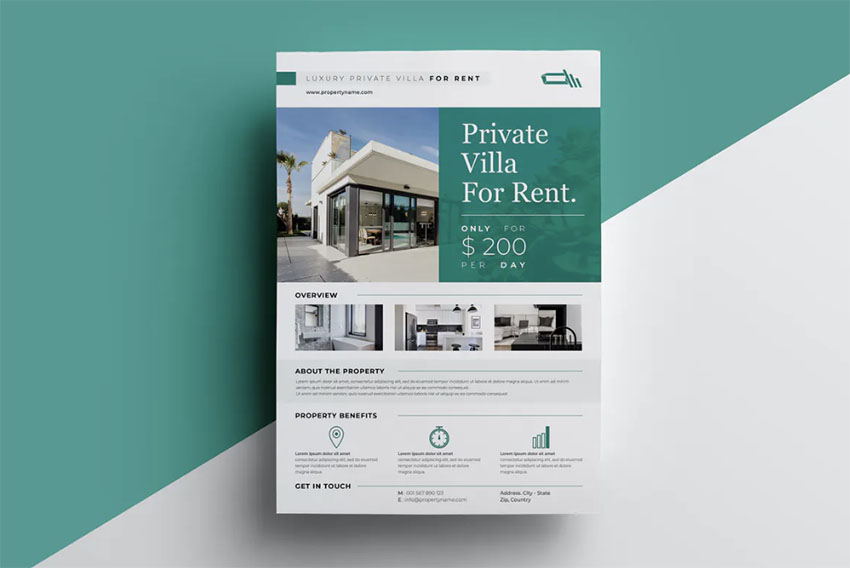 Showcase interesting properties when you send out this real estate template to your potential clients. The well-laid-out A4 template gives ample room for your images as well as your text and is easy to customise. 
Promote your business with this handy real estate newsletter template, which offers terrific modern layouts that are polished and visually engaging.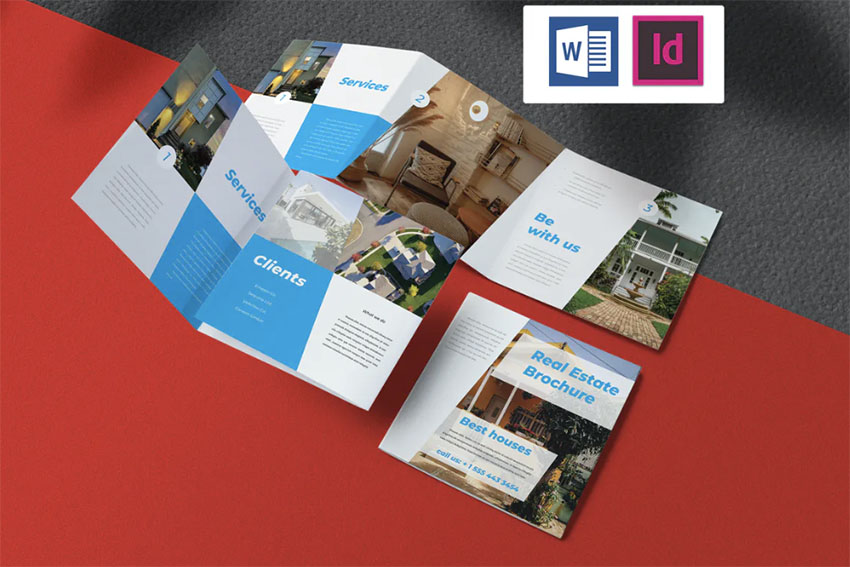 Feature happy clients and a roundup of new properties with this trifold real estate newsletter. The 20cm x 20cm InDesign document is easy to edit. Just drop in your images, add text, select colours, and you're done.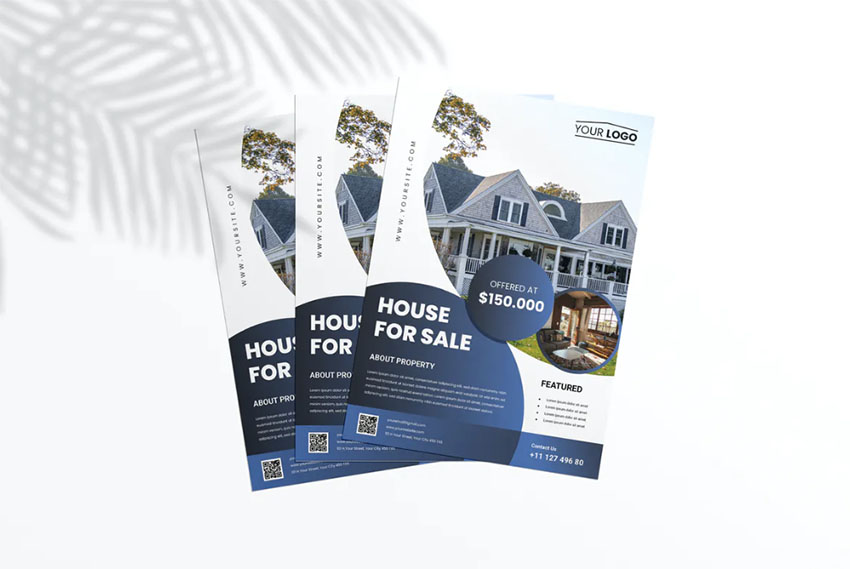 Spotlight a new property with this gorgeous A4 realtor newsletter template. It's simple and eye-catching, and all elements of this easy-to-use template are customisable.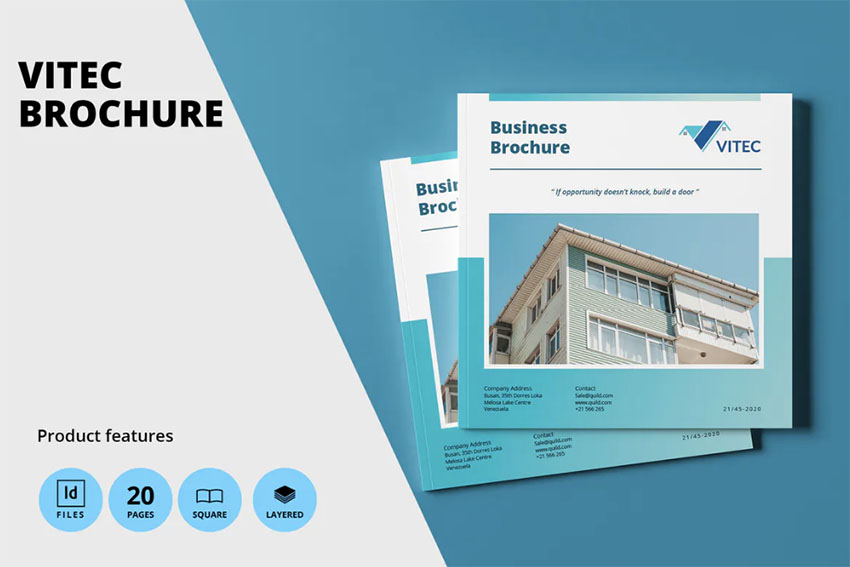 How about this 20-page newsletter for real estate agents? It's perfect for agencies that have quite a bit of information they want to convey to their clients. You can promote your business, offer a roundup of new property listings, and even feature happy customers.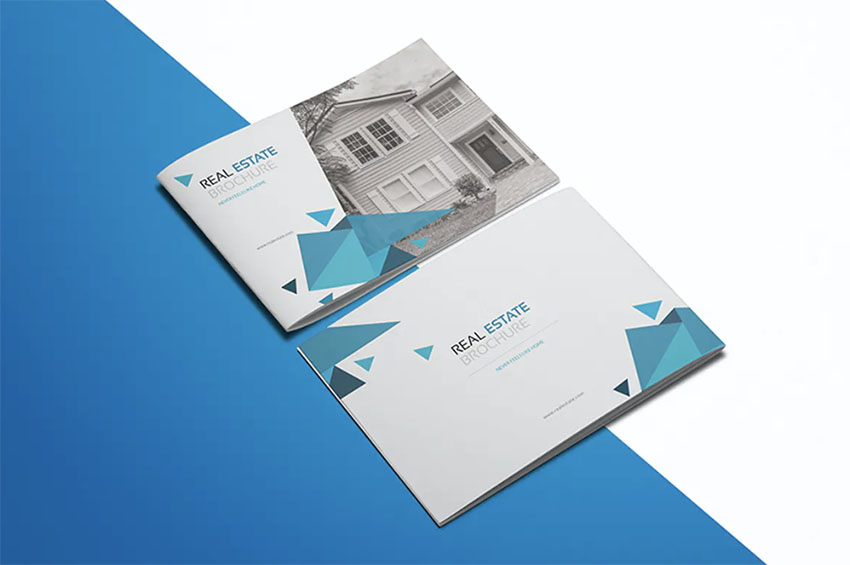 When you use newsletter templates for real estate agents with several pages, you can obviously fit more information in. Templates like this 28-page catalogue are great for agents that publish monthly rather than weekly and want to entertain or educate their clients about different aspects of this business.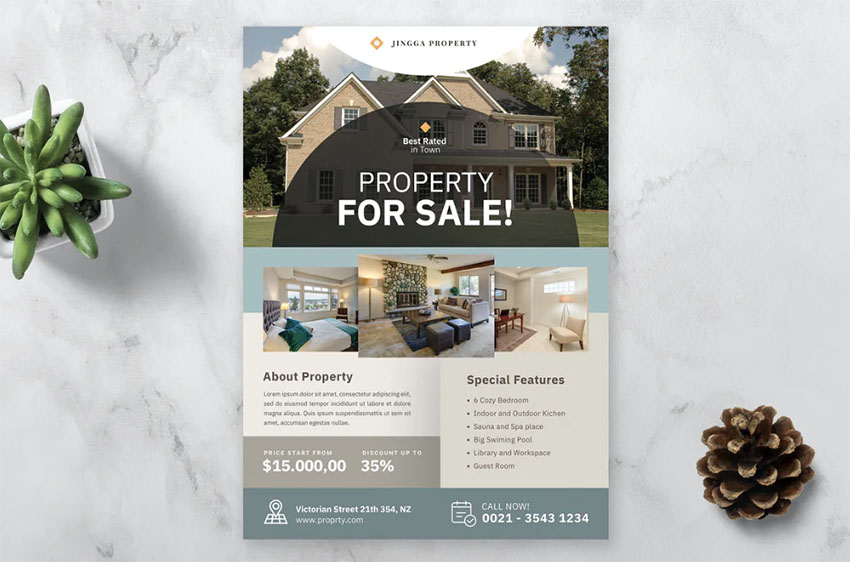 Unlike the real estate monthly newsletter template above, this realtor newsletter is better for those who put out a newsletter every week or bi-weekly. For such frequent communication, it's better to keep things short and stick to one item, whether that's to promote one property or feature one happy client.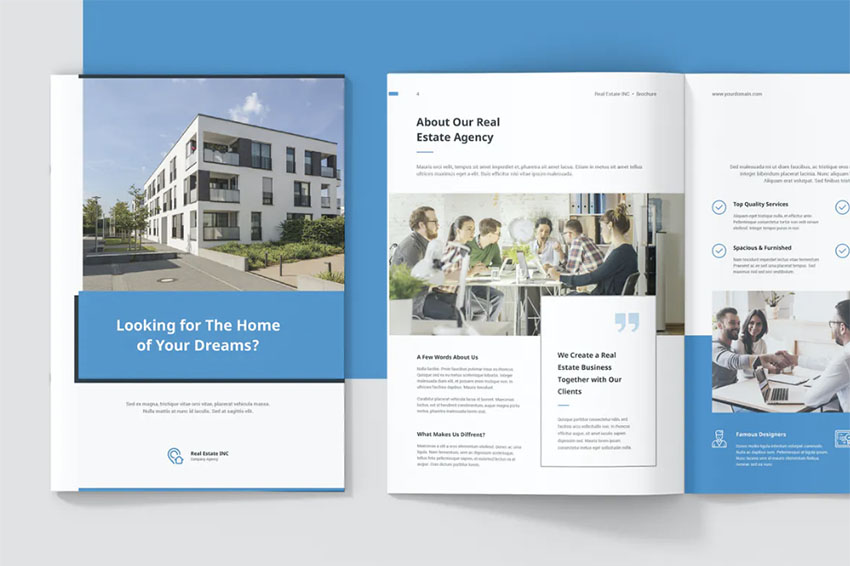 When you're creating a real estate monthly newsletter template, its a good idea to make it varied so that you keep your potential clients entertained, engaged, and informed. Maybe you don't need to use all 24 pages of this layout, but certainly with such a wide range of layout choices you can create one of the best real estate newsletters in your industry.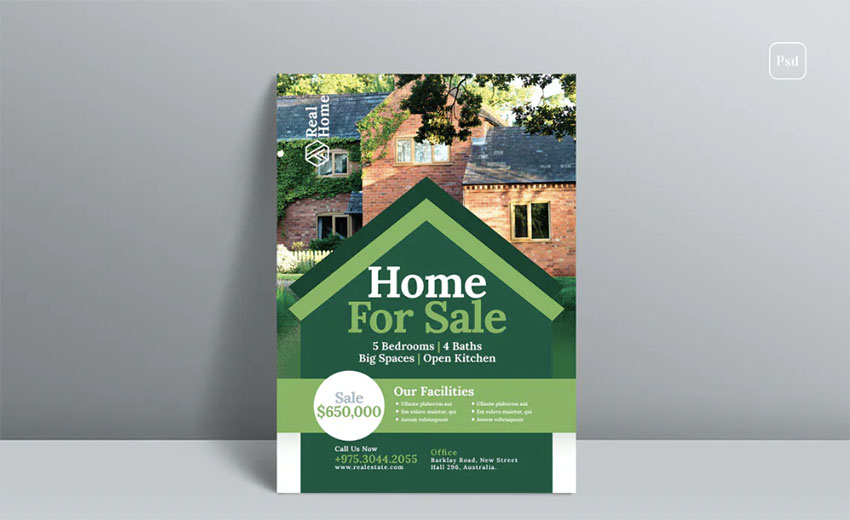 Here's another gorgeous layout for realtors who keep their newsletters short. This one is offered in both A4 and US Letter sizes. The files are fully layered and well-organised PSDs, which make it easy for you to edit all the text, photos, and colours.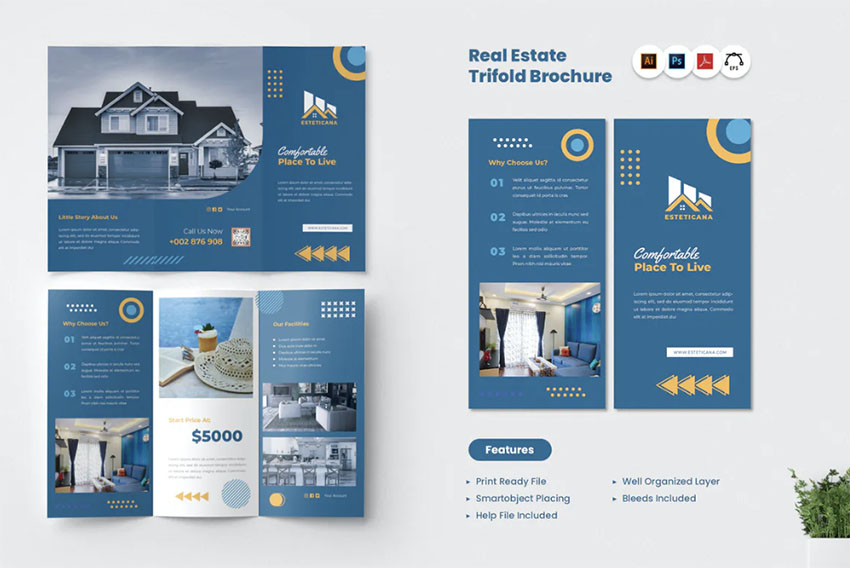 This trifold newsletter template for real estate agents is perfect for agents who usually keep their newsletters short but want to add a bit more information from time to time. Use this template to summarise local market insights, showcase interesting properties, or feature local vendors.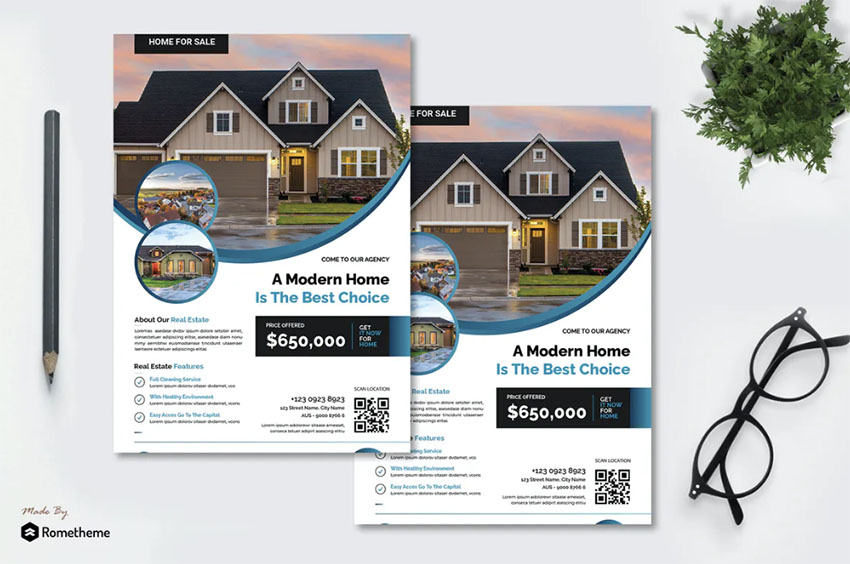 Here's another gorgeous A4 real estate newsletter example. The template can be easily customised to suit your needs and includes all necessary files for a quick setup. Change the fonts, colours, headlines, and photo as needed, or delete elements you don't need.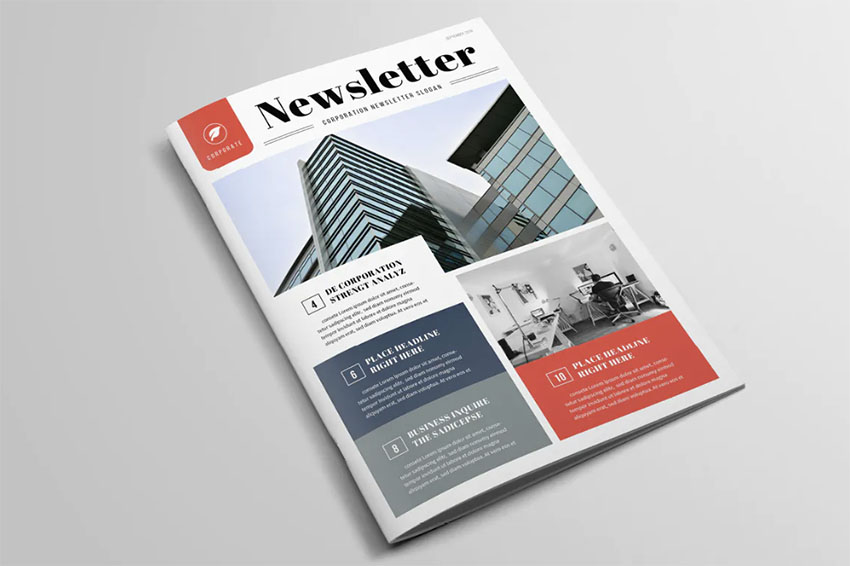 Check out this professional and modern 12-page real estate newsletter idea. Larger companies with lots of news to share will love the versatility of the layout, which allows you to mix and match and move around pages according to your needs.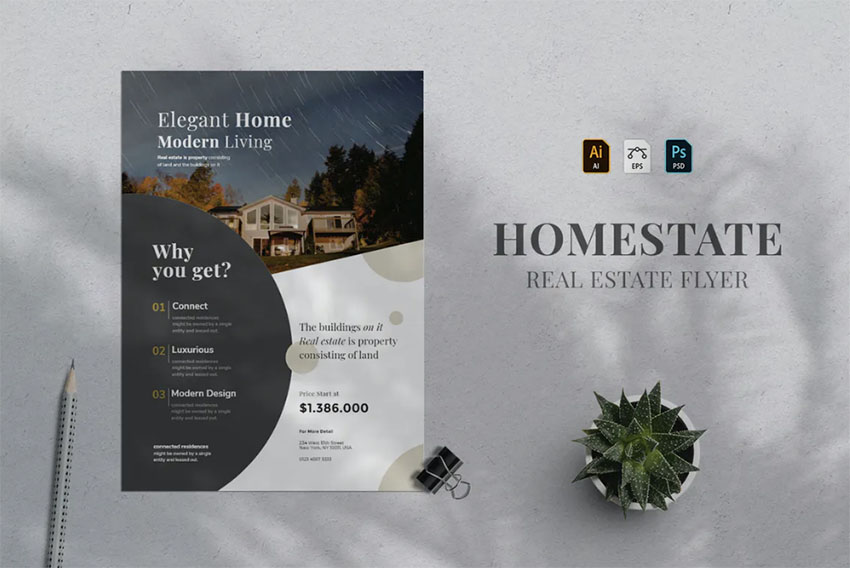 How elegant is this real estate newsletter example? The professionally designed modern template is exactly what you need to promote your business and your properties or listings in an elegant and engaging way.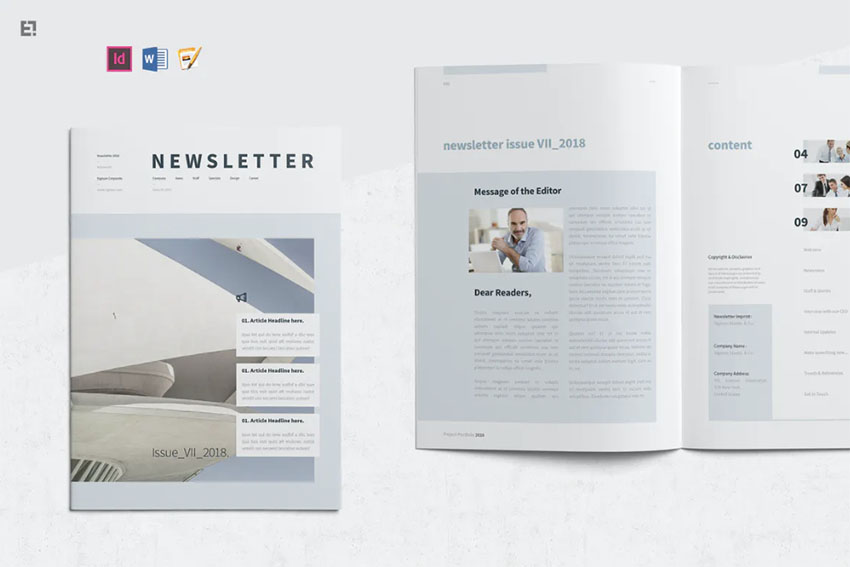 Check out this great real estate newsletter idea. The template is offered in both A4 and US Letter size, and with 16 pages, you have plenty of choice of layout to create an informative and attractive document for your clients.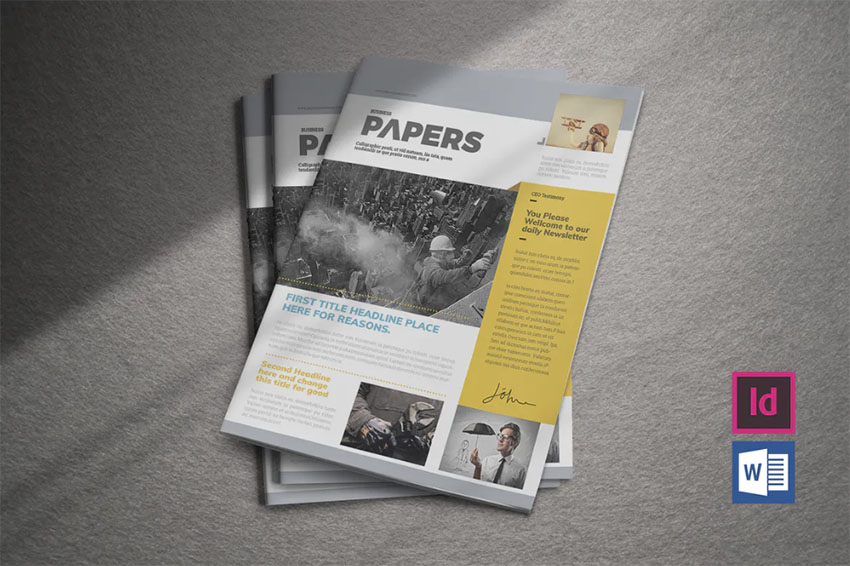 This 14-page A4 size newsletter template is perfect for creating a comprehensive document that fills in your potential clients on the latest happenings in your business.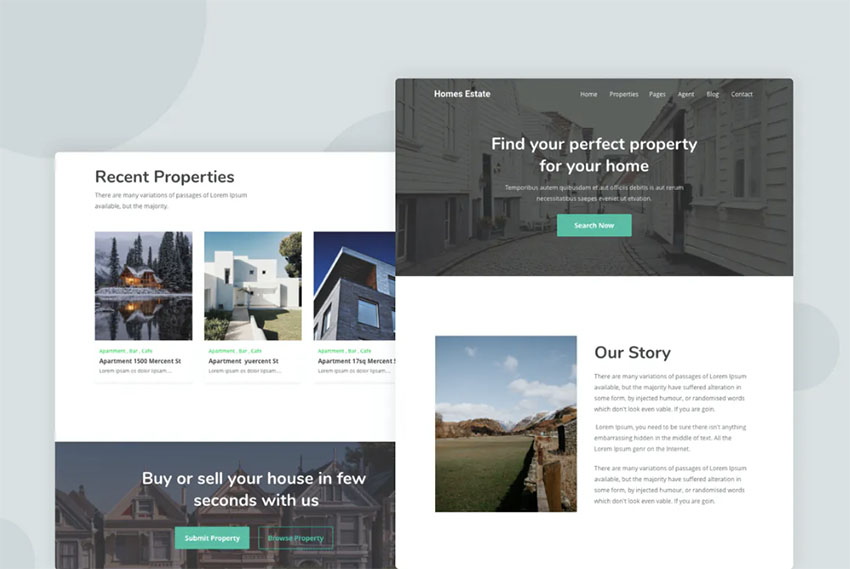 Looking for a clean contemporary layout for your real estate newsletter? Check out this template, which offers two layouts that are both smart and eye-catching. It's well organised as a layered PSD file, and all elements of the file are customisable.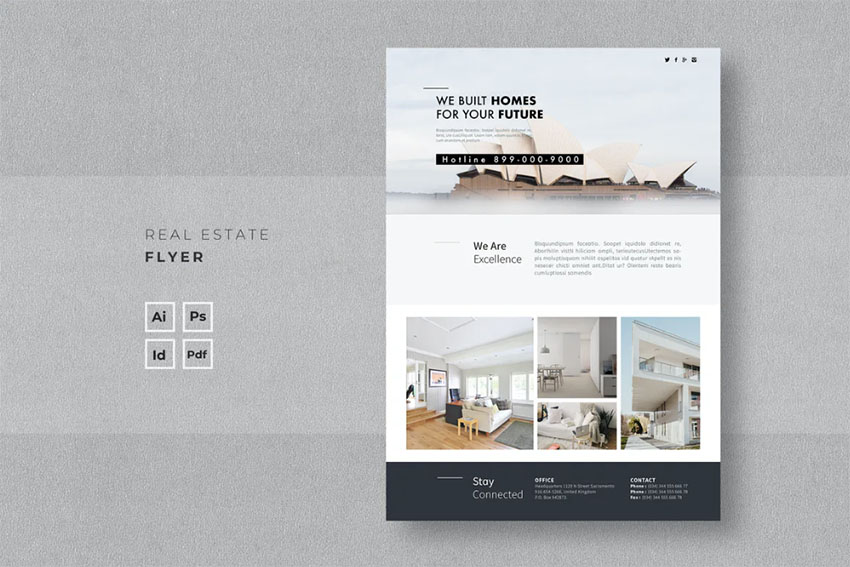 How smart and attractive is this real estate newsletter template? The A4 sized layout provides you with the most important information fields you'll need, as well as a beautifully arranged area for your images.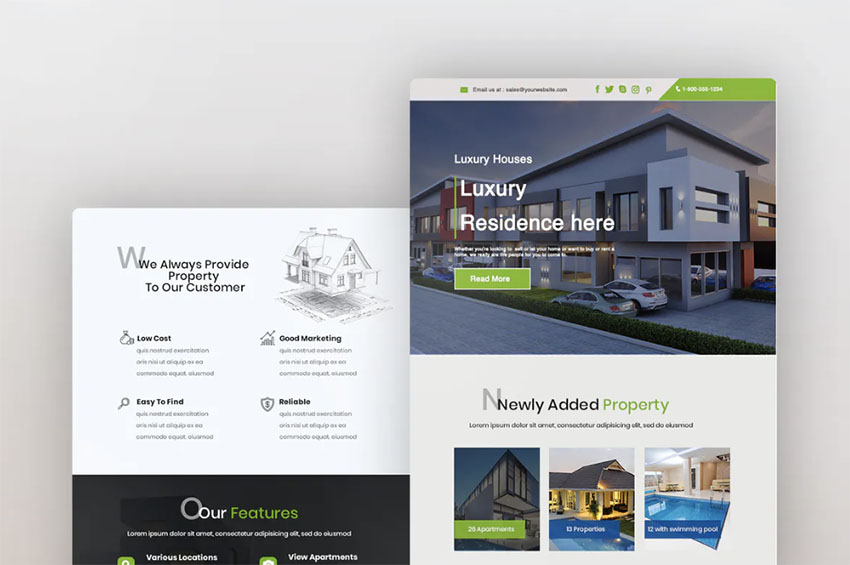 Many people prefer to receive email newsletters rather than the paper and ink variety, and though all the templates featured here can be made into a PDF and sent via email, this template was specifically formulated as an email newsletter. The design is simple, clean, and professional.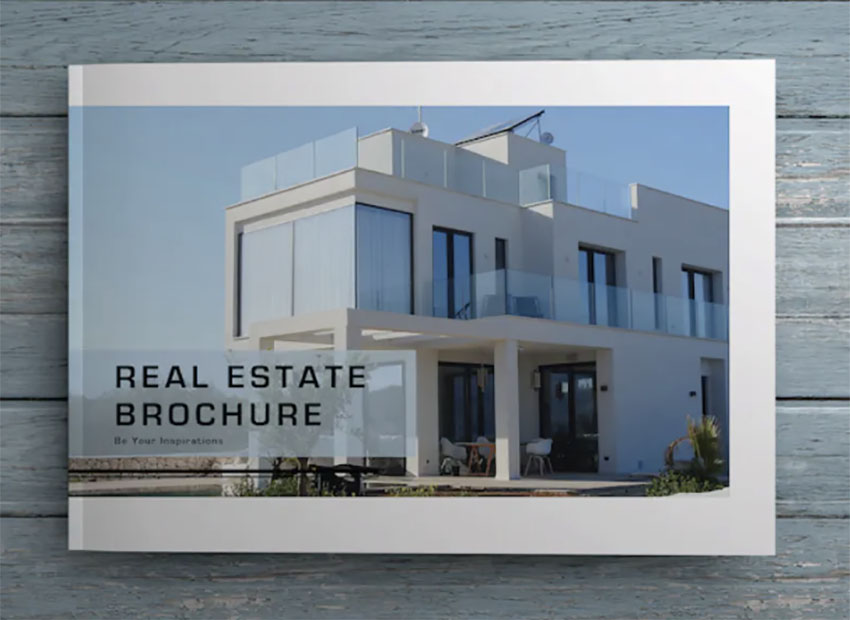 This 20-page real estate newsletter template is perfect for upscale agents who want to impress their high-end clients. The template contains 20 pages, all of which can be moved around to create the perfect layout for your needs.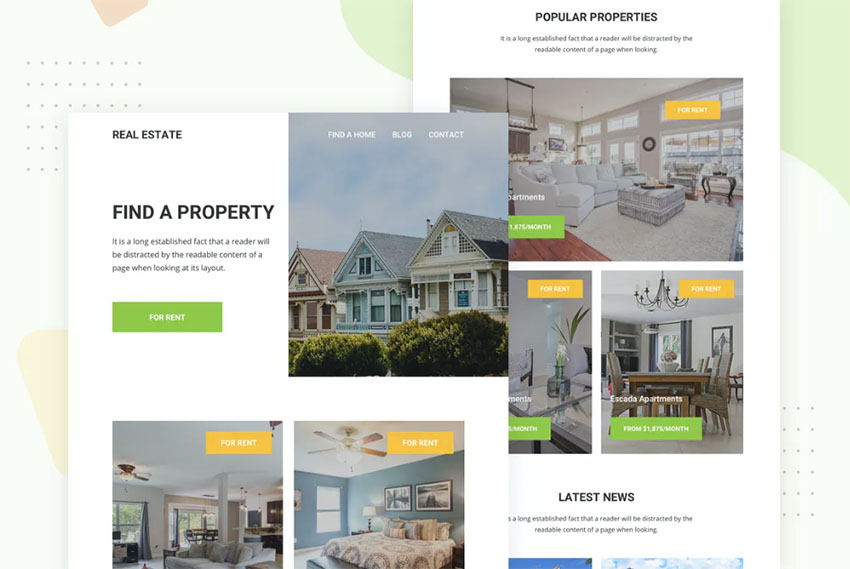 Here's another newsletter specifically designed to be emailed. This means that it can show up directly in your client's email browser, and they can click the hot links to go directly where you direct them.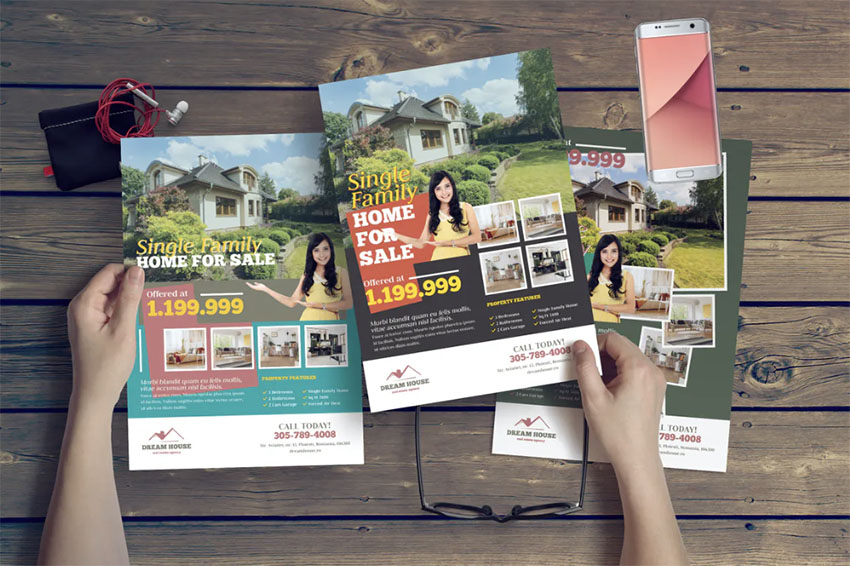 This real estate newsletter template has a bit of the old-fashioned feel about it, but that will appeal to certain demographics, like older people, so if that's your target market, this might be a good choice for you.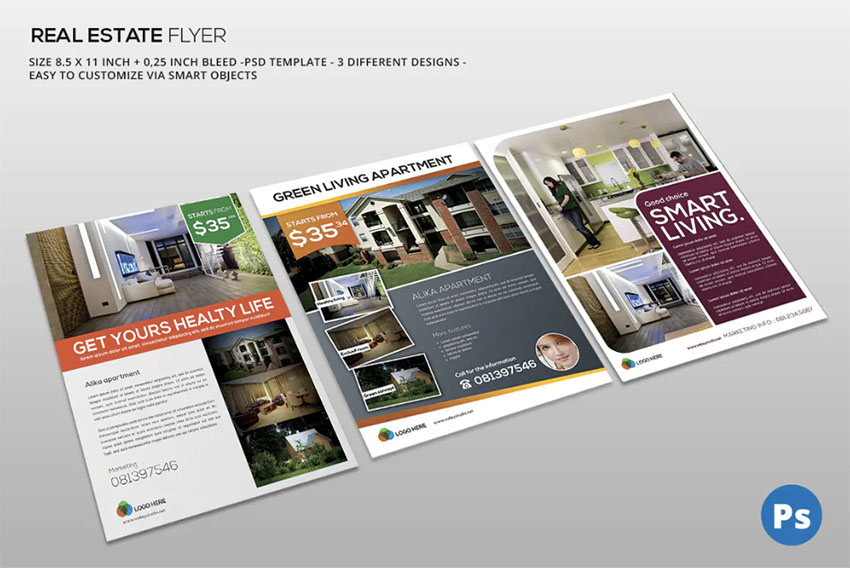 This realtor newsletter is offered in three differently coloured layouts. It's a nice way to change up your newsletter offerings from one month to the next. The A4 PSD files are easy to customise. Just drop in your images, change the text, and your newsletter is ready to go.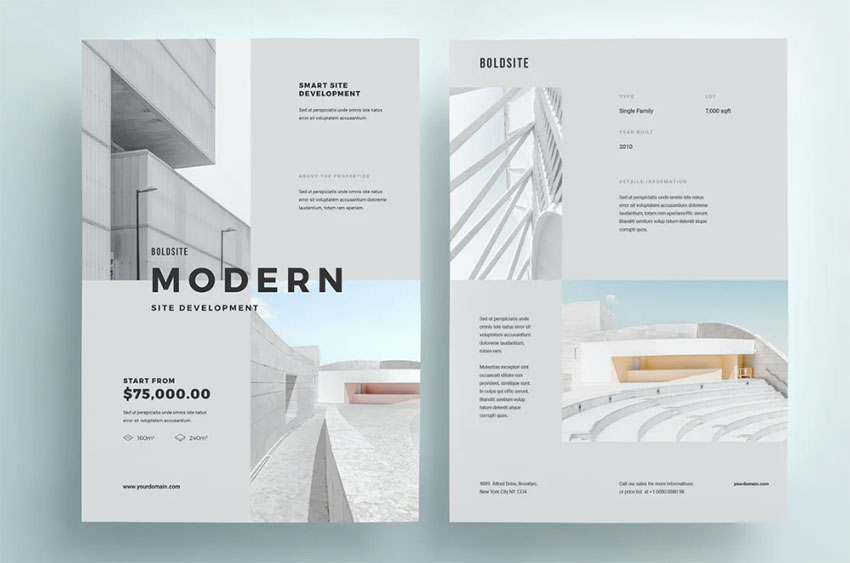 A cool and modern real estate newsletter template that's easy to customise, this A4 sized document is great for showing off interesting projects.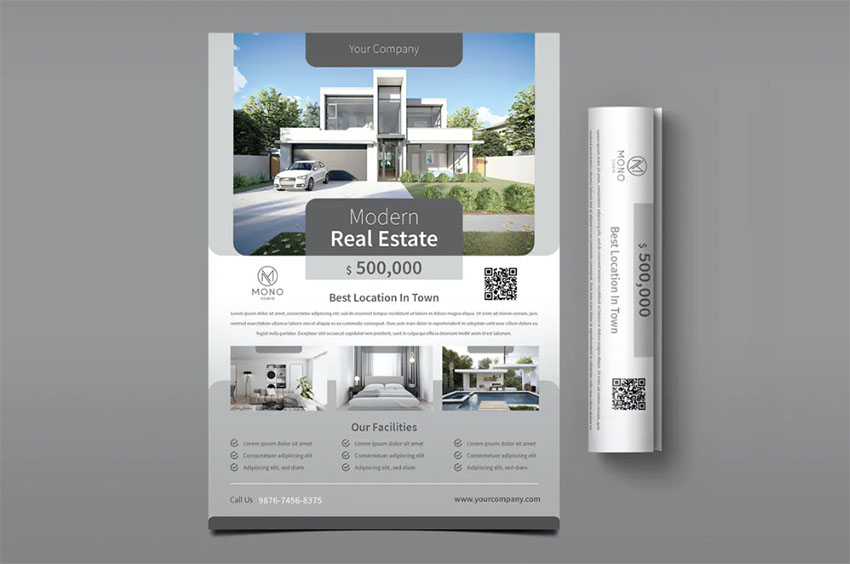 This newsletter for real estate agents offers one A4 template that is easy to customise. Just drop in your photos, change the text and colours, and you're done.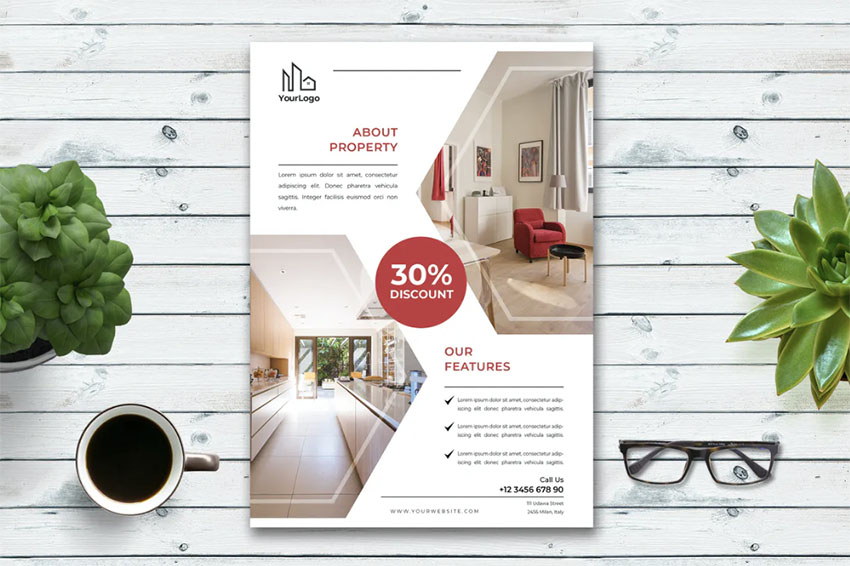 If you are a cool and contemporary agency appealing to a hip young crowd, this is the real estate newsletter template for you. Great for promoting your business, summarising local market insights, or showcasing an interesting property, this is a template whose design is hard to beat.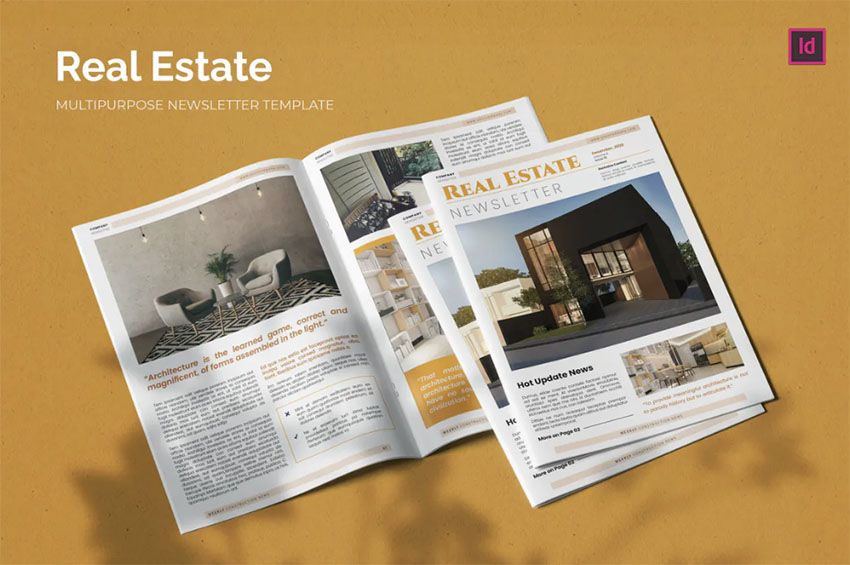 This real estate newsletter template is a great choice when you have a lot of information that you want to communicate in an engaging way. With ten gorgeous pages to choose from, you can mix and match and customise pages to suit your needs.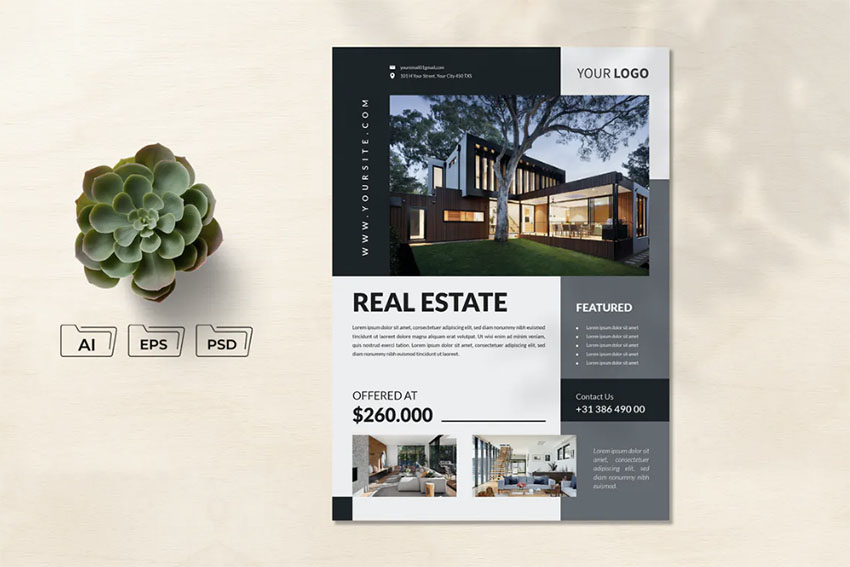 Simple but stylish, this real estate newsletter is great for features, whether that's a happy client, an interesting property, or a list of resources for buyers.
More Premium Real Estate Newsletters From GraphicRiver

GraphicRiver is another service that offers premium real estate newsletter templates, but it works differently from Elements. While Elements is the best source when you want to buy many real estate newsletter templates and other resources, GraphicRiver is better for those who are on a budget and only want to buy one template at a time for a low fee. 
11 Best Real Estate Newsletters
This ten-page corporate newsletter template is set up for easy editing in Adobe InDesign. Change the images, add details of your latest hot properties, and make it your own. It comes in A4 and US Letter size at 300 dpi.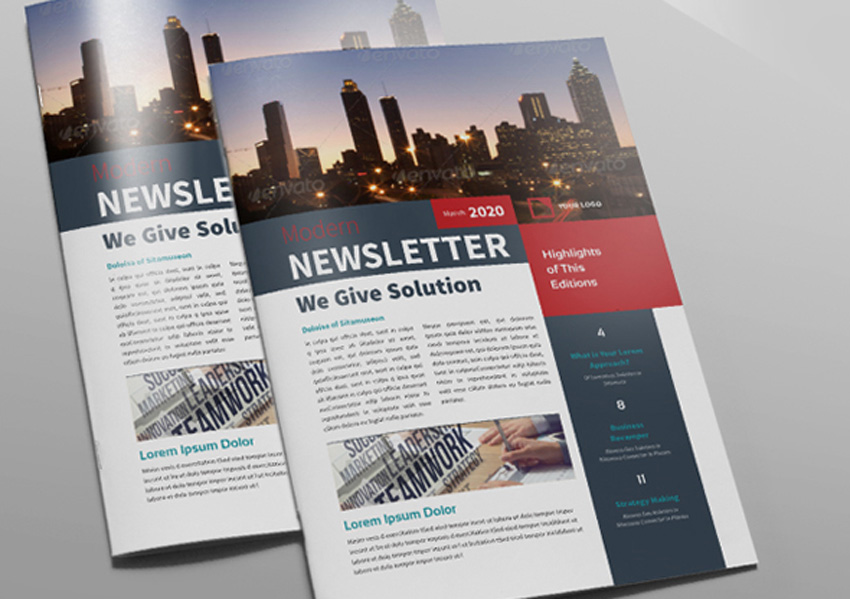 Keep your clients up to date with the latest trends in real estate with this professionally designed newsletter. Everything is set up for you, from paragraph and character styles to page numbering and layers. So just drop in your text and images, and you're ready to go!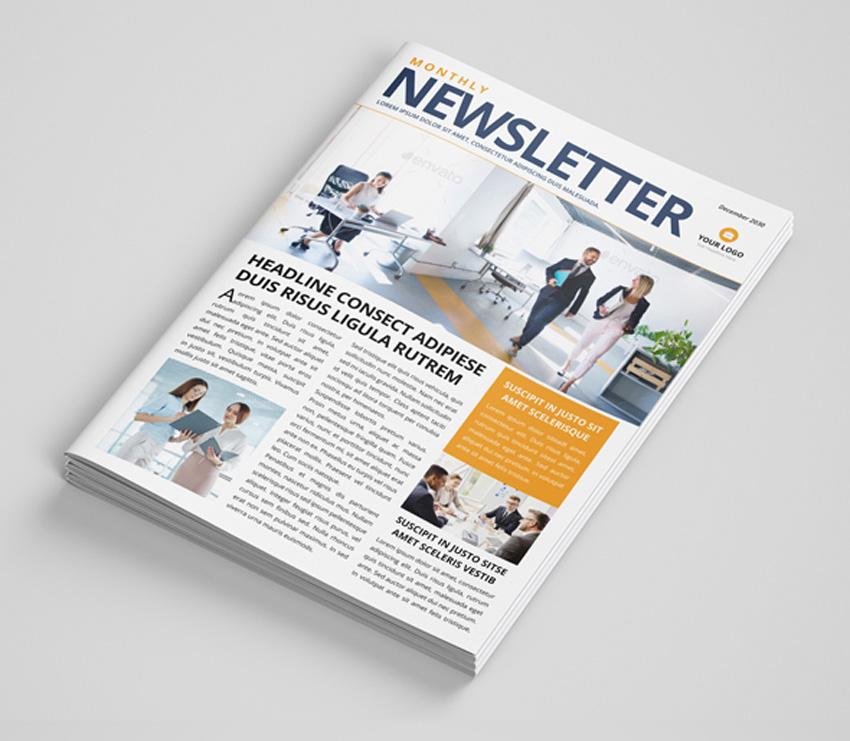 Here's a 12-page newsletter template that's very versatile and can help you create the newsletter you want. Use the simple, minimalist layout provided or use it as the starting point for your own creations. It's up to you! This design uses a free font, or of course you can change it easily to one of your own choosing.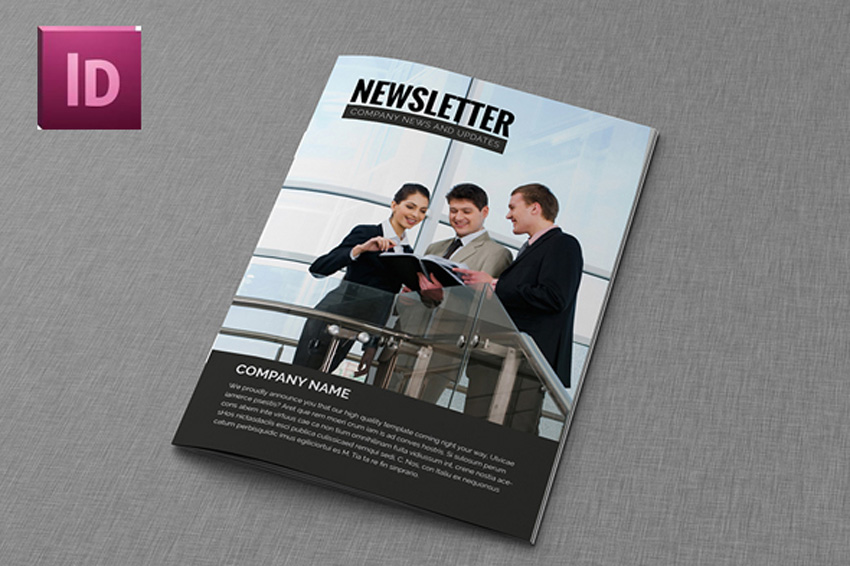 Whereas many newsletter templates are text-heavy, this one gives plenty of space on the cover to a large, eye-catching image. But don't worry—there's plenty of space on the inside pages for you to include your text and give your clients the information they need.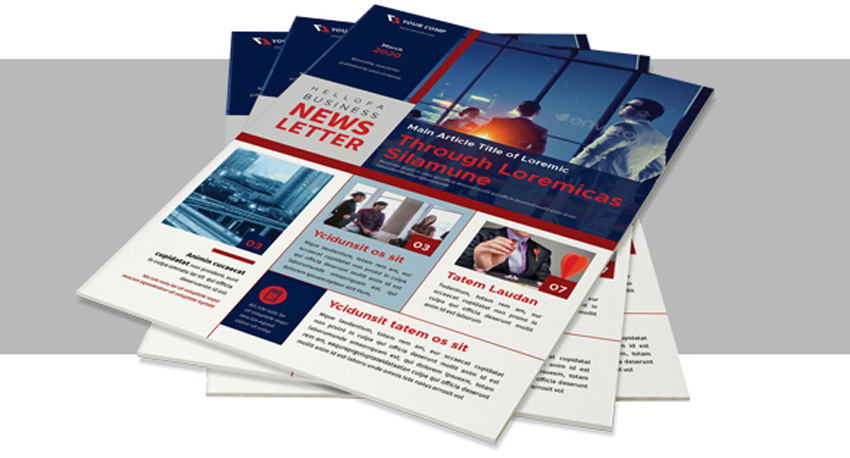 Another approach to newsletter design is to give snippets of multiple stories on the cover page, so that your readers can see at a glance what the newsletter includes and jump straight to the page that interests them. If you want to follow that strategy, this template is ideal. Just make sure the headlines and preview text tantalise them and make them read on!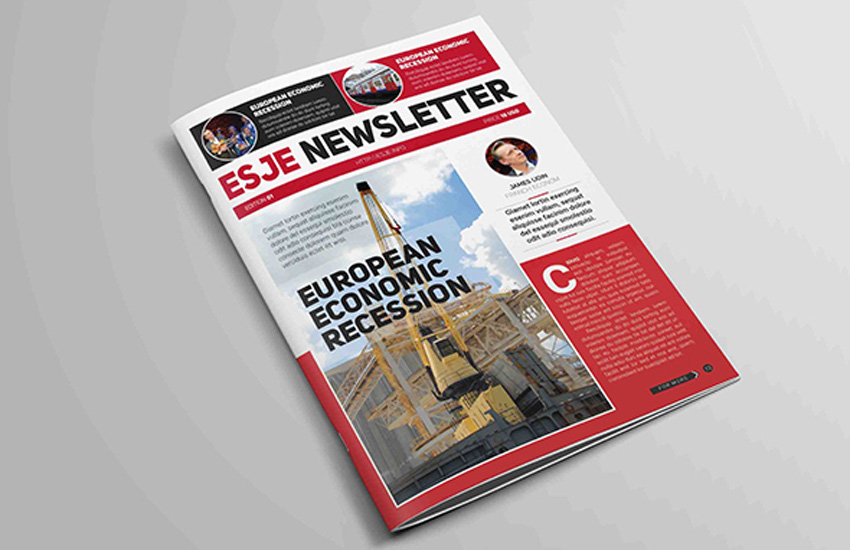 The well-designed grid of this template gives you the best of both worlds: a large hero image and headline, but also space to preview several other articles. The hierarchy is clear on this one, and the red and black colour scheme is bold and attention-grabbing.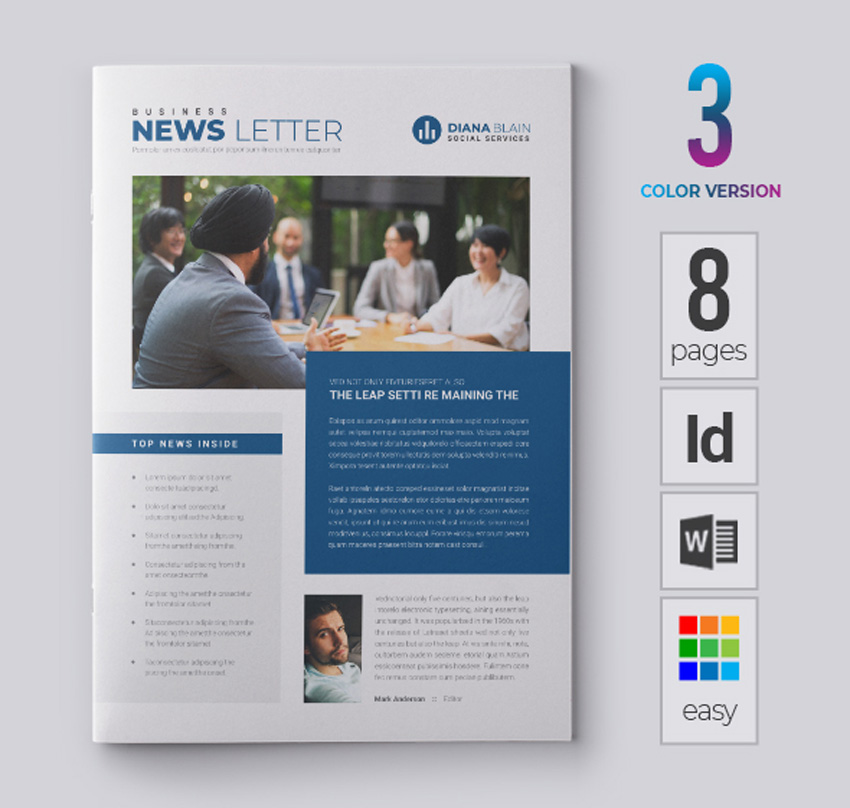 You get a lot of options with this template: eight custom page layouts, three colour schemes, and plenty of paragraph and character styles that are easy to customise. And, in addition to the usual InDesign files, there's even a DOCX version that you can work on in Microsoft Word.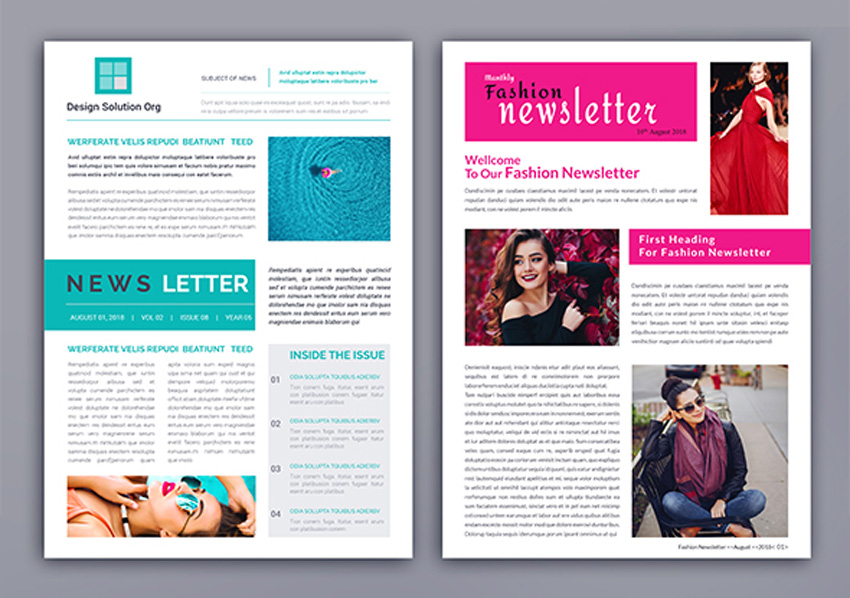 A good real estate newsletter provides useful information, but also keeps things short and to the point. So this template, which includes four custom page layouts, may be all you need. Of course, you can also create more pages easily if you need to create a longer newsletter, but remember that your clients are pressed for time. Tell your story quickly and in a compelling way that will hold their attention.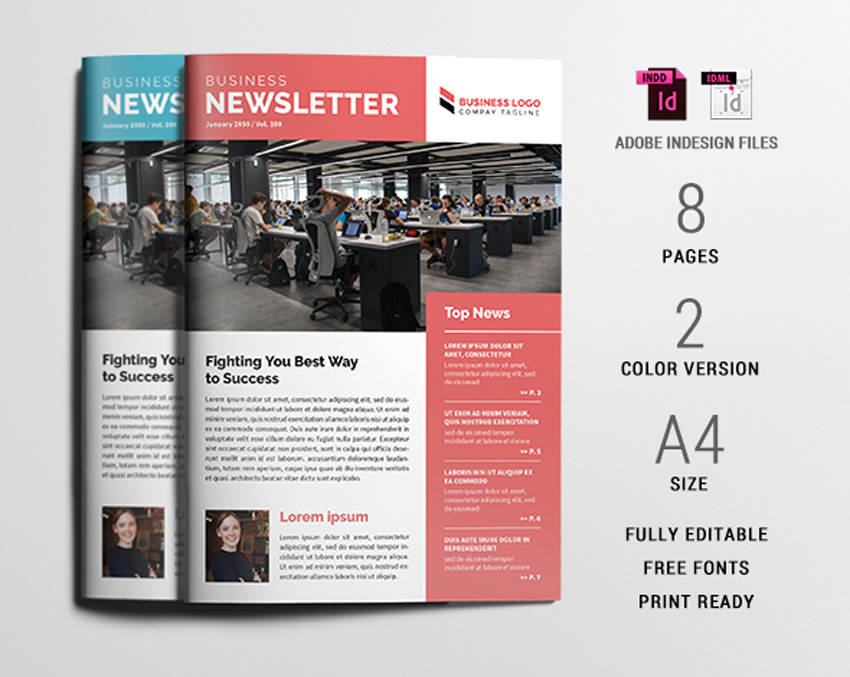 Use this professionally designed newsletter layout to grab your clients' attention on the cover with a striking real estate image, a compelling story, and a menu of other articles they'll love. The eight custom pages give you plenty of space to tell the rest of the story and give them information that keeps them coming back to you for more. It comes with two different colour schemes and is simple to edit and customise.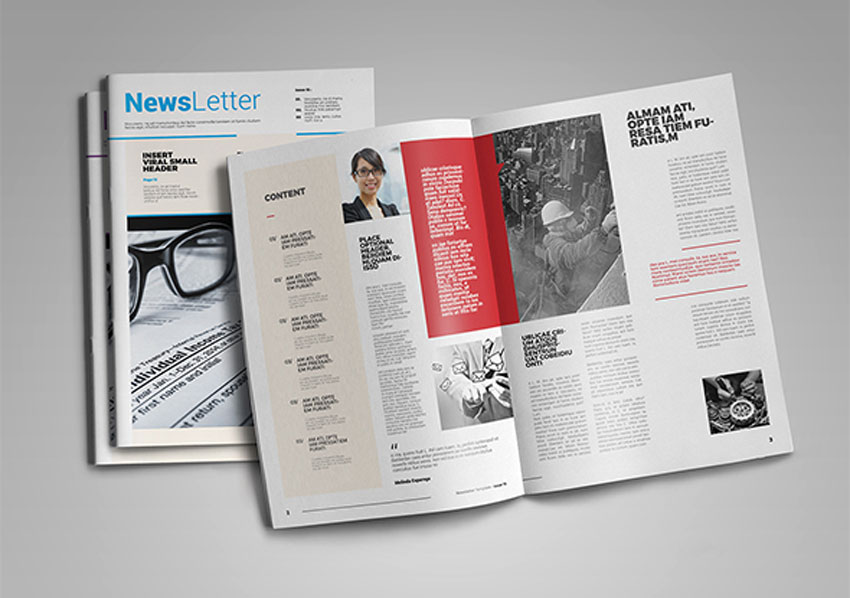 This A4 real estate newsletter template has an elegant grid layout and plenty of options for easy customisation. So whether you want to use your newsletter to sell properties or keep your clients up-to-date with the latest real estate trends, this is a great, flexible option. It also includes Adobe Illustrator and Microsoft Word versions as well as the usual InDesign template.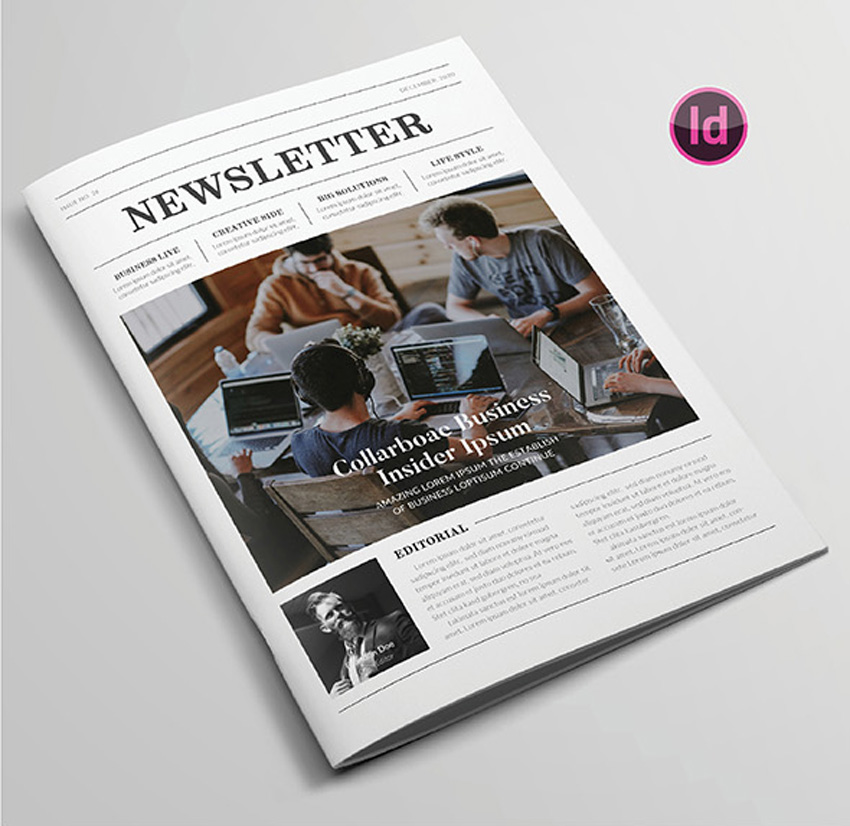 This template borrows from newspaper design, so use it if you want to highlight the latest real estate news. You get eight custom pages, A4 and US Letter layouts, ready-made paragraph and character styles, automatic page numbering, and more. All the fonts used are free fonts, with links included. All of this makes it simple to edit and change as much or as little as you want.
Download Your Favourite Real Estate Newsletter Templates Today
Now that you have your list of the best real estate newsletters available at Envato Elements and GraphicRiver, head on over to either site today and choose your favourite. And if you want more information on other great resources, check out this list of articles below: