The success of your website or web app hinges on the user experience. A positive experience translates into loyalty through high user retention and conversion rates, which in turn increase your profits. 
The good news is that you can discover exactly what kind of experience users are having on your website or web app. You can even see where there are performance issues and resolve them in order to make users' experience smoother and more pleasant. This is where real user monitoring tools come in!  
Real-time user monitoring tools give you insight into issues that affect the front-end user experience on your website or web app. They provide answers to some crucial questions like:
Where are your users from? 

How do they interact with your website or web app?

How fast is your website?

What are your slowest pages?

What caused pages on your website to load slowly?

Do they leave because the pages and images are loading slowly?
Knowing these metrics helps you understand your users' experience and respond quickly to any performance issues. This helps you give your users the best experience. 
What Is Real User Monitoring (RUM)?
Real user monitoring tools give real-time visibility into the digital experience of real users browsing your website or application, with insights into each and every session. To give insight into issues that affect user experiences, real user monitoring tools provide performance data for user sessions and report performance issues that are detected. By doing so, they provide an overall picture of the user experience.  
How Do Real User Monitoring Tools Work?
To help you track the user experience on your website or web app, real user monitoring tools embed a small JavaScript file in each page, which in turn collects data from the browsers of visitors running the application and sends it back for analysis. 
A brief breakdown of the process looks like this:
monitor live sessions

collect data from the user's browser 

send data to a central dashboard

create reports like charts and graphs
These reports provide insights that allow you to see where performance issues exist so you can develop strategies to solve them. 
Features You Will Find in a Real User Monitoring Tool
Some common features found in real user monitoring tools include:
centralized dashboard

page load events 

HTTP requests 

filters to monitor single user sessions

real-time tracking of apps 
Benefits of Real User Monitoring
The aim of real user monitoring tools is to help you understand the cause of performance issues on your website or web application and the impact they have on the user experience. This in turn allows you to prioritize where to allocate resources and implement solutions that optimize the user experience and help you meet your business targets. The result will be a high customer retention rate and improved profits.  
But let's not limit real user monitoring tools to monitoring websites or applications that are already live. You can also use them to test applications that are in development and troubleshoot problems that, when detected early, may help you fix bugs in your system. 
Choosing the Right Real User Monitoring Tool for Your Business
Real user monitoring is an invaluable resource which will bring long-term benefits for your website or web application. When it comes to finding the right real user monitoring tool for your business, keep in mind the following:
Cost 
What services can you get for your money? Consider price points from basic to advanced and what services you get with each. 
Speed
Most importantly, some scripts can affect how your websites or apps function. When choosing a real user monitoring service, consider how the script affects loading speed. 
Scalability 
A real user monitoring tool capable of swiftly handling the growth and expansion of your business will save you massive amounts of time, money, and disappointment in the future. 
Mobile Access
The ability to solve performance issues as fast as they are detected so that you can provide an uninterrupted service to your customers makes mobile access a necessity. It is where you get notifications and also monitor things on the go.  
Technical Support
Make sure they offer fast and accessible support should something go wrong.
With that in mind, let's look at some of the best real user monitoring tools.
The Best Real User Monitoring Tools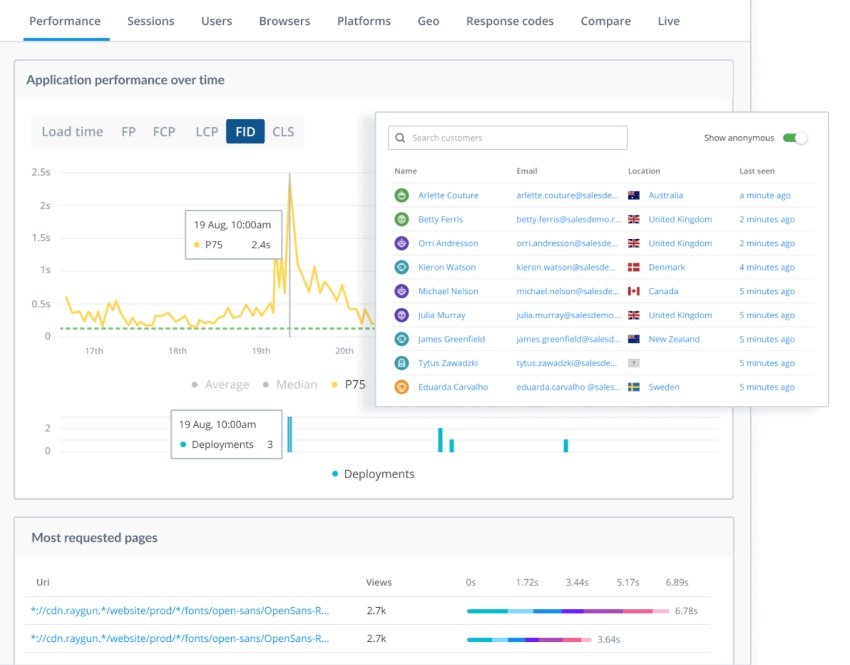 The idea behind Raygun is simple: make optimizing the user experience a priority by never letting a poor experience go unnoticed. To do this, Raygun offers insight into the front-end user experience through data that identifies bottlenecks affecting performance. 
It pinpoints the root cause of performance issues by digging deep into slow page sessions and providing a detailed diagnosis of each incident. It does this by identifying performance spikes and isolating problematic areas on your website or application.
The detailed reports allow you to proactively examine individual customer sessions, retrace their journey on your website or application, see the exact performance issues they encountered, and resolve them.
The reports offer a granular breakdown of load times, latency across browsers, servers, DNS, and more. It allows you to filter and compare data according to devices, browsers, or geographic location. 
Raygun helps you to understand the user experience across both desktop and mobile devices. You can also keep your team informed through daily performance reports by integrating Raygun with Slack.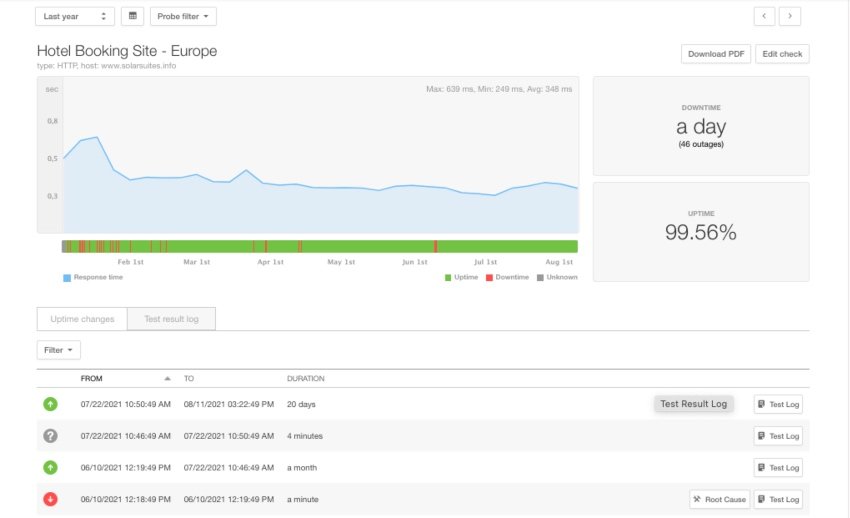 Pingdom offers a complete website monitoring platform that uses both synthetic and real user monitoring to track the performance of websites, applications, APIs, services, and more. It does this by monitoring uptime, page speed analysis, transaction monitoring, and also monitoring real-time user interaction with your website or application.
It gives you detailed, insightful, and actionable data that allows you to understand the experience of your users based on their browsers, devices, and geographical locations.
In addition to identifying improvements that you can make, it also allows you to compare data to see and compare performance weekly, monthly, quarterly, and even yearly. 
Armed with this data, you can leverage it to solve performance issues and create better user experiences.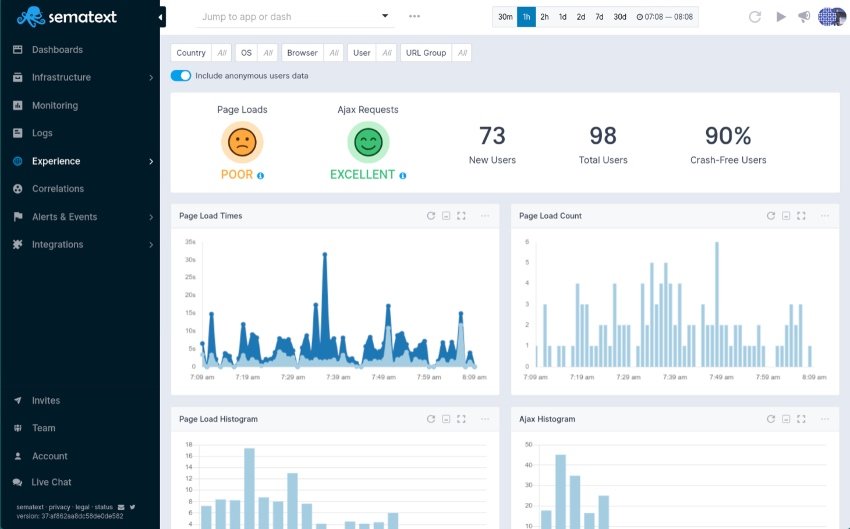 Sematext Experience has eyes in all areas that affect the user experience on your website or web app. It does this by live monitoring of users' experience when they are online, and it offers a waterfall view of resources that are slowing down your pages. 
It determines page performance by examining page loading events followed by inspecting images, fonts, stylesheets, and JavaScript files and the loading times of these elements. You will receive real-time alerts when your customers encounter performance issues. This way, you get to where and why it happened, troubleshoot the issue, and solve it fast. 
Extensive charts and scoring systems offer you a visualization that helps you identify performance bottlenecks. Additionally, you can look at individual visit reports to gauge customer satisfaction and solve performance issues to prevent customer loss. 
Sematext Experience supports all single-page applications, no matter the framework: Angular, React, Vue, Ember, and many more.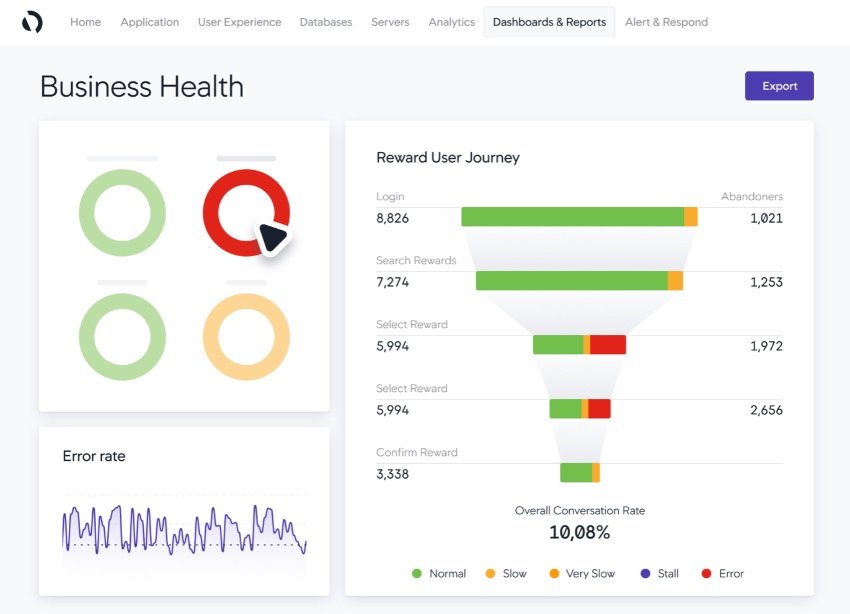 AppDynamics is an enterprise real user monitoring tool that promises to monitor your customers' user experience journey and business transactions on the front end, while at the same time monitoring the back end. They refer to this as full-stack observability. 
The tool monitors the performance of databases, servers, CPU, and infrastructure, and it gives you all the important metrics—including application status, errors, and server status—on an easy-to-understand dashboard. You can even customize your report templates. 
You can also enable error alerts so you can receive error notifications that allow you to deploy solutions and nip issues in the bud before they start negatively impacting the user experience. The important thing to keep in mind is that AppDynamics uses machine learning to understand user and app behavior in order to correlate it to business results.
Conclusion
Real user monitoring is the most efficient way of understanding the experience of users on your website and web application. It gives you data that allows you to understand how your application is working and alert you to performance issues so can you resolve them fast, before they negatively affect the user experience. All these tools can help your business to be proactive instead of reactive.