Do you want to create an easy shopping experience on your WooCommerce products pages? Here are 20 of the best WooCommerce product add-ons to make it possible!
They make your product pages more user-friendly and user-focused by adding intuitive functionalities like:
adding easy navigation using filters 
allowing customers to personalize their orders
offering extra choices 
and more… 
The result is improved product pages that create smooth user experiences that boost conversions, increase sales, and improve customer retention.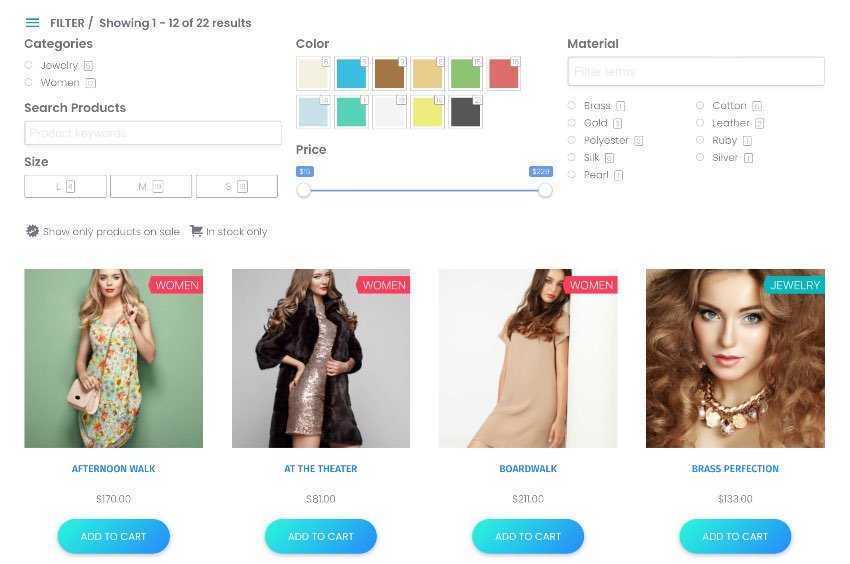 Best-Selling WooCommerce Product Add-Ons on CodeCanyon
Your product page is the backbone of your WooCommerce store. Grab some of these product add-ons and make your product pages user-friendly.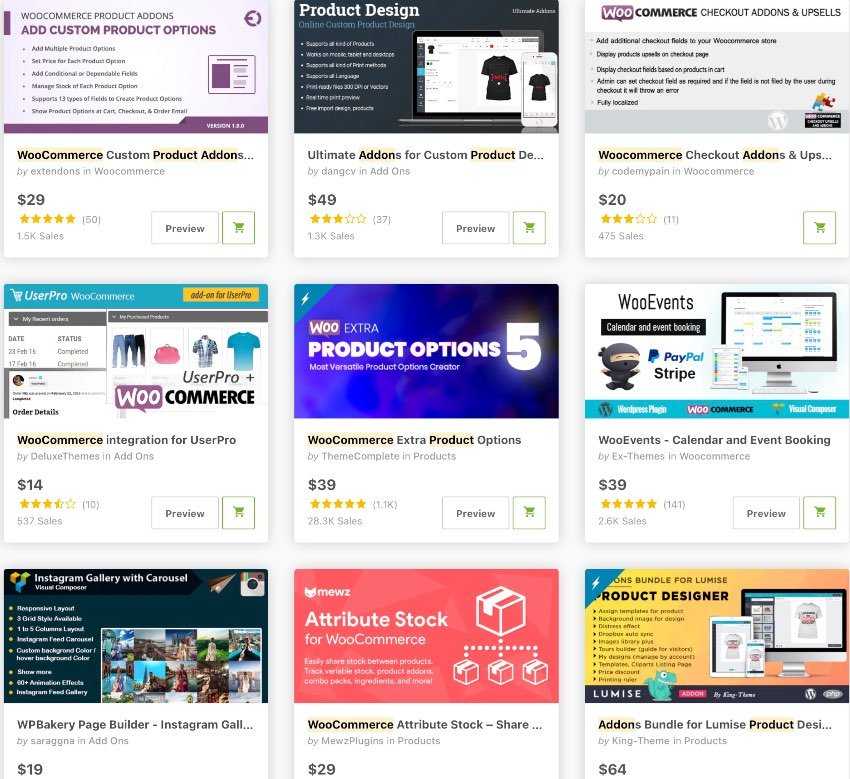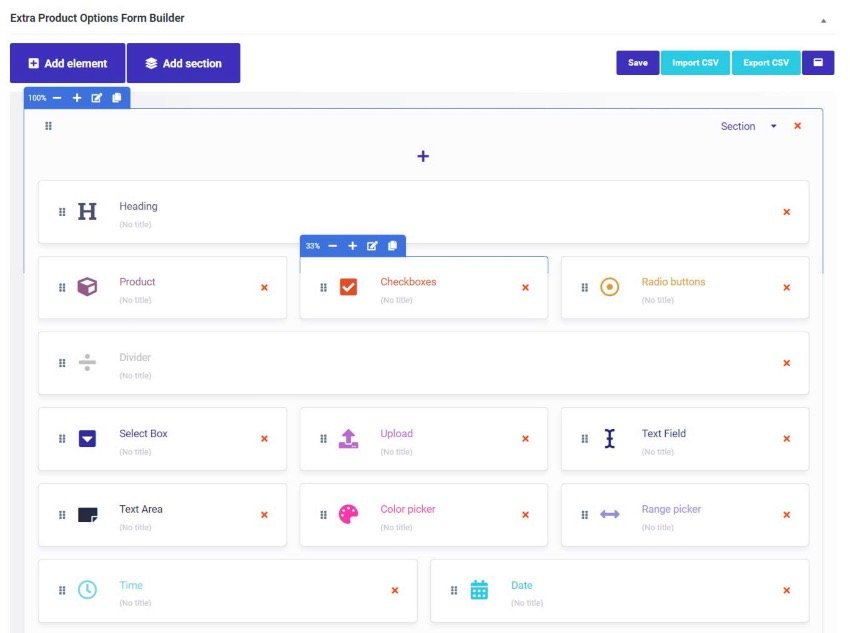 WooCommerce Extra Product Options allows you to create extra priced options fields to your products. These additional options help customers customize their orders by selecting options that suits them. For example they could add engraving—for an extra few dollars—on the ring they purchase. This let's them customize their products and purchases to their own tastes!
The plugin comes with a form fields builder that has conditional logic and lets you decide where to place your fields. it supports checkboxes, radio buttons, select boxes, text-areas, input boxes, uploaders, date selectors, range pickers and color pickers. You can also convert the product variation attributes to radio buttons, image swatches, swatches and so on.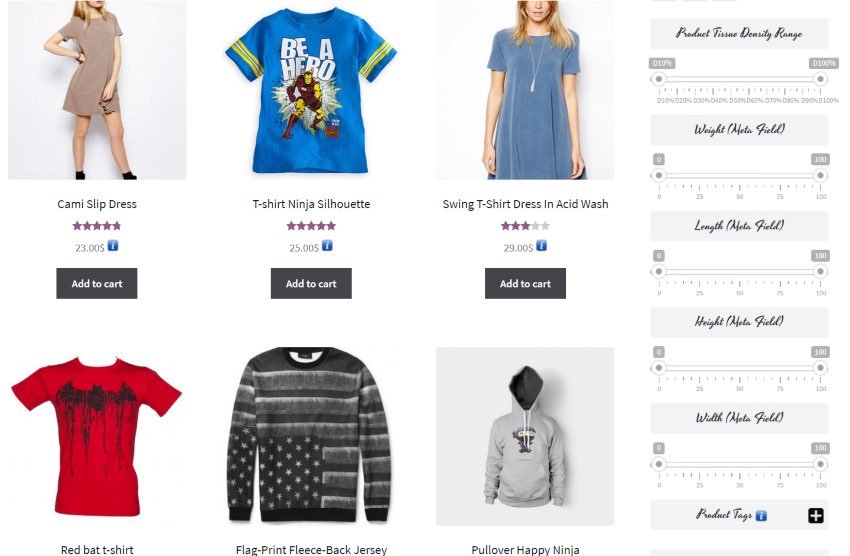 WOOF makes it easy for your visitors to search for products using filters. The filters allows them to search products by categories, products attributes, tags, products taxonomies and price. 
The plugin also has advanced filters that enhance the product search process: SKU filters, color filter, image filter, meta filter, hierarchy dropdown, quick search and more. 
You also have access to statistical data so you can see what visitors are frequently searching for on your website and meet their needs more directly.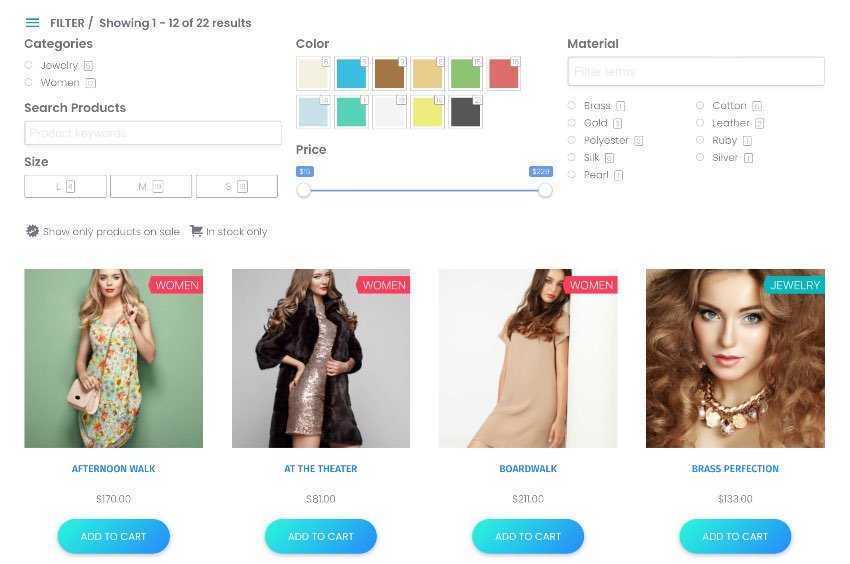 Product Filter for WooCommerce is features rich plugin that comes with one-click product filter demos that you can install and get started customizing immediately. Demos include a car partsstore, electronics shop, green bio store and fashion filter setups.
If you want you own filters you can create filters like featured products, sales products, best selling products, top rated products, and so on. The plugin can also handle custom filters, add pagination, and so on. The filters can be on top of products or on side bars. 
The plugin works with any WooCommerce store, supports lots of WordPress themes, and WPML multilingual and other translation plugins.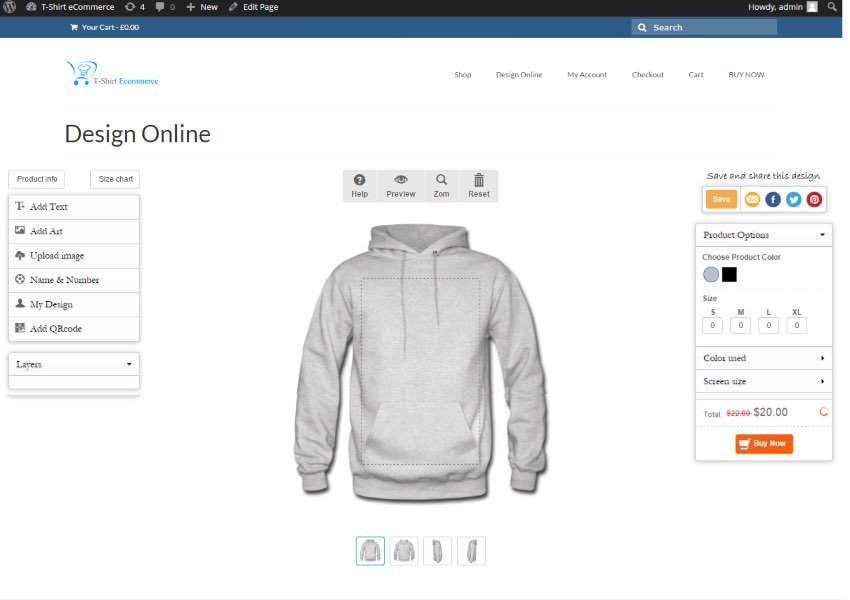 WooCommerce Custom Product Designer allows customers to personalize their own products. It comes with a product designer tool, works for any kind of product and supports any printing method. You can configure lots of features in the admin area by setting colors, prices, print configurations, manage orders and design details. The plugin supports language translation.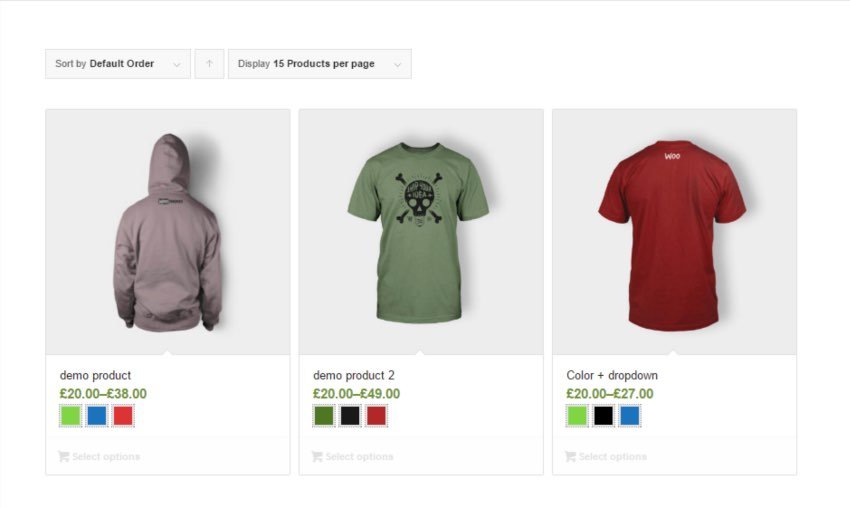 WooSwatches makes it easy for customers to view and select multiple variations of products on your stores. It does this by displaying displaying color text and image variation swatches.
Notable features of this plugin include: 
built-in color and image product filter
different sizes of swatch from small to large
square as well as round swatch support
change product image on swatch hover
slider for swatches if needed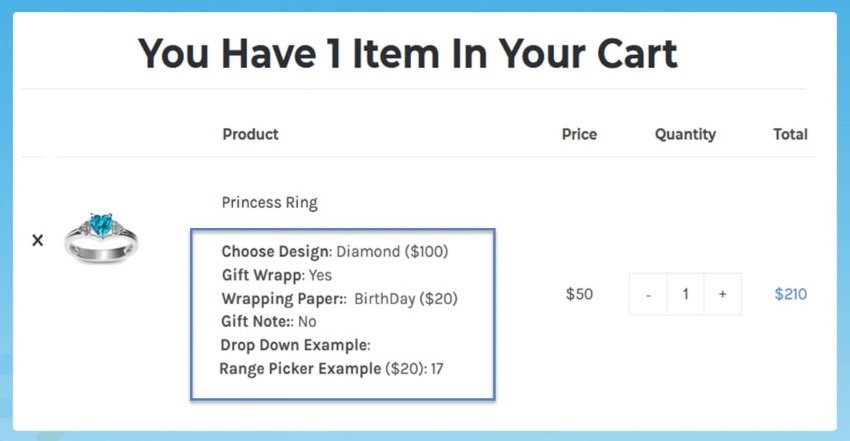 This plugin makes it easy for users to customize their orders. The plugin allows you to add unlimited extra product options using fields like text area, text field, upload file, dropdown, checkboxes, multiple select, and more. 
Custom options can be created and added individually to each product. This however takes too long, instead you can save yourself time, you can create global options and attach them to selected products and categories.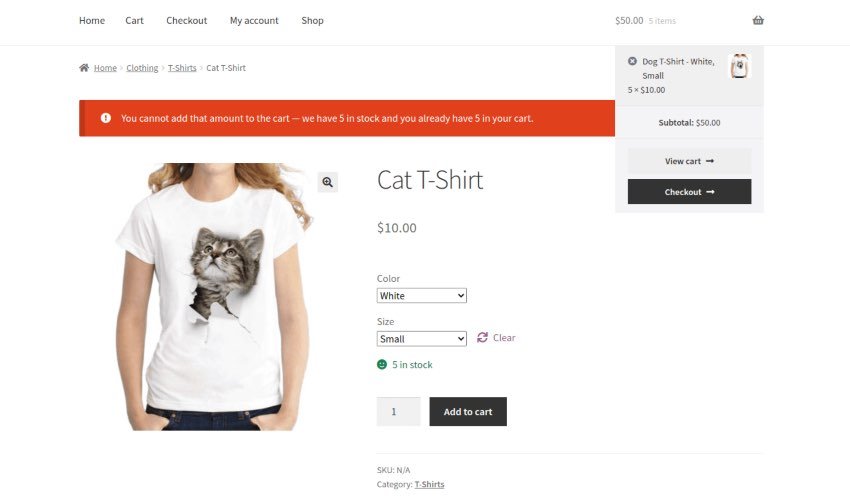 How you handle inventory can make or break your store. This plugin allows you to control inventory down to the small details assigning and creating stock based on product attributes.
It allows you to easily track and manage shared stock, variable stock, linked stock, product addons, product combos, parts, measurements, ingredients, and a lot more. Shared stock levels are accurately tracked, available stock is displayed to customers, and over-purchasing is prevented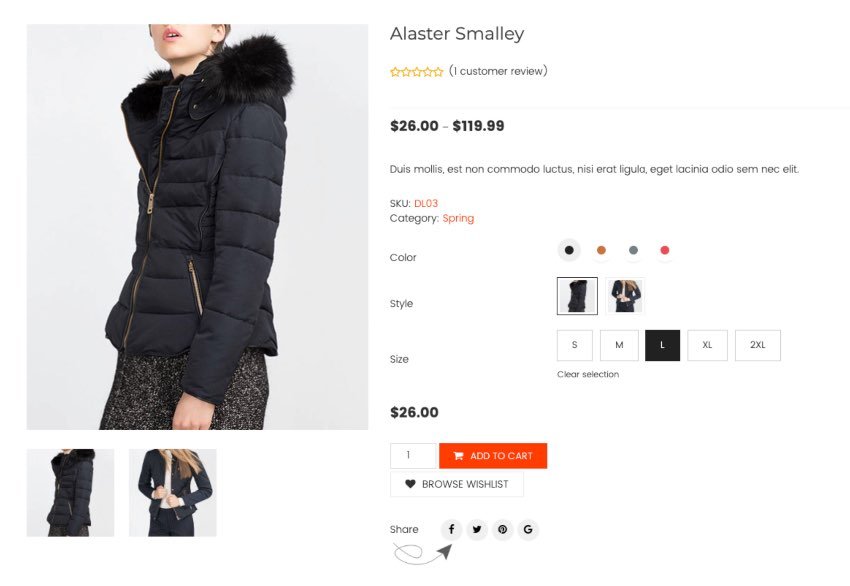 WooCommerce Product Variations Swatches is a professional plugin that allows you to show and select attributes for product variations. Users can select options with colors, buttons, and images. This helps the customers observe the products they need more visually, and saves them time to find their desired products.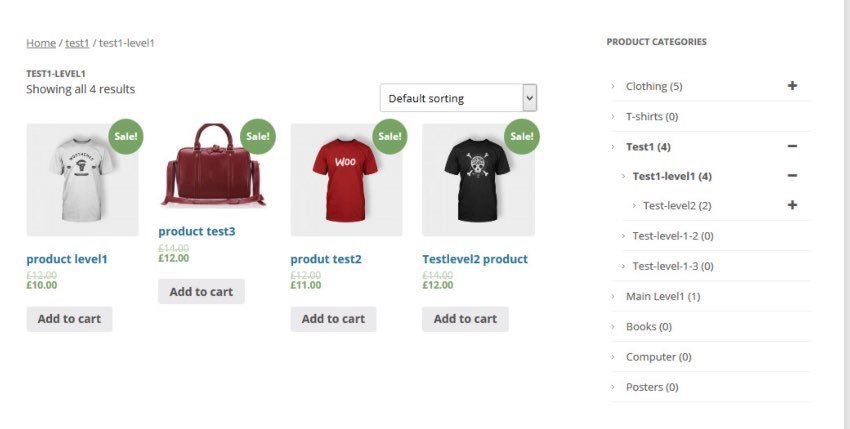 A product page that is easy to navigate is an indispensable part of positive user experience on your online store. WooCommerce Category Accordion bring ease and clarity in how your shop products and categories are organized. 
The plugin allows you to list product categories and subcategories into a toggle accordion with collapse-expand option. It highlights current product parent category and subcategory. You can you this plugin as a widget or shortcode,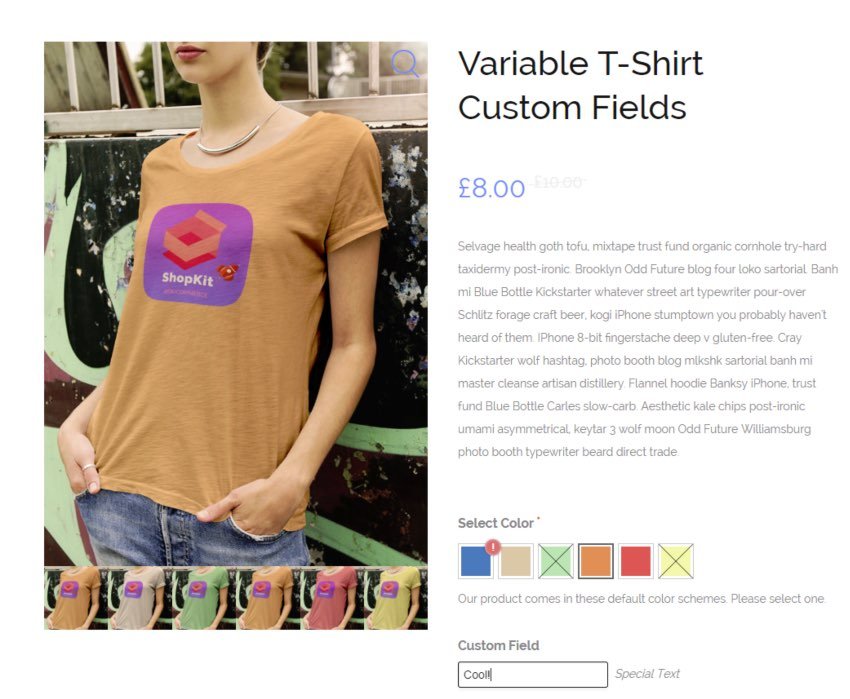 This plugin improves how customers select products on your store based on attributes. It does this by creating optimized single product pages—and archive pages—that display attributes beautifully and make them selectable. 
You can choose attribute styles that go with your page and show when an option is out of stock. For your product variation selector you can use text, HTML, images, or color. 
Your customers can also select the attribute variations on the product archive pages and add them to the cart using AJAX. The plugin supports custom attributes and names.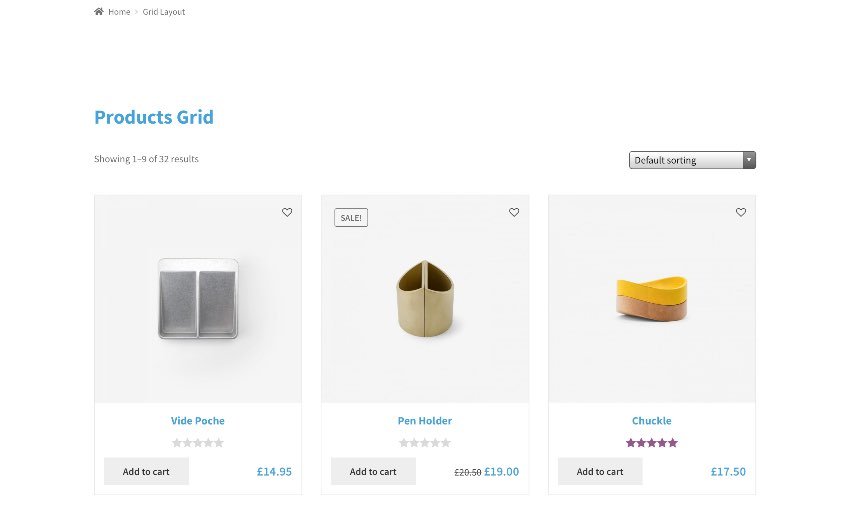 This plugin helps you spice up your product display by building beautiful accessible product layouts, attractive product categories, and creating brands for products on your store. The plugin works with WPBakery Page Builder. 
You can assign brands to products, show all your brands in a list menu, create sliders of your products by brand, and allow users to filter products by brand. The plugin also allows you create product category layouts and product brand layout. 
Product and brand layout support grid, mason, list, and carousel slider styles. It also supports pagination in grid style, upsells and related products. 

How you display your products can draw attention or put off customers. Image sliders create draw attention and create engagement which leads to increase sales.
With Product Gallery Slider for Woocommerce you can add a fully responsive and customizable image gallery slider in the WooCommerce single product page.
The plugin comes with exciting features like vertical and horizontal gallery layouts, clicking, sliding, image navigation, fancybox 3, lightbox and supports YouTube, Vimeo, and self-hosted videos. It also supports the RTL mode.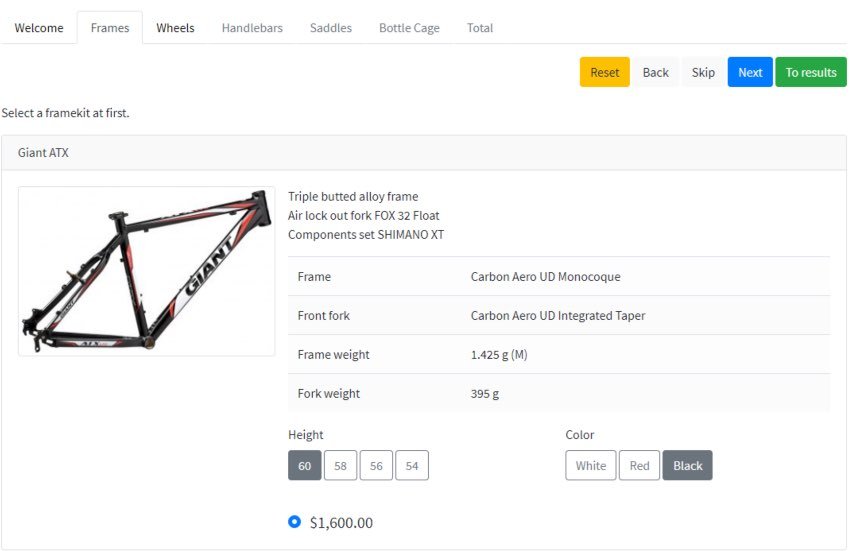 WooCommerce Products Wizard simplifies the way customers buy customized products by allowing them to configure and build products that fit their requirements. You just need to give them lots of options to choose from and the plugin will enable these as customization features that customers can select using the "build-a-box" product builder. 

When you sell clothes online, your customers don't have the opportunity to try them on. WooCommerce Product Size Guide helps you build responsive size and fit guides for your store so you can increase customer confidence and reduce returns. The plugin also comes with demo size guides that you can upload and use to get started quickly. 
Notable features include:
3 skins and the ability to add your own
guides for multiple categories or just a single product
create multiple tables in one size guide
LESS files included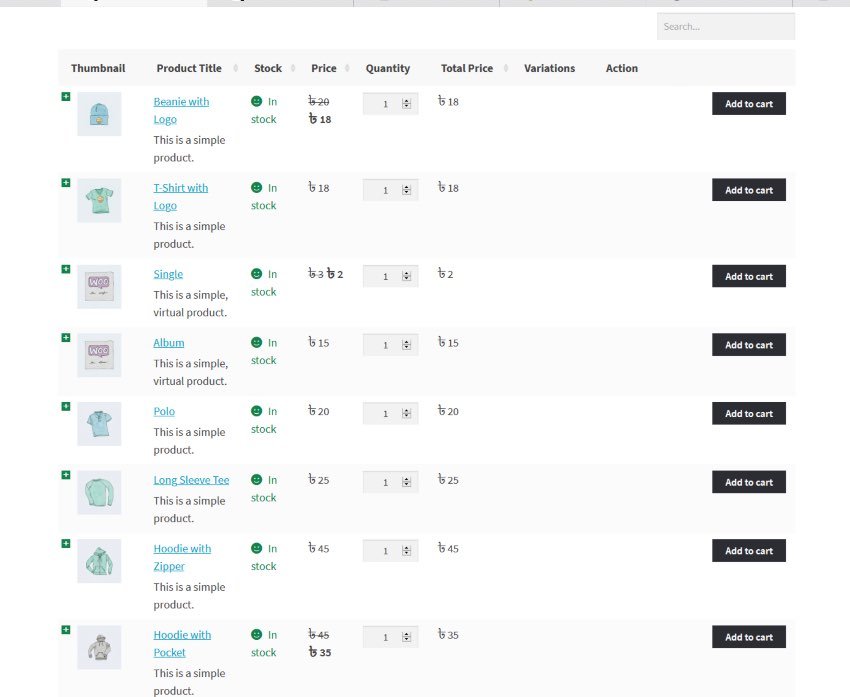 Product tables make it easy for visitors to view your products and place orders. With WP WooCommerce Product Table, you can build fully responsive product tables, quotation tables, or wishlist tables and place them anywhere on your website using shortcodes.
The tables are easy to create, easy to customize, and have rich design options. They display well on all modern browsers, are easy to navigate, and have search boxes, sortable columns, and pagination. Finally, you can place an AJAX mini cart above or below your tables. 
Free WooCommerce Product Add-ons
These free plugins don't offer as many features as the premium WooCommerce product add-ons on CodeCanyon, but if you're on a budget, they're a great way to get started at no cost.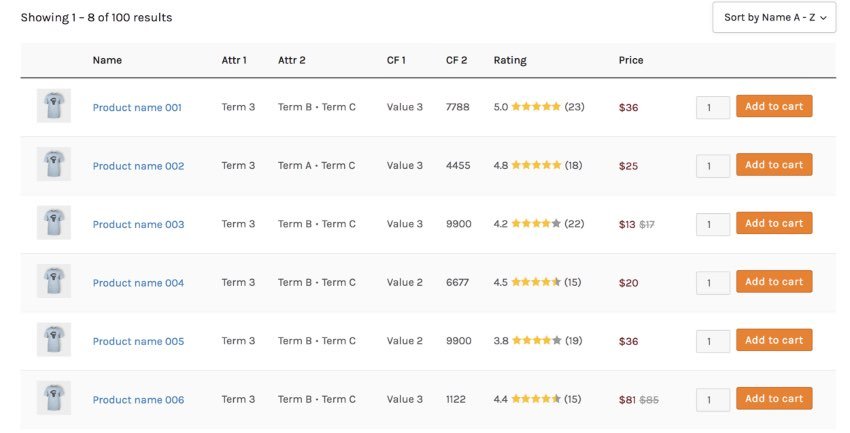 This plugin allows you to create beautiful, responsive WooCommerce product table layouts in minutes. It's perfect for online spare parts shops, audio store, restaurant takeaway menus and many more.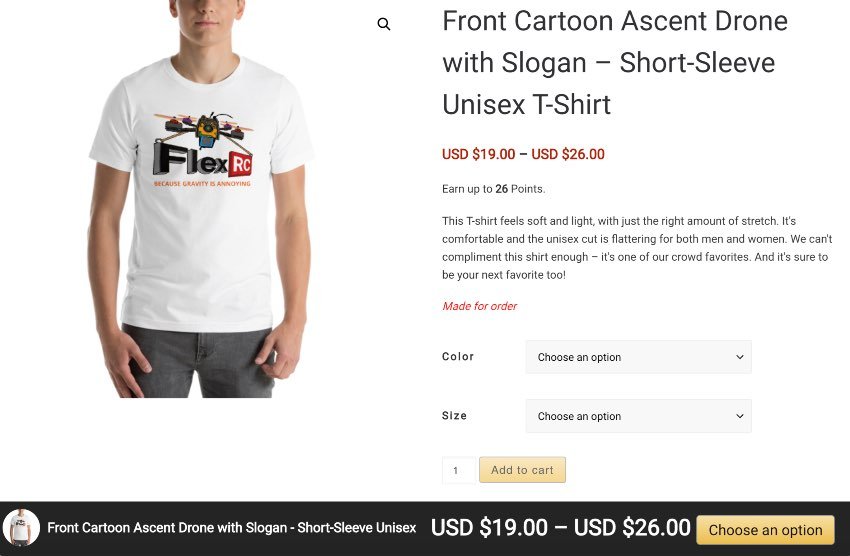 This plugin prominently displays Add to Cart button so customers can easily place orders. It also adds a sticky bar with a Checkout button to the cart and a Pay Now button to checkout pages.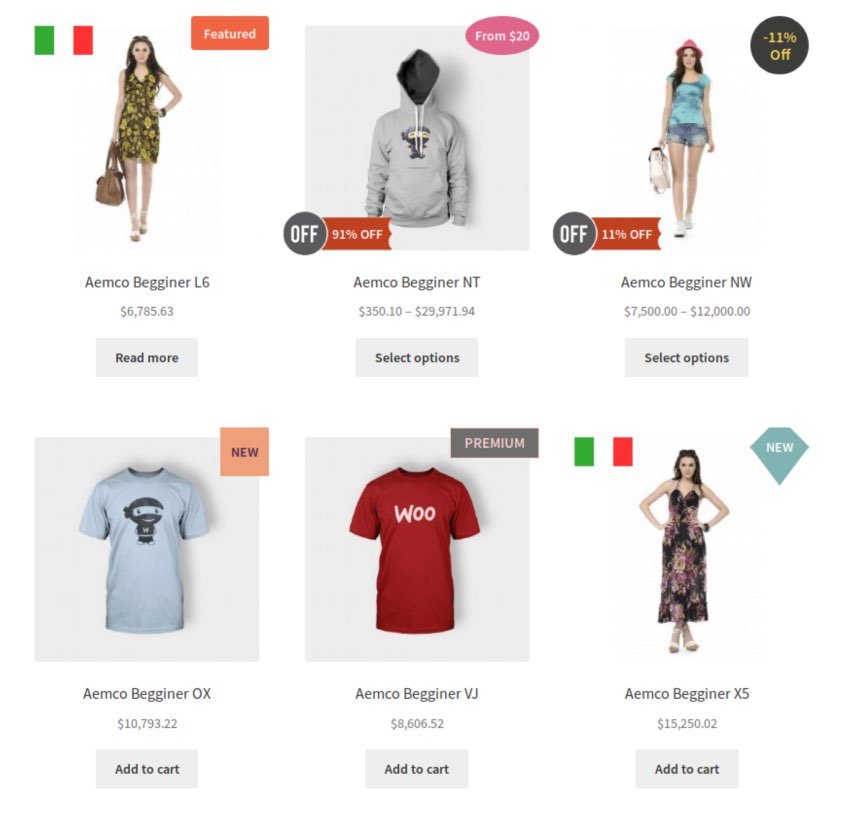 This plugin allows you to create and add labels to products on your WooCommerce store. You can promote new products, show free shopping, display discounts, and more.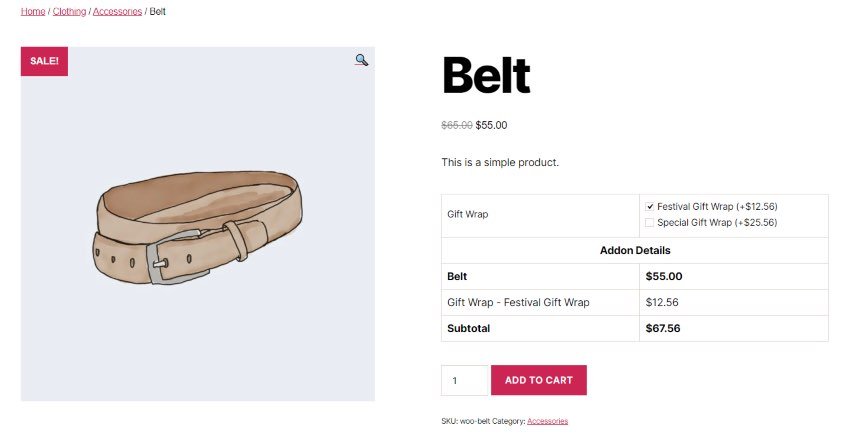 The Extra Product Options for WooCommerce Plugin allows you to add extra options price fields to your WooCommerce products. It comes with over seventeen field types.
It allows your customers to customize products with additional options such as text fields, checkboxes, radio buttons, dropdowns, and more. 
The Flexible Product Fields plugin extends WooCommerce product options with additional fields.
Offer More Choices With a WooCommerce Product Add-On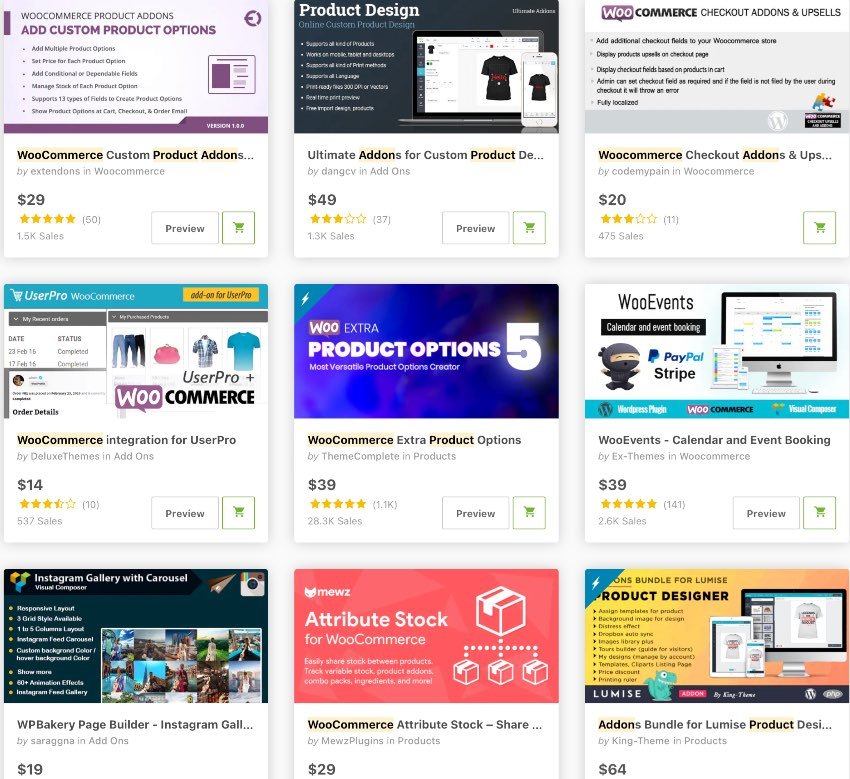 For more about WooCommerce and WordPress, check out some of our other posts here on Envato Tuts+!