Promoting your app or website so it can connect with potential users can be easy when you use an iOS app mockup generator from Placeit. The designs are vibrant and draw attention to the message of your app.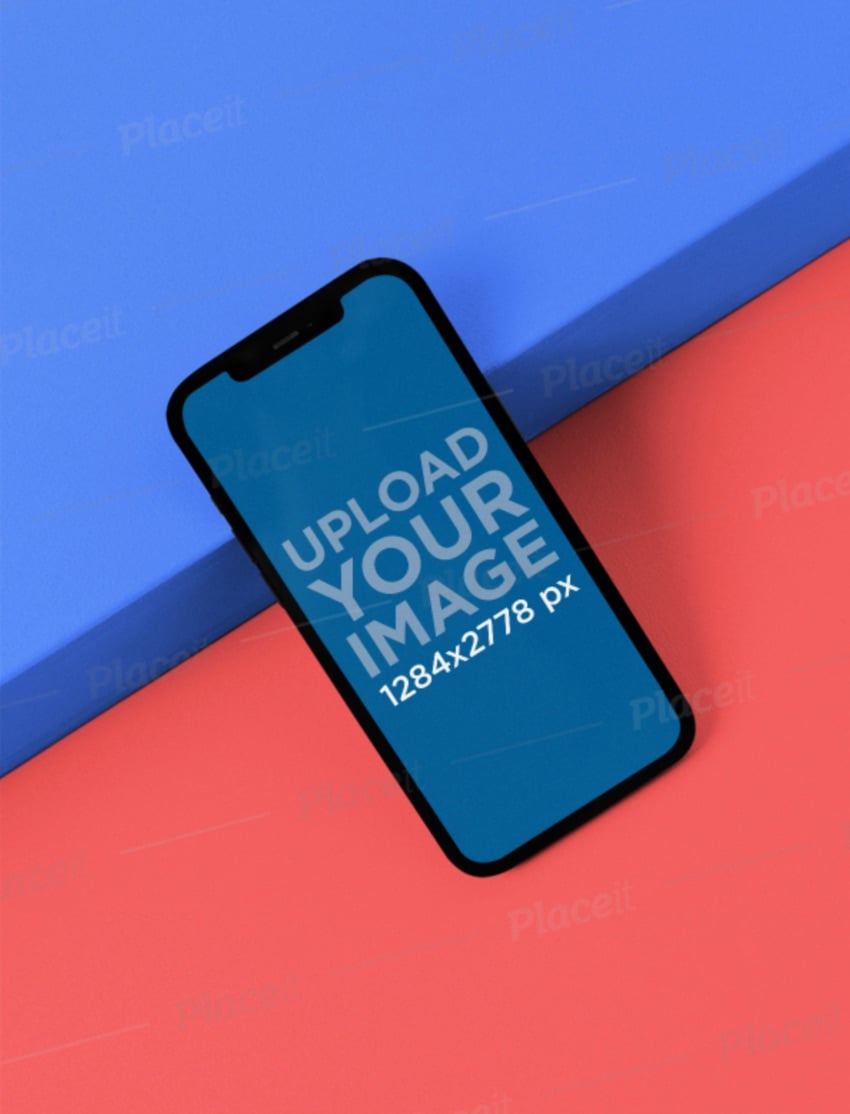 In this post, we'll first use an iOS app mockup generator  to create engaging iPhone and iPad app promos and share 20 of the best iOS app mockups available at Placeit.
Premium iOS App Mockup Generator From Placeit
On Placeit you will find iOS mockups with great ideas on how to advertise your apps. You will also find iOS mockup generator which is an easy to use tool for making your mockups.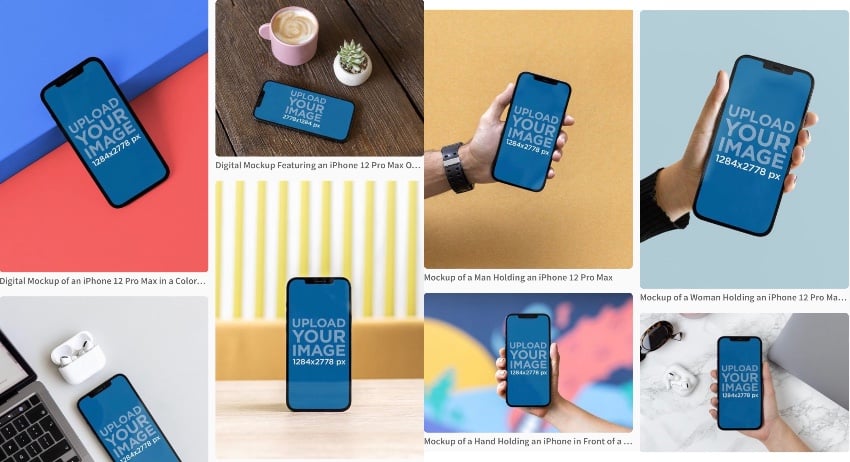 In addition, for a monthly plan for a small affordable fee you can sign up and take advantage of the limitless resources on Placeit. This will allow you to download as many iOS mockups as you want. 
How to Use an iOS App Mockup Generator 
To customize an iOS mockup template to reflect your style, add photos of your mobile app screenshots or your website content, and Placeit generates images of your app or website running on a mobile device.
1. Select an iOS Phone Mockup Template
To pick a mockup template, go to Placeit.net and choose Mockups > iOS > Phone from the menu.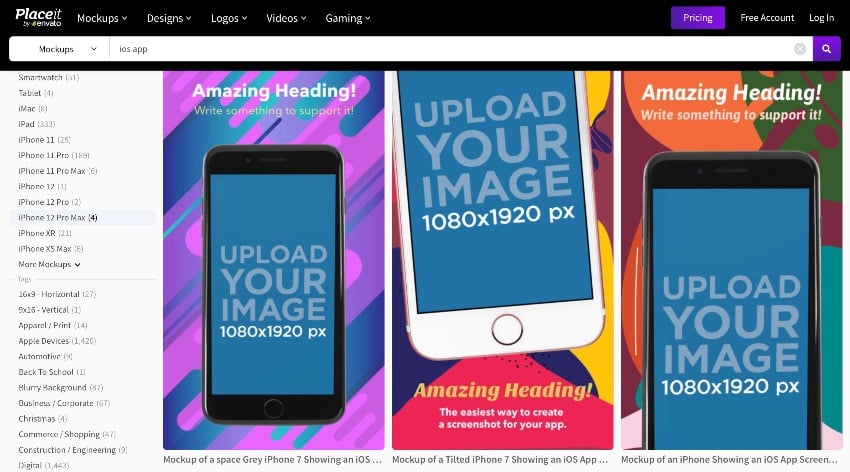 Search through a wide collection of mockup template and select the one you want.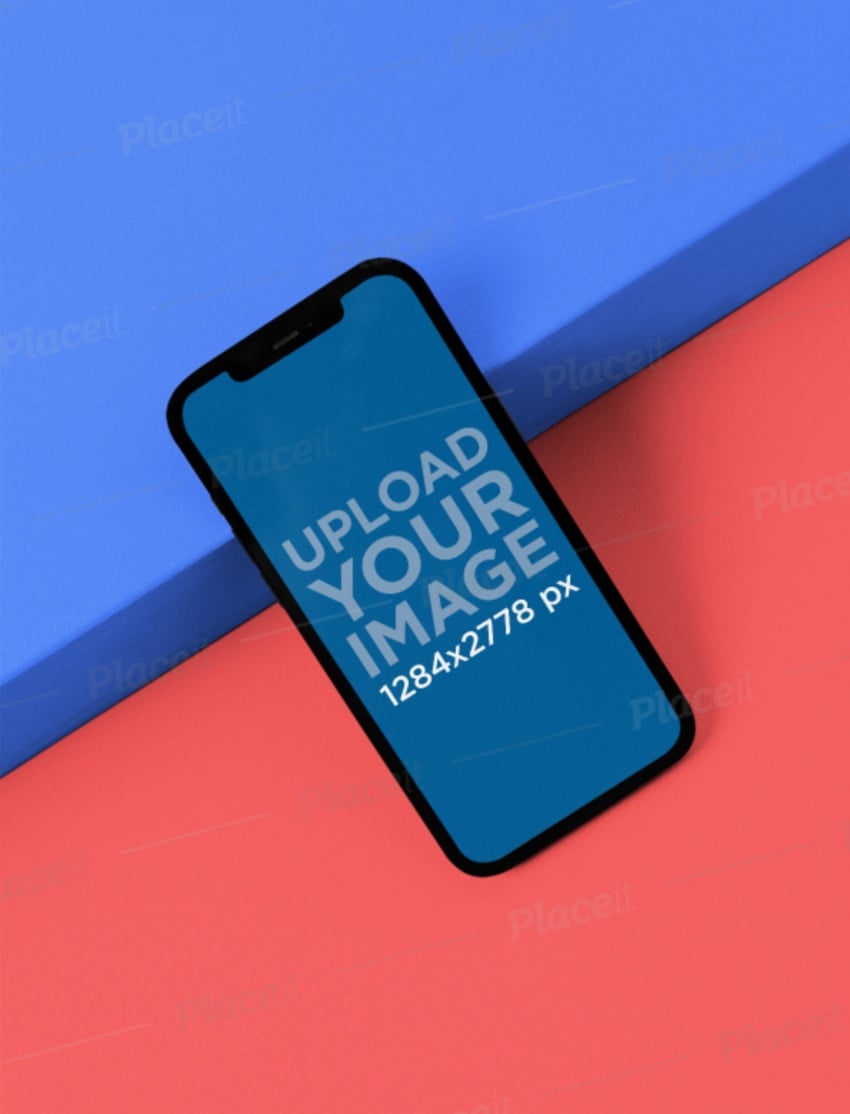 This will take you to the iOS mockup generator.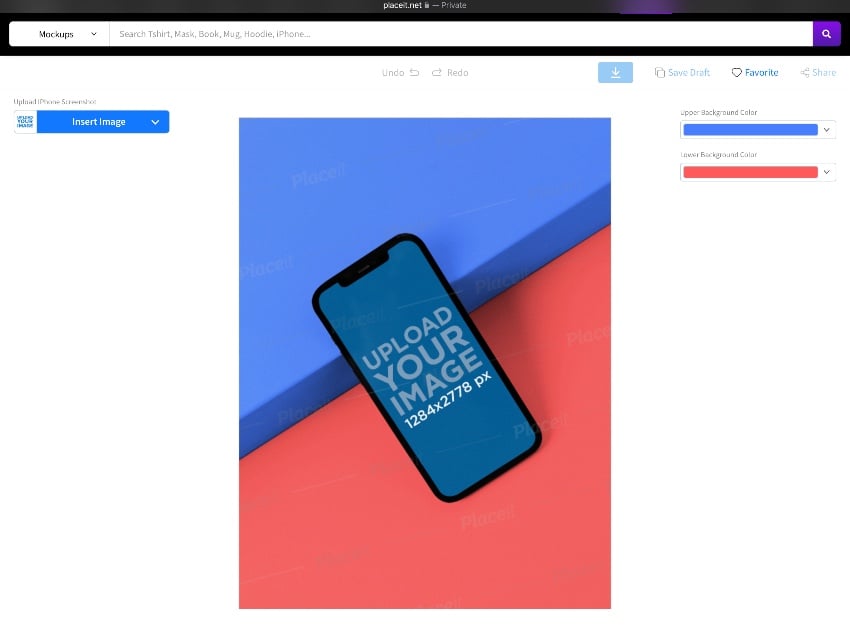 2. Select Your Background 
You can choose a background of your liking from the color palette on the right-hand side.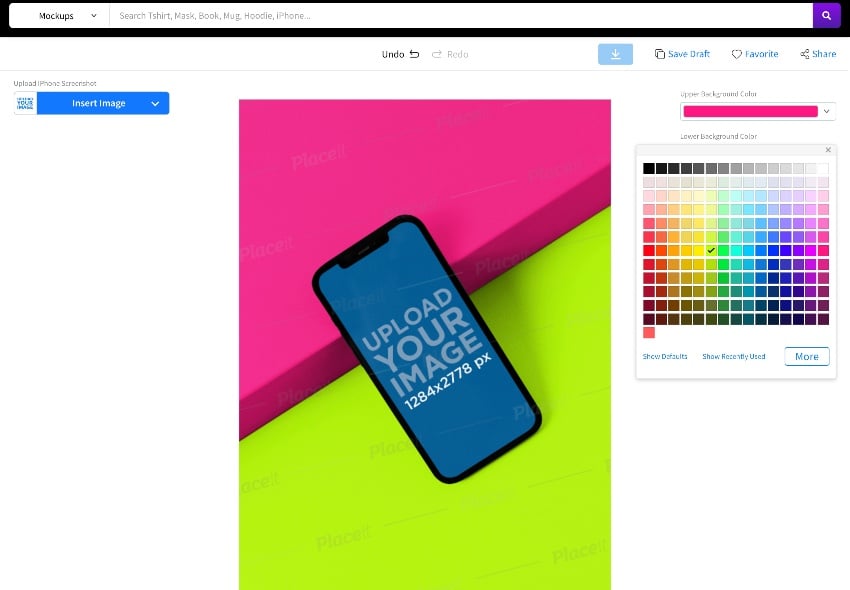 3. Upload Your Design
Upload your selected image or URL, and it will display in the iOS mockup template you selected. You can add your text, and a logo too if you have one.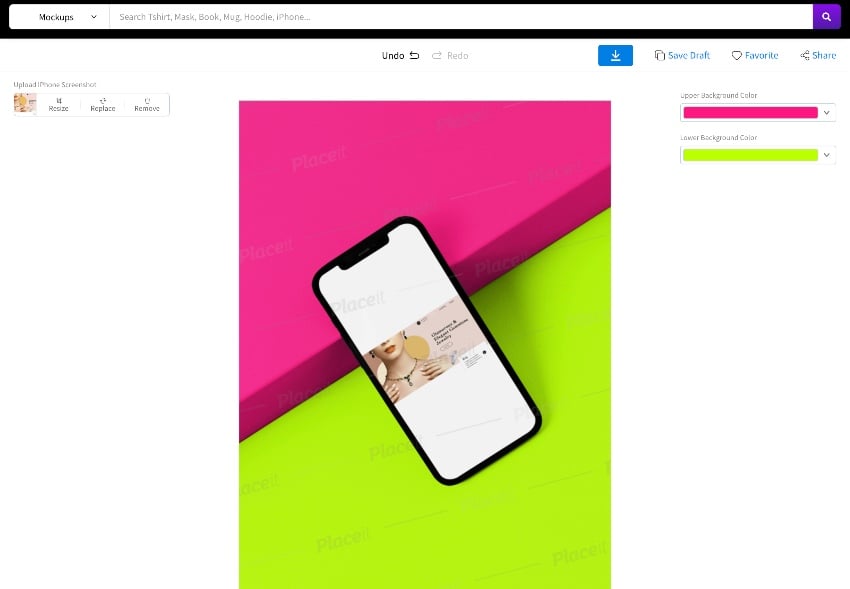 4. Download Your iOS Phone Mockup for a Small Fee
If you're happy with your iOS app mockup, you can download it for a small fee. And just like that, you've got a realistic iOS app mockup to use as you choose.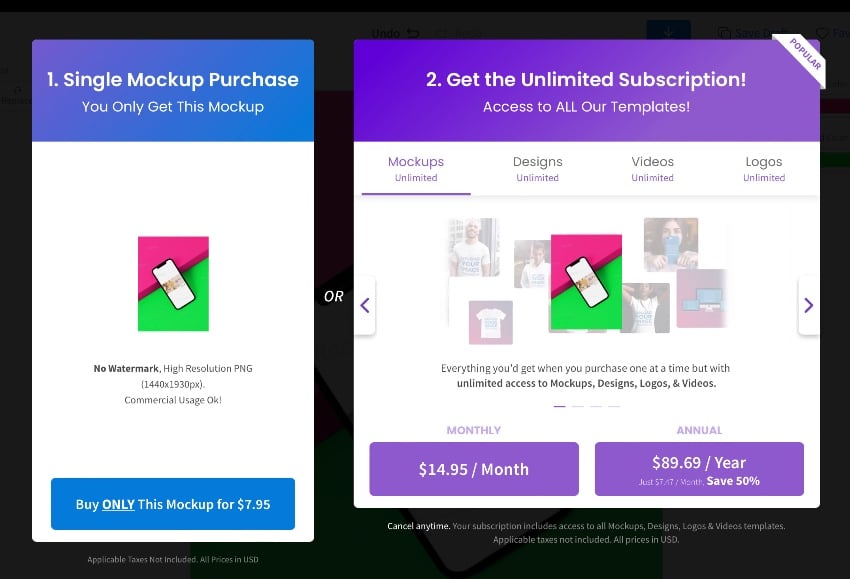 With these few easy steps, you can make your iOS phone mockup. You can dowbload it for a fee or subscribe a make as many mockups as you can. 
Placeit: Download Unlimited Mockups With One Subscription
Get a Placeit subscription to download as many iOS app mockups as you want and promote your apps or websites.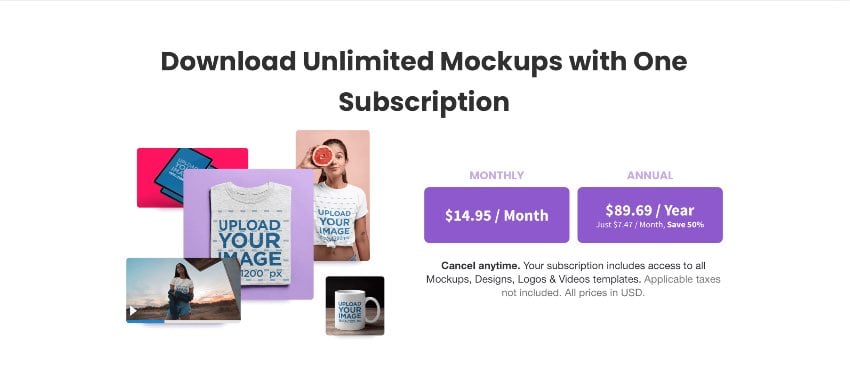 Now let's take a look at the 20 best iOS mockup templates to be found at Placeit. 
Best iOS App Mockup Generators
This mockup, with beautifully spaced elements that draws the eyes, is ideal for a photography app or PWA app for your client's website.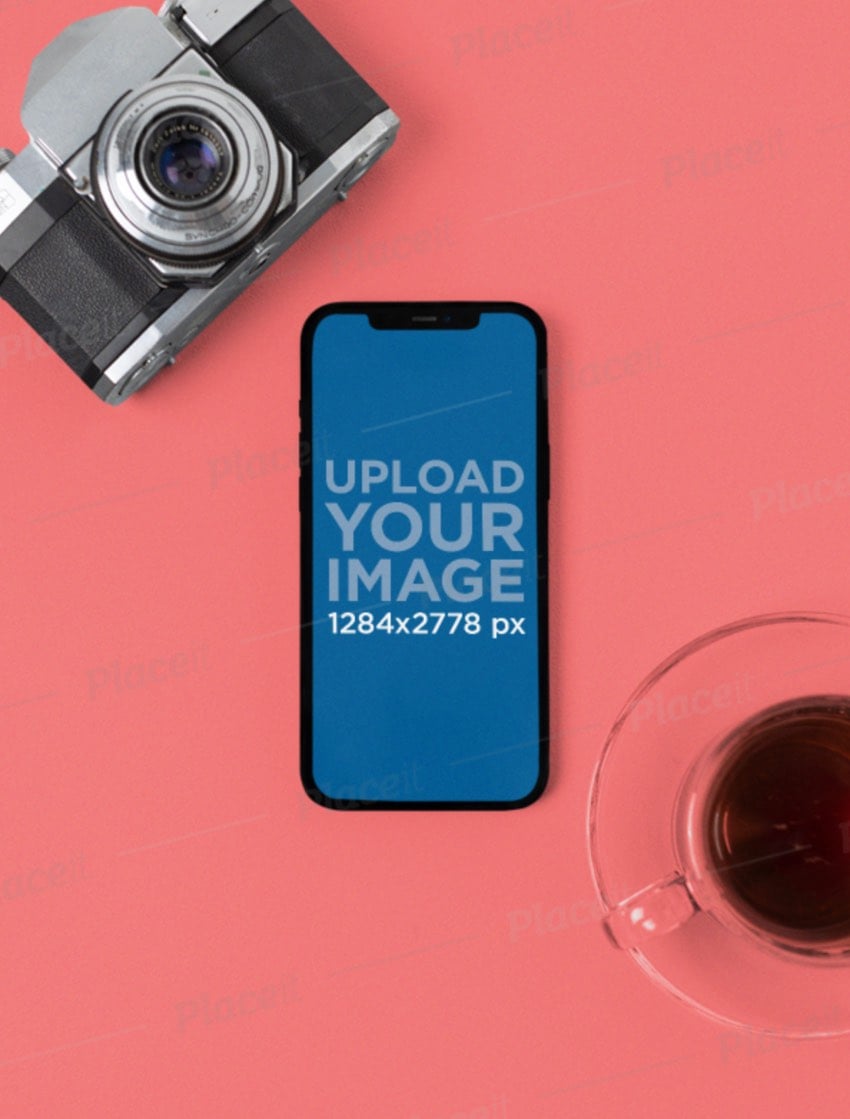 Orderly, organized, uncluttered is the vibe you get in this beautifully staged mockup featuring a smartphone, smartwatch, notebooks, and a pen on a vibrant background.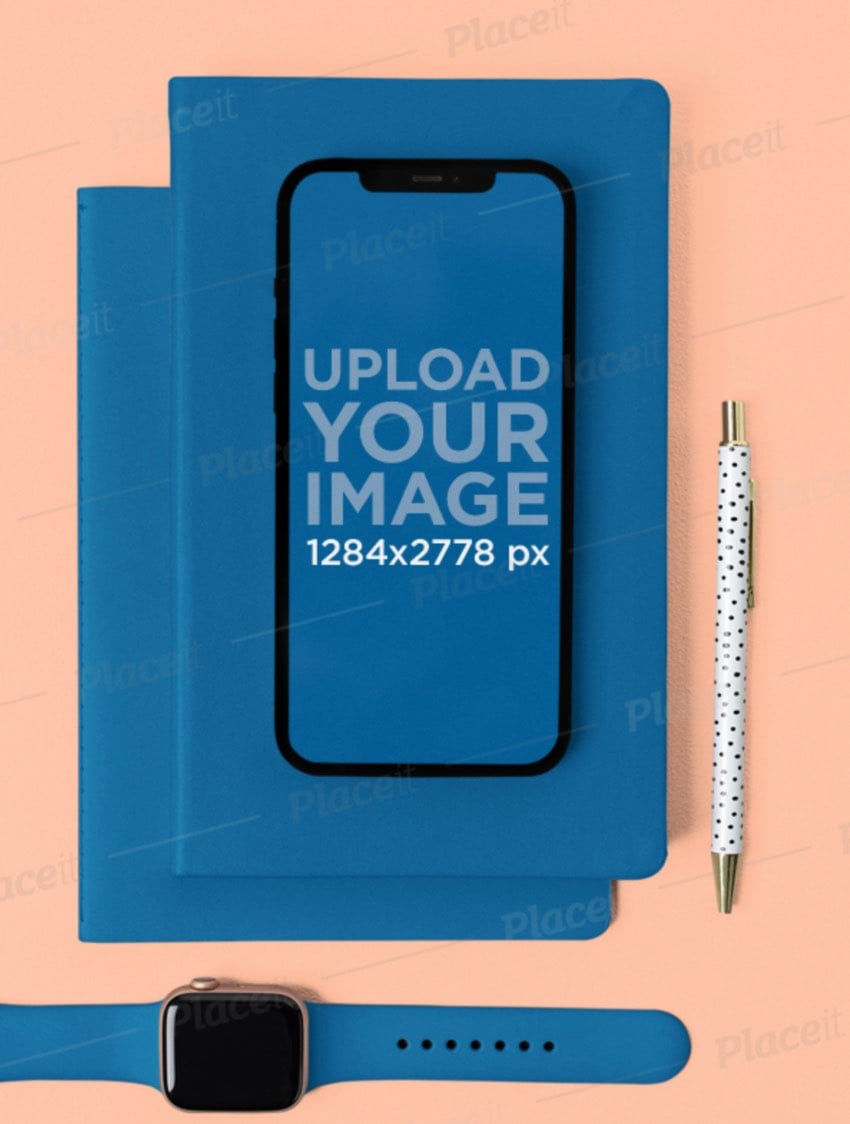 The direct and straight-forward portrait of the iPhone in this mockup speaks directly to users that will rush to download your app.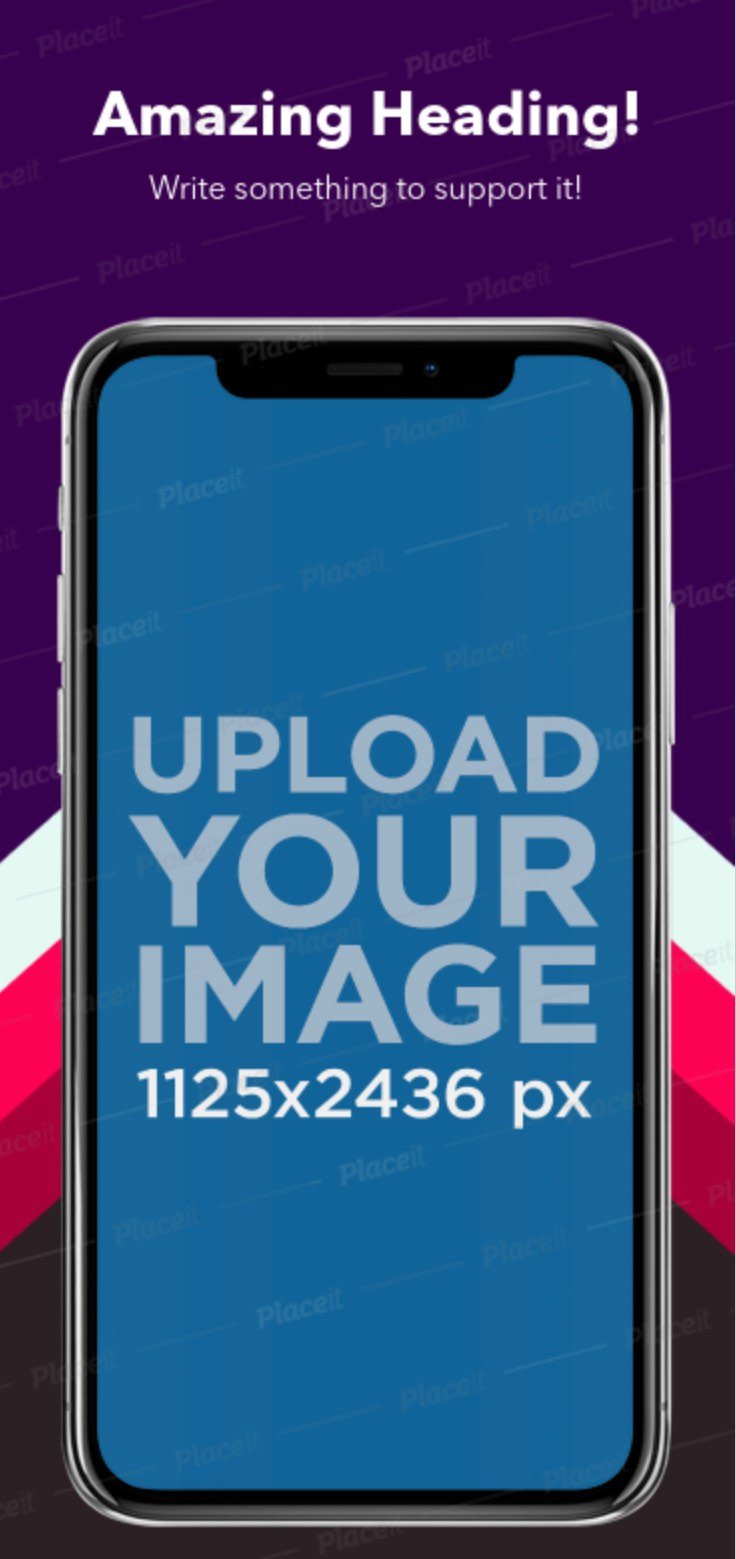 By adding a screenshot of your app and choosing a fitting title with carefully select fonts and colorful background, your app will be on its way to five star reviews.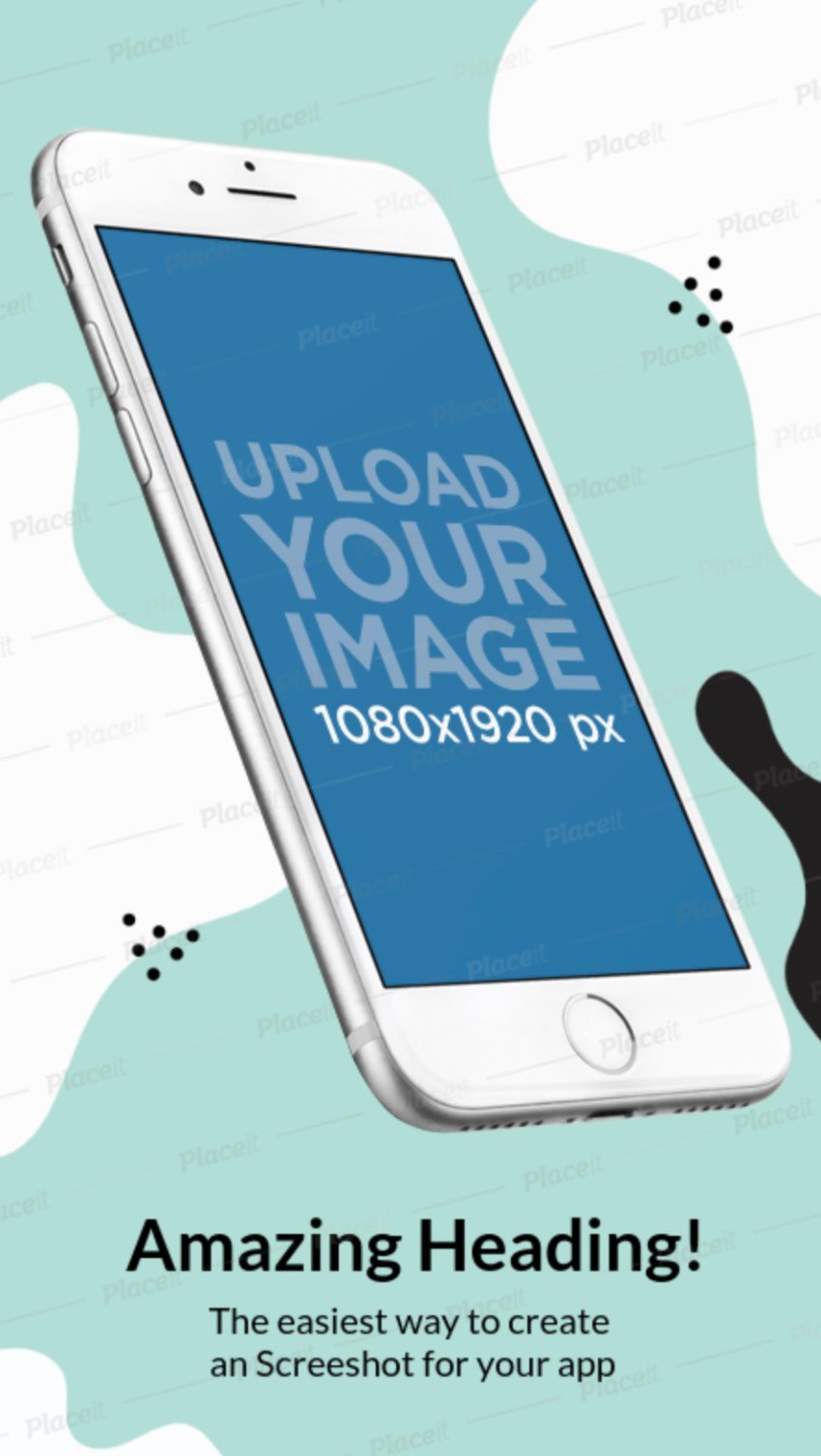 Can't wait to make waves on the AppStore, then this mockup is the good luck charm. Just drag and drop your screenshot and see what happens!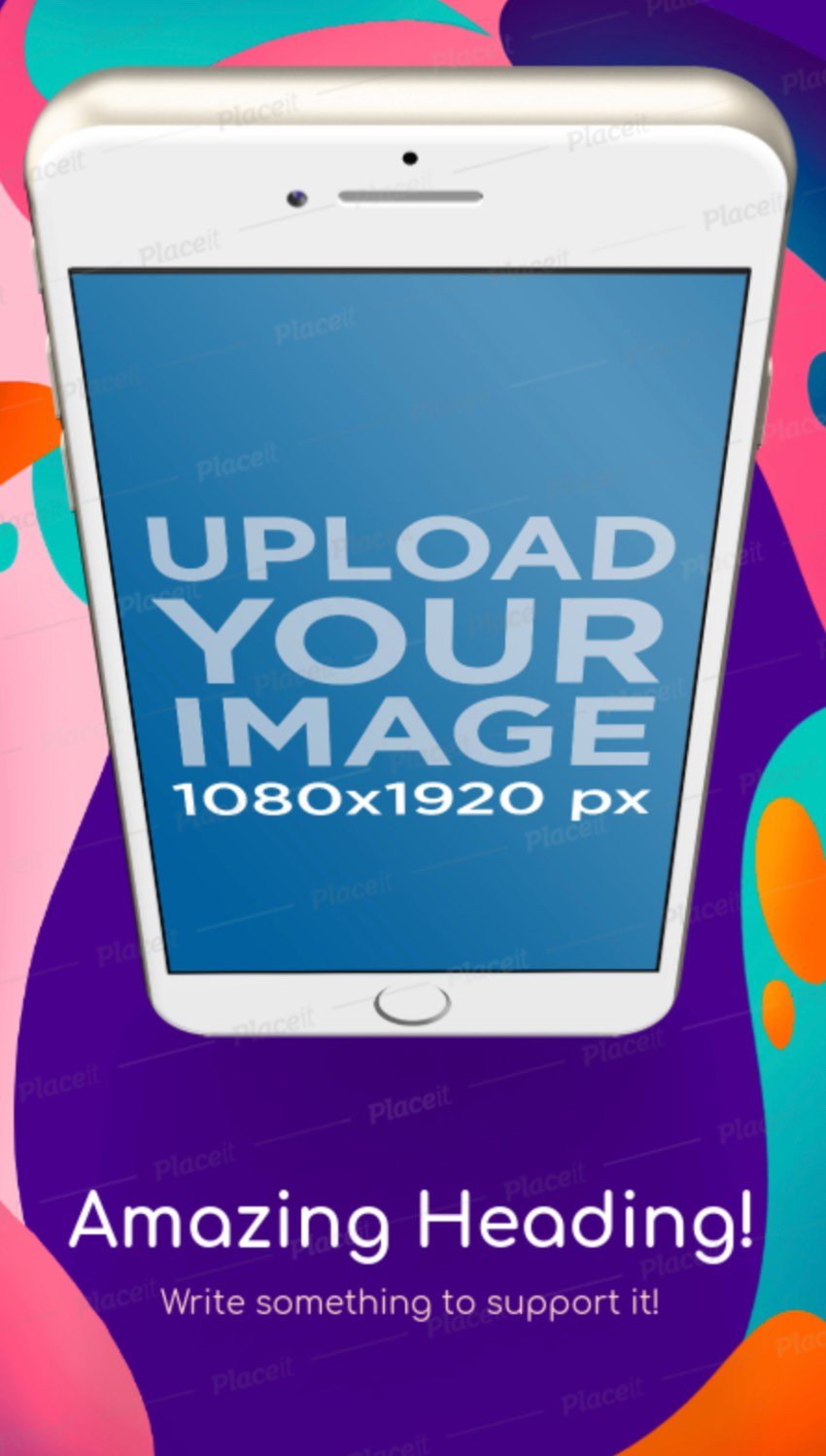 Stand out from the competition on AppStore with this elegant mockup featuring a retro camera, pen, clips, stapler, and an iPhone 12 Pro Max on a marble surface.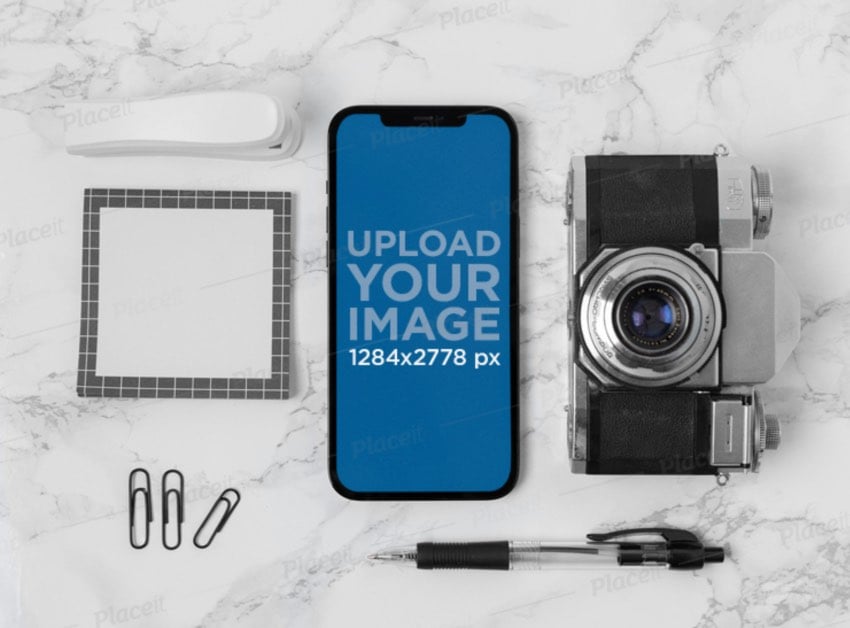 Imagine yourself in a cafe, sipping some delicious coffee while looking at the latest updates your app. The new users of your app will be doing the same soon!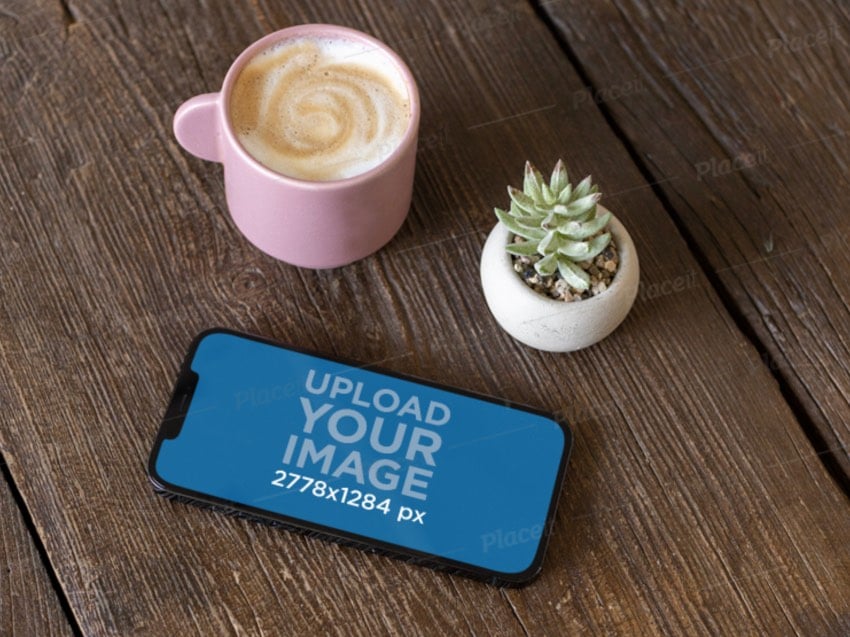 This rich and eye-catching mockup is perfect for promoting your fashion app. It's sleek and modern. What else can you ask for in a mockup?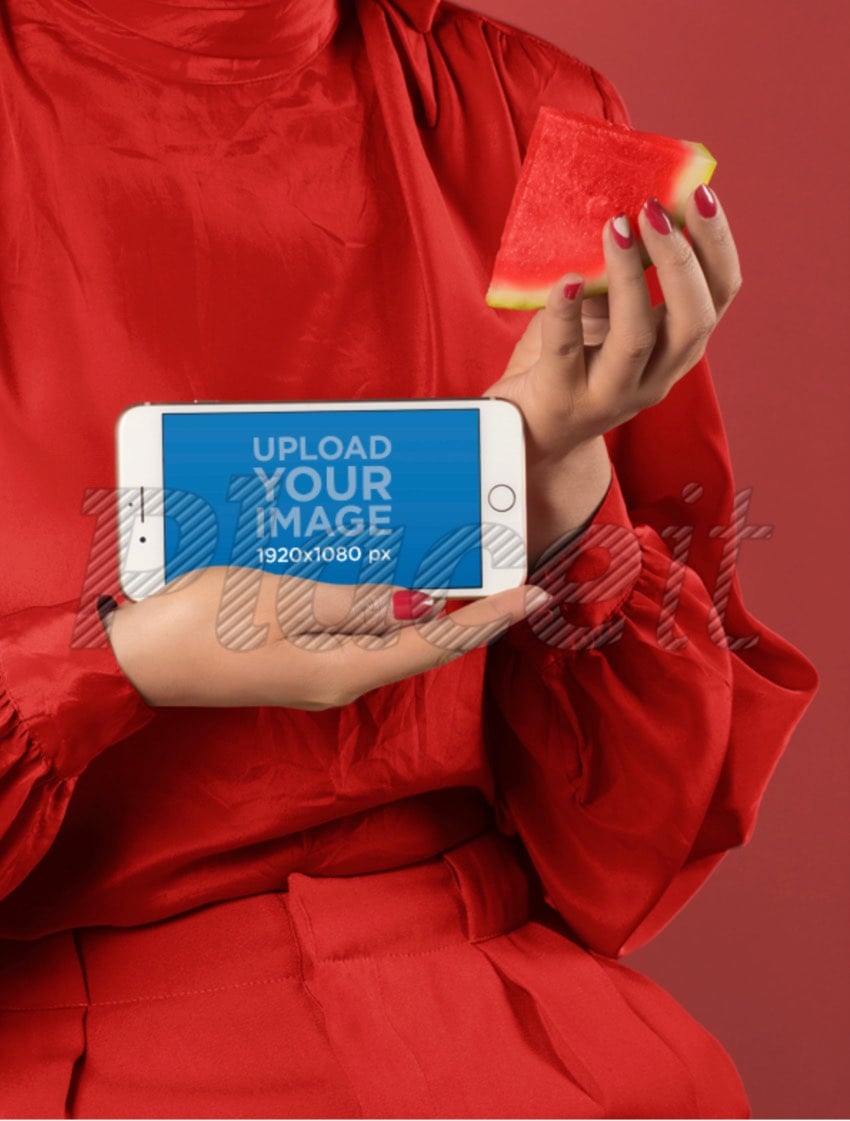 This elegant mockup features an iPad Pro in landscape position on a marble desk. There's a flower vase and a stylus pen.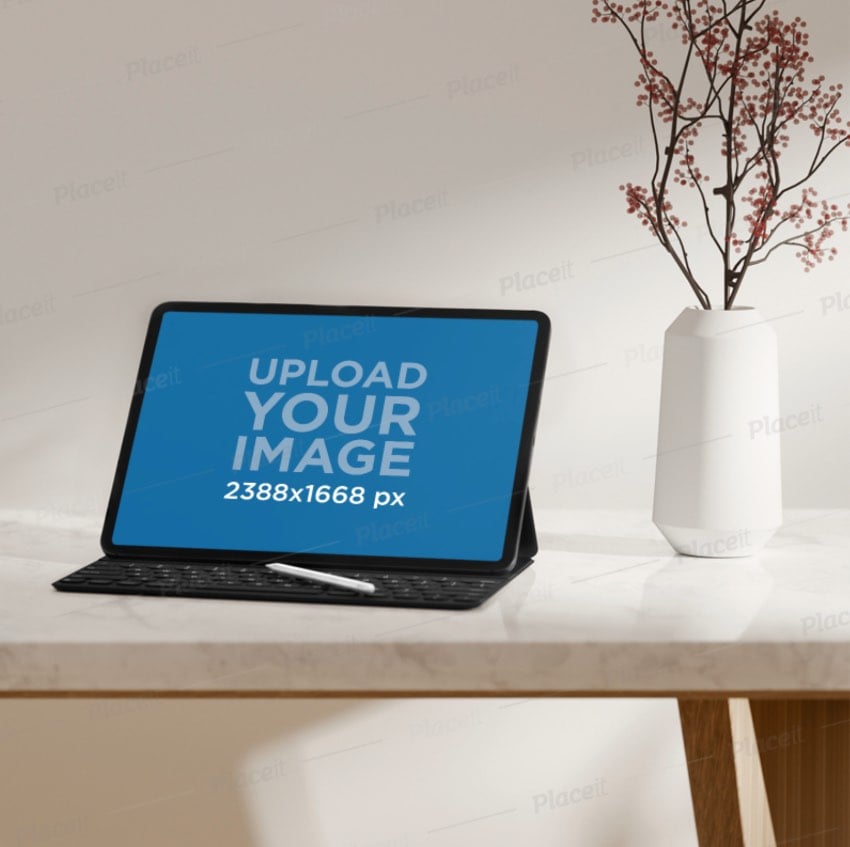 The gold and pink texture with flowers framing the top and bottom border adds color to your app mockup and draws the eyeballs.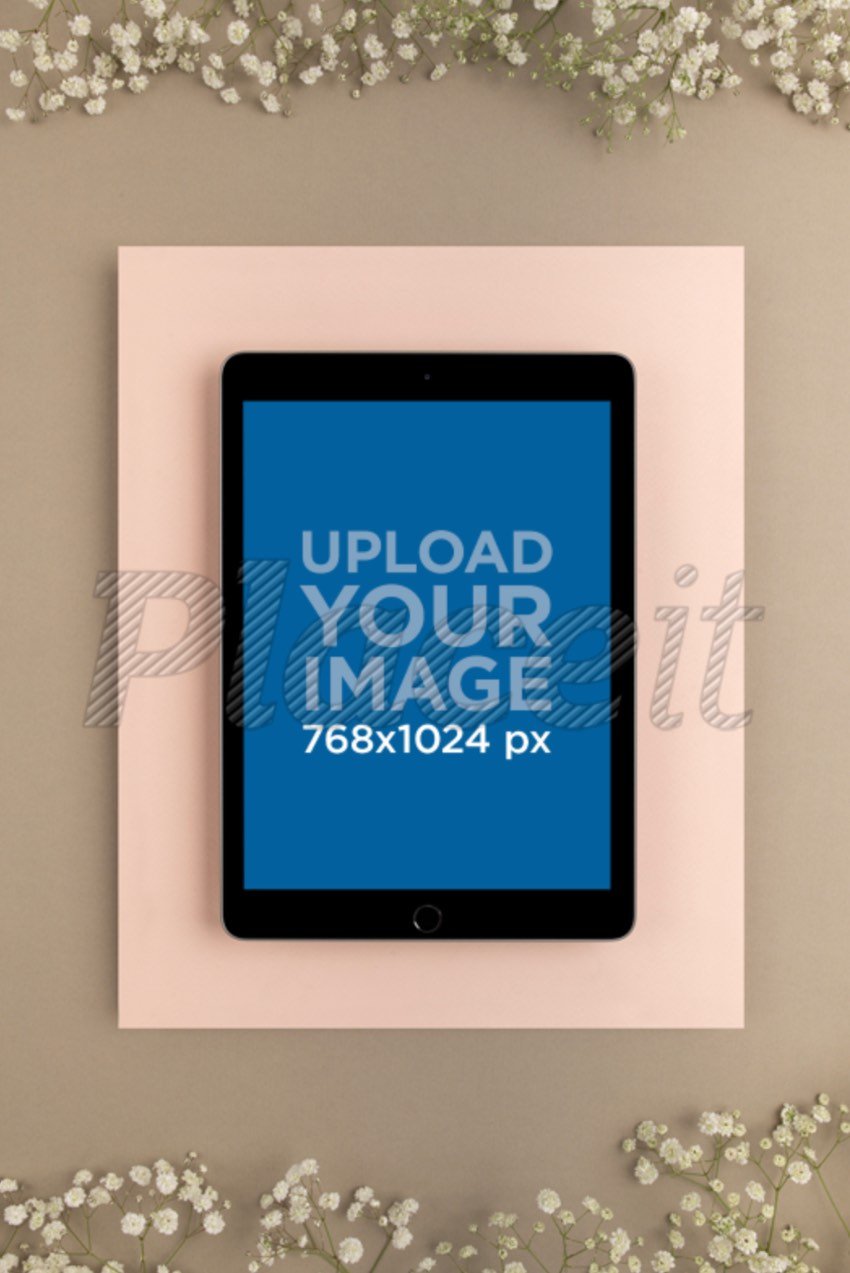 This mockup gives you a wide variety of options to showcase your app across several screens. 
Can a mockup make your app steal the limelight? Heck yeah!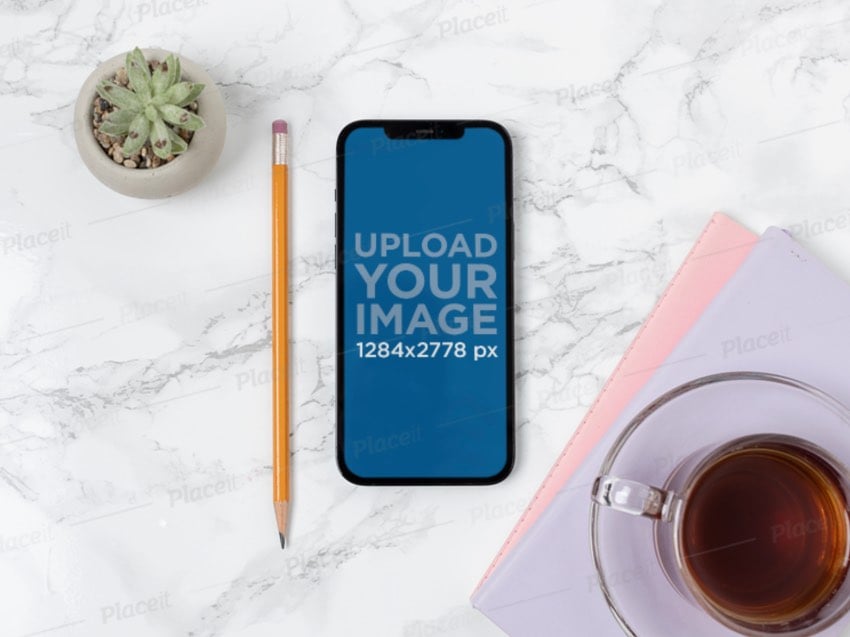 The simplicity of this mockup makes it effective for presenting your app or website in realistic way that speaks directly. You can upload bold photos of your app, headings, and catchy slogans.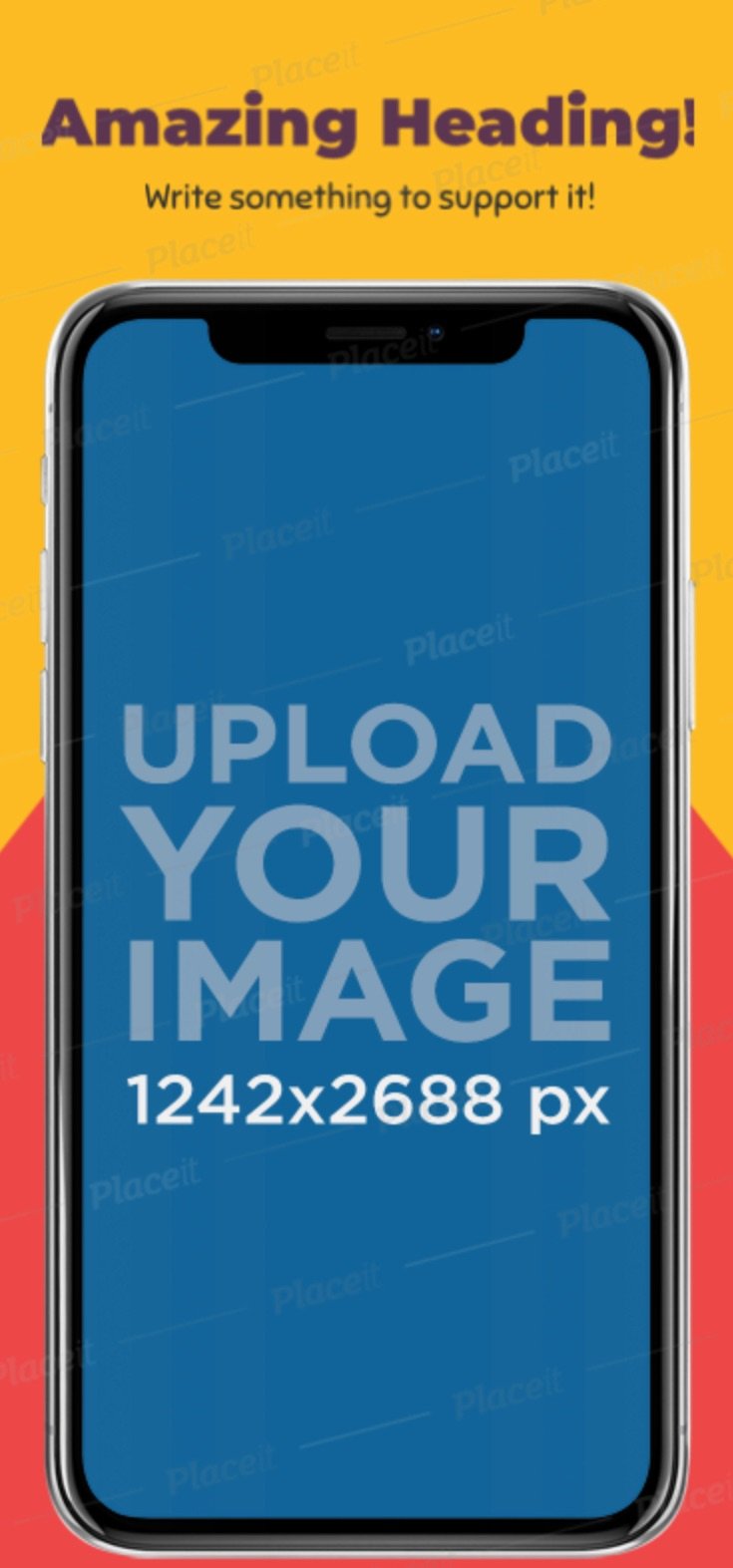 The phone floating at an angle against a warm yellow background makes it ideal for all kinds of creative apps like fashion, music, design, and more.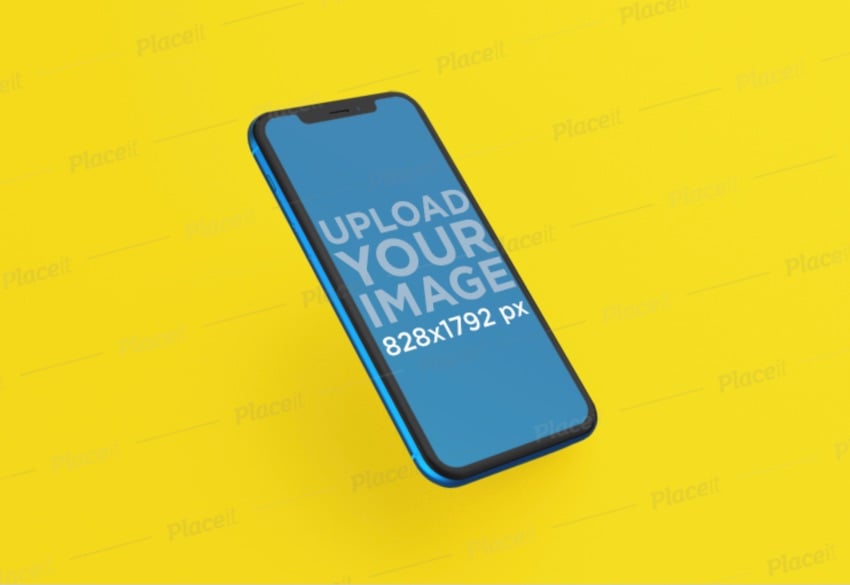 Share your app with the world by uploading your photos into this mockup and watch users share that passion with you!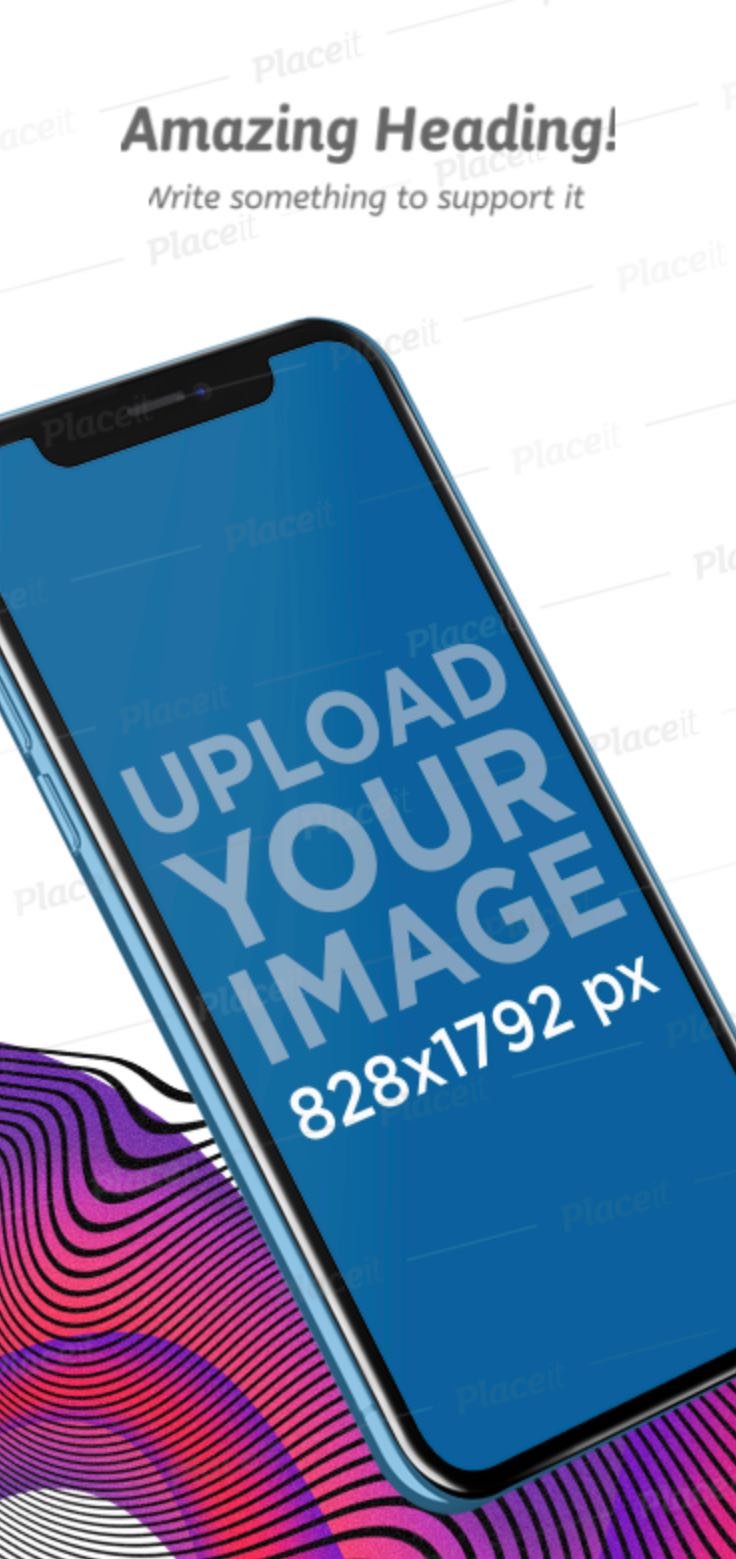 Six screens standing in different angles give a playful mirror AppStore image! Customize this mockup featuring different iPhone 11 screens and showcase your app functionality in the most professional way! What are you waiting for?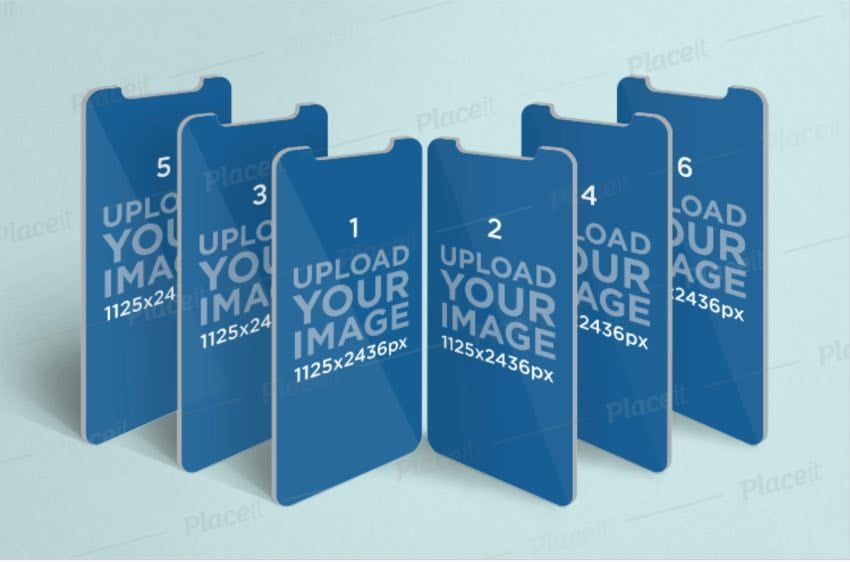 Try another this mockup generator for your new iPad app!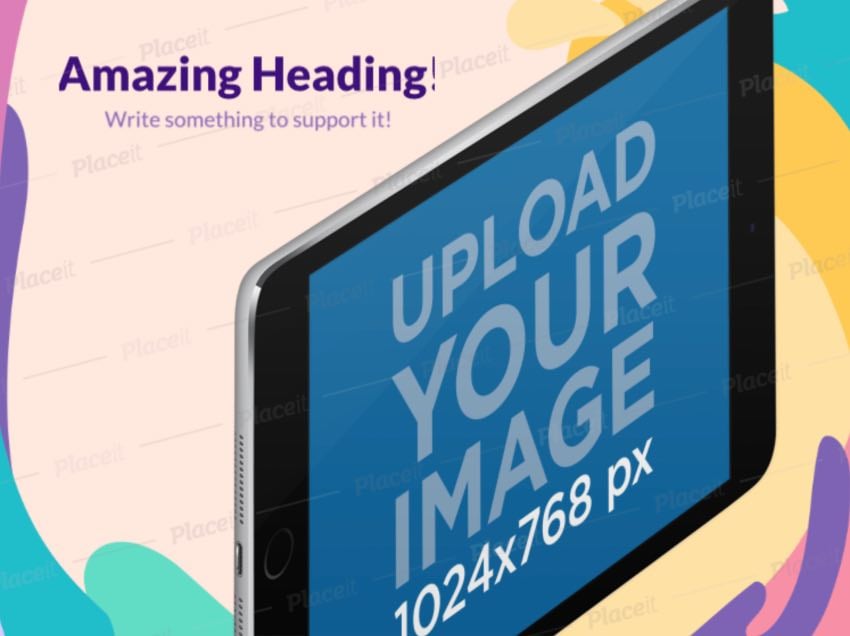 With this visually stunning mockup you can create a memorable and inspiring campaign for your app. Just add your images and customize the colorful background where the five iOS screens float.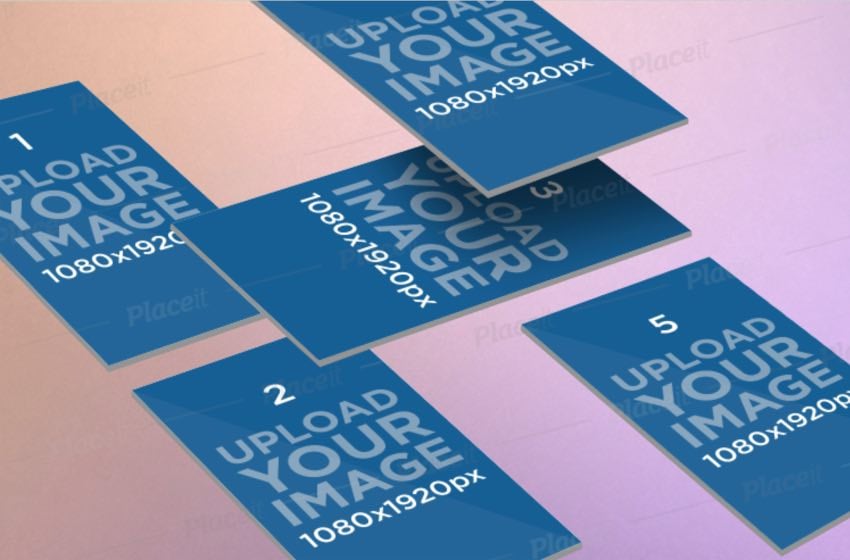 Presentation is all about unique choices and this mockup six screens that will make display different features of your app on social media, AppStore, and more!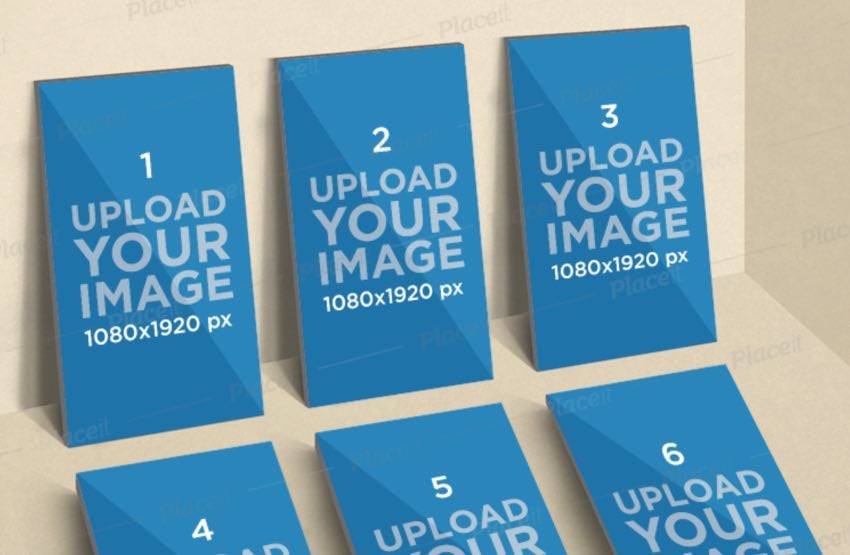 Imagine users of your app being as excited as this young woman is!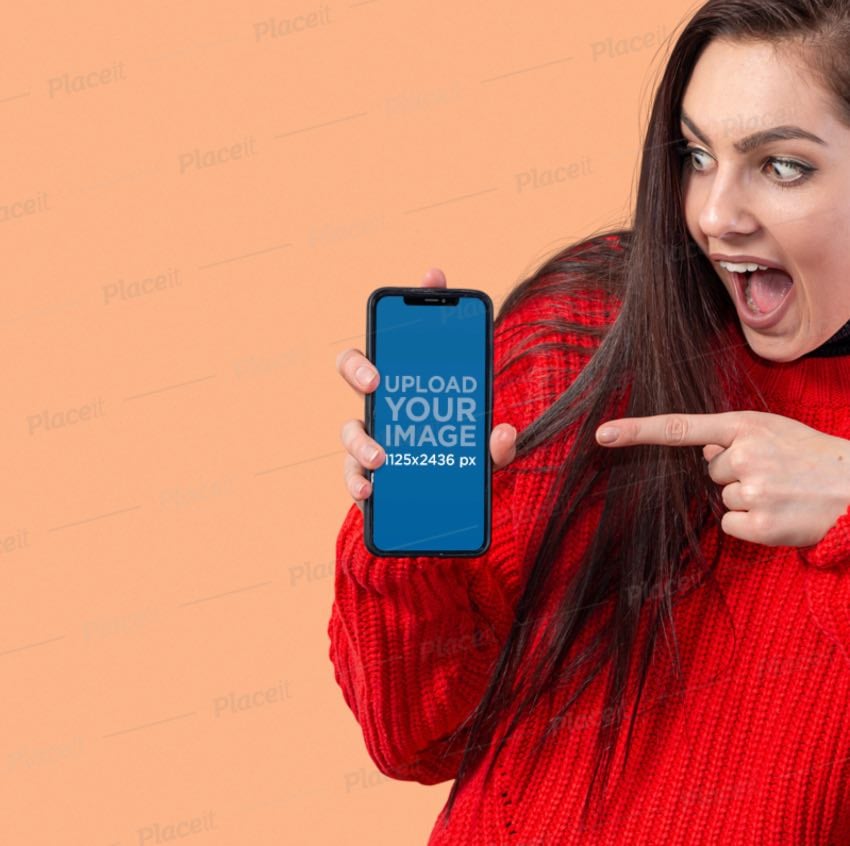 Create Your Own iOS App Mockup Today
Mesmerize your audience with beautiful iOS mockup templates that give your app or website that look that attracts clients. Customize whatever mockup template you select using an iOS app mockup generator from Placeit.