Looking for the perfect flower font for spring? Let's take a look at some hand-drawn floral font designs. Whether you're looking for a flower ornaments font, a flower script font, or even an Easter font, there's plenty to see.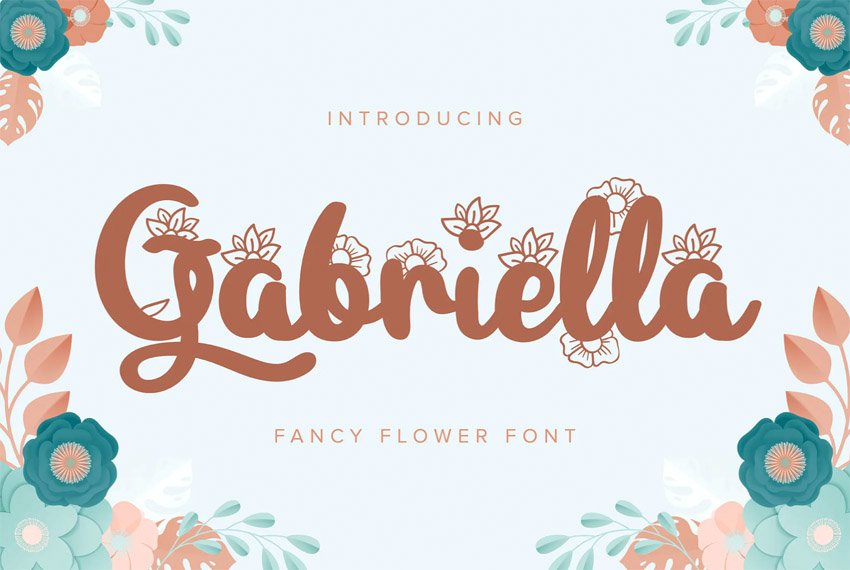 What Is a Floral Font Style?
A floral font style, or a floral letters font, typically incorporates floral elements into the font design. This could be literal flower letters, font designs that incorporate floral elements, or even fonts that just take visual inspiration from plants. They are typically a great choice for fun spring fonts. Imagine this look as your next Happy Easter font or the perfect spring cleaning font for fun home decor.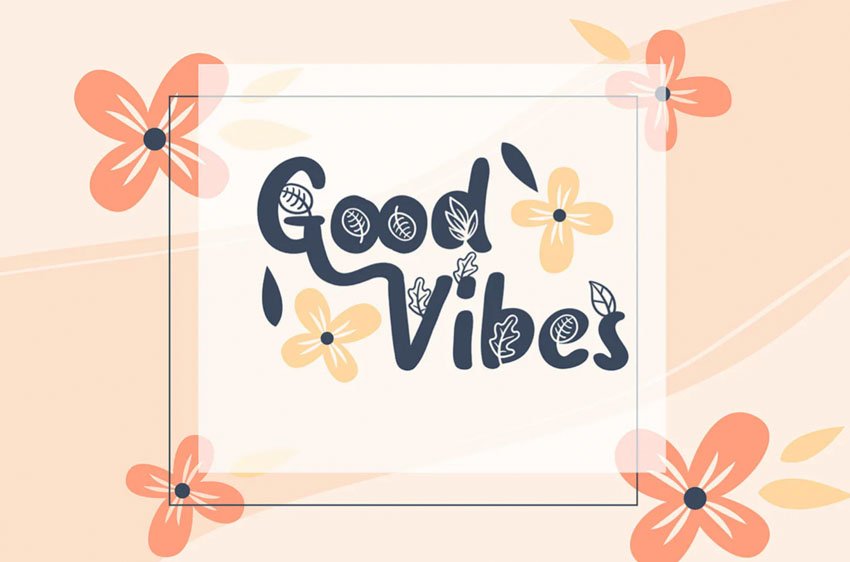 There's a lot of variation to explore here too. For example, flower font text can take on a vintage floral font look. Or maybe you prefer an indie flower font with a handwritten look. A flower script font is often a popular choice, as calligraphy styles pair so well with floral elements.
Check out this pretty example—it rather looks like a vine or ivy floral font. The organic lines have a very hand-drawn floral font look, and it could be a great choice for invitations, decor, and more.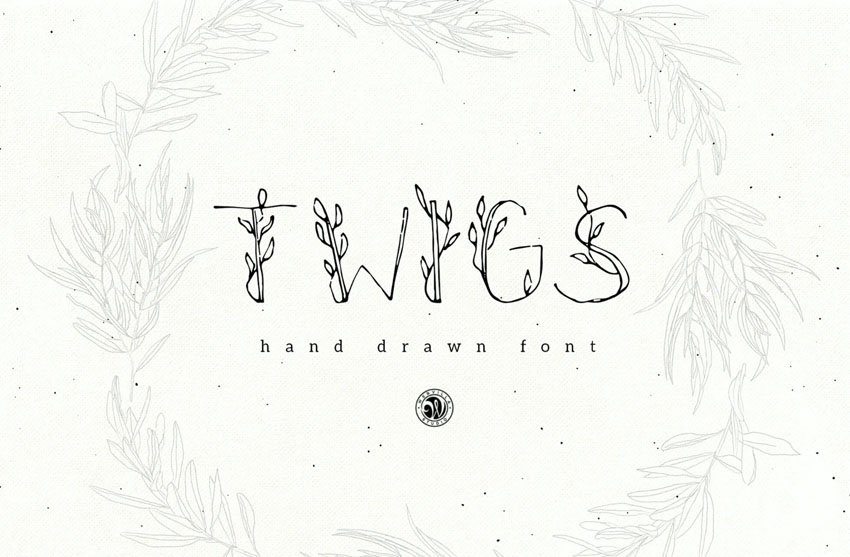 Find Flower Font Designs and Fun Spring Fonts on Envato Elements 
Looking for the perfect spring font download? Why download one or two floral font designs, when you can get access to an entire library of fonts? That's what you get on Envato Elements. One low price gets you unlimited access to thousands of fonts. It's an awesome deal if you're a big fan of fonts.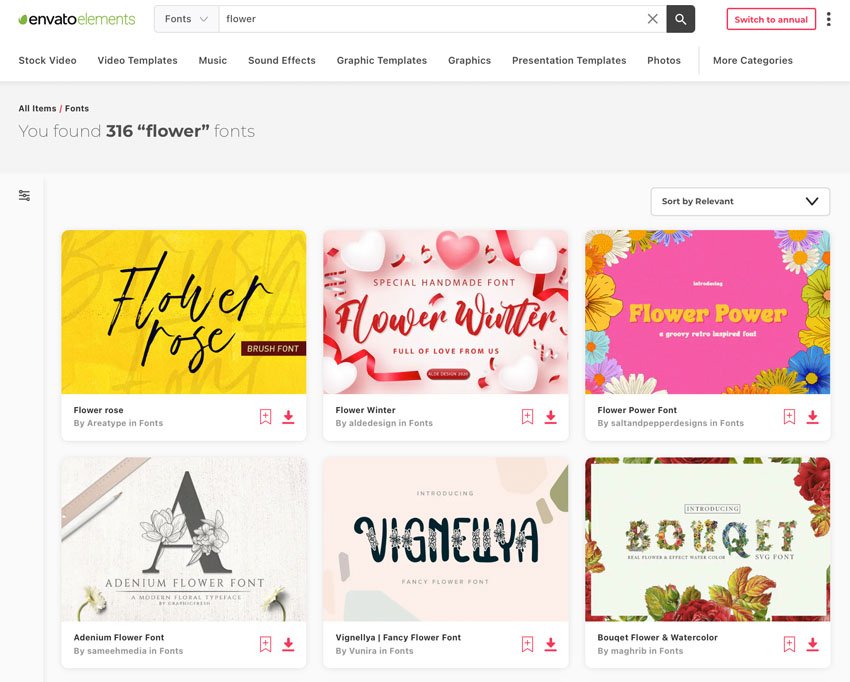 Of course, this isn't exclusive to floral font designs. You can also find a huge collection of fonts that work well for spring, Easter, weddings, and so much more. Script and calligraphy fonts are often a great match for floral elements, like this example below. There are thousands more fonts to check out, and they're all included for one price.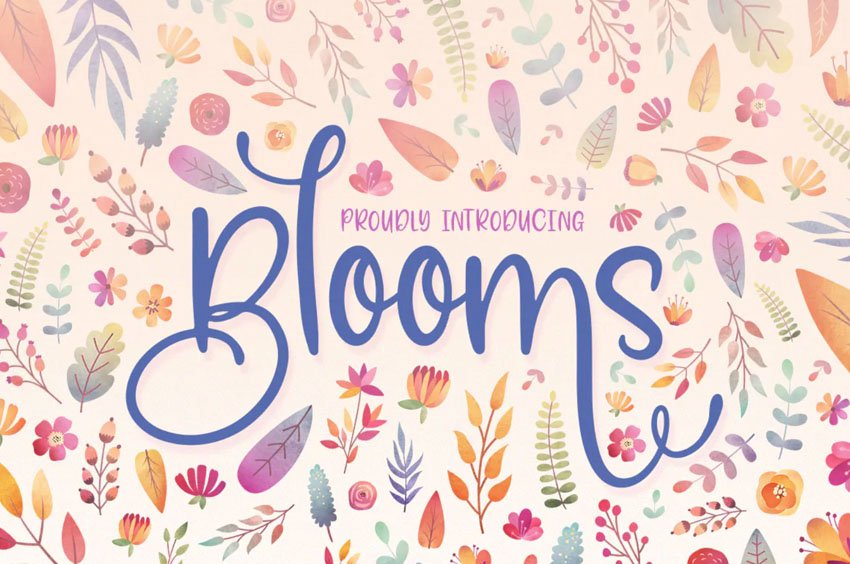 You also get access to design templates, illustrations, stock photos, and even templates for your website! Grab a new business card template, or download flower graphics to use in your next design. Envato Elements has so much professional content, it's like having the perfect library at your fingertips.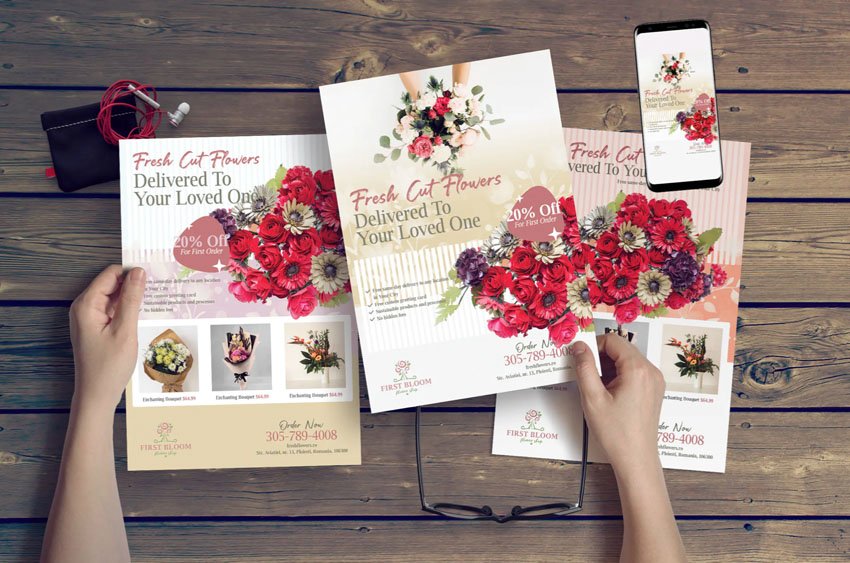 The Best Floral Font Designs on Envato Elements
Let's check out some of the best flower font designs on Envato Elements that you can download right now. Consider downloading your favorites, or enjoy the design inspiration for your next project.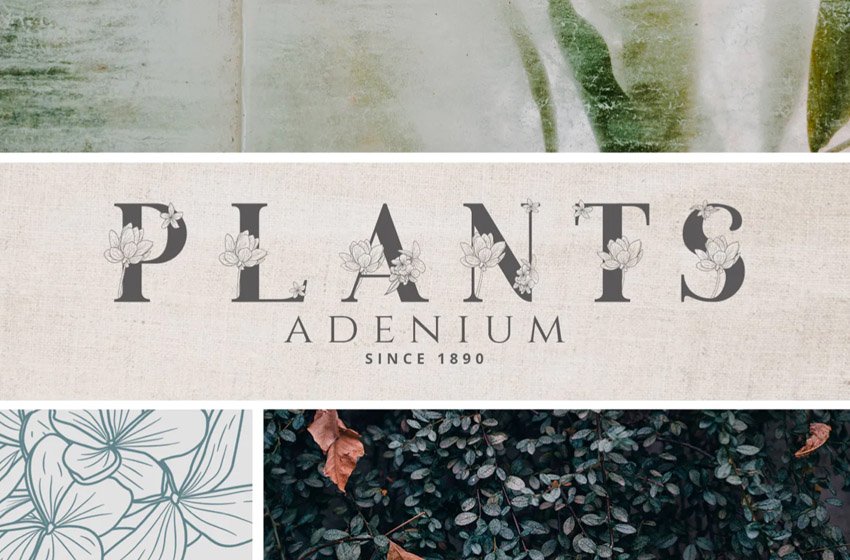 Check out this elegant flower font. It has beautiful serif type mixed with these ornate flower illustrations. It would be great for titles and points of emphasis.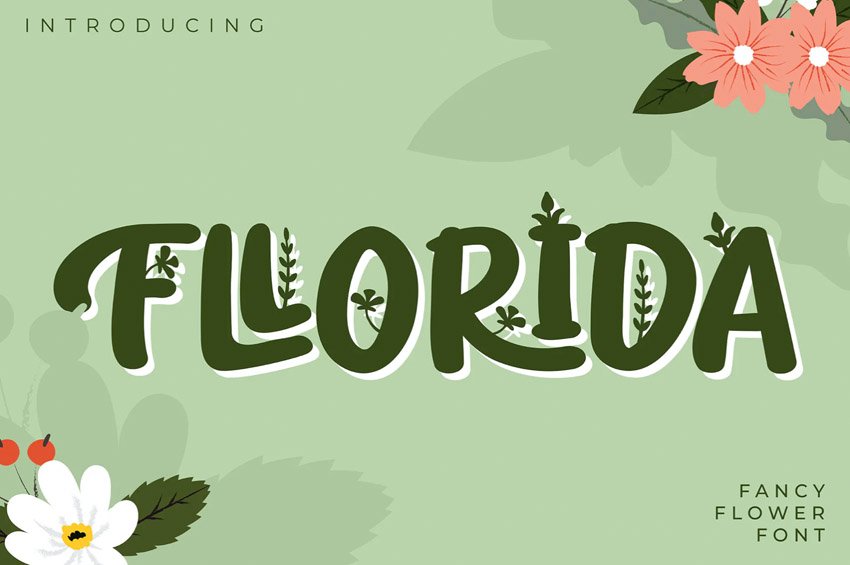 This flower font is a bit more playful. Imagine it on a T-shirt or on fun packaging. You could print this on bags, boxes, and so much more.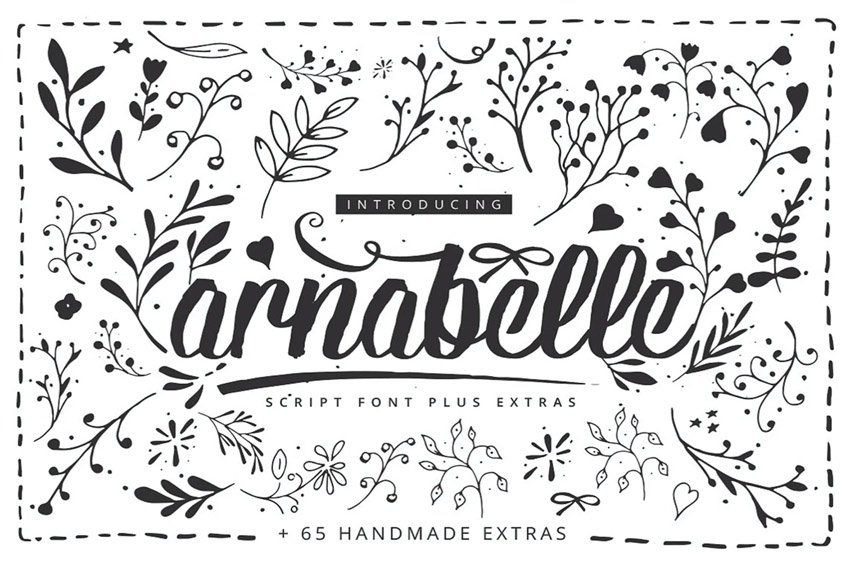 This script font comes with a whole host of hand-drawn floral extras. It would be great for designing an ornate poster. Or consider adding your own hand-drawn elements too.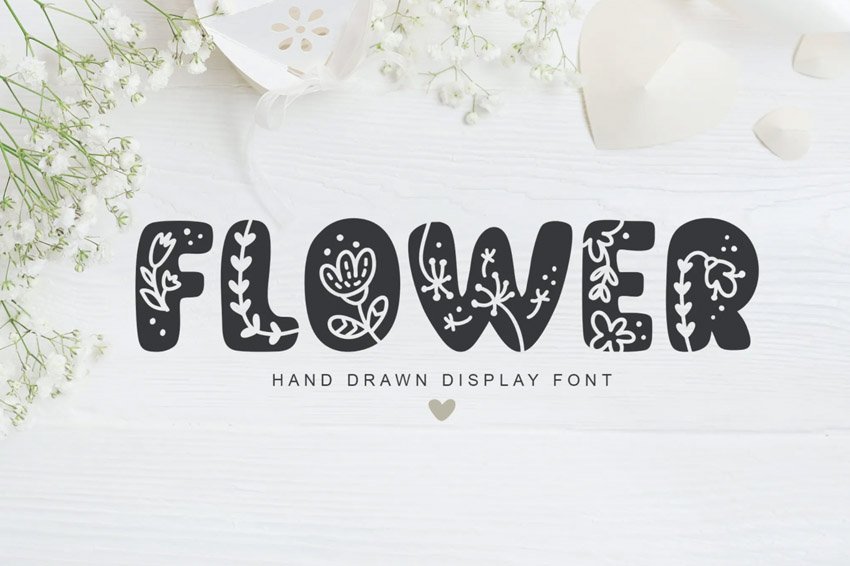 This floral font could be such a cute choice for a spring cleaning font; use it to create DIY decor or to create invitations for an upcoming spring party.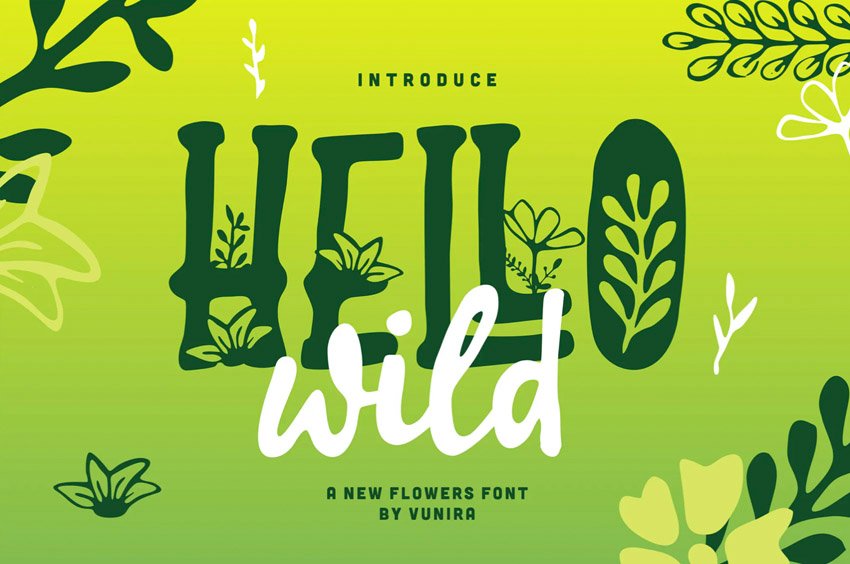 Isn't this floral font fun? It works in the flower symbols in such quirky ways. Try it out in all caps, or stick to the curved lowercase letters. There are lots of possibilities.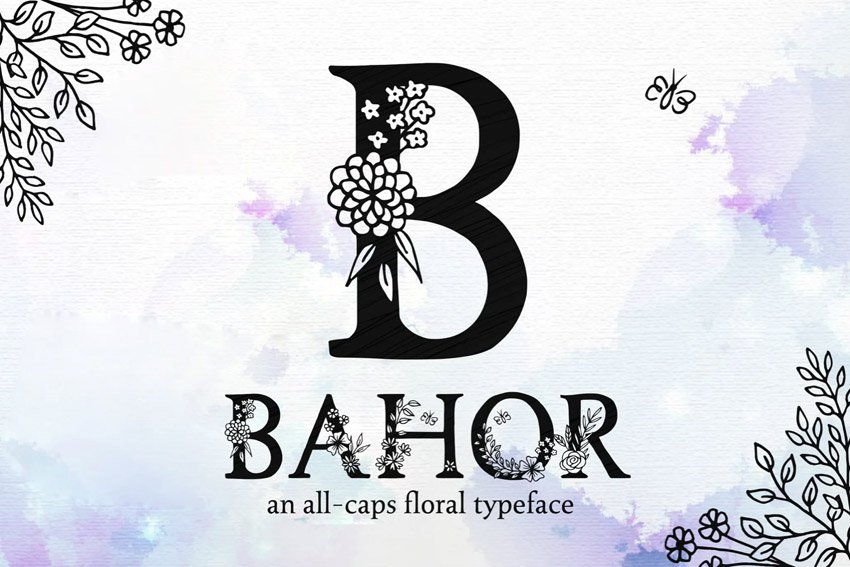 Make an elegant statement with these ornate letters. It could be a great Happy Easter font, especially for something like a formal brunch or service.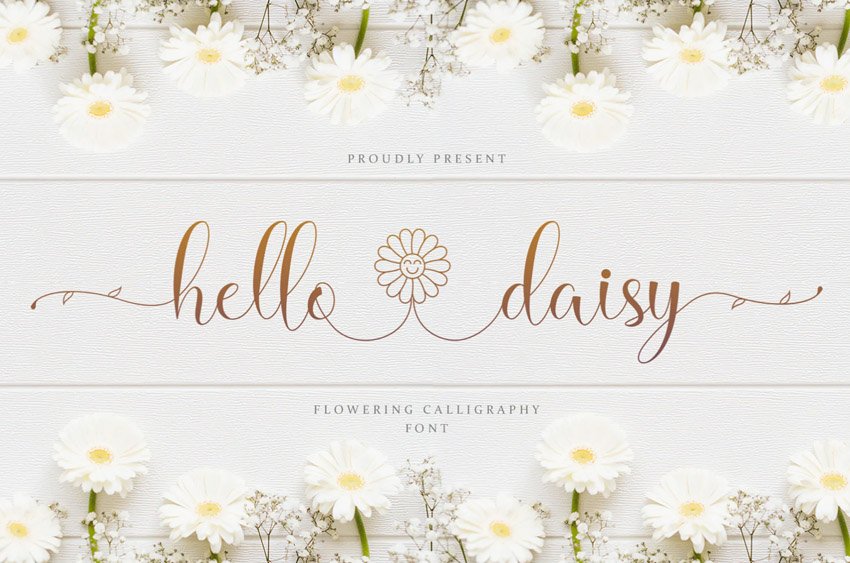 This could be such a perfect font for springtime projects. It's light, airy, and very elegant. This font would be right at home on wedding invitations, announcements, and more.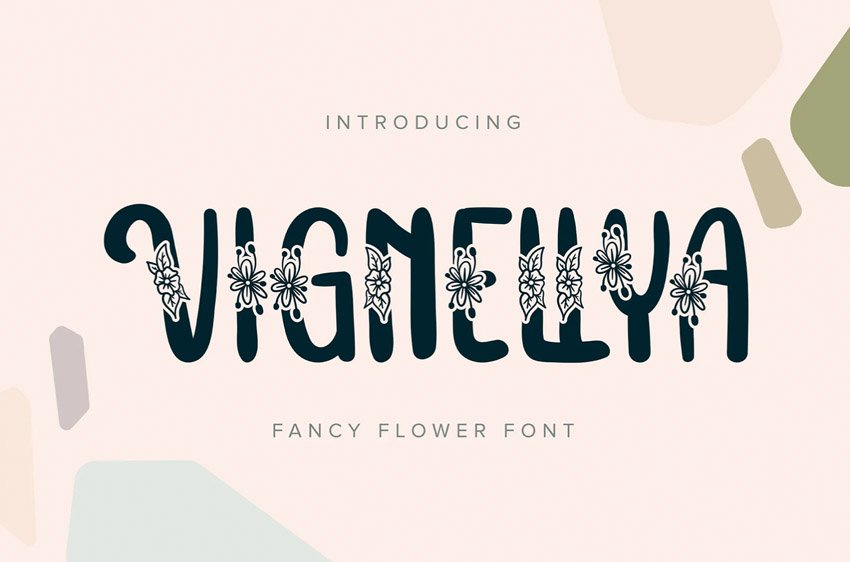 Here's another playful font that you can download right now. Try this one out on a business card or T-shirt design. It would certainly command attention.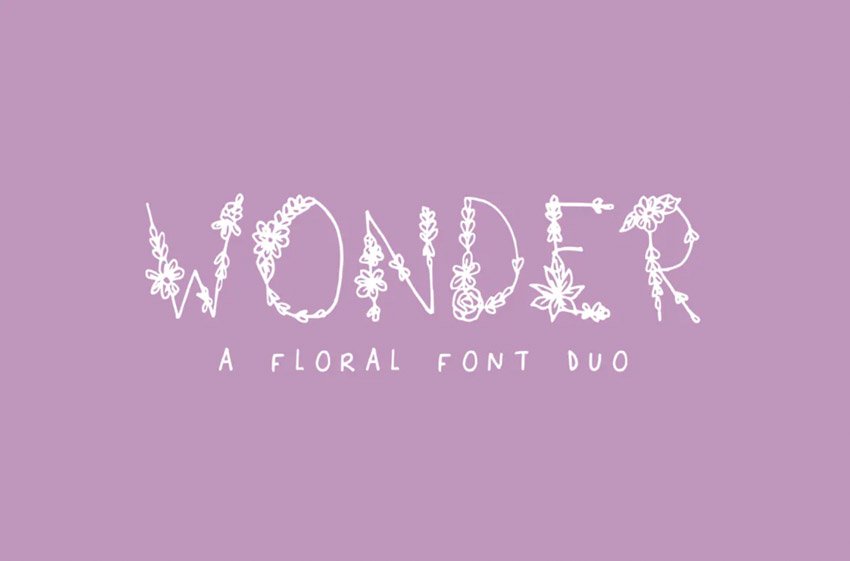 This display font has so many little details that it's definitely best at larger sizes. Try this one in different colors too, like green or even gold tones.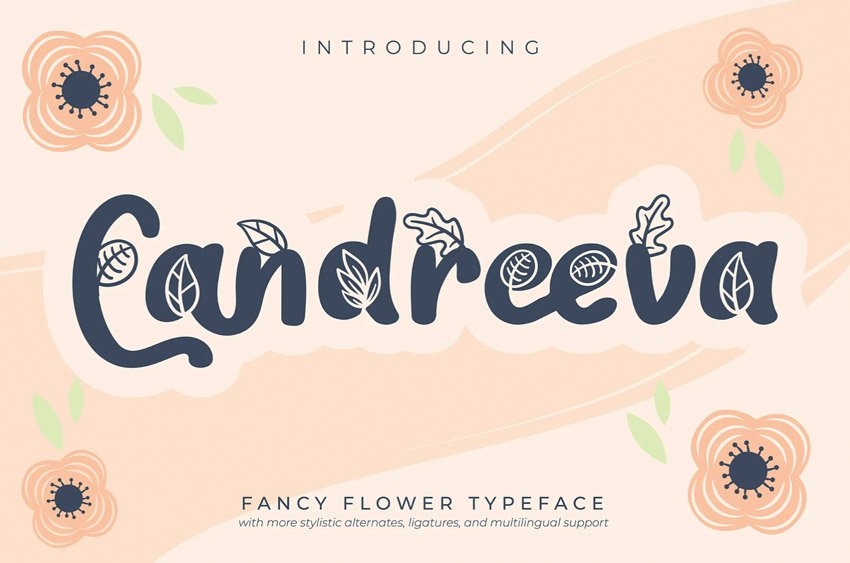 Here's another playful take on a flowery aesthetic. The leaves here could work well for other seasons too. Try this in reds or browns for a fall look.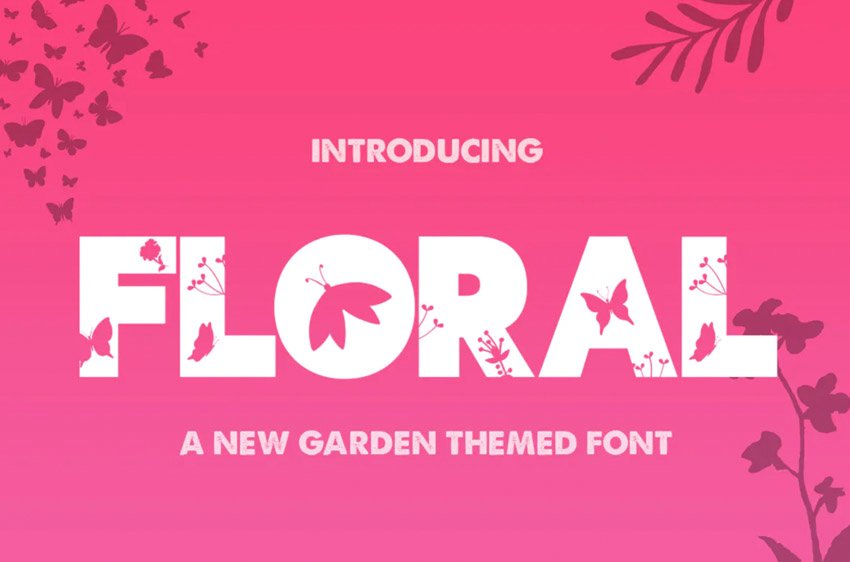 Prefer a bold, blocky font? Then you might prefer this graphical take on a flower font. It has so many different nature-themed cutouts to work with.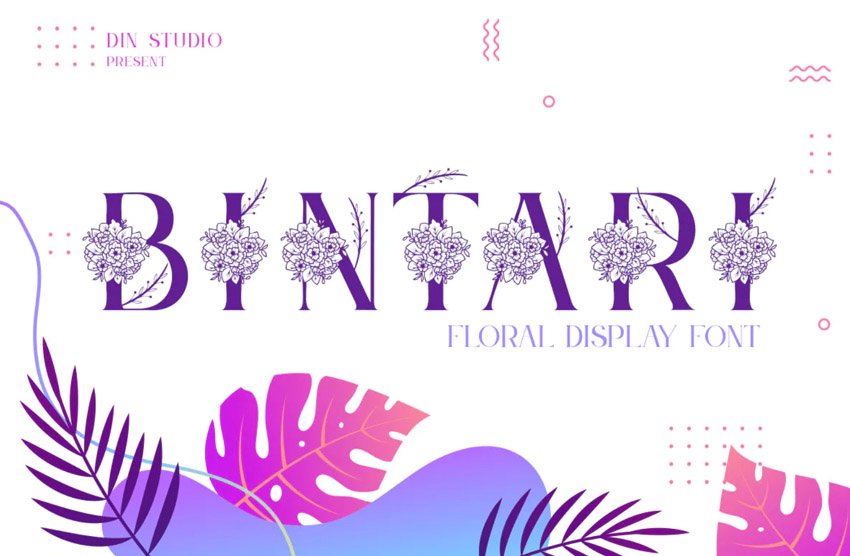 Here's another beautiful display font that mixes a stylish serif with ornate floral illustrations. Use it as a monogram or to create stand-out titles.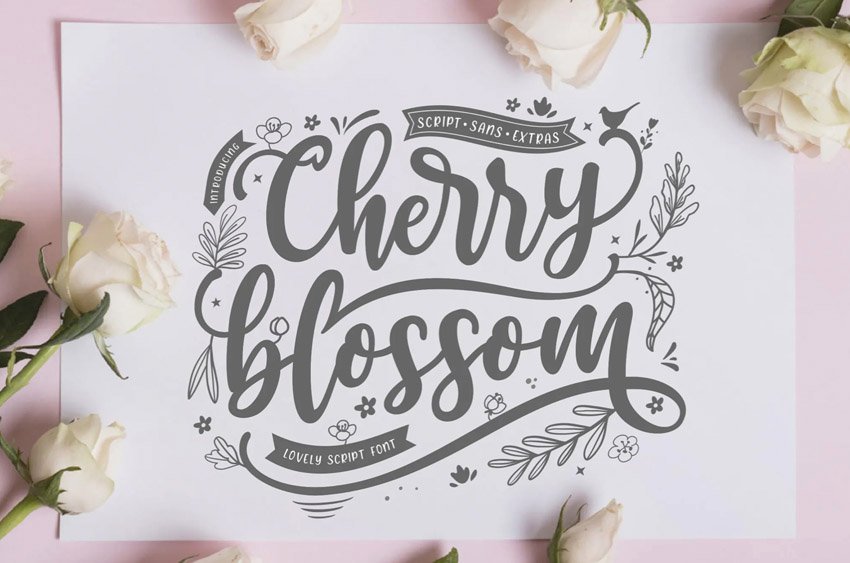 Isn't this script font pretty? The beautiful curves and strokes pair so well with floral elements. Give this lovely script font a try in your next design project.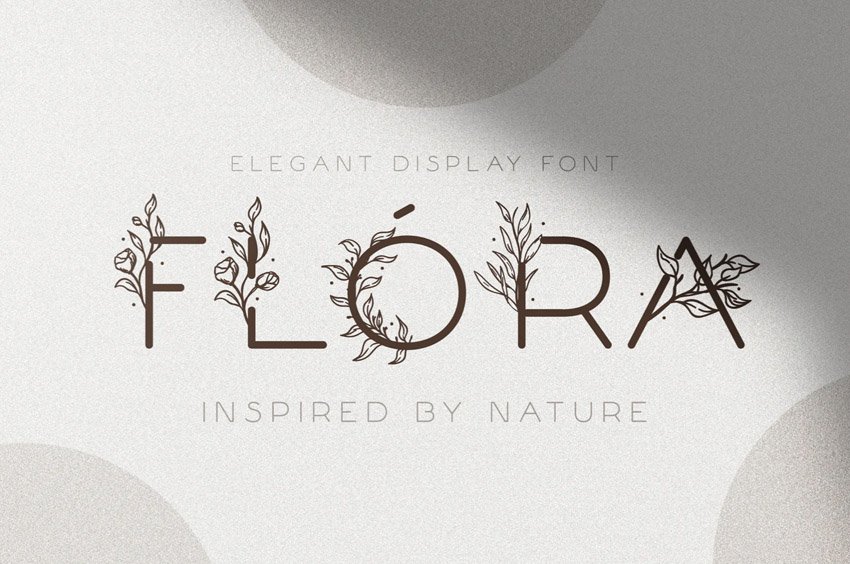 How about a thinner font with lots of long, sweeping lines? This is such an elegant yet ornate choice. Try isolating the floral elements to one letter or use them all.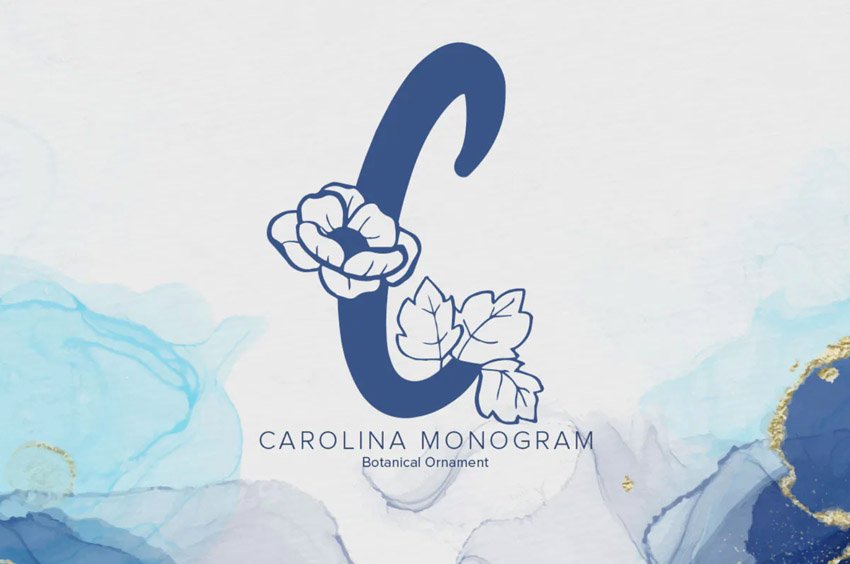 Monograms can be a perfect mark for a variety of projects. Try these beautifully drawn letters on their own, or combine them for a larger mark.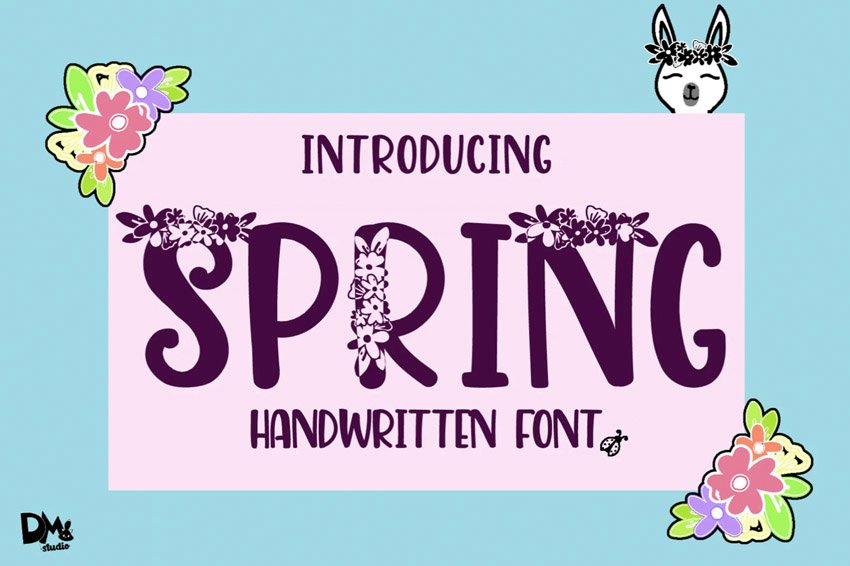 Looking for the perfect Easter bunny font? Why not try a fun, floral look like this one? Florals can work so well as a spring or Easter font. Give it a try today.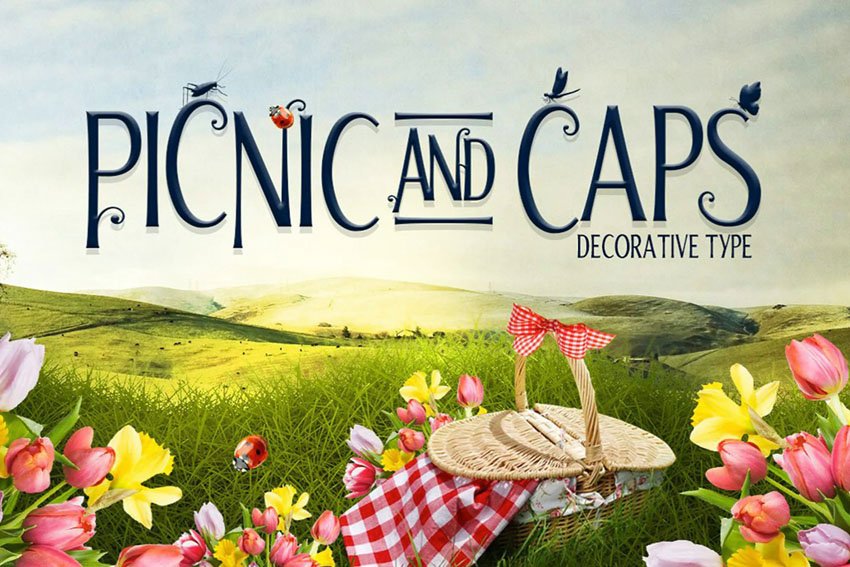 This is such a fun, whimsical font! It has such fun spring vibes and would be an excellent choice for a number of seasonal projects.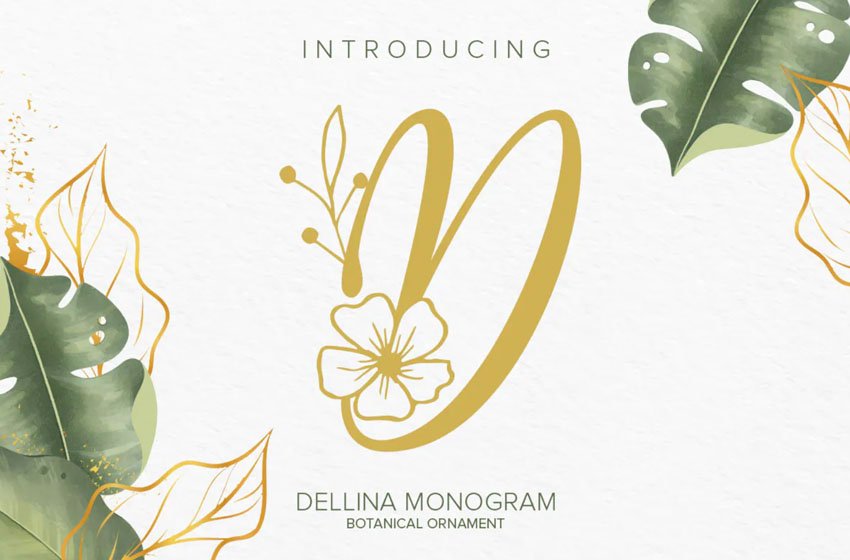 This spring font alphabet has so many beautifully designed characters to admire. Try out each of the letters or try pairing them with another font.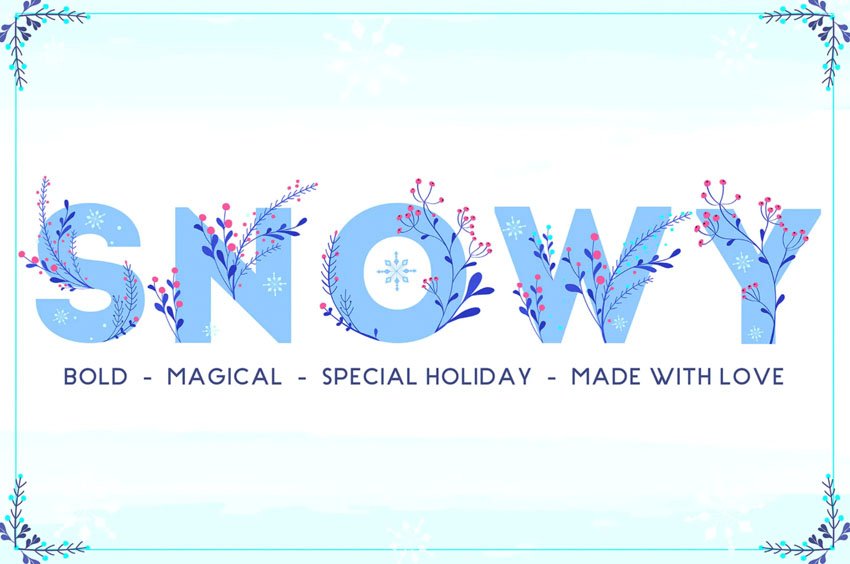 Here's a different take on a floral font. It has some wintry inspiration, yet still has lots of beautiful, flowery elements to work with. It could look great as a drop cap too.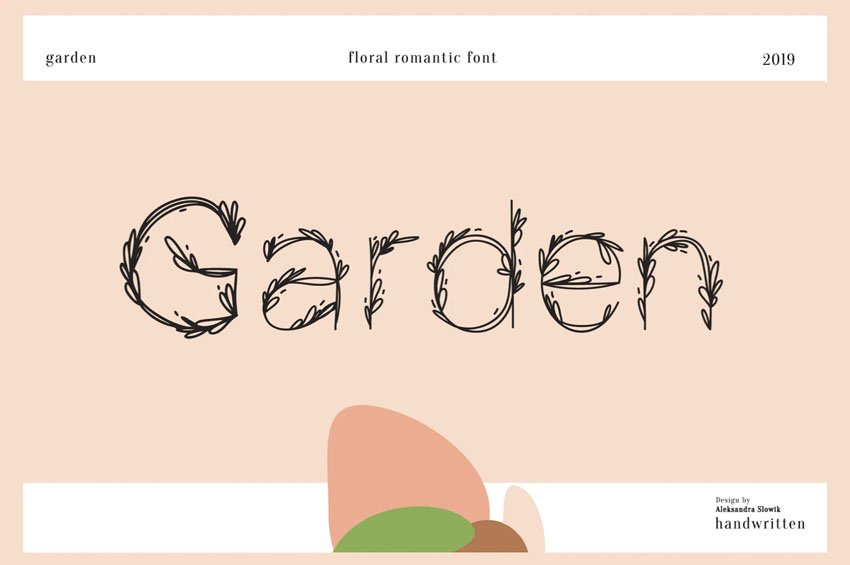 Isn't this floral font cute? The hand-drawn look here is really clear, and it makes for a welcoming, informal aesthetic. Try this for book covers, decor, and much more.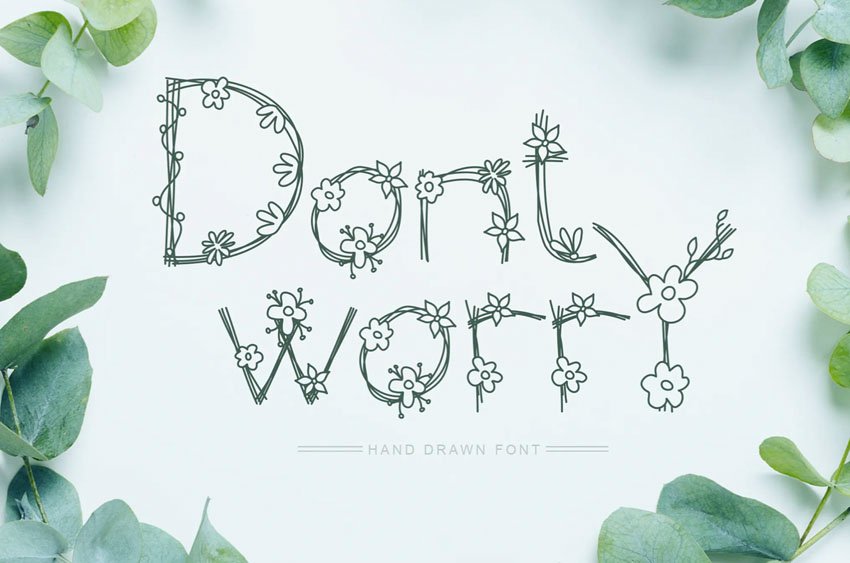 Here's a different take on a similar aesthetic. There are lots of intersecting lines that have a twig or vine-like aesthetic, and all those cute flowers are mixed in.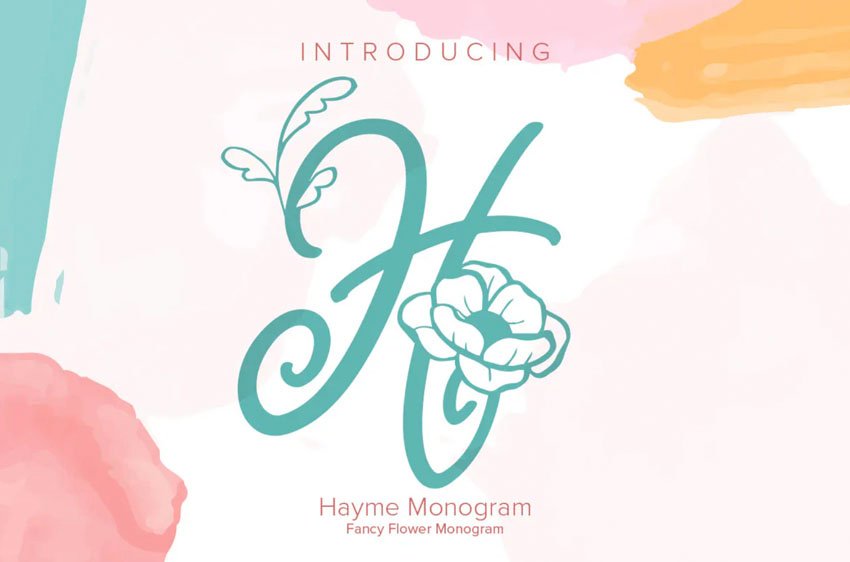 Prefer a curly floral font? This one is perfect for monograms, but you can also use many of these decorative letters together.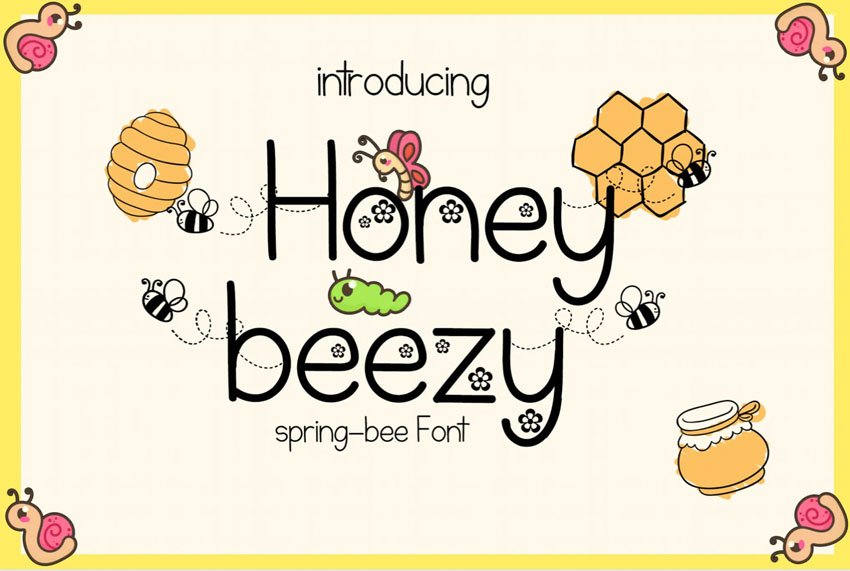 Here's another fun, spring font that could work great as an Easter bunny font too! It's got such a quirky, whimsical aesthetic that's perfect for springtime.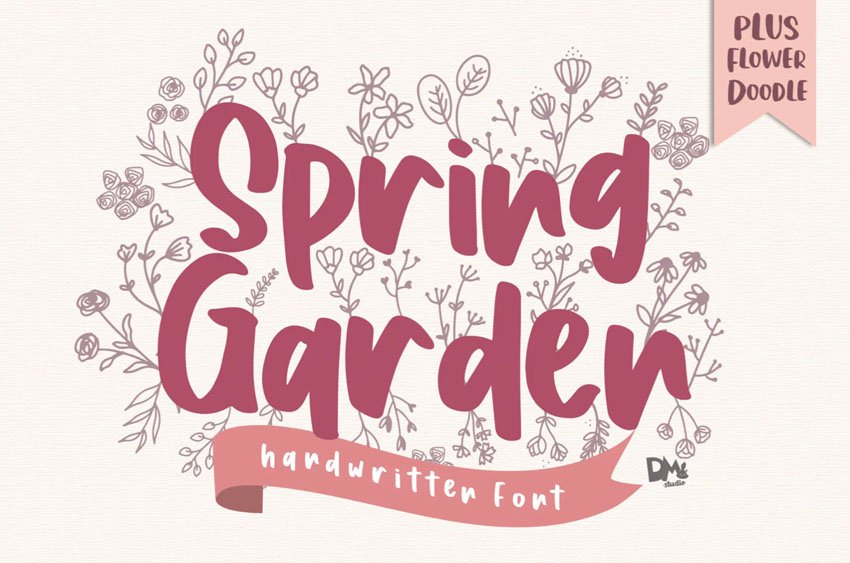 This pretty brush font also comes with a number of flower doodles you can use in your design project. It's a perfect choice if you fancy a hand-drawn look.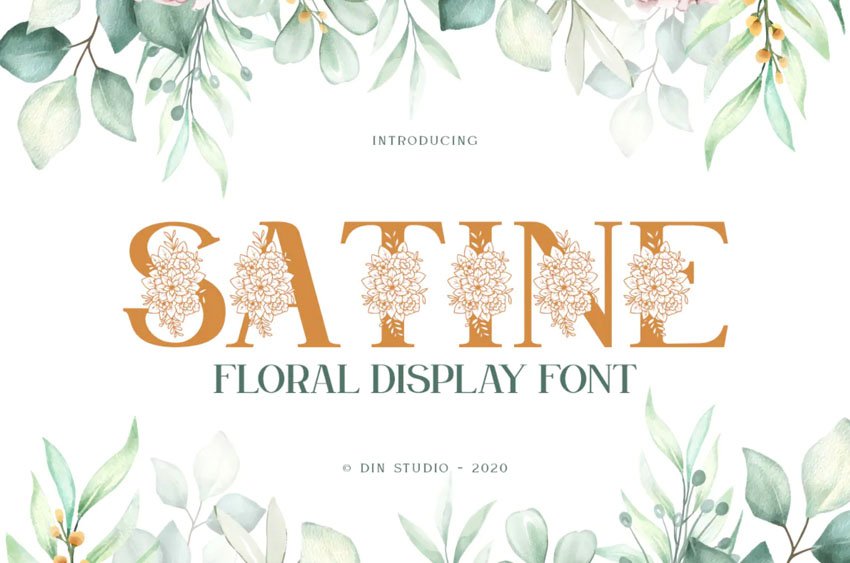 Take a look at the ornate flower designs in this spring fonts alphabet. There are so many beautiful details to admire here. Use it as a monogram or to create key words.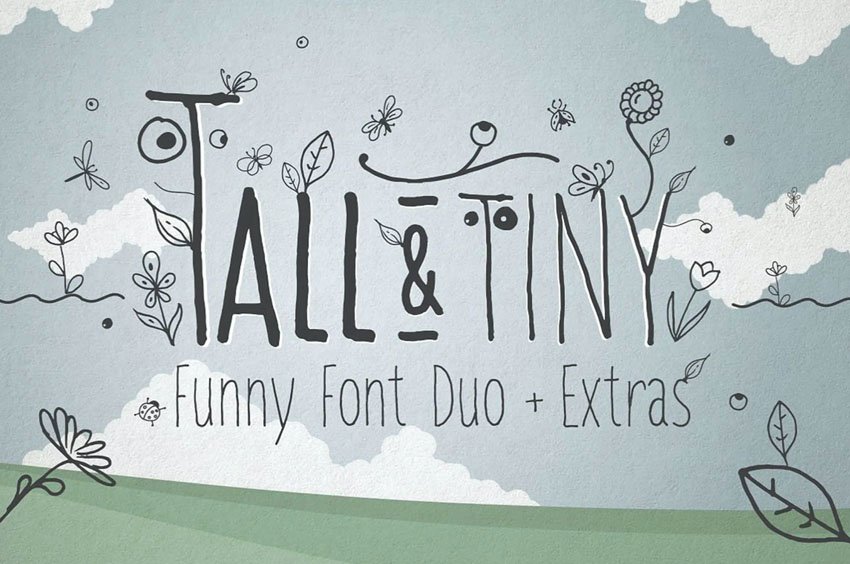 These pretty letters have such an indie flower font aesthetic. The thin lines have organic jitter to them, which really made the hand-drawn vibe believable.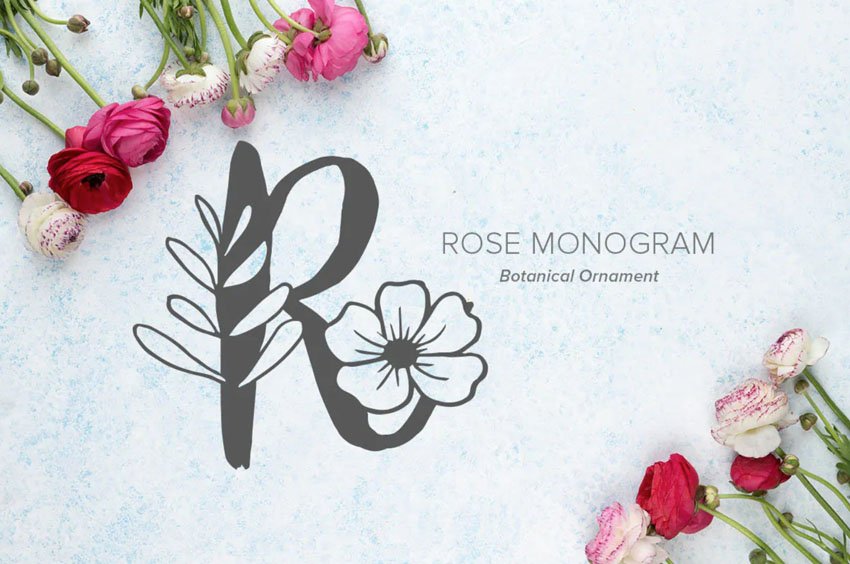 How about a monogram font with a more calligraphic quality to it? This lovely font has a number of botanical-inspired elements to work with.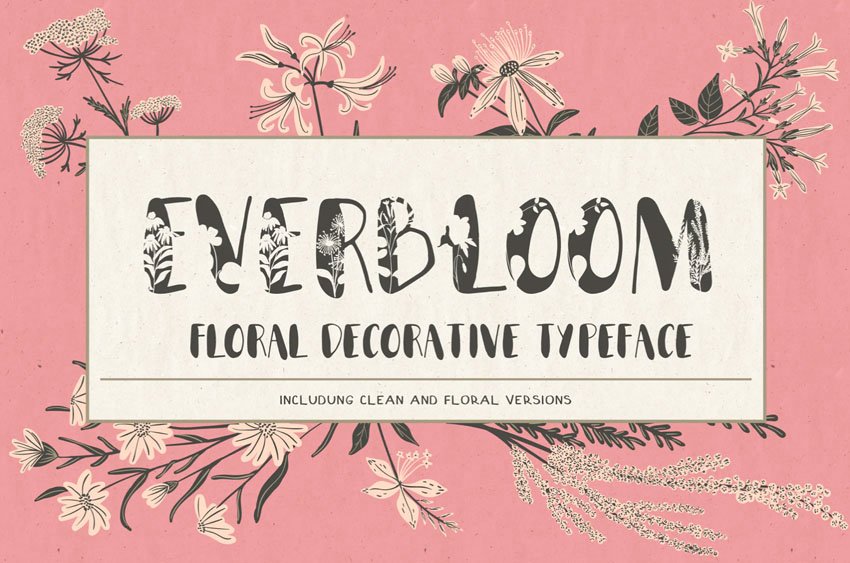 There's something special to see in every letter in this lovely floral font. If you're looking for a really graphical solution, try out this eye-catching typeface.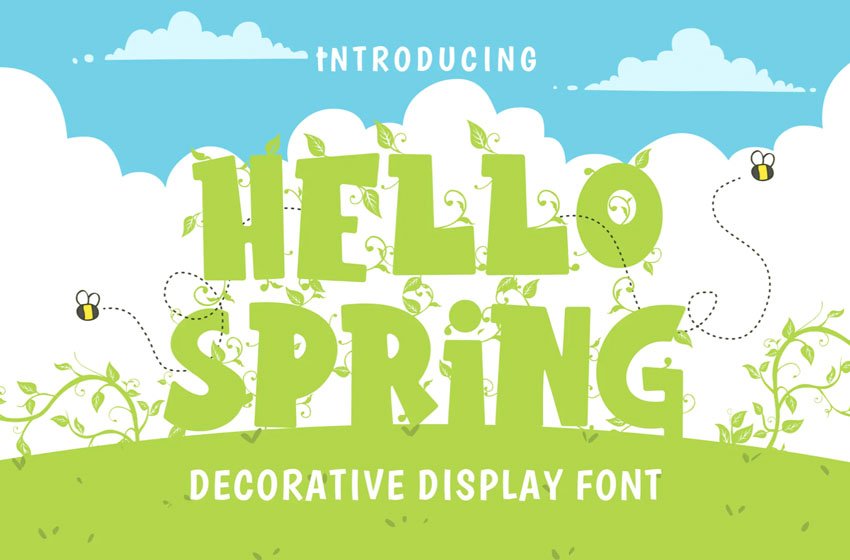 The floral elements in this font are largely part of the silhouette of the font. This ivy florals font is such a fun choice for titles and headlines.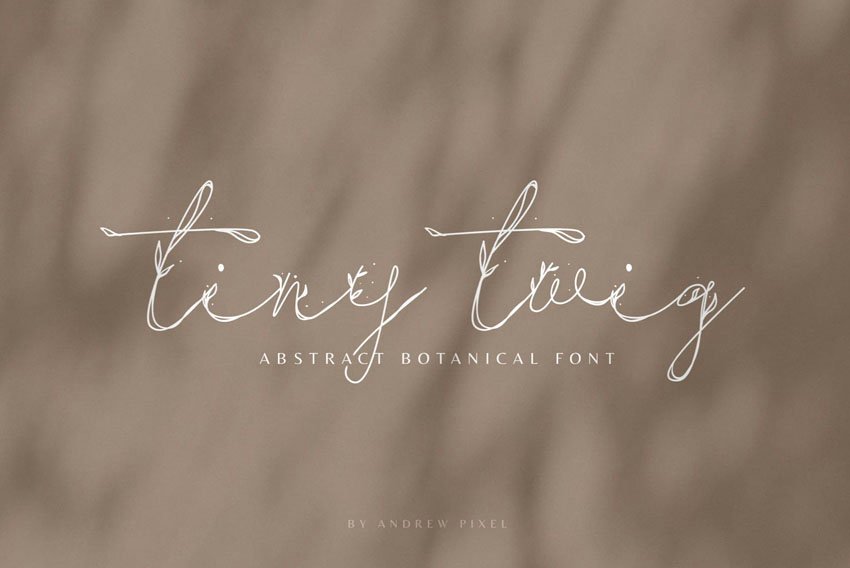 This botanical font has such thin, elegant strokes. Look how delicate the details are in these beautifully designed letters. It's an elegant design choice.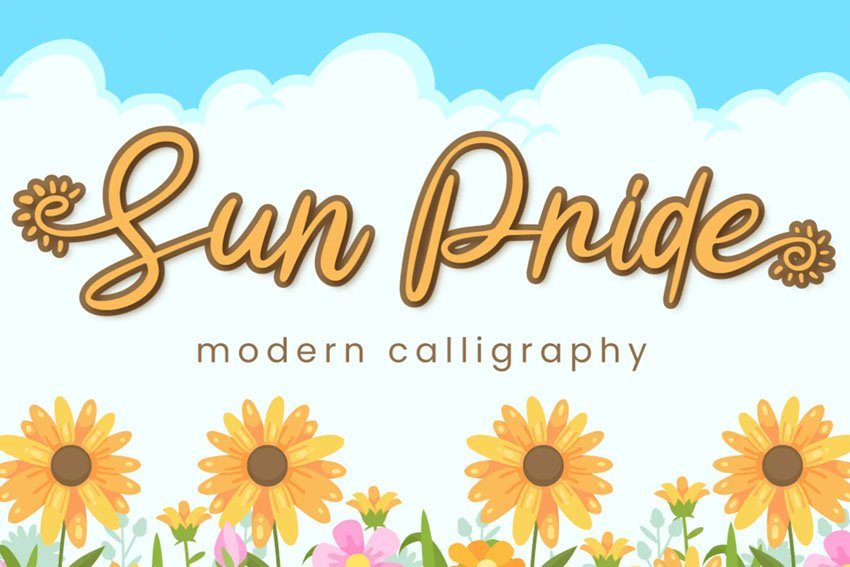 This script font has so much fun, sunny personality. Check out how playful the ends are too. Use this font to bring some happy spring energy to your projects.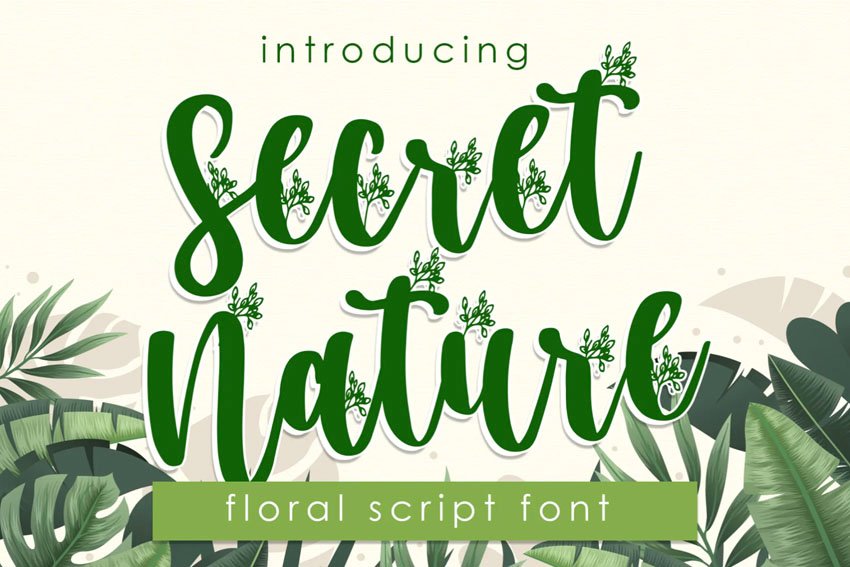 This pretty calligraphy font has a number of added florals, worked into the letters. It's a fun choice if you like long, sweeping, cursive line work.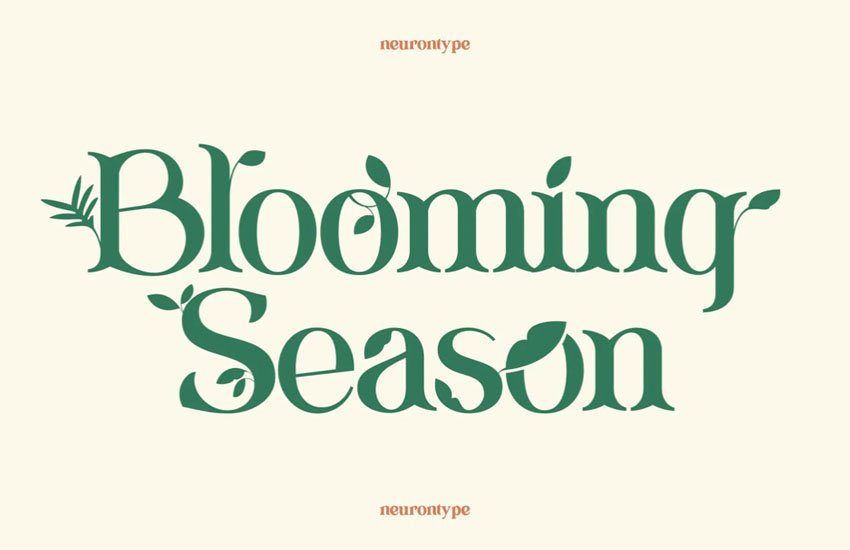 Check out how stylish this floral font looks. The floral elements are worked in so well with these beautifully drawn letters. It also includes a number of ligatures.
Find Even More Fun Spring Fonts on GraphicRiver
Looking for even more floral font designs and fun spring fonts? Make sure to check out GraphicRiver. It's another awesome source for professionally designed fonts. However, on GraphicRiver, everything is on demand. Download what you need, when you need it.
Check out these beautiful flower fonts you can download right now: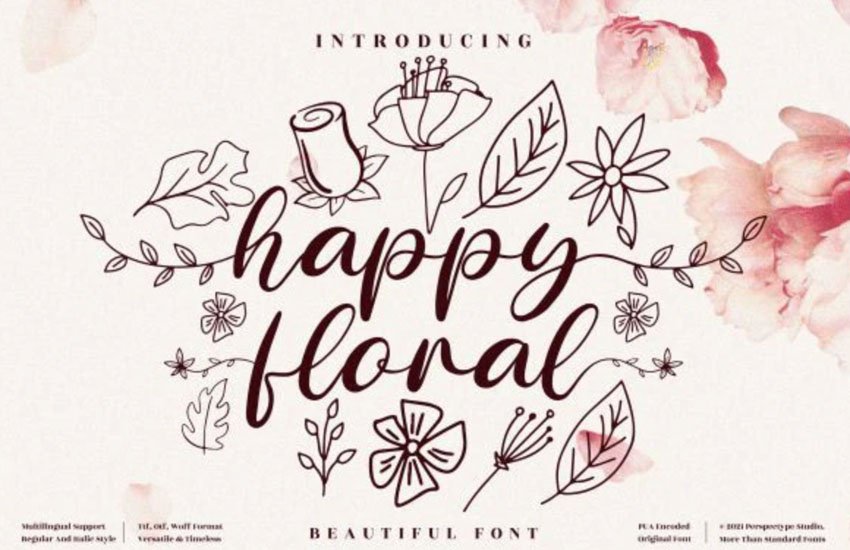 If you love calligraphy fonts, you're going to love this flower script font. Aren't the added floral elements sweet? It makes for such a romantic look.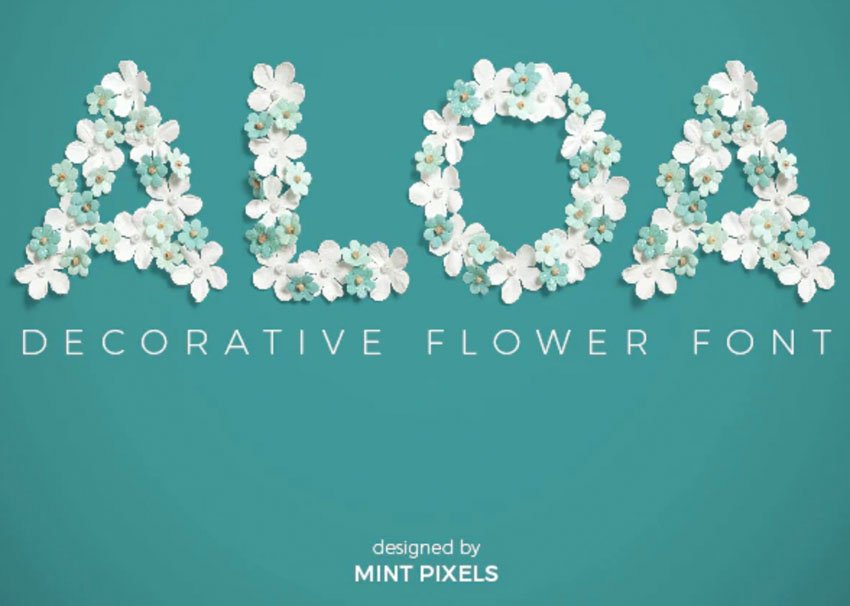 This flower font is so awesome. It's an SVG font, so you really do get this awesome look! It also includes high-resolution files for your convenience.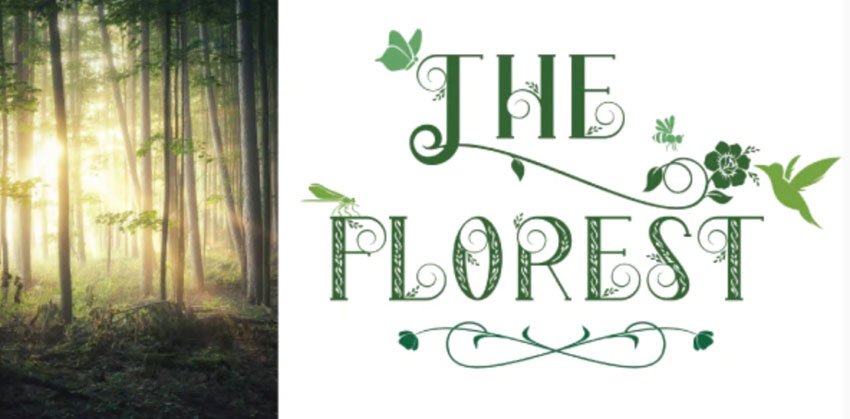 Love a magical look? This font looks as if it's right out of an amazing fairytale. The floral elements really help push that storybook feeling.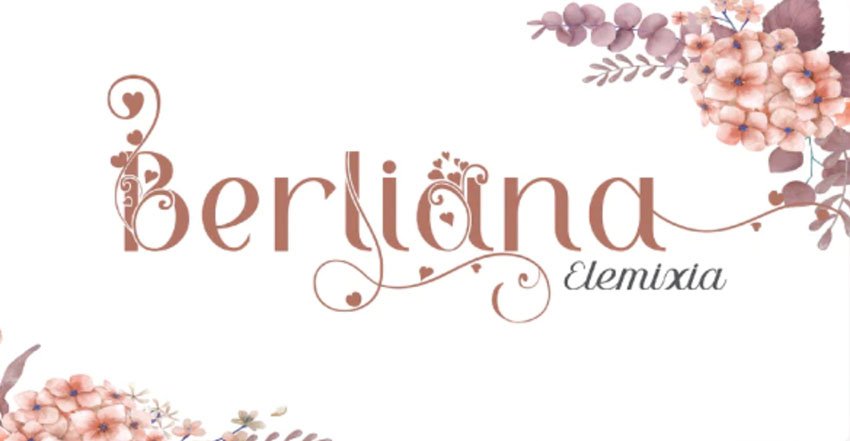 Isn't this flower font elegant? The swirls, hearts, and floral elements work into the sans serif type so effortlessly. It's a pretty choice for a number of projects.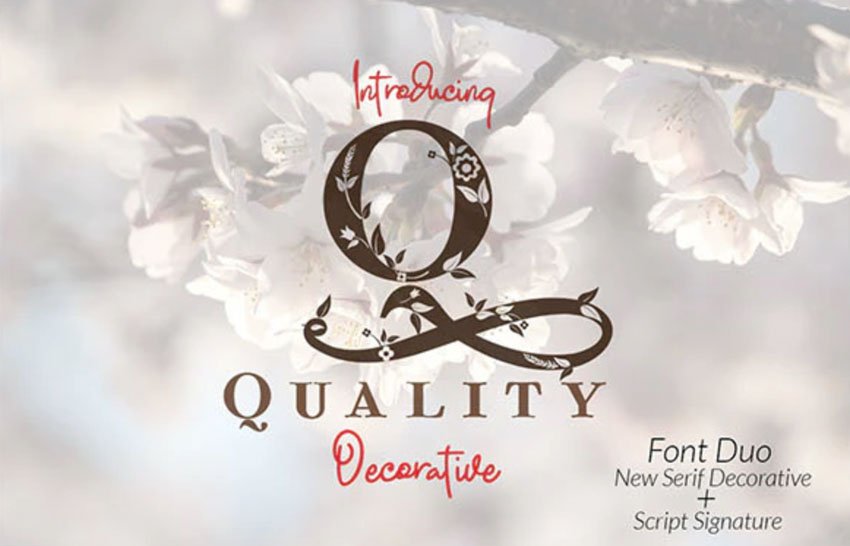 This font duo comes with decorative elements and an elegant serif. This means you get two fonts for one download that already pair together well.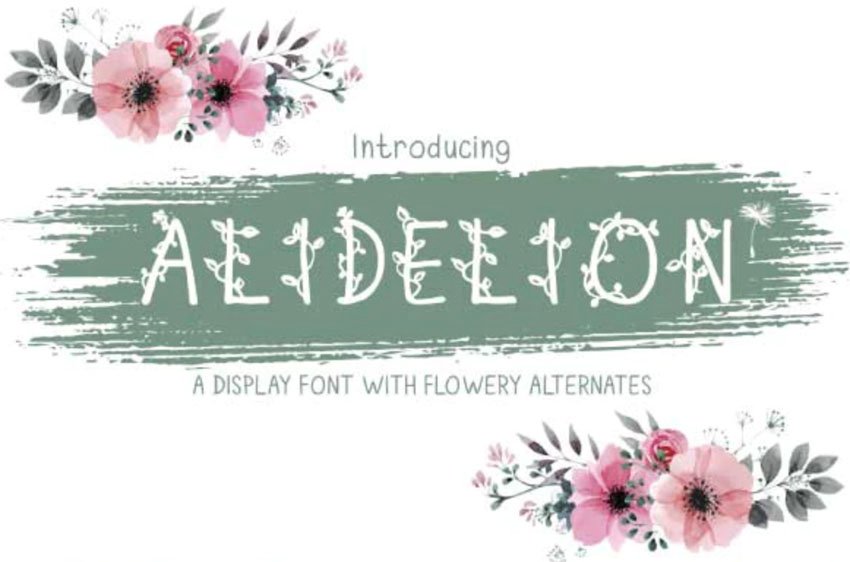 This lovely display font takes handwriting letters and mixes it up with pretty, vine-like additions. It's a great choice if you prefer an ivy florals font look.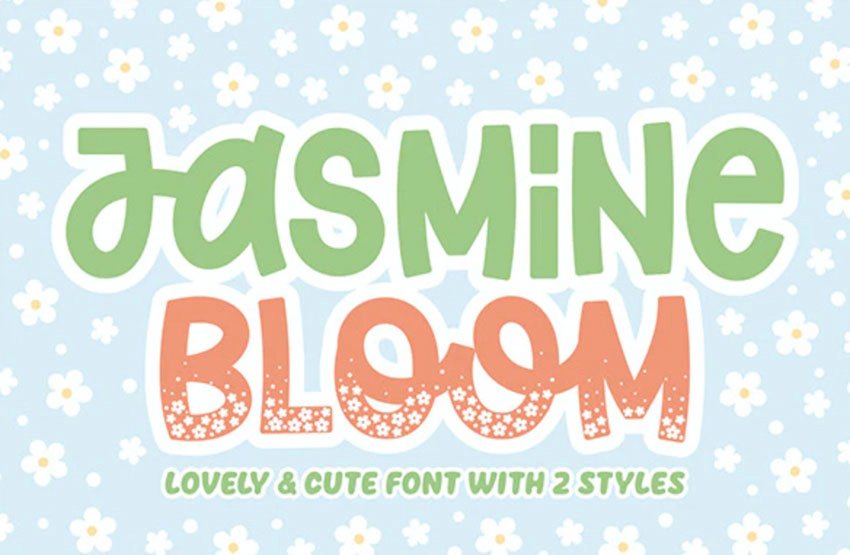 Looking for a cute font? This bubbly typeface has two styles: one that's solid and one that has cute flower elements worked into the lettering.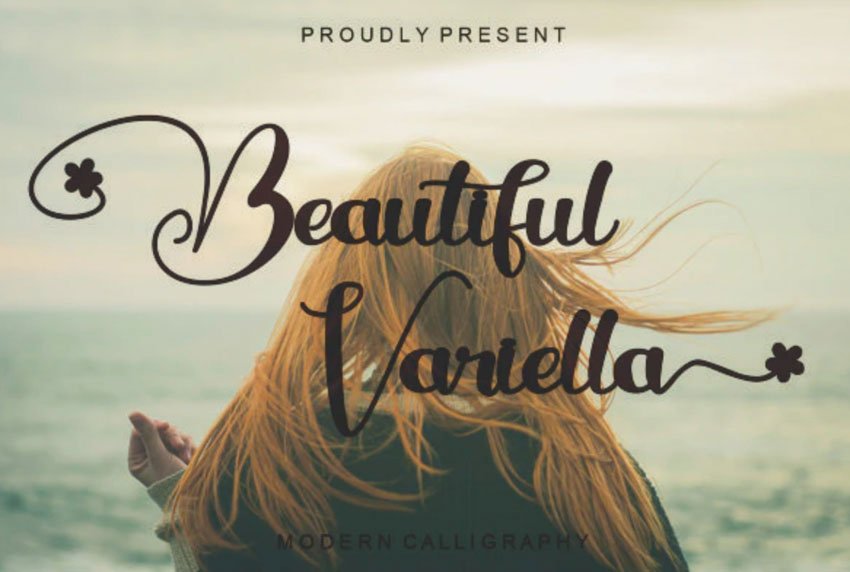 Calligraphy fonts can be such a stylish, trendy choice. This one works in more subtle floral elements, and it makes for a really classy addition to the font.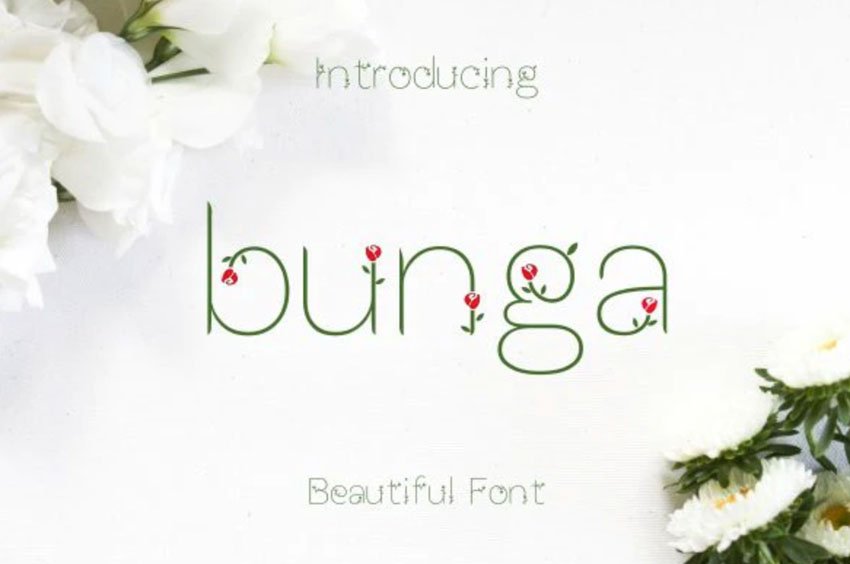 Isn't this font a fun concept? The strokes all twist and turn to make the stems of each bloom. This could be such a memorable choice for your next design.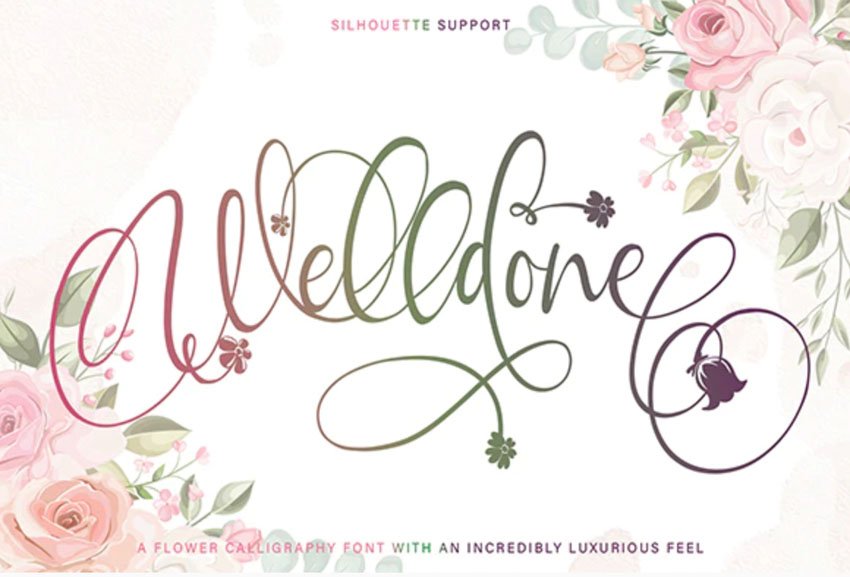 If ornate calligraphy is up your alley, you're going to love this romantic font. Look at all those beautiful curls and swirls! The flowers fit right in with this look.
Which Floral Font Designs Are Your Favorite?
There are so many lovely floral fonts out there to try, and there's no better time to download and try some. Which were some of your favorites? 
If you'd like to try lots of new fonts, remember to check out Envato Elements. One low price gets you access to hundreds of floral font designs, and thousands of other fonts too! It's an awesome deal. 
Or remember to check out GraphicRiver. It's another awesome source for fonts, including floral style fonts. Pay per download, on demand.
Love stylish, elegant fonts? Then you'll love these other font collections from Envato Tuts+. They're perfect for inspiration, and there are some freebies in there too!