Are you rebranding or launching a new business? Maybe you have a big conference or meetup fast approaching? Or is your current business card just not at the quality level you'd like? Is it not representing you well anymore or does it have outdated info on it? 
You don't want a wrong phone number, changed address, or incorrect URL to mislead a valuable prospect—that's for sure!
Now's a great time to update your business cards or create a new set. You want to hand a well-designed card to the people you connect with and leave the right impression. 
It's challenging to design a professional business card though, one that represents your brand, and effectively injects interest. You need to plan the design, sketch some drafts, and then open up Photoshop, Illustrator, or InDesign and get to work. And you have a tiny canvas to create a business card with. It's all too easy to end up with a cluttered mess as you try to add all your market messages, contact details, social media profiles, website, branding, and design elements to your card.
If you're unsure of how to get started designing your own business card, or you just want a quick solution without all the headache, then what you need is a premium business card template.
With a professional template, you get ready-made, high quality designs that you can work with quickly. That way, you can get a great result (i.e. a pro business card design) in a fraction of the time it takes to start from scratch.
Business Card Design Features and Formats
We have a ton of awesome business card templates on GraphicRiver. But with a truckload of options, it's hard to settle on the best card for your organization.
There are a lot of design features to consider. You want a layout that's just right for your company—one that your logo will look perfect on. You need color options that fit your brand and a style that's unique and professional. Here we showcase a number of business card designs, so you can make a great choice for your business.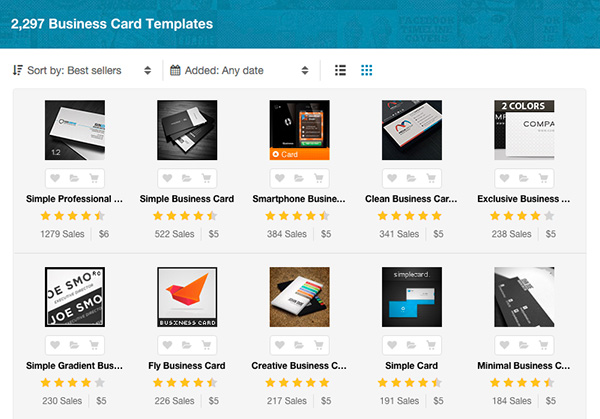 In this article, we feature 15 of the best business card templates you can use to market yourself and your business. Each of these card templates come in the most popular print-ready formats. You can choose whether Photoshop (PSD), Illustrator (EPS), or InDesign (INDD) formats are what you want to work with.
You can get a professional card made from any of those popular programs. Choose one that you or your designer is most comfortable working in. We have a selection of quality options from all three categories below.
All of these business cards are creatively designed with a minimalist corporate-oriented style. These template files have a unique set of easy to work with pro features, which are:
Photoshop, Illustrator, or InDesign formats
CMYK color mode with 300 DPI resolution
fully editable and well organized
double-sided and print ready
set with high quality free fonts
creative, quality design layouts
Grab a stand-out card design, add your custom info, insert your brand assets, and you're ready to print. Then hand them out and start making meaningful connections!
5 Business Card Templates (Photoshop Format)
Here are a handful of business card templates, ready to customize and put to use, in Photoshop (PSD) format. Any one of these designs, could be just the right fit for your needs. If you need another format though, then jump down to our Illustrator or InDesign categories in the following sections. And we have a whole lot more business card template styles to choose from on GraphicRiver. Hop over there if you want to browse through more designs.
With a minimal, modern style, this corporate Photoshop business card template features an angled organized design. It's setup to quickly add your custom information, such as your logo, title, social media, and contact details. It's print ready, with multiple color options, and 8 PSD files. You can make a professional impression with this business card.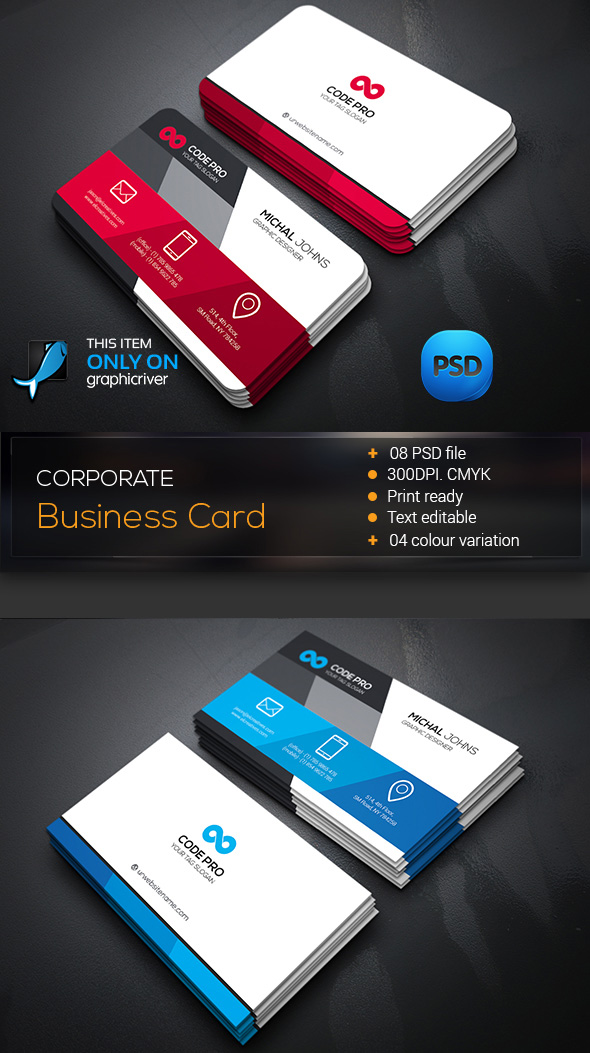 This is a clean, creative business card template available in Photoshop format. It comes with properly layed out PSD files that are ready to print professionally. The bleeds and print zones are already arranged. It's set with free fonts, is fully layered, and ready to add your details to! All elements can be readily changed in Photoshop. Optional QR code is included as well. This is a set of popular premium business cards, you can put to use today!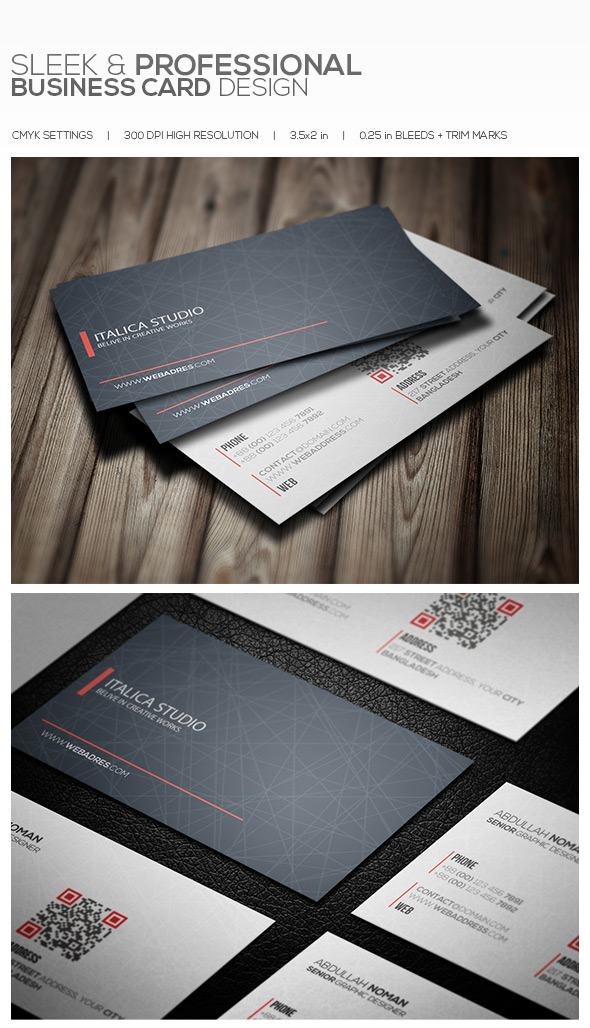 This premium business card template, in Photoshop format, has a minimal design with soft features, such as rounded rectangles, and stand out circle which you can add your brand mark to. Your custom details, such as your contact info, social media accounts, and name are easy to read as white against a dark background. The files are fully layered in PSD, print ready, and setup to be customizable and easy to edit in Photoshop.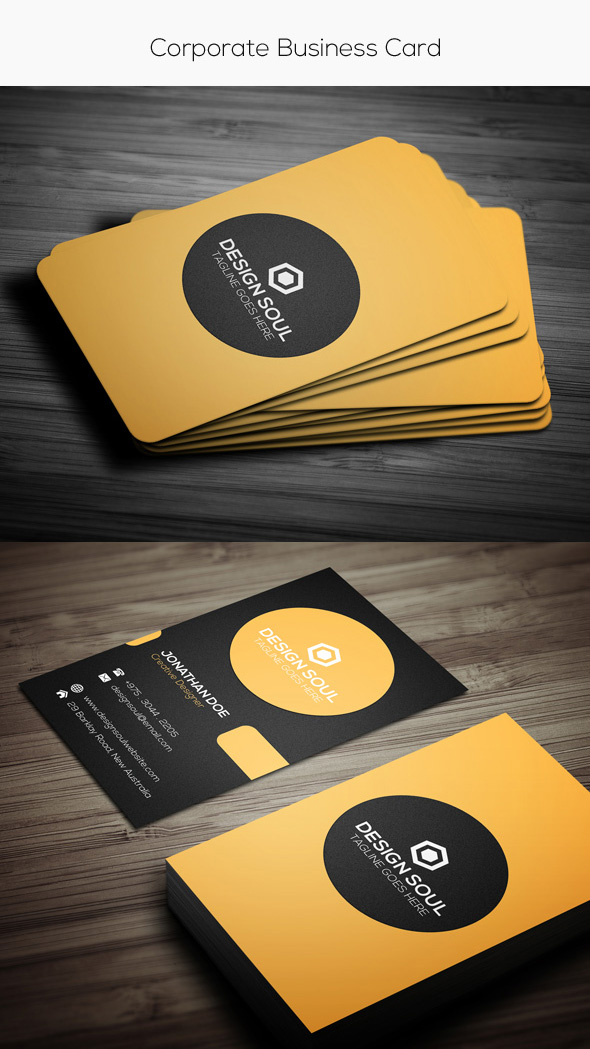 This flat, modern business card template, is print ready at 300DPI and CMYK color options. It's set in landscape design at 3.5 x 2 inch dimension with a 0.25 Bleed. If you want your business card to come across professionally with a simple, elegant feel, then this is a great choice. It comes with all the PSD files group, layered, and ready to work with.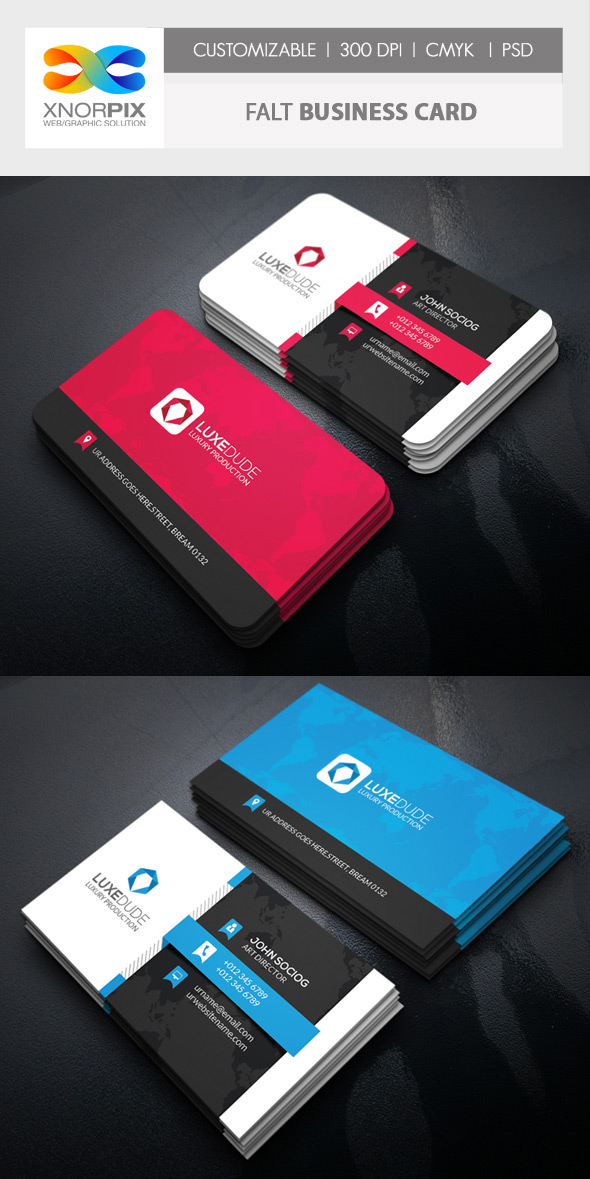 If you need a simple Photoshop business card template design with boxed areas of eye-catching colors, then this is a great choice. It's made to use for any creative business professional, whether you work as a graphic designer, developer, marketer, or run your own small company. 
This PSD template is designed to be easy to customize. It has professional printer bleeds setup and CMYK settings ready to print. Just add your branding, include your information, and you're all set to go!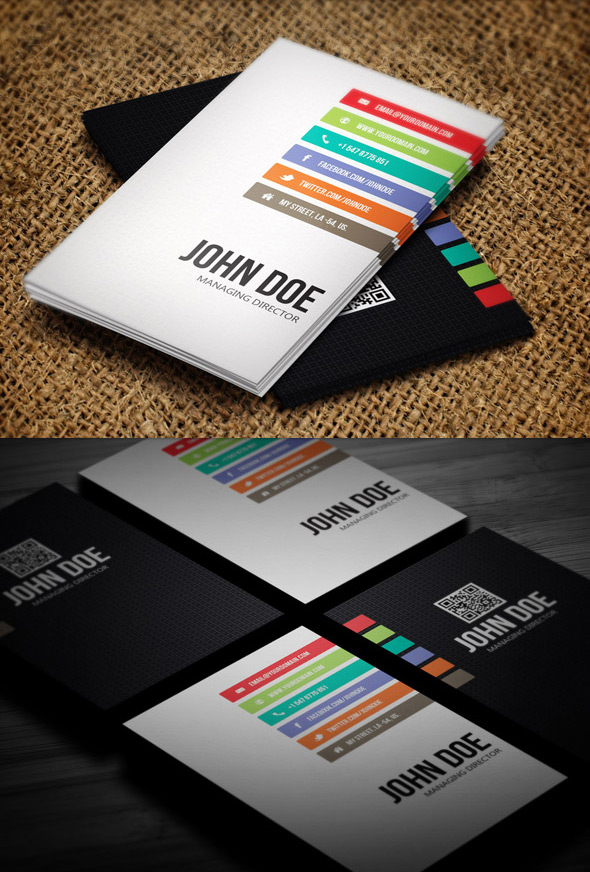 5 Business Card Templates (Illustrator Format)
Here are a set of premium business card templates, ready to work with, in Illustrator (AI format). These designs are clean, professional, and if you like to work with vector formats, then one of these cards are a great choice to use for your business.
With layered EPS, Illustrator, and full vector file setup, this business card template is ready to put to professional use. It has a simple style with well organized layout and shapes. Your logo and company info can be added easily. The text is edible and so are the vector elements. There are four color options that can be used to fit your brand or you can readily add your own custom color scheme.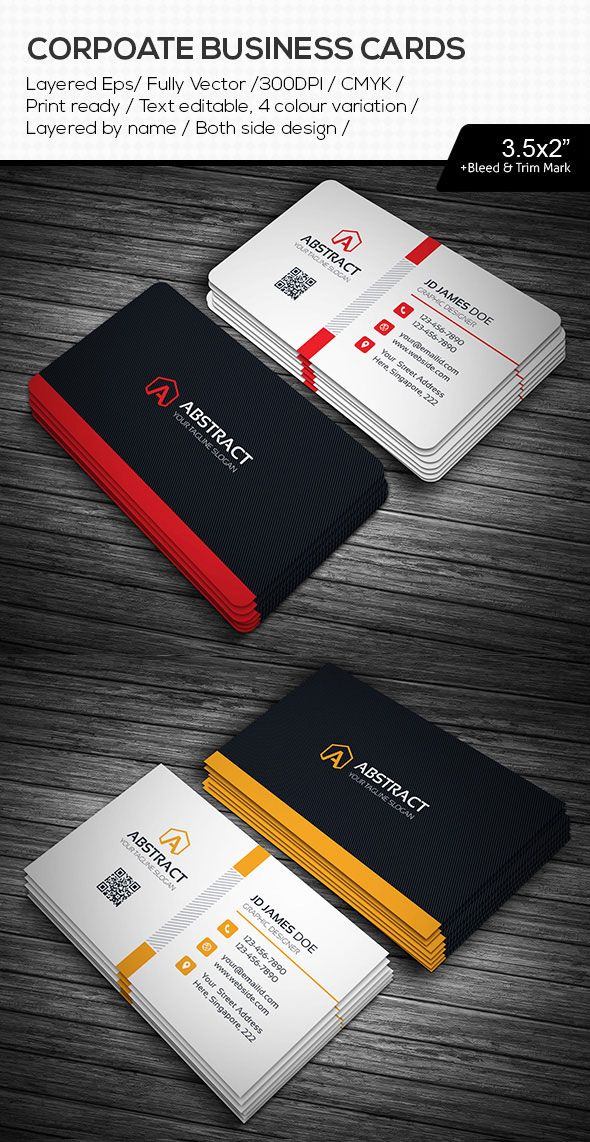 This premium business card template features an attractive dark colored background on the back and white on the front. It's great for a creative team, web marketing company, or any type of innovative business. These cards are print ready, setup to easily customize in either Illustrator or Photoshop. 
It features professional files that have Spot UV already separated on both sides of the card. This is a great way to stand out with a simple, elegant feature. You can literally make a spot area of your business card (such as your company name) shine.

This business card bundle set comes with both Photoshop and Illustrator files, so you can work in pixel or vector and the software you feel most comfortable using. There are multiple color options in the downloadable files. Add your custom info, print, and get them into the hands of your customers. 
They feature an understated world map background and minimal design aesthetic. Whether for small organization use, agencies, or any creative tech business, these corporate style cards make a professional, elegant impression.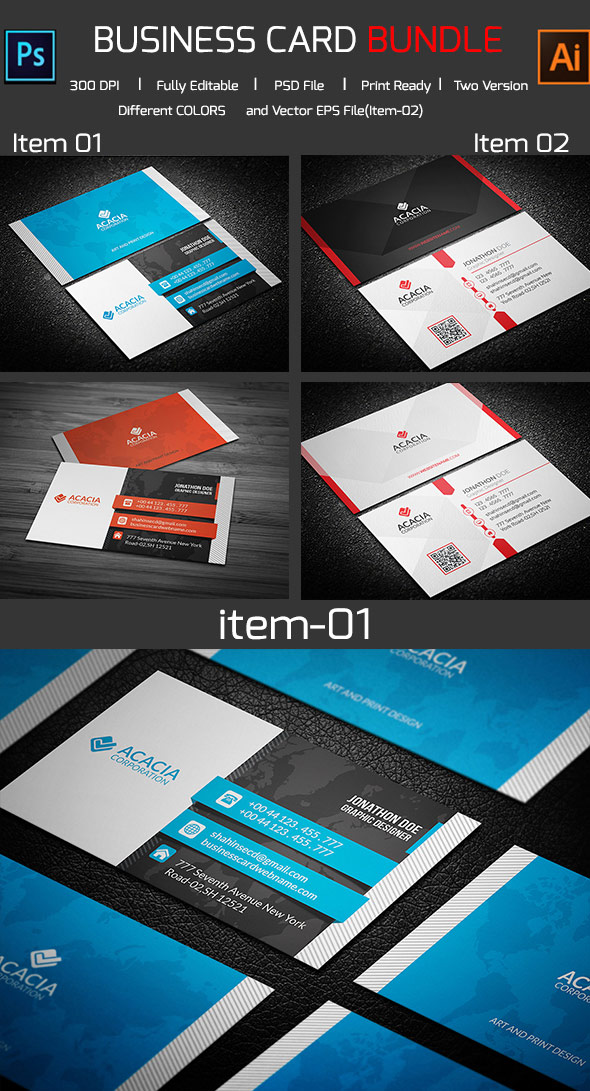 A simple professional template, available in PSD and AI business card formats, this is a popular set that has been used by over 1,250 customers. It's well rated and professionally setup. The Photoshop and Illustrator files come with all layers ready to be customized and correctly organized for printing. If you're looking for simplicity, with an attractive design, then these business cards are a great option to use for your company.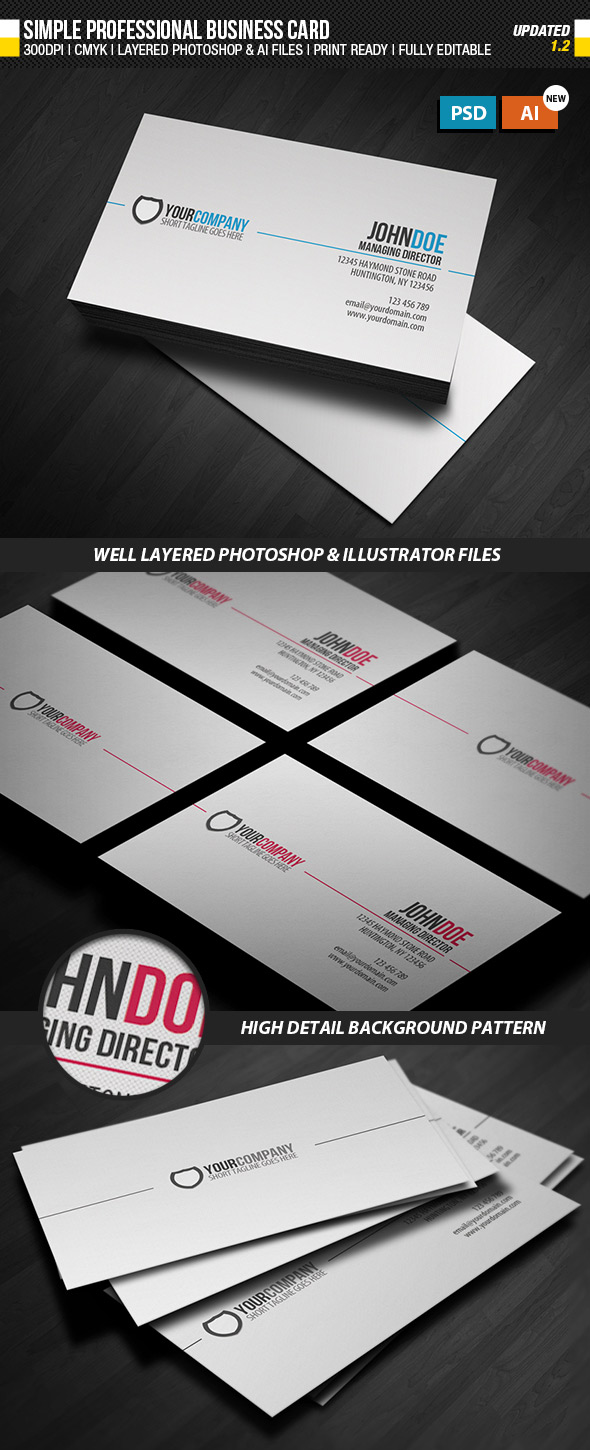 Minimal and simple, with modern fonts, and organized design, these premium business card template illustrator files come with a set of three options. This bundle gives you a few great choices at a good price point. 
You can add your info to more than one card, and test out which one your logo and branding looks best on. It's print ready, setup with all the text fields easy to edit, multiple professional options, which you can quickly customize to your unique business!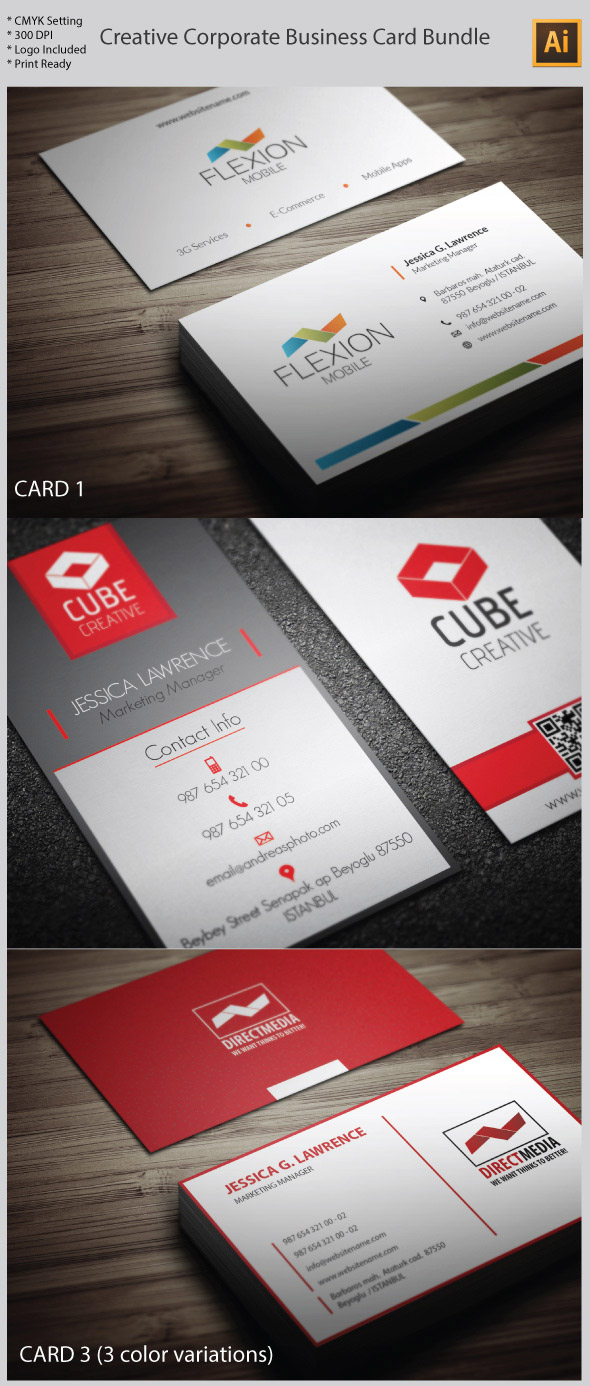 5 Business Card Templates (InDesign Format)
Here are a number of InDesign (INDD) formatted business card templates. These premium business card designs offer clean, creative layouts, are setup to print professionally, and can be quickly edited with your business details.
With a classic design, and clean presentation, this InDesign business card template is great for personal or company use. You can add your name, or brand, and customize this card to your needs. There are yellow and blue versions against either black or white backgrounds. It has a simple, modern design and comes in InDesign (INDD), Photoshop (PSD), and Illustrator (PDF) formats.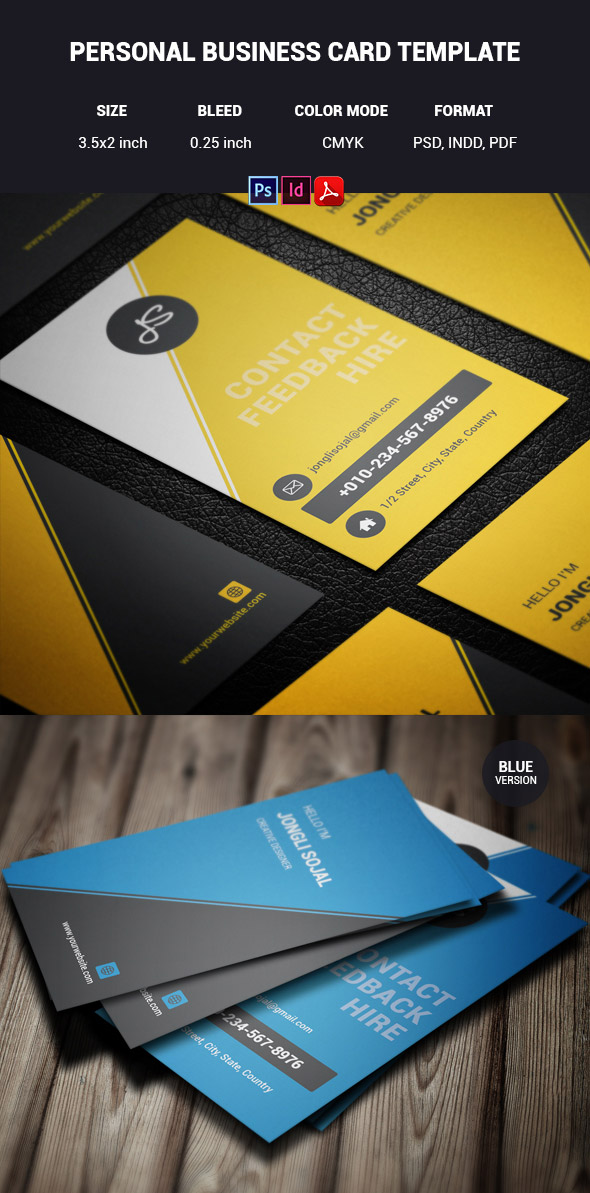 This creative business card InDesign template bundle comes with three distinct designs. They are made for designers, photographers, or other creative services. If you work as a freelance creative, then this is a set to grab. 
All the graphics and icons can be customized directly from within InDesign. The artwork is placed on layers, the text and colors are editable as paragraph styles, and the files are well organized for easy editing. You can add your info and get your cards printed today!

This modern, premium InDesign business card template is set with simple, elegant light colored elements against a dark background—which makes the graphics pop. If you want a simple, effective design, this a great card to work with. It's set up with easy to edit logo and text fields, is fully layered in INDD, and set up for professional printing. Use it to market yourself or your business.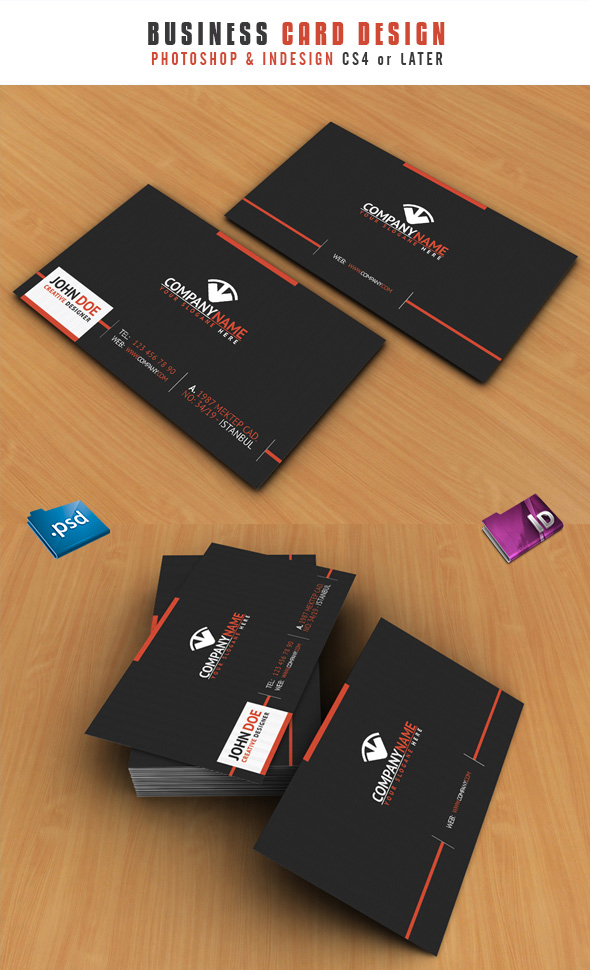 This double-sided business card template comes with InDesign, Photoshop, and Illustrator files. It has a minimal black and white design, in which your logo and text based information will stand out on. 
It's print ready with proper bleeds, the correct 3.5×2 inch dimensions, CMYK settings, and 300 DPI resolution. The files are fully editable, no matter which software package you prefer to work in. You can readily add your company info, insert your brand assets, and send it off to get printed!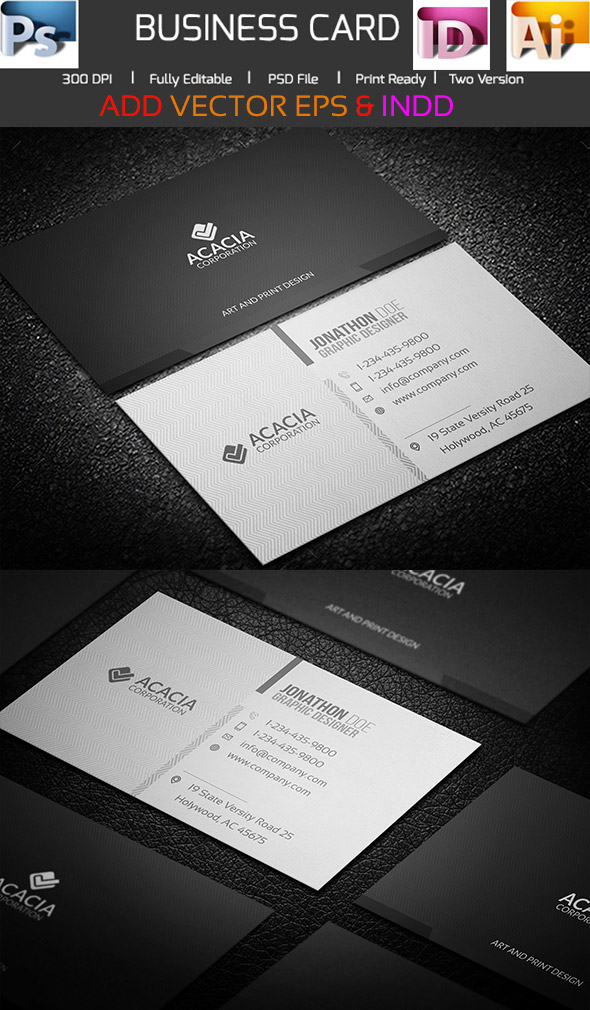 Make a great first impression with a set of professional business cards. This premium business card template features an attractive design that makes great use of both sides of the card. You can add your brand details, your company contact info, and insert an engaging business photo as well. 
There are three color schemes included and you can easily edit colors to your needs. Both Photoshop PSD and InDesign INDD files are included. It's fully layered and print ready, so you can get them ready for use quickly!

3 Quick-Fire, Business Card Design Tips
Here are three quick tips to choose the best business card template for your needs, make an impact with the right approach to design, and customize the tiny canvas to your unique company details:
1. Start With a High Quality Template Design
There are a lot of high quality business card templates, which makes it hard to decide on the right one to use. There are a few key considerations to keep in mind: 
Think about how the design of each card. How well does it coordinate with your logo and branding? Does the layout and overall style fit your needs? Are you more interest in a minimal, professional card with bold use of color, like the Flat Business Card Template? Or do you want a business card with a photo option, as with the InDesign Corporate Business Card Template? In either case, you want a business card design that is well-organized, reads clearly, and will make the right impression when you hand it to an important contact.
In addition to style, you also want to look at graphic software. There are cards features here that can be customized and edited in Photoshop, Illustrator, or InDesign. Do you have any of those programs and feel comfortable working in one of them? If not, you can also hire a professional graphic designer. They can work with your template, add your custom branding and company info to it for you, and help you get it printed correctly.
Learn how to customize a business card template design in this tutorial:
2. Keep it Simple (With a Dash of Creativity)
Don't underestimate the power of simplicity. A minimal business card reads with clarity instantaneously. It's clear, easy to read, and makes an immediate impression. You can represent your company with restrained elegance, without overdoing it.
But minimal business card template designs need not be dull. A well placed image, a bright logo contrasted against a dark background, colorful content boxes, or interesting layouts—are elements that add a needed touch of creativity to a well organized design.
Start with a simple template, then take care not to clutter the design with too many components as you customize, but be sure to add a dash of your creative brand and personality. Get more top tips for designing your business cards in this article:
3. Place Your Custom Info on Your Card
Keep in mind, you don't want to add so much to your business card that it becomes confusing. The purpose of business cards is not to overwhelm the people you hand them to, but to invite them to reach out—clutter doesn't draw people in.
So, add only the important details. Don't place all your social media accounts on your card, but just the ones you're most active on, pay attention to, and will actively engage with prospects on.
Don't add multiple emails, or over the top design elements, and leave plenty of breathing room on your card. Here are a few details to add to your business card:
Add your logo and company tagline.
Insert your name and professional title.
Include your full contact information.
Add your website or landing page.
Place links to your social media profiles.
Position any custom design assets, like photos or icons.
Customize the colors and design.
Add only your important contact information, direct people to reach out to you through your top channels, and consider crafting a landing page that promotes your business to welcome them warmly. Adding a landing page URL to your business card takes a bit more time than just dropping in your homepage, but will yield better results.  
Discover more details, with creative tips, on what information to put on the front and back of your business cards:
Grab Your Premium Business Cards!
Business cards are essential for any company, whether you're a freelancer, work at a big marketing agency, or another type of organization. Business cards are a great way to establish a connection with new contacts and showcase your brand when distributed.
All of the premium business card templates in this article are set up professionally and can be used to represent your business. Just add your company's details, custom colors and brand elements, and quickly customize these print-ready designs. Hand them out to every connection you make and start putting them to best use!
We have a number of premium print templates on Graphic as well. Professional stationery templates or brochure designs compliment new business cards. It's a good idea to plan your print design material as a cohesive well-branded set.