Are you looking to start an independent blog or add a business blog to your website?
Blogs are the most reliable means of growing a business and boosting revenue. They are the best way of letting visitors know what your business is about. In addition to help you generate leads, blogs build trust in existing customers and keep them coming back.
If you want to add a blog to your existing website or create an independent blog then blogging scripts are the way to go. 
PHP blog scripts are software that provide solutions that help you install and run a self-hosted content management system. A content management system is a blogging platform. 
These PHP blog scripts are installed on your server where you run a self-hosted blog platform independent of any third-party rules.
Blogging scripts come with features that allow you to build robust blogs that will engage visitors and convert them into customers. They have built in content management systems that make it easy for you to create and management different types of content. 
Using the PHP blog scripts featured in this article, you can run a self-hosted blogging platform, build an independent blog or you can add a blog to your existing website.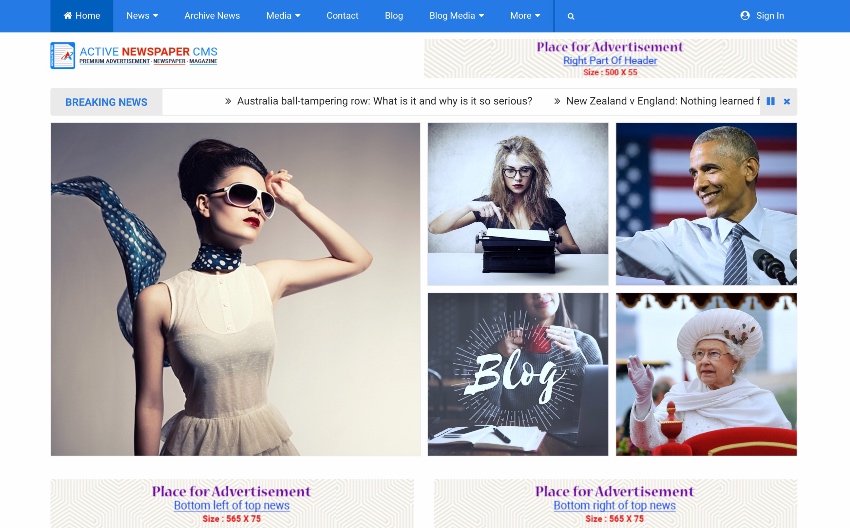 Some features you'll expect with PHP blog scripts include: an admin section where you can build blogs, a live preview screen to where you can review your blog before publishing it, customizable style, and a place to put articles and ads.
Best-Selling PHP Blog Scripts on CodeCanyon
Your blog is a place to have conversation with visitors to your website. Grab one of these best-selling PHP blog scripts and turn your website into a traffic magnet. PHP blog scripts are loaded with tons of features that allow visitors to engage with your website and content.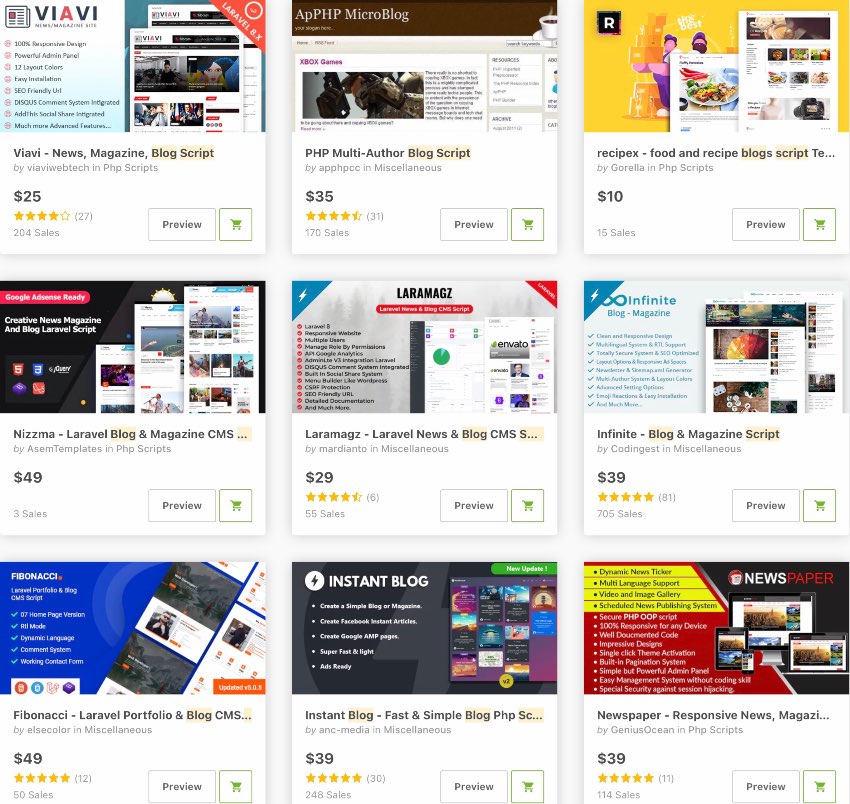 Using blogging scripts you can:
add a blogging section to your website
build your own independent blog or magazine 
increase engagement with visitors 
improve your visibility
convert visitors into customers 
Best Blog PHP Scripts on CodeCanyon
Whether you want to build a PHP blog with thousands of pages, or a PHP microblog, these PHP blog scripts will help. Let's have a look: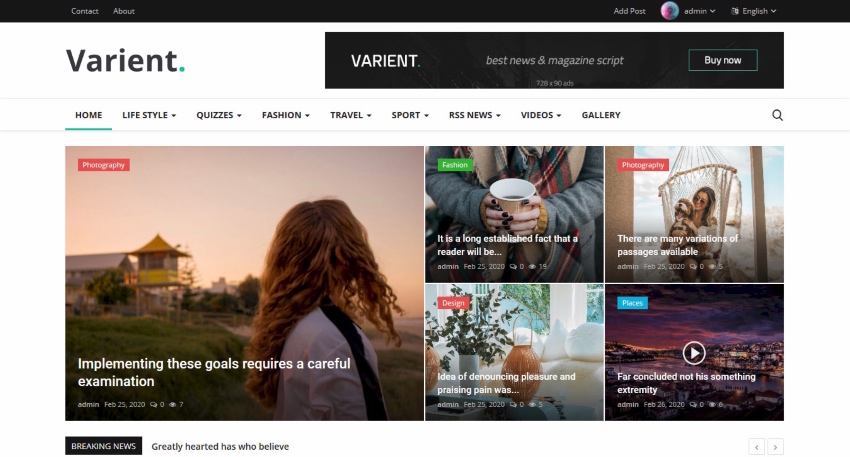 Varient is a multi-purpose news and magazine PHP blogging platform that comes with all the features you need to start and run a dynamic news and magazine blog. You get unlimited pages and categories like news, sports, politics, and lifestyle. It has a clean, responsive and user-friendly design.
You can get authors to write for you through a multi-author system. Each author has their own panel to manage their posts and videos. And also through its powerful admin panel you can grant or limit access or responsibility for each editor or author.
You can even highlight some of your best articles and posts using featured posts and sliders. You can create memberships for readers who can gain access using their social logins. Readers can comment on articles. 
It has RSS aggregator system and you can use it as an autopilot script. It is secure, SEO optimized, fast and easy to use.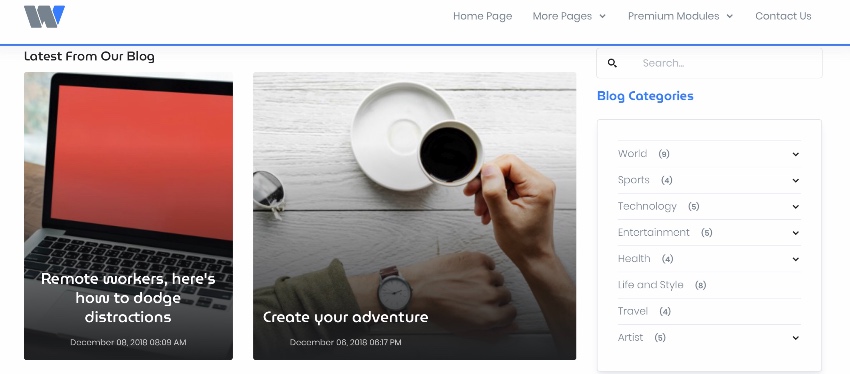 If you want to create unique blogs, articles, and news items, then look no further than the Blog Manager Module for CMS Pro. This very comprehensive blog script is made up of five plugins that make it so easy to create a blog: search, category menu, latest comments, archive list, and most popular.
It doesn't overwhelm you with too many layout options. It gives you 4 unique layouts to assign to each article and category. Each layout depends on the image size. You can also assign ratings, voting and social sharing for each article.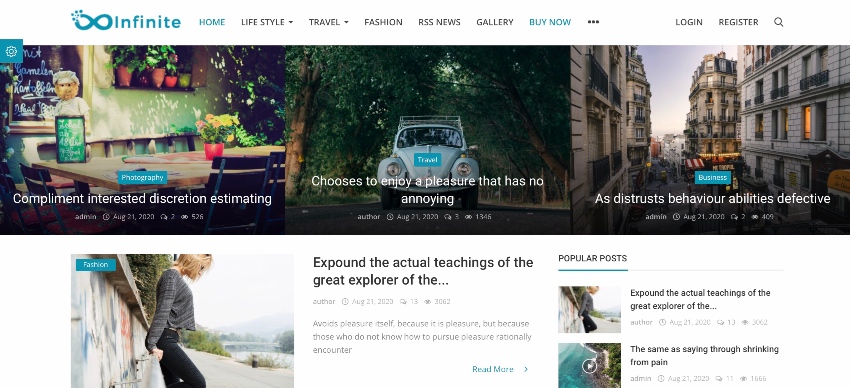 Infinite is a multi-purpose blog and magazine PHP script. It has a clean, responsive and user-friendly design. You can manage your posts, custom pages, categories, user comments, advanced settings and contact messages with its powerful admin panel.
It also has a useful ad management system to help you manage your ad spaces. It is secure, SEO-optimized, fast and easy to use.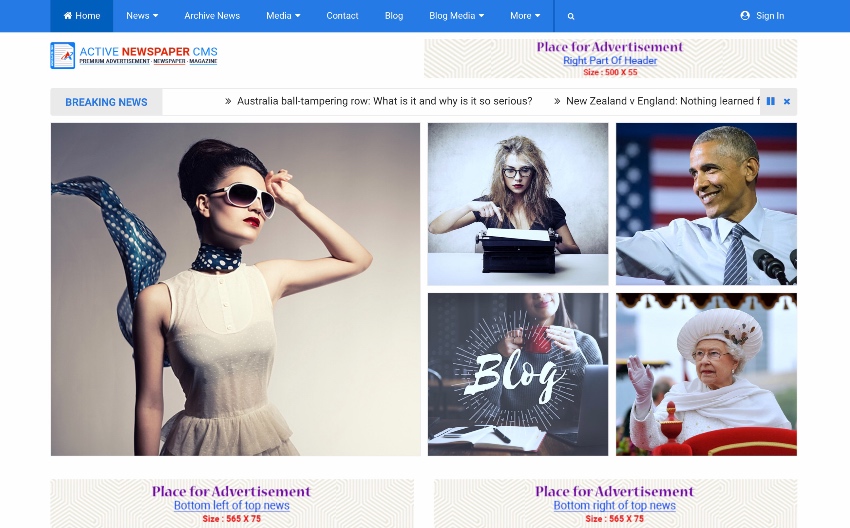 To generate revenue through blogging you need to stand head and shoulders above your competition. Active Newspaper CMS has the impressive UX and UI to help distinguish your site. Through the powerful admin panel of this newspaper PHP script you can manage news reporters and bloggers, video uploads, and create polls. On the front-end users can log in through their social media and they can also share articles on their social media. 
But that's not all! It's built with monetization of your blog articles in mind. You can take advantage of the 47 premium advertisement spots by offering them on the headers, homepage, news categories, image gallery and more. You can also create subscription packages for bloggers. It accomodates nearly all international payment gateways, so receiving payments is easy.
Active Newspaper CMS  doesn't leave you to figure it out on your own. To show you how to use it so you can get your blog up and running without any delays, it comes with extensive knowledge base that includes video tutorials, diagrams, how-tos, and other info.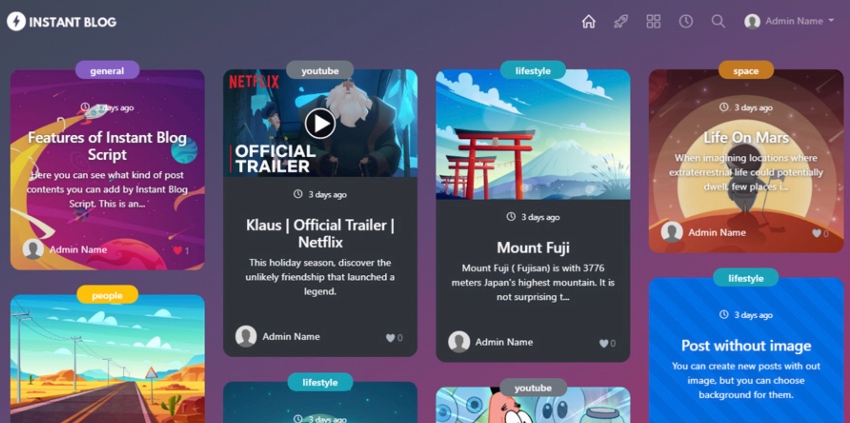 You can distribute articles and upload them to Facebook or Google and they will display 10 times faster than the standard mobile web. Instant Blog will help you create instant articles for Facebook and Google AMP pages. This SEO-optimized, fast, and simple-to-use PHP script can be easily installed through a wizard. It has a clean, responsive and user-friendly design.
From its powerful admin panel you can manage your posts, categories, and users. You have access to dynamic forms for creating posts. You can auto embed content with URLs from YouTube, Twitter, Facebook, Instagram and Pinterest. It also comes with an ad management system so you an easily add ads to your posts.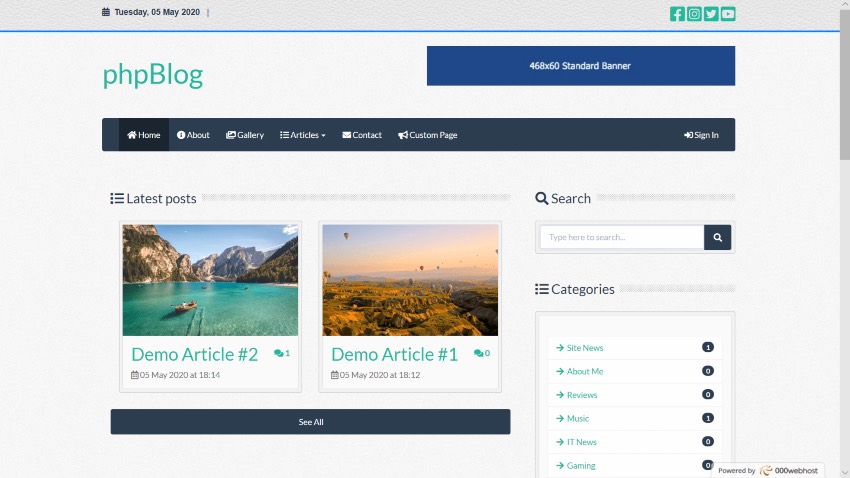 phpBlog is a multi-purpose CMS blogging platform built using procedural PHP without any framework so it can be easily customized. It has clean, simple, lightweight, responsive and user-friendly design. It can be used for blogs, portals, company and agency websites, magazines, newspapers, and more. 
With its powerful admin panel you can manage posts, categories, user comments, gallery, custom pages, widgets, ads, website settings, and contact messages. It is very well secured, SEO-optimized, fast, and easy to use.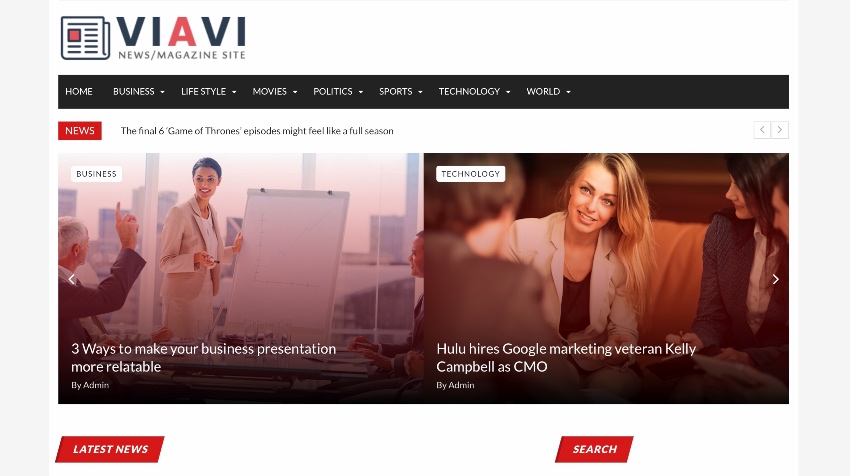 Viavi is a responsive news and magazine-focused blog script that allows you to create a stunning blogs by choosing from customizations option that include: 12 color styles, page layouts where you can decide how many columns you need, sidebar placements, custom headers, and footers. 
To generate more engagement for your articles and posts, this news magazine blog script is integrated with the Disqus and Facebook comments systems. Social share is also incorporated to allow visitors to share articles and posts.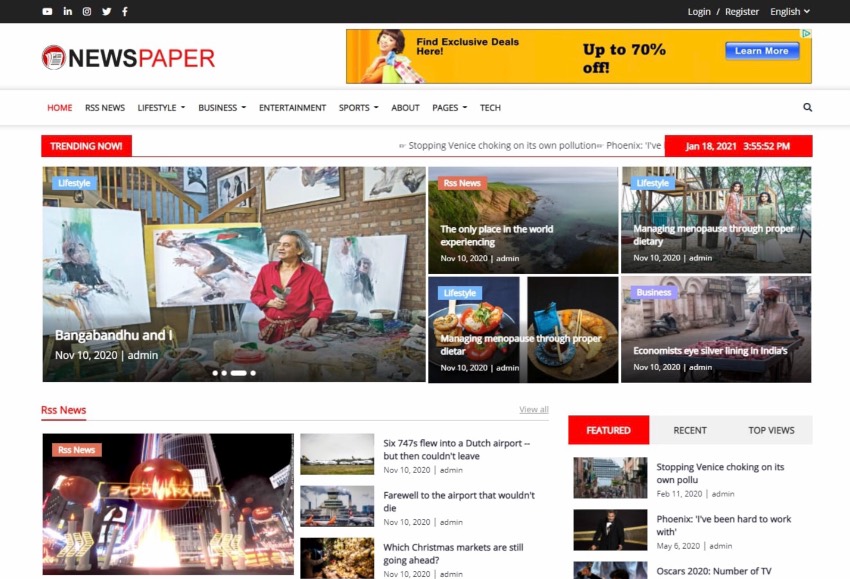 Newspaper is complete solution for any kind of news, magazine and blog management system. This fully responsive CMS script comes with four attractive templates so you can choose which look you want for your magazine or blog.
The back-end has a lot of awesome features that help you manage categories and sub-categories, pages, galleries, posts, polls, and advertising spaces. It also allows multiple admin with different roles.
There is also a built-in newsletter system that allows you to send posts and messages to all your subscribers via email. Finally, its advanced security makes sure your magazine or blog is protected from SQL injection, invalid submissions and session hijacking.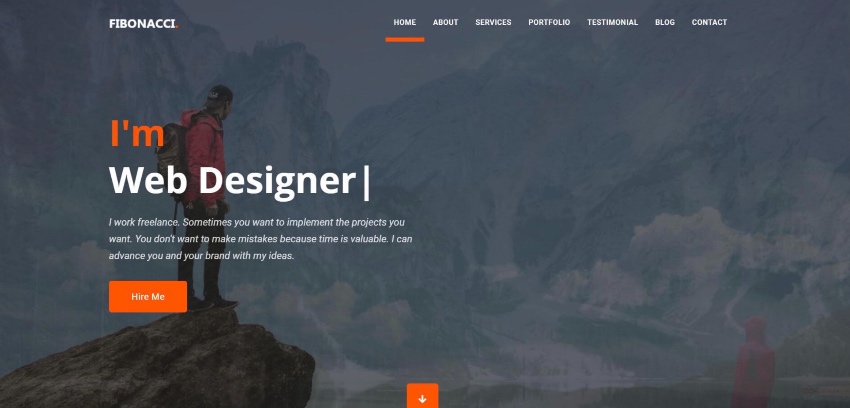 Fibonacci is the perfect choice for web designers who want to set up their own portfolio websites that also have a built-in blog. This PHP portfolio and blog script is fully responsive and has a clean, modern design that allows you to give clients an interactive presentation experience of projects you've done, products and services you have to offer. 
It comes with an easy to understand admin panel that allows you to create your website in just a few clicks, no coding experience required. It has seven homepage versions to choose from, working contact form, Google analytics, Open Graph tags, light or dark mode, comment system and more. There even is a maintenance mode to let your visitors know you're doing updates.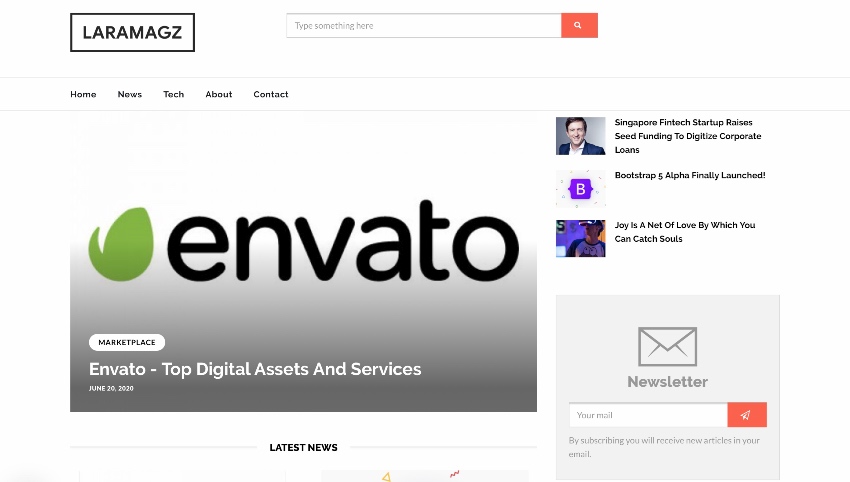 Laramagz is a powerful CMS that you can use to build a news, magazine, or blog portal. It comes with powerful admin panel where you can customize your magazine or blog, change logos, favicons, site title, site description and more. It supports multi-author system and lets you assign permissions by roles. 
On the admin panel you also have access to Google analytics and reCAPTCHA to protect against spamming. On top of that, it has a built-in newsletter that allows you to send HTML email to all registered emails. It is SEO-friendly and supports MailChimp.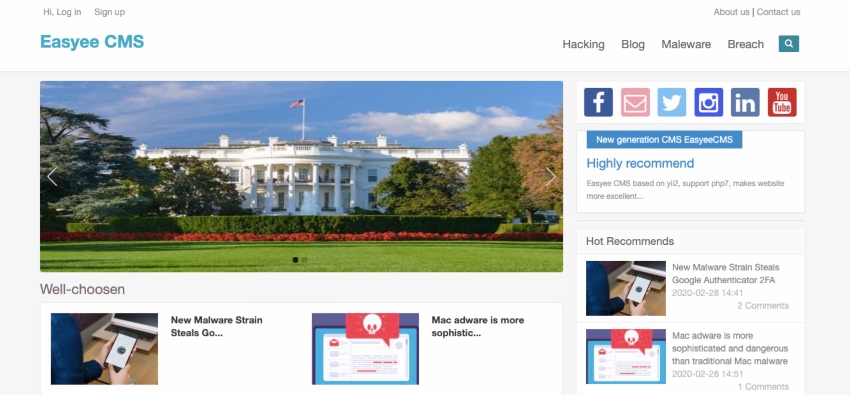 Easyee CMS  is a blogging CMS script. It has a clean, responsive and user-friendly design. You can manage almost everything in your site with its powerful admin panel. It has a multi-author system and all authors have their own panel to manage their posts. It is secured, SEO-optimized, fast, and easy to use.
Why is a Blog Important for Your Business?
A blog is the perfect platform for telling your brand stories. Customers look to blogs as a source of information and advice. This means a blog enhances credibility of your website. Blogging also helps in building relationships with your customers. It also provides your company with a voice. A blog can help you connect with the audience. You get a chance to share ideas and thoughts with the customers. Finally, a blog helps you build traffic to your website. A blog is an excellent source of referral traffic.
What Are the Keys to a Successful Blog?
Be Persistent
A successful blog is not just about the time you spend on it. It is about the quality of writing. You need to be very consistent in your posting schedule. This is because it takes time for your blog to build a reputation. It is important to understand that blogging is a long-term strategy. You need to be very patient if you want to see results.
Active blogs generate around 60% of leads. Consistency is key to your success, decide the frequency with which you want to release content on your blog. 
Know Your Audience
When you target everyone you will reach no one. Your message will not be heard. It's important to have a target audience and a niche in mind. You can also use tools like Google Analytics to keep track of the audience. This will help you in improving your content strategy.
Understand the needs of your audience, target your content to their needs, targeted content will bring more traffic to your website. Offer them information that is relevant to their needs, with solutions or suggestions of how they can solve their problem. This is how you build trust and get your visitors to come back as lead and customers. 
Connect With Your Customers
Think of a blog as a place where you have conversations with your customers in a way they can relate to you. The language is casual, relatable, easy going. It will help you connect with visitors who are looking for solutions to their problem.
Plan to engage with visitors by creating a vibrant, engaging comment section. Answer any questions and reply to comments from visitors. Comments sections offer a way of understanding what your visitors and customers are looking for. Look at it as fertile ground for topics to address in your blogs. When you do this you will be meeting their most pressing needs. 
Choose A PHP Blog Script and Start Blogging Now!
On CodeCanyon you will find many more PHP blog scripts and of course many other kinds of PHP scripts to choose from. With these scripts, you can easily set up a blog from your website without coding knowledge.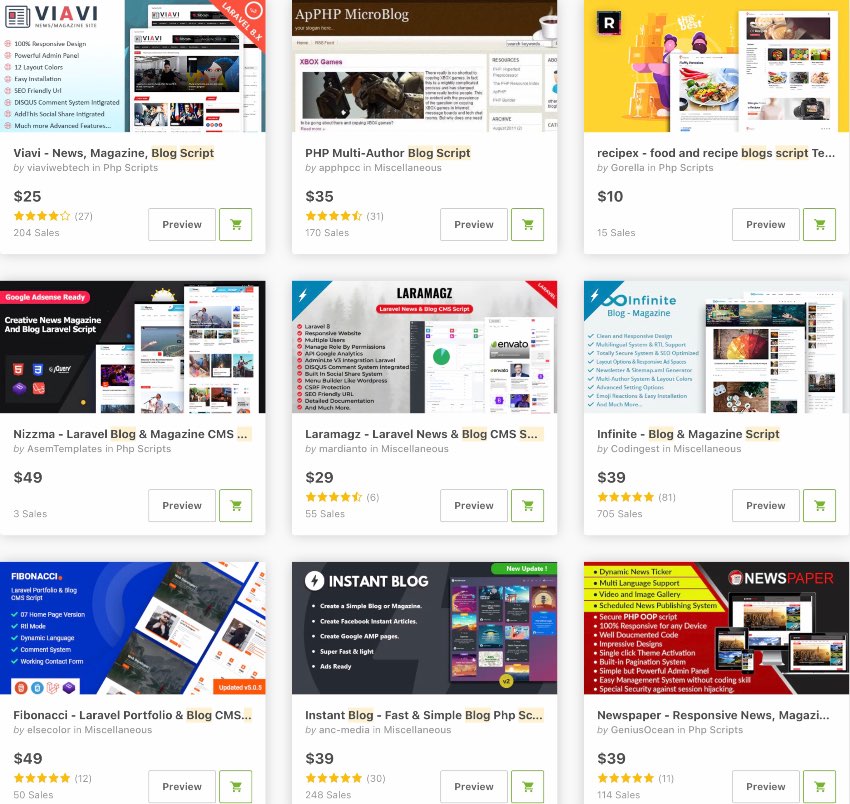 Check out some of our other posts on PHP and PHP scripts.