Hey you! Have you been having a hard time designing that amazing graphic you have in mind? Have you been spending a lot just to get your simple animations done? That your professional graphic designer hasn't been designing for you designs that are professional, right? I've been in that state too, no until I got to know about Crello, then I can do my designs by myself, in my comfort time and still spend less or spend nothing at times.
Crello
Crello is online (web-based) software that let you do amazing graphic designs, ranging from animations to posters to social media designs and lot more, with Crello tools you can do them all. Using Crello, even with little to no graphic design skills, you don't have to be afraid of how to get started, Crello features about 30 different formats and 10,000 free and ready-to-use templates. You have all it takes to design something amazing when you are using Crello.
There are other tools that offers similar services on the web but Crello is one-stop shop for all of them, wait till you explore Crello features highlighted below:
1. Very simple and attractive User Interface: With this simple and straight-forward interface, even a five year old can convert his ideas into graphics in matter of minutes. The interface is attractively designed to fascinate and encourage you to create something beautiful too. Modifying size, typeface, alignment, image and color is easy as a few clicks.
2. What you see is what you get (WYSIWYG ) editor: You generate your graphics just the way you place it on the canvas, it just like drawing what you are picturing in your mind, no coding, just select an element and place it wherever you like on your design.
3. All templates are free: Yes! All the 10,000 Crello's design templates are completely free, these templates are well arranged for you to easily find the ideal template to execute your project. All you need to do is browse through them.
4. Over 65 million stock images: With over sixty-five million images, you should be able to find any image right there on the website if you know how to look for it.
5. About 11,000+ free design elements: Almost any element you may need for your design can be found on Crello's categorized elements. A search button has been provided to quickly locate elements by name and you can quickly make use of them by just dragging them on to your design.
6. You can upload your own images and fonts for free: Can't find image or font element that works on Crello? You can upload yours. This is one of the features that makes Crello outstanding, sometimes you may need to use your logo, customized backgrounds, special lettering in your design, you can just upload them immediately.
7. Free unlimited storage and folders to organize your work: You can save as many designs as you like as drafts, Crello won't complain, Crello understands you may not get inspiration for your design immediately or you may have to complete your design later. You can also organize your designs into folders and groups for easy cataloguing. Each premium elements costs only $0.99.
8. No sophisticated subscriptions: No hidden or extra charges, you are only paying when you make use of premium elements, the cost are calculated as you place the premium element on your design, you can remove or replace as you see fit or if the cost is getting uncomfortable for you, as simple as that.
These are few of Crello's incredible features, you will have to see for yourself.
How Can I Start Using Crello?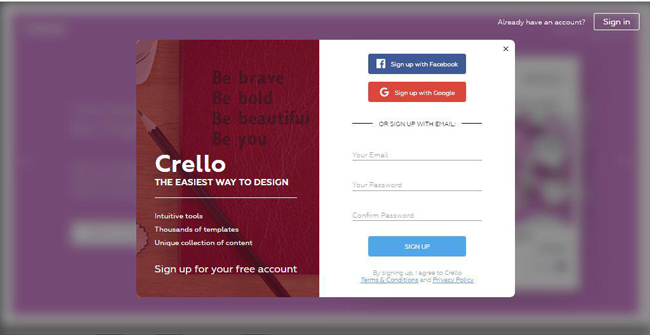 Using Crello is very simple, all you have to do is register and you are good to go. Follow the simple steps below to register and start using Crello immediately, it only takes about 3 minutes:
1. Visit https://crello.com with your browser, click the Sign-Up button located at the upper right corner of the page
2. A box will pop up presenting three different options to sign up; Facebook, Google or default option, choose your preferred option.
3. If you are choosing the default option, fill the text boxes provided with details required, a confirmation mail will be sent to you, follow the instructions in the mail to set up your account.
4. If you are going with social media sign up options, click any of Facebook or Google and you be taking to their respective login page, enter your login details and click the login button, on successful login, you will be re-directed to your Crello account page. Note, this sign up method requires you must have either Facebook or Google account prior to signing up but it is faster than default method and will also automatically update your Crello account profile.
Now that you've signed up and successfully logged in, let's get you acquainted with Crello graphic design tool;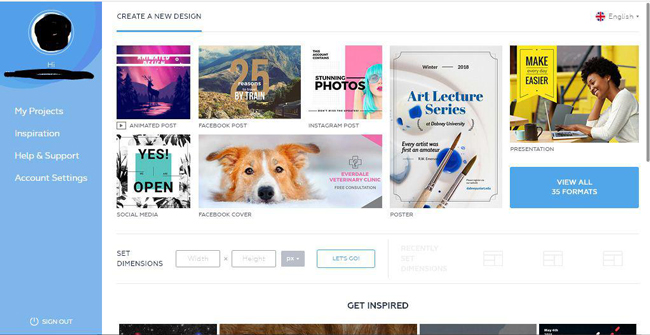 On your account homepage, you are presented with formats and templates, you can also set your preferred dimensions if you wish to start from scratch. Once you made a choice, you will be taken to the editing page where you can perform any kind of magic you want to perform on your design.
On the left of the side editing page, you will find the editing options tab explained as follows;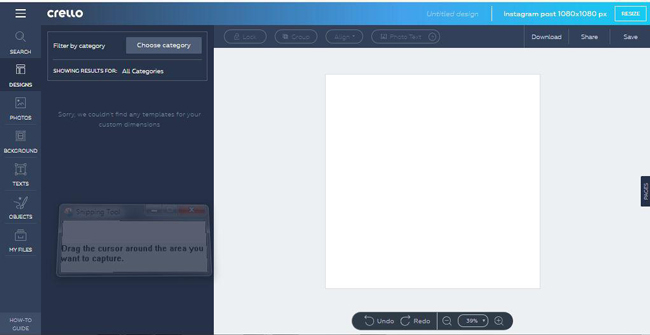 – A 3-horizontally-striped button to access the menu.
– The search button to quickly locate elements.
– Design template categories
– Photos section which contains millions of stock photos and also an option to upload yours.
– Backgrounds that can be used as a backdrop in your designs.
– Texts and styling options.
– Objects such as icons, shape, frames e.t.c. that can be used in your project.
– Your previous files and folders you saved.
And lastly, the HOW-TO GUIDE to help you solve any issue you may encounter while using Crello.
Located on the top of the page is the title bar, followed by another bar which has the option of saving, download or share and other options. Below is the workspace where you can preview or edit your designs.
Once you are done with the design, you can save, download or share it. In case you use a premium element, you are to pay via your credit or debit card before downloading your finished design.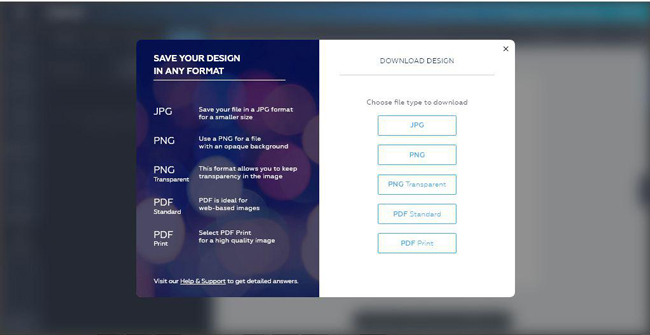 There are several downloading options, you can select the graphic type you like e.g. PNG, jpg, PDF e.c.t.