WordPress, as you might already know, is the world's most popular CMS (Content Management System) powering over 30% of all websites on the world wide web. Responding to its clearly high demand, many web hosting providers offer specialized managed WordPress hosting.
Now, one of the major reasons behind WordPress' massive popularity would be its usability and intuitive interface.
Furthermore, the platform doesn't discriminate between tech-savvy and non-tech-savvy users and offers an understandable UI and UX which anyone can use to set up a professional website.
As such, a huge chunk of the WordPress user base is looking for a convenient and easy to use solution for running their online business. This is where Managed WordPress hosting comes into the picture.
Instead of normal web hosting plans, where you are given a cPanel and allocated server resources to handle your website by yourself, a managed WordPress hosting handles all the technical aspects for you.
This allows you to focus your mental faculty on growing your business, delivering better customer support, and the likes.
What Aspects Are Managed For You? A Deeper Look At Managed WordPress Hosting
The main idea behind Managed WordPress Hosting is giving users a completely hassle-free experience while setting up and maintaining their WordPress website.
All you have to do is create an account with the hosting provider and complete the payment process and your website would be ready in a matter of minutes.
In comparison, other hosting environments require you to first create an account, then install the WordPress CMS manually, set up your WordPress website, and much more before your website even goes live. But with managed WordPress hosting, all this is handled for you.
Additionally, while running your WordPress website, there are many factors you need to keep in mind.
This includes security, optimizing website performance, installing all the latest patches and bug fixes, performing regular backups, and much more.
However, with managed WordPress hosting, all these factors are handled by a team of experts.
Also, while uploading media files, publishing content, handling core files, or anything else that's similar, if you run into any issues, then a team of WordPress experts is also standing by to resolve your issues.
However, with regular hosting, you don't get such benefits. Sure they can help you out with any server issues, but won't be of help while managing your WordPress installation.
Now, as we just recently mentioned, there are tons of managed WordPress hosting providers in the market.
However, for the purpose of this read, we will be taking a look at the dedicated cloud-based managed WordPress hosting offered by WPMU DEV.
By the end of this read, you should have a comprehensive idea of what they have to offer and whether or not it satisfies your requirements.
Review of WPMU DEV – Managed WordPress Hosting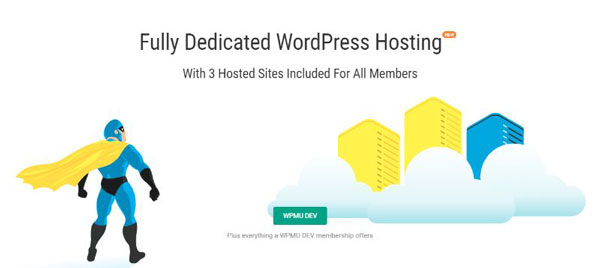 WPMU DEV offers a membership plan starting at $49/month. Here, users will get access to their entire library of premium WordPress themes and plugins, The Academy – which is an information-packed WordPress learning portal, and their cloud-based dedicated managed WordPress hosting.
However, for the purpose of this read, we will only be concerned with its quality of hosting and all associated features.
So without further ado, let's get started:
WPMU DEV – Hosting Features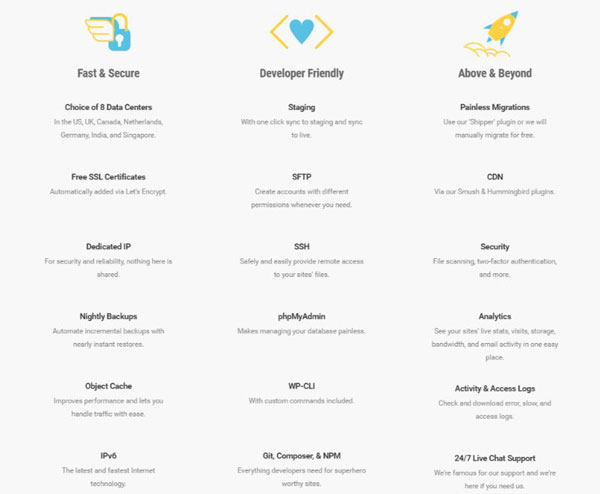 Let's start out going over the different bells and whistles WPMU DEV brings to the table with their managed WordPress hosting.
– Dedicated cloud hosting powered by DigitalOcean.
-Super easy website migration options. All you have to do is add the website you want to migrate to WPMU DEV hosting on the dashboard and it will handle the rest.
– A super intuitive staging environment where you can create staging websites with a single click. This is excellent for trying out new ideas and customizing your website. If all is well, you can publish the staging site with a single click or rest it to start a new.
– Quick and easy access to phpMyAdmin with a single click. From here you will get all the necessary controls to manage your database.
– The hosting plan comes with a free domain – yourdomain.wpmudev.host. You can add more from the dashboard.
– Option to create individual SFTP and SSH accounts for all your different websites.
– The ability to password protect your websites. Visitors will be denied access to your website unless they provide the correct password. This is a unique alternative for an "under construction" or "under maintenance" webpage. And the best part is that you can activate this with a single click.
– A powerful analytics tab that lets you track website views, bandwidth usage, and even live stats on CPU and RAM usage. You can even get a look at all your PHP requests.
– Access a huge library of premium Plugins and Themes. While the themes boast professionally designed layouts to give your website that modern look, the plugins are focused on optimizing your website for performance and SEO. There are also many marketing plugins to help you grow your business and extend your online reach.
– Globally placed servers including the US, UK, India, Singapore, Netherlands, Germany, and Canada.
– All your websites get a free SSL certificate and access to a dedicated CDN powered by the StackPath network.
WPMU DEV – The Hub
Every WPMU DEV Hosting users will get access to 'The Hub' – an all-in-one user interface for handling your WordPress website. It might not have as many features as your regular cPanel, but it is by far one of the cleanest and intuitive dashboards you will find.
The cPanel with all its features and offerings is known to be overwhelming, especially to the uninitiated.
But with WPMU DEV's The Hub, you get access to only the necessary stuff neatly organized in a clean and intuitive interface.
The interface allows you to quickly switch between all your various websites hosted with WPMU DEV.
From here, you will get access to dedicated tabs to manage all your installed plugins, themes, website security, site performance, monitor uptime, SEO, and even manage your backups.
There are also built-in automation facilities that will schedule update installations and regular backups, so your site is not only secure but also ready for contingencies.
WPMU DEV – Pricing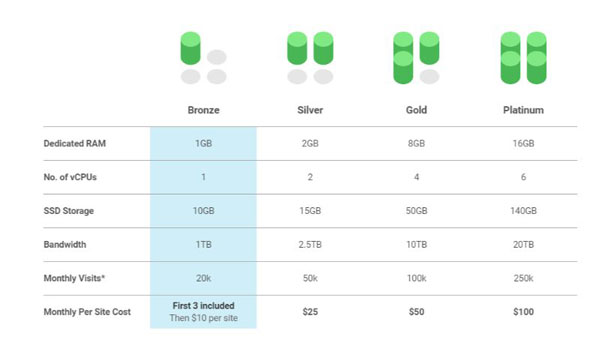 The WPMU DEV hosting plans can be somewhat confusing. Firstly, for $49/month, you get access to their membership plan which comes with many goodies including their managed WordPress hosting. On top of that, you will get $30 in credit which you can use to host your websites.
Their base hosting plan a.k.a Bronze will cost you $10/month per website. This means you will get to host up to 3 websites by using the $30 credits you get for free.
If you want to add more websites, you will need to add an extra $10 for each of those websites.
Now, the Bronze plan starts you off with 1GB of dedicated RAM, 1 vCPU, 10GB of SSD storage, and 1TB of bandwidth allocation.
If this seems limiting, you can upgrade to the Silver, Gold, and Platinum plans priced at $25/website, $50/website, and $100/website respectively. The following image should give you an idea of the server specs for each of these tiers.
Do note, you will get to use the $30 credit on all these plans and will be required to pay only the remaining balance after using the credit.
So, is WPMU DEV Managed WordPress Hosting For You?
WPMU DEV is quite unique with its all-in-one WordPress offering that bundles in everything from a managed hosting environment to premium themes & plugins, and even a beginner to advanced learning resources.
Now, if you search around the internet, you might learn about WordPress from one resource, get hosting from a particular hosting provider, and get theme and plugins from a specific WordPress theme & plugin shop.
However, if you want all these things under a single roof, then the WPMU DEV membership plan is designed for you.
You are getting everything you need to run a successful WordPress website wrapped up in a single package.
There is no denying the fact that this adds a lot of conveniences while maintaining your WordPress website and is definitely worth their asking price.