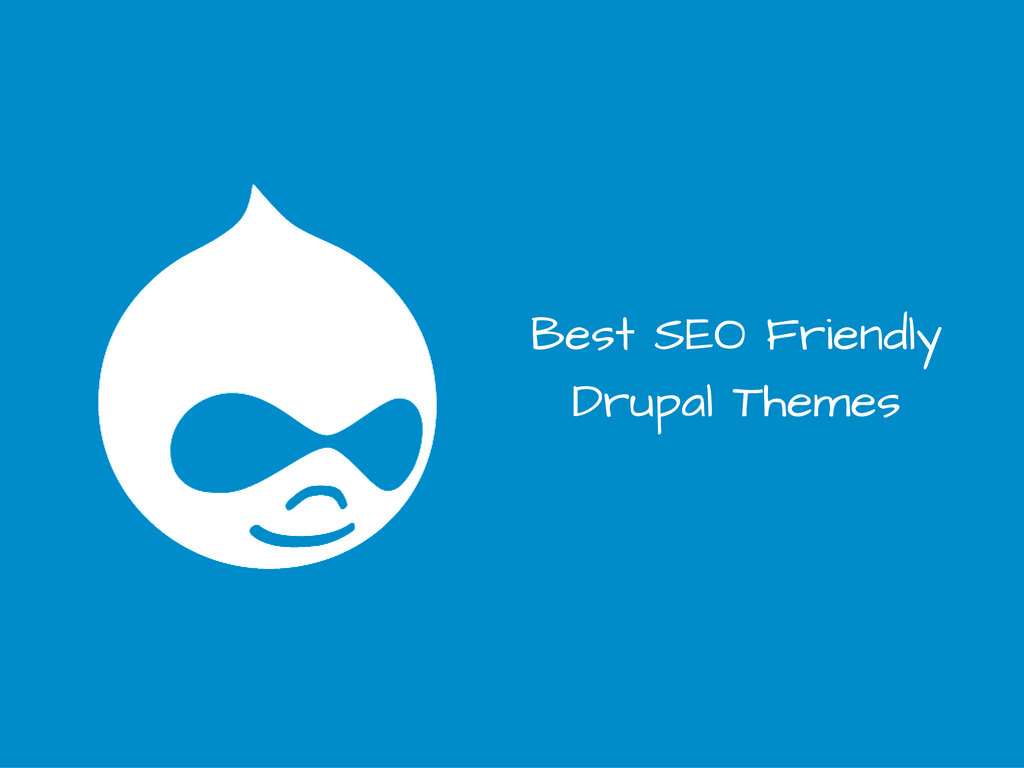 One of the most important things to do when looking to start a new website (or modify an existing one) is to land on the right theme for you. While having good content is incredibly important, that content won't have the same impact if you're using a theme that isn't suited for what you're trying to say.
Finding proper themes for Drupal hosting can be pretty tricky and so can finding ones that are SEO friendly. Just because these things can be tricky to find, though, doesn't mean they have to be. In this post, we're going to break down a list of eight SEO friendly themes that you can get started with on your website.
In doing so, we hope to show you that there are Drupal themes out there with a wide variety of supports and options, each of them with their own unique quirks. This list is by no means exhaustive, but it should give you a good head start when looking for the right site for your brand. Let's get started with Psdn.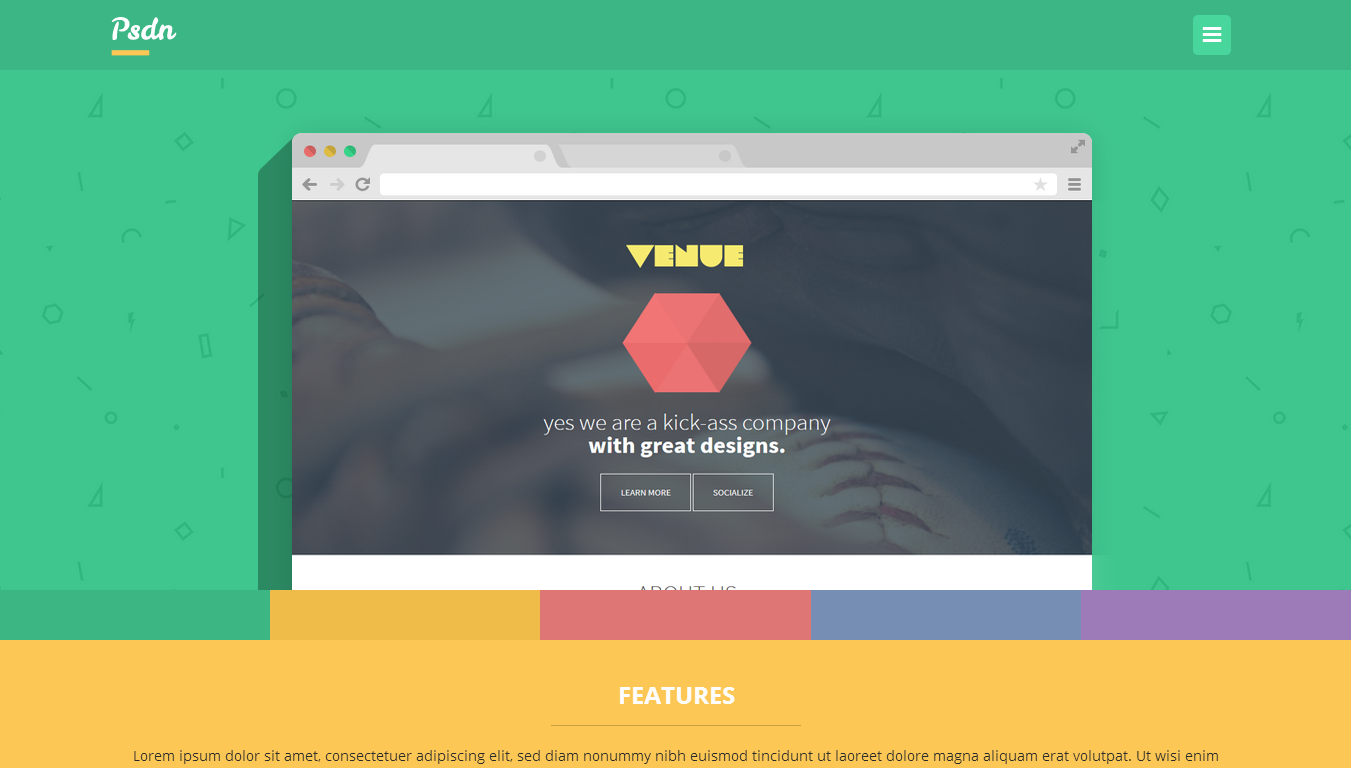 This Drupal hosting theme is a fat theme that has a responsive layout as well as unlimited colors at your disposal. It also uses Font Awesome icons and has SEO-friendly code. There's even a slider module as well as animations. More things that it has are Google Maps integration, an off canvas menu, canvas social media icons, and plenty more. This is a comprehensive theme that will get the job done for you.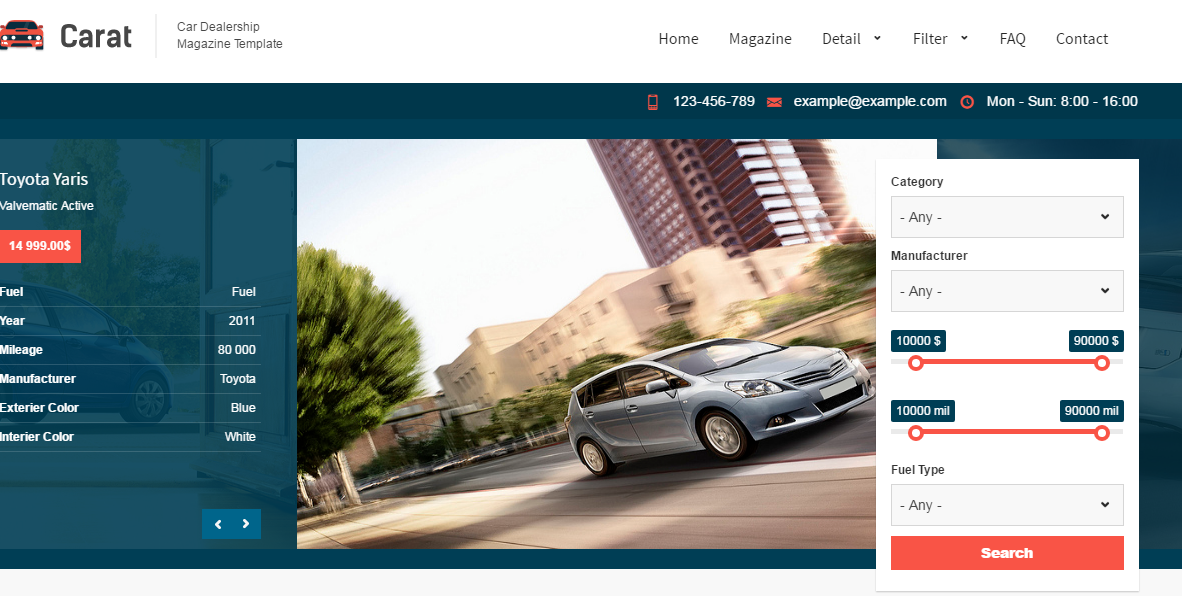 This is a flat Drupal theme that is especially useful for car dealerships. It includes a rental reservation system, Bootstrap integration, a responsive layout, SEO optimization, an easy color customization system, and plenty more. The speedy nature of this theme will have your site up and running in no time.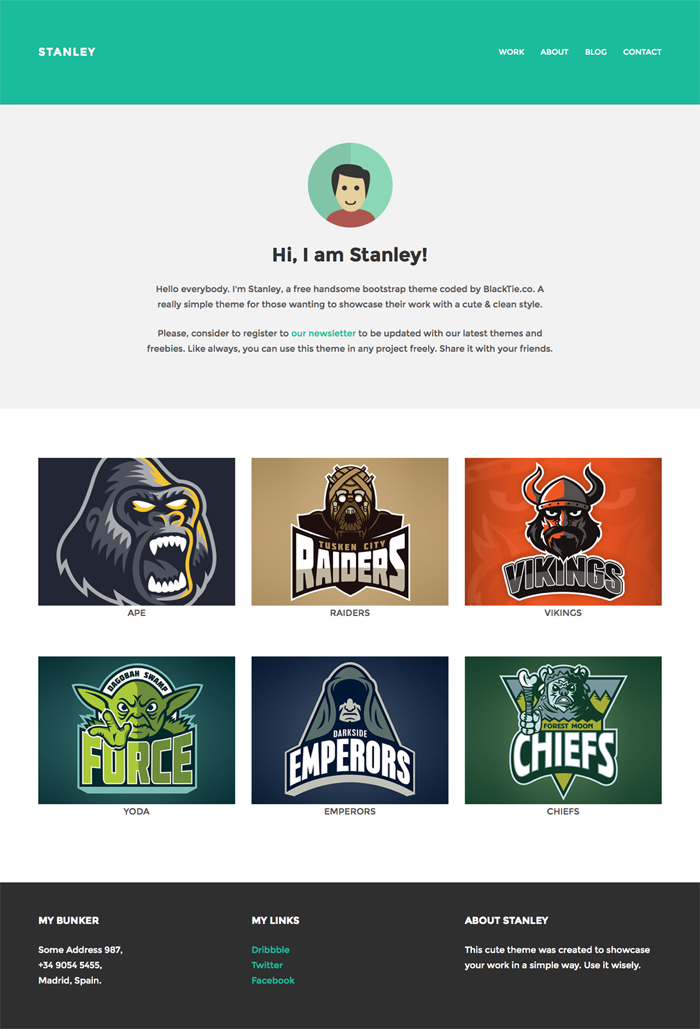 This is a free flat Drupal theme that offers a responsive layout, full Bootstrap integration, easy color customization, and a simple design, among others. Sometimes it's best to go minimal. This theme allows you to do just that.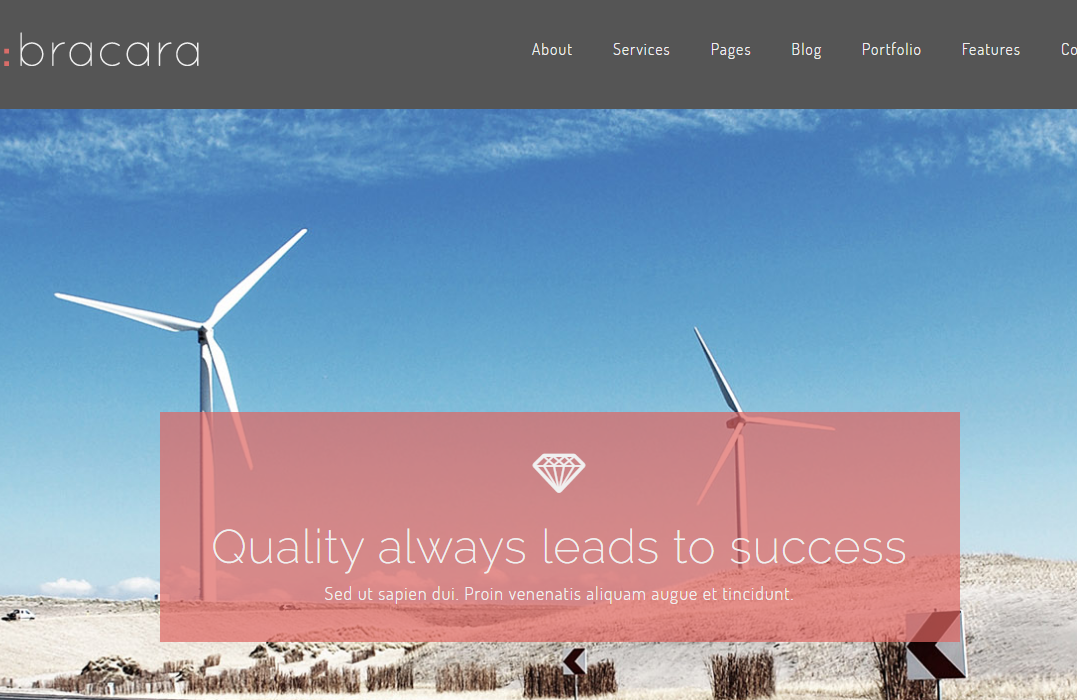 This is another flat Drupal theme that has simple navigation as well as a responsive layout. It also boasts six preset color schemes and is fully integrated with Bootstrap. It has FlexSlider 2, three homepage layout options, pricing tables, icons, a filterable portfolio, easy color customization, and plenty more. This is a true powerhouse of a Drupal theme.
This one is a flat Drupal theme that has a one-page layout. It has a total of six color variations that you can choose from and has a very responsive layout. For those accustomed to Google Analytics reports, this theme does support that. Also, it has cross-browser compatibility and plenty more. This is the kind of theme that would especially do well for reaching a larger audience when you consider its cross-browser compatibility.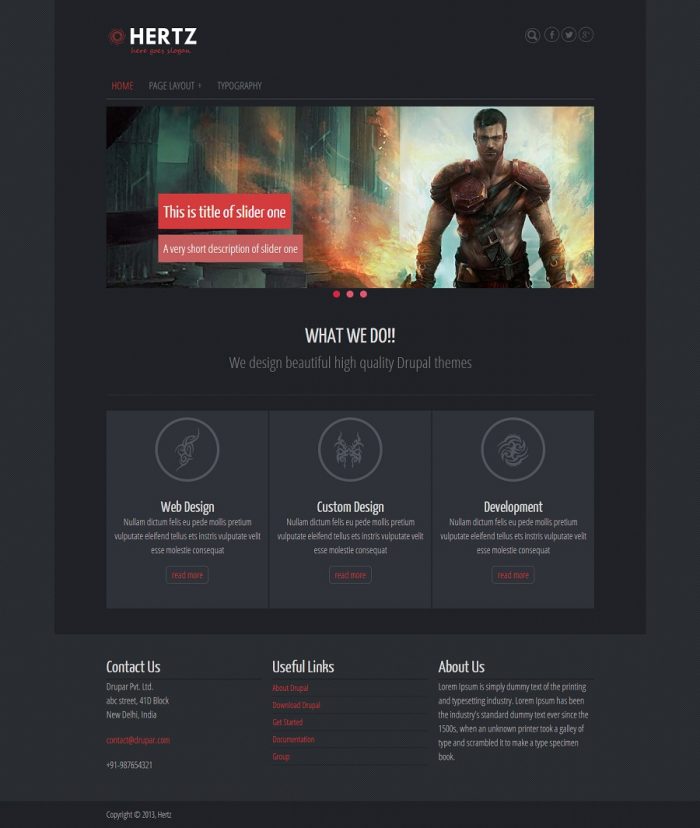 This is a free flat Drupal theme that offers a jQuery dropdown menu as well as a slider. It has full social media integration with Twitter, Google+, and Facebook. It also has Google Fonts. There's a custom maintenance page and one, two, or three column layouts. This is the theme to choose if you're looking to make a splash on social media.
Not only is its social media integration an asset, but having one, two, or three column layouts allows you to always stay up to date on the latest advances in website design without having to change your theme every time you want to do so.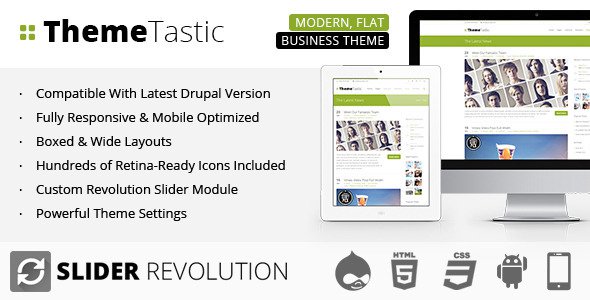 This is another flat Drupal theme that offers a responsive layout. What sets it apart is that it offers 400+ retina-ready icons, a Revolution Slider, a filterable Isotope portfolio, video support, SEO optimization, a custom Google Maps plugin, and its own contact form.
This is a pretty comprehensive Drupal theme, and the fact that it includes a contact form right out of the box so to speak means that it would be ideal for established businesses as well as startups. It also takes advantage of some of the latest visual advances in web design, so it will definitely be a crowd pleaser.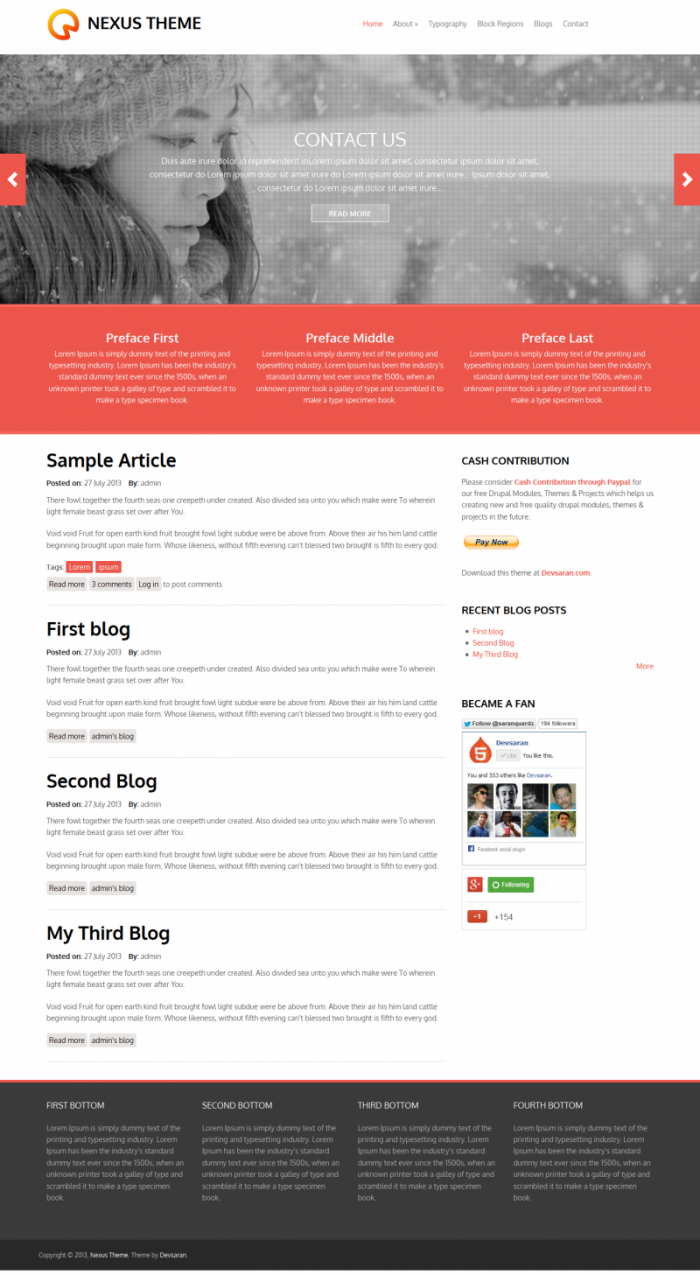 This is actually a free flat Drupal theme that features a responsive layout as well as multi-level dropdown menus that offer multilingual support, 12 block regions, Google Fonts, Flex Image Slideshow with Caption, a clean design, one and two column layouts, and plenty more.
This theme is best for those who want a simple layout that's intuitive and easy to navigate for their visitors. It's not enough to simply offer this kind of layout. It's also necessary that things like multilingual support be taken into account as well.
Its dropdown menus also ensure that your visitors will be able to get anywhere they need to go with ease. The last thing you want is a site that clogs up so to speak and doesn't allow for a simple browsing experience.
While this list isn't exhaustive, it should definitely give you a good idea as to what you should be looking for in a Drupal hosting theme. There are so many things to look for that it can be quite intimidating to jump in on your own and feel around in the dark till you find what you need.
Instead of doing all of that, however, it's much better (and easier) for you to look to lists such as this one in order to nail down what it is that you're looking for. Whether it's a responsive layout, dropdown menus with multilingual support, or full social media support, there are plenty of features that you'll want to look at before making your decision. It's also advised that you take all of these themes that we've listed and also do your own research to find some more that you might potentially choose.