If you're a professional wanting to showcase your products, what better way is there to do so than with a personal portfolio? Maybe one that's presented in a way that invites close study?
A portfolio used to be a folder of papers you would carry around with you when visiting one potential customer after another. Today, you can get not only the same results, but far better ones. You can do it by using a website builder to create a portfolio website.
A portfolio website is perfect for displaying your work to existing clients and attracting potential ones.
There are plenty of platforms to choose from to build a stunning portfolio website. You'll find six of the very best ones right here. They're all easy to work with, flexible, and you can try and test most of them at no cost.
Starting with:
1. Portfoliobox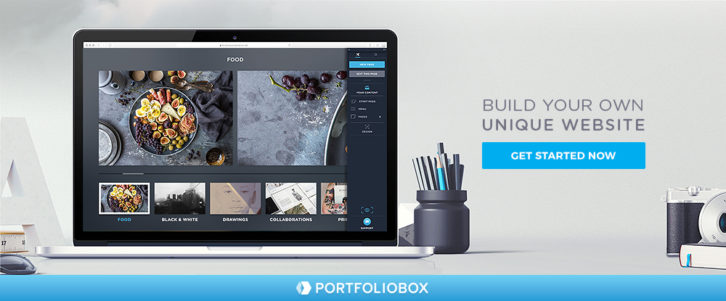 Portfoliobox is a highly-suitable online website building tool for photographers, artists, designers, and other creative types. It's not theme-based, it's super easy to use, and it's extremely flexible; plus, you don't need to know anything about code to use it.
As its name implies, it gives you all the tools needed to create a stunning, professional-looking portfolio, the type that not only keeps visitors engaged but encourages them to spread the word.
While you naturally will spend as much time as you feel you can afford to create a next-to-perfect portfolio, you could easily create a very attractive one within a few hours.
Portfoliobox offers two plans, including a free one that includes hosting of 10 pages, 30 images, and 10 products – plenty for you to see if it's the right choice for you.
The pro plan includes web hosting for 1,000 images and an unlimited number of pages, blog posts, and products. Portfoliobox has more than 1 million users. Version 4 is in the works and scheduled for release within a few months.
2. Wix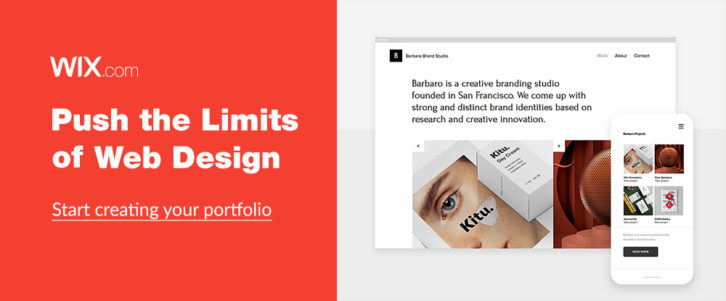 You can use Wix to promote your business, set up and online shop, or test out new ideas. Or, to create a portfolio website to showcase your art. That's this website builder's strong suit. With this innovative drag and drop tool you can start from scratch, work from any of the 500 designer-made templates, customize to your heart's content, and create the most stunning portfolio you could imagine, and any other type of website for that matter.
Your portfolio doesn't have to consist of static displays either since you can make it come to life using clever scroll effects, animations, and even video backgrounds.
If creating an award-winning portfolio is your objective, and you want to have total design freedom to be able to obtain that objective, the Wix website builder and Wix editor is for you.
3. Weebly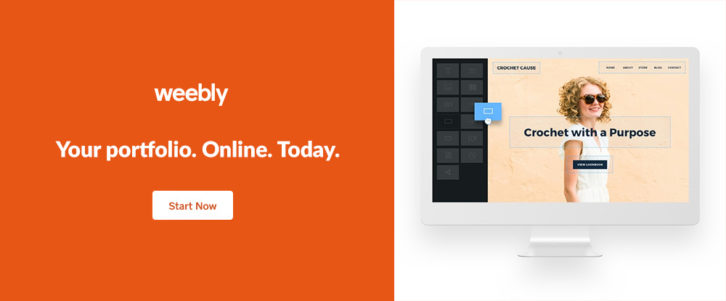 You've decided over your morning cup of coffee that today's the day to start building an online portfolio to showcase your wares, you make Weebly your portfolio website builder of choice, and before day's end your website is up and running.
It's that easy with Weebly. You have access to a host of customizable webpage designs, useful tools, custom fonts, video backgrounds, site search, and last but not least, a powerful website builder that's free.
Weebly even hosts your portfolio website free of charge and you can either purchase a domain or easily transfer one you already have. If you have a product line to display in your portfolio the folks at Weebly will gladly take professional-class photos for you if you ship them the products. Otherwise, there are plenty of tools to help you display products, photos, and works of art in all their glory.
Quick, free, and easy – that's Weebly.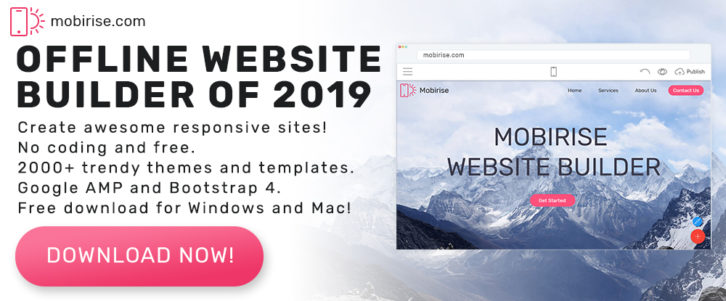 Mobirise offers an easy way to create a portfolio website you can justifiably take pride in – and profit from as well. This offline builder doesn't tie you down to any platform, you can host your website anywhere, and it's free for both personal and commercial use.
You'll be given plenty more than enough to work with, including 2000+ trendy website blocks and templates, a huge library of 7,000 icons, 950 Google fonts, free images, galleries, icons, popups, and more.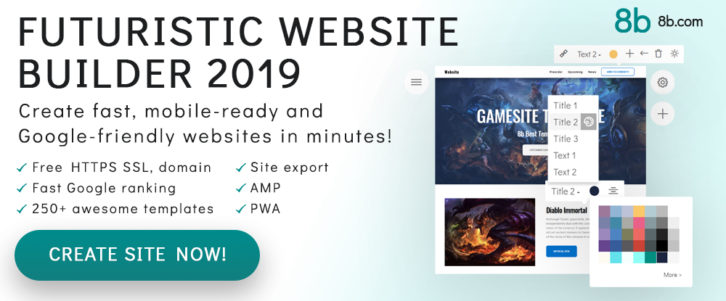 The 8b website builder is brand-new, super simple to use, and futuristic in its design. 8b lets you build your portfolio site from your desktop or on your mobile device when you're on the go. Google AMP ensures your final product will be both mobile-friendly and lightning-fast and the site itself can be turned into a mobile or desktop app. 250+ website sections and 18 slick templates will get your project off to a fast start.
6. Pixpa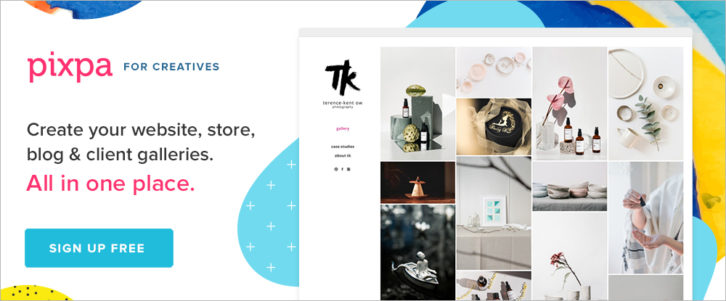 Pixpa is an all-in-one platform photographers, artists, and other creatives can rely on to create the professional portfolio website they envision. Beautiful, mobile-friendly, and fully customizable templates get any project off to a great start.
You can create a complete portfolio site using drag and drop tools, no coding knowledge is required, and thanks to Pixpa's Client Galleries you can easily share, proof, deliver, and sell your work to clients.
Tips for creating a great portfolio website
You don't have a portfolio website at the moment, and you seem to be doing OK, so why would you need one?
For one thing, it provides a unique way to showcase your work.
It also gives others a better insight into what you're all about.
A portfolio website makes it much easier for people to find you and see what you have to offer, and
It makes you searchable.
Your portfolio website will at a minimum feature a logo, a tagline, a sampling of your best work, and information on how to contact you. If you decide to, you can add case studies and testimonials. Also you can add blog pages, and anything that's apt to gain visitor interest, like a project you're currently working on.
Think of your portfolio as a display in a shop window; a display that compels viewers to enter. In this case your viewers consist of clients, potential clients, and even passersby.
You want a portfolio that
Introduces you and showcases your best work
Is easy to navigate and is search engine optimized
And, tells a story. The really good portfolios do this
There are some side benefits to creating your own online portfolio as well.
You can display your talents
You'll improve your organizing skills
Your self-confidence will take a positive hit when you see the result, and
You'll learn a few new things along the way
It's a win for you, and a win for your customers/clients.
Conclusion
Having an online portfolio can help you in virtually any role or career; including a career in the tech industry. The nice thing is, you don't have to do a ton of research to figure out the features you need to create one, and then spend hours and hours actually creating it.
That's where online builders like those discussed above come in. These free builders offer the easiest and most affordable way to create an awesome portfolio website, or any other type of website.

0 Comments