Choosing the right coders for your project can be painfully similar to looking for a needle in the haystack.
There are thousands of people out there offering their services, but who are the best ones for you and your business? Who among them understands your vision, aligns with your goals, and implements the design in a flawless manner?
And if we go beyond the technical requirements, is it possible to find a coding team that's also reliable, trustworthy, involved, and easy-going?
It's not easy to hire the best people for the job, but you can use this 4-point checklist to make sure you choose the most serious development agency.
1. Research the agency's online presence
When you assess the potential of an agency, start by researching their online presence.
First thing on the list: their portfolio. Check out their clients, their partnerships, what type of projects they've previously worked on, and how they present their case studies.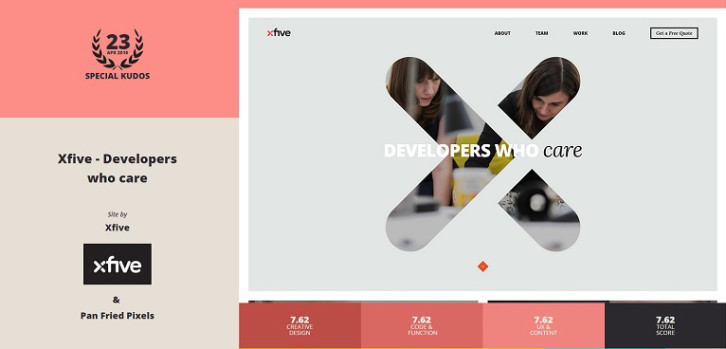 Xfive won a "special kudos" awards for their website, in a CSS Awards competition.
Second step is reading testimonials on their website, on forums and on their Facebook page. Recurring, happy clients are a great sign that the agency delivers on their promises.
A good example of a development agency's online presence is Xfive – you'll find on their website all the info that you need – from case studies to testimonials, from the agency's mission to their work procedures. They also have a 10-year experience on the market, a powerful argument on their stability:
"We believe that being fair and transparent on every stage of the project brings the best results. It's one of the main reason that over 80% of our clients return to us with another project and many of them are a long-term partners" says COO Milosz Bazela.
2. Set your specific criteria
Before you start looking for an agency, make a full list of your requirements for the project.
Write down everything you can think of, in the tiniest detail, so you can pin-point what you need without making unnecessary investments or hiring the wrong people for the job.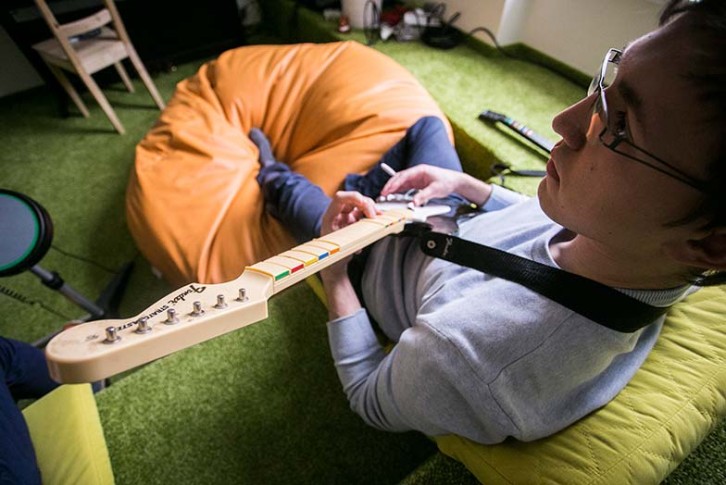 You should choose those developers that can "play" the right technology for your project
Some projects may require highly experienced developers, while others can be managed by medium-level coders. Also, decide on what type of technology you need: the latest one on the market or a solid older one?
Working with cool, new technologies may impact your future investors in a positive manner. But for some projects, working with a new technology might result in over complicating everything.
Milosz details this situation:
"It is always important to find a proper balance between hype and reliability. Our developers are opened to new technologies, they love to learn new things as to stand still is to move back.
However, not every technology that is getting hype is proper to real customer's needs. It's our job to find the right solution, that will be both cost effective on one hand and right for the project's size on the other."
3. Make a shortlist & compare
Once you have a shortlist of 5-6 agencies with great reviews and promising potential, you need to select the right one for you, based on five distinct criteria.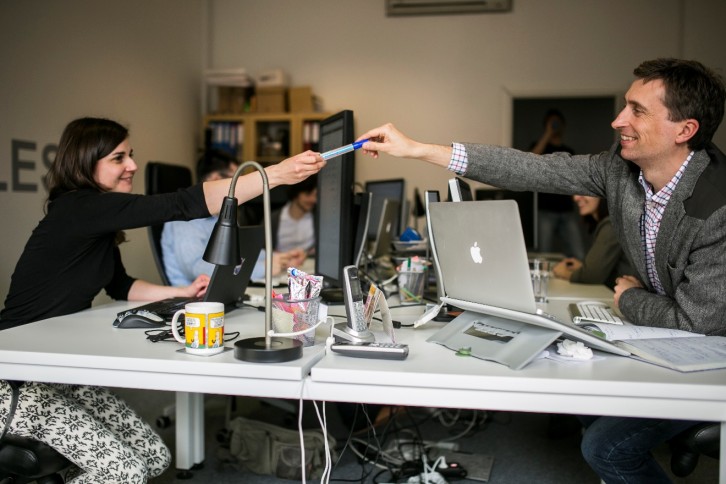 Assess time and budget estimates, their communication style (if you're not on the same line, better look elsewhere), their consultancy skills (avoid yes-men and go for insightful advice), their work procedures, and their approach on a partnership.
Joseph Kurian from 249 Labs, with a 20-year experience in digital, tells us:
"After receiving excellent referrals, I spoke to 3 development companies.  After exhaustive research and conversations my comfort level was most with Pawel, Xfive's Project Producer.  
He understood exactly what my vision for Open Lantern was, understood how his team could help deliver what I needed and had excellent communication skills.  In addition he's a good guy and very easy to talk to.
Based on the competence the team showed and the favorable pricing, we decided to go with a smooth transition from design to development and I knew that Xfive would be the right partner for 249Labs & Open Lantern."
4. Pay attention to every detail
The frequency they communicate with you, their attention to detail in written reports, and even the tone they use over the phone will give you an idea about how they'll treat you as a client.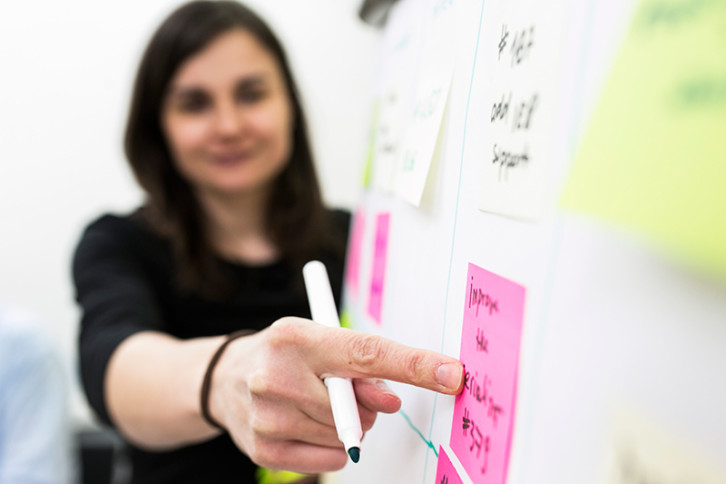 Planning should be one of the first things a development agency proposes, after agreeing on the terms of the collaboration
So if you notice they forget to answer your e-mails, or have no respect for deadlines, take it as a red flag and walk away.
Also, keep an eye open for signs of a disorganized or ill-informed team. One way to spot this problem is observing how easy it is for your agency to understand your ideas and transforming them into actionable tasks. .
How does Xfive handle initial discussions with a start-up, for example?
 "It's always good to have a brief and a documentation, but let's be honest, it's not always possible to have such clearly defined scope.
 Of course the more precise a customer is, the more we can focus on just project management and development and be cost and time effective. But we can always advice best solutions based on our experience with variety of projects of different sizes and complexity.
 For startups we usually suggest an "agile" approach and encourage customers to cooperate with our team as much as they can. Of course, Xfive's developers and PMs are a part of the team, but it is the customer who has his own vision of the innovative product/service that he wants to introduce to the market.
 That's why defining the scope and the size of the project is an important part of the whole process", says Xfive's COO, Milosz Bazela.
To summarize, the four criteria you need to consider when choosing your coding agency are: research the agency's online presence, set your specific criteria, make a shortlist & compare your options, and pay attention to details.

About Xfive:
Xfive is a solution for design and web agencies looking to expand their capacity for front-end, PHP and Ruby on Rails or WordPress development where care is the foundation of everything they do.
For more than ten years they've been helping creatives bring their ideas to life in the digital world. They've worked with individual clients, small and mid-sized companies, as well as with the web's biggest brands such as Twitter, Ebay, Microsoft, Threadless, FOX and Rogers Media.
0 Comments