[unable to retrieve full-text content]
The case of autonomous vehicles.
This is the last publication about the Master's research I've conducted when studying in 2018 a Hyper Island in Manchester. In the first two publications, I've respectively explained why autonomous vehicles onboard experience is likely to reinforce behaviours harmful to society and what design requirements we should adopt to empower users.
In the first article, I explain that autonomous vehicles are a solving business problems, not people problems. This focus frames the research and the definition of "good solution". It prioritises business interests to users and society wellbeing. This results in onboard experiences focusing on allowing people to consume (watching Netflix) or produce (work) and sleep.
In the second article, I'm exploring ways autonomous vehicles could be a solution for people to gain back time to focus on themselves. The discovery research converges towards two activities for people to focus on themselves: education and disconnection. I've then researched ways to support people to do so, and defined design requirements for autonomous vehicles onboard experiences.
Today, I'm talking about solutions.
Prototyping has been done with my colleagues when working at different in Berlin as well as some testing. The rest of the testing has been done through online survey. I've tested 2 items, user desirability to use some concept over another, business sustainability by researching how specific concept could evolve and create new business models and customer propositions.
TL;DR 🥁🥁🥁
I'm going to spoil it all right here, users picked concept focusing on working by a lot. Features, tangibility, ability to foresee how it would fit in the daily life were key characteristics for people to predominantly choose a concept that allows them to work.
However, concepts focusing on empowering users consistently scored better in the speculative sessions with business. Onboard experience concepts that moved away from constraining people to work or consume, generate more ideas with a positive impact as well as a higher volume of business opportunities in the medium and long term.
That was the resume from the research. For those still tagging along and want to know about concepts and the details of testing, read through.
The prototypes:
I've designed 3 high-level concepts focusing on empowering users. I've added 1 focusing supporting work-related activities to be compared with the three other concepts: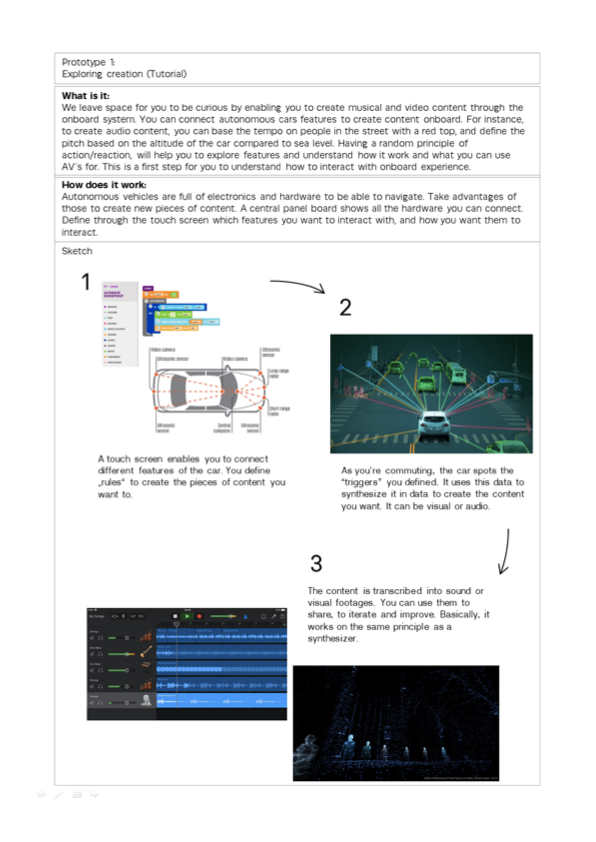 Exploring creation
This focuses on creating "challenges & games to teach tech and behavioural literacy. The goal was to use an entertaining approach for people to understand how a car interacts with its environment.
It supports people to create music and video content thanks to the onboard technology. To create audio content, for instance, users can define rules to base the tempo on (trees on the sidewalk) and base the pitch on the altitude compared to sea level. This is the first step for users to understand how to interact with onboard experience.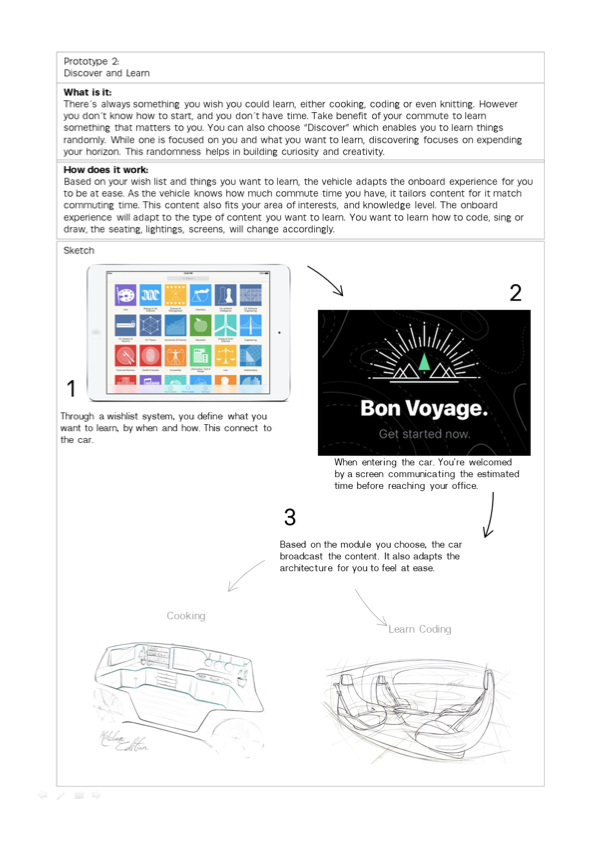 Discover & Learn
There's always something you wish you could learn, either cooking, coding or even knitting. However, people don't know how to start and don't always have time. To take benefit of their commute, users can learn something that matters to them.
They can also choose "Discover" which enables them to randomly learn things. While one is focused on a user and what it wants to learn, discovering focuses on expanding their horizon. This randomness helps in building curiosity and creativity.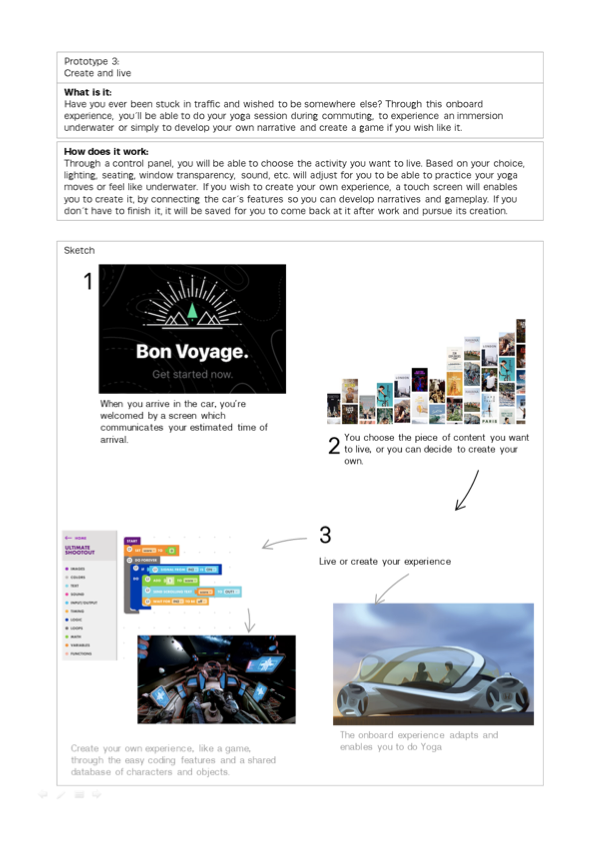 Create and live
Have you ever been stuck in traffic and wished to be somewhere else? Through this onboard experience, users will be able to have a yoga session, to fly over a city or simply to develop their own narrative and create a game if they wish to.
Through a control panel, they will choose the activity they want to live. Based on their choice, lighting, seating, window transparency, sound, etc. will adjust for them to be able to live the experience they want.
If they wish to create their own experience, a touchscreen will enable them to do so, by connecting the car's features.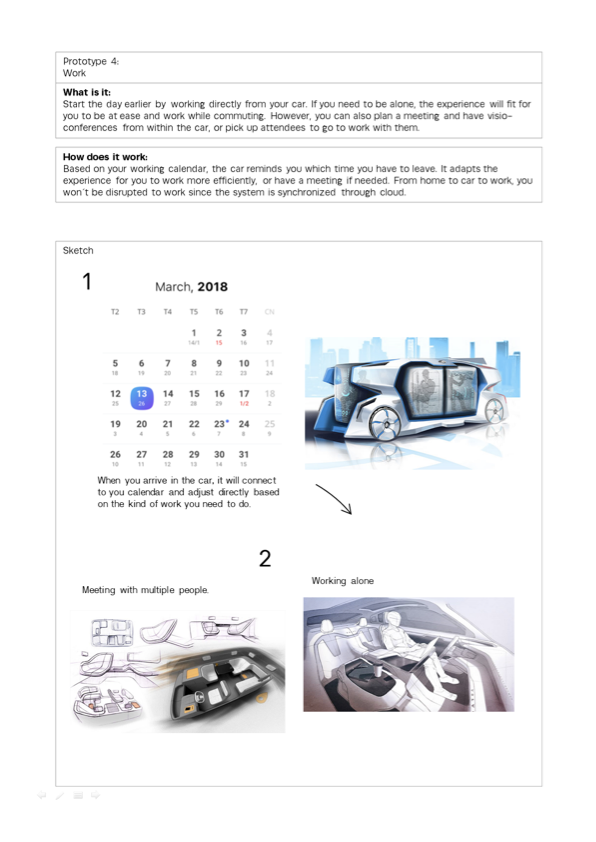 Work
How about optimising the commute by being at work as soon as you leave your home?
If users need to focus on work, the experience will adapt for them to be at ease and work while commuting. However, users can also plan a meeting and have visio-conferences from within the car or pick up attendees to go to work with them.
Based on their working calendar, the car reminds people of which time to leave. From home to car to work, a seamless working experience through cloud synchronisation.
Testing with users:
Out of 4 prototypes, the one focusing on allowing people to work was the most successful one.
There were two channels of testing: a Google survey for people to score prototypes and a physical dot-voting canvas placed within different buildings for people to pick which concept they would use daily, weekly, or never.

Overall, the concept about working scored the best in terms of desire to use.
Feedback about concepts showcase a lack of tangibility of the other concepts, which didn't add direct and concrete value for people. The ability to work while commuting attracted people who see it as a way to spend less time at the office and vacate to their personal life sooner.
The issue is, the research highlighted in the 1st post of this series, that when people have the occasion to do so, they'll work extra hours, partly due to social and economic pressure.
Discover and Learn was the most desirable concept after working. Its tangibility allowed people to understand its role in their live and therefore value.
Testing with businesses: empowering users leads to a wider range of business opportunities.
To test with businesses, I've gathered business strategists and consultants to think about the how each prototype could have a utopian and dystopian impact on the world, and from these impacts, what potential business opportunities they see arising.
Prototype 1: Explore and Create
Creating VR experiences.
Creating a new way to broadcast music, having bands on wheels.
It can make people more sensible about the usage of data, when they can directly interact with components of the cars.
It can build communities of creators, but also drive isolation.
Prototype 2: Discover and Learn
Learning and discovering culture based on geolocation.
It could also help to have an easiest access to school and education, as the relationship to space will change. It can also help on developing tailored teaching and overall help in developing new careers and drive employment by easing the access to education.
It could also find an application in steering education with a multi-cultural perspective.
Prototype 3: Create and Live
Modify the time travel feeling.
Develop form of experience enabling users to work out or relax while they are commuting.
Developing experiences to support learning by making more engaging experiences for people to learn at the first person.
It can showcase artefacts, for instance driving in Paris and showing the process of the revolution and barricades in the streets… This would increase memorisation.
Prototype 4: Work
This prototype could enable people to travel while working and get inspiration by changing environment. But can also make people more distracted.
By erasing commuting, it could benefit people to manage more easily their work life balance.
Overall, concepts focusing on empowering users score better on sustainable business KPIs at medium and long term.
New behaviours mean sustainable growth
Prototype allowing people to only work scored the worst when it comes to develop sustainable growth. Ideas about the Prototype "Working" were more concrete but revolved around the idea of working and having a new penetration of work in the life, by making it ubiquitous. There was only 1 idea about additional business opportunities.
Meaningful experience reinforced positive impact
Among the 4 prototypes, those who took into consideration user aspirations and frustration scored better in potential positive impact. They also have a higher potential in creating new behaviours and business opportunities.
Supporting hard and soft skills
Among the reinforced behaviours, most common ones were relative to brain performances, creativity, sharing and communality. Supporting people to learn, pure knowledge and literacy allows them to develop work related superpowers that are currently in high demand.
So that was it, few months of research summarised in 3 posts. There are obviously biases in it, limitation in the tools used (mostly due to time and knowledge) and the following ethical question:
"If people still want to work and watch Netflix in an autonomous car, shouldn't we just let them work rather than forcing or nudging them into another direction even though these activities are creating issues on a large scale?".
Happy to get your take on it, feel free to reach out on LinkedIn!
And again, to write this thesis in 2018 & publish in 2020 I've got support from a few people I would like to mention because they are amazing:
Rita Cervetto
Paola Craveiro
Nick de Jong
Robert Potts
Lauren Purkhiser
Mike Ryan
Paul Wagner
Alys Woodhead
& the teams at diffferent Berlin & Hyper Island UK


---
Designing problems by designing solutions [Part 3] was originally published in UX Collective on Medium, where people are continuing the conversation by highlighting and responding to this story.