[unable to retrieve full-text content]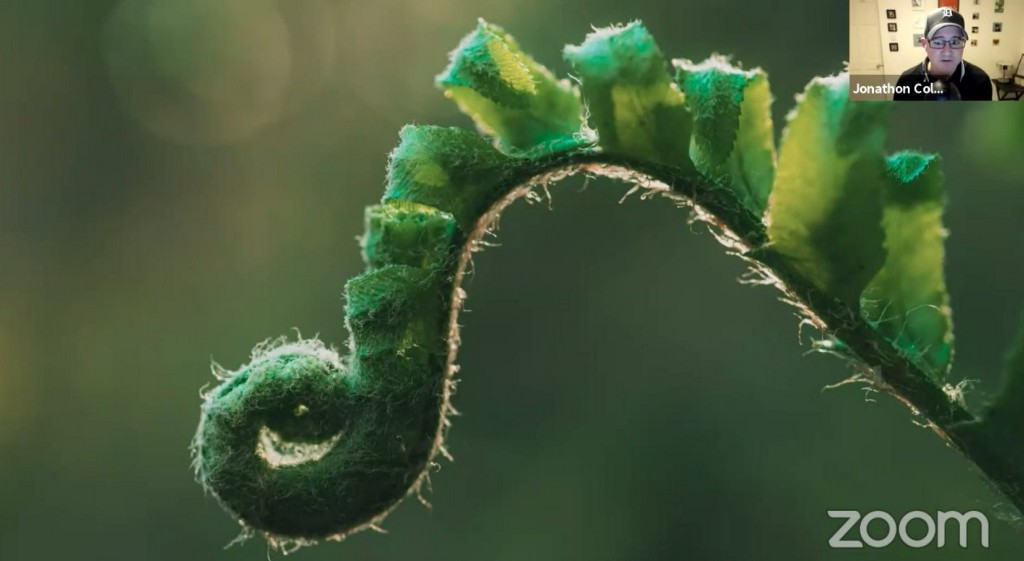 We live in difficult times… resilience is critical for all of us in our personal and professional lives. As DesignOps practitioners and leaders, we need to take care of the individuals in our teams, the teams we work with teams and the organizations.
The curation team for the DesignOps Summit by Rosenfeld Media acknowledges that designers need more support than ever before." For that reason, they picked resilience as the theme for DesignOps 2020. The conference program explored how individual DesignOps practitioners, teams, and organizations harness resilience to adapt, survive, and thrive.
This article highlights the key topics for Resilient DesignOps Teams.
"We have to focus on supporting health, our own, our team, and our organization, while navigating constant change"
— Kristin Skinner Co-author, Org Design for Design Orgs
Past, Present, and Future — Closing the Racial Divide in Design Teams
Vincent J. Brathwaite, Design Leader, Speaker, and Educator
We have to learn how to become more resilient and embrace the spectrum of our human experience.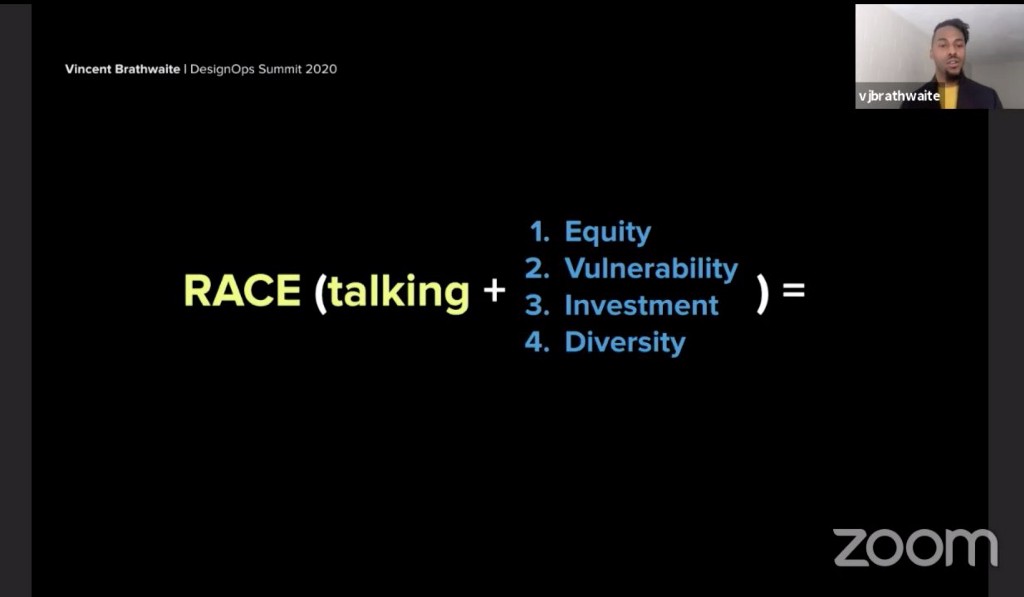 How might we create more successful design teams by closing the racial divide?
Communication and diversity are key to bring different perspectives in successful design teams
Structure and Communication = Success
When there is no structure or there is a breakdown in communications that lead to unsuccessful outcomes project failure, or people leaving the team. Folks avoid difficult conversations
Language, context, and structure help us close the racial divide by communicating effectively as a team
Equity requires everyone to treat each individual with respect, being fair and impartial
As a leader, you have to follow suit, be aware of the importance of race. Being vulnerable is difficult, but it allows people to connect.
Investment requires resilience, focus, and intent to make a change, and respond to a clear call to action
Diversity is important when we discuss race. It expands the dimensions of the team and the success of every team is achieved when every member of the team contributes
Hire people that don't look like you. Create succession plans that include people that are coming below you in the organizations
Closing the racial divide in the design team help us drive positive change
Diverse leadership teams and diverse board composition has a direct correlation with increased profitability
Race (talking + Equity, Vulnerability, Investment, Diversity) = Closing racial divide in teams
Creating Consistency Through Constant Change
Maggie Dieringer, Design Operations Lead, Uber Eats
The power to say no is a blessing in disguise, to sort through priorities under chaos.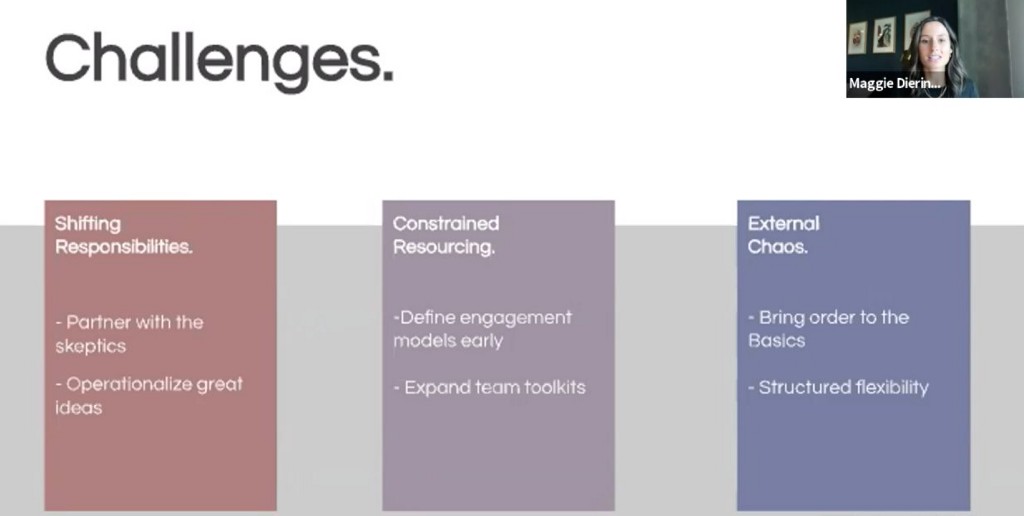 Resilience — our ability to pick up our teams back up over and over
Persistent challenges for DesignOps teams: Shifting responsibilities, constrained resourcing, and external chaos
Partner with skeptics, so you show the value of the #DesignOps work
When DesignOps teams own the product process, they gain visibility of roadmap and priorities
Designers care about the quality of their work, but have little time to prioritize "fixing things." We need to have a shared understanding of quality across teams
Teams value social responsibility in design
DesignOps clearly defines the engagement model, and how we are working with projects, mapping deliverables, and activities for each stage
Expanding the self-service toolkits to help scale the design team. An example, the self-service UX Research kit. Enabled the UX Research team to expand their remit to do strategic work.
DesignOps brings order to the basics — bring a sense of calm to the team in areas where there may not have been rules before. Provide a sense of organization to the design team
Things never stop changing — apply structured flexibility
IBM CIO Design's approach to project prioritization and measurement — Design staffing for impact
Patrick Commarford, Design Principal, IBM Design
The goal is not to put designers on the right projects. It is about concentrating on creating the right and positive experience for our employees.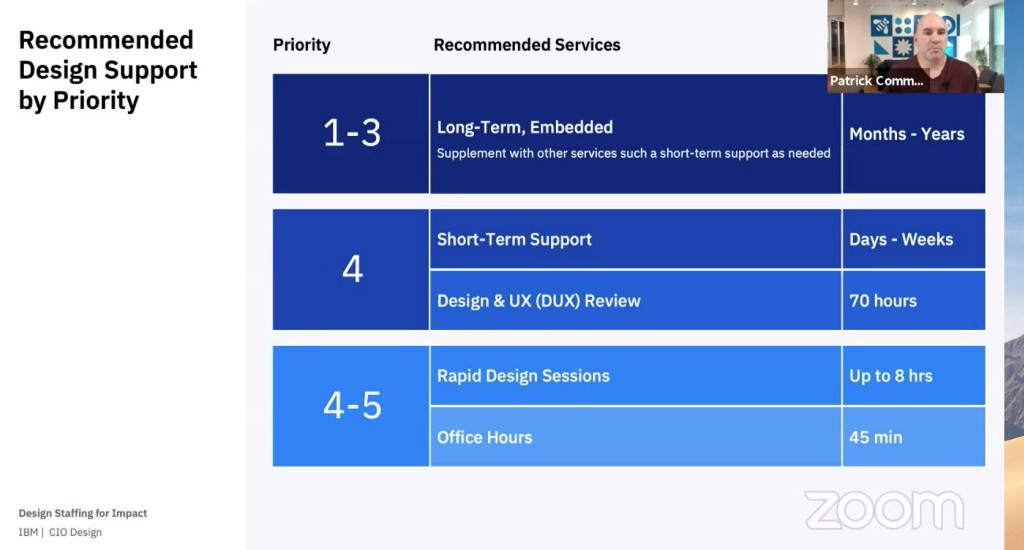 Your team is probably not large enough to staff all projects you have. We need strategies to define how we effectively staff teams
At IBM, we have Design Advisors, similar to Design Program Managers align with each portfolio
Demand outpaces the capacity — Design Advisors work with the portfolio and design teams understanding the approach to approving projects
We approve too many projects; the cue became long, almost like the DMV. Were we making the right decisions?
We need to improve the process of prioritization
Determining priority — rate based on criteria and then work with Global CIO and VPs of the domain to review. They only changed about ~4% of project ratings. Criteria: Number of users and how often they used a product — most objective and quantifiable
The Design Staffing Score combined priorities and helped us determine where we would fully staff a project
Immediate impact — move designers from lower priority projects to high priority ones
The project intake process is transparent. The decision is not to approve or reject, it is about to determine the level of support that teams get from design
Define and publish Design Support levels by priority
▹ 1–3. Long Term Embedded — Months to years
▹ 4. Short term support — Days, Weeks. Design & UX Review 70 hours
▹ 4–5. Rapid Design Sessions — Up to 8 hours. Office hours — 45 min.
Key Takeaways that you can apply in your team:
understand your org goals
align on key metrics
Weight appropriately
Decision making body
Review & Iterate
Communicate, be transparent
DesignOps + KPIs = measuring your impact
Patrizia Bertini, iXD Design Operations Lead, Intuit
A hypothesis driven approach is key to find the patterns for change — We have to keep experimenting, measuring and finding new ways to do things.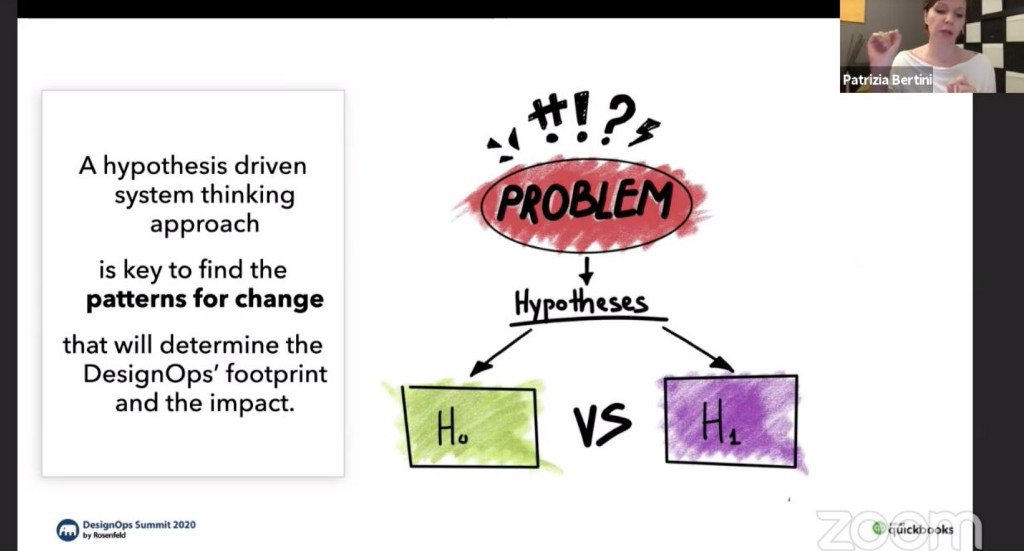 What is your impact? What is the DesignOps footprint?
DesignOps creates and delivers value to the customer. Our customers are the people that benefit from our work: design leads, business partners, and designers in the teams
Most of the time, we think about value in terms of money. However, we have to think about that a big part of our value is QUALITY
Value is not universal, it depends on the relationship, it depends on the context
Context guides how we create strategies and how we plan actions. This is how we determine what is valuable to the DesignOps customers
DesignOps can measure efficiency in different dimensions — Time, Cost & Resources, Quality & Scope
Assessing #DesignOps impact — What are your strategic goals? We have to know where we are going, align to our strategy
For every customer, we have three value dimensions, and it can replicate and escalate… We have to view this from a system thinking lens perspective, it is complex, and it should scale, replicate…
Hypothesis: If #DesignOps gives designers more time, quality would increase, designers will be happier, and sped of innovation would increase
The key takeaways:
Understand the right KPIs
Understand the relationships
Drive the experiments with the hypothesis
How to Maximize the Impact of Content Design
Jonathon Colman, Senior Design Manager, Intercom
We don't have to be defined by our problems. Failure is a far better teacher than success. Where there is life, there is hope.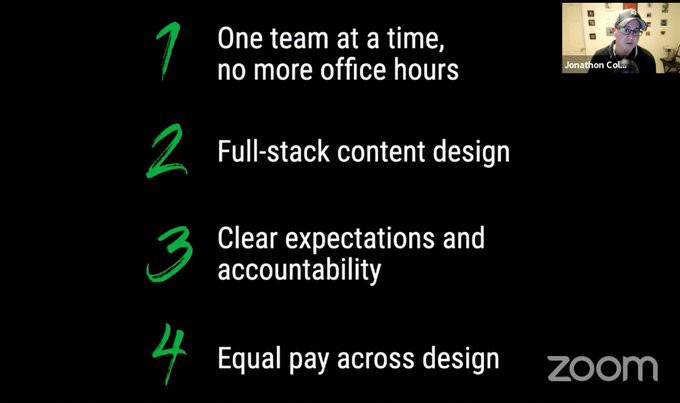 Content design challenge: brought to projects to "dust some content…" taking care of things like voice and terminology, rather than focusing on the why and the how
Content design often is solving a problem for the org, and not for real people…
Many content strategies are spread thin, and do not have time to focus on on understanding the experience of each product…
Key content strategy problems — Underpaid, under-recognized, unfulfilled potential
Lack of Focus
Less Context
Role confusion
Less depth of work, lack of trust
Less opportunity for product impact
Unclear career paths
Less pay than your peers
Burnout
Developing a growth mindset for product designers and content designers should be the same. The only difference found was in the area of design execution. We have to focus on the impact that we create.
4 key takeaways for content designers based on applying DesignOps
Support one team at a time, no more office hours
Develop full stack content designers
Set clear expectations and accountability
Equal pay across design roles
Tradeoffs for content designers
The majority of products do not get content design support
Know your product spaces as product designers do
Content designers can no longer work on the entire product ecosystem
Team Resiliency Through a Pandemic
Ariba Jahan, Director of Innovation, Ad Council
Establishing a culture of trust is key to create the conditions for our people to feel valued and cared for. It cultivates an environment of belonging, contributes to retention and employee satisfaction.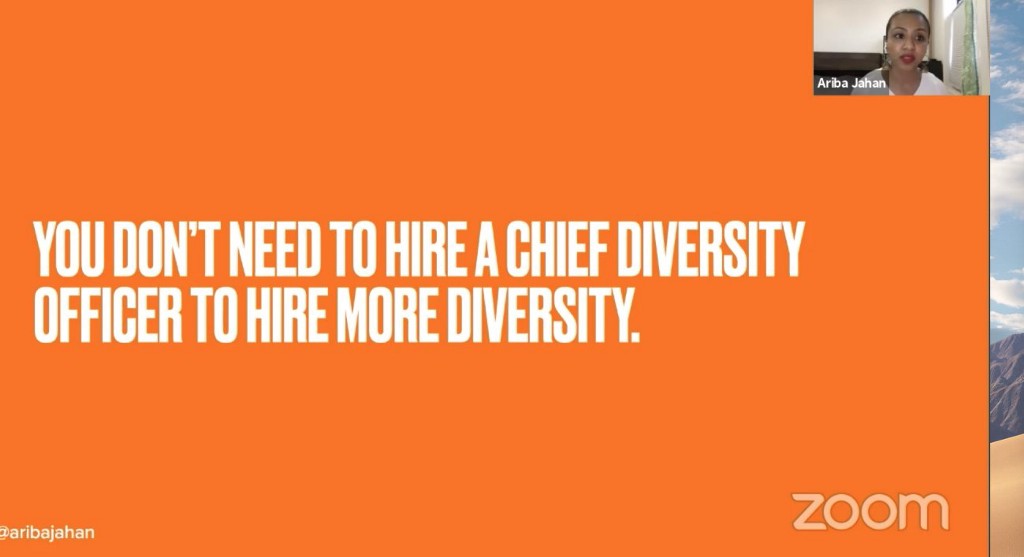 Resilience keeps people charged when we are experiencing an unprecedented level of charge, through difficult times, while survival leaves us completely depleted
Resilience needs to be practiced over time, not just once and done
Through a pandemic, we have to understand where we start… home and work boundaries disappeared; they became one of the same.
Checking in with the team helps us understand where we are, and identifying how we feel, how overwhelmed we are.. We need to create space to allow us to stop pretending that everything is OK, and express ourselves with the reality
Understand what skills the team wanted to leverage and how to lean on each person for a particular aspect
How do we communicate? How do we use different l channels? What team norms can we leverage to provide the team with headspace to emotionally recharge?
We co-created a plan to create the headspace the team needed to conduct research sessions with active listening and empathizing with our users. We needed to put their needs and give them the value of the experience they expected
Space for reflection is so important to create a level of compassionate leadership towards our colleagues
As leaders, we need to cultivate self-resilience; it's like putting your oxygen mask before you help others. We need to give ourselves the space to identify our own signals of burnout.
We have to communicate transparently, acknowledge the needs of our team and ourselves and cultivate the norms to create the space to connect and recharge
Trust, balance, and communication are quite different in a pandemic situation in comparison to normal working remote conditions.
Create the conditions to hire for diversity, whiteout the need to hire a Chief Diversity Officer
Designing Distributed: Leading Doist's Fully Remote Design Team in Six Countries
Ana Ferreira, Head of Design, Doist
One of the most important things we can do as leaders is to create space for deep work hours every single day — for our team and for ourselves.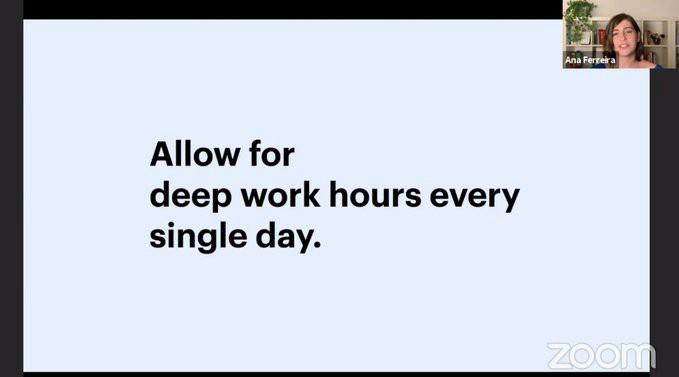 Remote work is not the same as working at how during the COVID19 pandemic
Trust, balance and communication are quite different in a pandemic situation in comparison to normal working remote conditions
Without trust, nothing positive happens Trust is a two-way aspect between the organization and the employee
Keys to building trust, high trust culture:
No employee tracking
No working hours — design our work around our life
No online indicators
Flexibility does wonders for mental health
Transparency
Balance — without balance, we go to burnout and people turnover, No time to do actual work, video meetings are pretty draining
Communications defaults to asynchronous first… it allows people to participate, expectations are set that an immediate answer is not expected
1:1 meetings require an agenda, preparation and focus on the topics to discuss to maximize the time we spend face-to-face
Operating with Purpose
Allison Sanders, Senior Program Manager, Mailchimp
Allow people to learn, train and grow… people will stay longer in an organization if they see that the company invest in them, in their growth.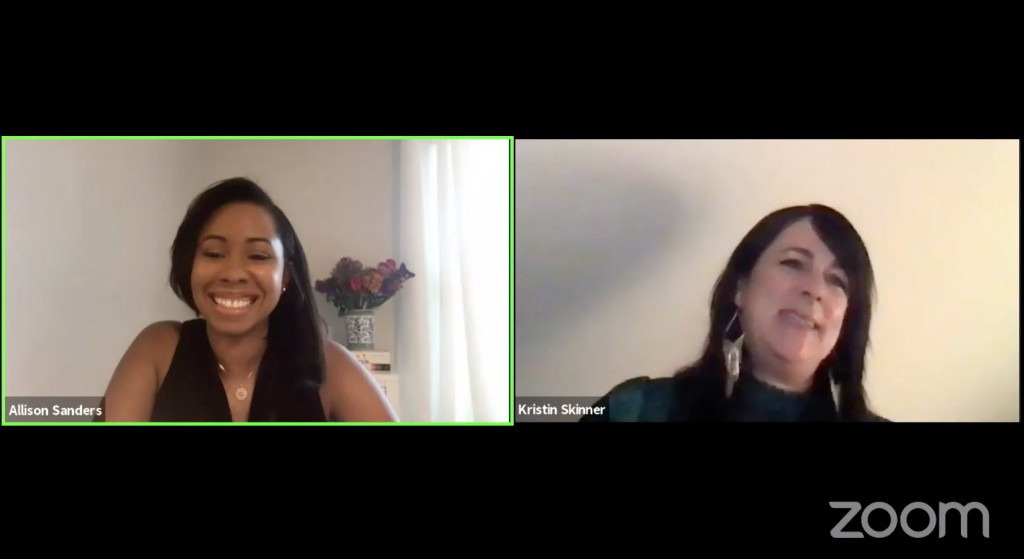 A person's onboarding experience to an organization has a direct impact on their trajectory and perspective in the organization
Onboarding gives us an opportunity to give people to see what is important to the team and the organization
Onboarding helps shake off bad habits
Gives mentors and new joiners the opportunity to connect
Gives people a person to reach out to
Self-reflection is important for both your personal and professional life…
Your work suffers when you do not have a purpose. You notice, people notice, and it has an impact on your professional and personal life
A lot of us fight for deeper meaning and feel the need to validate ourselves
Having a deep sense of purpose leads to a longer, healthy life
Connecting behavior to service drives an improved commitment to drive your own behavior as it impacts other people around you
We model the behavior so people have the space to keep growing and keep learning
The DesignOps Summit #DO2020 #DesignOps is an event curated by Rosenfeld Media.
I lead the Global Design Operations team at JPMorgan Corporate & Investment Bank. I help Design teams amplify their strategic and business impact. Follow me on Twitter @jcoronado1·


---
Building resilient DesignOps teams was originally published in UX Collective on Medium, where people are continuing the conversation by highlighting and responding to this story.