Our insatiable thirst for data grows more rapidly than our ability to understand it; and as we're exposed to more rich media, build and grow businesses faster and connect more with our expanding digital world, there's a growing desperation to keep track and make sense of it all. There's more stored data and content created in the last couple of decades than the rest of the entire intelligent human history thankfully to the rise of social networks, blogging platforms, mega businesses and the boom of the app ecosystem. As a result, the average individual and business person is not only just listening to the radio or reading the daily newspaper but is now being pushed thousands of messages and data points every day.
In addition, businesses today thrive on having access to not necessarily all, but the right data at the right time; keeping track of competitors, monitoring customer morale and being in the know of industry trends. Many of us keep track of everything by logging into a myriad of apps and websites to access everything we need. Unfortunately, this presents a broken view of our digital world and businesses as we're overwhelmed by the flood of data from everywhere and the inability to seamlessly connect data sources for a truly inspired and cohesive view of the whole.
Thankfully, Dash is a solution that will help you quickly create real-time dashboards presenting only the data that matters to you or your business via an intuitive, easy to use and visually appealing interface.
Data Important to You in One Convenient Location
Dash allows you to pull data from lots of popular apps that you're already using like Gmail, Google Analytics, Twitter, News apps and websites, iTunes app store, Chartbeat, Github and even visualize data from your Nest account linked to your home products. In addition, the powerful tool allows you to create custom widgets for customizing your own data visualizations, custom charts, leaderboards and sets of data.
You can create an unlimited number of dashboards that allow you to specifically display only the data that matters to you. One dashboard can present traffic statistics from your website, show recent mails via your Gmail account, keep track of conversations from Twitter, pull and show news on a specific subject, view live spreadsheets from your Dropbox account and present data from your own JSON based API from another website.
In a quick glance you're able to review information from different sources saving you the hassle of logging into 10 different apps and accounts.
Power of API Integration
Most apps offer API's that give developers the power to use their data in whatever manner they please, and Dash takes full advantage of this. Every individual's data needs are different and businesses will especially require highly customized presentations of data for understanding markets and generally being in the know on company vitals.
If you're feeling courageous, here's a huge directory of API's on the web you could try to integrate with Dash and see its full power.
Rich UI & Visualization
The developers of Dash have done an awesome job at creating a beautiful user interface without going over the top. The beauty is best expressed in the tool's ability to present data in easy to digest formats, whether you're better at consuming charts and other visually appealing widgets or prefer tables and text.
Dash also looks awesome on mobile devices or that big screen in your office used to monitor metrics to keep your team pumped and on target.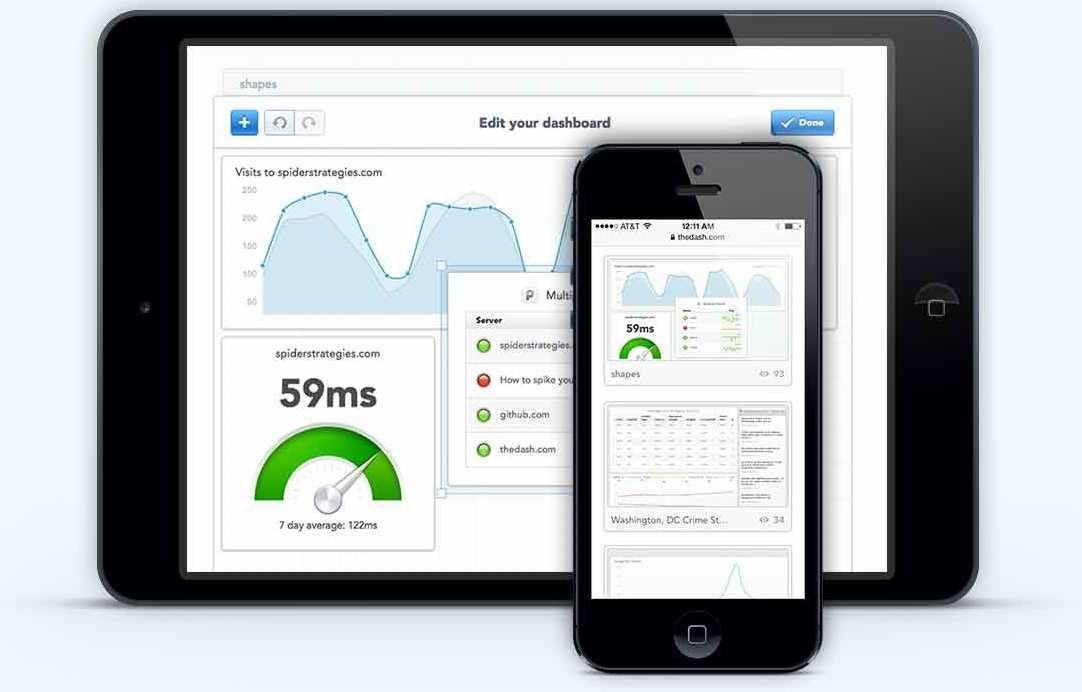 Once you've created your custom dashboard and perspectives, you can also share your work with the world by making boards public.
Who is Dash Suitable For?
The Dash dashboards tool is suitable for anyone who wants to gain control over the noise that exists on the web. It's great for the everyday consumer who wants an easy way to consume news from the sites they love and the business person who demands deep and specific insight into their business.
Dash is available in 2 versions with the basic account offered for free forever and the business account giving you the ability to create an unlimited number of private and public dashboards, setup custom dashboard access permissions and team management.
Go ahead, give Dash a try and start streamlining your data in a few clicks.