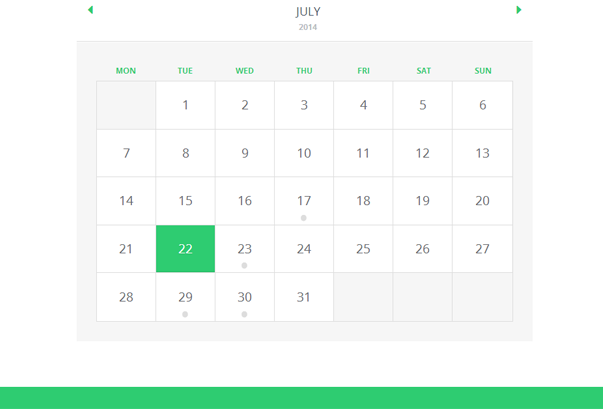 WordPress site to be able to work as a full blown event management or booking management system, let me tell you that it's a 100 percent possible. In this post, we're going to take a look at some free and premium plugins that fall under this category. These plugins will extend your WordPress site's capabilities to book events, make appointments and reservations and sell tickets to concerts and plays.
The Events Calendar

Developed by Modern Tribe, The Events Calendar is one of the most feature-filled freemium WordPress calendar plugins available, closing in on a million downloads. The core plugin is free, whereas the premium one is better by leaps and bounds.
It is used by many Fortune 100 companies. The developers have even deployed this plugin on government institutions, major universities and Fortune 100 companies. Apart from this, thousands of restaurant, churches, bands and schools use this plugin.
Features:
Create events, venues and organizers
Calendar month view with tooltips
List view
Event search
Google Maps integration
Upcoming Events widget
Events Taxonomies (Categories & Tags) – just like in WordPress posts
AJAX powered, responsive design
Modern Tribe likes to call their work "for developers, by developer" or "for people who build sites with this plugin". They've put in some serious firepower for the developers as well:
"Debug Mode" for developers
Extensive use of template tags, hooks and filters
Multiple style sheets  like Skeleton, Default and Tribe Event Styles to improve integration
The premium features of this plugin, Events Calendar PRO retails at 65 USD for 1 site and contains some badass guns:
Download The Events Calendar » Buy ($ 65) »
Booking Calendar

Booking Calendar is a very simple, free booking plugin that lets visitors simply book an appointment or an event. It is customizable via the plugin's very own admin panel and is suitable for a wide range of business.
Features:
Responsive design
No connection to third-party accounts, your data is stored in the WordPress database
Intuitive Booking Admin Panel with multiple view modes (Calendar Overview or Listing Table)
Sort bookings with a variety of parameters like day, month or year
Email notification when a reservation is made
Pagination support
Ability to Accept or Decline bookings
All-in-One Event Calendar

A fierce contender to The Event Calendar, this freemium plugin contains a plethora of useful features to fuel your creative fire. The most striking feature is the ability to embed the calendar on other websites. Its usual features include booking events, purchasing tickets, two-way synchronization with other calendars. It also seamlessly integrates with Facebook and Twitter. The plugin includes a Bulk CSV Import feature which can be used to import/export events.
Features at a glance:
Import calendar events from Facebook, Google Calendar, iCal and Outlook
Subscribe to other events using an ICS feed
Responsive design
Multiple end-user views like Monthly View, Stream View and Posterboard
Use shortcodes or div elements to include the calendar in your WordPress theme – works for everyday users as well as developers!
Users can create events
Customizable themes
Useful Add-ons with the ability to buy in bulk
Download All-in-One Event Calendar » Buy ($ 75/month) »
My Calendar

My Calendar is a free plugin used to generate and display calendar events from multiple calendars on pages, posts or widgets. The plugin is customizable as it allows calendars to be displayed by categories, locations or author, or simple lists of upcoming events.
Other awesome features include:
Supports individual event calendars within WordPress Multisite
Custom CSS styling to match your theme
E-mail notifications
Post to Twitter upon events creation
Page specific JavaScript display and CSS styling options
Multiple widgets like today's events, upcoming events, compact calendar and event search
WP Permission Slip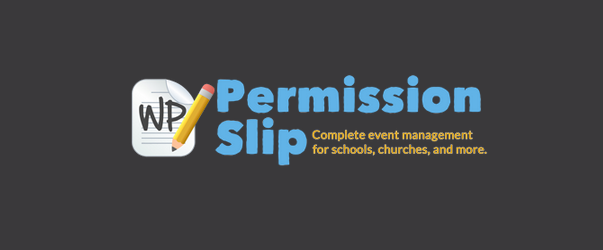 Developed by Fly Plugins, this premium plugin retailing at $ 27 for a single site license, is a powerful event management solution. It focuses on school activities like field trips, camps and performances. Event management features include filtering events by categories and student grade. You can also set attendance limits, event registration (including a payment portal) and event coupons.
It also includes unique features like Student management dashboard, Downloadable attendance sheets, event rosters and customization registration and release forms.
This is a perfect plugin for academic institutions and can be extended to small office use as well.
Buy WP Permission Slip ($ 27) »
CalPress Calendar

CalPress is an intuitive event and calendar management plugin for WordPress with features such as Facebook integration, social sharing, and multiple calendar views. Other features include:
Google Maps integration
Import ICS feed from Google Calendar
Social sharing of calendar events on multiple networks
Add events to Google Calendar, Outlook and iCal
Subscribe to calendar events
There's a premium version of this plugin which features unique features such as Attendee Management, Event Ticketing and a whole lot of extra features. The price is a tad bit on the higher end, but the upcoming features like SMS reminders make up for it.
Download CalPress » Buy Now ($ 39) »
EventOn – WordPress Event Calendar Plugin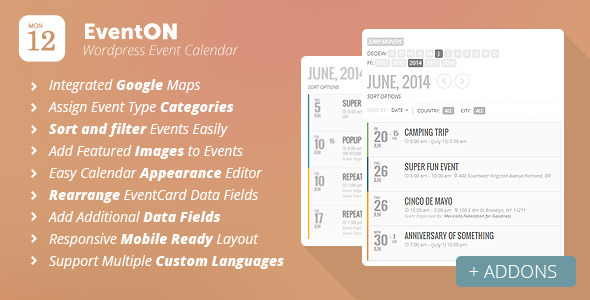 EventOn is the bestselling calendar plugin on CodeCanyon, with over 7000 sales. It includes a ton of useful features such as featured images for events, shortcode generator, unlimited event calendars, custom meta fields and features events.
Add-ons include useful extensions such as selling tickets, RSVP to events and CSV importer. Some of the features are available for free in other plugins but considering the one-time cost, it's an effective trade-off.
Booking System PRO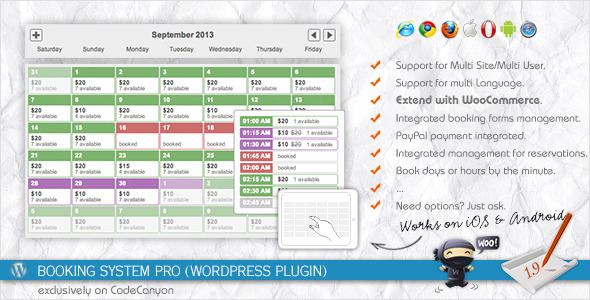 Booking System PRO is an advanced appointment management plugin for WordPress. The booking duration includes both days and hours – which makes it perfect for hotels and doctor appointments (and a whole lot others). Other features include:
Payment processing via PayPal
Supports WordPress Multisite
Custom Post Types are included
Set preferred currency
WooCommerce compatibility
Multiple email templates and CSS templates
Buy Booking System PRO ($ 35) »
Calendarize It!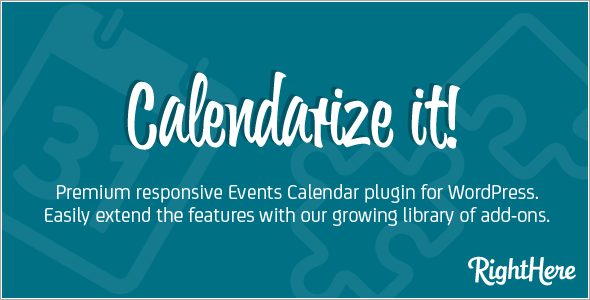 With Calendarize It! customizing the calendar design is especially easy thanks to the free Visual CSS editor add-on. The plugin includes advanced filtering based on many taxonomies like time, organizer and venue. You can list events based on day, month or year and view upcoming events via the widgets. The plugin also supports managing user role capabilities, custom post types, multiple shortcodes and custom fields for events.
There are a couple of paid add-ons at $ 15 each, which includes payment options, adversising options, RSVP events, ratings and reviews and many more.
BookingWhizz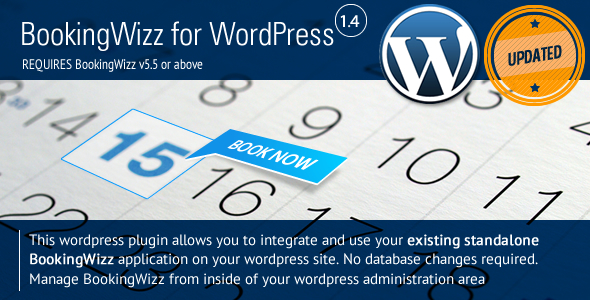 The developers actually started this plugin as a standalone PHP script for event management. It can be used to integrate into any website. The actual WordPress plugin is available as an add-on ($ 15) and must be purchased in addition to the actual PHP script ($ 35). So you're spending a total of 50 USD which is good if you want to use it in your other sites/projects.
There are a few useful add-ons like Credit Card Payments, SMS Reminders and Event Tickets which are sold separately and works for the standalone as well as the WordPress version.
Buy BookingWhizz ($ 35) » WordPress Addon ($ 15) »
Event Booking Pro
Event Booking Pro packs a ton of features for 27 dollars. Its unique features includes unlimited events, offline payments and lazy-load calendars. Like most premium calendar plugins, it has PayPal integration, AJAX support, responsive design, visual editor, multiple shortcodes and customizable email notifications.
Buy Event Booking Pro ($ 27) »
WordPress Pro Event Calendar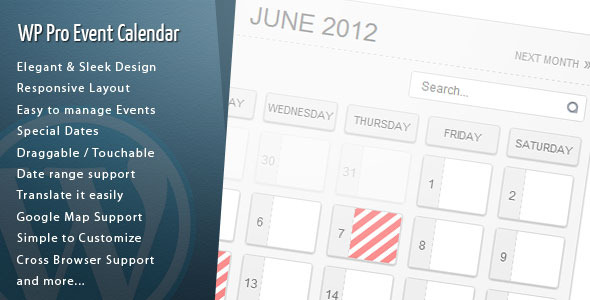 Pro Event Calendar is the cheapest premium calendar plugin in this list, with packs a whole list of useful features. Most noticeably, it has touch, drag-and-drop support, special dates and is fully responsive. Other features include:
Users can submit events
Google Maps integration
Upcoming Events widget
Export to iCal
Buy WordPress Pro Event Calendar ($ 15) »
Events Registration Calendar Plugin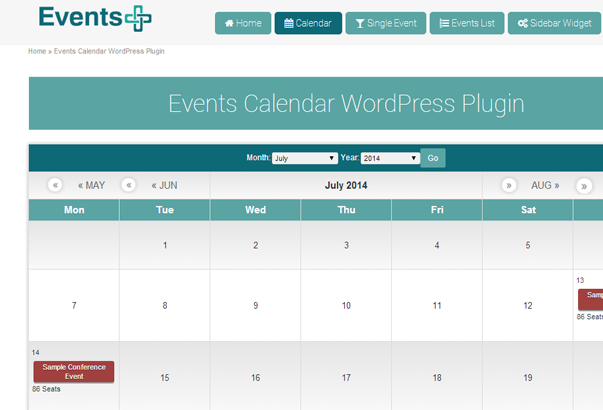 Events Plus allows you to easily create and manage your events online through WordPress admin interface. Allow visitors to register and pay online for events, manage attendees, discount coupons, export attendees list, and much more.
Full Details & Downloads | Price: $ 24
Booki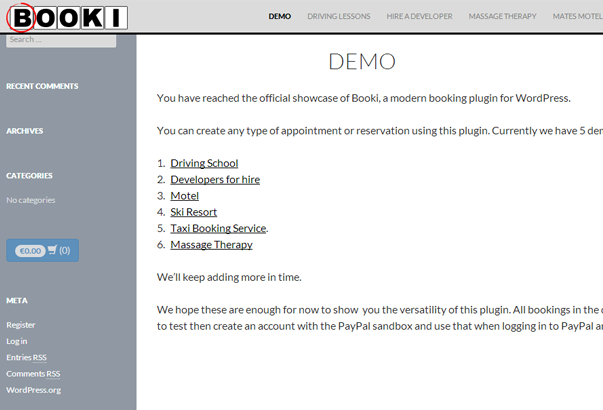 Booki allows you to create bookings with time that adapt to customers timezone. Lets say you are located in Asia or America and the customer viewing your booking is located in Europe. Booki will calculate the time differences and show the time to your customer in the customers local time. Cool eh ?
Booki has a built-in forms builder complete with validation and bells and whistles. This means you can create solutions to almost any type of booking system.
Full Details & Downloads | Price: $ 25
Bookly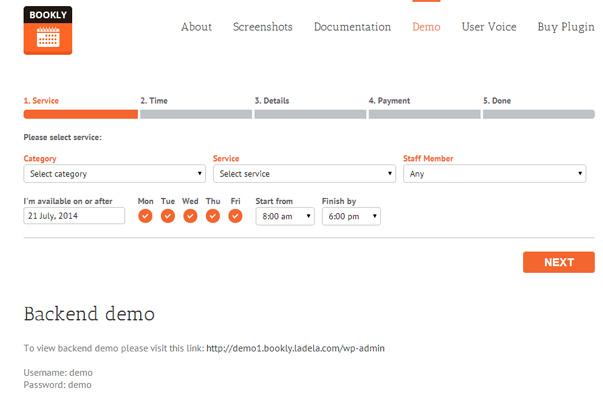 Bookly Plugin – is a great easy-to-use and easy-to-manage booking tool for Service providers who think about their customers. Plugin supports wide range of services, provided by business and individuals service providers offering reservations through websites. Setup any reservations quickly, pleasantly and easy with Bookly!
Full Details & Downloads | Price: $ 25
Book a Place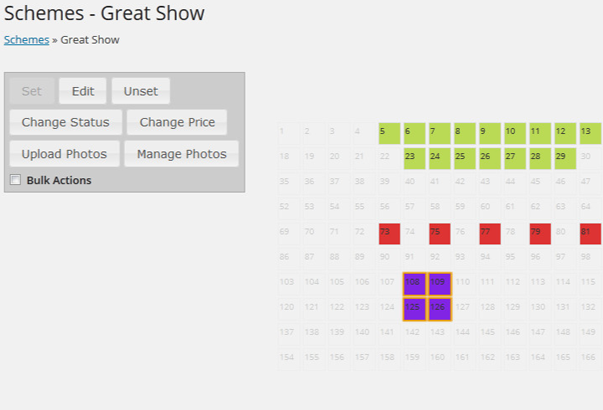 Book a Place plugin is very easy to use by both parties: users, who want to book a place, and administrators, who create a scheme, add places, set prices etc. Moreover, there you will find powerful event manager.
Full Details & Downloads | Price: $ 15
X Calendar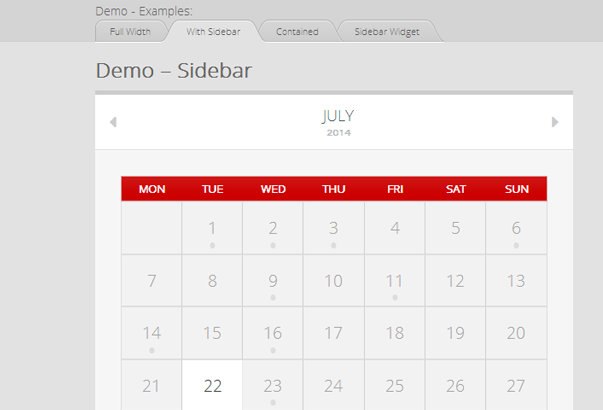 X Calendar offers a range of features with preset styling, 2 calendar views, event listings, cool effects and much more.
Full Details & Downloads | Price: $ 22
ez Schedule Manager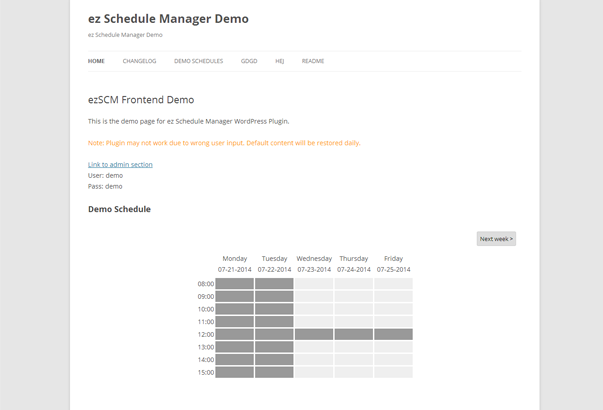 ez Schedule Manager is a WordPress plugin which allows you to manage incoming schedule requests. In case you offer contact requests or simple booking on specific dates or times, this is the right plugin for you. Guests are able to view your public schedules where they can choose their own time for requests. Admins have an overview of their schedules with all public requests in a week.
Full Details & Downloads | Price: $ 16
Seat Booking System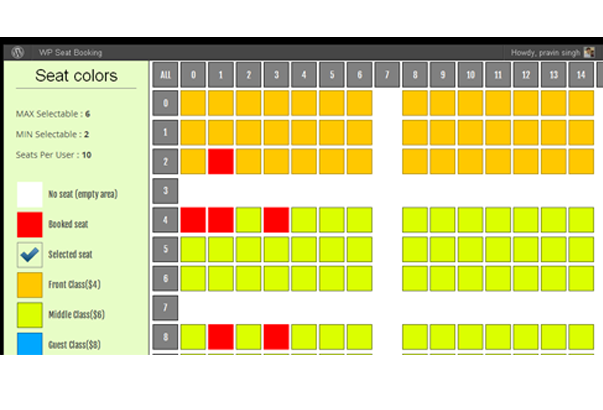 The plugin allows you to create a seat booking system, that can be applied to anything where you need seats i.e cinema halls, buses, trains, shows, etc. It allows admin to design the interface as per the need. The customers(users) can see that interface to select seats and process them. Here are some of the features
Full Details & Downloads | Price: $ 18
Event Booking Pro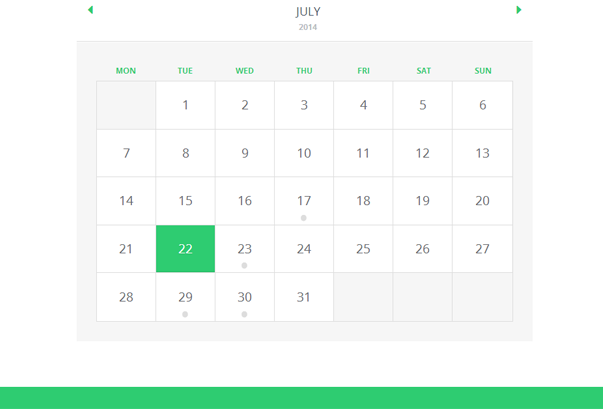 In addition to the ability to book events for a number of venues the plugin comes equipped with Google Map integration.
Full Details & Downloads | Price: $ 27
Booking System PRO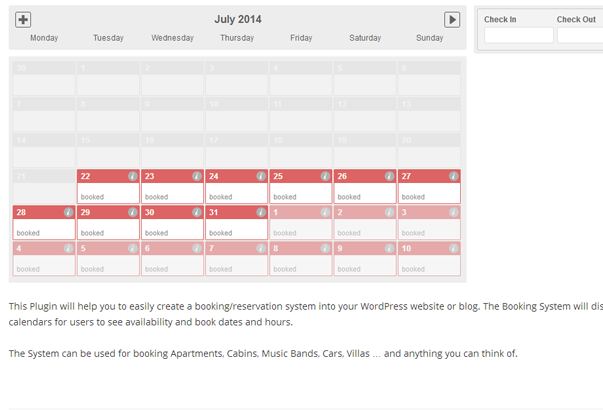 This Plugin will help you to easily create a booking/reservation system into your WordPress website or blog. The Booking System will display calendars for users to see availability and book dates and hours.
Full Details & Downloads | Price: $ 35
Online Hotel Booking System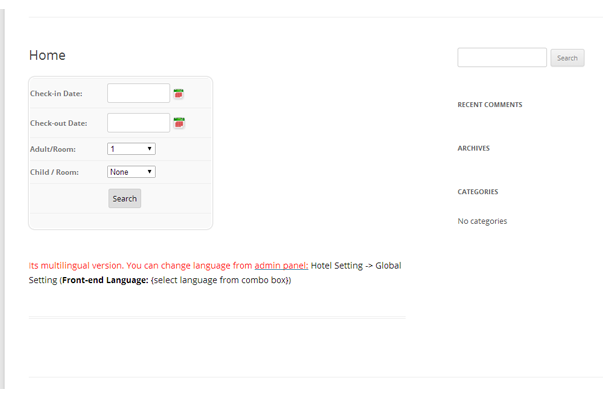 Online Hotel Booking System is powerful booking engine for single hotel. Powerful hotel reservation system with real time availability and room booking functionality. You can easily integrate with your website or new template. You can manage room, room types, capacity, hotel rates with different date range and month wise advance payment feature. Online reservation manager at the back-end with invoices.
Full Details & Downloads | Price: $ 25
WP Booking Calendar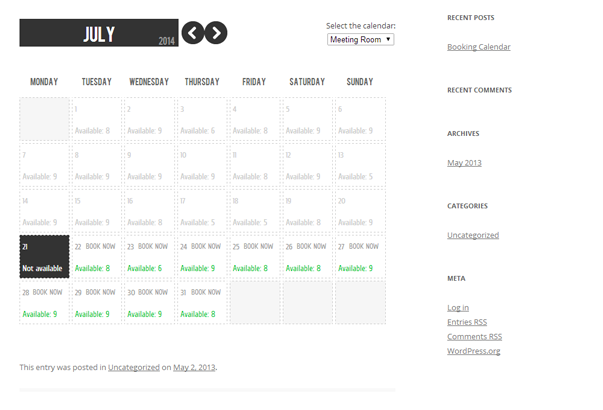 Booking Calendar helps you to easily add to your own wordpress website a powerful and simple booking system to in a few minutes.
Full Details & Downloads | Price: $ 15
Conclusion
Calendar appointment plugins are extremely useful when you want to sell time-specific events via your site. This could range from consultation services, tuition classes, doctor's appointments or even tickets to concerts and other events. Most of these plugins have the basic features in common, while some advanced features such as selling tickets, RSVP events and CSV import/export are available as premium add-ons.
I would suggest making a checklist of the features you want from this plugin and then cross check our list of plugins to select the best ones.
Over to you – do you have any awesome plugins you want us to list? Please let us know! In the meantime, happy trails time traveller!