Scaling design is one of the greatest challenges faced by product teams today.
That's because design just doesn't scale like engineering. As teams, products, and processes grow, things eventually break.
Despite how daunting the challenge seems, plenty of companies have adapted their own best practices over the years. Now they're going to share their stories with the world.
On Oct 3-6, UXPin is hosting its third virtual event: UX at Scale 2017. Learn from 15 UX leaders at Atlassian, Salesforce, Airbnb, GE Digital, IDEO, Google, ADP, Linkedin, Shopify, Autodesk, Forumone, Athena Health, and even the US government's internal digital agency (18F).
Thanks to sponsorship from Salesforce and Atlassian, the ticket price of $800 is waived – the event is totally free to join.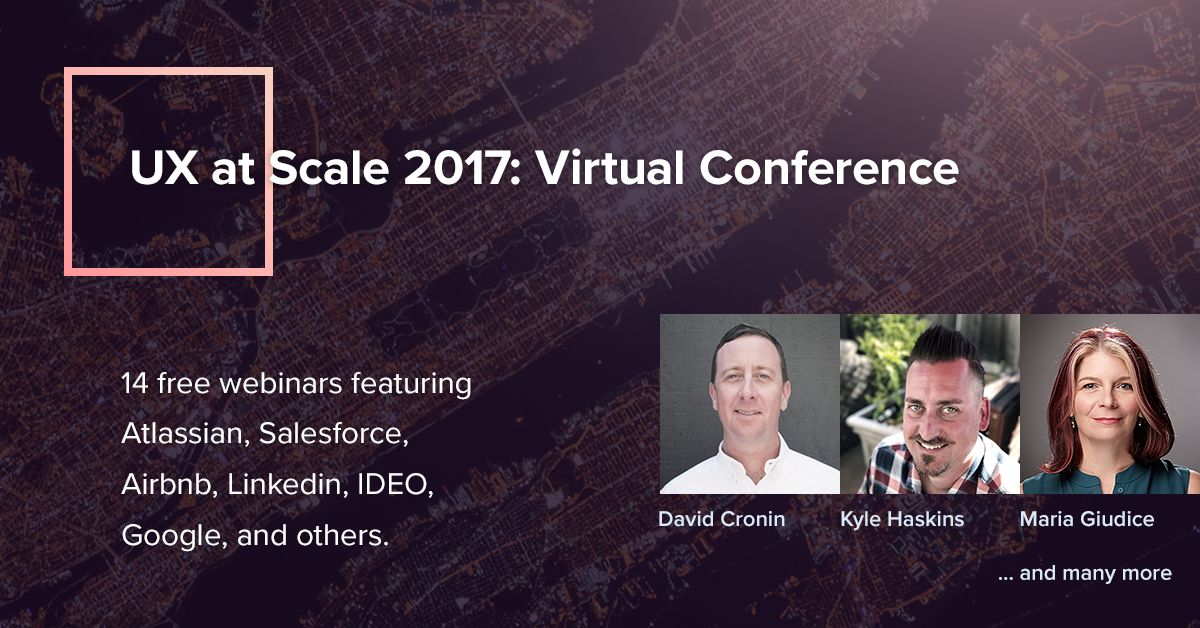 Topics include: design systems, building UX teams, calculating UX ROI, automating processes, crafting design culture, cross-functional collaboration, and more.
The 15 handpicked speakers include:
Maria Giudice – VP, Experience Design at Autodesk
Kyle Haskins – Director of UX at Salesforce

Alastair Simpson – Head of Design, Confluence, HipChat and Platform at Atlassian

David Cronin – VP of UX at GE Digital
Russ Unger – Experience Design Director, 18F (U.S. Government)
JonDelina Buckley – Principal, UX Strategy & Research at ADP
Amy Parnell – VP, Experience Design at Linkedin
Dr. Laura Granka – UX Director, Google