In a modern world, most of the companies and business organizations realize the importance of the UX design support on a website. These companies are investing huge amount in developing attractive UX designs that enable their website to deliver a good user experience in a custom website development.
In a digital world, user experience has turned slang in the custom web designing platform that satisfies every visitor needs and ensures positive result of their interactions.
In order to present a great user experience, UX design is a best platform to provide maximum interface and skillfulness for users. Be careful that your design includes all the essential elements that satisfy user needs exactly what you want.
Here we look out some of the essential elements that help you to create a successful UX design.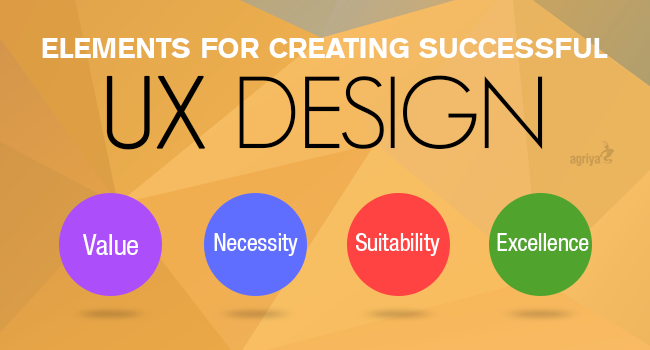 Value
As matter of fact, understanding your web presence value is a target point of your audience. The key point of the visitor is offering the best values that ensure attractive customer base loyalty. You must be focused on specific statistics that bring huge traffic to your website consistently and display your web-page with simple content.
Necessity
You may lose your customers because of a poorly designed website. Check that your website must be well-structured and user-friendly for users to interact and access it. Follow the path how Facebook changed the role of social media platform with its dynamic presentation, attractive user-interface, minimal content of additional services like messenger and creating a profile page for many users. Recently most of users staying tuned and touch with friends and family via social network sites.
Suitability
Attractiveness and worthy of your service will be harmed or abused due to creativity of worst-designed website. If your website is developed with complex coding, then any user cannot access in certain browsers systematically your web-page will lay down on search engine rankings and declines to upload valuable multimedia content on the sites. This concept ensures the role of suitability.
Excellence
Milestone for every web designer is virtue creativeness of a single element either content or design that is bind together. Your web presence looks amazing appearance if you designed the website by using a robust user interface and sophisticated technologies. A grant-look store-frontal and high-confidential secure for trade ensures loyalty or support in sales. Your influence and distinction can become widespread among the user base by creating logical and intelligible brand-name of the website.
Final word
The essential factors of user experience to discuss main requirements and needs of your targeted visitors from starting stage of custom custom website development. A key role of these essential elements permits effective and dynamic design projects to work with high functionality and great performance.