The ornamental Art Nouveau design style emerged in France in the late 19th century and became widely popular across Europe, with the style applied to art, architecture, posters, jewellery, furniture, and textiles.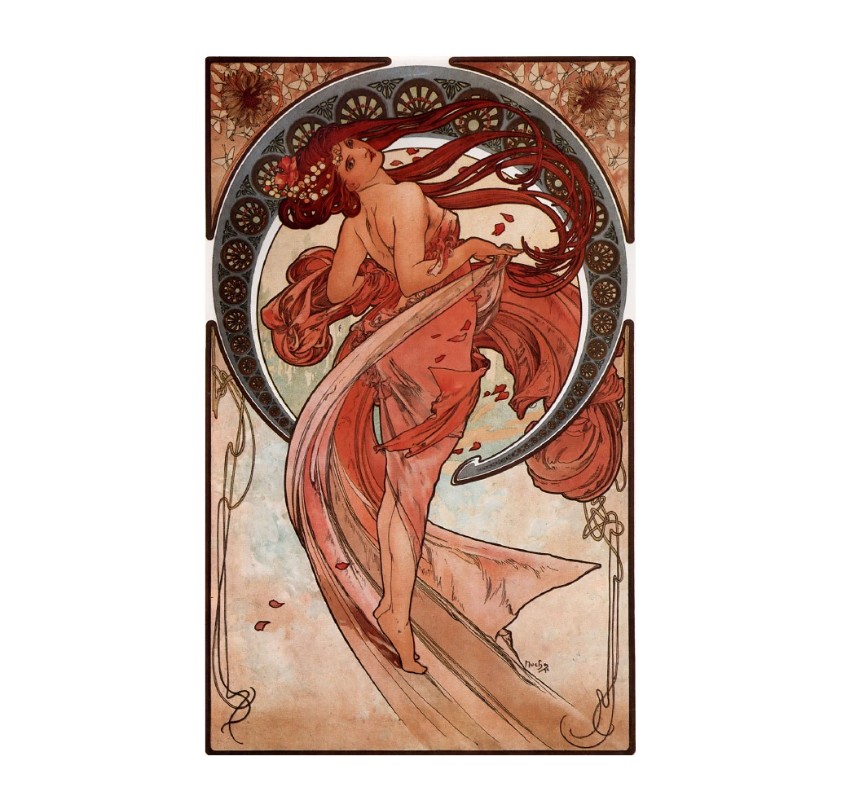 Although Art Nouveau had fallen out of fashion by 1910, contemporary designers and illustrators are now revisiting and modernising the style to bring an emotive, romantic quality to their work.
Here, we'll look at the defining characteristics of the Art Nouveau movement and how you can emulate the style in your own designs. 
Love the Art Nouveau style? Make a head start on creating your own decorative designs by picking up borders, patterns and fonts in the Art Nouveau style from GraphicRiver and Envato Elements.
Follow along with us over on our Envato Tuts+ YouTube channel:
What Is Art Nouveau?
Towards the end of the 19th century, some artists felt limited by the style of 'academic art' which had been popular for many decades. Initially in France, a few artists broke away from the rigours of the old academic style and started to create art that explored organic, highly decorative forms in a more stylized and sensual way.
In 1895, the art dealer Siegfried Bing opened the Maison de l'Art Nouveau, a new art gallery in Paris. Through the gallery, Bing sold fabrics designed by William Morris and glassware by Tiffany, and showcased paintings and furniture in the Art Nouveau style. 
The style became hugely popular, not only in France but across Europe and America too. Artists like Alphonse Mucha helped to popularise the style by creating advertisements and postcards in the Art Nouveau style, promoting cigarettes, alcohol, and confectionery.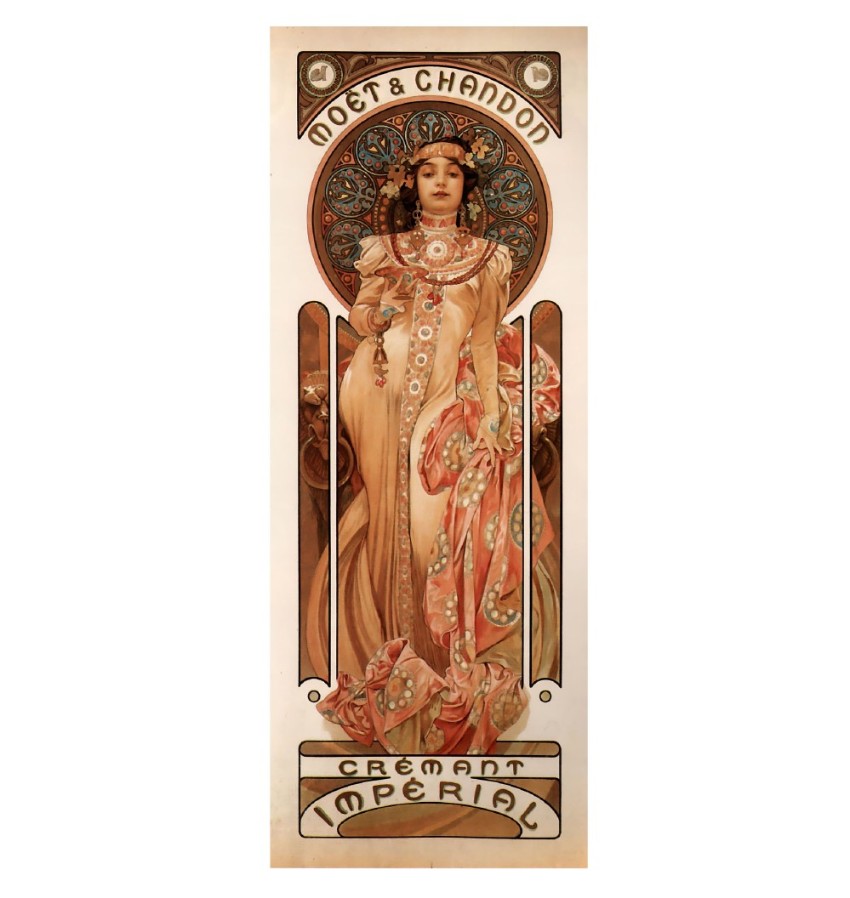 Art Nouveau was a total art form, meaning that its influence could be seen across a wide range of fine and decorative arts, including architecture, furniture, and illustration. Inspired by the curved, organic forms of plants and flowers, Art Nouveau is a highly decorative, romantic and ornate style which is undeniably very beautiful to look at.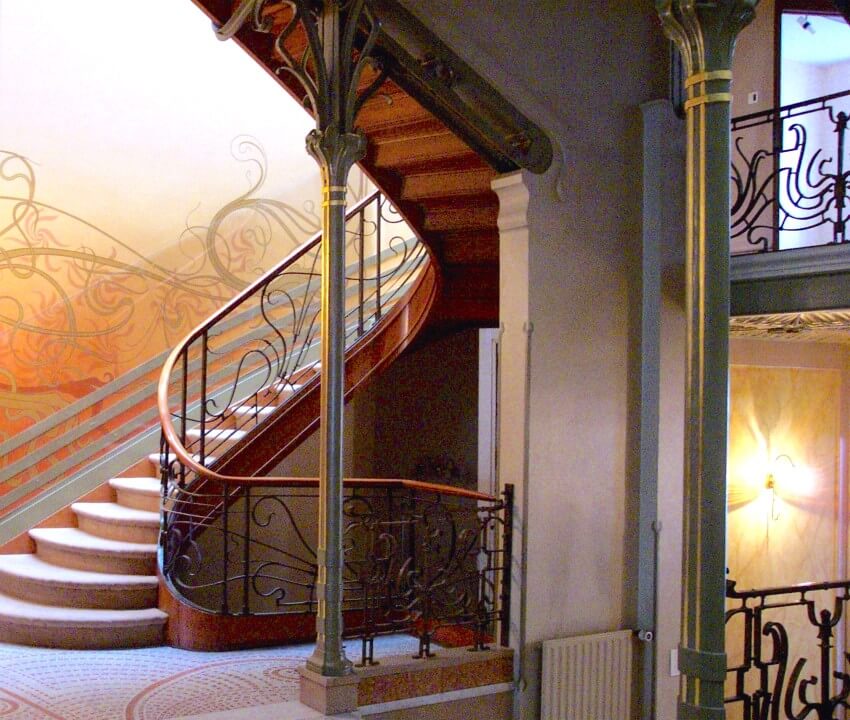 How You Can Create Your Own Art Nouveau Designs and Illustrations
While the minimal lines of modernism or the geometric symmetry of Art Deco hold a lot of appeal for designers today, many illustrators and designers are choosing to revisit the more organic style of Art Nouveau. Perhaps in line with the current trend for maximalism in design, Art Nouveau suddenly feels fresher and more relevant for now. 
Here we'll look at some tips for creating your own Art Nouveau-inspired designs and illustrations.
1.

Look to the Greats for Inspiration

If you're new to working with an Art Nouveau style, it's always a good idea to seek out some inspiration first. 

If you look at the work of some of the best-known Art Nouveau artists, you can start to spot common traits and identify some of the key defining characteristics of the style, which you can then apply to your own work.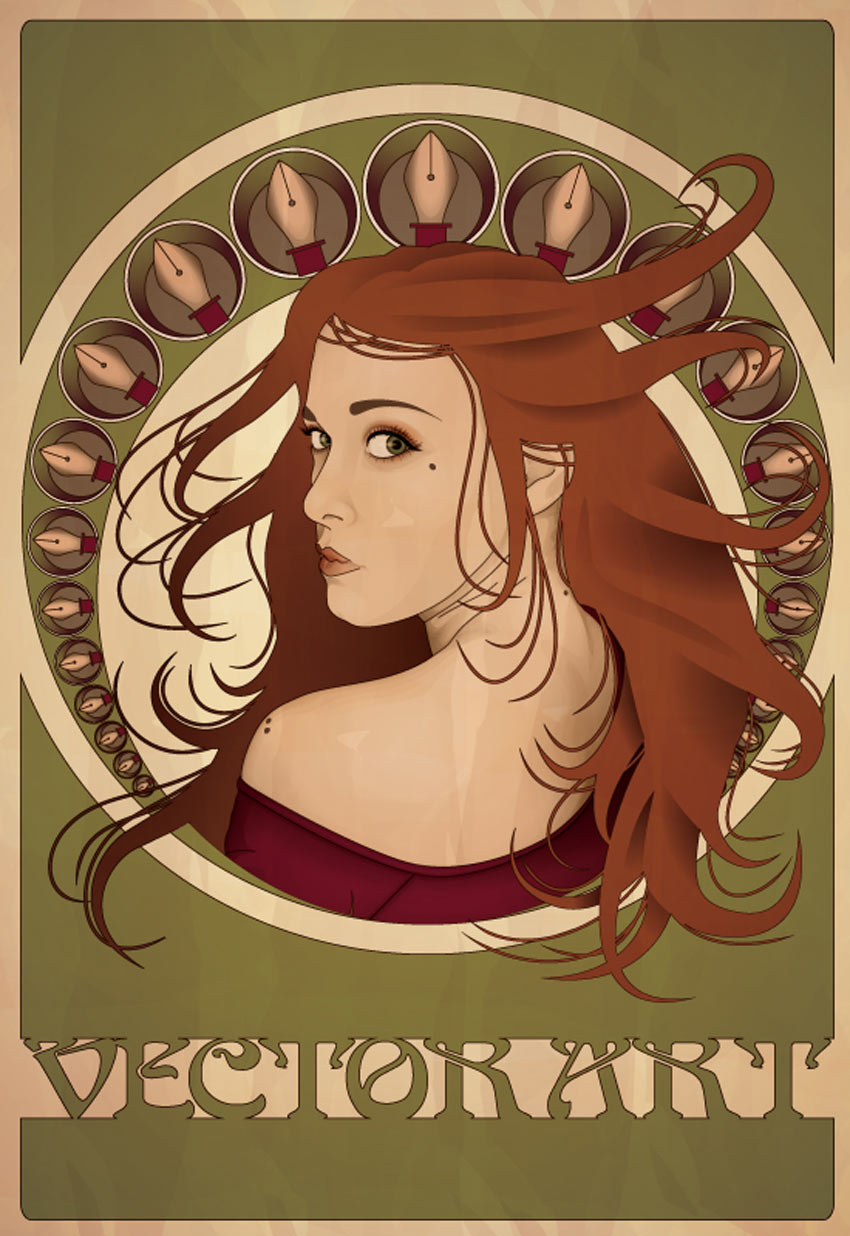 The Czech painter Alphonse Mucha is probably the most widely known Art Nouveau artist, with his poster artwork being an elegant symbol of cafe culture the world over. Mucha's paintings have a very distinctive style which remains a popular influence for illustrators and graphic artists today. 
The main hallmark of Mucha's style is often a central female figure, pictured in a sensual, relaxed pose and dressed in classical costume. The hair is often a key element of the design, creating a long, curving point of focus around the figure and emphasising movement. For illustrators, a simple tip for emulating Mucha's style is to create a thicker line around the silhouette of the figure and the edge of the hair, which pulls the central figure forward from the rest of the image.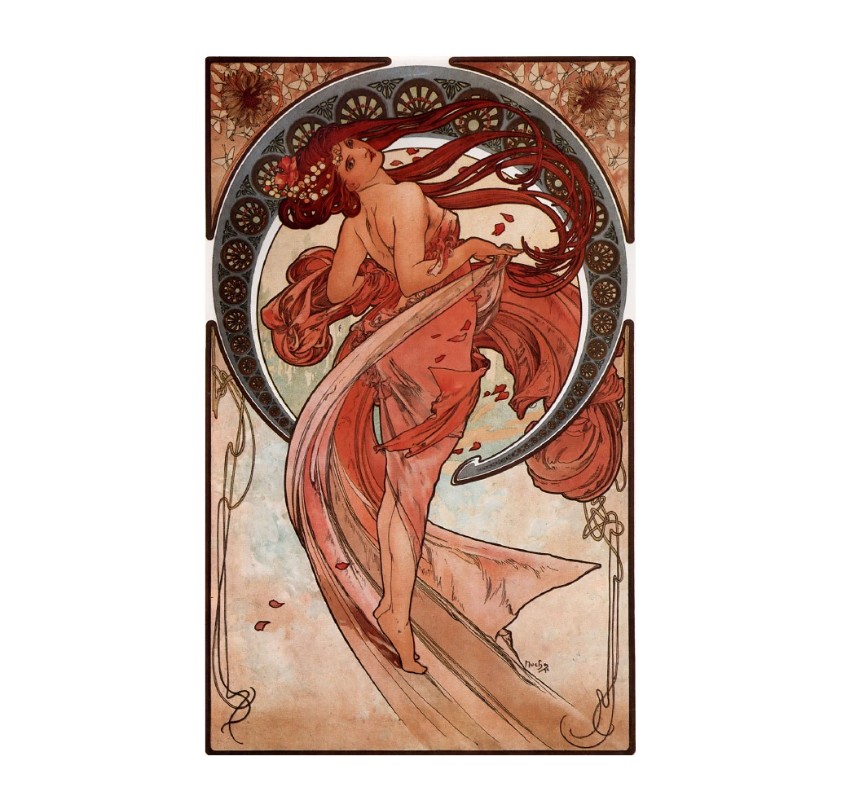 The figure is often surrounded by a highly decorative border, filled with nature-inspired elements like plants, flowers, seashells, or peacock feathers. Rounded, ornate typography is placed behind the figure, giving an almost three-dimensional quality to the design. 
The colours used in the design are also inspired by nature, with warm, earthy tones like terracotta, peach and orange being used alongside leafy greens and sky blues. 
This tutorial is a great introduction to how to emulate Mucha's style in vector illustration. 
2.

Borders and Dividers Should Be Ornate and Symmetrical

Art Nouveau is a maximalist design style, so aim to fill any white space on your layout with decorative elements like borders, frames, and dividers. 

Look for vector ornaments which use flowing lines, curved edges, and decorative corners. Organic and nature-inspired elements like vines, feathers and flowers will add to the overall Art Nouveau look. 

This ornament pack is really versatile, allowing you to combine different elements to create a nod to Nouveau style or build up an elaborate design with vine and leaf embellishments.
This set of frames and banners features plenty of natural elements like flowers and leaves to help you create a vintage look.
How can you ensure your design looks beautiful and not overly busy? Art Nouveau designs still use a high degree of symmetry to pull the design together, so make sure to flip your borders to create a pleasing mirrored effect. 
3.

Look for Belle-Epoque-Inspired Fonts

Typography is a key part of any Art Nouveau-style layout. The original Art Nouveau type styles were developed and drawn by hand, giving them a curved, natural design. 

Typefaces which are inspired directly by the Art Nouveau movement retain this hand-drawn feel. De Arloy is an authentic replication of Art Nouveau script styles. Delicate serifs and curved ligatures make this a beautiful font choice for poster designs or branding. 
You can find other typefaces which make a nod to the Art Nouveau era, while retaining a contemporary feel. Naive Inline wouldn't look out of place on a vintage postcard or in a Wes Anderson movie.
4.

Try the Style on Stationery and Invitations

The Art Nouveau style isn't limited to illustrations. You can also emulate the style on simple, type-only layouts by selecting the right font, borders, and colours.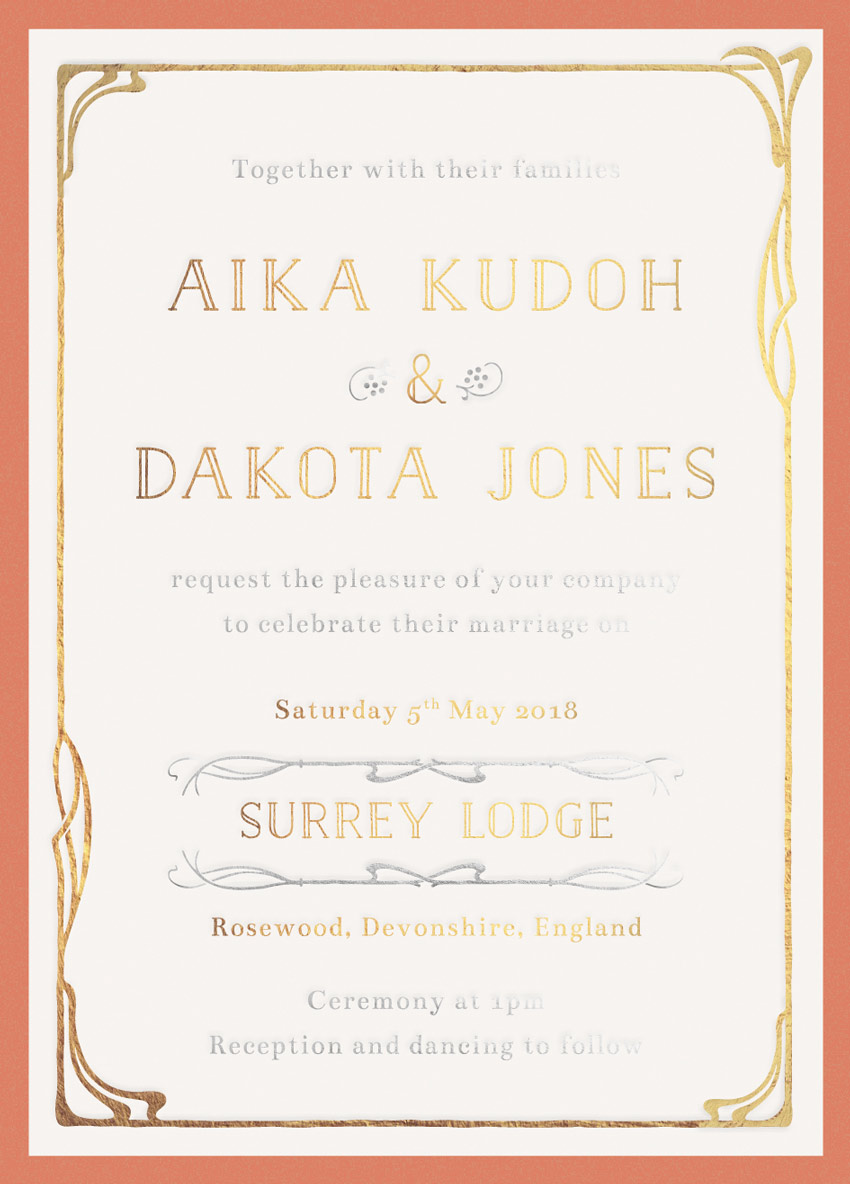 Because Art Nouveau is romantic and emotive, it works particularly well for wedding stationery. Try creating an Art Nouveau design for an invitation or save-the-date card to play up the romantic sensibilities of the style. Touches of metallic foil on borders and typography can make the design feel luxurious and extra special. 
In this tutorial, you'll learn how to create a wedding invitation in InDesign which uses a stripped-back Art Nouveau style.
Looking for a quick fix? This Art Nouveau design template package demonstrates how the Art Nouveau style can be used by any brand. Why not use the templates to create stunning posters, menus or invitations for your business?
5.

Use Highlights and Shadows to Create a Modern Effect

Art Nouveau can easily stray into stuffy or old-fashioned territory, particularly if you stick rigidly to an authentic Nouveau style. Some of the best examples of modern Art Nouveau design give the style a unique twist, which keeps the style looking fresh and exciting. 

Try switching a muted colour palette for bright neons or pastels. Or incorporate an unexpected subject into your design, like the quirky robot in this vector tutorial.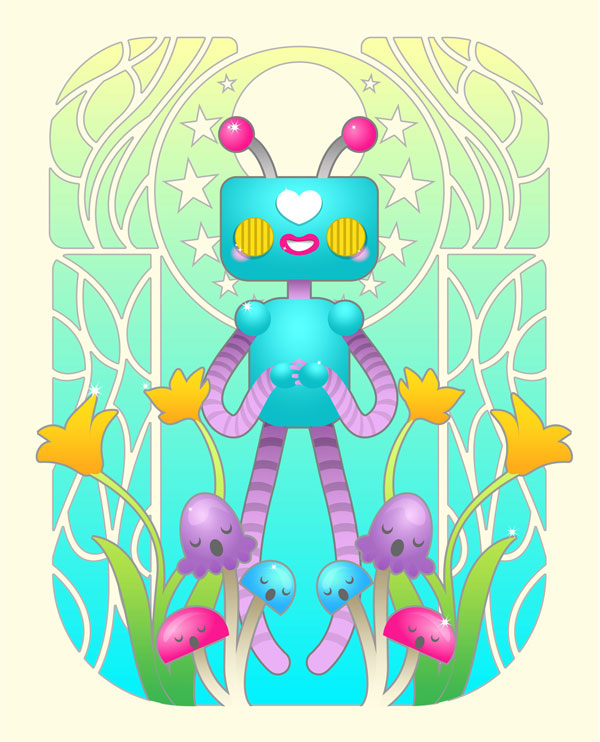 Traditional Art Nouveau artwork uses flat design, which creates a collage-style effect. A 3D look was given to the designs through the creation of layers of flat artwork, overlapping elements, and thickly-drawn silhouettes.
Now that we have access to digital software, it's much easier to break away from the flat style of authentic Art Nouveau and add textures, highlights and shadows to cultivate a more modern 3D look. This tutorial shows how blending a modern vector illustration style with Art Nouveau traits can give an illustration an immersive, pop-culture style.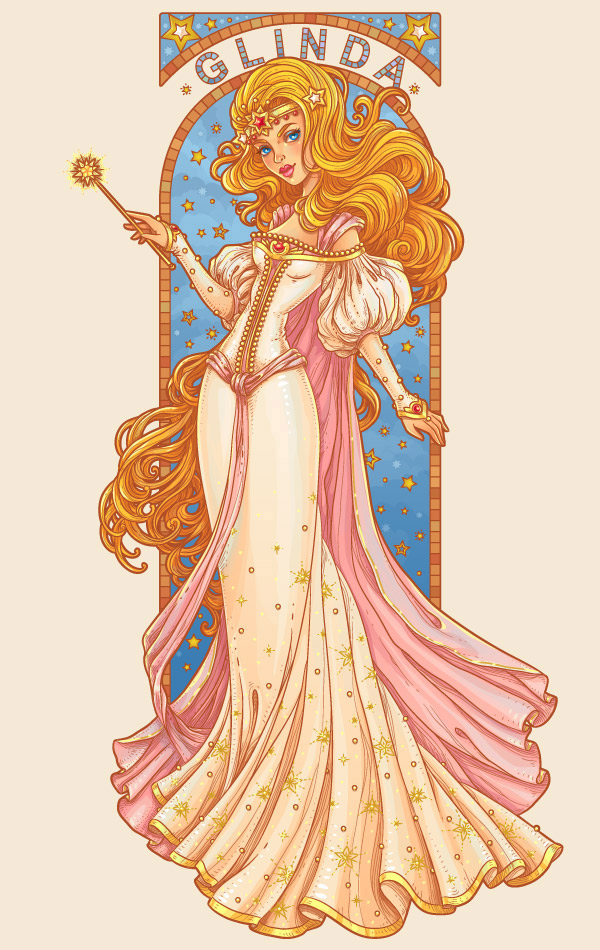 Conclusion: The 'New' Art Nouveau Style
Art Nouveau fell out of fashion in Europe after 1910, with Art Deco and later Modernism becoming the defining design styles of the 20th century. However, although Art Nouveau's heyday was short-lived (spanning about 20 years), its influence on graphic design and illustration since has been considerable, and many contemporary graphic artists are now revisiting the style for its beauty, ornamental qualities, and romance. 
Here, we've looked at a few tips for how you can emulate the Art Nouveau style in your own work, as well as suggesting some ideas for giving the style a modern twist.
To recap, authentic Art Nouveau graphic art and illustration is defined by:
organic, curved lines and graphics, inspired by natural forms like plants and flowers
symmetrical layouts and heavy embellishment
earthy, nature-inspired colours
romantic, often female, subjects, inspired by classical mythology
hand-drawn, rounded typography, which is often placed inside decorative banners or borders
You can bring a modern update to the Art Nouveau style by experimenting with a more unconventional colour palette, incorporating unusual subjects into your designs, or stripping back your design to create a more minimal layout.
You can find plenty of Art Nouveau and Belle Epoque borders and patterns over on GraphicRiver and Envato Elements to use on your designs like this collection of templates below.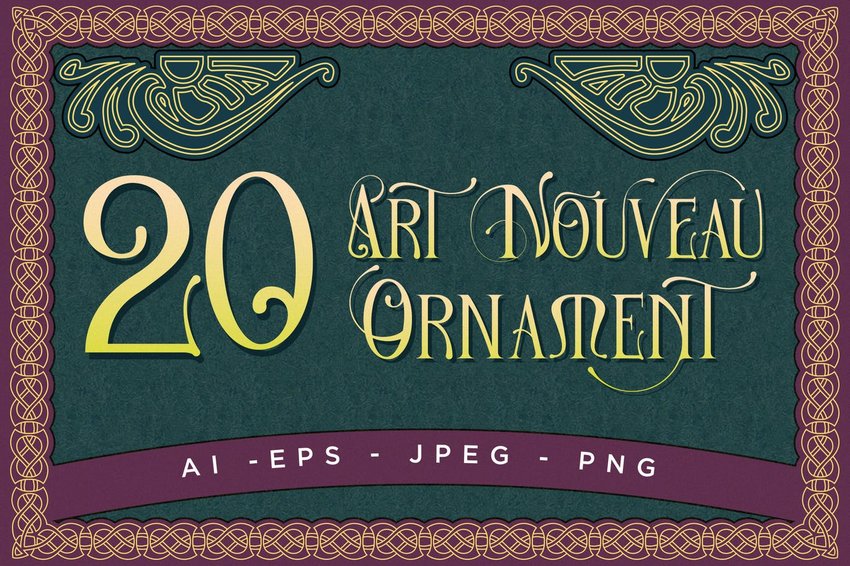 If you're in the market for fonts, check out this sample of the kind of premium Art Nouveau fonts templates available. 
5 Art Nouveau Fonts
Melvca is a wonderful Art Nouveau style font that will bring a touch of elegance to your projects. Inspired by the shape of leaves and tendrils, Melvca is ideal for logo designs, posters, packaging, and more. The font contains both lowercase and uppercase characters, numbers, and punctuation.
If you like the Melvca font above but are looking for a less ornate style, then try Hornbuckle. It offers a similar style to Melvca but is less decorative. Hornbuckle contains lowercase and uppercase characters, numbers, and punctuation, as well as alternative characters. 
This wonderful font captures all the elegance and beauty of Art Nouveau font styles. A versatile font that can be used for large display text or body text, Bedesau contains a full set of upper and lowercase characters, numbers, and standard punctuation. A great font to experiment with.
As a hand-sketched font, Elodie offers something a bit different from the others in this list. The all caps Art Nouveau font is quirky and unique, and it's a terrific choice when you need text that will stand out and command attention.
De Arloy Typeface is the ultimate in Art Nouveau font elegance. This beautiful font contains a full complement of upper and lowercase characters, numbers, and punctuation, as well as stylistic alternates so you can create a look that is uniquely yours.