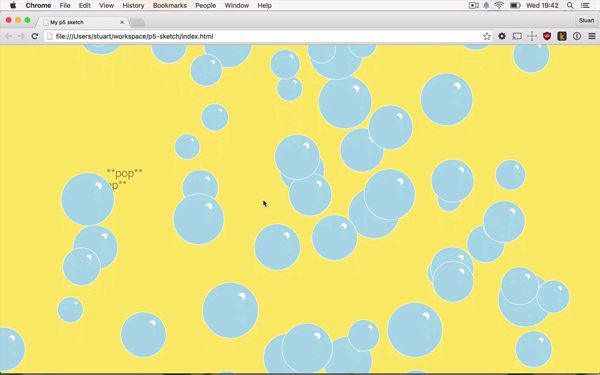 Do you want to learn a new way of creating animations and interactive graphics, in less than an hour? 
If so, check out our new course on How to Program Interactive Art With p5.js, in which you'll learn how to create an interactive, animated web page with p5.js. 
The course consists of just nine bite-sized video lessons, so you can easily fit it in around your other commitments. And, unlike most of our video courses, this one is completely free.
What You'll Learn
This course will teach you how to create interesting pieces of art in the browser using the p5.js library, starting with the very basics of drawing to the screen.
Envato Tuts+ instructor Stuart Memo will show you how easy it is to start using p5.js. You'll complete a project, starting by drawing a bubble and gradually building a more complex animation. Then you'll learn how to incorporate user input.
By the end of the course, you'll have learned a new skill for free, and you'll have some ideas of how to delve deeper into the world of interactive art—all in less time than it takes to watch an episode of Better Call Saul.
Watch the Introduction

Take the Course
To take this free course, simply go to the course page and follow the steps to create a free account. If you already have an account, just log in and you'll be able to get started right away.
You can also find a wide range of JavaScript animation items on Envato Market.