Planning to get a lettering tattoo with some cool words and wondering how to choose a tattoo font? Or maybe you want to know more about lettering tattoo styles? Today, we'll discover different lettering styles for your new tattoo and take a look at the best tattoo fonts available on Envato Elements. 
Things to Consider Before Getting a Lettering Tattoo
Before we dive into a sea of different tattoo lettering styles, I would like to highlight some important nuances, which are associated with this type of tattoo.
There are a lot of different reasons why you might like to get a lettering tattoo: it can be a great way to literally spell out a powerful message, to perpetuate the name of your loved one, to remember an important date, or maybe to keep a quote which you like right on your skin. No matter what exactly you want to tattoo, it's very important to check the spelling and grammar a few times. Yes, It sounds funny, but when it comes to lettering tattoos, this can be crucial! 
The next thing to consider is the place on your body where your lettering will be tattooed. Popular places are the wrist, fingers, hands, neck, sternum, back, spine, chest, forearm, and shoulders. The bravest people love to make them even on the head or face. The thing you should decide is where exactly you want to get a tattoo. If you have a long quote, you should find a part of your body where there's enough place for it! Also, it can depend on the style of your tattoo—if an elegant script will not take a lot of space, brutal gothic letters will probably need some more space. So, which lettering tattoo styles exist?
Different Tattoo Fonts and Lettering Styles
The right tattoo writing style will help you to emphasize the meaning of your lettering, and if you want to know how your future tattoo will look in different styles, tattoo fonts from Envato Elements can be a great tool for this purpose, as well as a useful reference/example for a tattooist to show which style you like.
Now, I want to show you some of the best tattoo fonts, along with the styles, so you can easily decide which style will be better for you—or maybe for your next design project, as these fonts will work perfectly for this purpose as well.
Gothic Lettering Tattoo Style
Gothic style is a type of script that was used in Western Europe in the Middle Ages. It features impressive, dark, and even dramatic letterforms with decorative elements. Nowadays, there are plenty of subtypes of this style, and a tattoo can be done in a "classical gothic style" or a grungy, dark style. Gothic calligraphy tattoo lettering can be a perfect choice for almost any area of your skin, and especially for the chest, neck, back, or hands.
Wondering how to choose a tattoo font? Just take a look at these stunning font examples, and you'll differently find the right one:
This amazing blackletter font is elegant and brutal at the same time. It includes uppercase, lowercase, punctuation, and even international characters. It's suitable for almost any type of tattoo writing.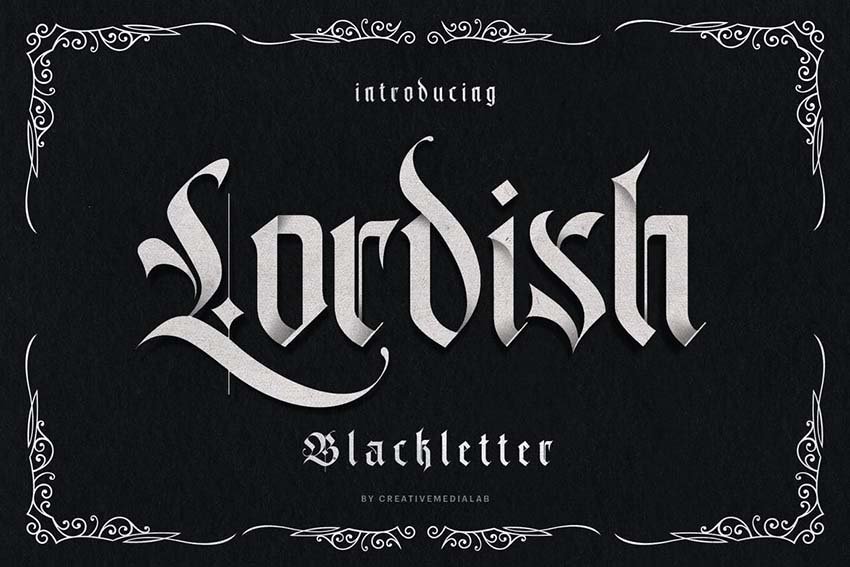 Another great example of a blackletter gothic font! This one can be great not only for your tattoos, but also for creating logos and CD covers for hardcore bands. Also, you will find a collection of vector illustrations as a bonus, which go really well with the font itself. So you can not only find out how your gothic tattoo will look, but which type of illustrations can be added to create a complex tattoo design.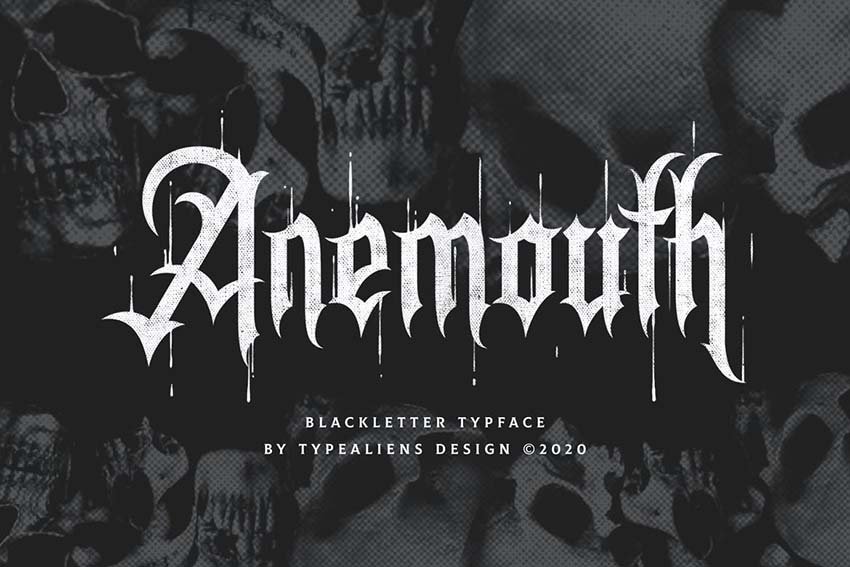 If you have a tattoo studio, you should take a look at this font, which is part of the Avestrava font family. It's suitable for creating a logo for your tattoo studio or for making promotions such as posters, flyers, business cards, etc. It's also good for making calligraphy tattoo lettering references for your tattooist, if you want something unique and stylish.
If you are looking for old English lettering tattoo fonts, we have this amazing handcrafted decorative font called Cambridge. Oh, I really love how it combines medieval dark aesthetics with a clean and neat design at the same time. You can use it anywhere from tattoos to creating branding on clothes and music albums.
This stylish gothic/blackletter script tattoo lettering font is for people who love motion in their lettering design. Decorative swashes and bold letters are a perfect way to express yourself and to make your tattoo look more dynamic. Check this one out, and you won't regret it!   
Cursive and Script Lettering Tattoo Style
Another popular style of lettering tattoos is cursive or script. You probably remember how popular it was among actors and pop stars. Cursive tattoo lettering is a good choice if you want to write something important in an elegant way—for example, your favorite quote or a word which resonates with your feelings. This type of tattoo can be placed on any part of your body, but the most popular are the wrists, forearms, collarbones, and chest.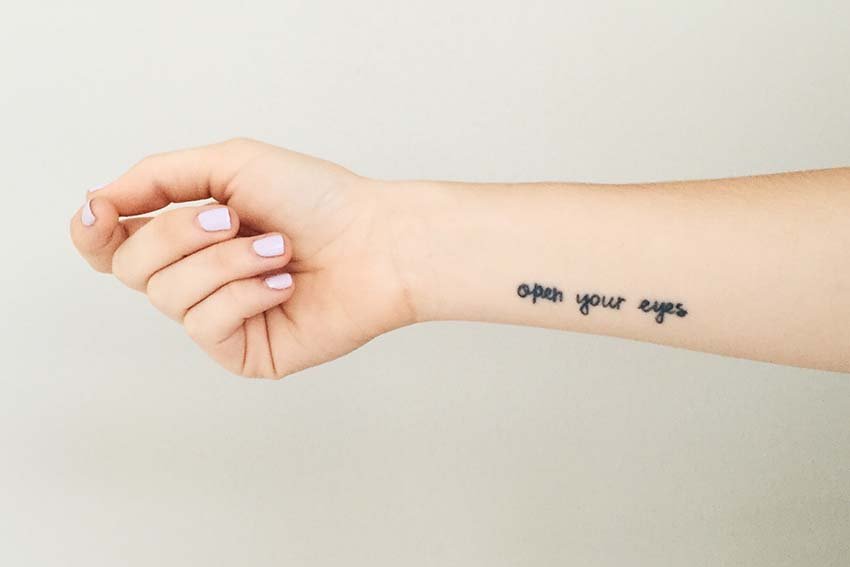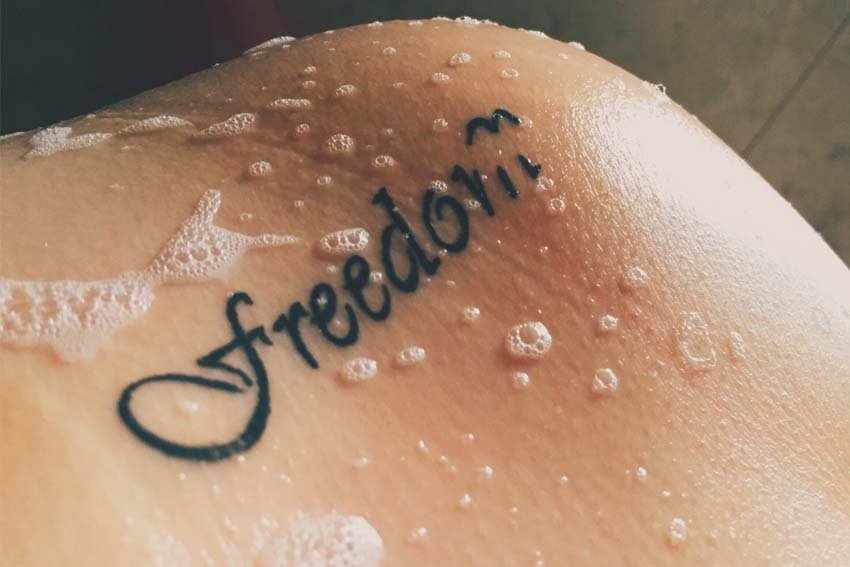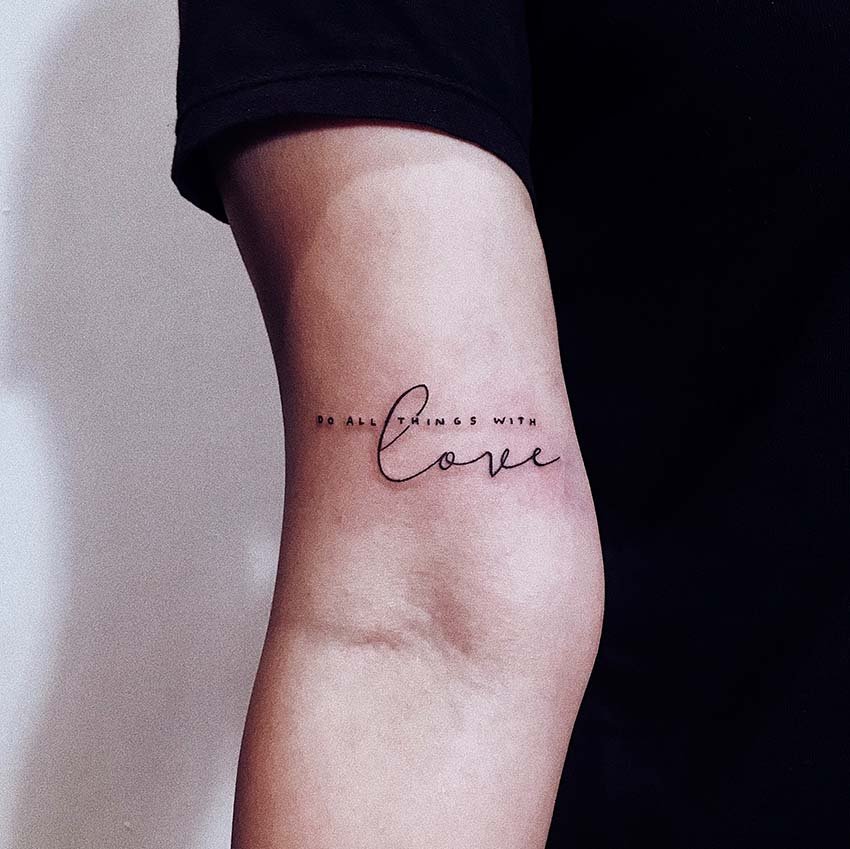 How do you pick a font for a tattoo if you like these thin, elegant swashes? Check out these amazing options:
This script tattoo lettering font has clean, fancy characters and a neat, modern look. It's a perfect choice for a little tattoo on your hand with a word which resonates with you. Besides that, this font can be easily used for creating social media posts, logos, and any other design purpose.
Among different tattoo fonts and lettering, I especially love this one. The thin, elegant lines of this handwritten font will not leave you indifferent. Xandria comes in both OTF and TTF file formats and has multilingual features.
If you like stylish and polished tattoo fonts, give this script a try! Clean, minimalistic, and made by hand, it can be a great option for creating a sketch of your future tattoo.
This script tattoo lettering with a natural and stylish look offers a lot of different alternative glyphs, so you can create amazing handwritten-looking letters in a very simple way. And like any other scripts mentioned here, this one can be a great tool for creating invitations, branding, wedding designs, and much more!
Let's say you want something that's not as thin as our previous tattoo fonts. Charlotta is a great handwritten cursive font, which you can easily use for your next tattoo sketch. This font comes in lowercase, uppercase, punctuation, symbols, numbers, and everything you need to complete your tattoo design.
Old School Lettering Tattoo Style
You probably already know this cool tattoo style, as it's pretty popular in the tattoo world. We can describe a traditional Western tattoo style as "old school". It's usually characterized by a limited choice of colors (red, green, yellow, and black), bold black outlines, and classical tattoo elements such as skulls, roses, anchors, and portraits. Old school calligraphy tattoo lettering can use bold letters with partial or full ink filling, or it might look like a thin handwritten font. Old school letters can be a part of a tattoo or a full tattoo.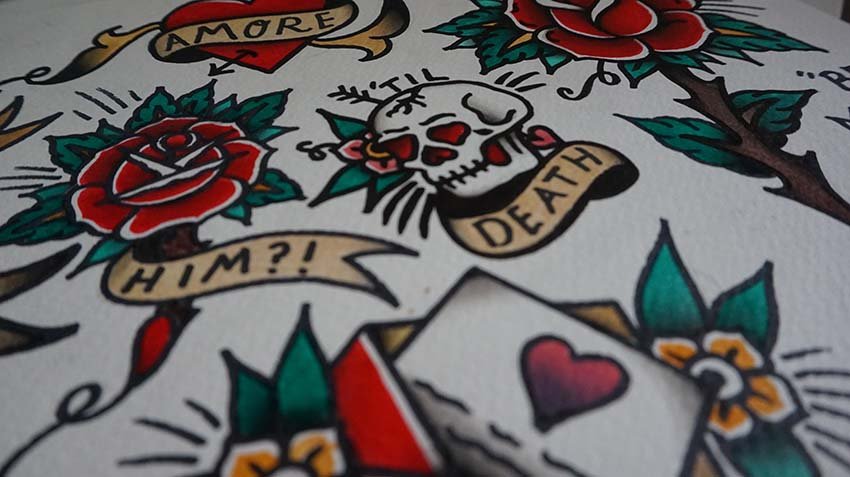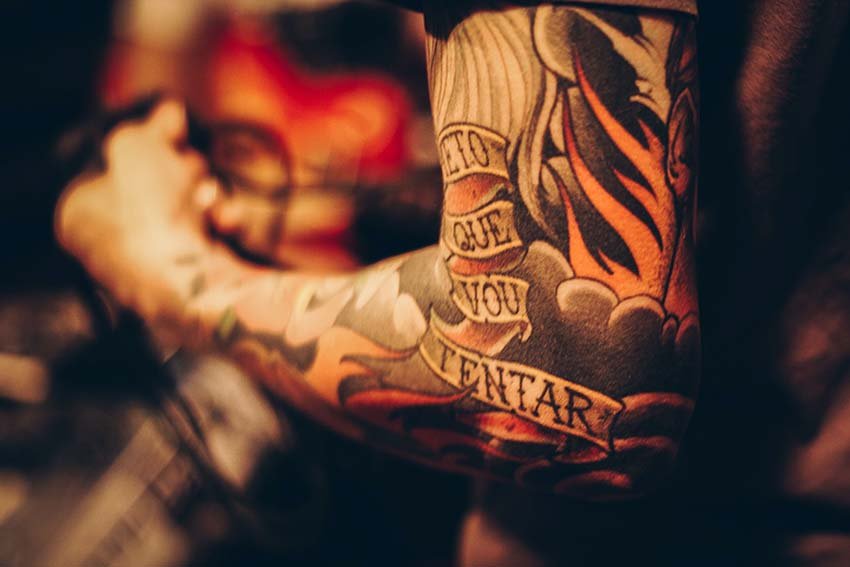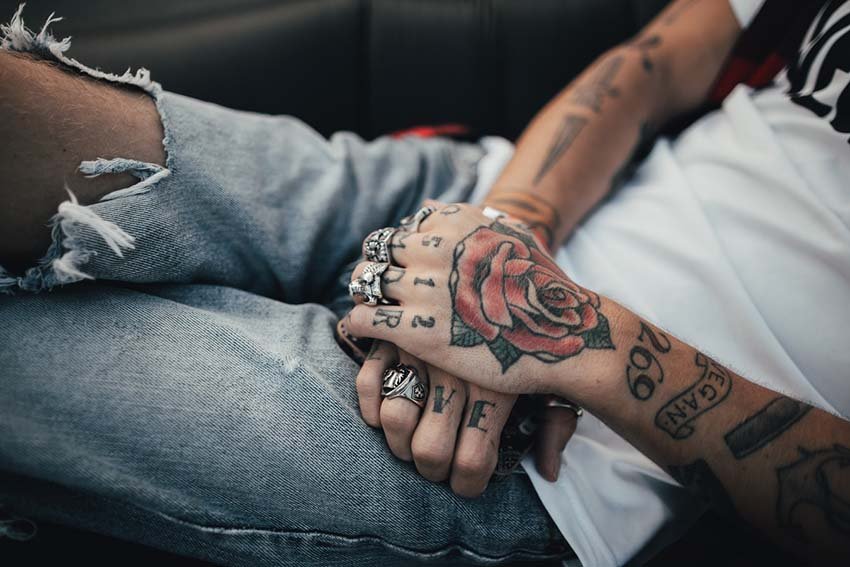 You may be wondering how to pick a font for a tattoo in old-school style? We've got plenty of old school fonts:
The sea theme is very popular among different tattoo lettering styles, but it's super popular in the old school style. This amazing font provides everything you need to create a perfect old school tattoo. Bold, partially filled letters with line elements will look great on your skin.
This cool handcrafted font could be a great choice for tattoos and logos or branding for your barbershop/merchandise. Strong West comes with uppercase, lowercase, numbers, and punctuation, so you will have everything you need.
Yarrr! If you're a fan of pirates and old-school-looking serif fonts, we have this amazing font with three different styles: Regular, Bold, and Black.
A classic tattoo font with great old school vibes! This font comes in two versions, clean and rough, so it can be useful for both tattoo sketches and creating design elements. As a bonus, you will also get amazing old school tattoo flower vector files.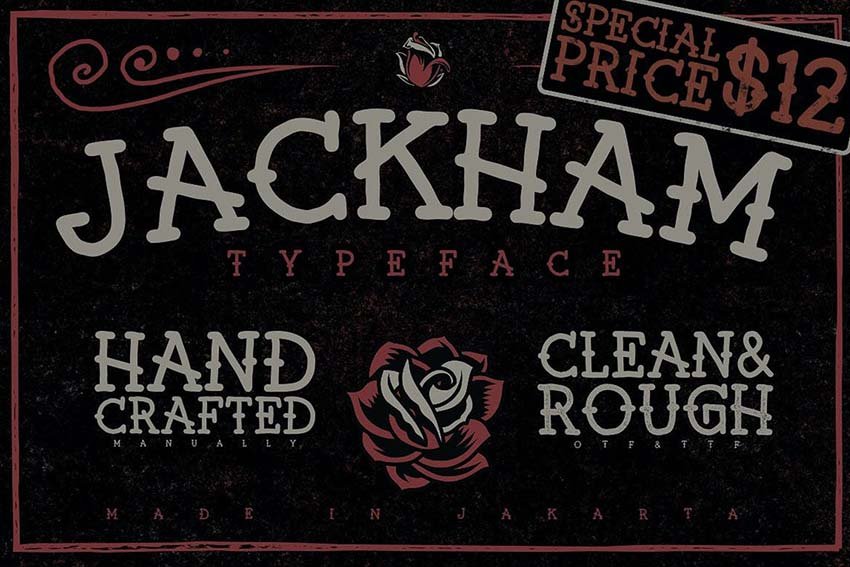 Chicano Lettering Tattoo Style
Another popular and complex style of lettering tattoos is the Chicano style. Usually, Chicano tattoos contain philosophical and/or religious meanings. We can see a lot of swashes and other decorative elements in this lettering style. Talking about the colors, gray and black are dominant. It can be tattooed almost on any part of the body: legs, hands, back, face, etc. 
Let's take a look at Chicano tattoo fonts available at Envato Elements, as we have a great number of amazing and detailed fonts:
This font is a great example of the carefully handcrafted Chicano style, with its big swashes and decorative elements. It will look great on your back or any other part of your body, especially if you want to perpetuate the name of your city.
Black Angela is a good tattoo font for almost any project. Dynamic, bold lines will give the right vibe, and you can easily use it for creating sketches, logotypes, merchandise, and more.
Check out this stylish font called Maldito! Its stunning and unexpected shapes will catch the eye. Maldito includes both uppercase/lowercase and a large amount of punctuation and ligatures.
Another Chicano-inspired font! This cursive script with its elegant and careful style will be a good addition to your collection of fonts. Try this out on a project that needs a chic and bold look!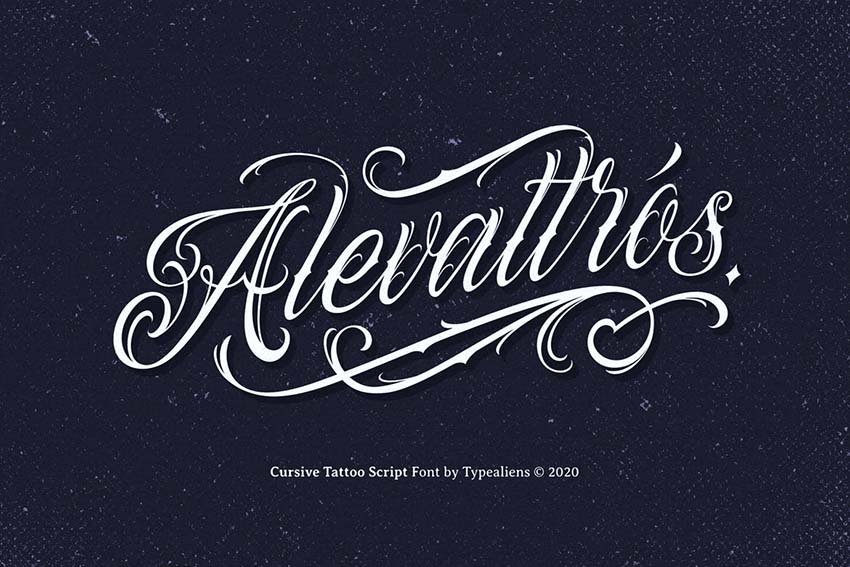 Other Tattoo Lettering Styles
We've discovered the most popular styles of lettering tattoos, but in fact, there's a huge amount of other different tattoo fonts and lettering styles. Lettering tattoos can look like graffiti, be part of a Trash-Polka tattoo, or look like a typewriter font. It will also look different depending on the cultural features: hieroglyphs, Hebrew, runes, Sanskrit, Cyrillic lettering styles, and much more. There's a whole world of different, fascinating cultures and traditions, so don't be afraid to explore them!
Top 5 Tips for Letter or Font Tattoos
Let's summarize the most important things you should keep in mind when choosing a tattoo font:
Decide what you want to be tattooed on your body: a quote, numbers, the name of a city you love?
Check the grammar a few times!
Which style do you like more? Do you want gothic bold letters or a small and elegant script?
Which part of your body would be better for your tattoo and style? A little quote on your chest? Chicano lettering on your back? Think which body part and style will work best together.
Try different tattoo fonts to create a reference for your tattooist—this way you can easily explain how you want your tattoo to look.
Conclusion
Today, we've discovered different tattoo lettering styles and beautiful fonts! Choosing tattoo styles and fonts can be tricky, but in most cases, you just should follow your tastes and find something that will be right for you. Don't be afraid to express yourself and decorate your body with anything you want—it's only you who can decide which style is better for you.
If you want to learn even more about tattoos and fonts, check these articles and tutorials: